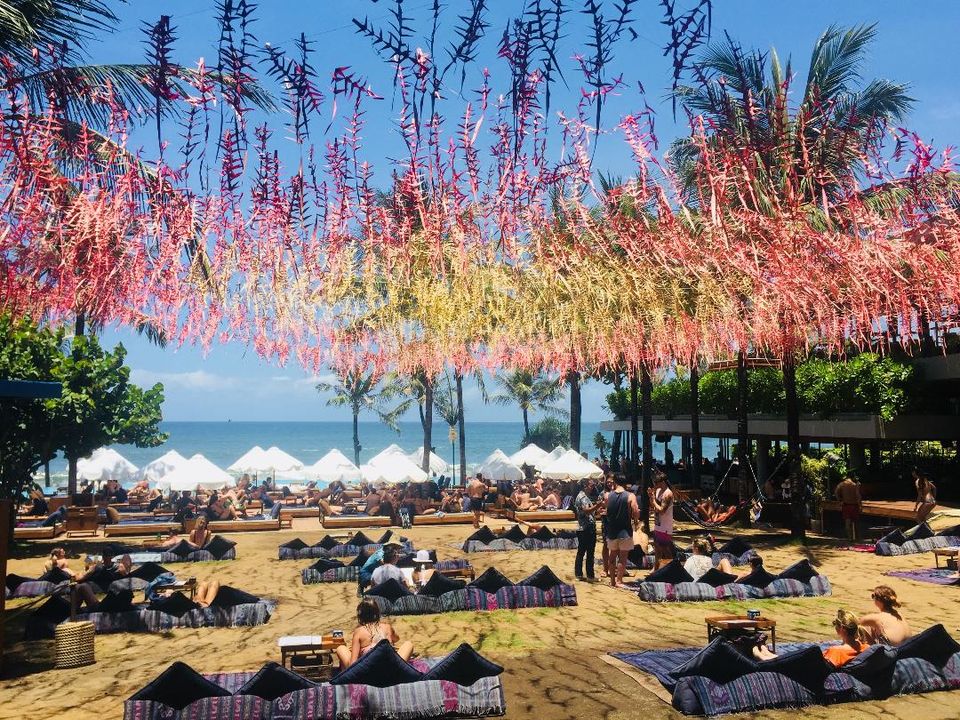 If you are planning to go somewhere and you have never been to Bali, then this should be in your bucket list. Bali is one of the most beautiful islands known for its big mountains, active volcano, iconic rice paddies, lovely beaches and coral reefs. It is one of the most popular tourist destinations. Tourism-related business makes up to 80% of its economy because of which tourists are treated righteously and the locals make sure that the tourists feel comfortable all the time and enjoy their stay.
My husband decided to celebrate my birthday in Bali and therefore we both visited Bali in October, 2017. Whoever we met asked the same question first – "Is it your first visit in Bali?". It is because the beauty of nature and love and hospitality of people of Bali will convince you to visit Bali again and again.
We decided to fly from India on Diwali as the airports are mostly hassle-free (plus the flights are relatively cheaper). Our flight took off from India and arrived at Kuala Lumpur, Malaysia. Malaysia is 2 hours & 30 minutes ahead of India. We had a halt of 6 hours & 20 minutes and because we didn't have Malaysian Visa, we had to stay at the airport only. The Kuala Lumpur airport is enormous and it has so many connecting flights that even after reaching at 04:20 am, there was so much rush and it looked like some kind of a happening place even at that hour. We didn't even realize how 6 hours passed by. There are so many beautiful stores at the airport but it's better to keep checking the boarding gates as there are so many and they are too far from each other plus they change sometimes. We boarded our flight and reached Bali. There is no timing difference between Malaysia and Bali.
We landed at Ngurah Rai International Airport, Kuta. Though it is located in Kuta, it is popularly known as Denpasar International Airport. We got our Visa on Arrival. After landing, the biggest fight is to get a taxi. Since Ola and Uber are not allowed to take passengers from mostly all popular places in Bali, it's better to walk a little outside of the airport because the local cab drivers charge around 3 times more.
People usually like to stay in Kuta or Ubud (Travel Agents also suggest these) because the hotels are very cheap there but we chose to stay at the hotels which are nearby our selected locations.
DAY-1: DASH HOTEL, SEMINYAK
We reached our first hotel "Dash Hotel, Seminyak". We chose this hotel because it was on a walking distance to our next 2 locations (Woobar, W Retreat & Spa and Potato Head Beach Club). We booked a Deluxe Room at Dash Hotel for 2 days and it was worth every penny. Everything was so fascinating - pool, colorful décor, rooftop, rooms, everything. We loved the room from the moment we entered. It was so unusual, offbeat and quirky. Painted walls, open racks, gallery with pool-view and yes it has a really appealing Jacuzzi right at the back of the bed. They have utilized every inch of the space wonderfully. We have also been given vouchers for spa, rooftop dine-in, restaurant, etc. We spent some quality time in our room and then we went to a beach. Although the hotel was on the main street near two popular beach clubs, the rates were economical.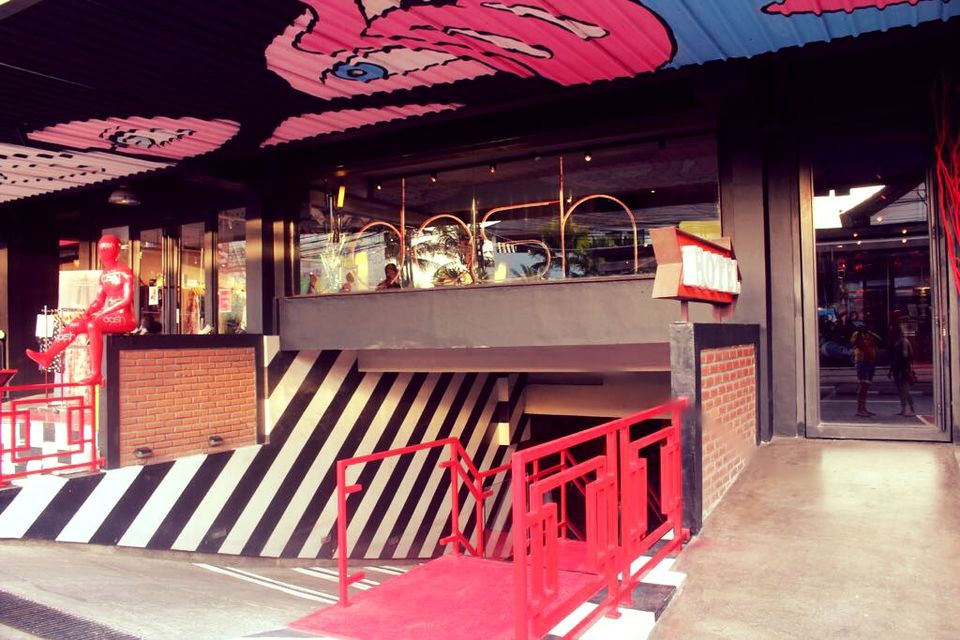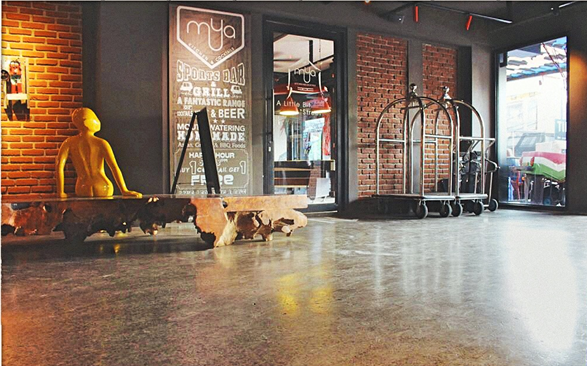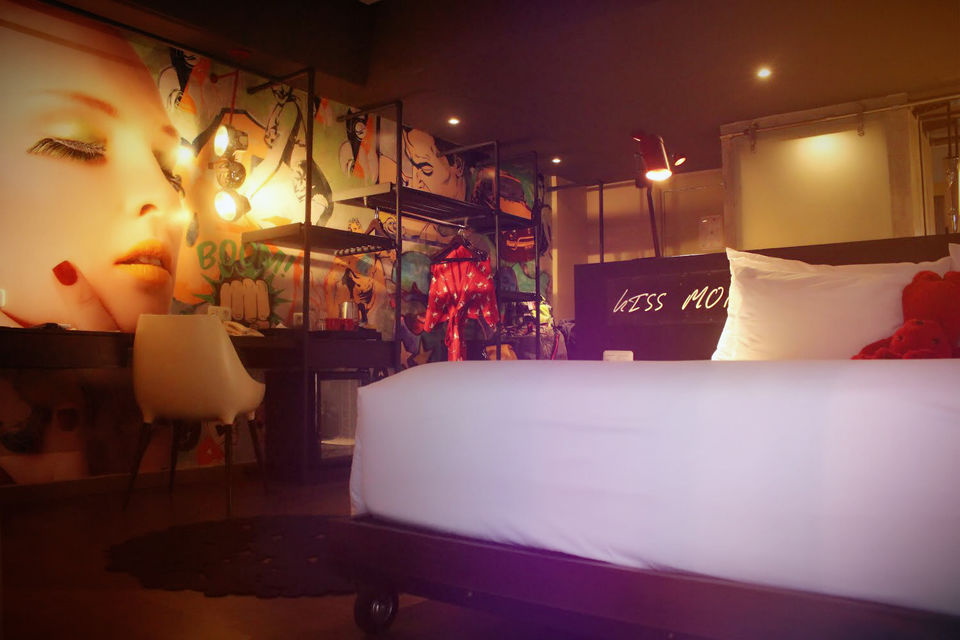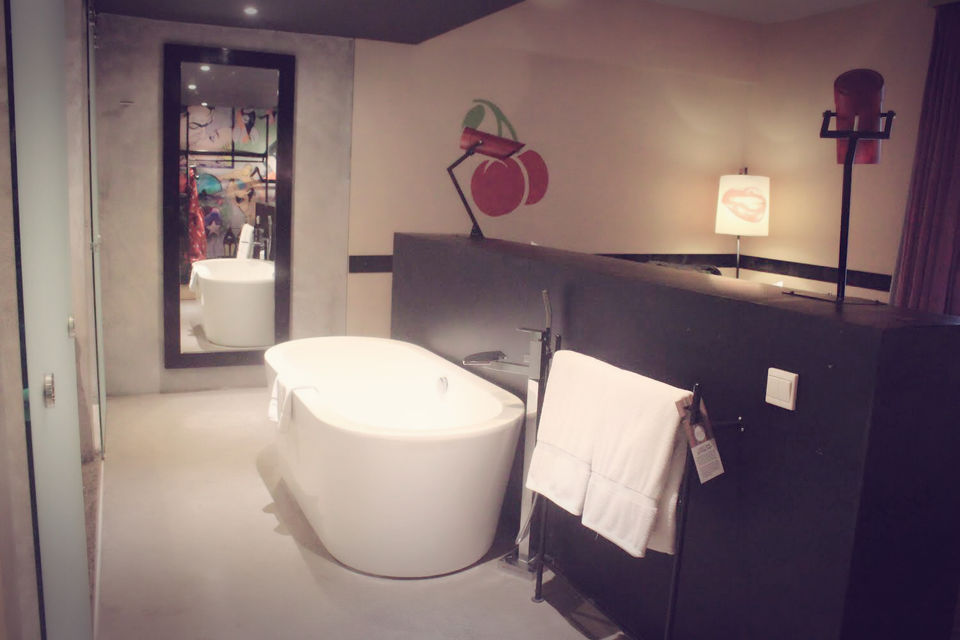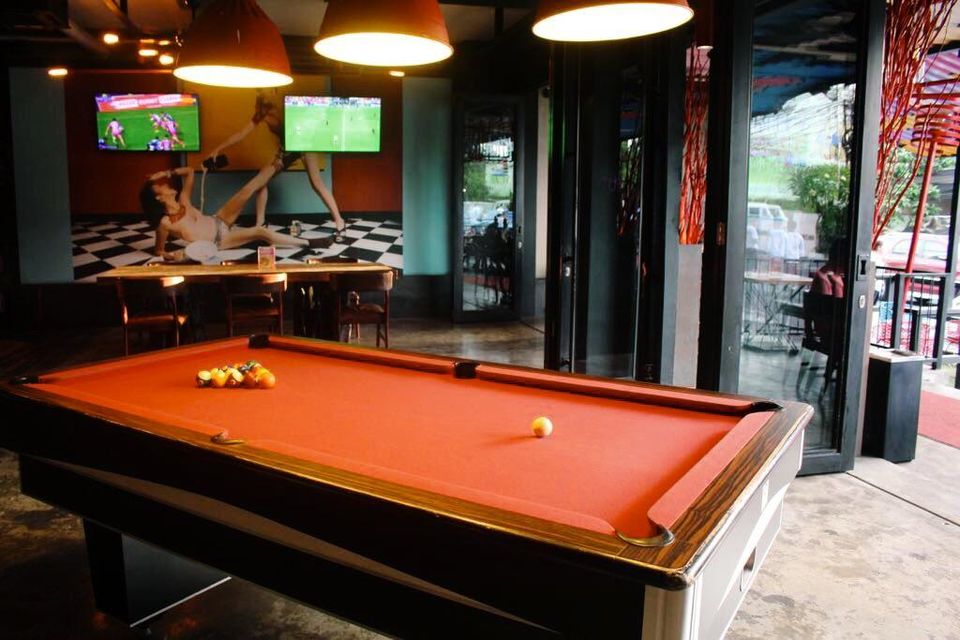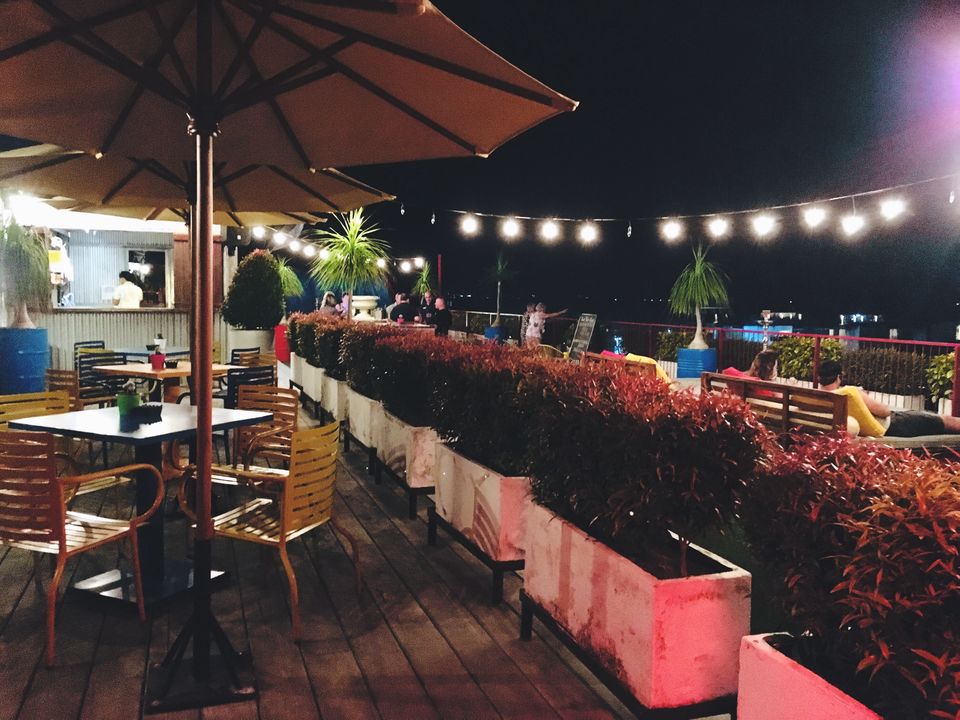 DAY-2: WOOBAR & POTATO HEAD BEACH CLUB, SEMINYAK
My husband wanted to celebrate my birthday at the Potato Head Beach Club so we went there first for reservations. There were so many people enjoying the amazing sea-view and getting tanned and having mouth-watering snacks. We made our reservation and since we had to wait for 3 hours to get a shack, we took our token and moved towards our next spot.
"Woobar" was another mesmerizing place. Though my husband liked Potato Head Beach Club, I like Woobar. Unlike Potato Head, this place was less crowded and more tranquil. We asked for the reservations and we got our shack instantly as the next reservation was after 2 hours. It was our good luck and we also took advantage of that. We took the front shack and enjoyed the sea-view for the next two hours. They welcomed us with sweet potato chips. We had some good food and drinks over there. There was a portion covered with white paper lanterns which gave it a happening look. We had an amazing time there.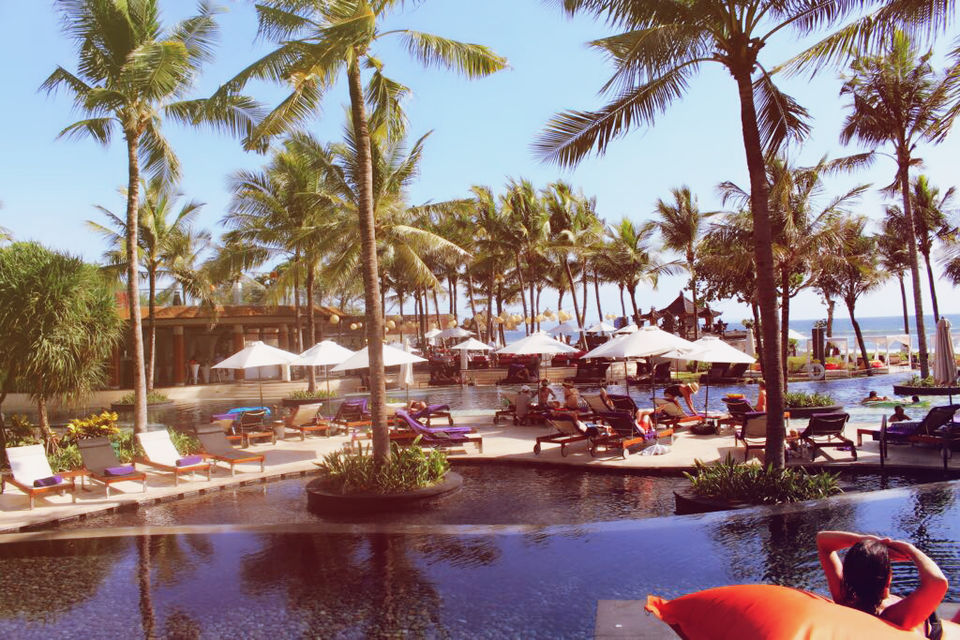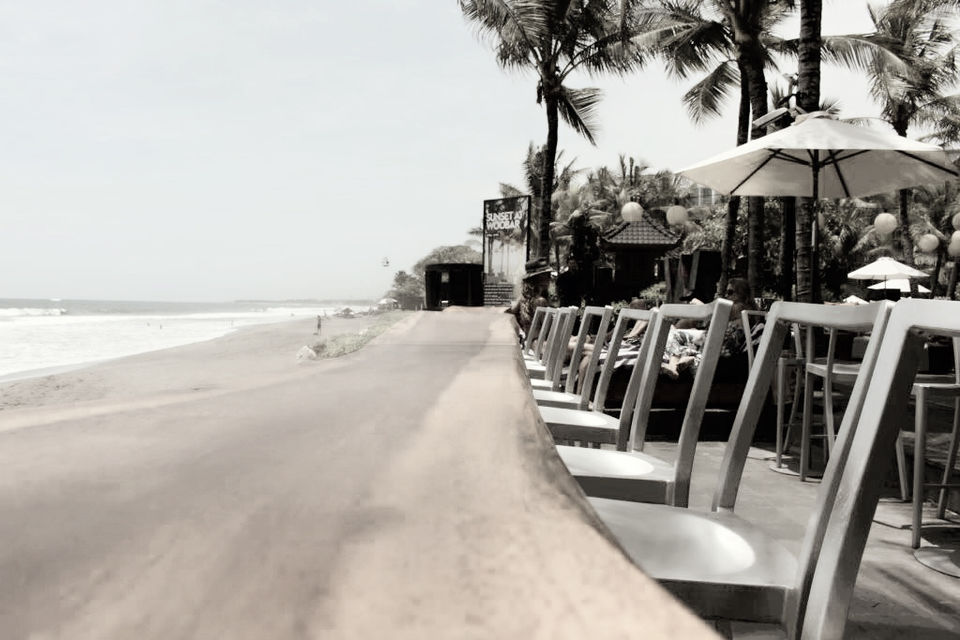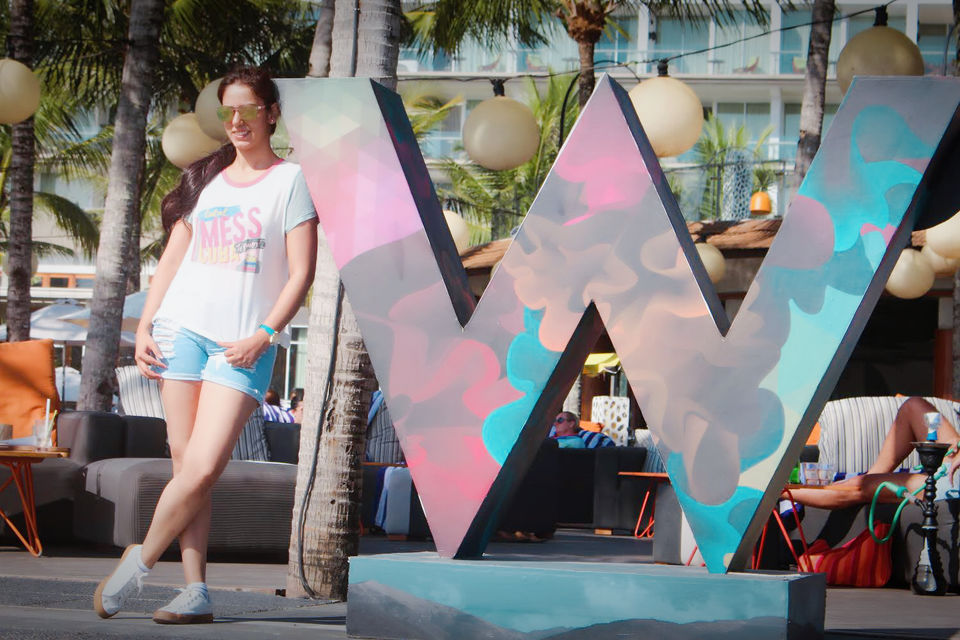 We came back to "Potato Head Beach Club" where our shack was ready for us. It was around 4 pm and crowd was more as compared to the morning. While Woobar has a section covered with white paper lanterns, Potato Head has a section covered with colorful blossom flowers. Potato Head was decorated with colorful and rustic wooden windows of various types. We watched the magical sunset over the sea and enjoyed the infinity pool with the DJ playing most popular party tracks.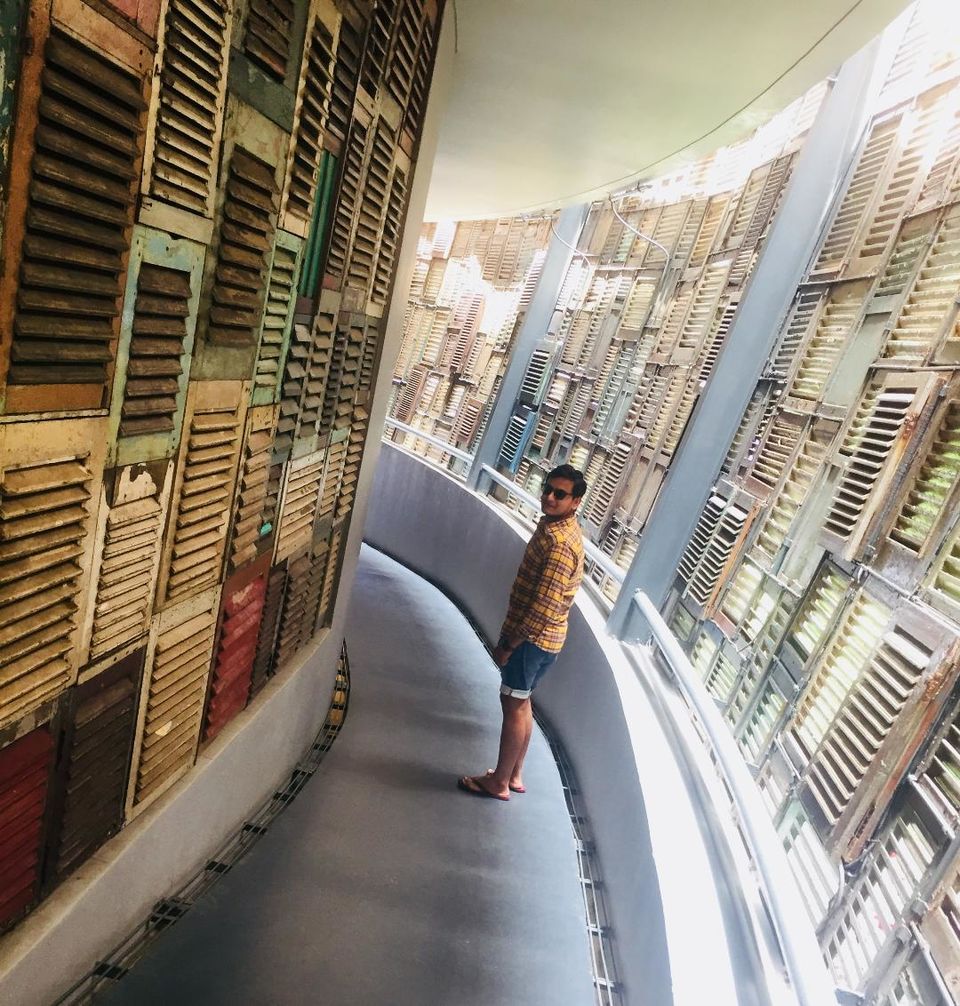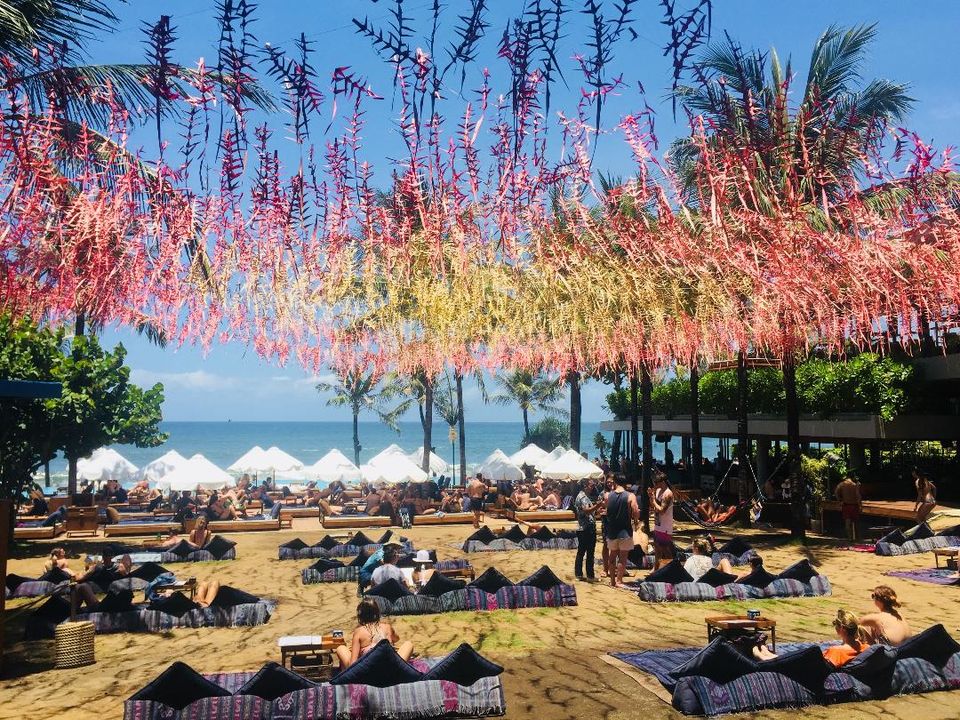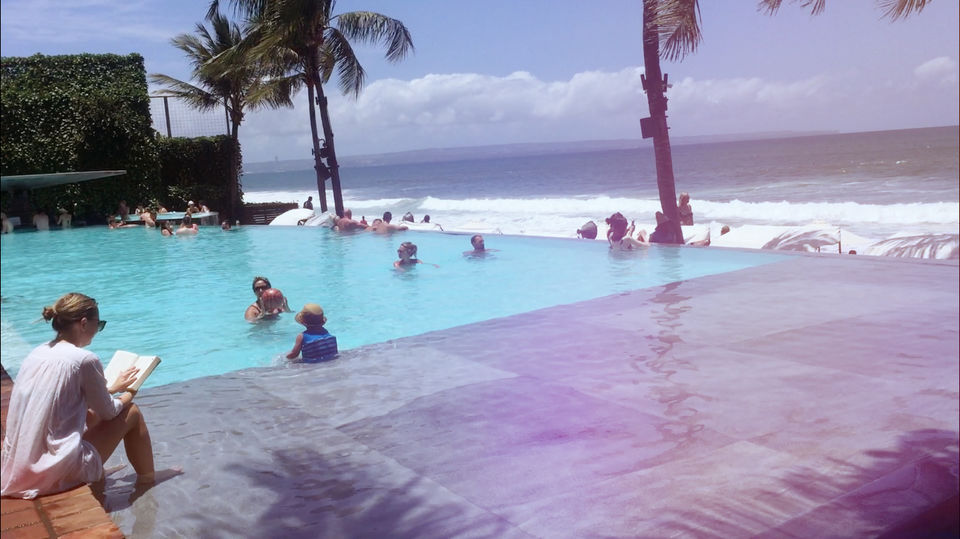 DAY-3: PALMETO VILLAGE, GILI TRAWANGAN
Our shuttle bus picked us up in the morning. We reached Padang Bai port and boarded our boat. The sea-way to Gili is so enchanting that one can see the beauty of nature. 2 hours later, we reached Gili Trawangan. We hired a horse car and reached our hotel. It is a small island where only bicycles and horse cars are allowed. Plastic is also banned here. You can tour the entire island in your bicycle in few hours only.
"Palmeto Village" was our stay at Gili T for 2 days. We booked a pool view room. When we entered the hotel, the inside view was so spellbinding that we just wanted to stay at the entrance a bit longer to seize the eye captivating view. The pool was the highlight of the hotel and the rooms were on either side of the pool. Our room was exquisite, especially the bed. It was designed in a rustic way. Everything was made of wood and painted in white. As it was a village area, the ambience was quiet and close to nature.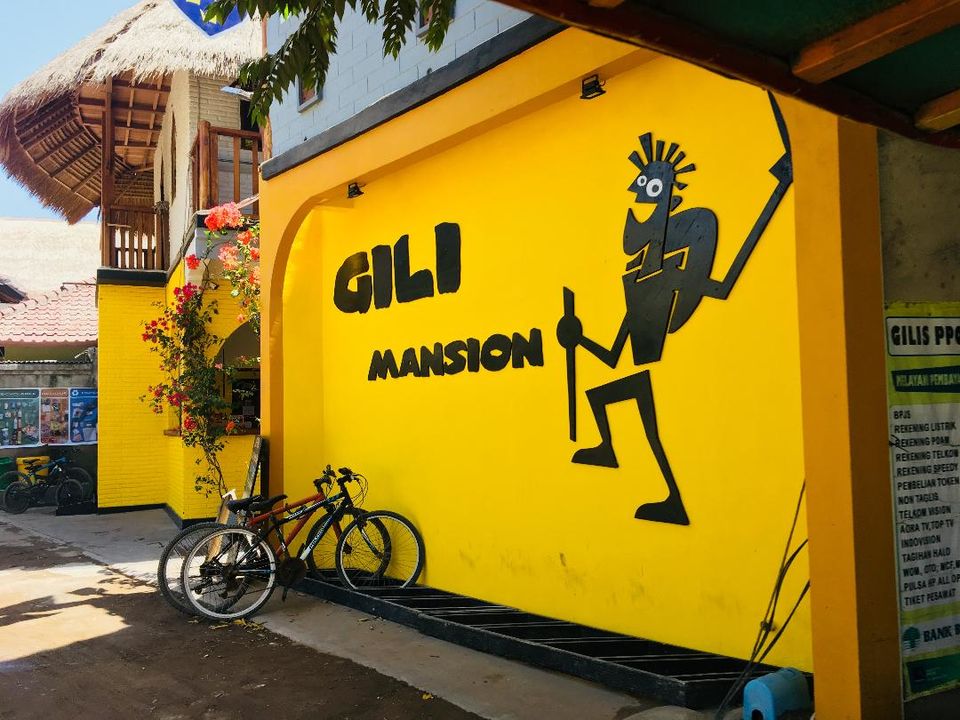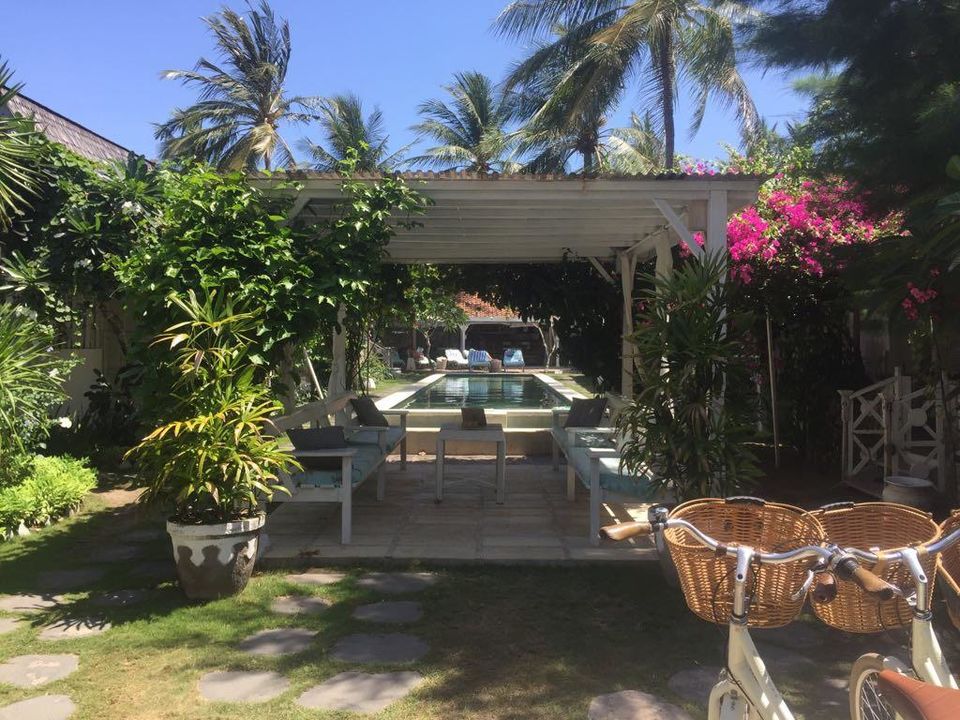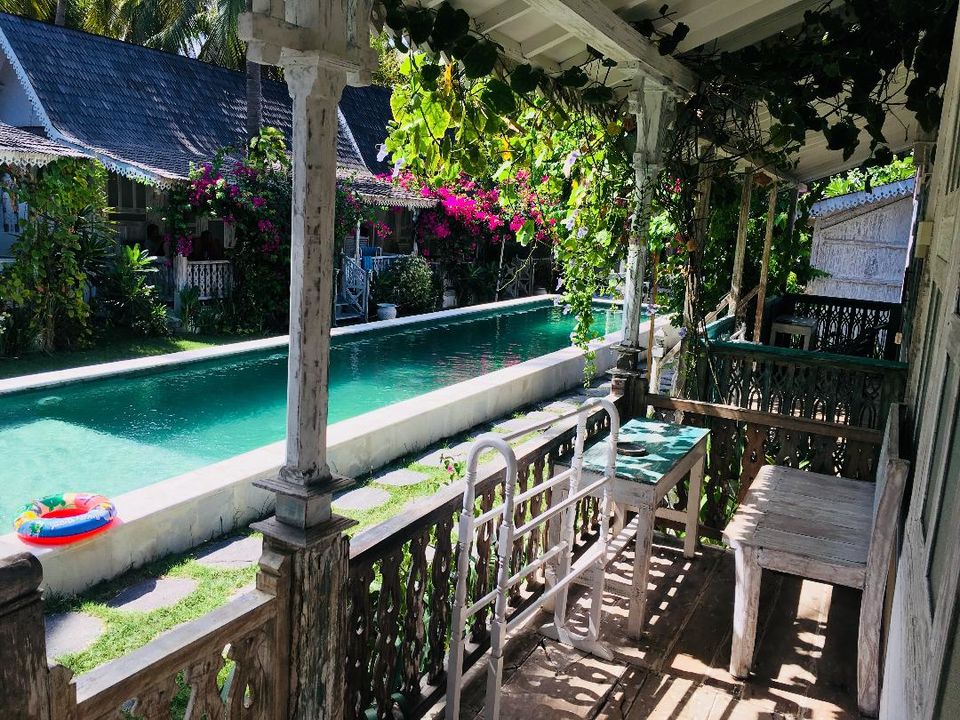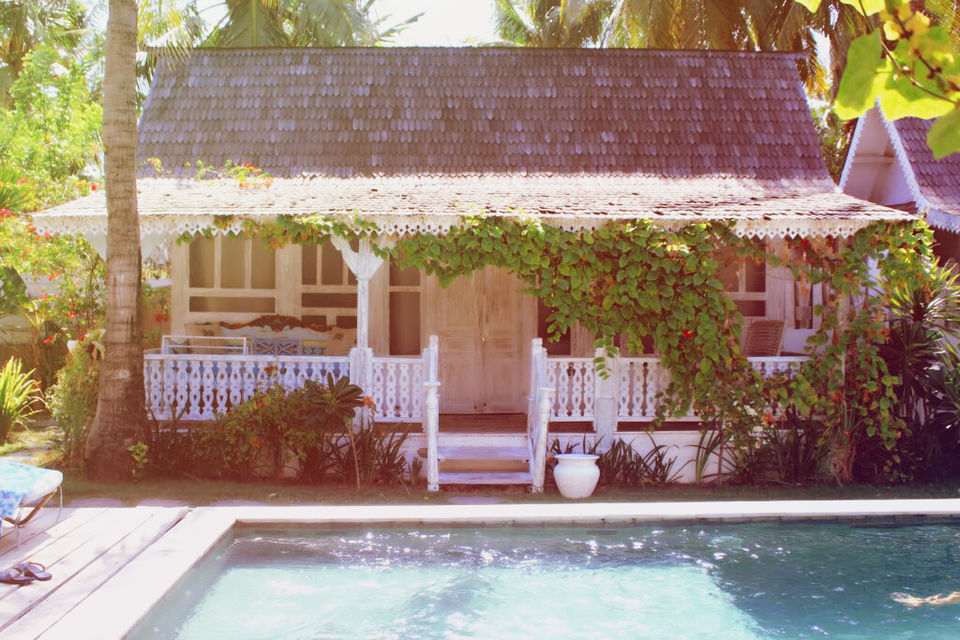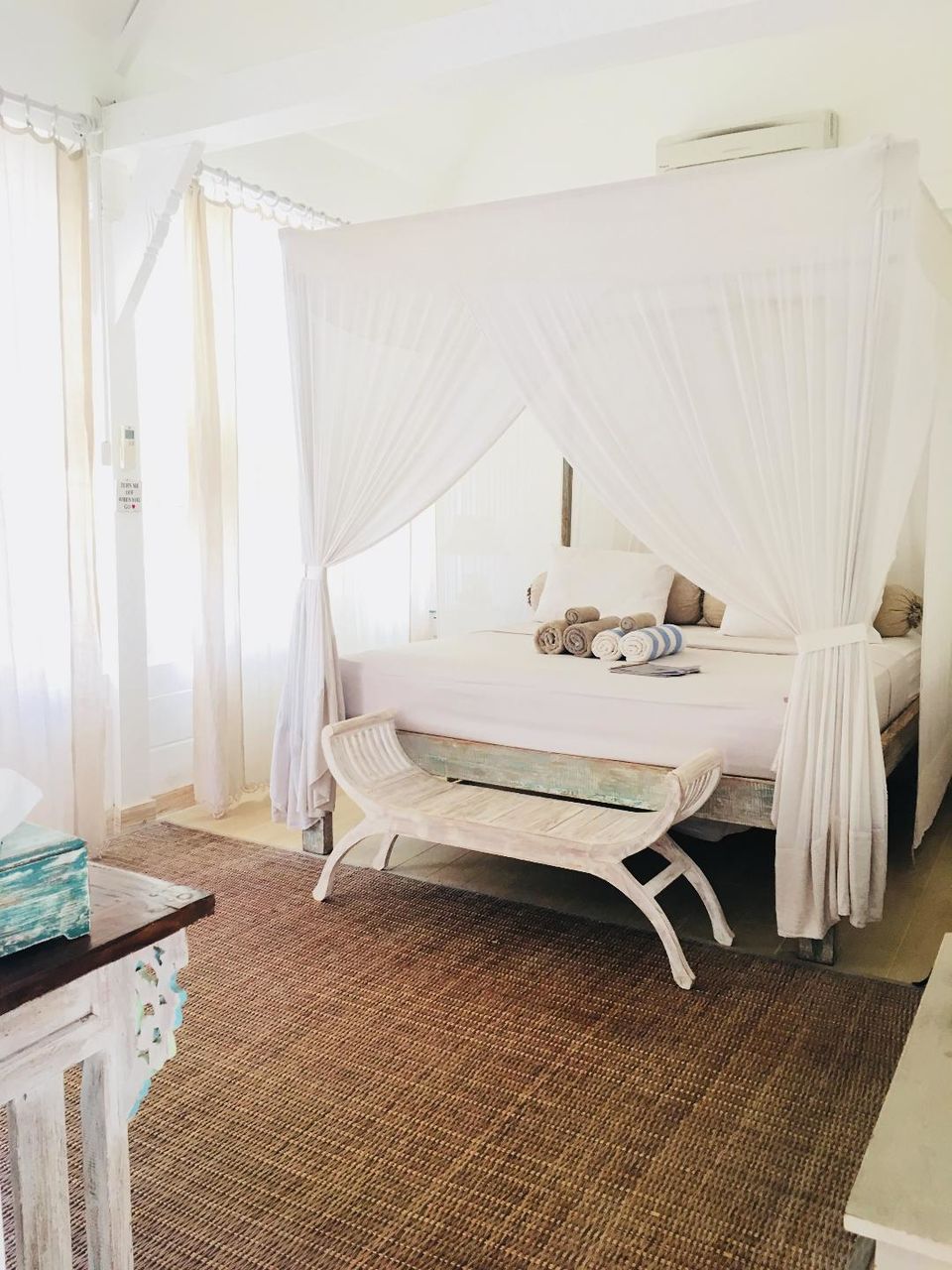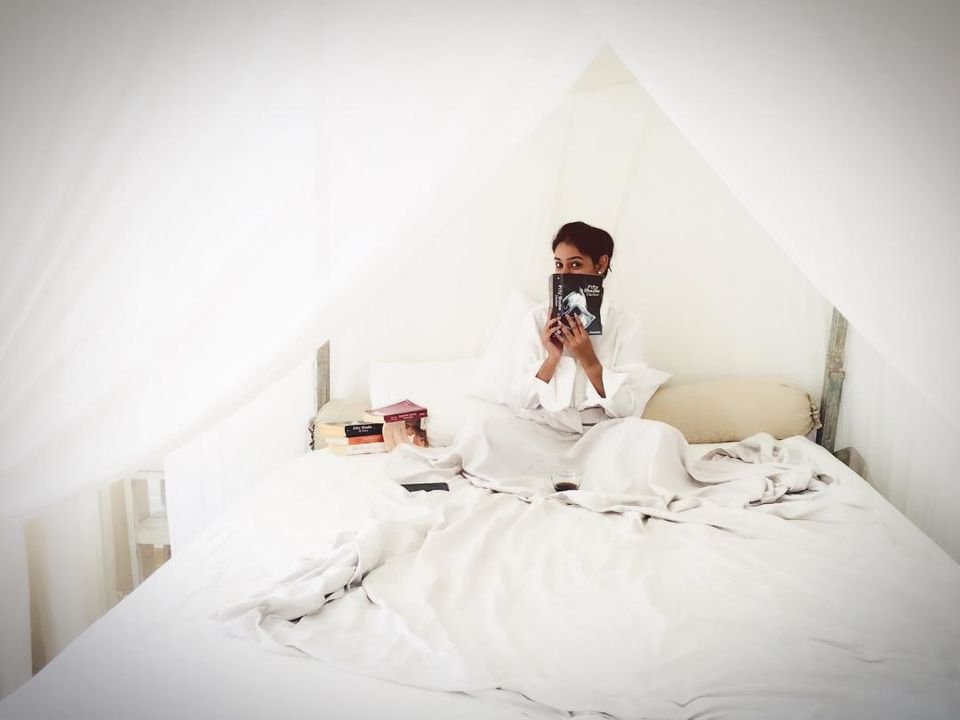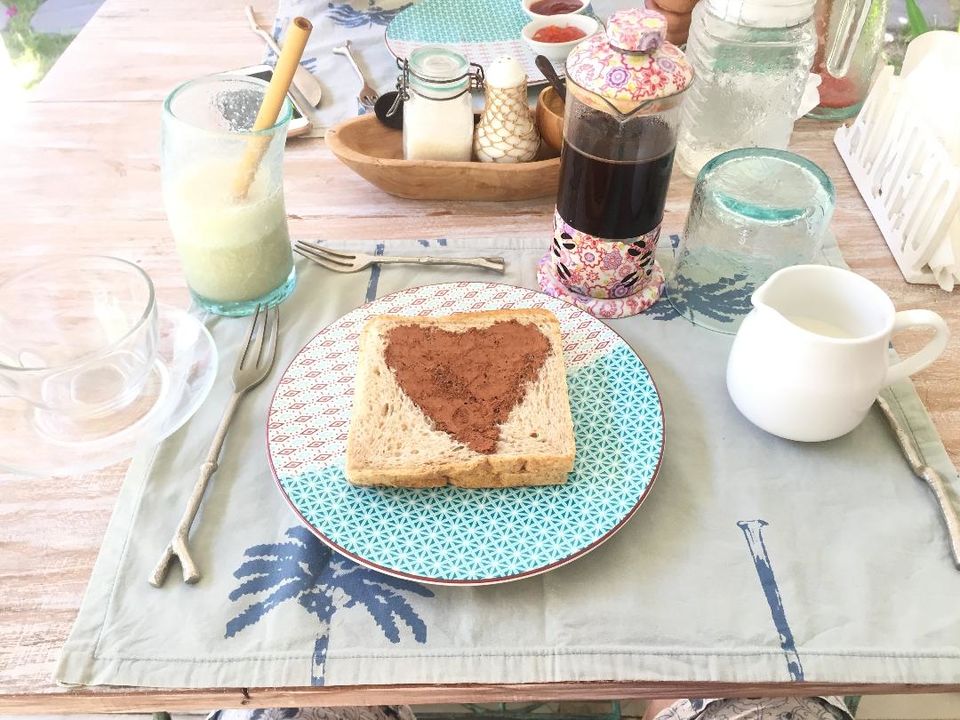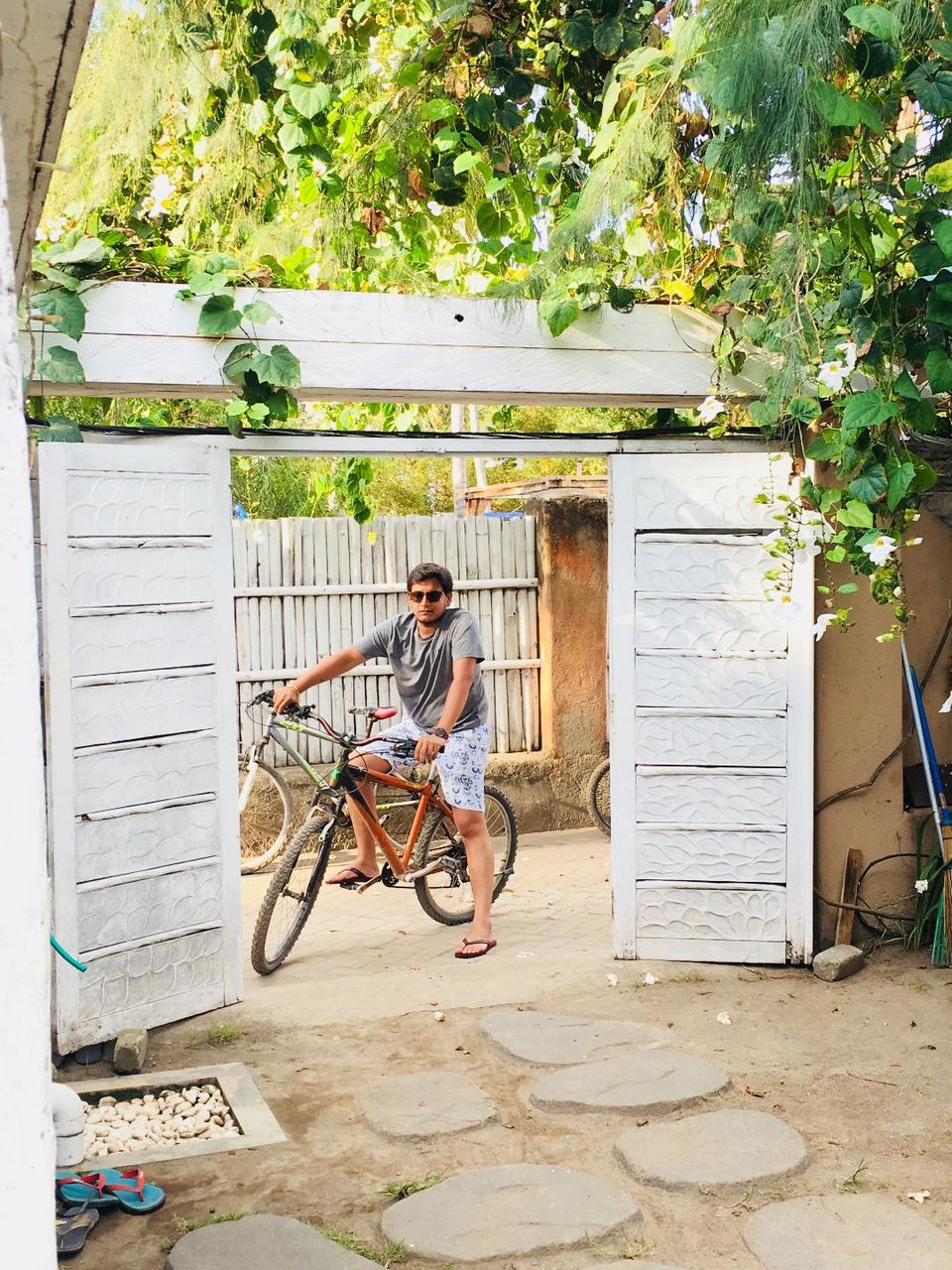 DAY-4: SNORKELING AT GILI TRAWANGAN, GILI MENO & GILI AIR
After having our breakfast and a little photo session, we went for snorkeling. We were a group of 25 people with 2 instructors and a boat with glass floor. We were given masks and mouthpieces along with floating foot fins. Since it was our first time, we took life jackets too. Our instructor was telling us how to dive, use the equipments and what we are going to see. Our first spot was Gili Trawangan itself. A little far into the sea, our boat stopped and we dived. We saw lot of coral reefs and pretty fishes of different kinds. We also saw a sunken ship. Thereafter we all climbed back to our boat and our next spot was Gili Meno where we can swim with the turtles. There was also a lake in Gili Meno. Next our boat stopped in Gili Air, there are huge statutes of humans holding hands in a circle and gorgeous sights beneath the waves. For a second, we felt like real people are standing there. We had delicious lunch in Gili Air and took a small tour of the island. By the time we came back to Gili Trawangan, it was almost dark. We headed for dinner and enjoyed some time by pool-side under the open sky in Palmeto Village.
DAY-5: GRAVITY, ULUWATU, BALI
Today we were going back to Bali as our next stay was in Uluwatu. Unlike our earlier two stays which were budget friendly; this one was a bit expensive. Our first 2 days were happening and fun with stay in a modern hotel, next 2 days were full of adventure with stay in a rustic themed hotel and therefore we planned our last 2 days for peace and stay in a luxury hotel. Because we paid a bit high, we wanted to be there as soon as possible so we reached the port and waited for our boat to arrive. It was a big boat this time and it had so many stops that by the time we reached Bali, it was almost sunset and when we reach our hotel, it was all dark. Our whole day was taken by the boat. Though the view and journey were good but it was so long and we missed our sunset.
We reached "Gravity" around 06:30 pm, checked in and had some food. It was such a picturesque hotel. But after such a tiring day, we decided to sleep early.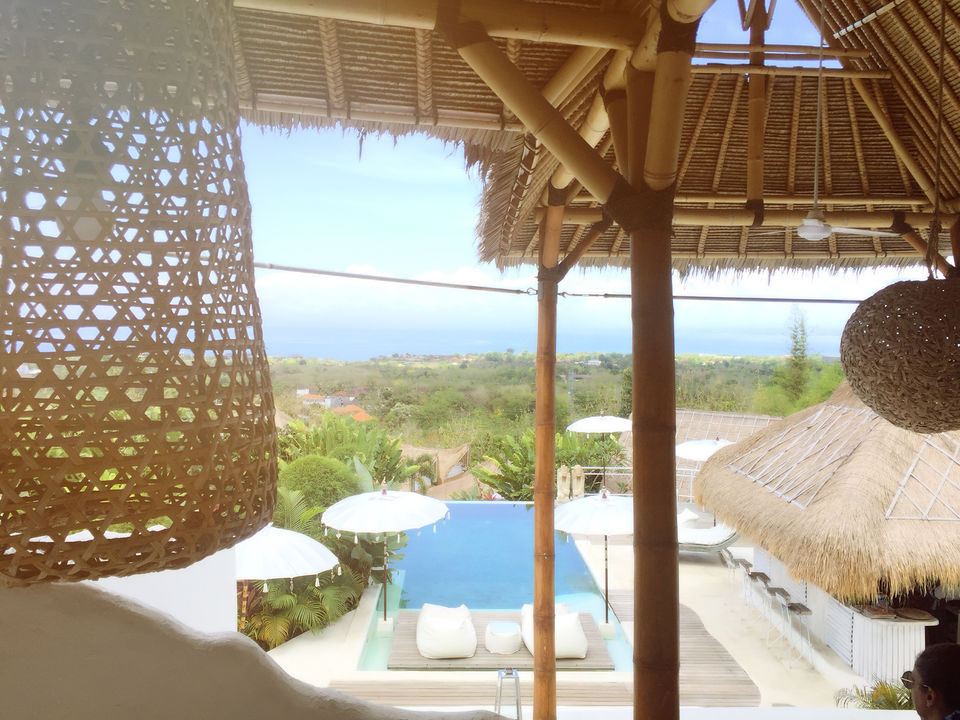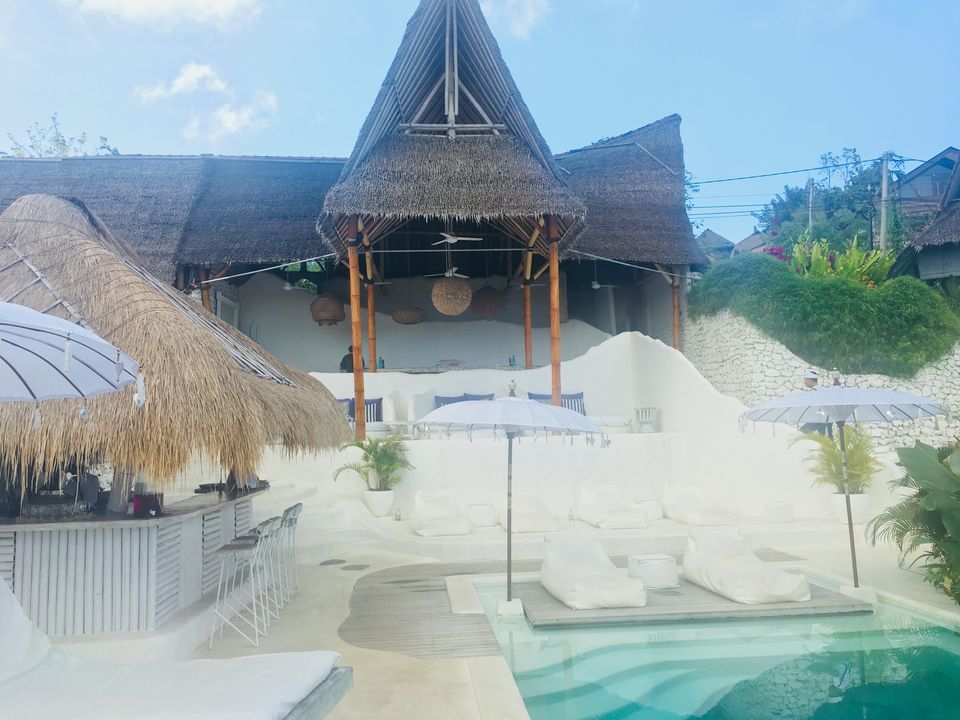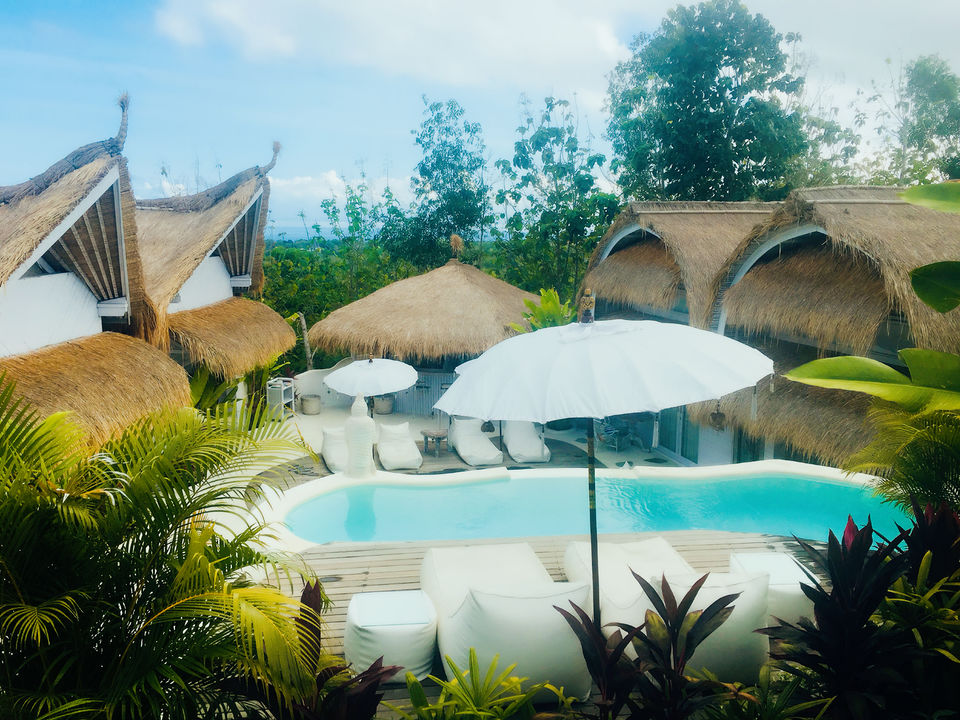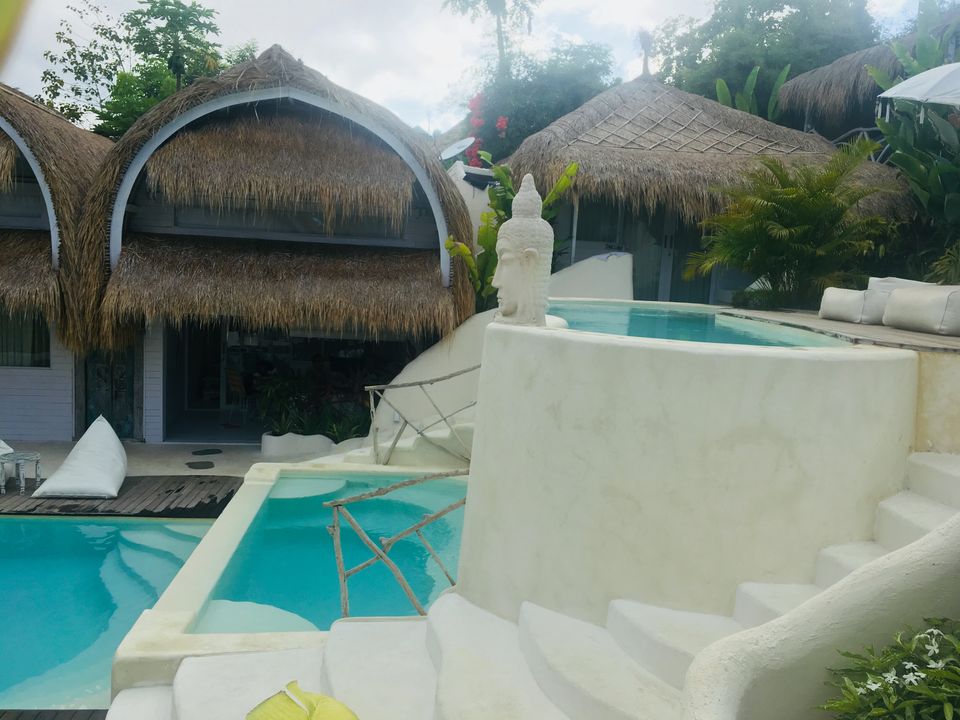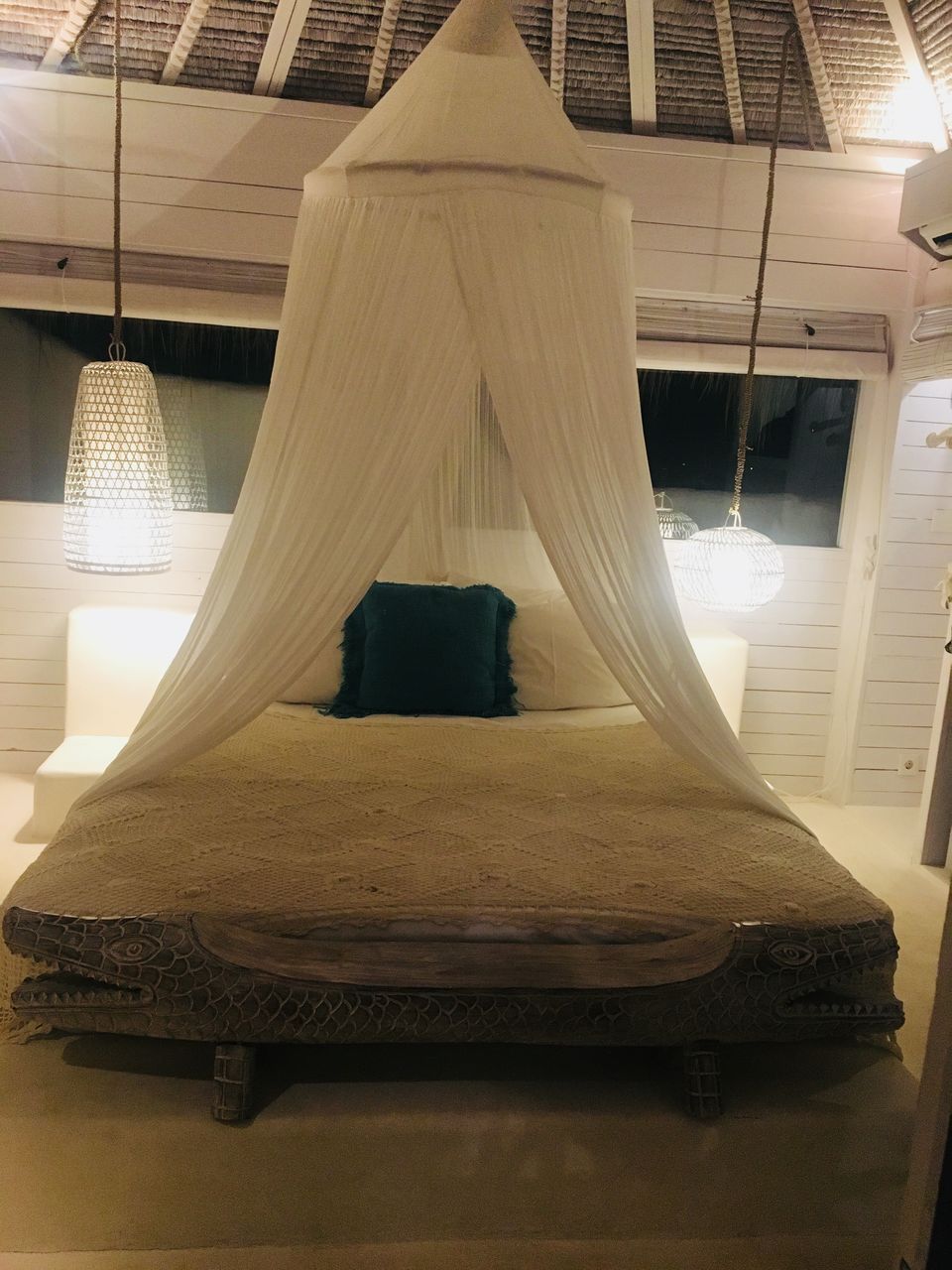 DAY-6: GRAVITY HOTEL & ROCK BAR, BALI
We got up early morning to enjoy the infinity pool of our hotel as well as the scenic beauty it was. Gravity looks very similar to Santorini, Greece. It feels like a part of Santorini in Bali but the owner claims that he has not copied anything from Santorini and built his hotel in a Portuguese style. Everything was white and the little huts gave it a charming look and though it was a luxury hotel, you have to ask for amenities like shower cap, etc. from reception. We enjoyed some pool time before having our breakfast and then headed outside. After a little shopping from the local market, we went to Rock Bar.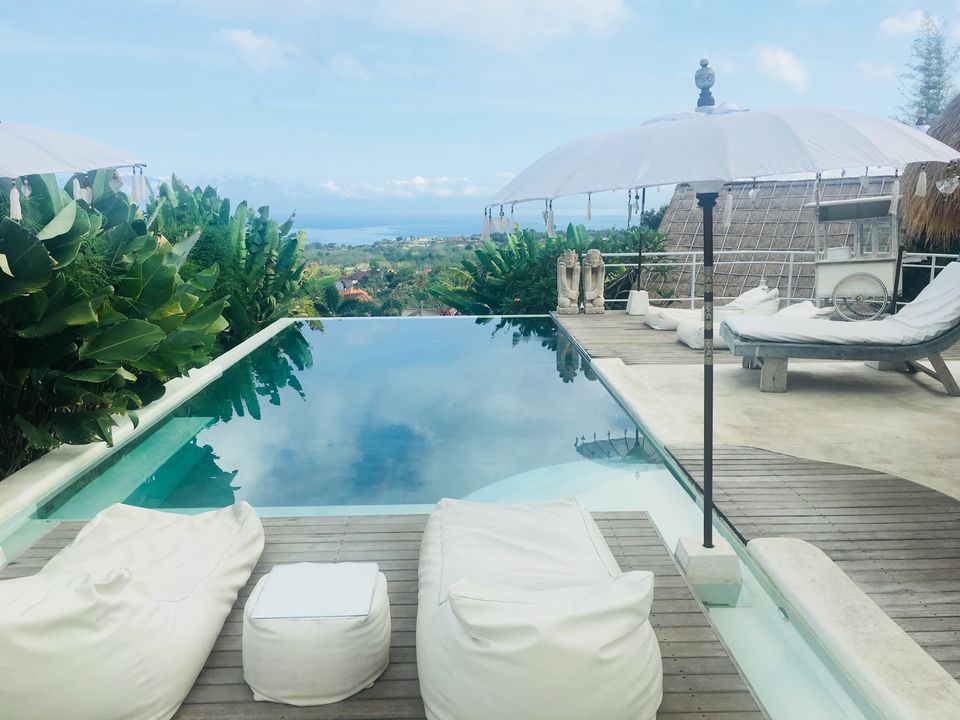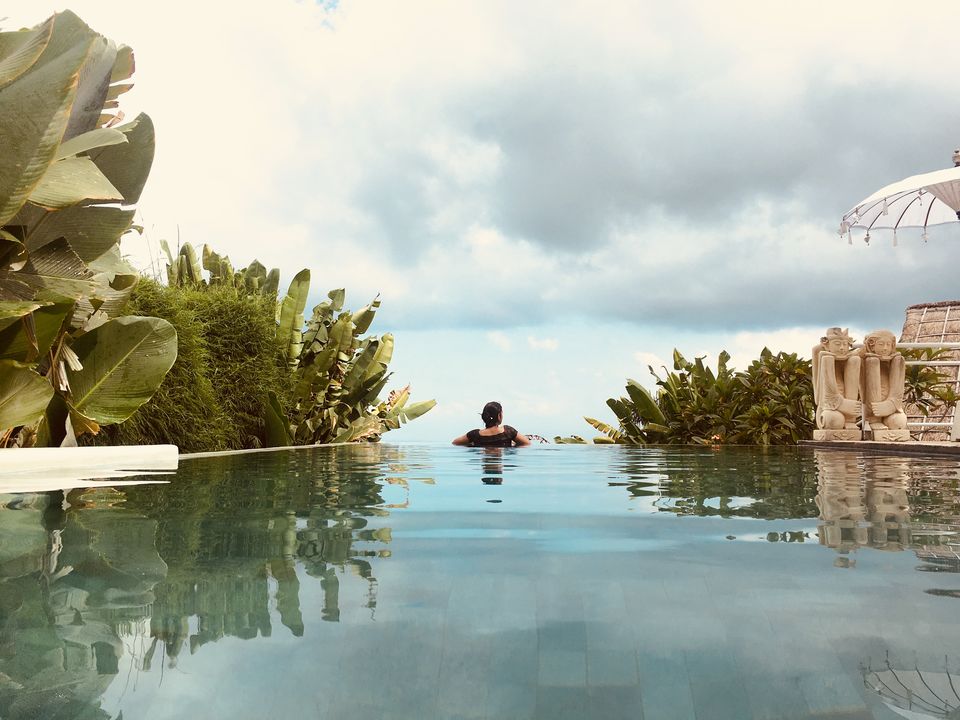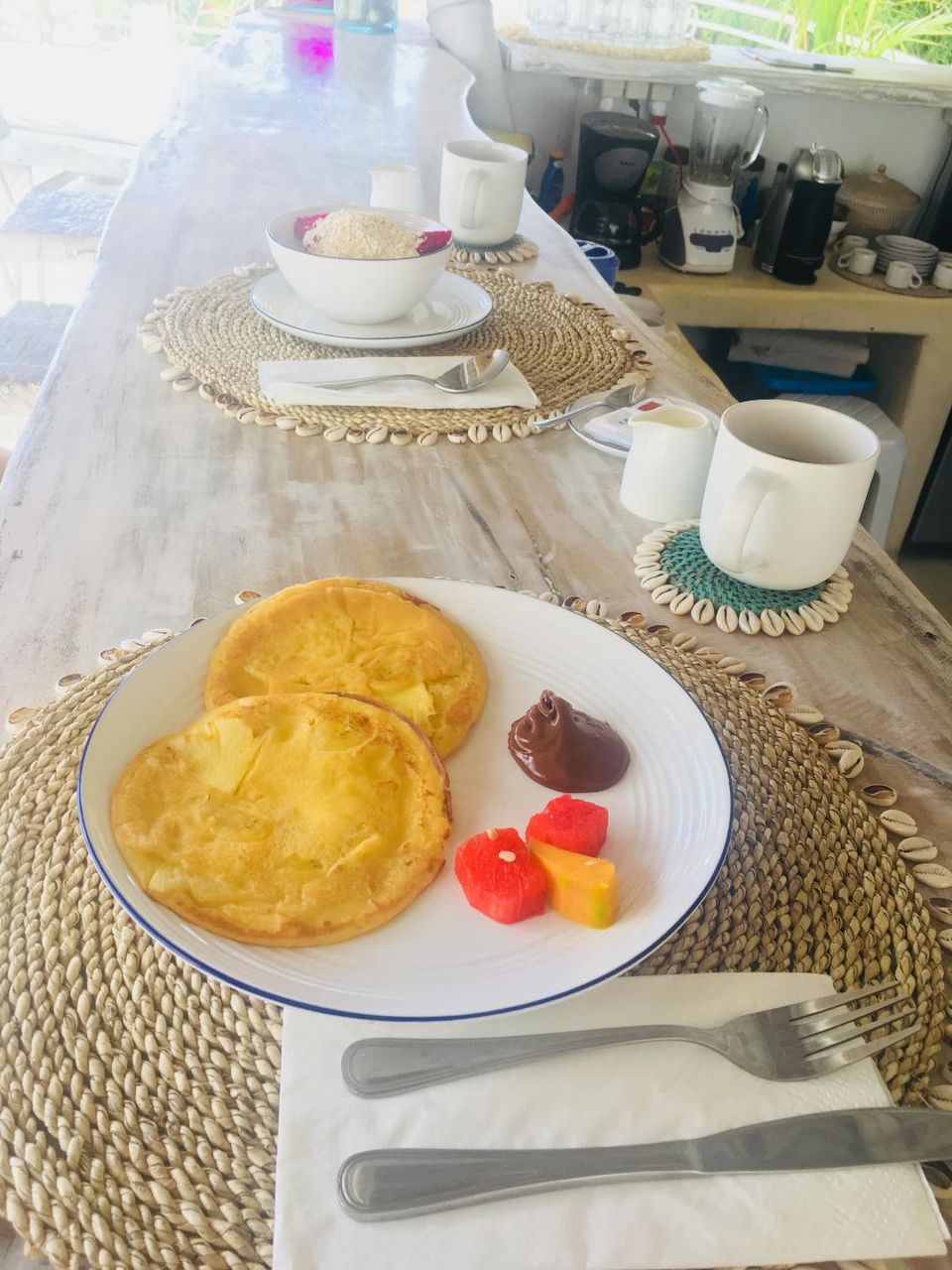 "Rock Bar" was not what we presumed, it was way better. Just as we thought that we have seen all beautiful places of Bali, Rock Bar was without doubt the most beautiful. It's so huge that they have their own cable cars inside it. Rock bar is created by carving and shaping the rocks in requisite designs which gave it a natural look plus the sea-shore was augmenting its charisma. There was a gigantic infinity pool just at the entrance. Sunset-view could not be any better. We were there a bit long and enjoyed the sound of waves when it touched the rocks beneath us.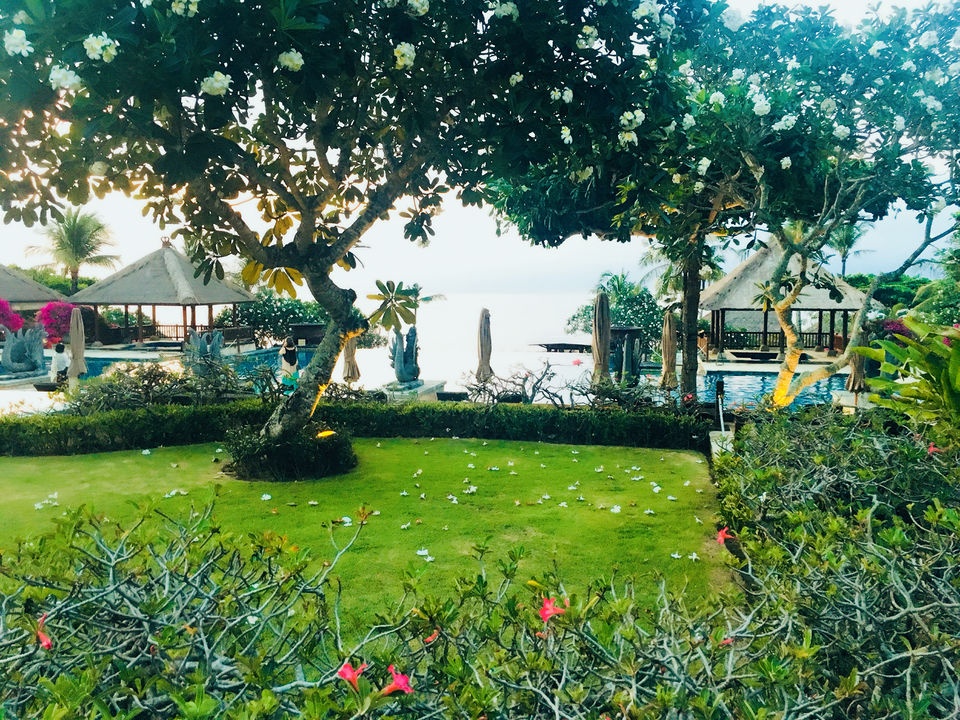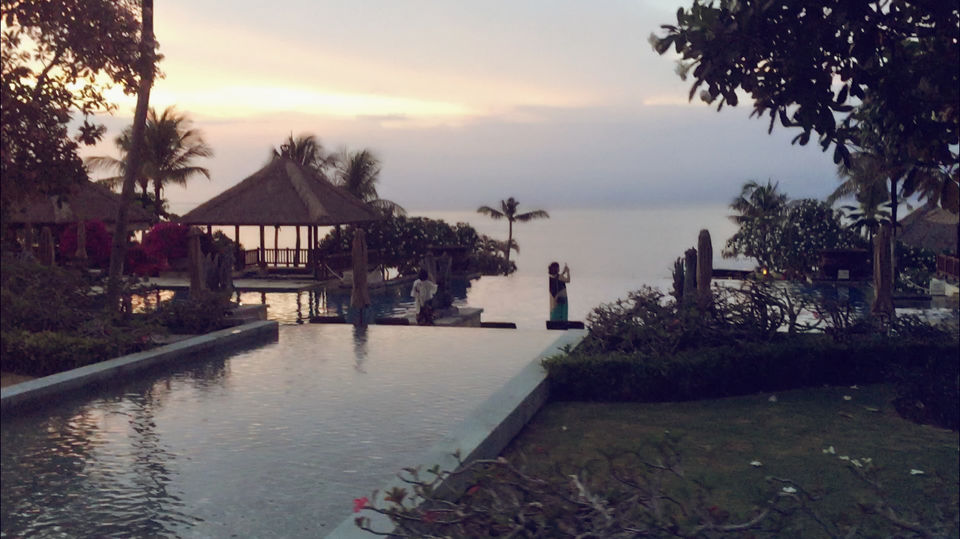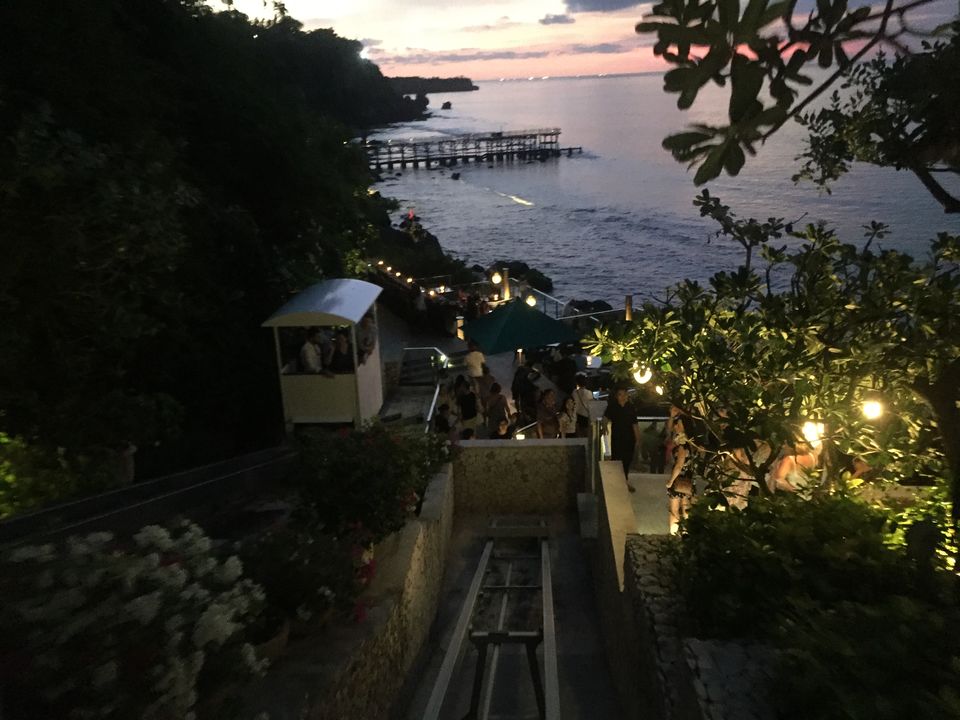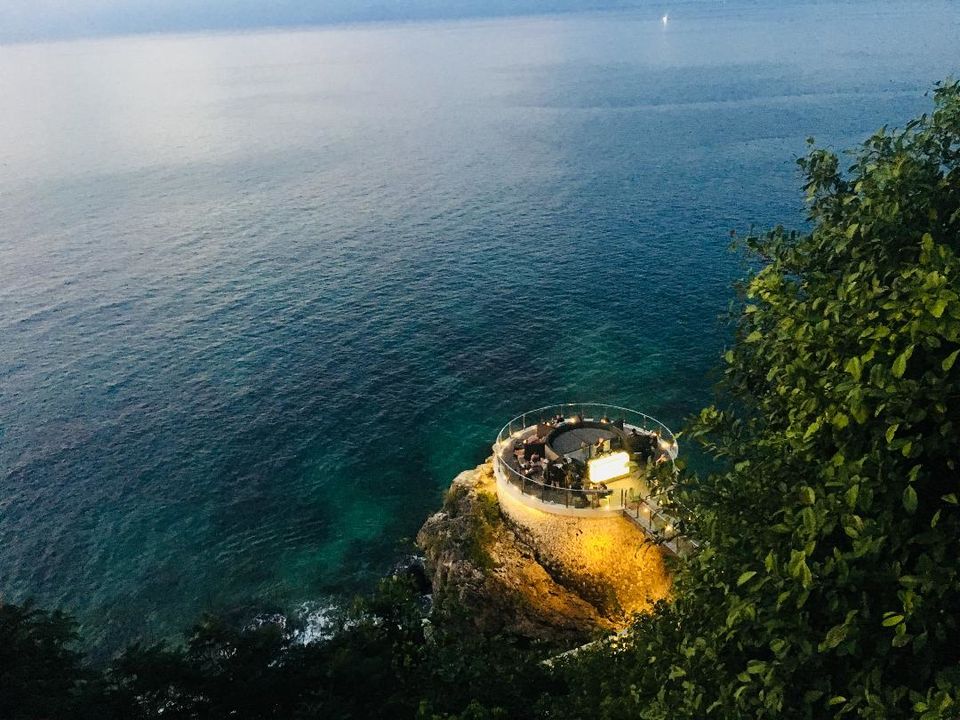 We also booked a ferry for the next day to Gili Islands. It's better to book return ferry too for time-saving and convenience plus you will get a good rate. The Gili Islands are a group of 3 tiny islands – Gili Trawangan, Gili Meno and Gili Air. All of them have sparkling white sand beaches. After a lot of research, we decided to stay in Gili Trawangan (popularly known as Gili T).
After getting freshen up, we went for a little bicycle ride (2 bicycles were given complementary by the hotel). The hotel staff also helped us book snorkeling for the next day. We could have done snorkeling in Bali too but we chose Gili as it gave us an opportunity to explore all 3 Gili Islands.
We went back to our hotel and started packing as we had our flights the next day. It was our first trip abroad but it didn't feel like one. The comfort which Bali provides to its tourists is incomparable and yes, we will definitely visit Bali again. For more videos and updates, please click the below link and subscribe our YouTube channel.
https://www.youtube.com/channel/UC0jc39l-CwbO16qSnjNdyDg
Frequent searches leading to this page:-
Bali honeymoon package cost from India, Bali honeymoon packages with private pool, 4 days 3 nights Bali honeymoon package, best places to visit in Bali Indonesia for honeymoon