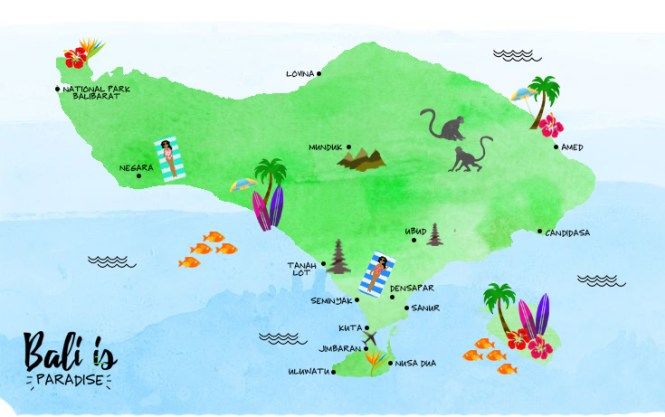 Bali (read: bliss) is an island of paradise that exudes an inviting charm with its rich culture, picture perfect landscapes, spectacular beaches and a promise of adventure. With sugar-white sands and infinite horizons, the thought of this magical island triggers all kinds of wanderlust. I always thought that one day, Prashant and I would find ourselves enjoying honeymoon-esque days under the Balinese sun, however, I found myself taking up Lekha's offer.
The deal was sealed over Google Hangouts:
Where to start: Neither of us are avid "travellers" just yet, so we didn't have a rucksack full of tips and tricks. However, we did have a budget that we had to stick by and with Lekha's organizational skills and my Gujju blood, we managed to figure out the best rates possible and set off on planning a trip that would allow us to enjoy ourselves without burning life-long holes in our pockets. Also, the Internet has tonnes of information available, from blogs with detailed itineraries to Airbnb (our holy grail). However, the best way to figure out a plan is to go old school and go by "word of mouth". Ask questions to everyone- we asked on Put Me In Touch too.
Budget: Rs 80,000 (I spent approx. Rs 70,000)Airline tickets: Rs 36,000 Air Asia (Bangalore- Kuala Lumpur- Densapar- Kuala Lumpur- Bangalore)Duration: 5 nights 6 days (We travelled during May, which is pretty much off season but worked for our budgets)Itinerary: Jimabaran/Nusa Dua- Seminyak/Kuta- Ubud- Denpasar
Just to be a little more helpful, I've illustrated my own little map for you to follow along ⇒
Day 1: Unraveling the Bukit Peninsula
Travel: Ngurah Rai International Airport to Balangan Beach- 35-45 minutesStay: Villa at Balagan BeachEat: Pit Stop, CIRE by Alila, Rock Bar at AyanaSee: CIRE by Alila
After spending 7 very boring hours (read: please carry enough entertainment) at Kuala Lumpur, I finally reached Ngurah Rai International Airport (Densapar) at noon. Once I landed, I found myself a friendly cabbie and headed to Jimbaran where we'd booked ourselves at a villa in Balangan Beach for two nights. Happy to be welcomed with an adorable Anna (our hostess), frangipani trees, a small pool and Lekha holding a bottle of Bintang, I dropped my bags, changed into my swimsuit and dove right in. Bliss, here I come.
Once we'd had pancakes which Anna prepared, we decided to go find ourselves some scooties (the best way to get around) and get exploring. Balangan is part of the Bukit which is known as the South Kuta Peninsula. This also includes Jimbaran, Padang Padang, Bingin, Uluwatu and Nusa Dua, which are all really closely located. Known for its stunning beaches, winding roads and breathtaking views, this area is a haven for anyone who is seeking some R&R.
We decided our first evening in Bali should be spent next to the beach (obviously!) with a nice dinner and maybe an easy night out about town. Having seen umpteen Instagram posts of CIRE by Alila, we knew we couldn't miss out on this; even if one Bintag was all our pockets allowed! Guys, the view here is absolutely breathtaking. Perched on the edge of a cliff, the lounge/bar looks out directly at the Indian Ocean and sets the perfect mood for a sundowner. By now, I was feeling the romantic honeymoon vibes *wink*.
Up next, keeping to our budget, we went off on our scooties and quite randomly chanced upon the Pit Stop. The food here is yum-a-dum and pretty well priced- the Oreo cookie shake being a must-try. With bellies full and smiles plastered on a faces, we headed back to the Villa to freshen up and get ready for Rock Bar at Ayana. Again, this spot is perched a few metres above the sea and the setting is perfect to watch the sun go down. Food and drinks are good, not cheap, but the view is worth every single penny; we spent 5 million rupaih- try count that when you're tipsy! What I loved about this place was that we could feel a gentle spray of the sea and at times, the waves could easily down our LITs. Note: the dress code is casual, but they strictly don't allow tank tops and slippers.
Day 2: Of temples and bruised bumsTravel: Around the Bukit PeninsulaStay: Villa at Balagan BeachEat: Pit StopSee: Pura Luhur Uluwatu temple, Dreamland Beach
Woken up by Anna's need-to-feed instincts, we were treated to a soulful breakfast of watermelon, green-coloured toast, a side of eggs and Bintang. With swimsuits on, sun lotion slathered, the beaches were calling today. After asking around, we were directed to the Dreamland beach. A 1 km beach complete with white sands and surf-worthy waves, Lekha and I decided we were willing to get adventurous and give our best shot at body boarding. After a few tumbles, tummy-hurting laughter and bruises, we settled for some more Bintang and a hearty seafood lunch. I think we spent around 3 hours here and then decided to stop over at Pit Stop for lunch, followed by a massage (a must do) and then head to Uluwatu for some touristy sightseeing.
Our agenda was to reach the Pura Luhur Uluwatu temple just in time for sunset. Now, even though this was off-season, the traffic up to this area is maddening, so give yourself enough time to get there. Also, all that bling needs to be left back home, because this temple is known for its notorious monkeys! And make sure you have a pair of comfy shoes on because you'll want to take a walk around to enjoy the area. The temple is quite small, so really the highlight here is the sunset and breathtaking view. Serene and heartfelt, all at once.
Day 3: Of sun-downers and cocktails
Travel: SeminyakStay: ParadiseEat: Potato Head Beach Club, Ku Te Da
We bid farewell to Anna and headed off to Seminyak, where we'd booked ourselves into another Villa which we'll call Paradise. This place is incredible and Marco our host gets an award for his hospitality and cute accent. Enter the villa and our mini kitchen was stocked with exotic fruits (forget dragon fruits, heard of the salak?), noodles, bread and milk, the AC was set at just the right temp and the mini-pool was asking to be dived into.
After some frolicking, we decided to freshen up and head out to explore Seminyak. Our villa was hardly ten minutes away, so getting around on scooties is easy peesy. Seminyak is where the night life is; from live-bands, clubs, eateries to a line up of cute boutiques, this place is touristy in a "nice" way. The best part is that you can park your bikes and walk around, go pub hoping or explore the quaint shops. Our first stop was at Potato Head Beach Club– this place is picture perfect for sunsets and cocktails. On the beach, the up-cycled shutter building has a chilled out vibe, with day beds, an infinity pool and lots of space to walk around. I'm pretty sure that during peak season, this place is the dope! We had a few cocktails here and a very healthy pizza #tryingtobefit. Not ready to say goodnight to the Bali breeze and night sky, we walked our way to Ku Te Da. The gorgeous beach side club was fully booked out when we got there, but I think we begged the best spot- the grass area overlooking the sea. We lied down, had a Bintang and soaked in all the stars. A perfect end to a perfect day.
Day 4: Of Motel Mexicola and Pimms
Travel: SeminyakStay: ParadiseEat: Motel Mexicola, Sea Circus, The Bistrot, The Junction Bali, Woobar at W HotelSee: Bali Boat Shed, Tanah Lot
With Bali, somehow we didn't feel the need to exert ourselves and try cover every touristy thing, instead we let ourselves relax and go along with the flow of the day. Mid-morning, we enjoyed a quick swim at the Paradise Villa and then decided to head back to Seminyak and try out some of the other places. Our next stop was Motel Mexicola. With its Mexican kitsch decor, this place has all the colours and cocktails under the brilliant sun. Vibrant, fun and upbeat, the food is delicious and the staff are entertaining and ah-mazing! If tipsy fun is what you're looking for- head here. Just around the corner you'll also find the Bali Boat Shed and Sea Circus.
Bali Boat Shed is a colorful and quirky little corner shop that has a fun in-house label and also a plethora of Balinese designer products on offer. This place gives you beach vibes and summer wardrobe goals. Our not-so-guilty-buy: flamingo tees! Adjacent to it, you'll find the Sea Circus with its colourful glass shutter windows and kaleidoscopic interiors. Having just eaten, we decided to settle in with a bucket of Pimms. Quite and quaint, this place has a great "Hangover" breakfast menu, even though we decided to douse ours with some more alcohol.
By afternoon, we decided to regroup and head off to Tanah Lot. Again, you want to reach this temple before sunset to enjoy the breathtaking view. Sitting on a sea rock, you can't go up to the temple, but you can walk around the rocky beach, have an ice cream and hide away from the snake-wrapped man. This place is perfect to capture 50 selfies and 100 sunset pictures. It also has a restaurant called Warung Mandala Tanah Lot which has an amazing sea-food menu. If you're honeymooning, this place is perfect for a romantic candle-light dinner. Also, I'm pretty sure half of Asia comes here to get their perfect wedding picture taken.
A little tired from the journey, we decided to have a mellow night and headed to The Bistrot for a quick eat. With stunning vintage decor, huge sofa-table setups that remind you of old railway stations, you'll want to head up right to the loft and enjoy a drink or two. The calamari here is delicious and worth every bite.
Not ones to curl in bed too early on, our next stop was The Junction Bali which is located on the corner right across The Seminyak Square. After a Pimms, we found ourselves heading to the Woobar at W Hotel, where we were welcomed by a sudden downpour of rain and a very interesting looking hookah. I'd definitely recommend an evening here- it's perfect for a night spent lounging under the stars. After all, the night is young, right?
Day 5: Paradise 2.0 and guilt-free shoppingTravel: SeminyakStay: Paradise 2.0Eat: Motel Mexicola, Sea Circus, La Favela, The Corner House
Ok, confession time- Lekha and I were supposed to day travel to Ubud and move onto our next Airbnb booking which was at Sanur. Umm… Marco offered us Paradise 2.0- a fancy villa that is worth any glossy travel magazine. This place was huge, had a better pool and a bathtub!! Like, seriously? And we got it at the same rate as the first villa. So, do we regret missing out on Ubud- yes, of course, but hey by now, we'd decided that Bali is a destination we're willing to come back to with our boys. For now, we'll enjoy Seminyak's bustling streets.
We'd also decided that since we were on a tight budget, we'd save shopping for our last day. Before we set off exploring the boutiques, we had a full breakfast at The Corner House, which was delicious! And because we're on holiday, we wanted to down a drink too, so La Favela it was. This place is a hidden jewel, with its eccentric and vintage decor, La Favela is a collector's dream. After a slushy margarita and some picture snapping, we head off to buy our goodies. Yay!!
Seminyak can easily swipe clean your bank account! From a Quicksilver store to roadside stalls, there's something for everyone here. We spent our time walking around, hoping into any store whose facade seemed inviting enough. I can't quite recall the name, but right opposite the Corner House there's a little store that has neon Buddhas, little bulldogs and pineapple statues. Fairly good to the pocket, we ended picking up quite a bit of stuff from here- including this mirror that I totally heart! Our next set of shops to raid were closer to the Seminyak Square. The trail to follow: House of Feathers, Kody & Ko and White Peacock. I promise you won't be leaving these places empty handed. If you'd like to see a haul then holla at me!
With just one more night left in Bali, we decided to head back to our favourite place- Motel Mexicola. After drinking and dancing under the moonlight, we bid adieu to the Bollywood-loving staff and headed back to Paradise 2.0 to enjoy one last skinny dip in the pool.
This post was originally published on 'Namrata Noted'.