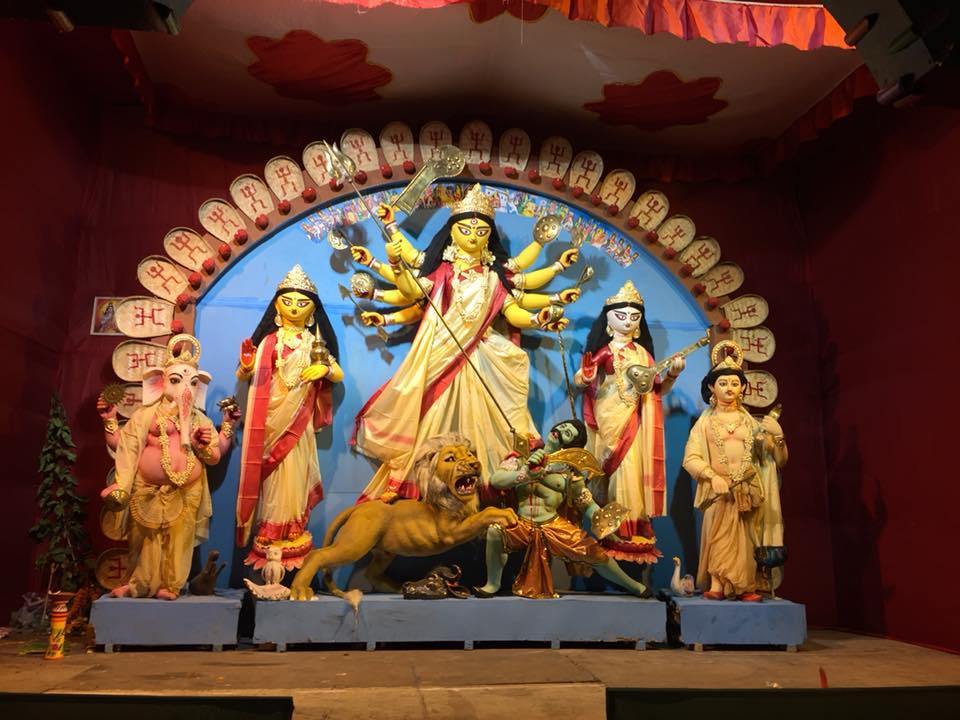 Hello to all Bengalis living in Bangalore. I know how hard it is to be outside of Bengal during Durga puja, especially when you have to go office in Puja days. Honestly, being a Bengali I feel heartbroken every year I skip Durga Pooja and didn't go home. Anyways Durga puja is not just meant to celebrate in West Bengal but also hugely celebrated other parts of India as well as the world. And in Bangalore since the Bengali crowd is gigantic, Durga puja being celebrated here as a significant festival.
So if you are also in Bangalore and heartbroken just like me, this post is for you. I am going to share all the Durga puja details happening in Bangalore.
1. Bengalee Association Ulsoor-
It is one of the oldest Durga puja in town and they are going to celebrate their 70 th year in 2019. You can also look forward to bhog every day starting on Maha Saptami, at noon. And they are going to organize dandiya on Navami.
Location-Bengalee Association
1A, Assaye Road, Sivanchetti Gardens, Bengaluru
2. Sarathi Koramangala Durga Puja-
This association celebrate durgapuja in a grand way, from food stalls to cultural functions you will get it all.
Location -Mangala Kalyan Mantapa.
Opp. Ganesha Temple, KHB 7th Block, 1st A Main Road, Koramangala, Bengaluru
3. Amader pujo by Kanakpura road Bengali Association-
The KARBA is going to celebrate the durga Puja with foods, cultural event and more,
Don't forget to add it to your pandal hopping list.
Location-Elaan Convention Center
46, Opp. Brigade Millennium, 7th Phase, JP Nagar, Bengaluru
Another grand celebration in JP Nagar.
Location -Sri Kala Mantapa
70, 15th Cross, Phase 3, JP Nagar, Bengaluru
5. Socio Cultural Association , Indiranagar -
Socio Cultural Org going to celebrate their 51 st Durga Puja these year. More than food stall you can expect some singer's performance also.
Must visit during durga Puja.
Location -Sisu Griha Montessori and high School
3, HAL 3rd Stage, Bhoomi Reddy Colony, New Thippasandra, Bengaluru
6. Sarjapur outer ring road Bengali Association-
Apart from food and cultural events few Bengali singers coming to perform this year.
Location-BBMP Ground
Sarjapur Road, Doddakannalli, Bengaluru
7. Bharsa Bengali Association HSR Lay out -
Proud winners of the Sharod Samman Awards for the BEST DURGA PUJA 2018 in BANGALORE. BARSHA is now fully geared up for our 4th Year Durga Puja Celebrations for 2019.
This place has it all from mini flea market to book fair, band performance everything.
Location: BBMP ground, HSR lay out.
8. Whitefield Cultural Association - WCA
This year they are giving tribute to Shri Satyajit Roy.
Durga puja celebration along with a small fair and few performance.
Location-Inner circle Ground, Whitefield.
9. Sanskritik org -
Another Puja in JP NAGAR.
Location-Elite Banquets,136, KR Layout, Puttenahalli Lake road, JP Nagar 6th Phase,
Next to Sri Satya Ganapathi Temple, Bangalore - 560078
10. KAGGADASAPURA BENGALI ASSOCIATION-
Location Kaggadasapura, Bengaluru, Karnataka, India.
Follow me for more updates -
Insta- wander_women02 https://www.instagram.com/wander_women_2/
Facebook- https://www.facebook.com/pg/wanderwomen02
Happy Durga Puja to all!!