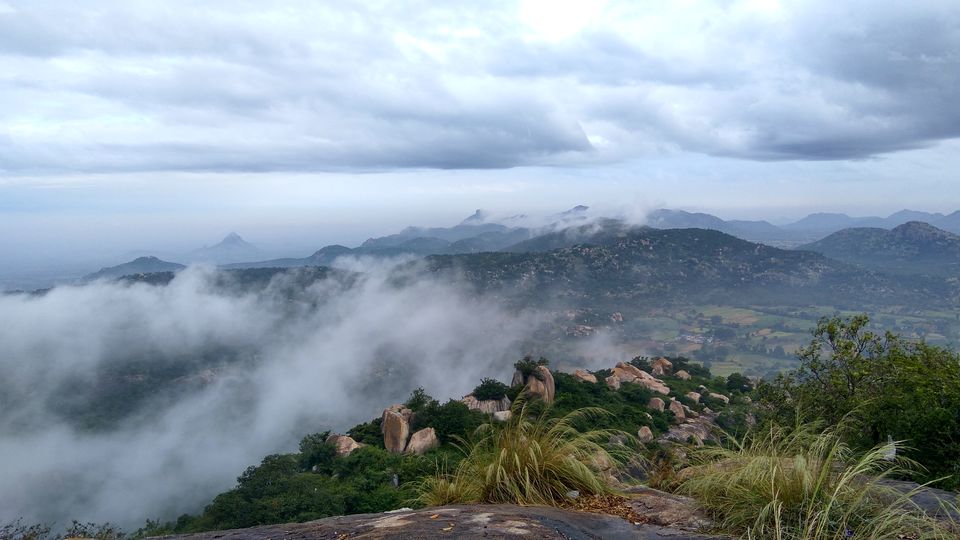 Are you out of places to visit this coming weekend near Bengaluru and don't want to visit Nandi again? Well you don't have to worry about it anymore. Avalabetta is a hilltop viewpoint about 92 km from Bengaluru which will definitely satiate the traveler inside you.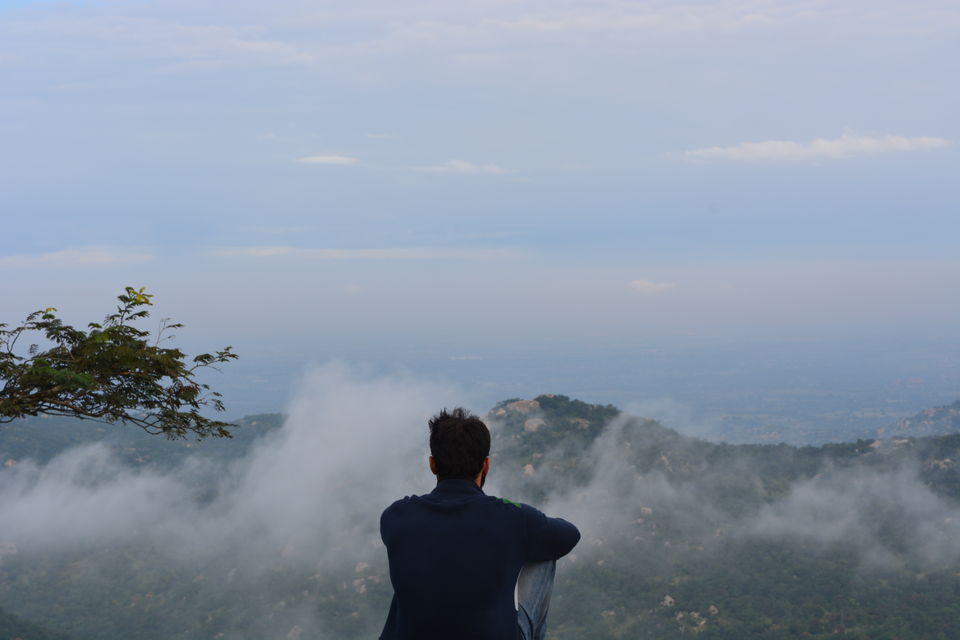 Although the road ahead of taking the turn from National Highway is not wide enough, the drive is still enjoyable. You can find more on how to reach at the end of this entry. You'll get a feeling of driving through ghat sections on that road. After a 20 km drive you'll come across the entry gate for Avalabetta hill. There's a parking lot outside the gate to the left where you can park your vehicles and trek to the top.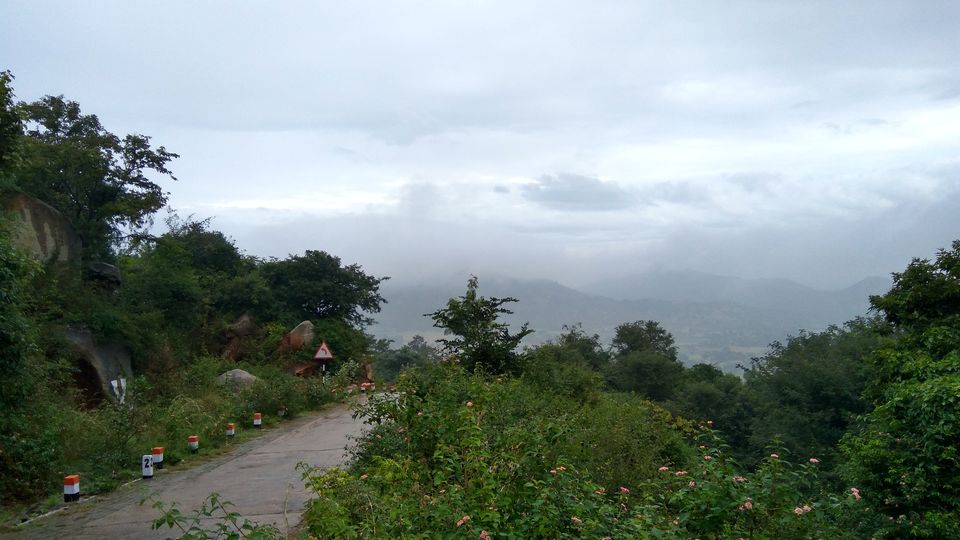 When we went, the entry gate was open so we took our bikes to the peak. It's a 2-3 km drive/trek from here on. The path is cemented and wide enough for a car too. We went during winters so the views while going up the hill were amazing. You can see clouds all over the place which will cover most of the parts of mountains. The only parts visible will be the foot of the hill and the peak. These views change from time to time and season to season. For example if you go here in Summers you will rarely see any clouds and the weather will be as clear as it can be. So season is a very big factor on the views which you'll experience on going there.
Once there, you'll be able to see the steps going for a temple. There are a lot of monkeys in the area but they are rarely a nuisance. Just be clam and don't tease them and they won't run at you.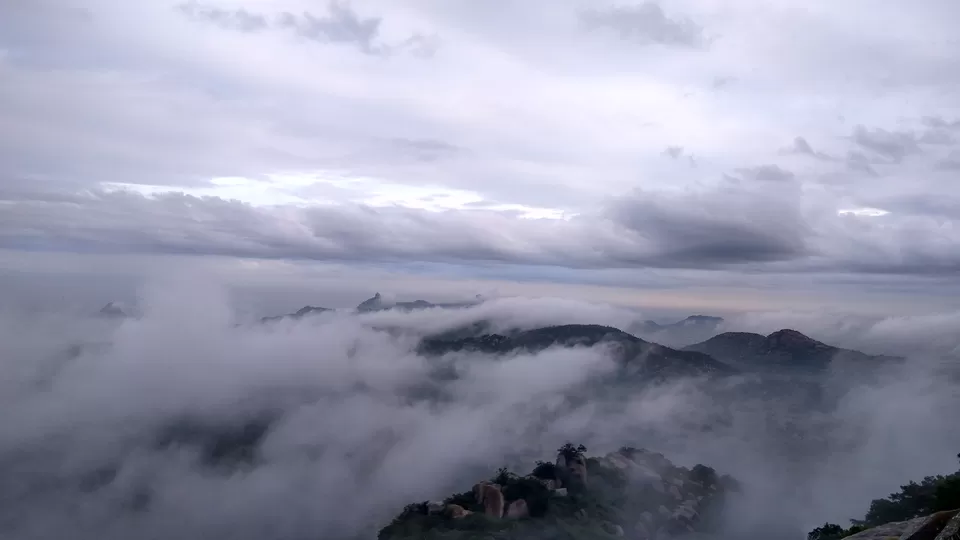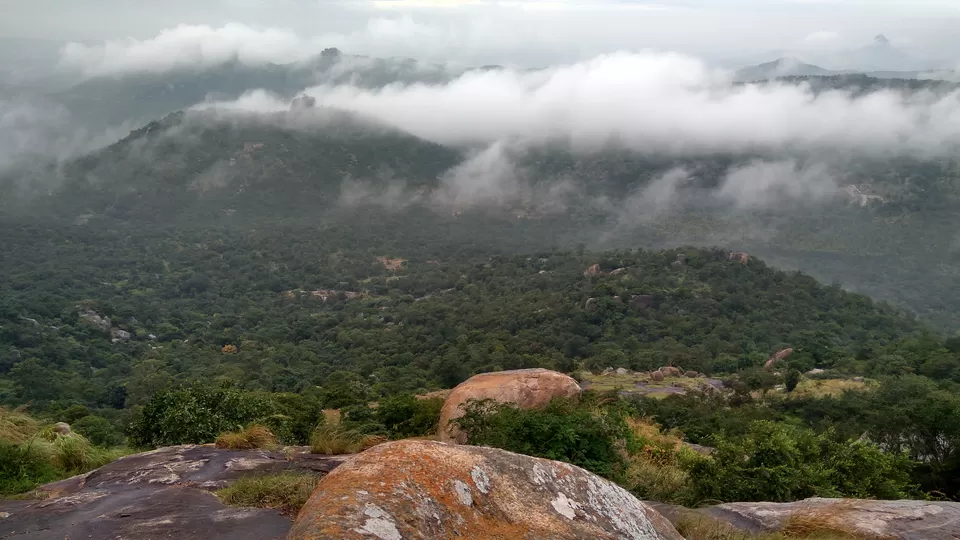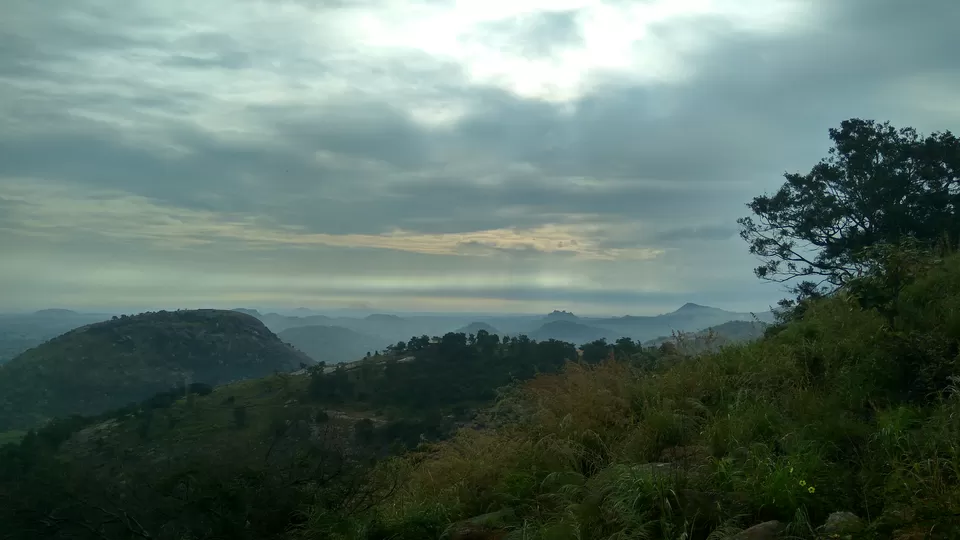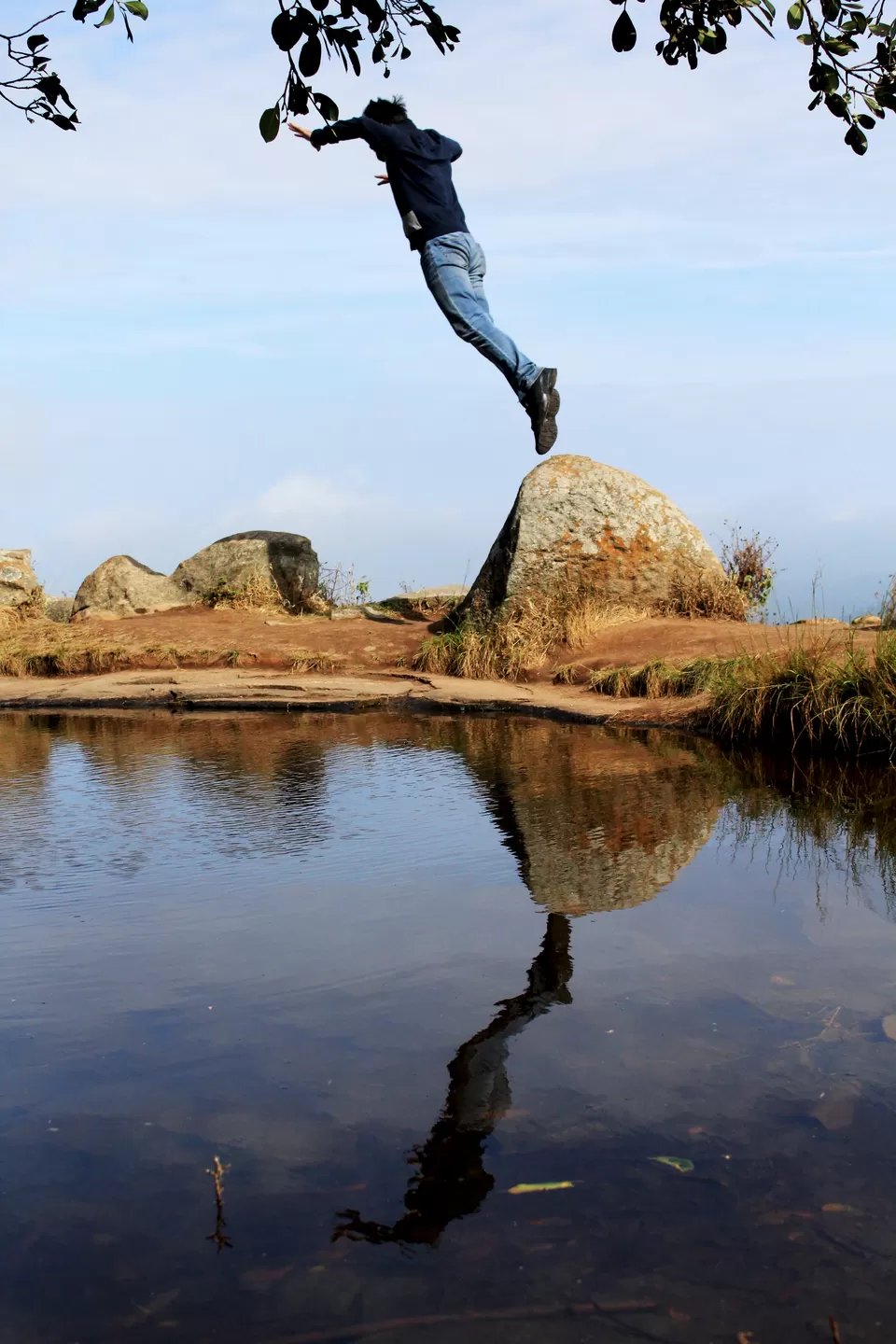 After crossing the temple there is another 100 meters which you have to go to reach the famed chip rock. On the way you'll come across a variety of mesmerizing views and if you reach at the appropriate time you'll be able to see the sun rising from in between the mountains.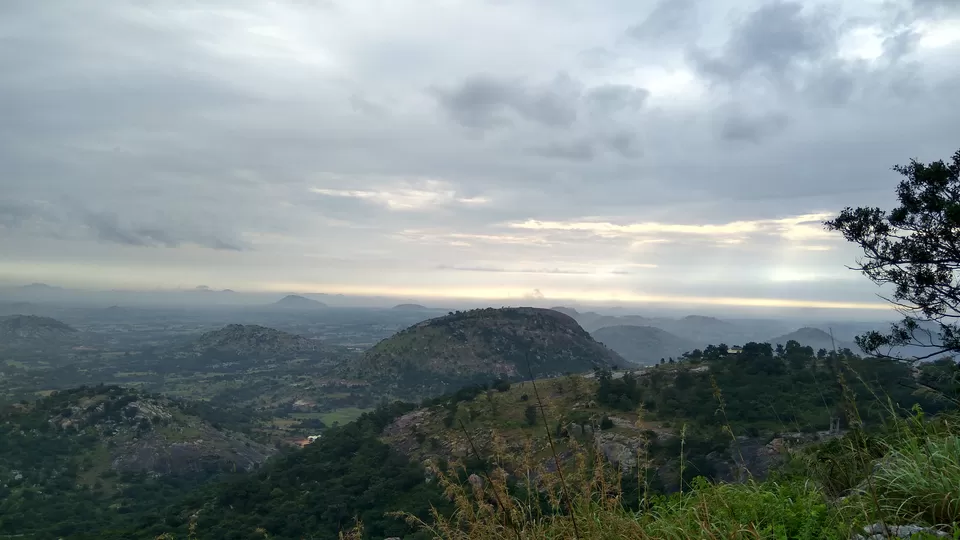 We spent quite a lot of time pondering near the slope on the way to the chip rock as the views just left us in awe. After spending a good amount of time we finally headed towards the chip rock. The rock is exactly how we had seen in pictures but the queue there was a little surprising. It's not as secluded and untouched as you might imagine it to be. We had to stand in a queue of 20 people for our turn to get clicked at the edge of that rock. Although it's safe and people are not pushing pulling each other, it still wasn't as great as we had imagined.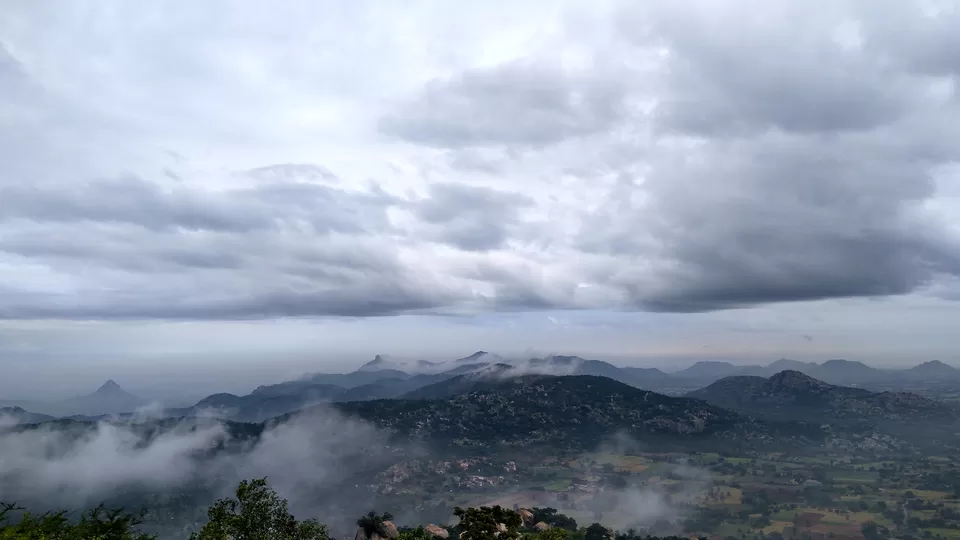 Recently due to some incidents that chip rock area was blocked with barbed wires and as of now people are not allowed to go near the chip rock.
But the beauty of this place lies beyond the chip rock and in the areas around. You can sit here and enjoy the panoramic views for as long as you wish.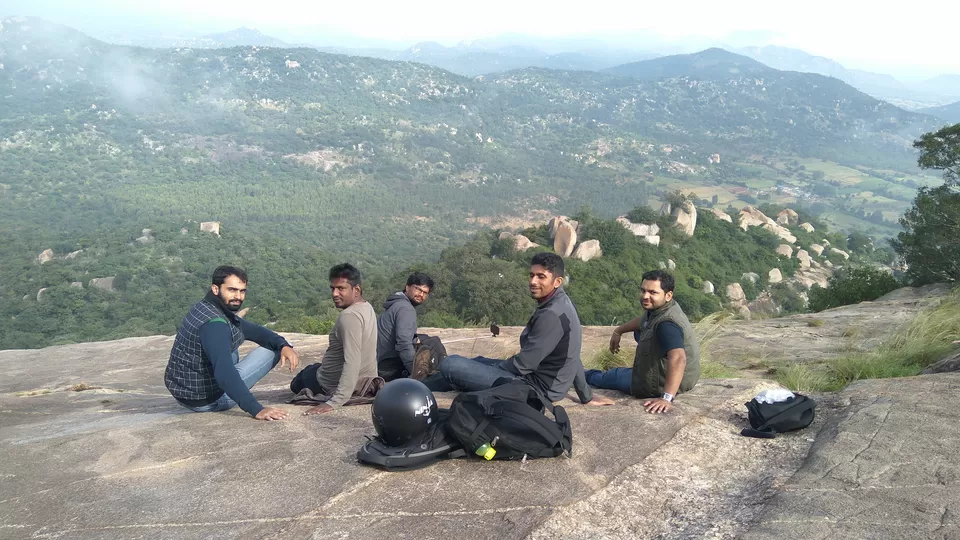 There's a small lake too at the hilltop where you can sit and relax. Our photographer friend tried his skills by asking us to jump like monkeys. Although we weren't really sure of the poses he was asking us to make but the pictures came out to be pretty nice.
Best time to visit:
Best time to visit would be winters because that is the time when you'll be able to see how the clouds make this place look like heaven.
How to Reach:
Avalabetta is 92 km from Bengaluru and you have to drive for almost 70 km on NH 44 and then take a left from Peresandra. There is only one turn to the right going forward after 10 km and you'll be able to find signboards which will guide you to the hilltop.
Things to carry:
Although you'll be able to find little bit fast food and water around the area but it's advisable to carry your own water bottles. While coming back to Bengaluru you'll be able to find multiple restaurants near Chickballapur where you can stop for brunch.