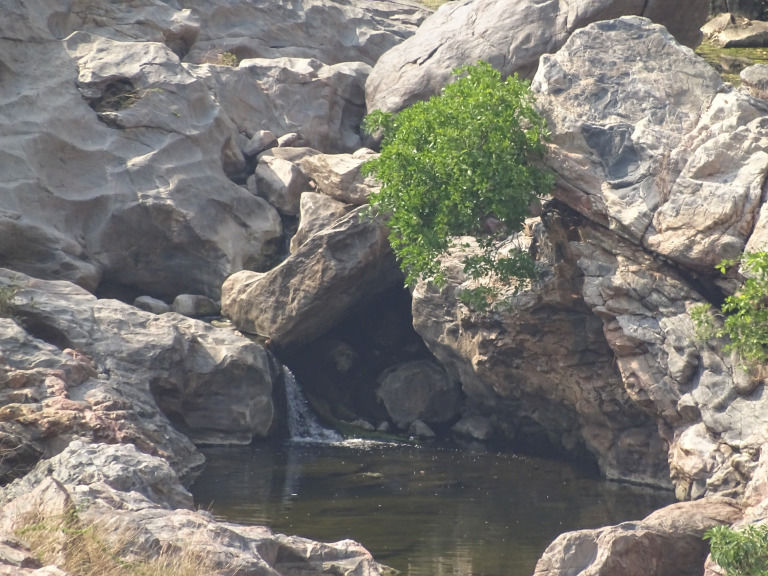 Things were moving fast, the temperature was around 32 degree Celsius,we were surrounded by dry lands.
Yes, that's right! I was in the car with my friends travelling towards Mekedatu . This was my first trip with my college friends. It's good weekend getaway as it is only around 100 kms from Bengaluru.
Digging Deep :
It's an age old story amongst the locals that once a herdsman from this area witnessed a goat, which was being chased by a tiger, leap across the gorge from one side to the other. However, the tiger did not make any attempts to cross the gorge and abandoned the chase thereby letting the goat escape.
Since this day, this place has popularly been termed by the locals as the Goats Leap ( thats why Mekedatu). Over the course of time, the narrow point from where the goat is believed to have jumped has become wide resulting from continuous erosion caused by the river Cauvery.
The mythological twist to this ancient story is that the locals believe that the goat which leapt across the Cauvery was Lord Shiva in disguise and the strange holes, which can be seen on both rocky cliffs of the gorge, can only be made by the divine goat.
MY STORY:
Not to lie but all the pain experienced was really worth. The place was really beautiful! It was too good for photographs with rocks surrounding the flowing river Cauvery. So, who would say no to photos on such a place? we started clicking photos of each other for first few hours. Later, myself and few of my friends decided to swim. Guys please swim there if you atleast know basic swimming tactis because the water is so deep and no supports nearby, also the rocks are very slippery. So be careful when you walk on it. You can also find caution boards here and there. After swimming for about an hour we guys gathered at a place and had a little chat.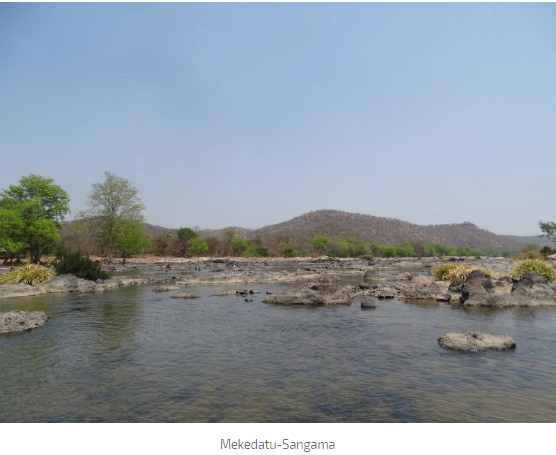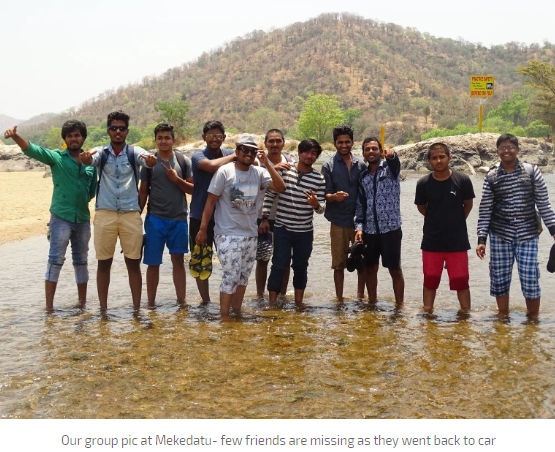 We left around 7 A.M. from our place at chikkabanvara although we planned to leave at 5 A.M.
Good company in a journey makes the way seem shorter. — Izaak Walton
We were 14 people (all boys) and got two cars from Zoomcar. One was Scorpio and other was Ford Figo.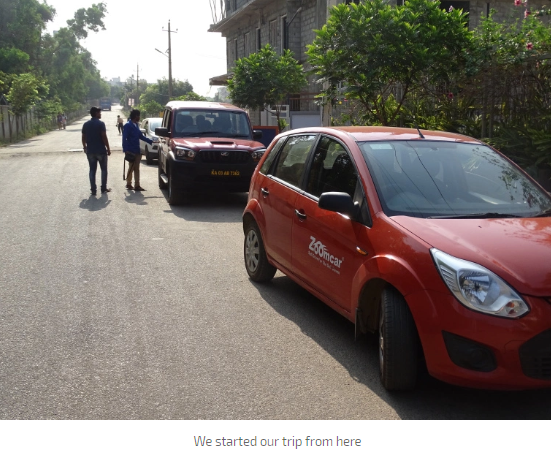 It was around 2 P.M. and no one was in hurry to go back. So we planned to go to Chunchi waterfalls which is on our way back. It was some 20 mins drive and upon reaching the falls one has to walk for about 25 mins to reach the falls. Take water bottles with you as you can't find any shops on your way. We didn't know this fact and all our throats were dry. So, ya after reaching we enjoyed the view for a while and started clicking pics.
It was evening and everyone was hungry as we didn't eat anything in afternoon. Not only that but also everyone was tired and dehydrated after all those swimming, walking nearly 25 mins in a hot day. Later after reaching near the parking we found a small shop where we drank water and bought some biscuits, few of them smoked too.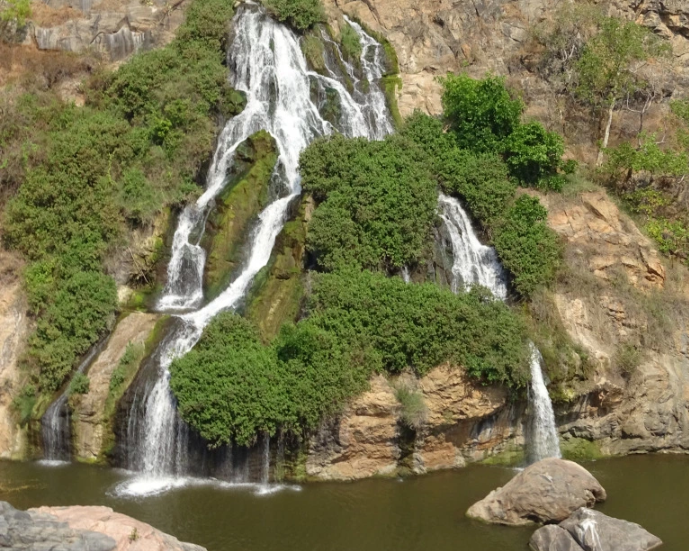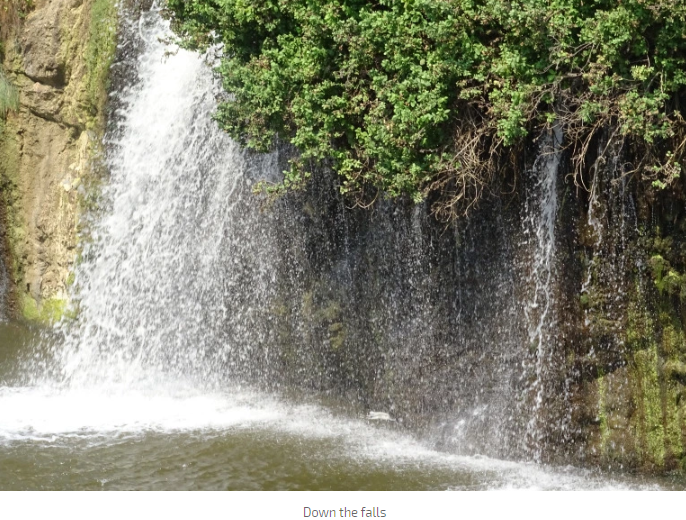 After a drive about 40 mins we stopped for breakfast in a dhaba. After our Breakfast, we continued driving and on the way we stopped at Kanakpura-Sangama road for clicking pics as the view was good. If you are planning to go on summer as I went, start as early as possible because the climate will be very hot during afternoon. Everything was good so far. After clicking some beautiful pics we started to board the car and this time my another friend Rohan wanted to drive the car. He started the car and guess what happened? To our surprise the car was going backwards even though the car was on first gear. What next? we called Zoomcar's helpline but unfortunately it couldn't be serviced instantly and had to tow it. Also, we couldn't get any replacement for that car because we were far from the city. Now car's issue was solved, then what about people of that car? how will they travel further? we waited for almost an hour but couldn't find any vehicle.
So, guess what we did????? Still no guesses??? Ok, what we did is we all decided to travel in one scorpio itself. Yes, you heard it right! 14 people in one Scorpio. I guess you people already started imagining. I'll tell you how we were seated. In front-left seat 3 friends, middle seats were occupied by 6 friends and rear two seats by 4 friends and thank god driver's seat was for driver alone. All our windows were open, nobody can breathe properly and yes my friend Vinay who was driving couldn't even change gears.Atlast after some 20 mins we reached Mekedatu.
After that we started our drive and all our eyes were on the road looking for any hotel. After some 30 mins drive we got a small vegeterian hotel where we ate Thali and drove back to Bangalore.
This was my first trip during my college days and this was the time when not only me but also all of my friends got to know each other well.