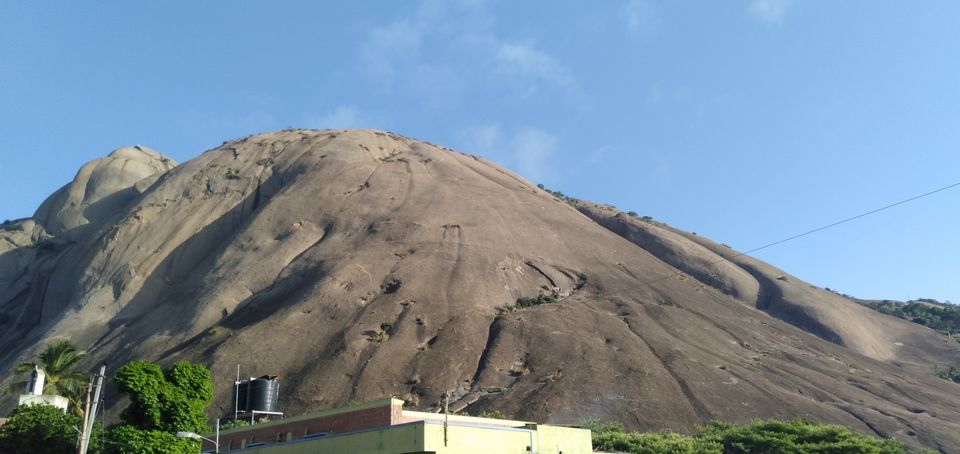 Short Summary -
Trek time: 3 hours
Trek Distance: 6-8 kms (3-4 kms one side)
Difficulty level: Medium
Travel time: 1:45 hour (one side, from Bangalore)
Travel Distance: 60kms from Bangalore.
**If it rains, either you avoid it, or you slow down and be careful as it will be slippery.
Long Story -
Took us quite a time to finalize our destination out of the many options around Bangalore. So finally, it was decided to be "Savandurga – Asia's Largest Monolith". A monolith basically is a single large rock structure. There were three of us to go for this trek. We decided to go by two wheelers since it was only 60kms from our place. One among us had it, and we rented one activa for the other two of us. We departed at 5:30 in the morning, and reached there by 7:15. Started off with our trek at 7:25.
There are arrows made in yellow/white over there for the way to follow. But we didn't know this and we started off in a different way, which was a lot more difficult. Just within a minute or two someone told us where the actual way was. Thanks to that person, because the way we started to follow, we anyway couldn't have done it for more than 5 minutes, it was that steep. There were many others ahead of us, we could see them clearly. Few of them had brought speakers also, which we felt we should have brought too. But yes one important thing, if you are going here carry what you can easily carry because there will be times when you will need to use both your hands along with your feet to climb. You can't even see the top from the starting point.
After around 30 minutes we could see a fort and we thought that was the point we have to reach. We reached there in another 20 minutes, including a few stops in between, having the cold drink we took and of course clicking the beautiful pictures. It was all a beautiful scenery we could see from here. So much greenery, so many trees, a large river body, mountains. It is recommended that you take enough water with you in order to keep yourself hydrated because with time it gets hot. After reaching that fort point, we realized there was yet much way to go. We could see some people far ahead of us. Actually this was almost 60% of the complete trek. Till here it was all okay except for some last 10min which were a little difficult. Many of the people were not going ahead of this point and were going back from there only. Almost like 7 out of 10 were going back from here. We sat there for a few minutes only to find that one of us was not feeling well and so the two of us are going ahead.
It was 8:30 by now. After another 15 minutes we reached a point we thought was the end. But as we went to its other side, we found ourselves standing on the top of a 12 feet rock from where we could see a temple, which was still far from us and there were people over there. But the strange thing was we couldn't locate a way to go there. There were only some trees and some more rocks in between. We thought, we have come the wrong way in over excitement. But then we saw someone coming back from that way and he told us this only was the way, in between those rocks. Now this was exciting.
We went over from there, and that way ahead was literally something different, like there were two large 15 feet rocks and some 1-2 feet space between them and you have to go through that. It felt as if you are crossing some cave, it was fun. And then we reached the top by 9:00 am. It was all so beautiful around. We had a 360-degree view from here and it was very beautiful. There was this temple over there known as the Nandi Temple. There were only a few people over here, say around 20-25. But yes they were of all age groups, from children of around 10-12yo to elders of around 60yo were there. We clicked pictures for a few of them for they only asked us. And then we clicked few of our pictures and the beautiful scenes around. Decided to sit there for some time as it was very pleasant and beautiful. But as one of us was left behind, so we started the way back by 9:30am.
In 15 minutes we were there at the point of that fort. On the way down, there are steps made up at some points, use them, otherwise it gets very difficult as it very steep around those areas. The other friend also joined us and in another 25 minutes we had completed our trek. By the time we ended the trek, our whole t-shirts were wet with sweat. So if you starting off for this late, it will get more difficult, as it will get more hot.
It was worth an experience and this was not the normal treks we know about. This was different, very different. It was not a mountain, but a Monolith. And we were back to our places by 12:30, tired enough to have a sound sleep.
Thank You for spending time reading this. Feedbacks are most welcome. :)