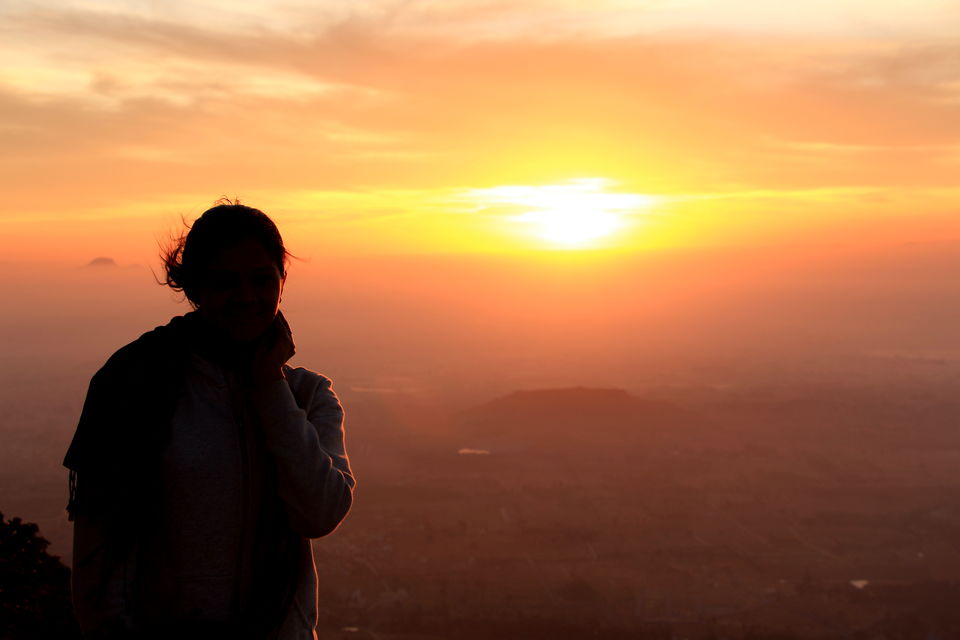 "Get out there and look at the sunrise, you will feel either tiny or big"
I kind of felt both when I looked at the glorious sunrise from Horaginabetta peak.It was worth giving up a night's sleep for this trek.
Couple of adventurous people from Bangalore Trekking Club(BTC) met at the bus stand opposite to Shantala silk house in Bengaluru on a Saturday(30 th Jan,2016) .We took a bus to Devanahalli and from there a bus to Karahalli cross.After reaching Karahalli cross around 8.30pm we stopped by a small restaurant . Small intro session was held followed by hot hot pakoras and coffee. We started trekking around 9.40pm from the base. Oh man it was pitch dark. Our torch lights guided us .I was both excited and scared at the same time .This was my first night trek which I impulsively signed up.
We were hiking through the bushes and thorns .There was no proper route as such. I was sincerely praying not to step on a snake or a scorpion?! We rested whenever a rocky region came up and we sure did stop for few snaps on the route.I should mention about the fellow trekkers here ,how they were helpful to each other whenever there was difficulty in climbing. I was just blindly following the fellow trekkers. To the right we could see the beautiful Nandhi hills too.
Around 11.40pm we reached the peak. Once you reach the peak and take a look at the view of gorgeous moon and the twinkling stars you will forget how tiring the hike was.What an amazing atmosphere it was on the top while the whole city down was sleeping quietly !
But it was freezing cold. So it was time for campfire . We went out to collect some twigs and soon camp fire was set.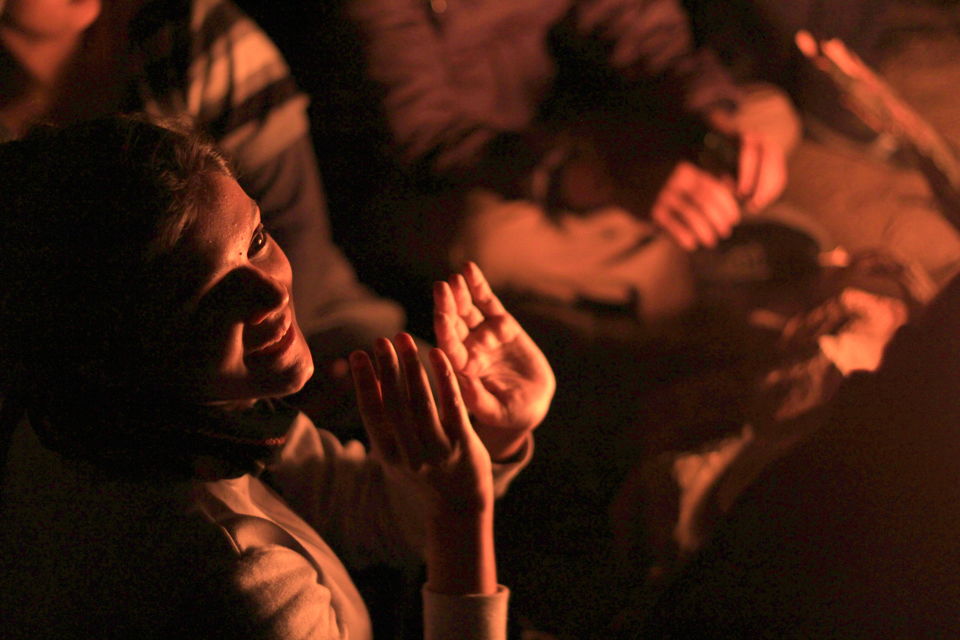 By this time everyone was so damn hungry from hiking. We cooked Maggi for dinner. Pahadi wali Maggi > Gourmet food .I got acquainted with the strangers I met over dinner in the camp fire.Met some really interesting people.
What is mandatory during campfire ? Anthakshari . It went on and on still people went out of lyrics. The night was moving by slowly .It was getting colder and colder.None of us slept (obviously ). There was no network as well . So we pretty much spent the night talking to fellow trekkers.
Have you ever made coffee on top of a mountain ? I have .Thats one coffee I will never forget in my life. Now that I took my drug ( I mean coffee) , got real fresh and excited to witness the sunrise.Well it was Sunday so I guess even the Sun was little lazy to get out of its blanket. Around 7.15AM when the Sun finally decided to show up , what a spectacular sight it was . You hear about it ,you watch it in movies ..but when you see it yourself ..thats a feeling you cannot put into words.
This was my first sunrise .The colours it gave out, the way it emerged from the clouds!!This is something everyone should experience in lifetime. After clicking pictures we started descending . It didn't feel tiring while hiking down. Guess my heart was just too content .
At the end of day I was so glad I took that leap of going for a night trek with complete strangers.