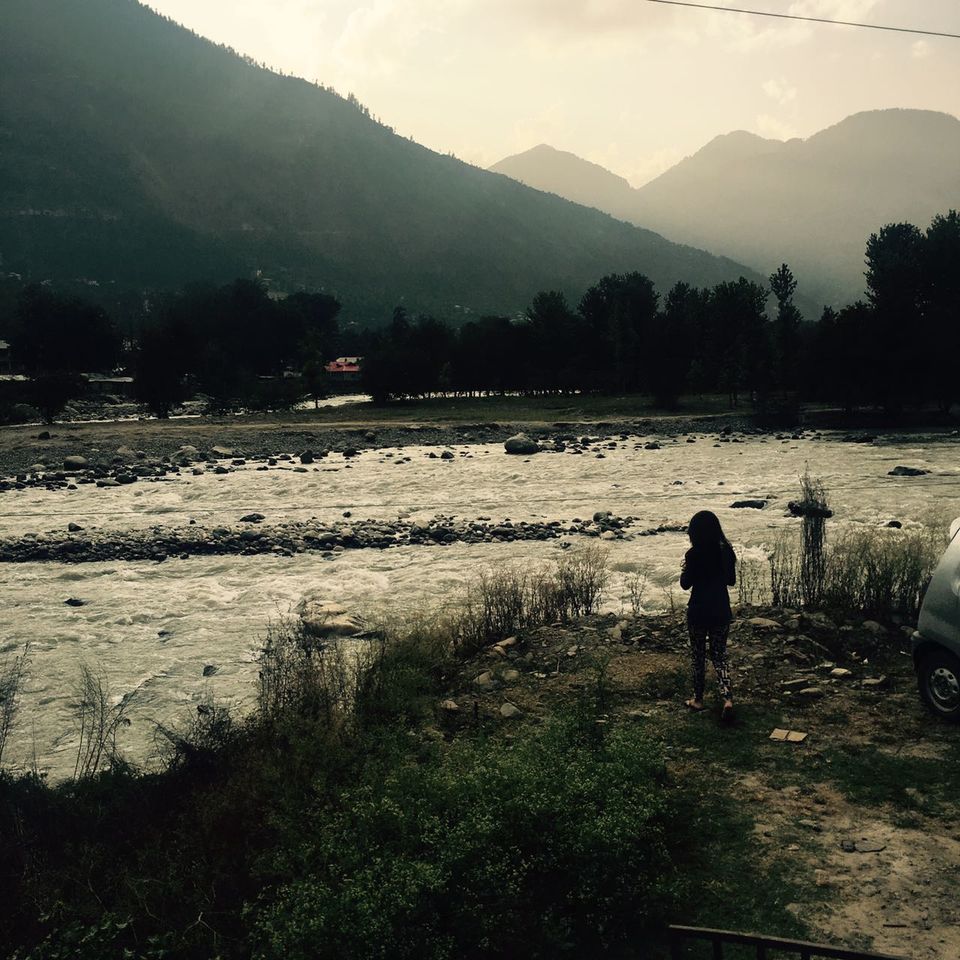 When we talk about Kasol or hear about it, it is always mentioned that it is also known as Mini Israel or some might call it a Stoner's Paradise. When I googled the place, I simply wanted to see those beautiful views with my own eyes instead of viewing them through some other person's camera lens. Believe me, the actual view did not disappoint me. Though the place has become very commercialized, it still has views that take onlookers breath away. The trip to Kasol was my first trek that too planned on a whim.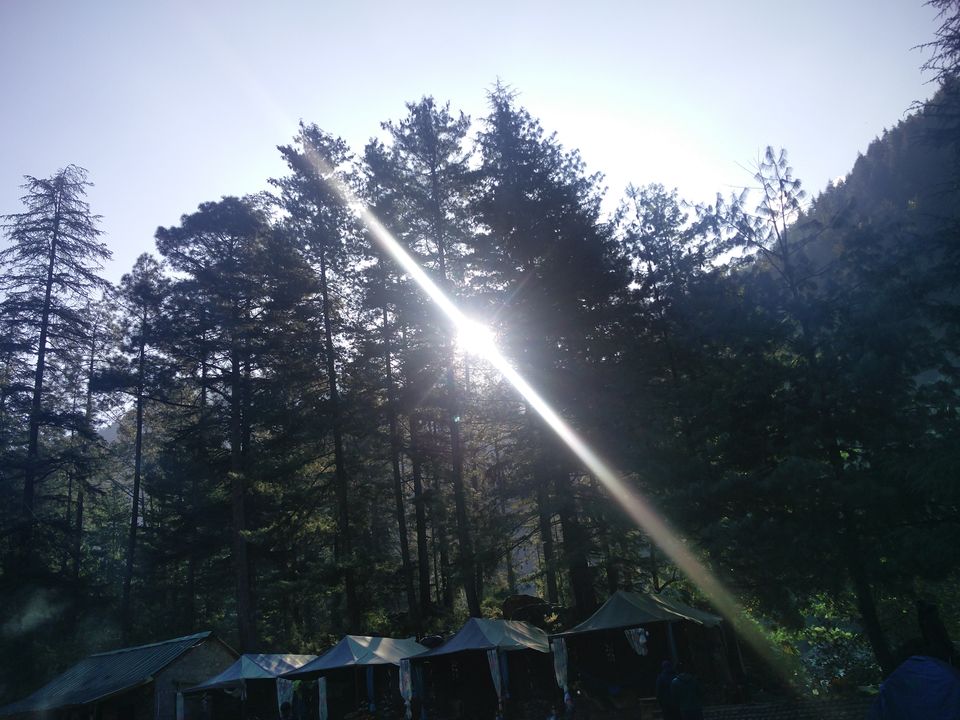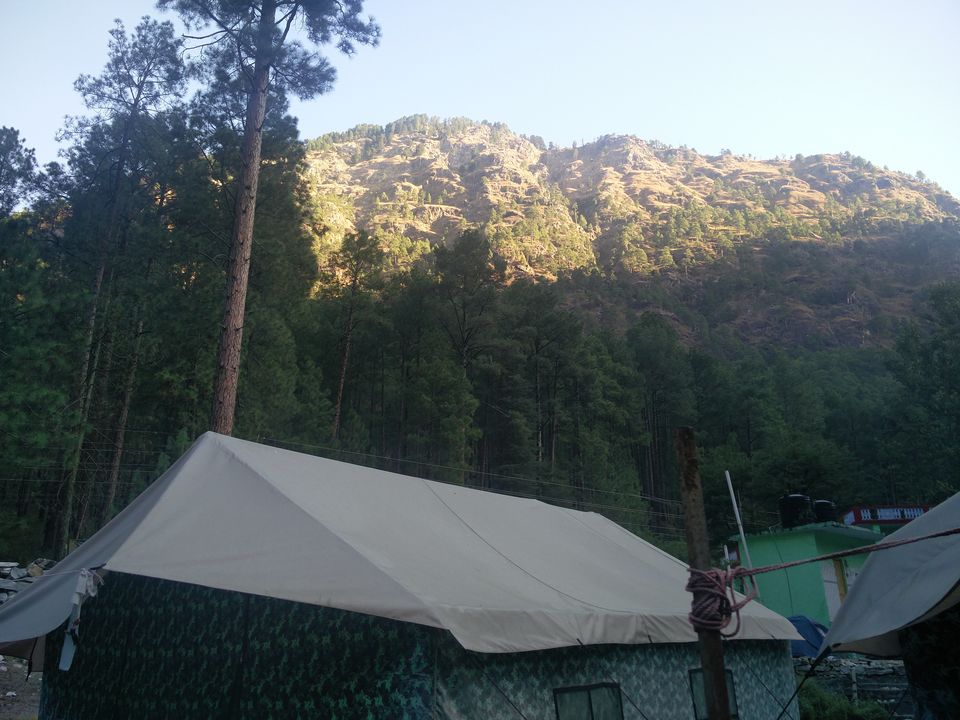 My first trek. Have you experienced the jitters when you are about to do something for the first time? This was my first trip, that too a trek which I was financing myself for the first time. My first solo trip. It was an organized tour so I wasn't going to be alone all by myself.
You just saw that there are too many firsts happening here. So naturally, there were heaps of questions, confusion, doubts in my mind. Should I go? What about the fellow travelers? Will they be friendly? What if I get bored? What if I need help at some point? Is it going to be safe?
Two days to go for the trip and at 1 AM, I canceled my reservation ( I was supposed to travel from Ahmedabad to Delhi for the trip). One day to go, I again made those reservations as I badly needed a break from my job routine and my friend would have killed me whom I had convinced to accompany me, only a few days ago.
The trek goers were supposed to meet up at Kashmiri Gate Metro station, Delhi and board the tour bus from there which dropped us off at Kasol the next day.
We reached Kasol (Finally.....!!) in total 22 hours of the bus journey. Usually, it is a 14-hour journey, so yes I would have preferred the Volvo or other options if presented by a choice. This had cut short our time at Kasol as the next day we were supposed to proceed towards Kheerganga.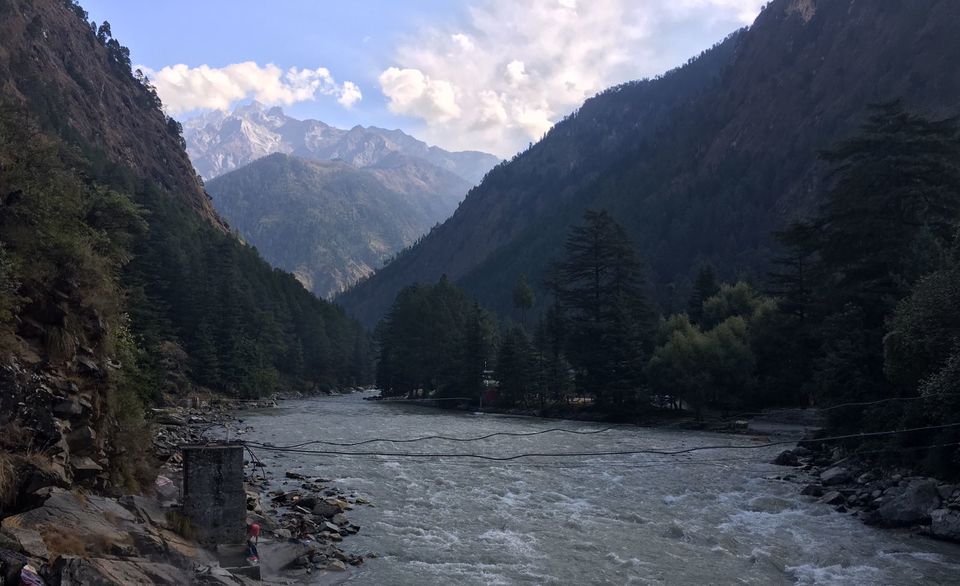 When we reached Kasol, we walked for almost a kilometer alongside a trail parallel to the flowing river by the aid of our torch lights. It was very dark and we could just listen to the voice of flowing water accompanying us on our way to the camp.
Our first stay was at a riverside camp at Kasol where we stayed and stretched out, relieved to be out of the bus and enjoying the heat from the campfire and listening to the guitar played by one of our fellow travelers.
This was the time when the whole group really started getting along and interacting with each other. They say that you make the best of your friends while traveling, that's true.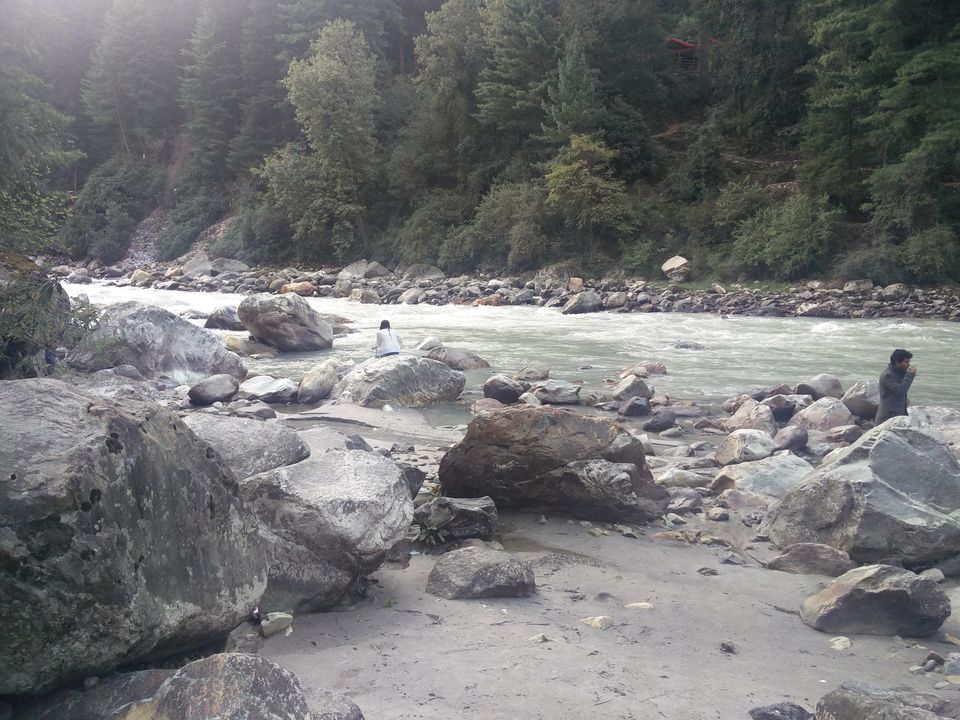 The next morning after breakfast, we reached to the trekking point (Barshaini) by taxi and then began the trek. For trekking, there are different route options to reach Kheerganga.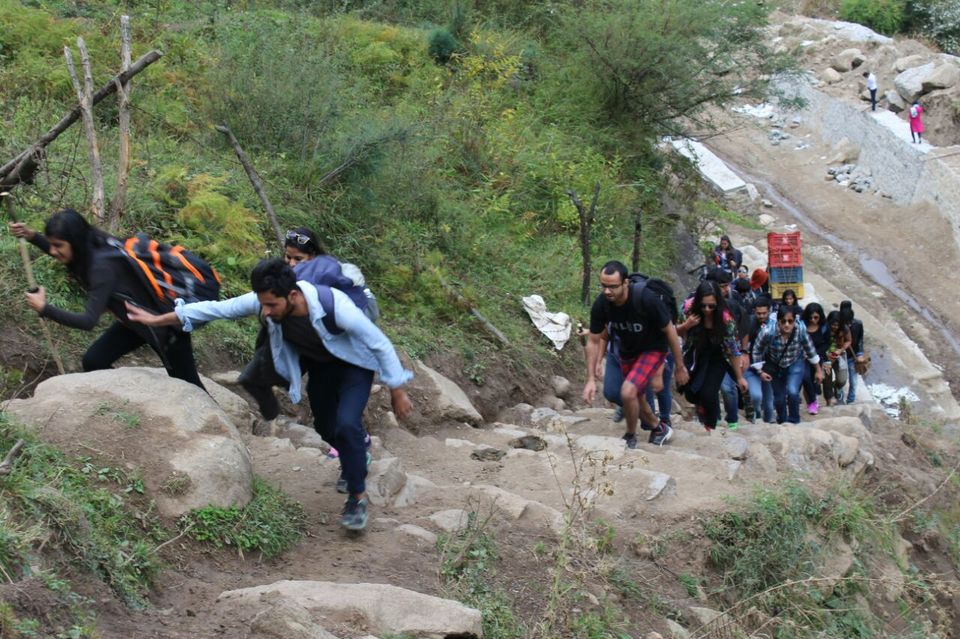 We started following our trip guides after we were done with taking selfies and groupfies. The whole group was brimming with excitement. We hiked up to Kalga Village and then halfway met with the main trekking trail. Our trail was a less traveled one which passed through the dense forest. The trip guides were well versed with the trail so no one faced any problem.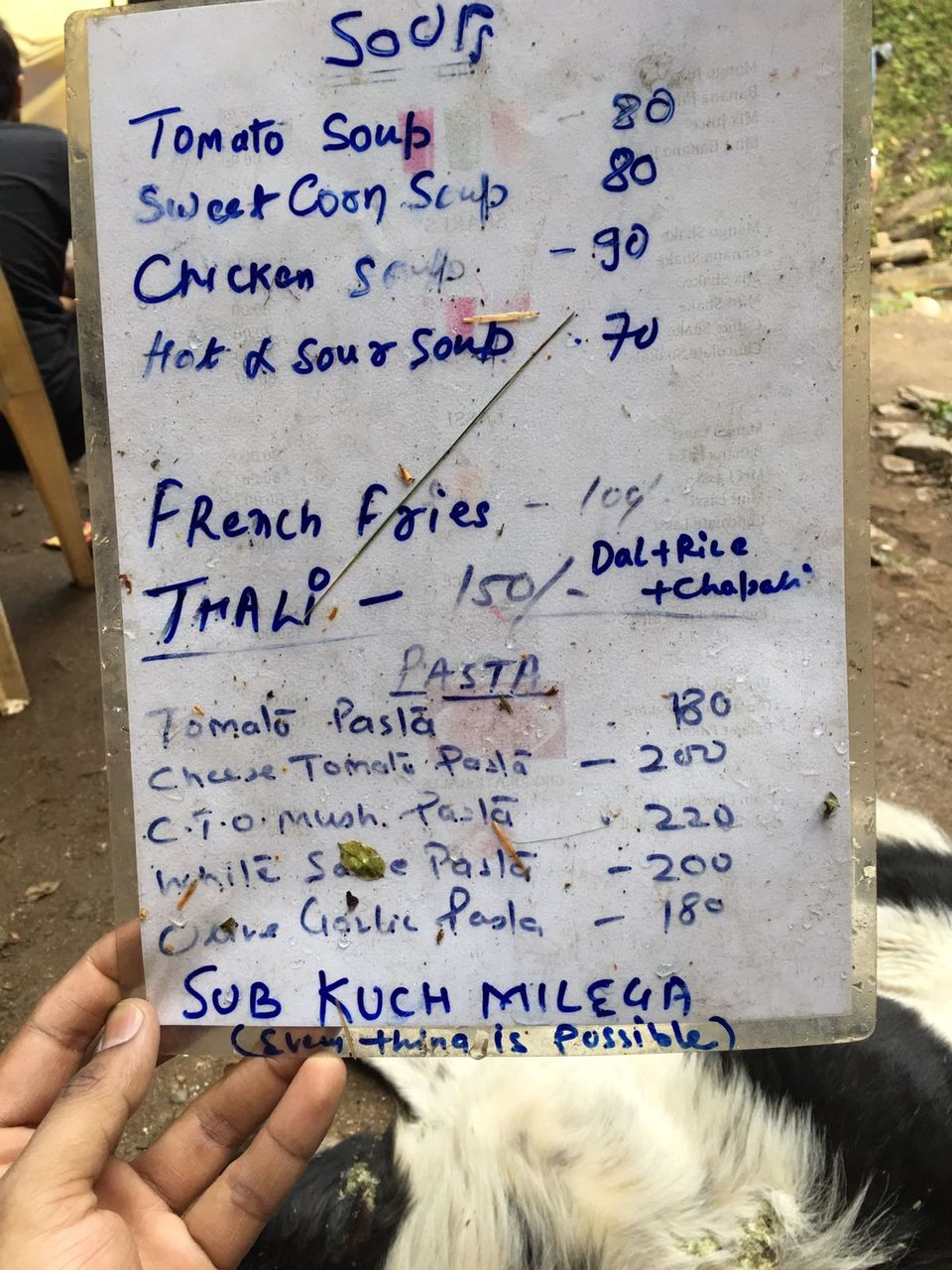 This was the time when we were getting to know our fellow travelers and enjoying the scenic views that the place had to offer. As we proceeded further, the slope became a continuous climb and we had a difficult task of carrying ourselves forward while our backpacks tried to drag us backward.
Our guide encouraging us at times and telling about the hot water spring where we will be able to magically leave our tired selves behind and say hello to rejuvenated ones.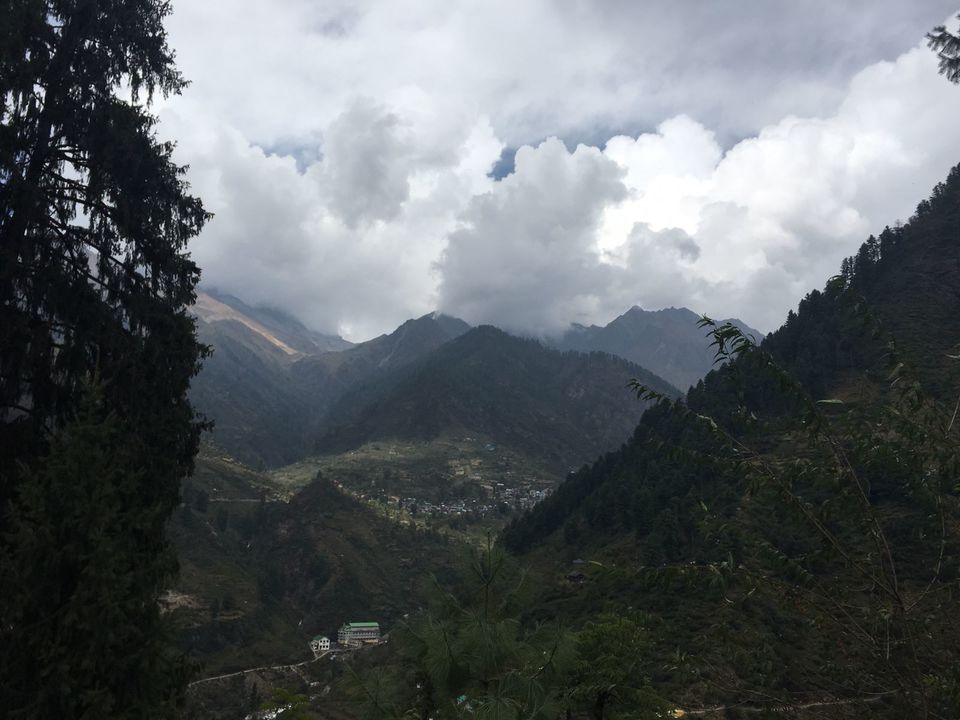 We, walked and walked and finally after a sharp right turn we could see tarpaulin covered huts and stairs, leading up to the hot water spring, We had finally reached Kheerganga. Ohh! The relief!
In the evening we went to the hot water spring, where we watched how some people were taking bath and how the other few were enjoying sliding on the algal colonies ( they were not given any choice, Surprise Slides ...!) There was a Shiva temple there and the local legend has it that Lord Shiva meditated on the site for many years. That's why the hot water spring is considered to be sacred and meditative.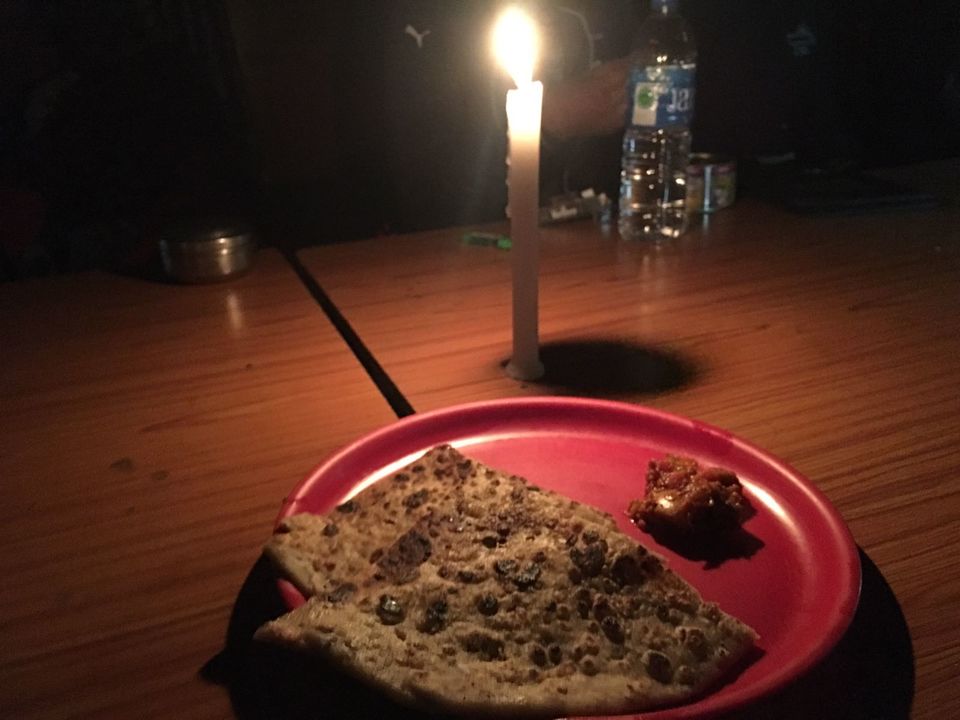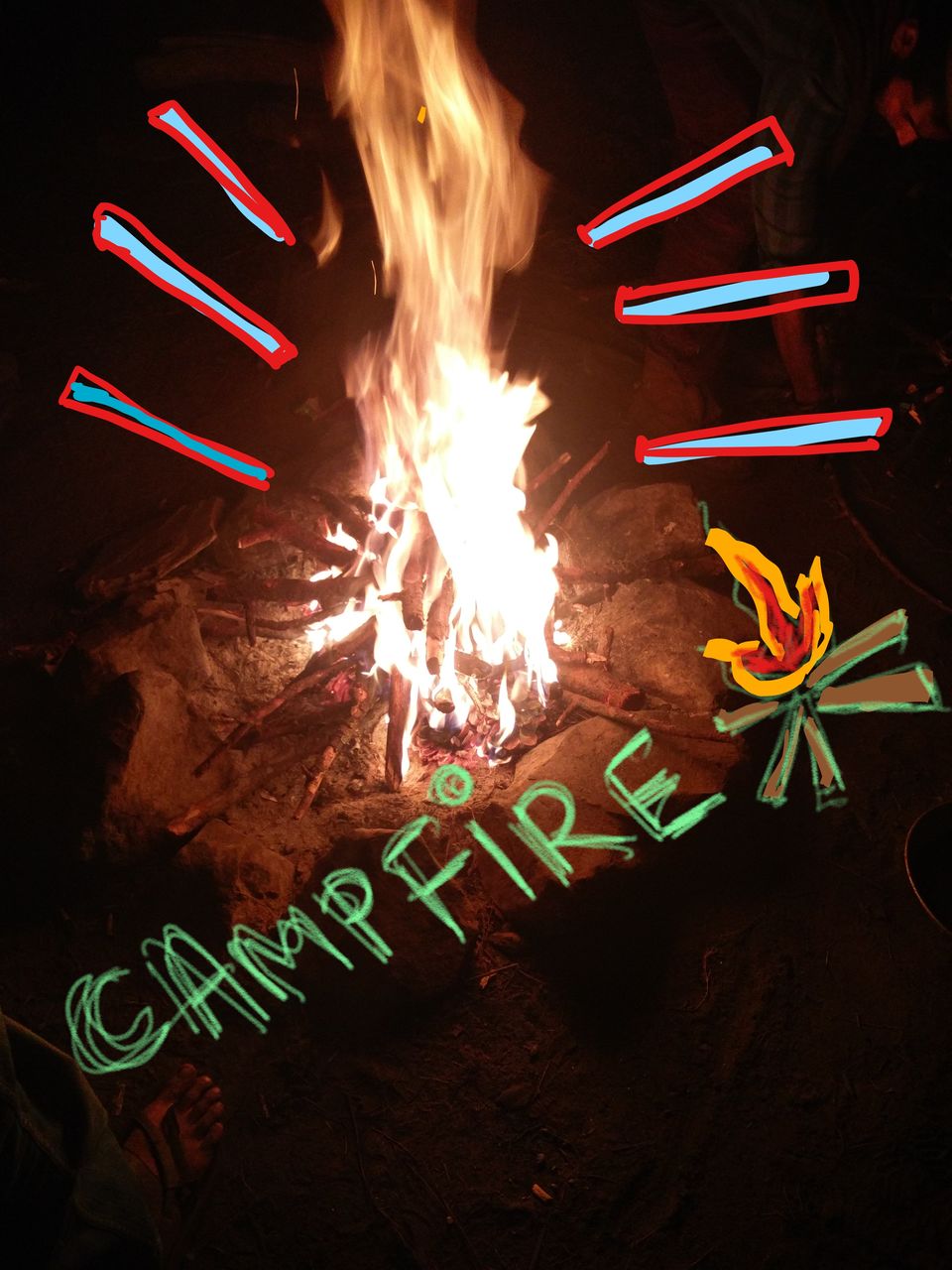 As night proceeded further, the temperature dropped. The whole group chatted, danced, sang around the campfire. Fun Night.
Strangers had gathered there, enjoying for the weekend together. Some wanted a break from there daily life, some just excited to be trekking, some were dedicated Bhole Ke Bhakt in search of there own intoxication, others were just happy to be enjoying the nature and chilling with friends. Leaving behind their offices, their bosses, reports, the calculations, studies, stress, they had come to the place to let go and just be. Not a single care. Just happy faces all around.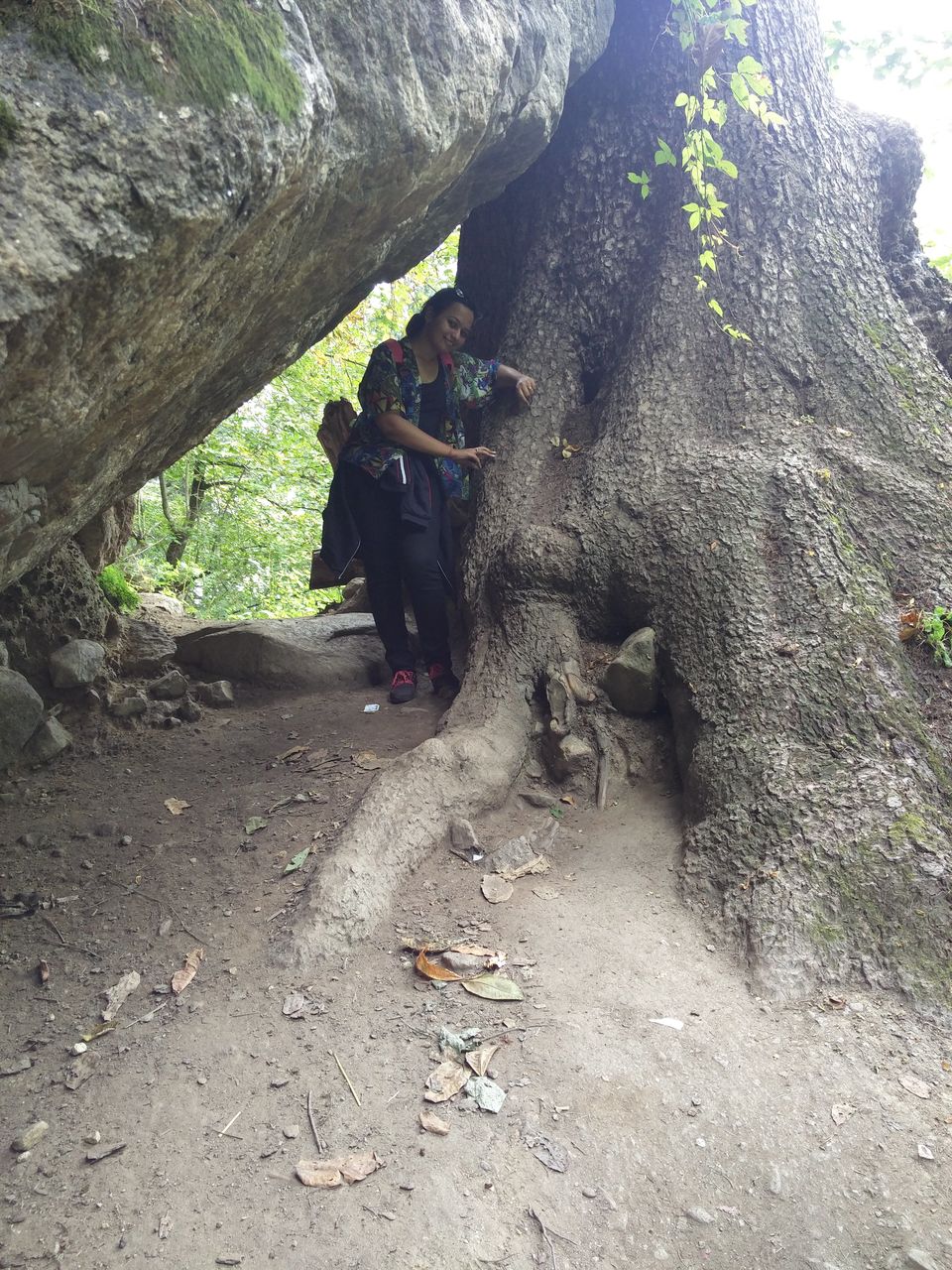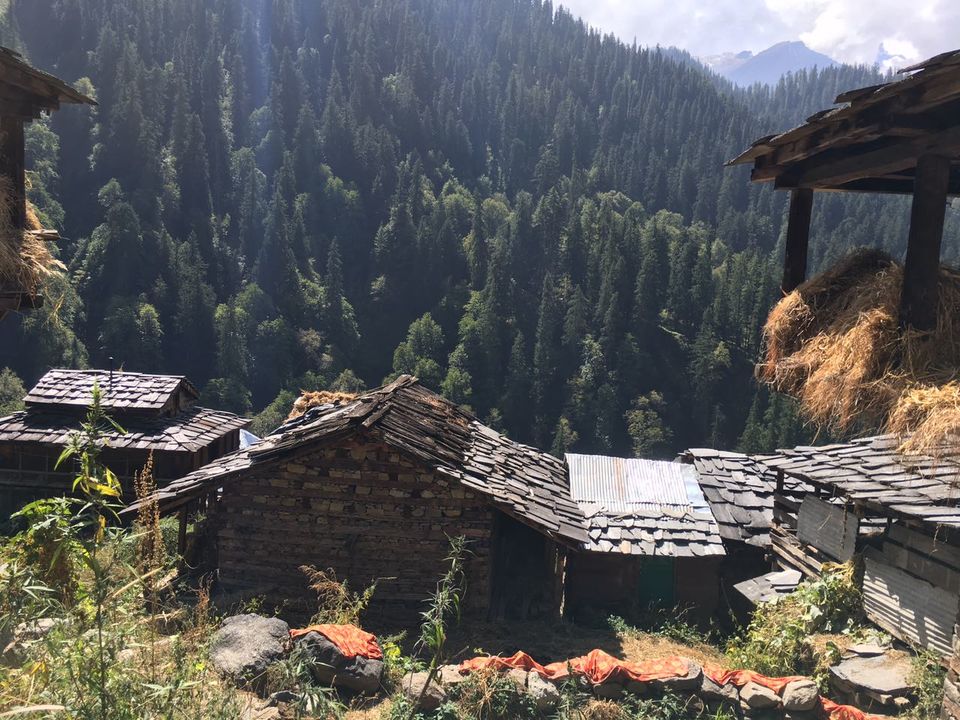 When we were away from the campfire, no matter how many layers covered me, I could still feel the cold. If you ever decide to travel to Kheerganga, pack your bags with woolens properly.
The next morning after a hot spring dip and breakfast, we started down the trail towards Kasol. Still, Parvati Valley holds a special place in my memories. In the evening, we spent some time exploring the markets of Kasol and then boarded the bus back home.
The next morning we were back in Delhi after the whole night's journey.
The Last few days were a delight to be away in the no network zone mountains. The best way my first trek could have turned out.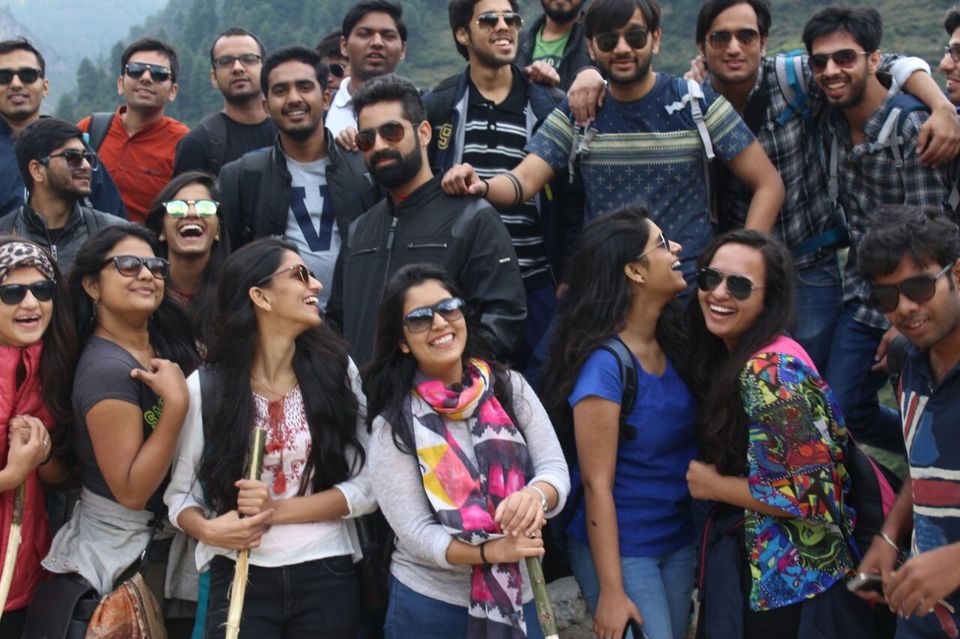 At times decisions made on a whim turn out to be wonderful.
Roadmap :
If you are traveling to Kasol on your own, then you can either take Himachal Roadways starting from ISBT Kashmiri Gate or book Volvos that are going to Manali (Redbus.com is a preferred source for ticket bookings). On the way, you need to get down at Bhuntar.
After you de-board at Bhunter, you can either take a taxi or local bus as there are no direct buses to Kasol. If you are traveling by a tour booked bus then that case is different as was mine.
For Kheerganga, you need to reach Barshianni by taxi and then follow the main trekking route via Nakthan village as it is a well-marked trail.
Important Tips :
- Carry heavy woolens with you, even in summer months as the temperature drops dramatically at night. - Carry Power bank, moisturizer, cash (in case ATM's don't work at Kheerganga, withdraw cash at Kasol) - While trekking, keep refilling your water bottles - Pack some light snacks, dry fruits, chocolates to provide you with energy while trekking -Try to keep your backpack as light as possible because it becomes really hard to climb with a heavy backpack - Carry an umbrella, it can rain on your way to Kheerganga on the trek
A basic idea of costs for the trek to Kheerganga :
Volvo tickets from Delhi to Bhuntar & back - 2000/-. Bhuntar to Barshaini (to & fro) - 200/-. Stay at Kheerganga (or other villages) - 200 to 1000 per day. Food - Rs. 500 to 1000 per day. So, for a 2-3 day trip, the expenses can be worked to be roughly around 4000- 7000 Rupees.
For more travel stories, inspiration and illustrations, you can visit here.