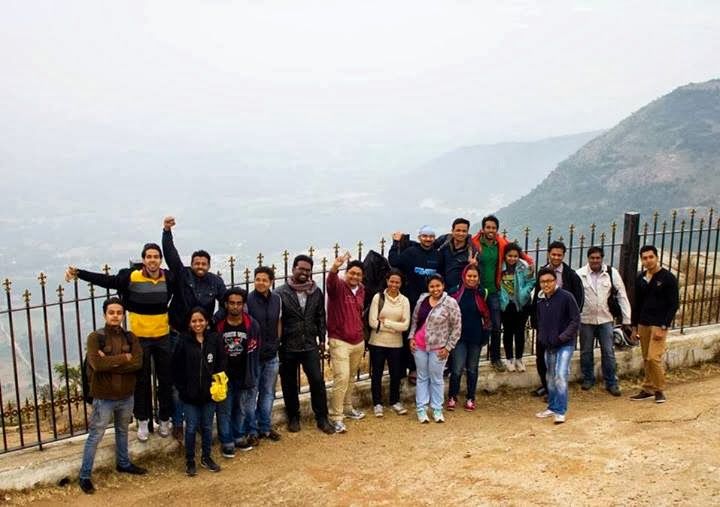 We were around 10 bikers and 2 cars, started from the Marathahalli Brigde around 4:00 A.M and took the outer ring road to reach Hebbal flyover. One more car and few bikes have joined us and we rode to Devanahalli to have hot tea on the road side. Since it is the Bangalore Hyderabad highway you have these shops open most of the times. Started from there to reach the Hill at 6:30 A.M to find it completely different from our previous rides.Once you take a left turn at Karahalli, you enter a single road leading to ghat road of around 6km and then to Nandi Hill . Its the first time we reached that place after the gates wide open and there was no checking of the documents.

- There was a big queue for the tickets (Per Bike 20 Rs and Per Person 10 Rs), because we reached late.
- The hill is covered and surrounded by mist and fog and the visibility is only till 15 meters.
- The crowd was less because of the months. You cannot see the sunrise or the sea of clouds in Nov, Dec and may be Jan. The best part over there is the sunrise, where you can see a sea of clouds and the hill tops protruding in between. You can see more girls than guys on the top.
- The glassed gov cafeteria, with the clouds and nearby hills view, serves some good hot break fast, which gets cold within mins.(We could see some hot drinks as well)
- One can spend around two hours over there along the view points, Tippu's drop and some wodden cottages (good to click pictures).

Started our ride back by 9:00 A.M to reach Bangalore at 11:00 A.M.

Few Tips:
- Carry your bike documents RC , License and personal ID of yours
- ON the Ghat Road always ride on the left half of the road by bending your bike slightly and keep honking.
- Do not turn off your engine down hill to have full control on your engine and speed
- If you planning to go early carry something to munch till the cafeteria is open
- Its going to be freezing cold in early hours so check your outfit as well.

Have a safe ride!!