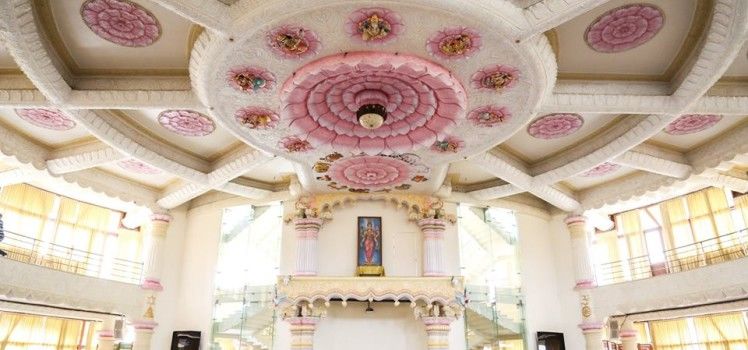 The bus journeys from the platform to our role-model destinations turn from conversational to musical in a matter of minutes. That Bollywood connects those in a country as vast as ours is an unoriginal thought. Nonetheless it is one that crosses my mind en route to the Art of Living Ashram in the outskirts of Bangalore.
The name Sri Sri Ravi Shankar, Art of Living Founder, evokes different emotions among yatris, from devotion to doubt. Opinions may diverge, but a desire to deliberate is what brought us here. Accompanied by an entourage, clad in white cotton fabric, and donning a pair of glares indoors, Sri Sri's grand entrance easily resembles that of a political figure or a movie star. Then again, the porous borders between politics, spirituality, and Bollywood are all too evident in India's public life.
The man is naturally well versed in preaching. His speech is polished, but prepared... almost predictable. But this audience is determined to dig for more depth. The scrutiny that follows is shrewd, from the alleged political involvement to opinions on homosexuality. Truisms are artfully thrown around to appear profound. "Everyone has a mother and father Sometimes people develop certain tendencies. Sometimes they change." The truth is successfully dodged.
Questions that are pertinent for aspiring entrepreneurs: how did the Art Of Living establish its presence in 156 countries, with one of the largest volunteer-bases in the world? What is the organisation's funding model? The answers amount to long form versions of Nike's "Just Do It" slogan. Or in this case, just meditate. I take a deep breath.
After lunch, we roam the vast grounds of the Ashram. Life-size posters of Sri Sri adorn bare brick walls behind the cafeteria, advertising an array of ayurvedic medicines. I mentally replay his response to one of the questions about the Art of Living's revenue model: "focus on your project, the funds will follow." And following I am.
Outside the cafeteria, we meet with some of the volunteers. Many are observing a Maun Vrat, a vow to keep silent. The practice is popular among those seeking spiritual growth. But if today has taught us anything, silence is not necessarily the absence of speech.
(Image Credits: Eliot Bromley, Yatri 2015)
This is the fifth part of #YatraDiaries, a mini-series chronicling my 15-day journey on the Jagriti Yatra, 2015. Read the previous post here.
Jagriti Yatra is an ambitious train journey of discovery and transformation that takes hundreds of India's youth on a 15 day, 8000 km national odyssey to meet diverse social and business entrepreneurs in the country. Their vision is to build India through enterprise. As a Yatri-2015, I will be chronicling snippets of my journey in a blog series called Yatra Diaries.
You can also follow #BombayDelhiGirlxJY on social media for some of my photographs capturing the yatra.