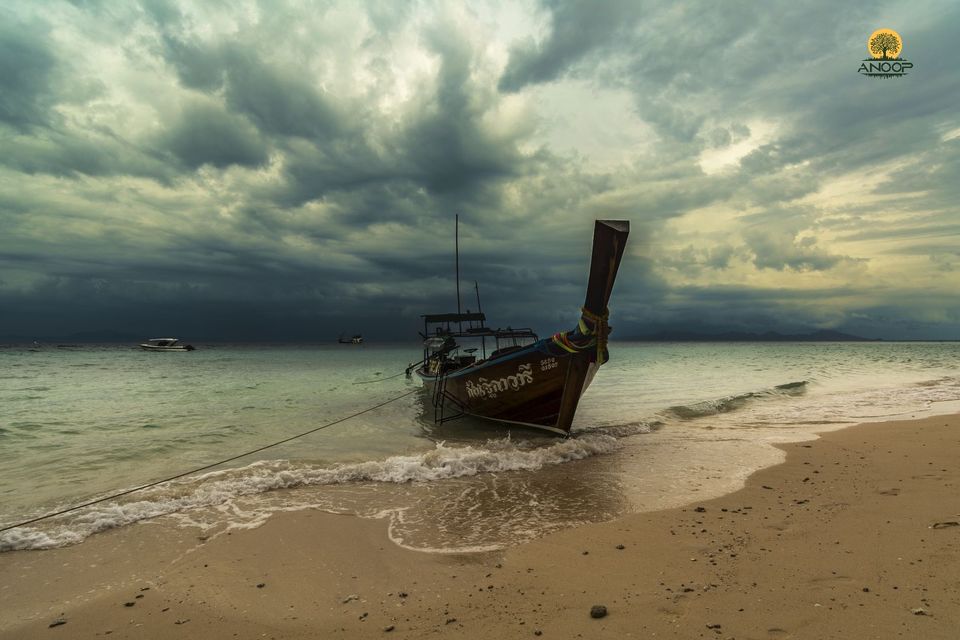 Time is a magician. What you liked five years ago may not be your choice today! I used to frequently listen to death metal and heavy metal a decade ago but none of them find a place in my current playlists. I guess that is how it is. Everything undergoes change over a period of time. Places, climate, people, your choice and so on...
Five years ago when I visited Thailand, I had a completely different agenda than this trip. Those were the days when I would grab a pitcher of beer and shake my hips to music till the break of dawn. Even thinking about doing such a feat now, I would term it as madness. With such a mindset, we (wife and I) planned a Thailand trip. A relaxing beach vacation with just enough activities to keep us engaged but also with just enough time to enjoy and appreciate what these pristine islands had to offer. All of this without having to burn a hole in our wallets.
From the long list of islands, we decided to try our luck with Koh Kradan and Koh Mook (Koh Muk). Two days each per island and the last day at Bangkok doing small shopping for our friends and near ones. After all it becomes our 'farz' (responsibility) to get them and us a souvenir from there.
We landed at Koh Kradan at 2:00 pm; from then till the time we left, it was sublime. The place was everything that I had hoped for. This island is only 3 kilometers wide, meaning you can walk the shores of the whole island in no time. This island may only have six to seven resorts in total and it is a lot to choose from considering the size of the island.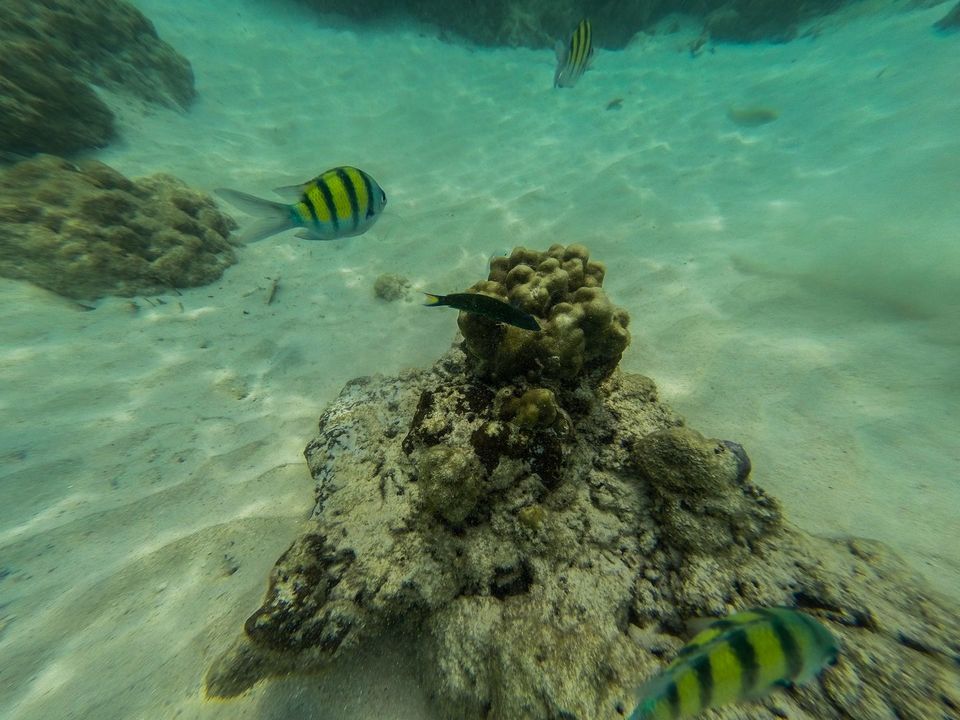 From Koh Kradan, we hopped on to a long tail boat which took us to our next destination; Koh Mook. It is an island larger than Koh Kradan.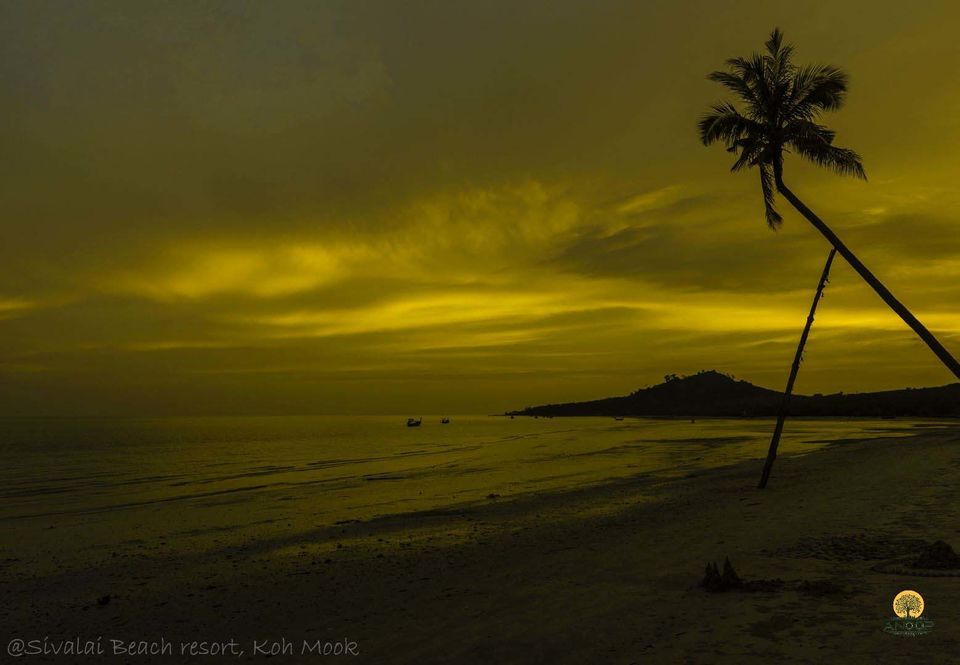 Emerald cave definitely was a big highlight of this place. Something you cannot miss. To reach the little island inside the cave, you have to swim through the narrow entrance for about 100 meters and you see a different world. That by itself is an experience. If you are staying at Charlie Beach Resort or close by, renting a kayak would be the best option. If you are staying on the opposite side (like we did), look out for tour operators for a half day tour to Emerald cave. The locals call it national park as well. This half day tour includes taking you to snorkel in a deep area with lot of corals, Emerald cave, star fish gazing and a round of the entire island.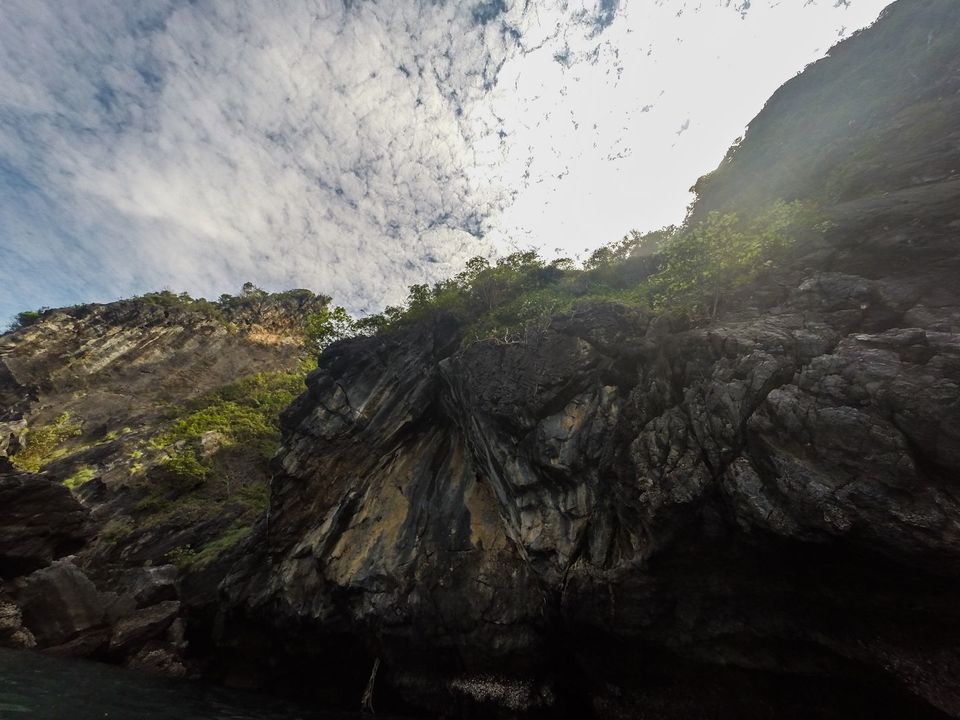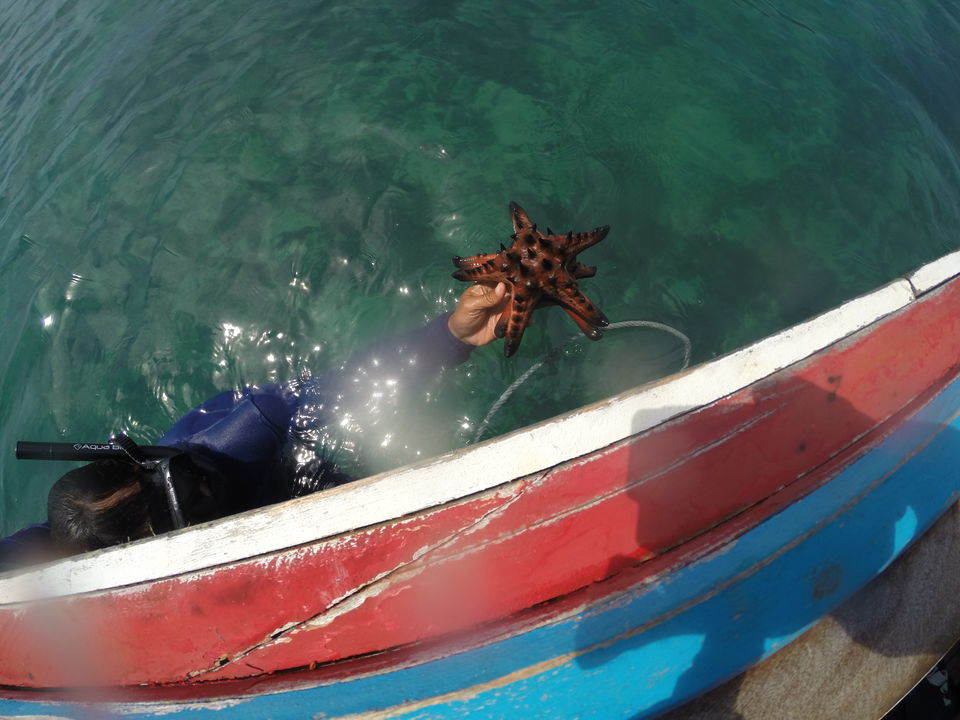 Next morning, we picked up our snorkel masks and fins, walked into the main beach and snorkeled till noon. Mornings are the time when the tide is low, which means you have greater access to corals and a variety of colorful fishes. In the afternoon, we had lunch and relaxed on hammocks. Few hours later, we headed to Ao Nieang Beach through the forest for 2 kilometers and were surprised to find the beach all to ourselves. But not long from then, we found ourselves rushing towards Sunset beach. When there was a Sunset beach on the island, why would anyone witness sunset elsewhere!!!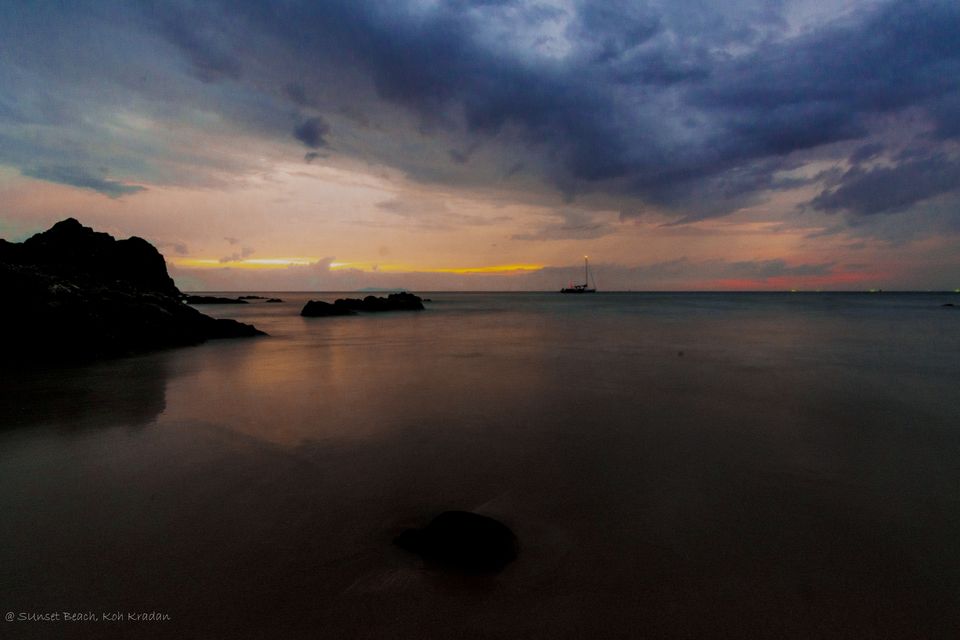 Paradise Lost Resort:
My 2 cents about resorts on this island. From the list of resorts we booked Paradise Lost Resort mainly because it was cheap. Unlike other resorts which are situated right on the shores, this resort was located in the middle of the forest. That means there is walking involved to reach any of the above beaches. Yet I would highly recommend this place. Great staff, amazing food, lush greenery and quiet stay makes it worth while. The bathrooms were shared and not attached to our rooms, which was a turn-off but we never faced difficulty of any sort. There are other options like Seven Seas Resort which is slightly expensive and Ao Nieang Beach Resort located on Ao Nieang Beach which should be definitely a lot cheaper.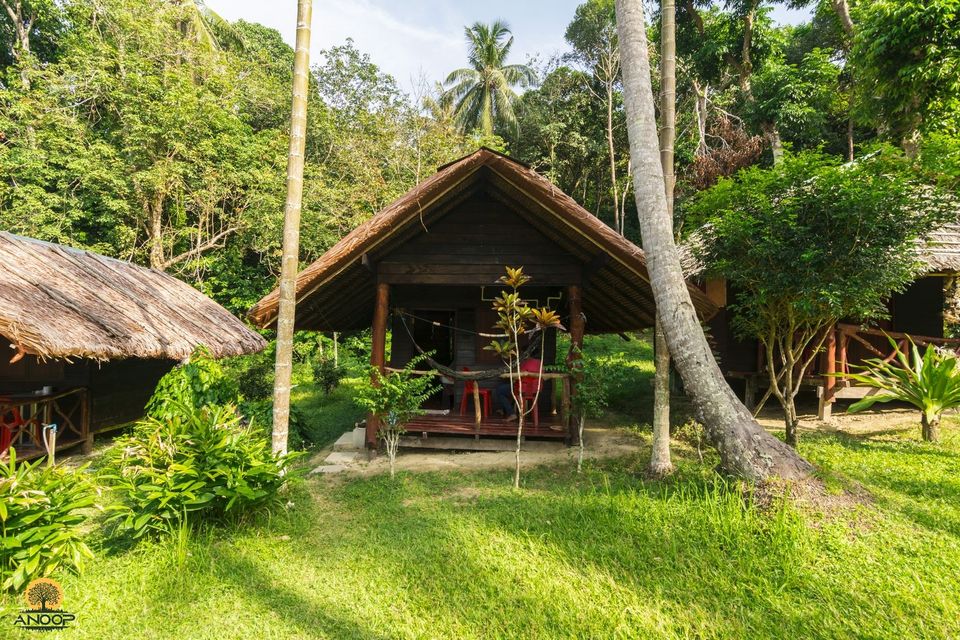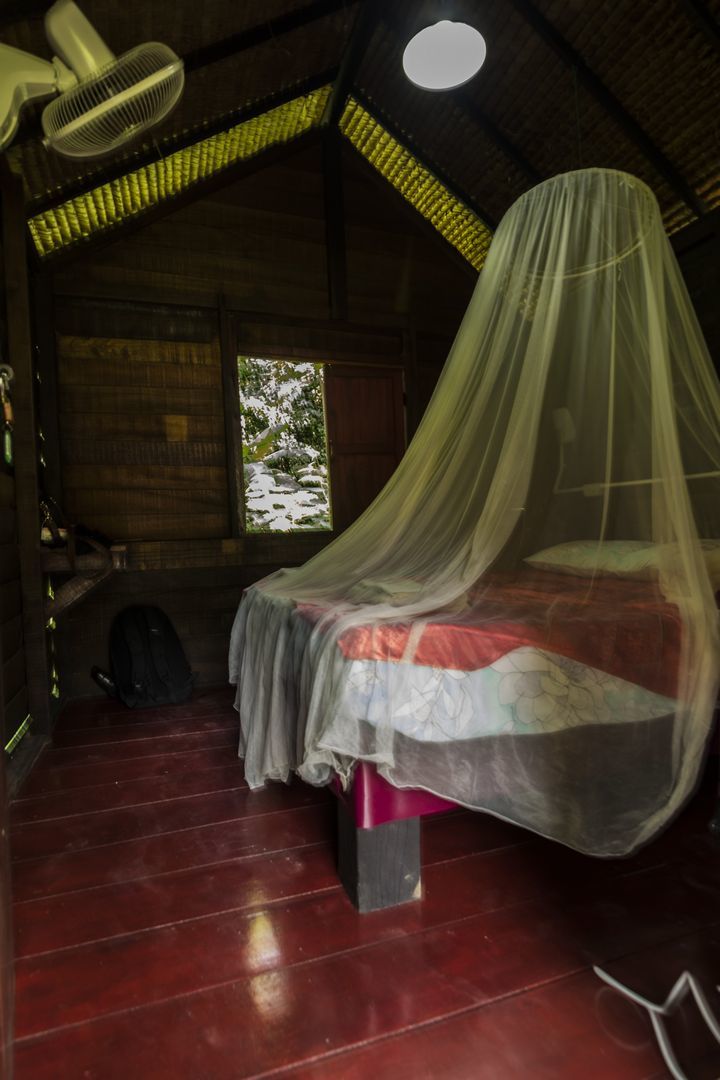 To sum up Koh Kradan in short; Koh Kradan is just wonderful like the lazy river of that amusement park you visit. The only thing you do is snorkel and laze around. Usually Koh Kradan is visited during the morning by tourists from other islands to snorkel/swim and return back by noon but not many tourists would prefer to stay there considering it is small island with not much to do, which makes it perfect for travelers who enjoy staying in less crowded locations.
Talking about Koh Mook, there are a few activities you can do here. The biggest attraction of all being Emerald cave (Morakot cave). Depending on the stay, you can choose to visit Emerald cave on a boat or even a Kayak. Apart from Emerald cave, you can check out Ting Tong bar which is close to Mookies Bungalow. Renting a scooter and driving around the island is also a great way to spend time here. Farang beach as name suggests is popular among foreigners. The beach has clean sand and shallow water making it perfect for swimming. Places like Koh Chuak, Koh Ma and Koh Waen are other attractions where you can go diving. Communicating with people here can be bit of a hassle.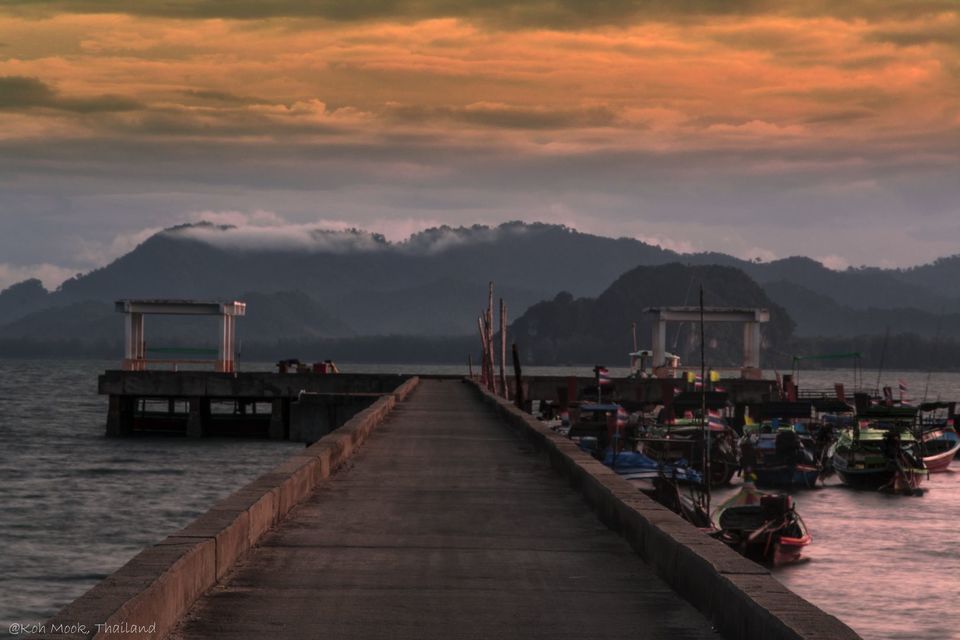 Koh Mook Nurse house:
There is no shortage of good resorts in Koh Mook. Charlie Beach Resort is a nice place, Sivalai Beach Resort is another one. There are plenty to choose from. We stayed in a place called Koh Mook Nurse house, which was owned by a friendly family. We totally enjoyed our stay here. The room was small, bathroom was not that great and location was not in favor either for this place. Somehow our experiences were positive. It is right in the middle of local community. Also not to forget the fact that it was a budget stay. But there are better options.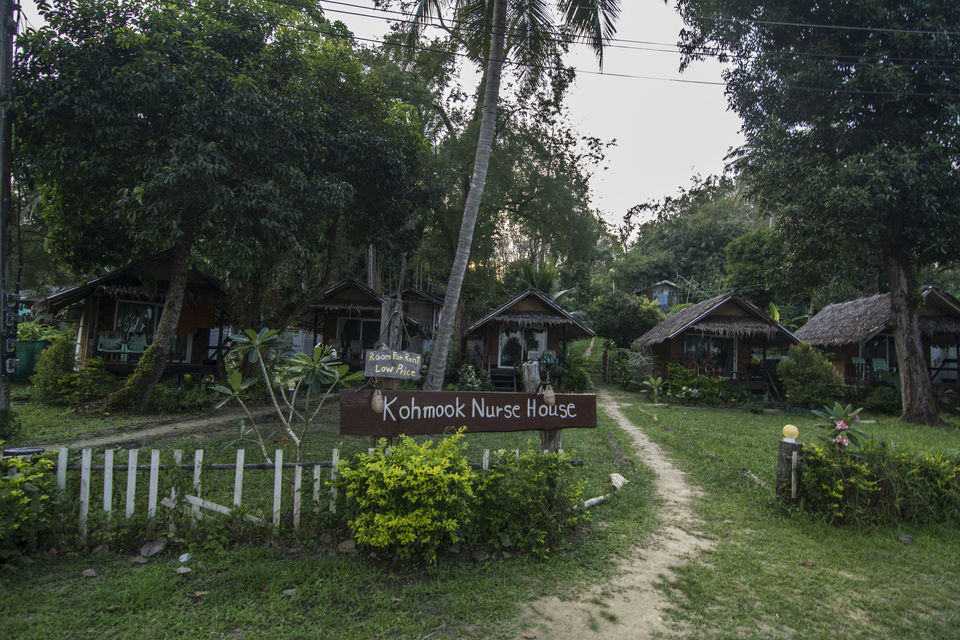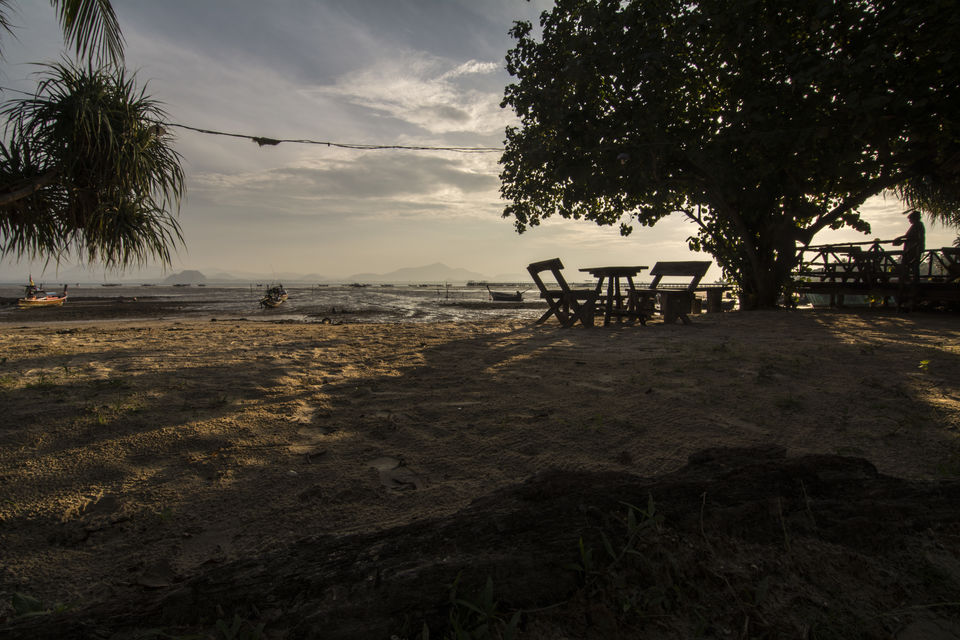 How to get there:
Be it Koh Kradan or Koh Mook, you can book Nok air flight plus the transport to the island as a package from Nok air website. Nok air takes you from Bangkok to Trang. From Trang you are transported to respective islands by Tigerline ferries. You can also choose to travel from Krabi to Koh Kradan or Koh Mook instead of going to Trang.
For hopping from one island to other, you are dependent on long tail boats. They charge you 300 THB per person to take you from one island to other. In our case it was Koh Kradan to Koh Mook. If you book everything in advance, your travel becomes quite cheap. We paid only Rs. 42000 for two people for the whole transport part.
Best time to visit:
November to March is the best time to visit. If you are planning to go in the off season, make sure you communicate with your resort. Most resorts have electricity for limited hours only during the day.
Approximate cost (for two):
Air tickets, ferries and other transportation - Rs. 42000 
Hotel stay (Koh Kradan, Koh Mook, Bangkok) - Rs. 11000
Shopping and other activities - Rs. 32000
Before signing off....