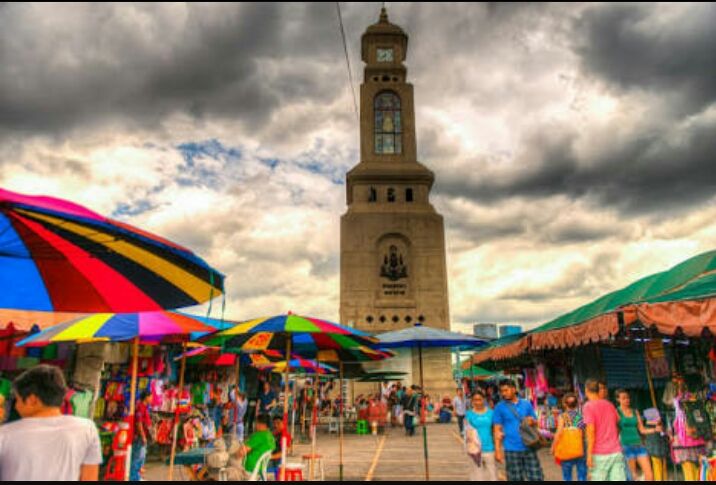 We happened to be in Bangkok on a weekend and visited the famous Chatuchak Market on both days. Its sheer size and diverse collections of stuffs will bring shoppers to their knees. This is where you can literally shop 'till you drop'. We found almost everything available here for sale. If you happen to be from New Delhi, imagine Sarojini Nagar Market. Though Chatuchak is, I guess 3 or 4 times bigger in size. Although most of the shopkeepers has kept a fixed price board, we found few shops which were way inside were ready to bargain. Also, if you are buying something in numbers, say 2 or 3 tops, you may expect a low price. Other thing we found that prices were slightly lower on Sunday as compared to Saturday.
Make sure you are wearing comfortable clothes and shoes. You have to walk a lot and by end of the day, our feet were sore by walking so much. Also make sure you have enough cash. None of the vendors accepted cards, and it was a long walk to the ATM and a big queue. Phew!
The crowd was mixed. From locals to foreigners. I bought handmade soaps (a dozen), clothes for my clan, purse for my mom, beautiful door lighting's and few other miscellaneous stuffs. If you like something in a particular shop, make sure to buy it because there are very low chances you will find that shop again. The place is like a maze.
Lot of food shops can also be found easily. Coconut ice-cream became our instant favorite. Do not miss it. Bottled water is also easily available so you can skip carrying it from your hotel. Foot massage was also available at every nook and corner. You can try just before leaving the market.
If you have one weekend in Bangkok, squeeze in a day trip to Chatuchak Weekend Market and you will not be disappointed. You may need almost a whole day to visit the market. This is really an experience not to be missed if you like street shopping.