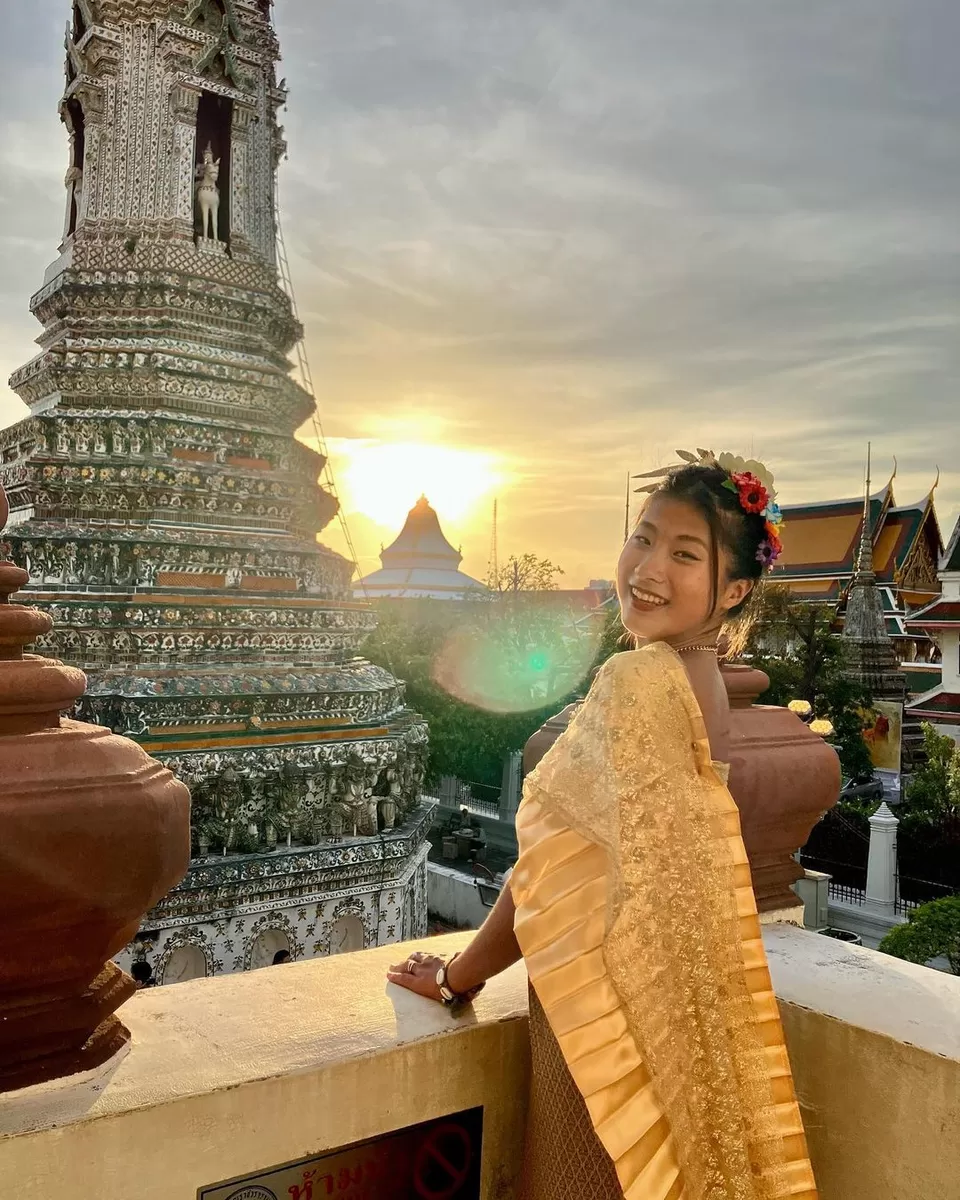 24 hours. It may seem like a fleeting amount of time, hardly enough to scratch the surface of a bustling metropolis like Bangkok. But what if we told you that you could experience the most offbeat and unique experiences in the city in just one day?
From hidden street art to secret food spots, Bangkok has a vibrant and unconventional side that often goes unnoticed by tourists. It is a city that never sleeps, and we're not talking about just the nightlife and party scenes. There is a constant buzz in the air, with street food vendors setting up stalls before the sun rises and ancient temples bustling with activity throughout the day. And in this 24-hour journey, we invite you to explore Bangkok to the fullest, away from the typical tourist attractions and popular landmarks.
So here are some activities that will give you a taste of Bangkok's unconventional charm, in just 24 hours.
1) Unwind and Explore the Tranquil Wat Pho
Kickstart your day by discovering the ancient wonders of Wat Pho. This serene religious complex, dating back to the 16th century, boasts a majestic reclining Buddha adorned in sparkling gold leaf. But there's more to explore beyond the famous figure - with stunning stupas, intricate murals, and over 1,000 Buddha statues waiting to be discovered. While most tourists flock to the reclining Buddha, you'll have the chance to wander through peaceful chapels and uncover hidden corners in this sprawling temple complex. Take a break from your adventures and indulge in a traditional Thai massage at the school located within the temple grounds. With sessions lasting 30 minutes or an hour, make sure to add this soothing experience to your itinerary.
Timings: 8:o0 am - 6:30 pm
Entry cost: 200 Thai Baht
2) Step into a World of Splendour at the Grand Palace
This magnificent complex, dating back to 1782, served as the prestigious residence for the Thai Royal Family until the early 1900s. Enclosed by protective walls, the compound boasts an impressive array of living quarters, halls, government buildings, and temples, all adorned with a splendid mix of Thai and Western architecture. Get enchanted by intricate carvings, mosaics, sculptures, and vibrant murals that showcase the exceptional craftsmanship that went into creating this masterpiece. Within its walls stands the renowned Temple of the Emerald Buddha, an ethereal sanctuary housing a one-of-a-kind Buddha made entirely of jade.
Timings: 8:30 am - 3:30 pm
Entry cost: 500 Thai Baht
3) Uncover the Hidden Gem of Wat Suthat Thepwararam
This breathtaking temple boasts an elegant prayer hall with magnificent murals and exquisite hand-carved teakwood door panels. But what truly catches the eye is the towering red Giant Swing standing at its entrance. This 21.15 metre tall structure, standing between the temple and Bangkok City Hall, is a sight to behold with its elaborately carved crossbar and two towering red pillars.
Timings: 9 am - 6 pm
Entry cost: 20 Thai Baht
4) Take a Culinary Journey along Maha Rat Road
After a morning of exciting discovery, it's time to re-energize and satisfy your taste buds. The good news is that there are plenty of dining options near the beautiful Grand Palace and iconic Wat Pho, taking the hassle out of this itinerary. Along Maha Rat Road, you'll find a diverse range of food establishments, from traditional street vendors to modern restaurants serving Western cuisine. With only 24 hours in Bangkok, why not take this chance to tantalise your palate with delicious Thai delicacies?
Timings: Open 24 hours, depends on food outlets
Cost: Depends on the food you order
5) Escape Reality with Total VR Bangkok
After a sumptuous lunch, head to Total VR Bangkok - the first virtual reality club in the city. Get ready to be transported into a whole new world with the latest VR games, advanced headsets, and powerful computers. Whether you prefer solo adventures or multiplayer challenges, the centre has it all. Their collection of games is constantly updated, ensuring an exciting experience every time. With a variety of options to choose from, it's the perfect escape from the scorching Bangkok heat.
Timings: 10 am - 10 pm
Entry cost: 350 Thai Baht onwards
6) Cruise Along the Chao Phraya River
Take a boat ride from bustling Chinatown to the hidden gem of Bangkok, Bang Kachao. A serene and verdant paradise, it's fondly known as the "Green Lung" of this bustling city. As you glide along the glistening river, feel your worries melt away and allow the peaceful surroundings to embrace you. Delight in the tranquillity of the lush parks, take a leisurely bike ride through the idyllic countryside, and bask in the breathtaking views of the Chao Phraya River. This scenic journey will transport you to a whole new world, away from the frenzied pace of urban life.
Timings: 9 am - 6 pm
Entry cost: 20 Thai Baht
7) Experience the Heart-Pumping Excitement of Muay Thai
No trip to Thailand can be deemed complete without immersing oneself in one of its most iconic and adrenaline-fueled cultural experiences – the Muay Thai fight. And where better to witness this ancient martial art in all its raw and gripping glory than at the historic Rajadamnern Stadium? Here, amidst the electrifying atmosphere of passionate spectators and pulsating drum beats, one can truly feel the spirit of Muay Thai come alive. You can buy your tickets at the door, or plan ahead and secure your spot through the stadium's website.
Timings: 7pm - 9 pm
Entry cost: 1000 - 2000 Thai Baht
8) Eat to Your Heart's Content At Guay Tiew Kua Gai Suanmali
Time to have dinner within the deep alleys of Bangkok, from a stall shrouded in obscurity, yet coveted by locals! In an unassuming corner, a dish of unparalleled decadence reigns supreme – kuaytiaw khua kai. Deceptively simple in its composition, this iconic dish centers around rice noodles, stir-fried to perfection in a sizzling wok. The glimmering cauldron of lard, crackling and popping over hot coals, infuses every bite with an irresistible richness. Tender chunks of chicken, succulent and juicy, are tossed into the noodles, together with preserved squid, lending a hint of oceanic flavor. And finally, a perfectly cooked egg, its golden yolk oozing into the noodles, completes this heavenly medley!
Timings: 5 pm - 10 pm
Cost: 50 Thai Baht onwards
How to reach Bangkok?
Reaching Bangkok, the vibrant capital of Thailand, by air is the smartest way to travel. With more than 30 nonstop flights available per week from major Indian cities, it is both convenient and quick. Budget carriers like Indigo, Thai airways, Vistara, and Air India offer the best deals for nonstop flights from Delhi to Bangkok, with an average flight duration of only 4 hours.
An aerial distance of 2920 km is covered in this short span of time. Other cities offering direct flight connectivity to Bangkok include Mumbai, Chennai, and Bangalore. Booking flights during the off-season, especially during monsoon, can result in significantly cheaper fares.
Best time to visit Bangkok:
Bangkok, the bustling capital of Thailand, boasts of year-round pleasant weather and attracts tourists from all over the globe. However, the best time to visit Bangkok is during the cool and dry season, from November to February. With temperatures ranging from 22 to 28 degrees Celsius, this time is ideal for exploring the city's vibrant street life, exquisite temples, and floating markets. The shoulder season of March to May also offers pleasant weather, but with slightly higher temperatures. However, this is a great time to indulge in beach activities and water sports in the nearby islands. The monsoon season from June to October sees a decrease in tourist influx, making it the best time to score great deals on accommodation and flights.
How to get a visa for Thailand?
Getting a Thai visa is now easier and faster with the option to apply online through the official website. No need to spend long hours in queues at the airport, simply create an account, fill out the form, submit necessary documents, pay the fee, and wait for your visa to be processed! It's hassle-free and convenient, making your trip to Thailand even more exciting.
As your 24-hour journey through Bangkok comes to an end, you'll realize that there's so much more to this city than meets the eye. From ancient temples to modern virtual reality experiences, tranquil river cruises to Muay Thai fights, Bangkok has something to offer for every type of adventurer. And with easy flight connectivity and hassle-free visa options, there's no better time to visit this vibrant city and uncover its offbeat and unique offerings. So what are you waiting for? Pack your bags and get ready to experience the best of Bangkok in just 24 hours - you won't be disappointed!
Ready to travel for free? Earn credits and redeem them on Tripoto's weekend getaways, hotel stays and vacation packages!