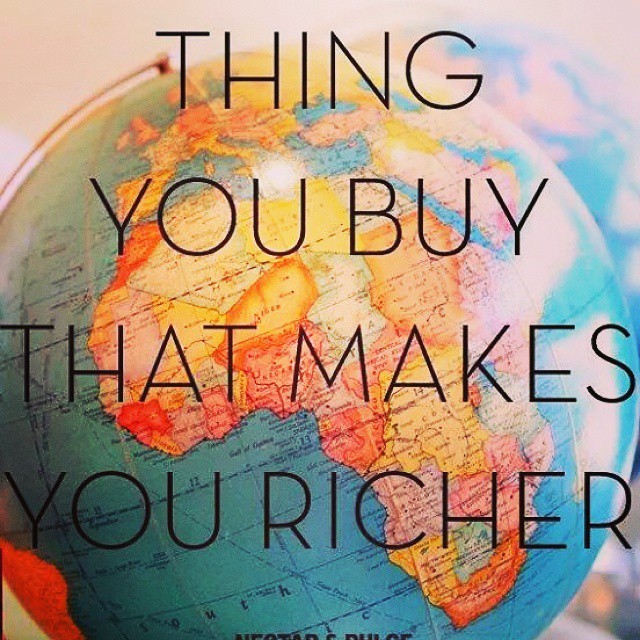 "To travel is to live."- Hans Christian Andersen
It is part and parcel of my life. It's my heartbeat. If I don't travel, I would not live. Even in our Literature many poets have laid down the importance of travel. Also they have held travel at par to living, like how traveling affects life, how advantageous it is to travel. Actually all meant to say, traveling and life go side by side.
As quoted by the famous poet: "Sacchidanand Hiranand Vatsyanan Agyyae"- Jo Ramta nahi vo Ram nahi, Rukna to maut hai
A famous quote by James Russell Lowell- "A wise man travels to discover himself". So one thing I want to ask you here- Are you really a wise man??
It's really important to discover yourself as a person. Your goal and aspirations hold a key to your living. Keep a goal in life and do anything to achieve it. Do everything with full focus. The people who have no goal in life may live on this earth physically but are already dead. Remember one thing, that there is no one greater than you. Do whatever you feel like. If your target is 10th mile then aim for 11th mile.
"We travel initially to lose ourselves; and we travel next to find ourselves."- Pico Iyer
How traveling has changed me as a person–
1) Its makes me a better person day by day.
It is undoubtedly true. People around me have observed that and I also feel the same. I, then and now, is a total turnaround. In my childhood I have done many mistakes which a normal child of my age cannot think also. But as I started traveling gradually things changed. I started realizing my mistakes. I started respecting people more than before and valuing relationship more than before.
As Quoted by: Gustave Flaubert
"Travel makes one modest, you see what a tiny place you occupy in the world."
2) Compromise and Adjustment
Life begins at the end of your comfort zone. So true
In our childhood we wanted everything to be perfect at the cost of our parents. We wanted the best clothes, good food etc.. And if we were not getting what we wanted, we threw tantrums. This was the basic problem with us. This is because we always wanted to delve in our best comfort zone. That is why we are holidaying rather than travelling. So after traveling consistently I have seen what actually Life is. Seriously life really begins at the end of our comfort zone. Until we are at home everything will be good but as soon we go out, problem arises. And when problem arise we tend to pass on the burden to others.
3) It is the best thing happened to me till date
"To travel is worth any cost or sacrifice"-Elizabeth Gilbert
Yes believe me, only traveling makes me happy. Since I am traveling for last 7 years, I know how happy I am always when I booked my flight tickets or if any of my trips get confirmed. I was the happiest of all the three when we went to Bangkok for the first time. It was like a Dream come true. As it was my first oversea trip and moreover to the "travelers paradise". Yes, I have spent everything what I had earned in Last One year but I will say it's worth any cost or any other kind of sacrifice I have made. I never regret because nobody knows but me, what I have earned or what I have experienced.
4) Traveling educates you more than a classroom
I don't mean to say that you should not study. But In order to know the meaning of life, importance of people, understand society you should travel. No books, no schools, no colleges can help you to understand all this. I am a Qualified Professional but traveling has taught me more than what I learnt inside four walls. Personally, I would advise youngsters to travel. We could learn the lesson for our life.
Prophet Mohammed has also said:
"Don't tell me how educated you are, tell me how much you have travelled."
5) World – A must read book
There are many people who are fond of reading books. They will read fictions, biography, real life stories but definitely they will forget to read the most important book of their life. This book helps us to know about people, different culture, cities, places etc.. The book is called The World (In which we live). This book is not available in any book stall or market etc. This can be read only if we start traveling.
Saint Augustine has said—
"The world is a book, and those who do not travel read only one page."
6) Money saving tips
Now I know how to save money. Saving money is for my travel and not for marriage or to invest in properties. For money saving tips Click here . It is all because of traveling. I always wonder that why people save for marriage or to buy home. There is so much to see in this awesome beautiful world that one life is not enough. People will spend millions of rupees on marriage and when it comes to traveling they will talk about the budget. Money is just a medium to travel.
7) Broaden your horizon
I have a dream, I want friends from each and every country around the world. That is possible only when you travel. A traveler is not measured in terms of miles he has travelled but the friends he has gained all over the world.
A correct say by Tim Cahill,
"A journey is best measured in friends, not in miles"
People may question how I can trust someone whom you met only once. I will question back how can you marry a girl just by meeting her for 10-20 mins. Seriously guys it happens in India and it is called "Arranged Marriage". I have made many friends and now I have friends in almost all the countries of Asia. We connect across boundaries and beyond travel. It feels good when you know people from different countries.
8) Traveling is the best Investment
People invest in Home, jewelry, shares, bonds etc but I will say Invest in travel. Ask for no security and no guarantee and this will be with you throughout your life and the more you will invest in it the richer you become. "Travel is the only thing you buy, that makes you richer."
A great say by Ray Bradbury,
"See the world. It's more fantastic than any dream made or paid for in factories. Ask for no guarantees, ask for no security."
When my friends question me why I write, and more importantly why on travel, the only answer from me would be "sharing". After reading this article, I strongly believe, calendar would have flashed in every reader. Right? Started looking for holidays, family leave or outing? Yes. That is my motto. I would be more than happy if my article has re kindled the memories of lost time. To recoup, let's travel and if we begin to do that, we are ahead of the world pushing our agony behind. Let's live our life and enjoy it to the fullest, after all we just have one life and one earth. Don't worry guys where to go. You are at the center. North, South, East and West is waiting to host you Get Set Go and there is no winning edge only in travel.