An impromptu visit along with your friends is always an exciting idea the whole lot of fun and craziness trust me it's always a great feeling. "Friends that travel together stay together",being with someone is one thing and travelling with them is totally a different story and you know why you be yourself, you come out of your comfort zone and taking killer photos of each other. Now quickly coming to the visit to Nandi village about 54 kms from Bengaluru, a calm hamlet nestled at the base of Nandi hills a favorite weekend hangout for all the Bangaloreans.
A perfect road trip to remember we started as per our schedule all super excited. The early morning mist beginning to clear, early dawn bright rays welcoming us. We hit the Bellary road leading to the new international airport and occasionally checking the sign boards leading to Nandi hills. We soon hit the road leading to Nandi hills a left turn welcoming you with cyclists, riders and travelers on a road trip.
It was a cool pleasant day following the vast plain lands, green vineyards, small petty shops and bike riders with their rider's attire speeding in fast you happen to have a glance at the bike and they are off from your sight. Finally we reached the T junction took a right turn which leads to Nandi village(Nandi grama) is about 6km. Byways with slight curves,occasional humps and now you are completely away from usual crowd, traffic you feel as though you are in a remote place. Finally we reached our destination.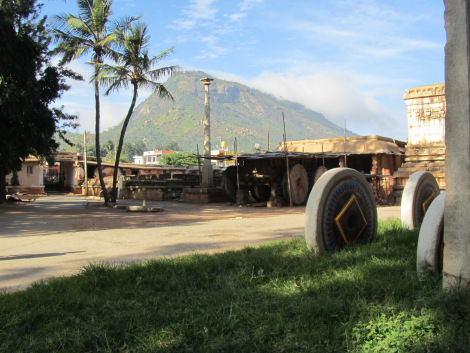 Nandi village abode to Bhoganandeshwara temple is considered to be one of the oldest temples in Karnataka which dates back to the early 9th century. Accessed via a small doorway which leads to the wide spacious outer courtyard complex with lush green lawns is a treat to the eyes. A very peaceful place having historical significance is truly an architectural marvel built at the backdrop of the majestic Nandi hills.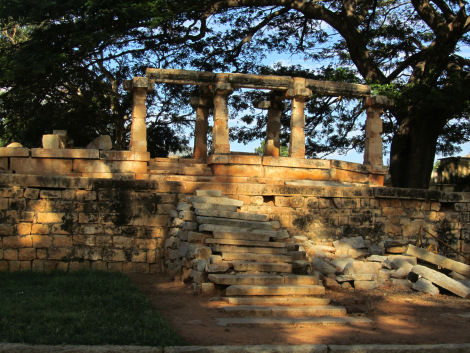 This monument consists of a typical temple architectural elements like santum,mantapa(hall),towers(gopuras) and kalyani(temple pond).The Bhoganandeshwara temple is dedicated to lord Shiva built by the kings of five dynasties the Hoysala's,Cholas,Pallavas,Gangarasa and lastly the Vijayanagara kings.This magnificent temple has a wide corridor with three different temples Arunachaleshwara,Bhoganandeeshwara and in between the Uma-Maheshwara.The uniformly laid pillars adorned with intricate carvings depicting mythological figures is absolutely stunning.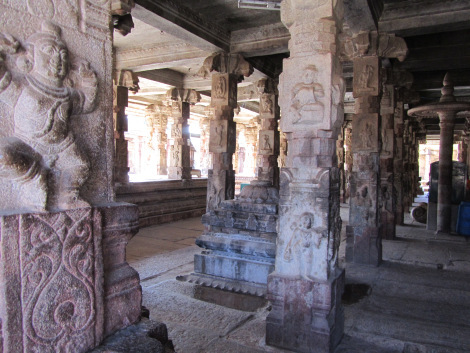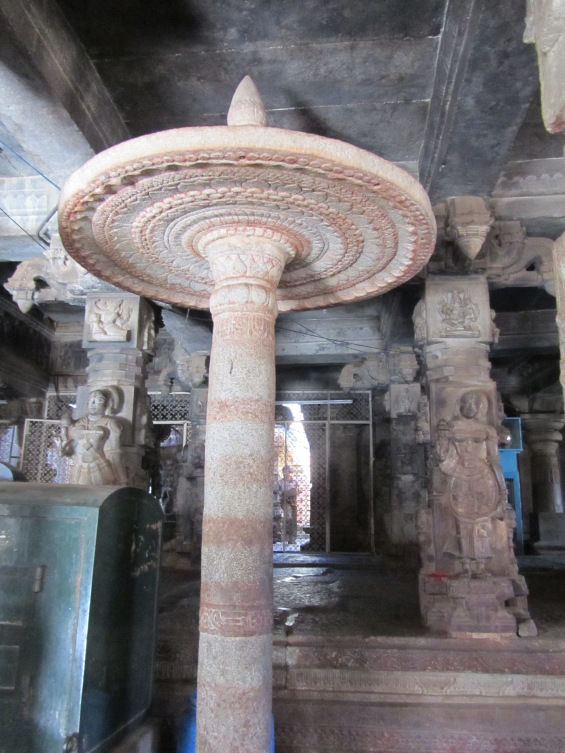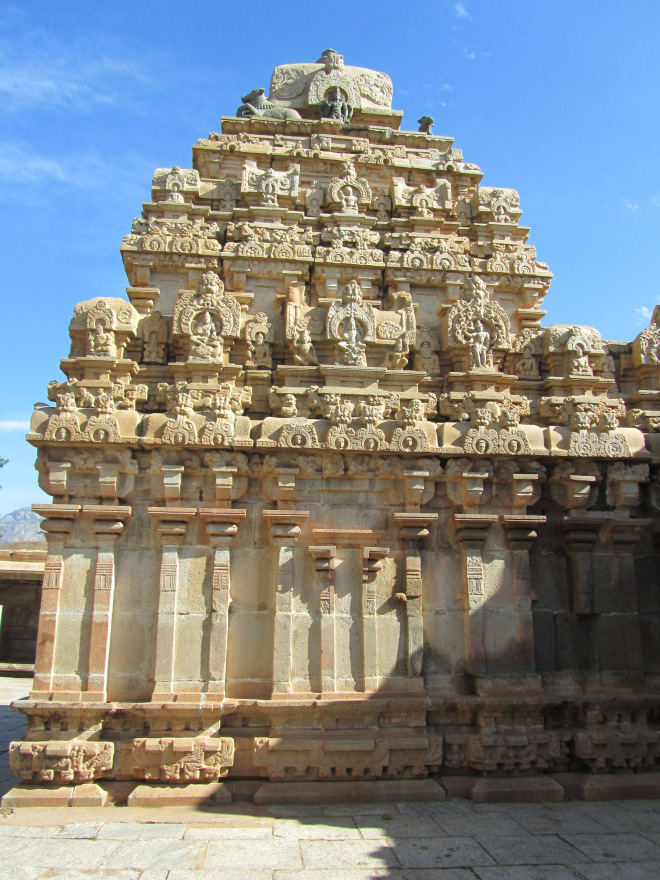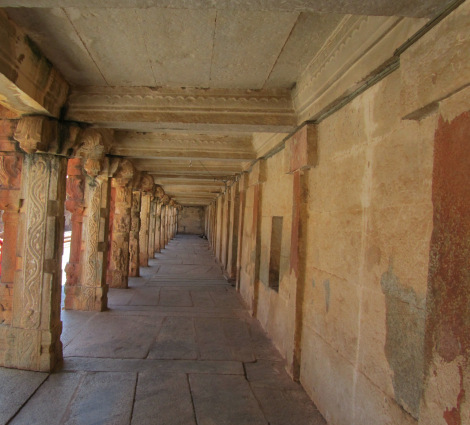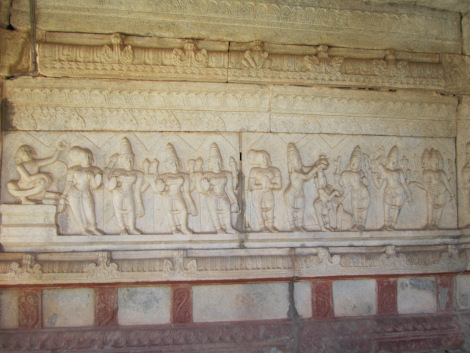 Stepping outside the shrine and walking around the temple courtyard one can notice the exterior pillars of the temple and elegantly sculpted divine figures,powerful deities and intricate pattern work.Accessed via a towered gateway and a passage that separates the central shrine lies the square pavilion the Vasantha mantapa which is on raised platform which is considered as a sacred marriage hall.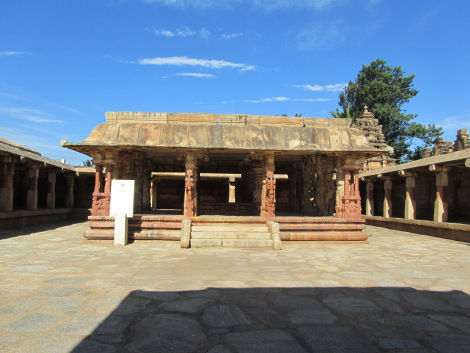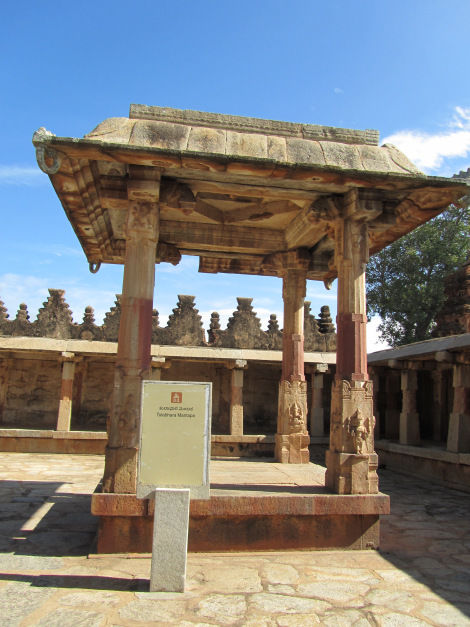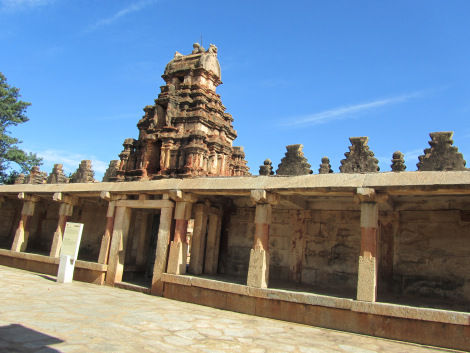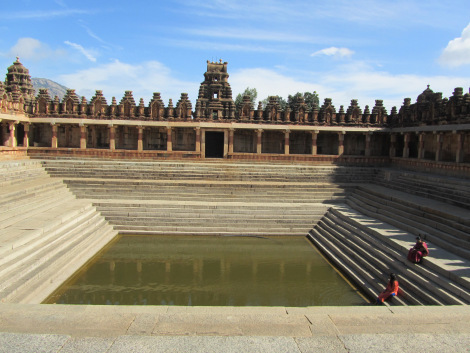 Symmetrically similar-Shringi Theertha
The last of the prominent structure is the Shringi theertha(temple pond) the pond is surrounded by rock cut steps on all four sides.It is enclosed with a pathway and running mantapa on all four directions.It's an heritage monument protected and well maintained by the archaeological society of India.I feel short of words to describe this immense architectural marvel it will never let you disappointed a photographers delight and a place for historic enthusiasts .In the serenity of this abode one can get lost and sail away in the thoughts of the lost dynasties and the rich history that we and the rest of the world takes pride in!
Happy Travelling!
©Divya RC 2016
This blog was originally published on 'THRU D LENS'