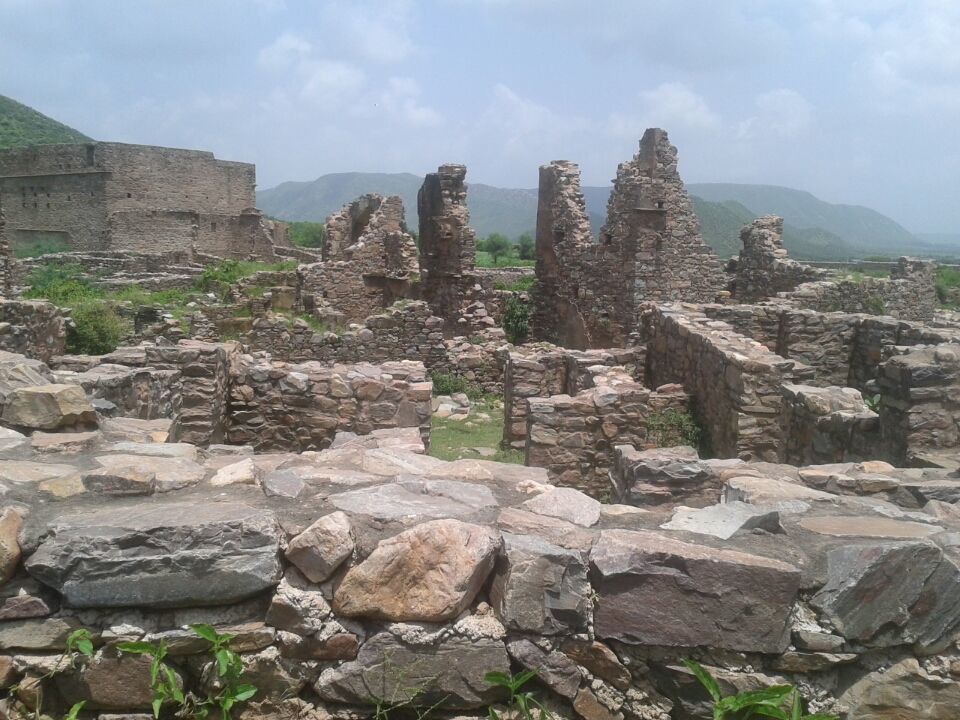 We started our journey from Delhi at around 5 am. The drive was via Gurgaon, Bhiwadi, Firozpur, Alwar finally to Bhangarh. We were all too spooked up and began the journey with instances of any remotely supernatural experiences we'd had, and mind you some were insanely hillarious too.
The drive to Bhangarh is extremely beautiful with abundance of picturesque scenery and landscape. A photographer's paradise indeed.
At some places the green moors look like right out of some
Hollywood
movie location. Yeah trust me its that good!
We reached there at around 10am and that meant not getting a hold of any bhatakti atmaa! However we were too enthused to care, it was more than enough to be able to check out the remains and ruins at the fort i had read so much about.
The picture wasn't really pretty though when we reached, firstly because of the extreme heat we had to tolerate to reach there and secondly because there was huge rush of people heading towards this spot and all for a picnic. Woah! Dining with the spirits, want more spook in life, huh?
The walk to the queen's palace is approximately 20minutes from the main gate, on the way to the palace you could see the remains of the market area that used to be. The irony if this place is that its surrounded by numerous temples. The queen's palace has some paintings on the walls which are claimed to have been painted by her. You will be welcomed by a very repulsive smell inside the palace, which apparently is the scent of the bats that reside there. Be prepared with atlseast a handkerchief as this smell made me sick.
On the top you can see a Chhatri which is claimed to be the shelter of the Sage who cursed this town. As per the folklore ,the rishi was in love with the queen, but when she refused to reciprocate, he performed some abraca dabra to enslave her, however the smart queen smelled his fishy business and ruined his plans which enraged the rishi and he cursed the town of death at sunrise and also that this town will hence remain uninhabited and haunted till the end of time. That could have made a blockbuster movie in bollywood right?
After spending quite sometime at this ghost town we headed towards Salasar lake via Ajabgarh and Sariska tiger reserve.
All in all this trip was all that could be enough for a one day getaway, the scenery, the horror quotient, the company of friends and some food at the dhabas. If maintained well, Bhangarh could attract a lot more travellers and archeology/history buffs. For me it was a check on one of those destinations enlisted in my bucket list.
If ghost hunting, is also something that intrigues you, then do visit Bhangarh.
P.S. : I didn't find any. :)