Image by Prateek Agarwal
About Bhangarh Fort
Bhangarh Fort is known as one of the most haunted place in India, and perhaps the greatest unsolved mystery. The fort is situated at the foot-hills on the sloping terrains of Aravali's. It's really acceptable that the fact associated with the supernatural activities at the fort attracts a huge amount of attention among the Indian and Foreign tourists. A lot of curious travellers comes in order to experience thrill behind the suspense associated with the story of Bhangarh. If you happen to be one of those inquisitive traveller, it is imperative for you to visit this place and find out for yourself. 
Bhangarh Fort : Iteniery
Entering through the main gate of the completely ruined fort city - now called the "house of paranormal activities" - gives an eerie feeling that is not yet proved. Within the fort, at the main entry, one can find temples, palaces and havelis. One, can find a temple on the hill top as well, which is said to be a "Kali maa ka Mandir" used by the king to give bali.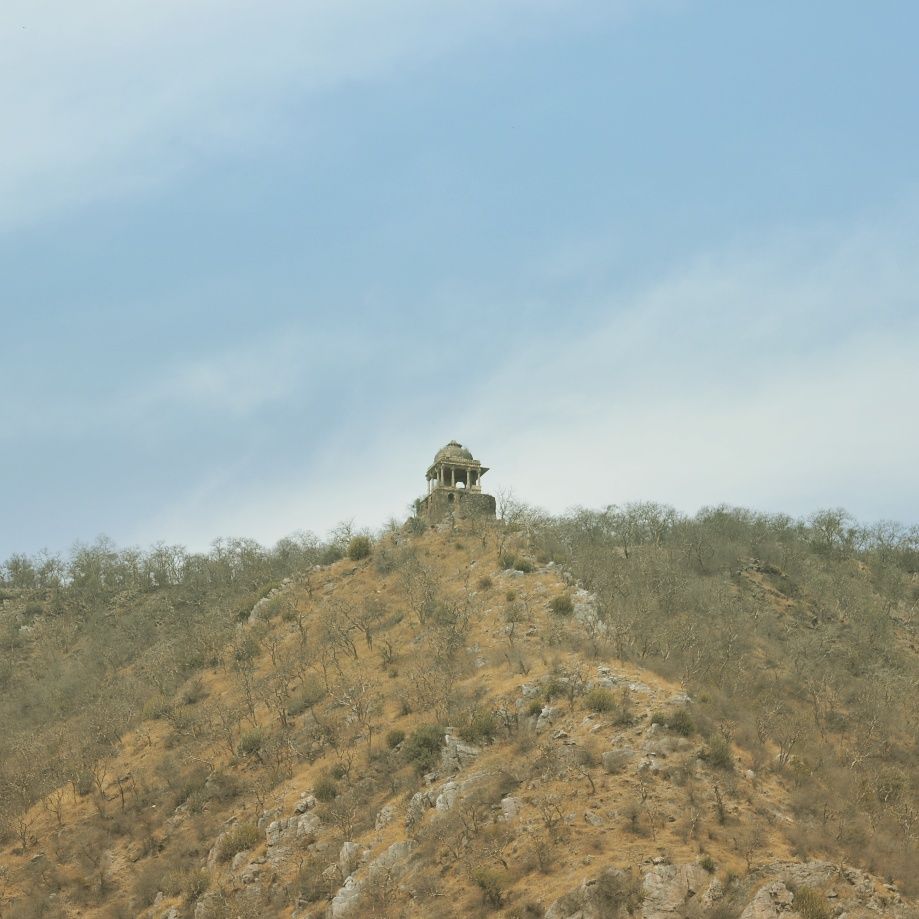 Image by Prateek Agarwal           
Image by Prateek Agarwal
At the entrance of the main gate, one can see many hindu temples, a lush green garden, broken monuments on the way routing to the fort which is also slowly falling down into pieices. Although, one can go and just easily imagine how this city might looked during his good old days. Currently, it gives you a deserted look with everything destroyed that has been explained in the history of the fort. Walking towards the fort there are multiple routes you can opt, a good old market route of this fort city surrounded by broken monuments which looks bit scary, bit interesting and bit unacceptable.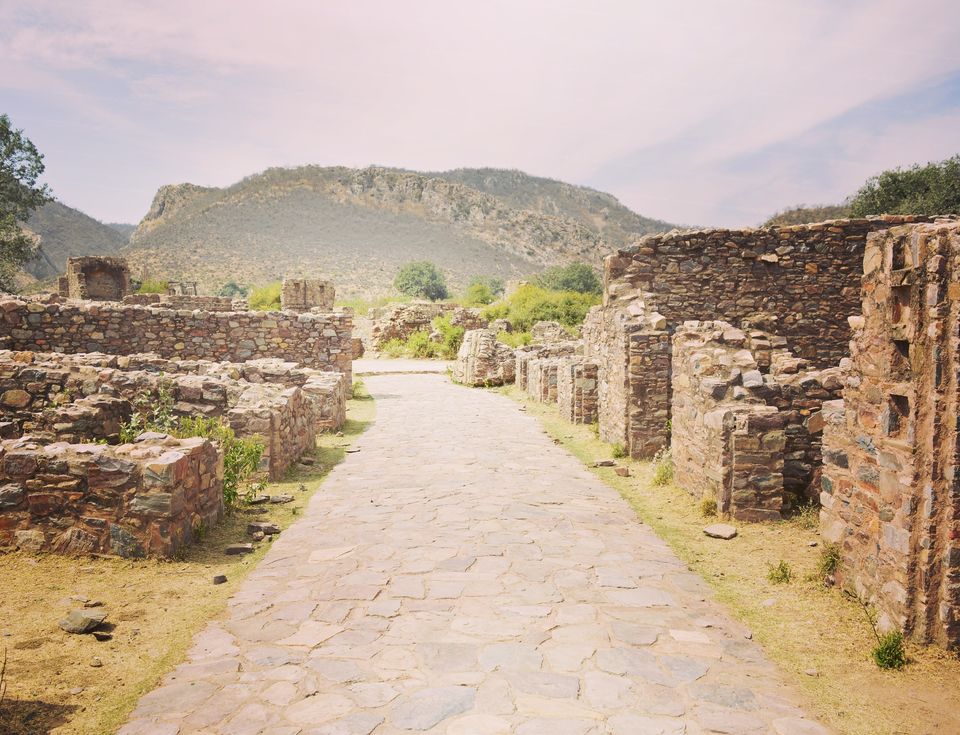 Image by Prateek Agarwal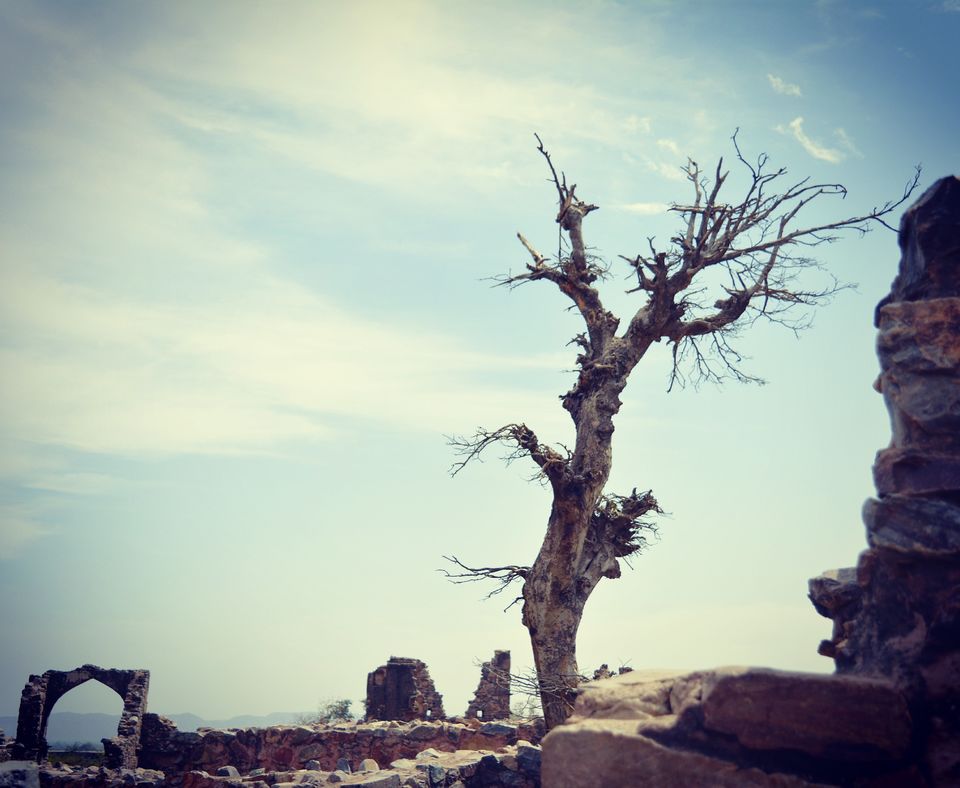 Image by Prateek Agarwal
Another, path takes you to a lush green garden route surrounded by multiple trees, rich valley of flowers of different colours and their blossom is just mesmerizing.After, that their is a way just behind the palace boundaries that will take you to the mystery ridden Bhangarh Palace, totally demolished now may be because government didn't tried to preserve it's beauty at the right time.
Although, it might be too late to do, but the Archeological Survey of India is putting their hands actively in saving the monument and the history.   

History behind this mystery fort
There are many haunted stories associated with Bhangarh Fort.
One of the Bhangarh Fort story(Source- wiki) pertains to Princess Ratnavati. According to the legends, her beauty was nonpareil and stories of her surpassing physical attractiveness even transcended kingdoms and borders. When she turned eighteen, suitors from several states asked for her hand in marriage. Of all these suitors was a sorcerer named Singhia who was aware of the fact that he was no match for the princess. However, he decided to entice her with the magical powers he possessed. He was lucky enough to see Princess Ratnavati's mistress in the market and enchanted the oil she was purchasing with black magic. He was of the hope that the princess would surrender herself to him upon touching the oil. However, his attempt was futile as Ratnavati witnessed his trick and poured the oil on the ground which then morphed into a rock, rolled towards the magician and crushed him. Before dying, Singhia cursed the city of Bhangarh to death and as a result, it never witnessed any rebirths. Moreover, in the battle between Ajabgarh and Bhangarh, princess Ratnavati was killed, thus adding more weight to his malediction. Hopes, however, never die as several locals are of the belief that she has returned in a different form and will ultimately come back to end the unfortunate spell on Bhangarh.
Well, most people are with the belief that Bhangarh Fort is haunted and is supposed to be a centre for paranormal activity. Venturing into the fort after sunset is nothing short of an act of bravery as it, also the Archaelogical Survey of India therefore has prohibited people from visiting the Bhangarh Fort at night. 
While Bhangarh fort story has been rubbished by scientists, nothing stops the villagers from believing that it is a sanctuary for ghosts and spirits. People claim to have heard women screaming and crying, bangles breaking and strange music emerging from the fort. It is believed that if a person enters the fort after sunset, he/she will never ever come out of it. The doors are therefore always locked after dusk and entry into the Bhangarh Fort at night is absolutely forbidden.The biggest mystery resides is that weather the Bhangarh Fort haunted stories is real or just a fiction? Well, nobody can say at this frame of time.
How to Reach Bhangarh?
It's approximately 84 Kms from Jaipur via NH11 highway and then take left to SH55 from Dausa. It hardly takes 1hour 40mins to reach by a Car. Alternatively, you could take a train to Alwar and then take a taxi right up to the Bhangarh Fort. Remember that Bhangarh has no hotels or restaurants and you would therefore have to travel quite a bit for accommodation options. Packing some food for the trip is a wise thing to do although it is not difficult to find a few dhabas along the way. Although, there is a small village just close to Bhangarh fort where you can meet the locals and have some time having tea or snacks discussing about the Fort it's adjourning mystery.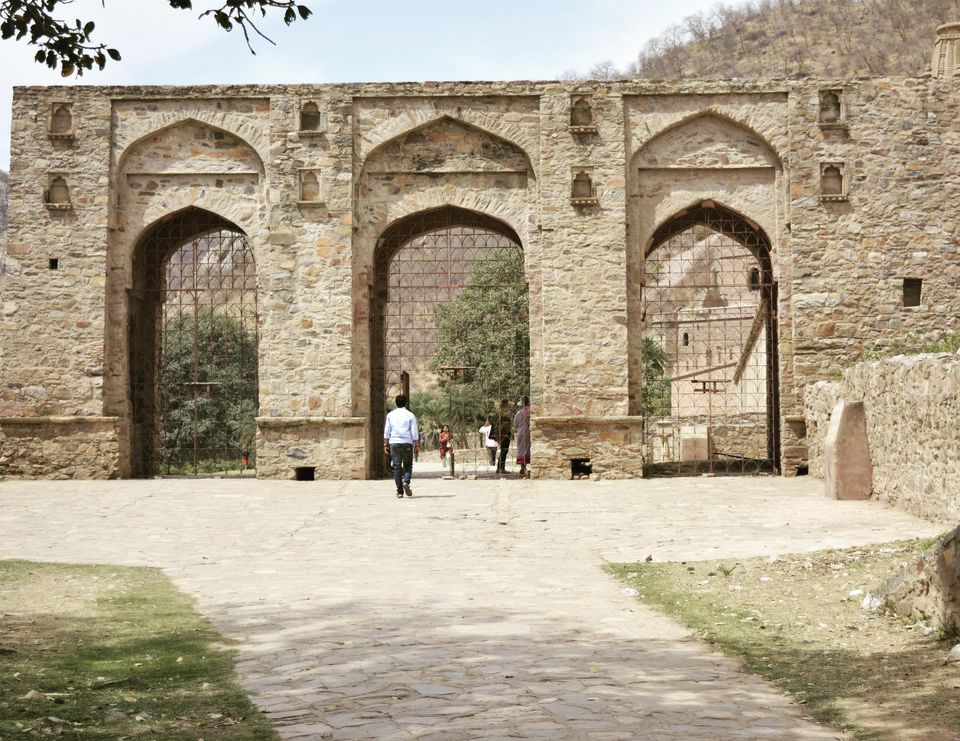 One can also visit Sariska National Park which is around 40 kilometres from Bhangarh Fort.