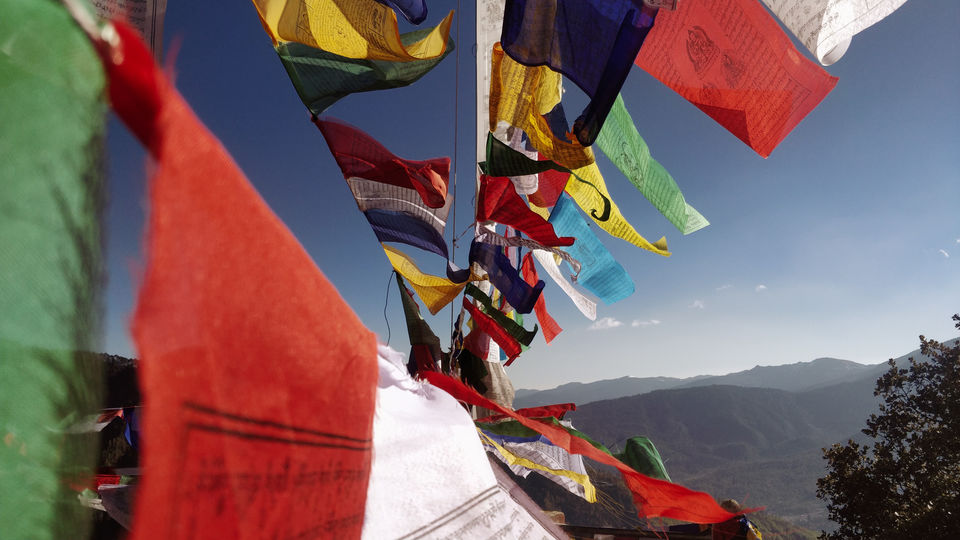 "The beauty of a place does not only come from its landscapes, but also from its people."
This quote reminds me of Bhutan and the lovely people I met while I was there. Not that it is not beautiful, but the people I came across added more life and color to the already mesmerizing place.
1. Violet
The moment you cross the border gate from Jaigaon(India) and reach Phuentsholing(Bhutan), you start noticing the difference around you. The architecture, attire, attitude of people, everything is different in the 'Royal Kingdom of Bhutan'. The streets are much cleaner and way more organized. As soon as I reached the Immigration office to get the approval, I was greeted by a native with a smiling face. He himself filled out the forms for me, took us to the counter where I had to get the approval, took me through the entire process, helped me get a Bhutanese sim card, informed me about the do's and don'ts of Bhutan. After everything when I was heading to the bus-stand I was expecting him to ask me service charge, however, he just smiled and bid me adieu. I could not simply walk away. I showed my gratitude in terms of some monetary value, which he accepted with a bowing gesture.
2. Indigo
The trek to Tiger's Nest and back took me longer than I expected. By the time I reached back to the starting point, it was already getting dark. I looked around and found no cabs to Paro. The ones which were there were already full. I had to get back to Paro, take my luggage from the hotel and then head to Thimphu. It is hard finding transport once it is dark. I walked around and found a man who offered me ride till the main road. I thanked him for the offer but I had to get to the town. I saw an SUV with just three people inside, I walked up to them and asked if they were heading to the town. They happily agreed to offer me and my friend a ride till Paro town. We got to know each other on the way and the three brothers seemed extremely friendly. They gave us some inside information about the Bhutanese culture and people. After reaching the town, they didn't just drop me in the Taxi stand, they spoke to a taxi driver going to Thimphu and made sure that he will drive me to the hotel to pick up the luggage first and then head to Thimphu. Also made sure that he would not charge anything extra. I thanked the brothers with utmost gratitude when I said good-bye to them.
3. Blue
Walking into the bus stand, I was not sure which counter to go to and whom to ask. By seeing the clueless look on my face, a man approached me and asked me if I wanted help. I told him that I am looking for bus tickets to Phuentsholing. He happily informed me of the various bus timings and guided me to the respective counters and also about the ticket collection procedures. Once I got the tickets, he double checked with me to see if everything was okay. I bowed down to thank him and he smilingly bowed in return.
4. Green
Friday evening's in Bhutan is very much happening. After looking at the online reviews we decided to check out 'Mojo Park'. The ambiance was warm and lovely. The live performances started at 8 in the evening. After a couple of drinks, we decided to go outside for a smoke. There was a fire (it was freezing cold) outside and a circle of people around it. We walked to them and joined them. We met some of the best minds in Thimphu over there. We became friends really fast and the circle was getting bigger and bigger. Our Bhutanese friend, Sangay, called us for club hopping with them as Mojo park was about to close. We tagged along with her to 'Viva City' and enjoyed the dance floor there till 1 AM. After Viva City, Sangay called us over to her friend's private bar where we spent time jamming, talking, drinking till 5 AM. We had a crazy night with a lot of new friends from various places like Boston, Mauritius, France, Bhutan, etc.
5. Yellow
I walked to a fast food shop and ordered two rolls and two hot chocolates for me and my friend. After calculating the total amount I realized that I only have money enough for one hot chocolate. I told the shopkeeper that I need only one hot chocolate. However, when I went to collect the hot chocolate, he had kept two ready for me. As if he had read my mind, he told me that I can pay him how much ever I have with me. I took the hot chocolate thanking his generosity.
6. Orange
I flipped my ATM card to see, "Not valid in Bhutan and Nepal" I cursed myself for not checking this before and not taking the sufficient amount from the ATMs in India. I walked up to a gentleman by the ATM and asked him if he could withdraw some money for me if I can transfer the amount to his account. He agreed, but then, he didn't know the bank branch, IFSC code nor any details that were required for an account transfer. By seeing the despair on my face, he offered to lend me 500 Ngultrum (=500Rs) from his account. I was taken aback by his liberality. I thanked him wholeheartedly, but I could not accept money from somebody like that. He reassured me that it is fine and he doesn't have any problem with lending me the money. I informed him that I respect his actions but it is in my nature not to accept money like that. I bowed down and bid farewell to the gentleman and decided to manage my expenses with the money I have.
7. Red
I was looking for 'Ara - a traditional alcoholic beverage' on the streets of Paro and I was unable to find it in the nearby shops. A gentleman came to me and asked me what I was looking for. He might have figured it out from the perplexed expression I had. I told him about Ara. He asked me to follow him and walked to the direction of the market. After reaching the market he pointed towards a shop and told me that I would find what I am looking for in that particular shop. I thanked him and he smiled as he walked back to the road we came from.
On the road, whoever I asked for help or guidance, provided the best support with utmost sincerity. The traffic policemen, pedestrians on the road, the shop keepers, the taxi drivers, etc helped me with the apt information, whenever required.
Out of the many instances over there, I cut the list down to the best seven. These seven incidents like the seven colors of the rainbow made the experience in Bhutan more memorable. The already magnificent place was felt astounding because of the attitude of the people. I found them very considerate, warm-welcoming and friendly. Bhutanese should be role models for humanity as they were keen on helping us proactively without expecting anything in return.
Would definitely recommend this place to anybody for the people and the place. Just lovely!