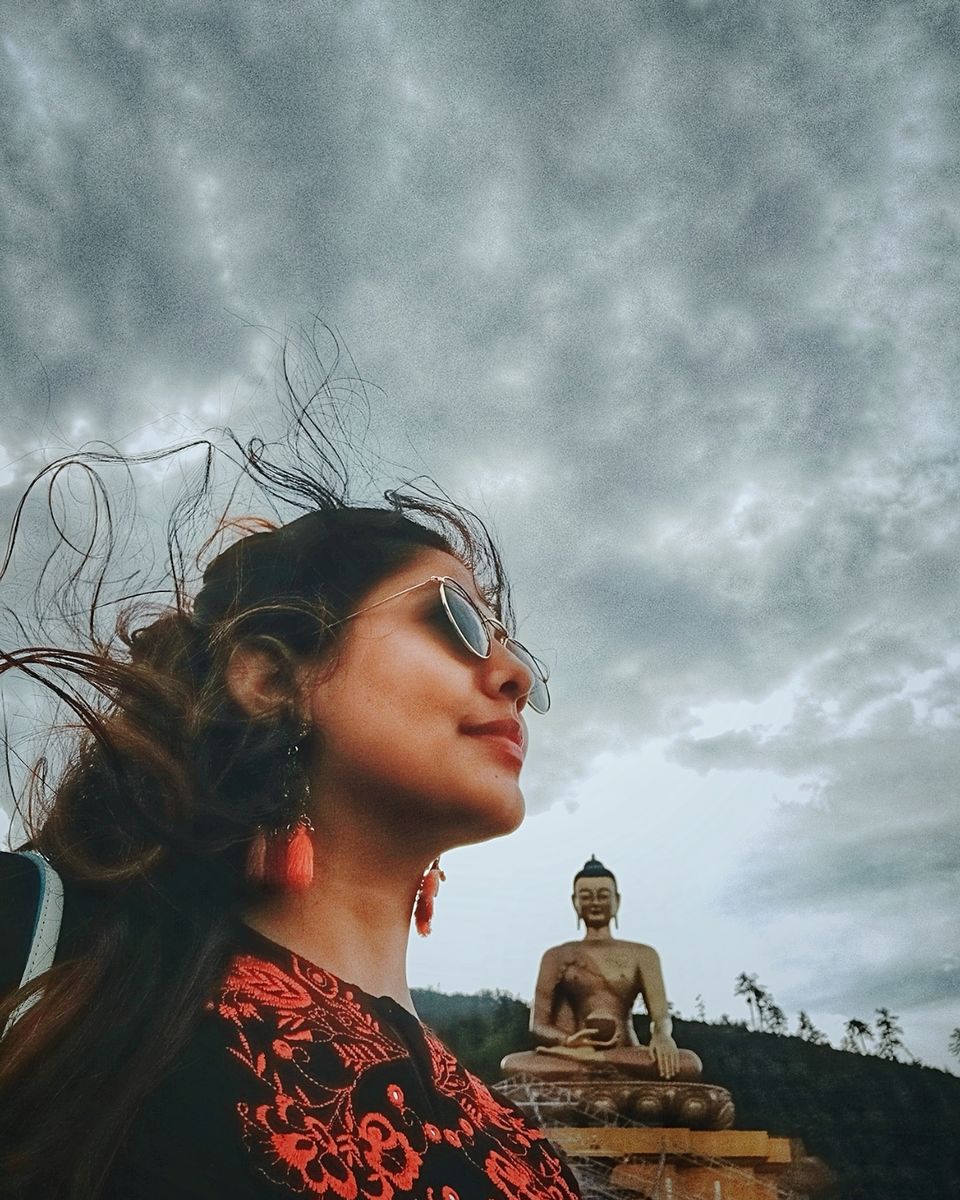 Bhutan!! The last Himalayan kingdom which is a small yet sweet,clean,disciplined,one of the happiest countries in the World! One of the few Asian countries not ruled by British, still adopted English as medium of instruction in education! Six days of TOTAL PEACE and motivations that I earned travelling to Bhutan will be ever remembered and cherished for life time.
Here is that....
Reaching Phuentsholig
I started at 3:30 am and reached Bengaluru airport at 4:45 am. The flight was on time i.e. 5:35am and reached Bagdogra airport at 8:46am. I haven't booked anything prior but had a clear idea where to reach within my planned time frame. From Bagdogra I took club more vehicle to reach Siligiri Bus stand which took approximately half an hour. But there were no direct buses to Phuentsholing which is the first place in Bhutan map! There was a local bus which was supposed to leave in a while and the bus guy told me that, that was the single bus reaching P/sholing at that time. I gave a second thought since the bus condition was pathetic! The time was 9:45 and I was told by the enquiry person that the govt.bus would be leaving at 12pm. I wasn't ready to waste 2hrs there so took that local bus. The journey from Siliguri to P/sholing was difficult since the roads were pathetic and I was given the last seat!! But the good part was the driver was able to take the bus to P/sholing within 4 and half an hour!
After reaching P/sholing I immediately headed to the Bhutan Immigration office, an agent approached me, gave the details of procedure. Let me let you that you DON'T have to approach an agent to get the immigration done which is FREE of cost for Indians! Since I was tired, I prefered to take the help of agent who charged Rs.300 and the job was done within half an hour. You need to produce either passport or voter ID and hotel booking details for a day just to justify that you are staying in Bhutan.You don't have to exchange currency since they accept the Indian rupees which is exactly equal to Bhutanese Ngultrum. But Indian sim doesn't operate in Bhutan so I took a Bhutanese sim for Rs.200 change.
After immigration, I moved to my hotel in P/sholing and relaxed for sometime. In the calm and cool evening I took a walk to the Bhutan gate and clicked few really good pictures. There is a garden and Buddhist prayer place at the centre of P/sholing ; visited them too. While coming back, I went to the bus stand and made a reservation to Thimphu at 7:30am next day. Since the counter was about to close, I could manage to buy a ticket again, last seat!! Returned to hotel and slept peacefully.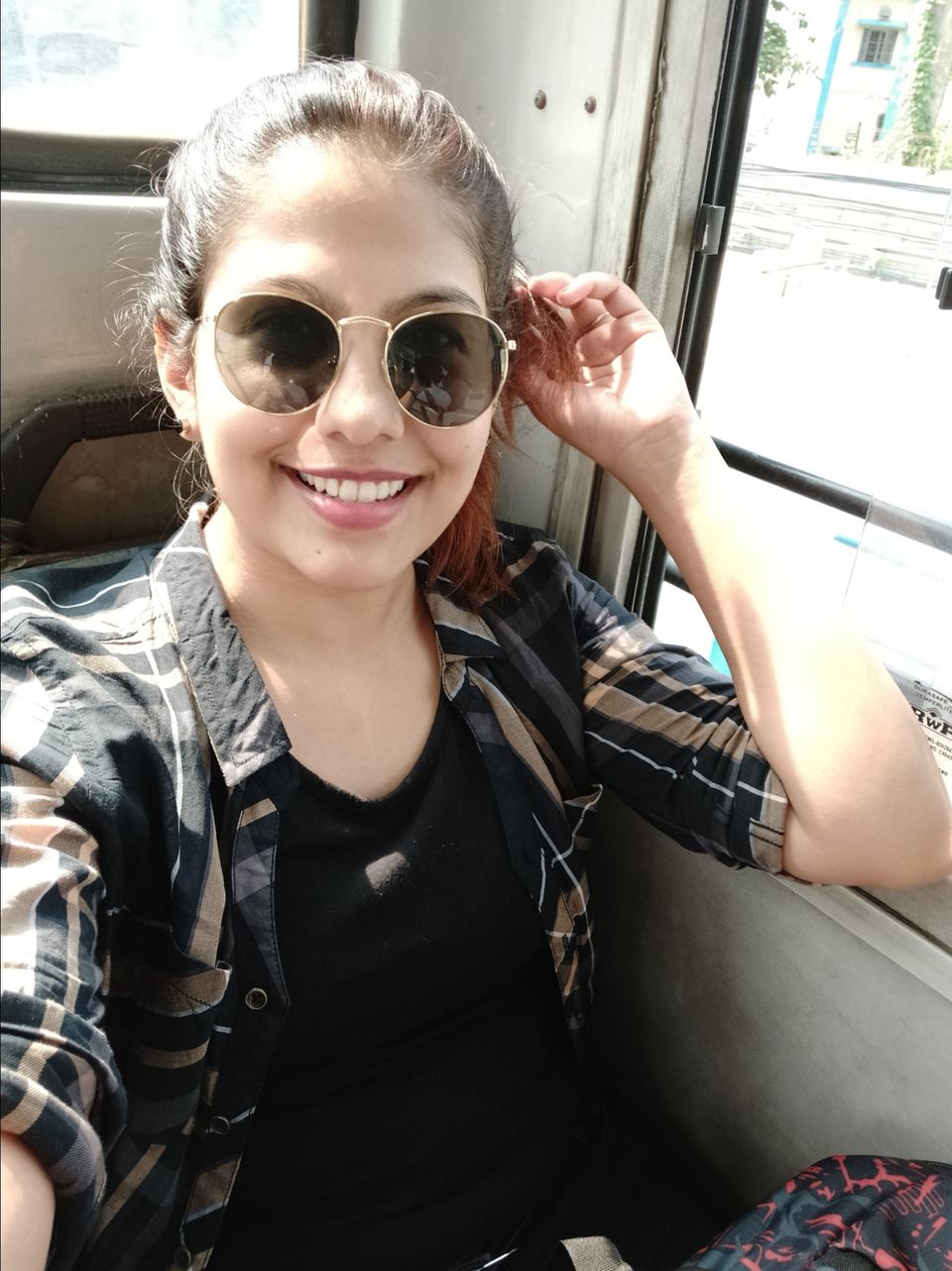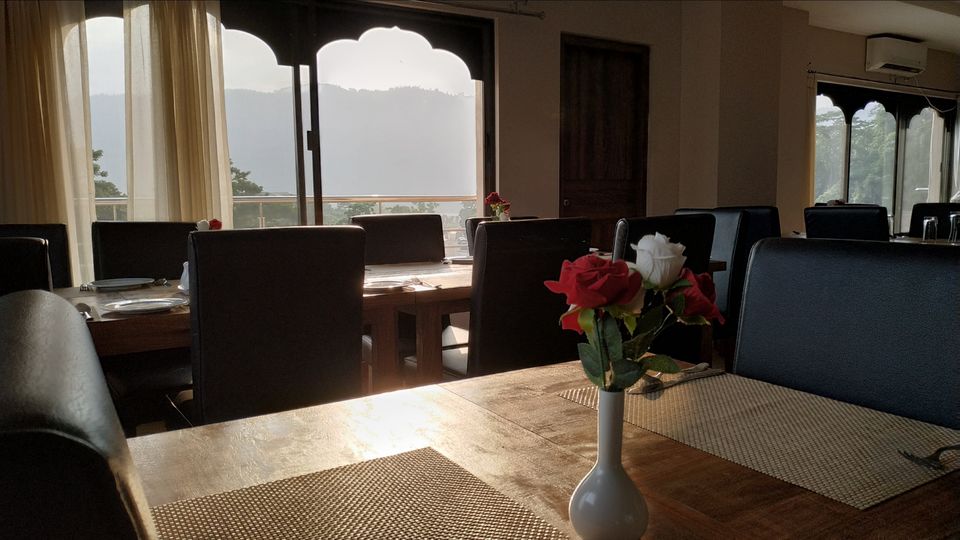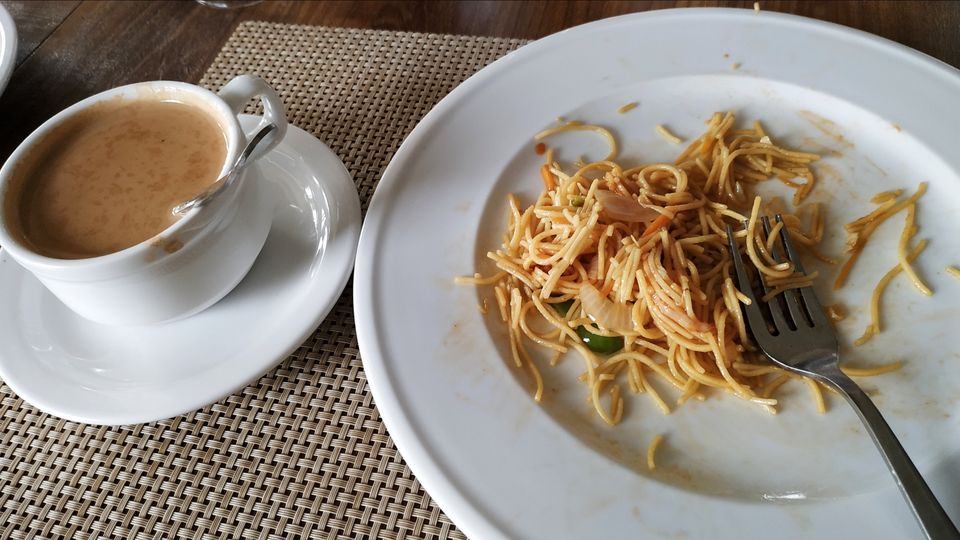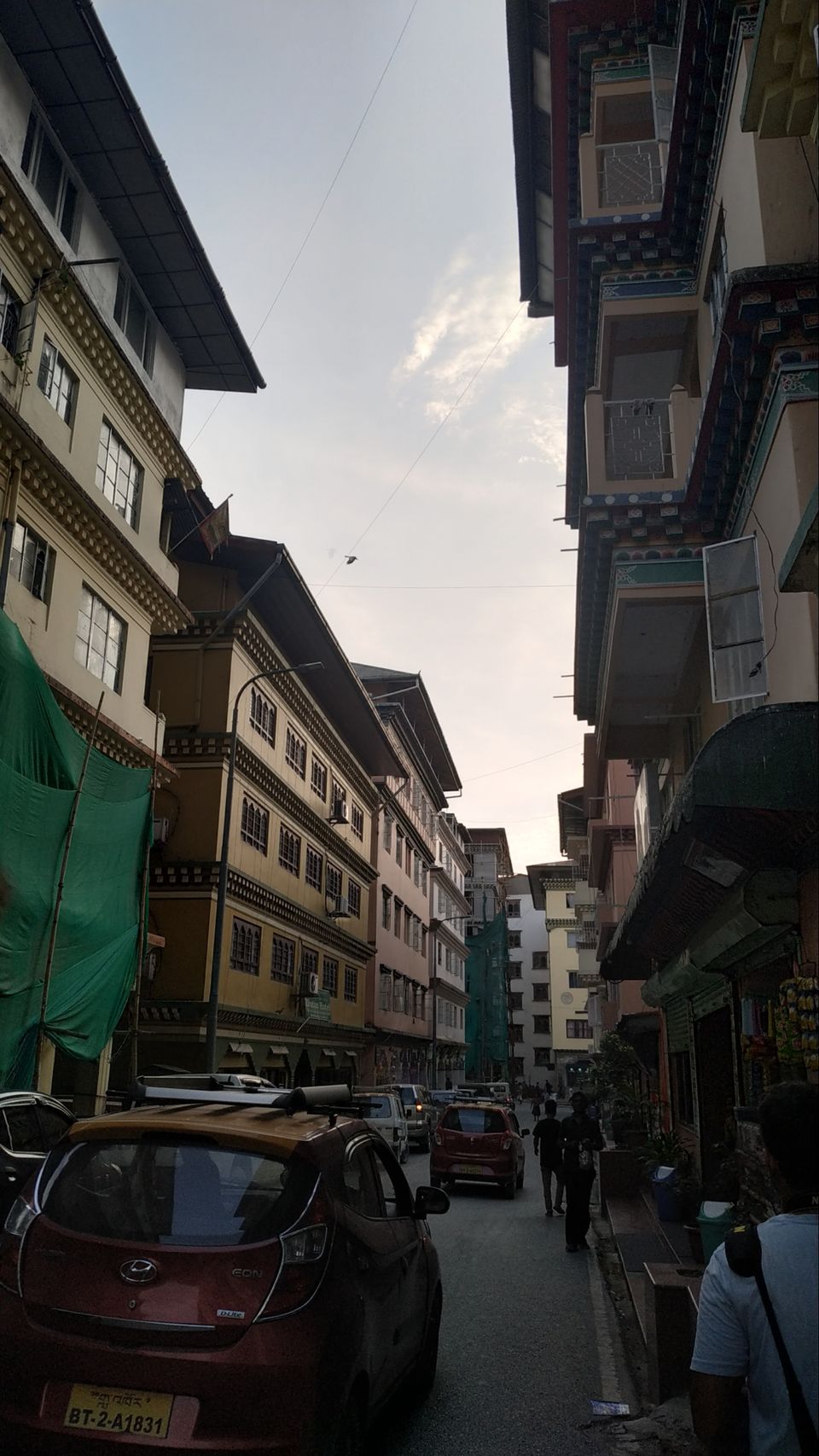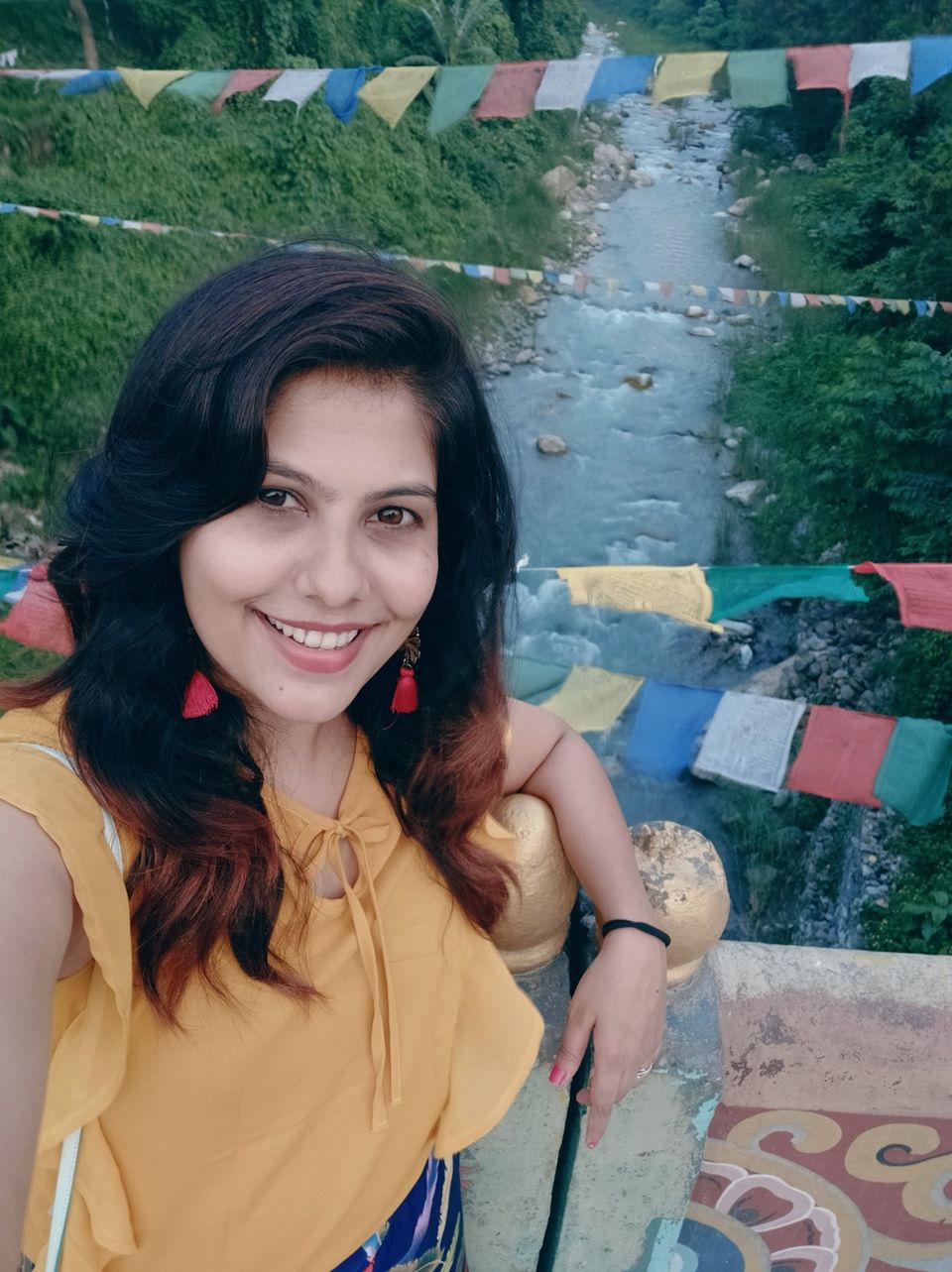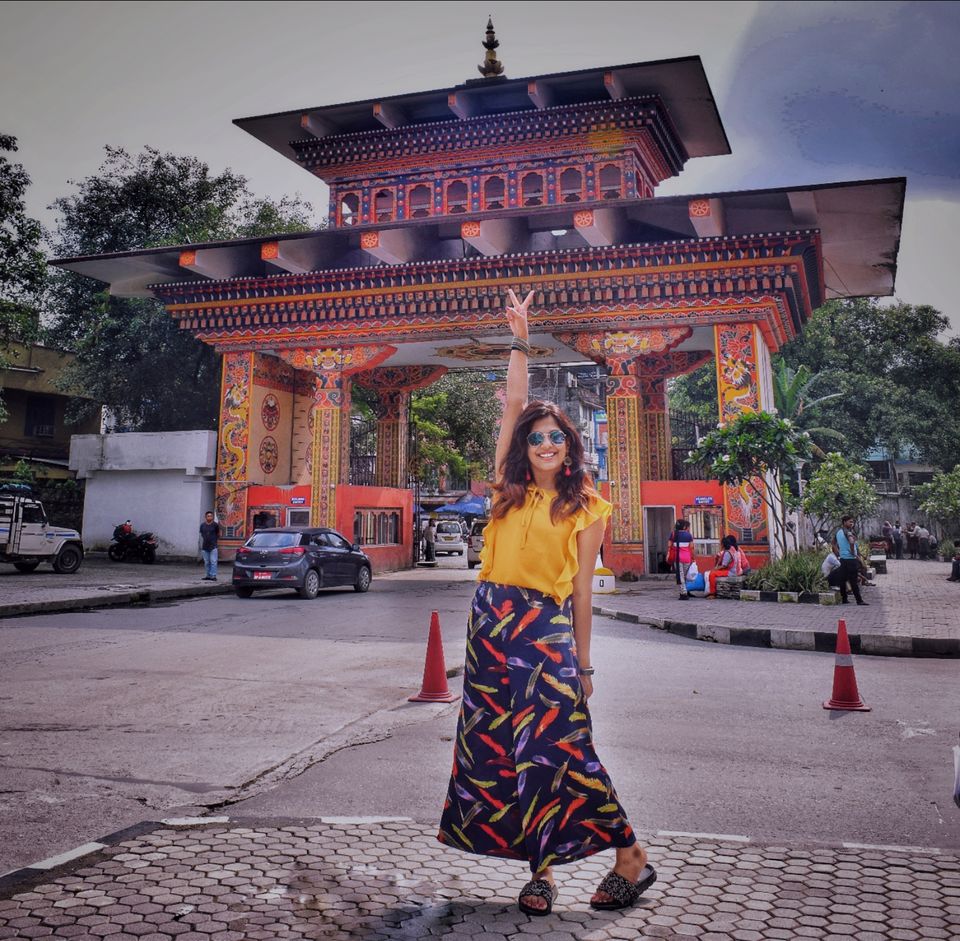 Hi Hi Thimphu
Checked out my hotel early at 7:15am and walked to bus stand which was just 5 min away from my hotel. The bus to Thimphu started exactly at 7:30am! Please note that Bhutan time zone is ahead of India by half an hour! Thimphu being the fourth highest capital in the world by altitude excited me every moment. The hilly roads leading to Thimphu are beyond appreciation and I must say one of my most cherishable road trips. My decision of
not taking flight to Paro was just the right thing I did.
I reached Thimphu within 4hrs and felt great seeing the cleaningness and discipline of the city. Littering is never seen and there is so much importance given in maintaing the law and order. I was extremely happy to witness such manners for the first time!
I checked into my hotel in Thimphu had my lunch and took a nap. Got at 4pm and started walking on the beautiful roads of Bhutan Capital. Then I learnt an interesting fact that there were no traffic signals and no traffic indeed!! The traffic police controls the traffic in peak hours and that's it!! How unbelievable is that!! I could hardly see motor cycles as well. The pedestrians are given so much respect that when you are about to cross the road, no cars will rush towards you, instead they wait,give a cute smile and gesture you to cross peacefully. This seemed to be quite strange to me!!
I had made my mind that I would visit only Buddha point that day since sun set from Budda point is worth watching. I was thinking to take a cab, and here he was....Purpa..eventually he became my driver for rest of the tour! He charged me Rs.500 for that point and offered a deal. He would show me every MUST VISIT point in Thimphu in next one day at Rs.1800! The deal sounded good and I agreed.
The sun set I witnessed at the Buddha point was just amazing. I took too many pictures and enjoyed the peace and serenity of it. There is a monastry below the huge Buddha statue and I was lucky enough to get into it though the visiting hours were over. Such a beauty it is!!!
While coming back the driver stopped the car at a view point.I could see the entire Thimphu ! Such a small yet beautiful and well planned city it is!! I asked my driver to drop me to city market. I had Maggie and Cappuccino at a Cafe and roamed thoroughly.
After that I came back to my hotel, had my dinner and slept tight with awaiting tomorrow's excitements.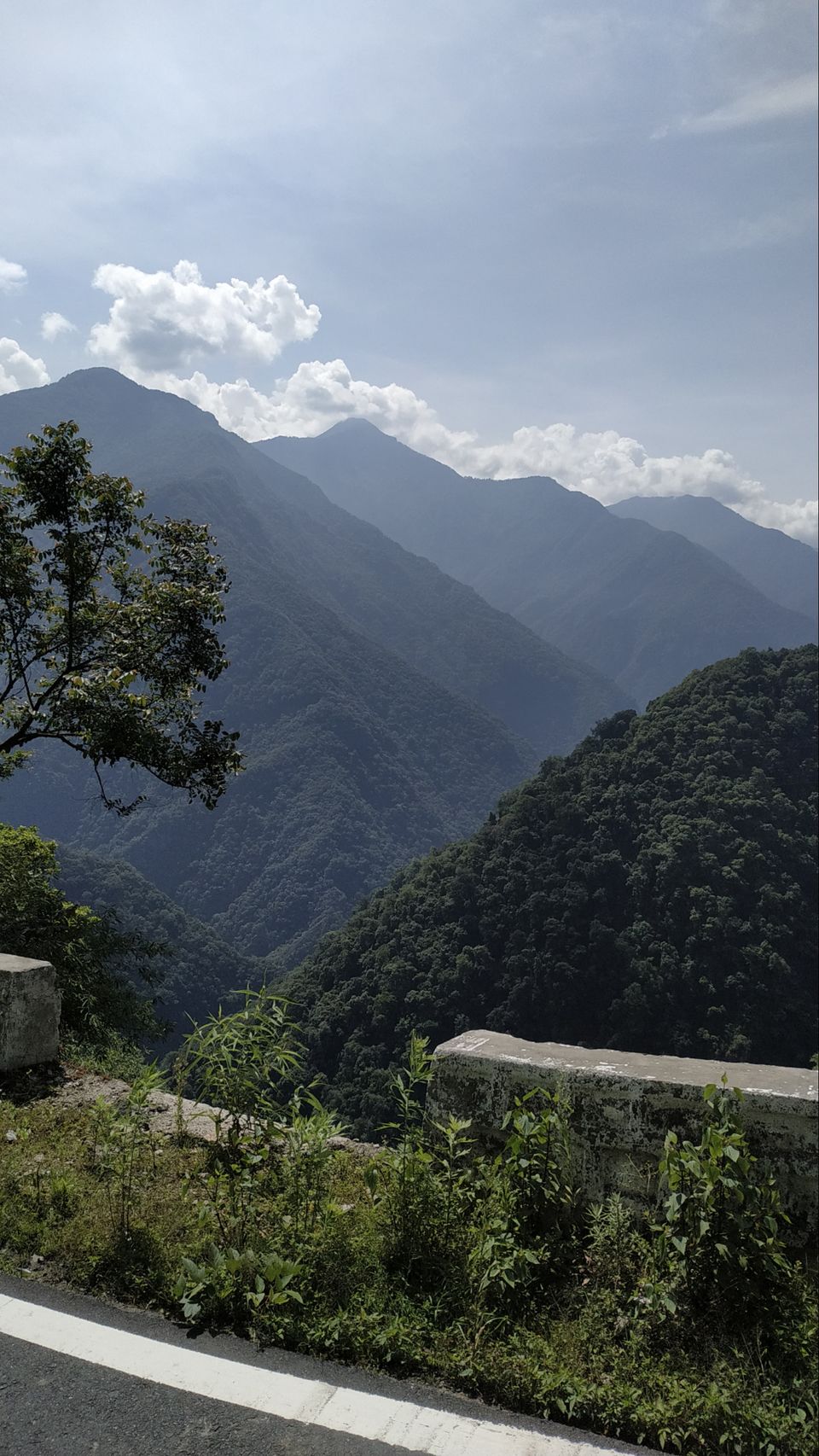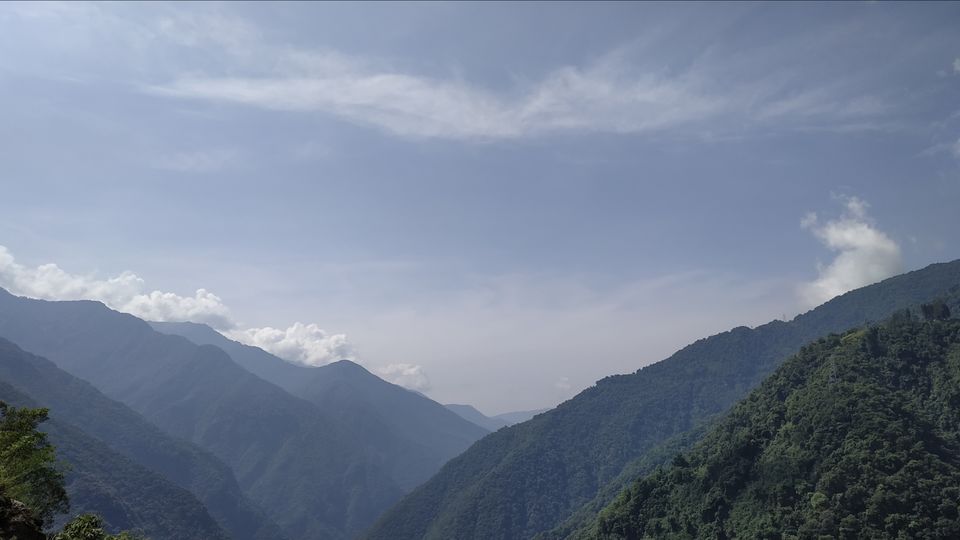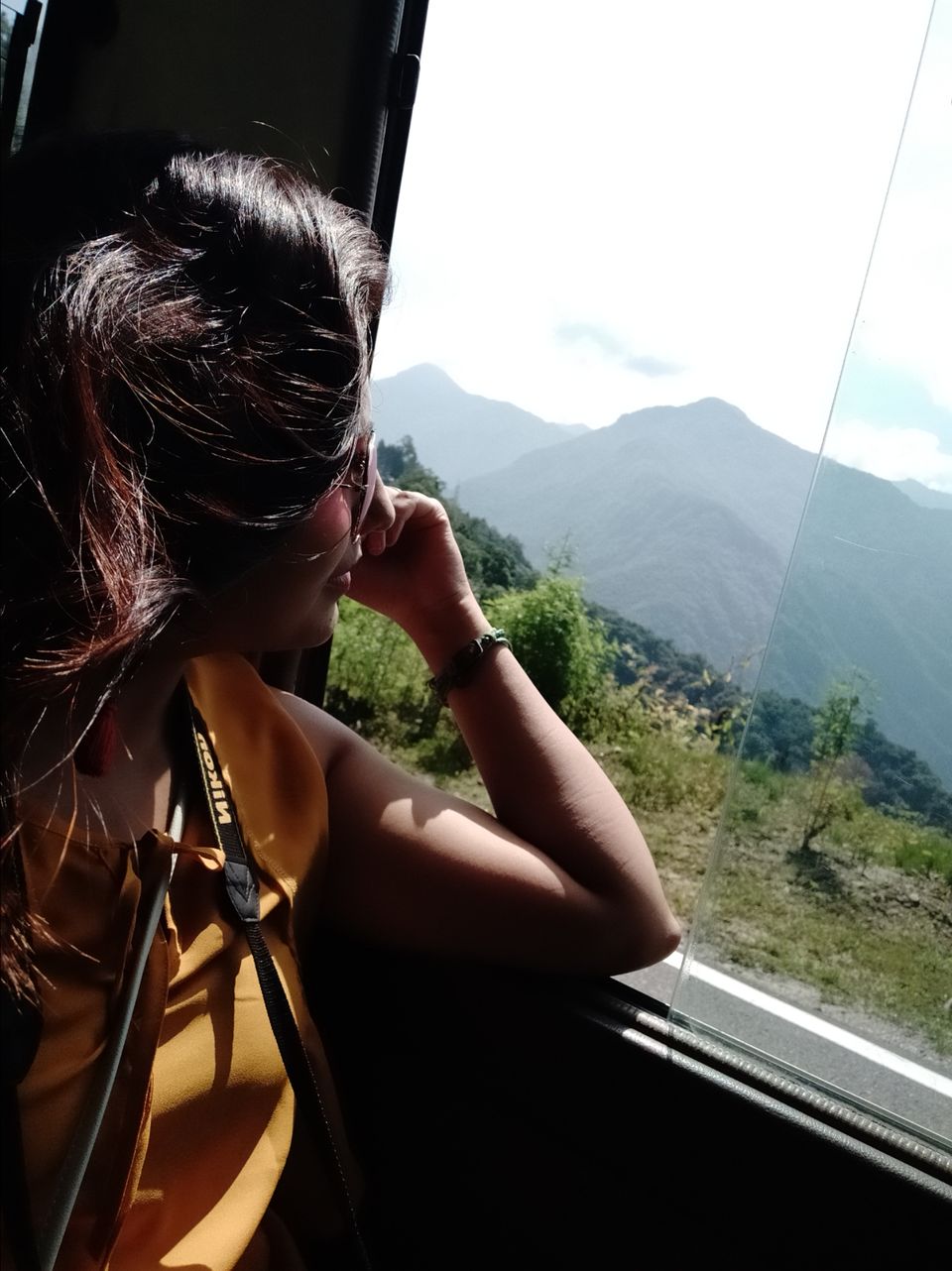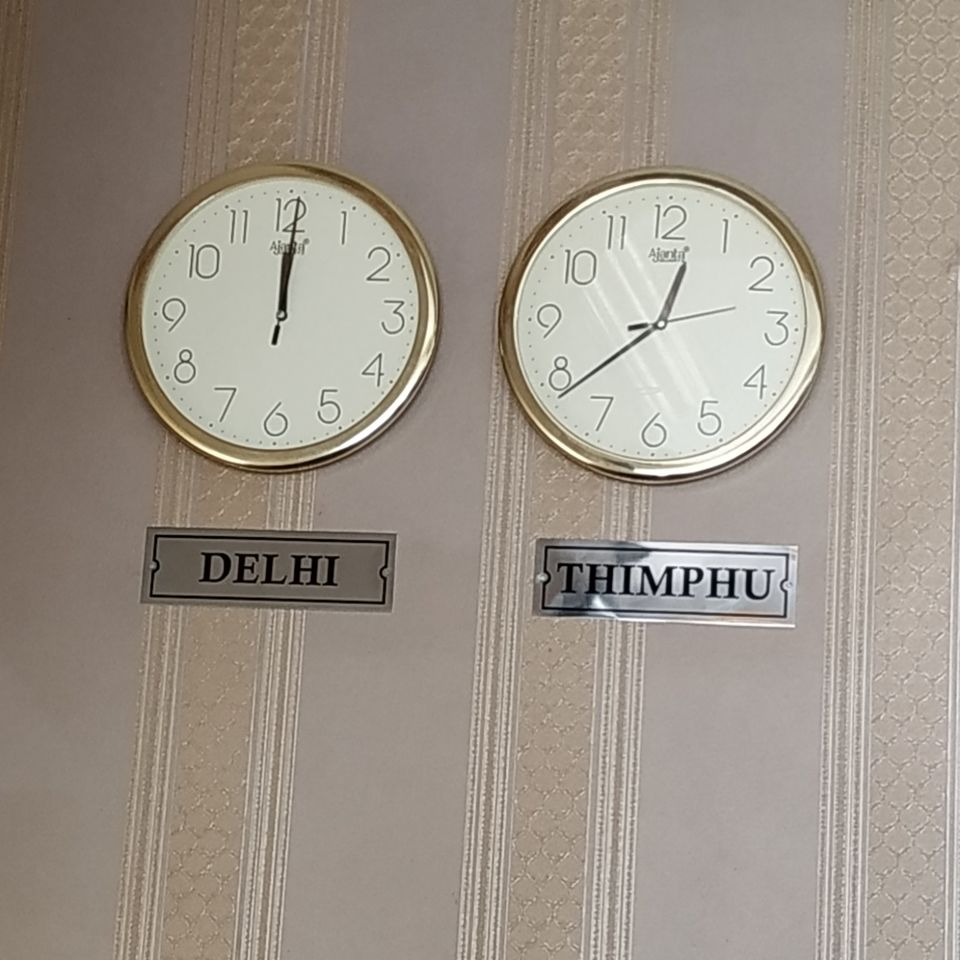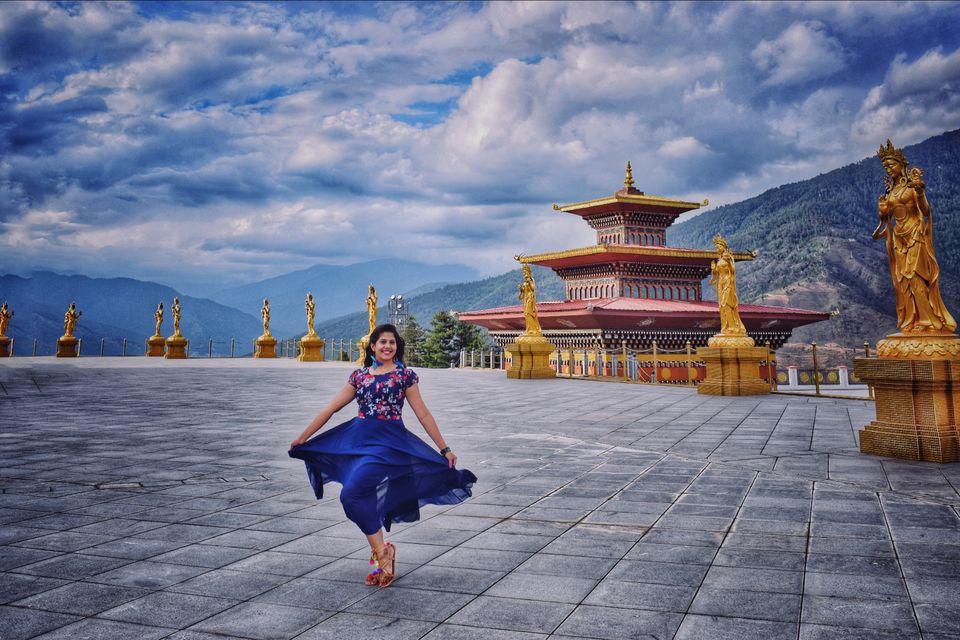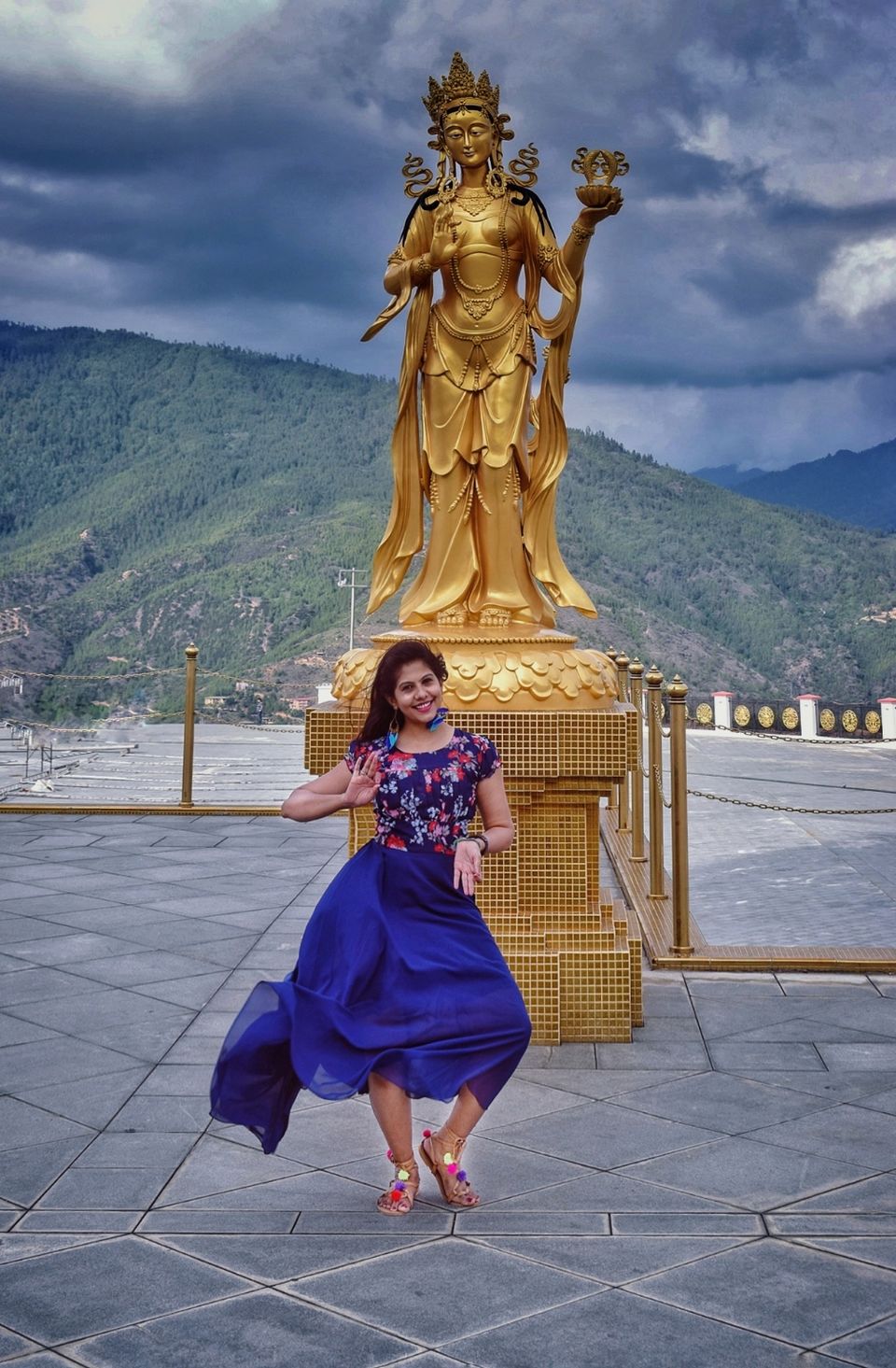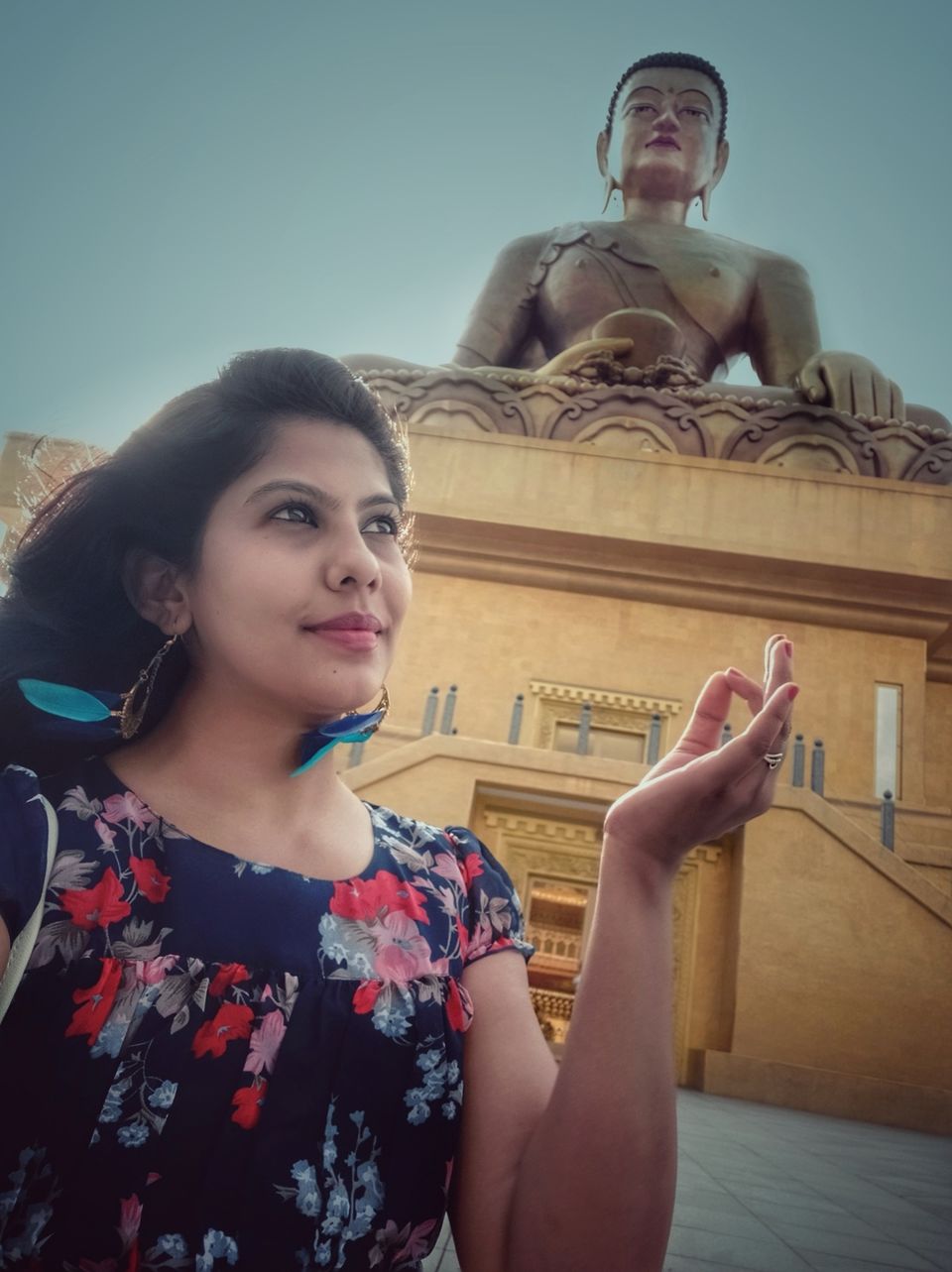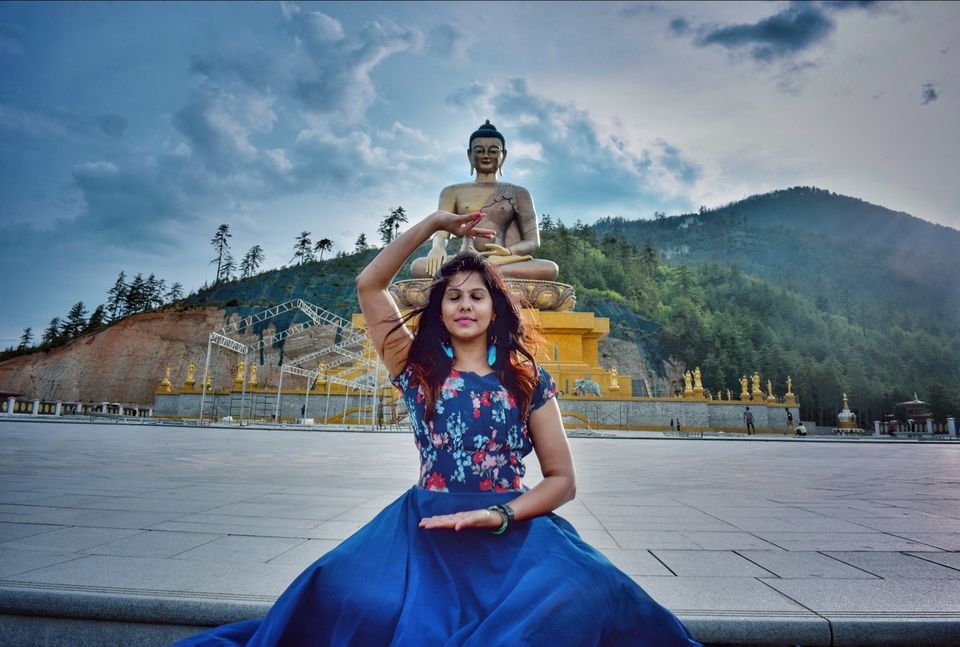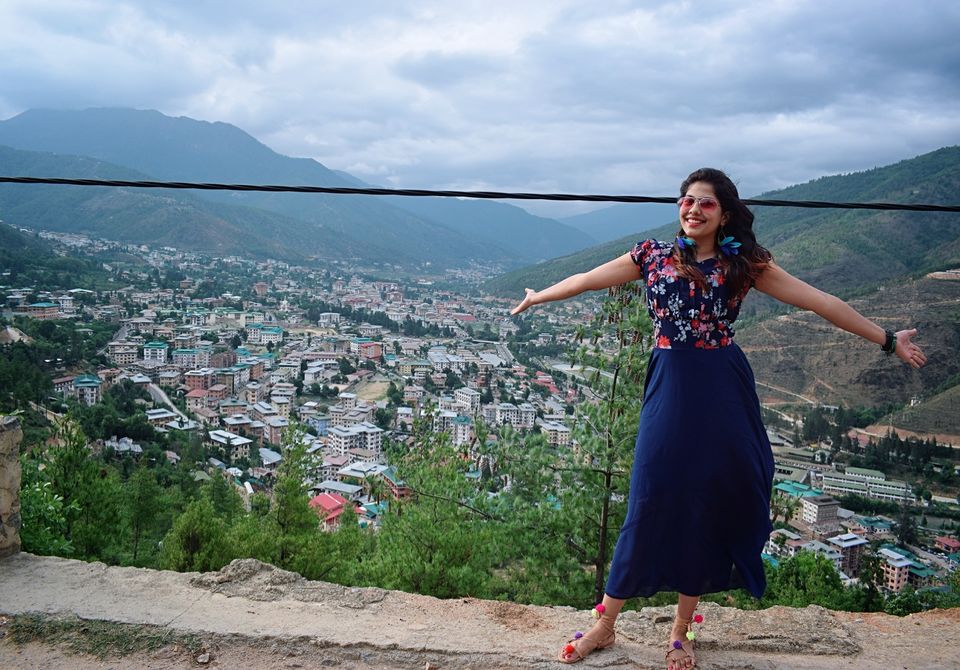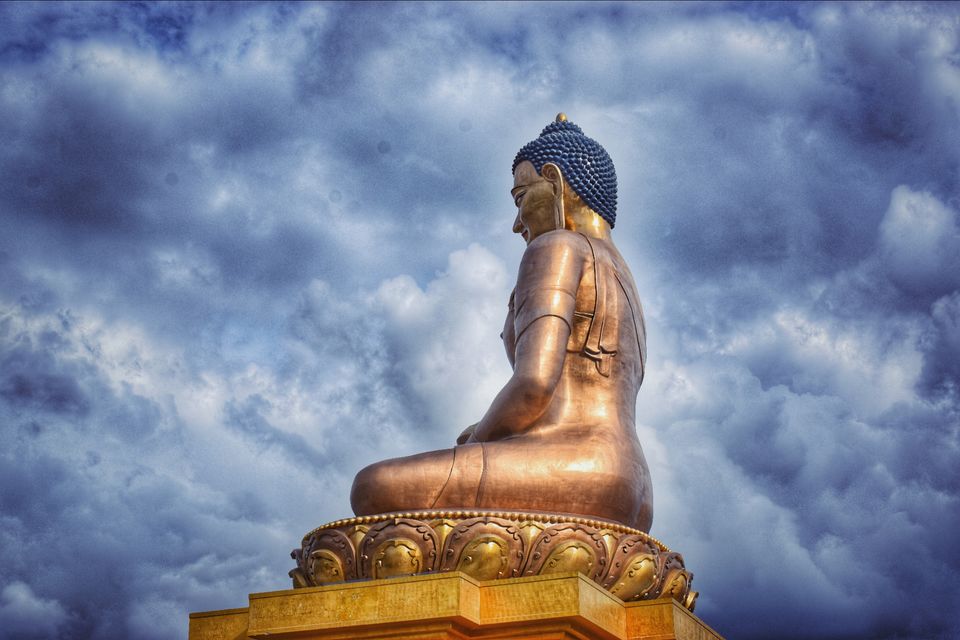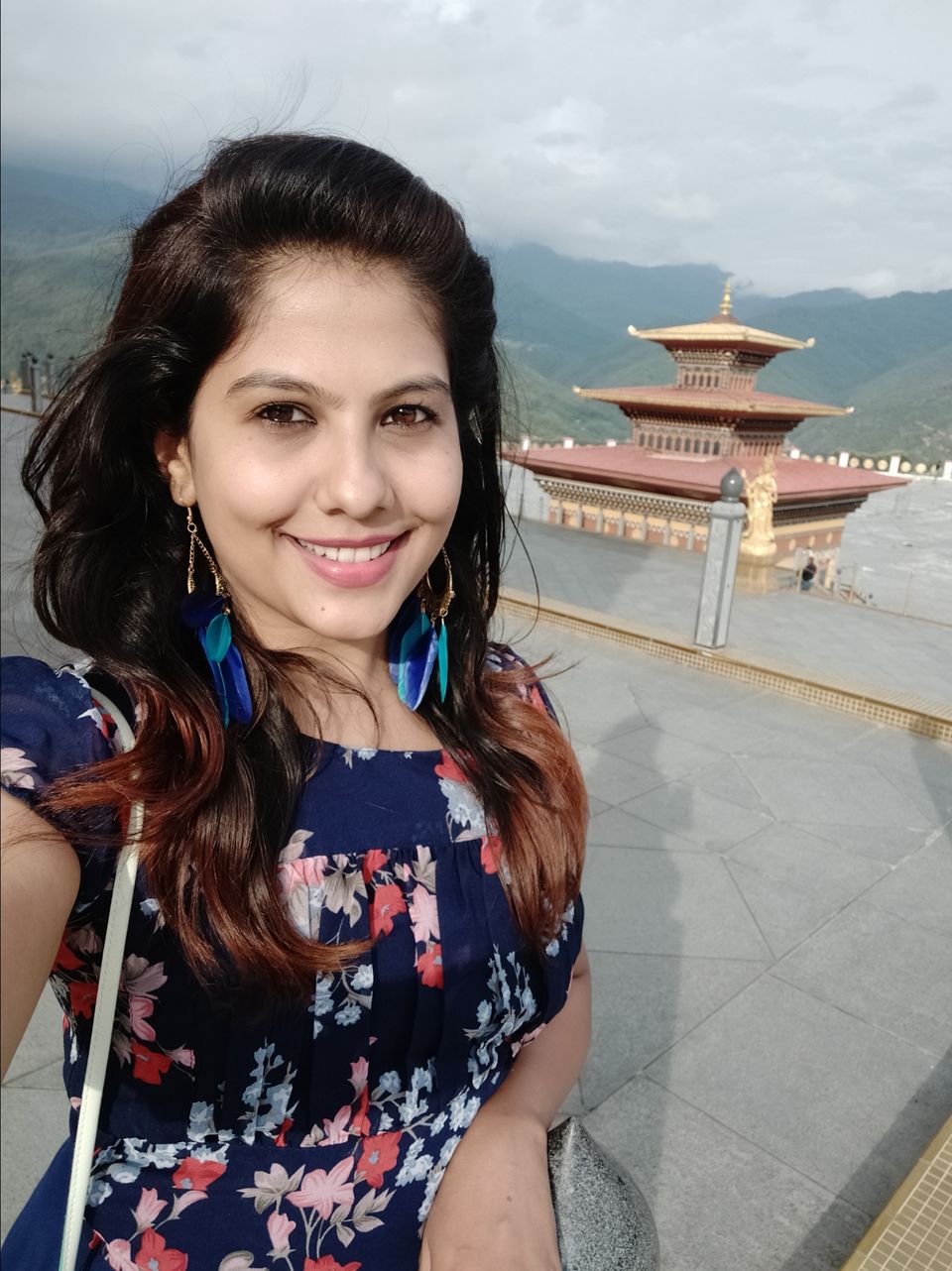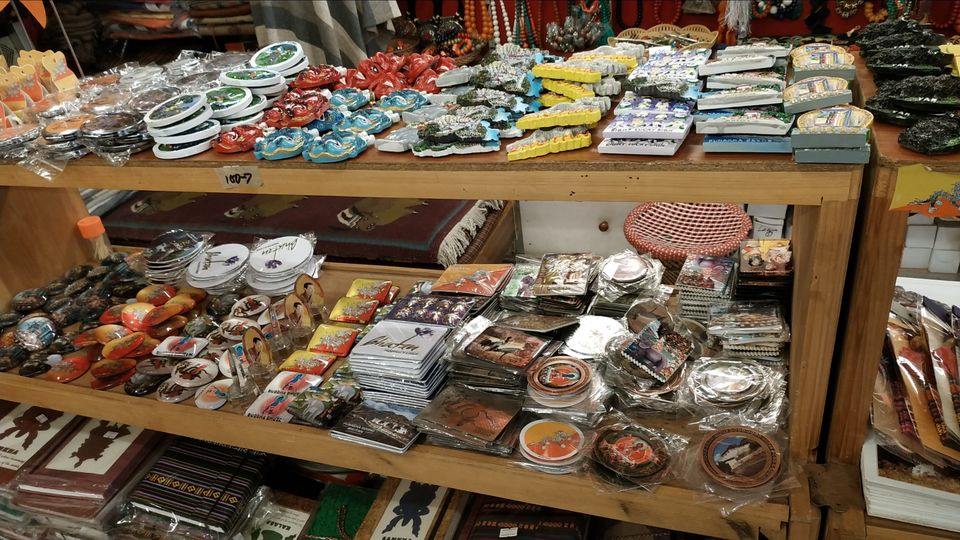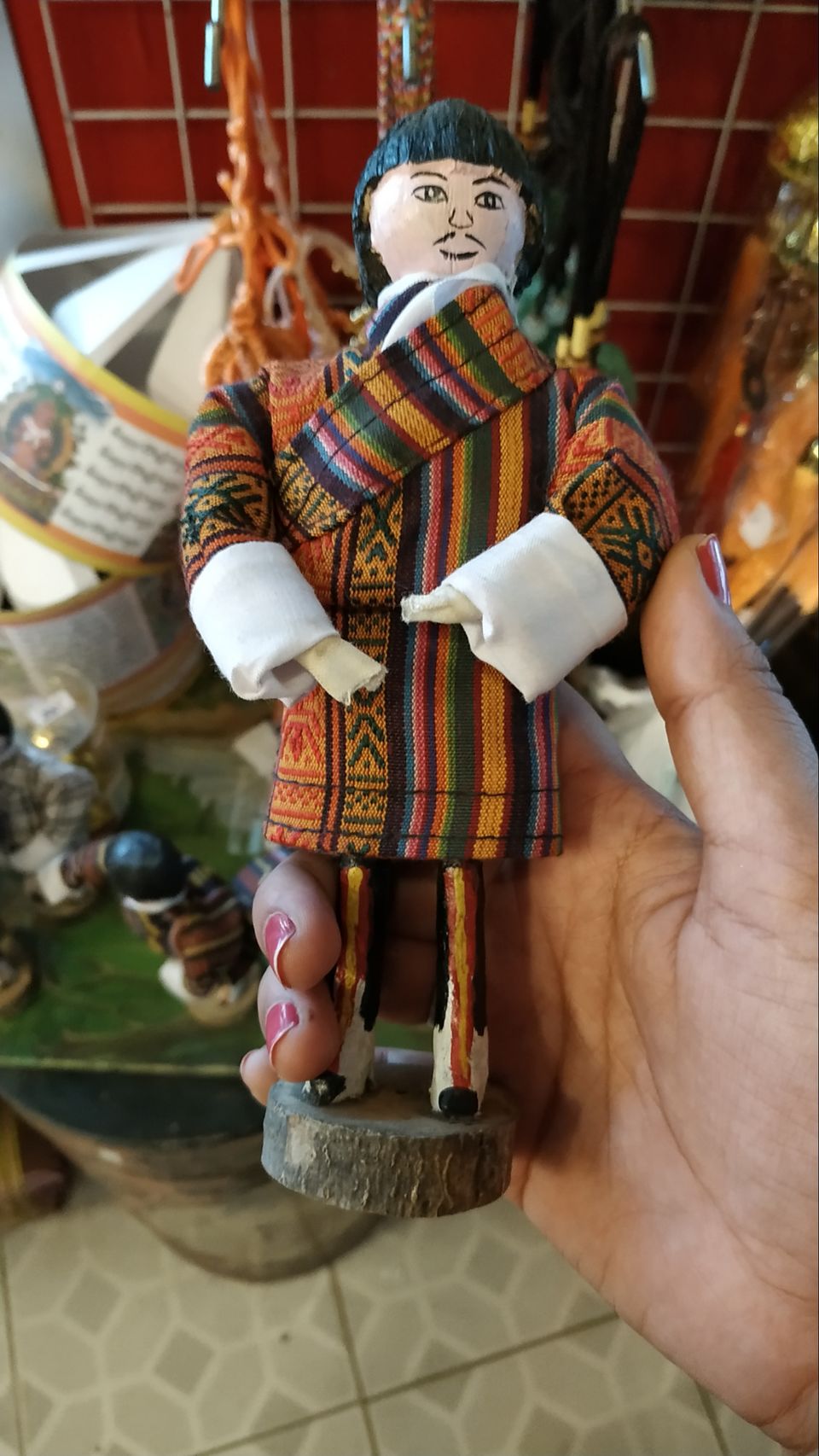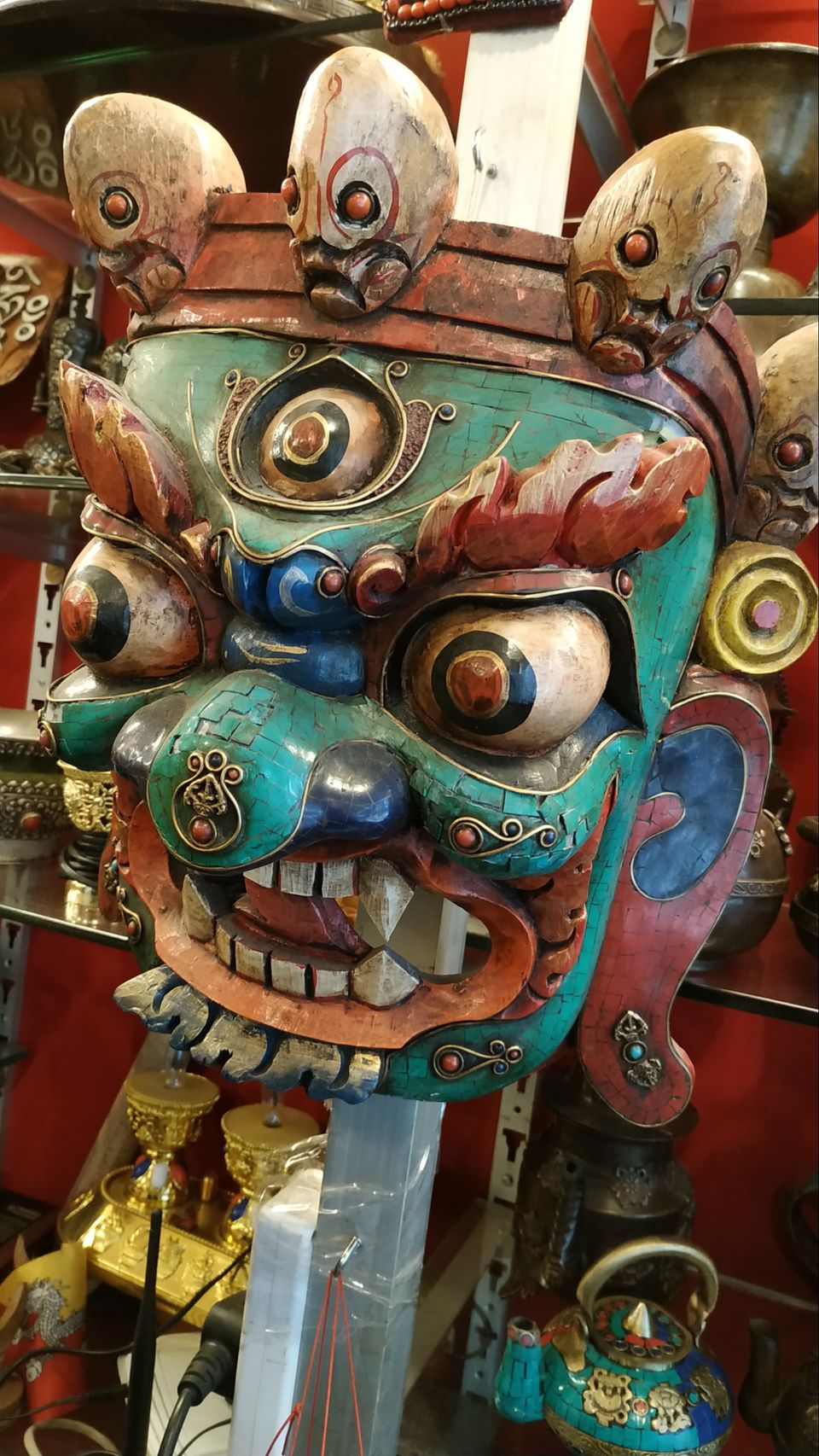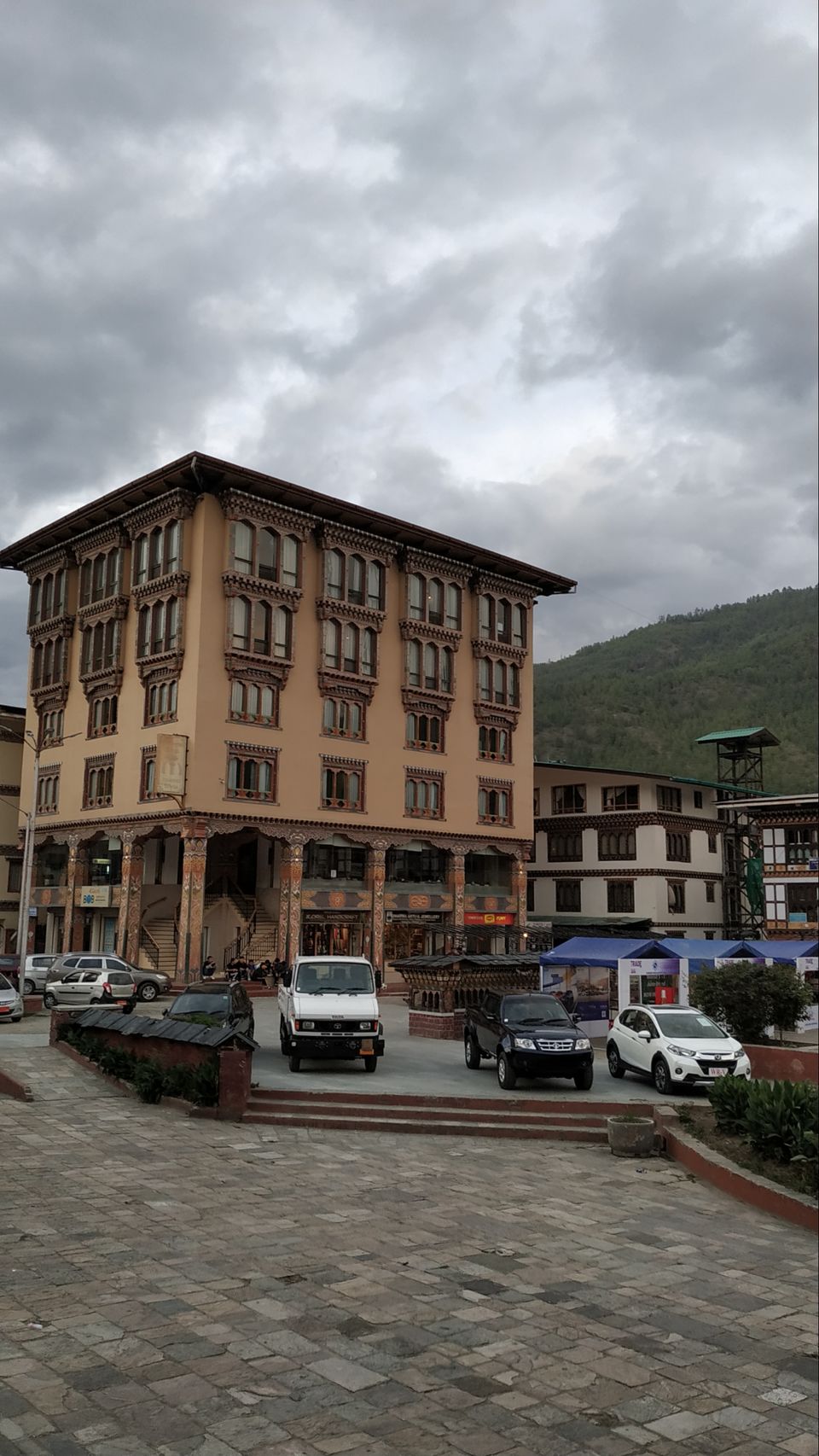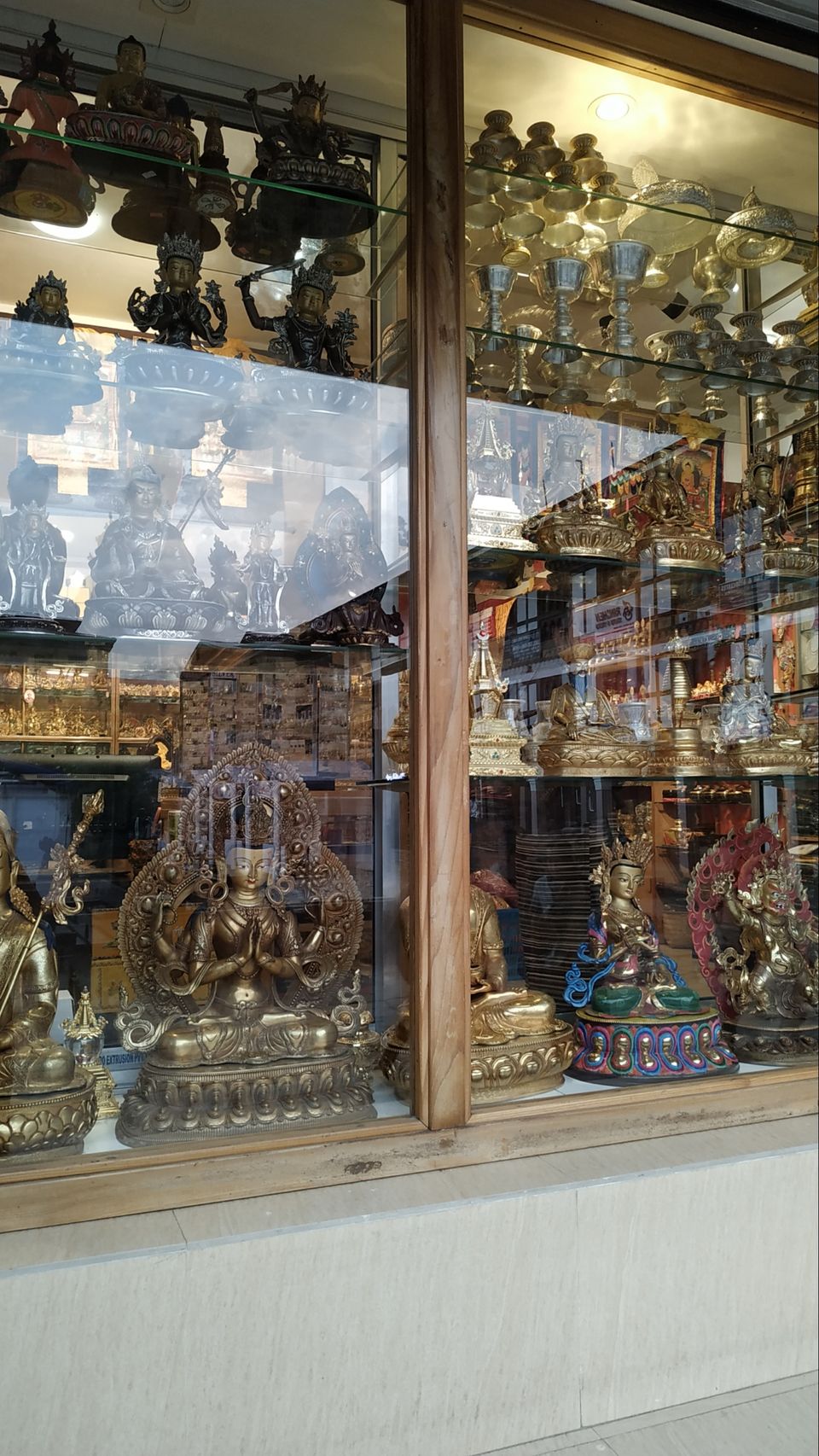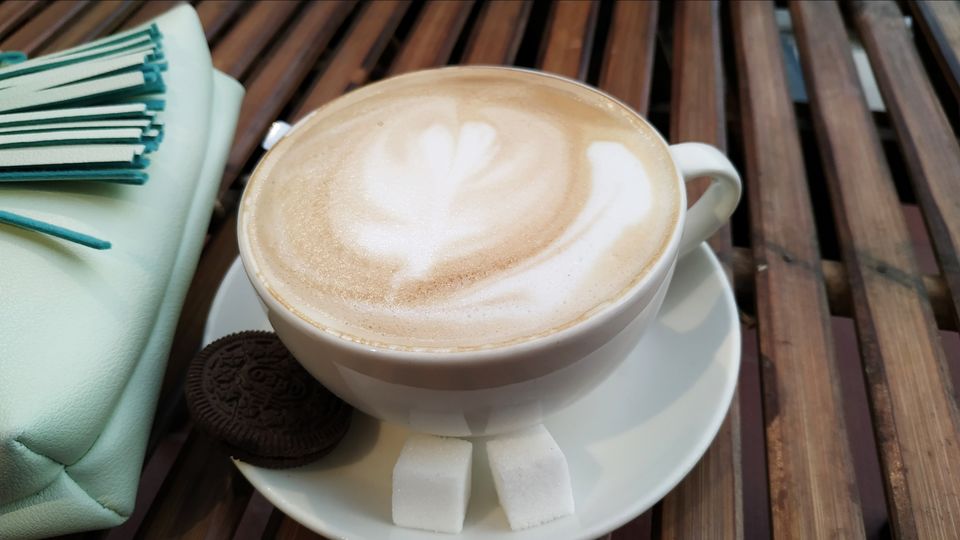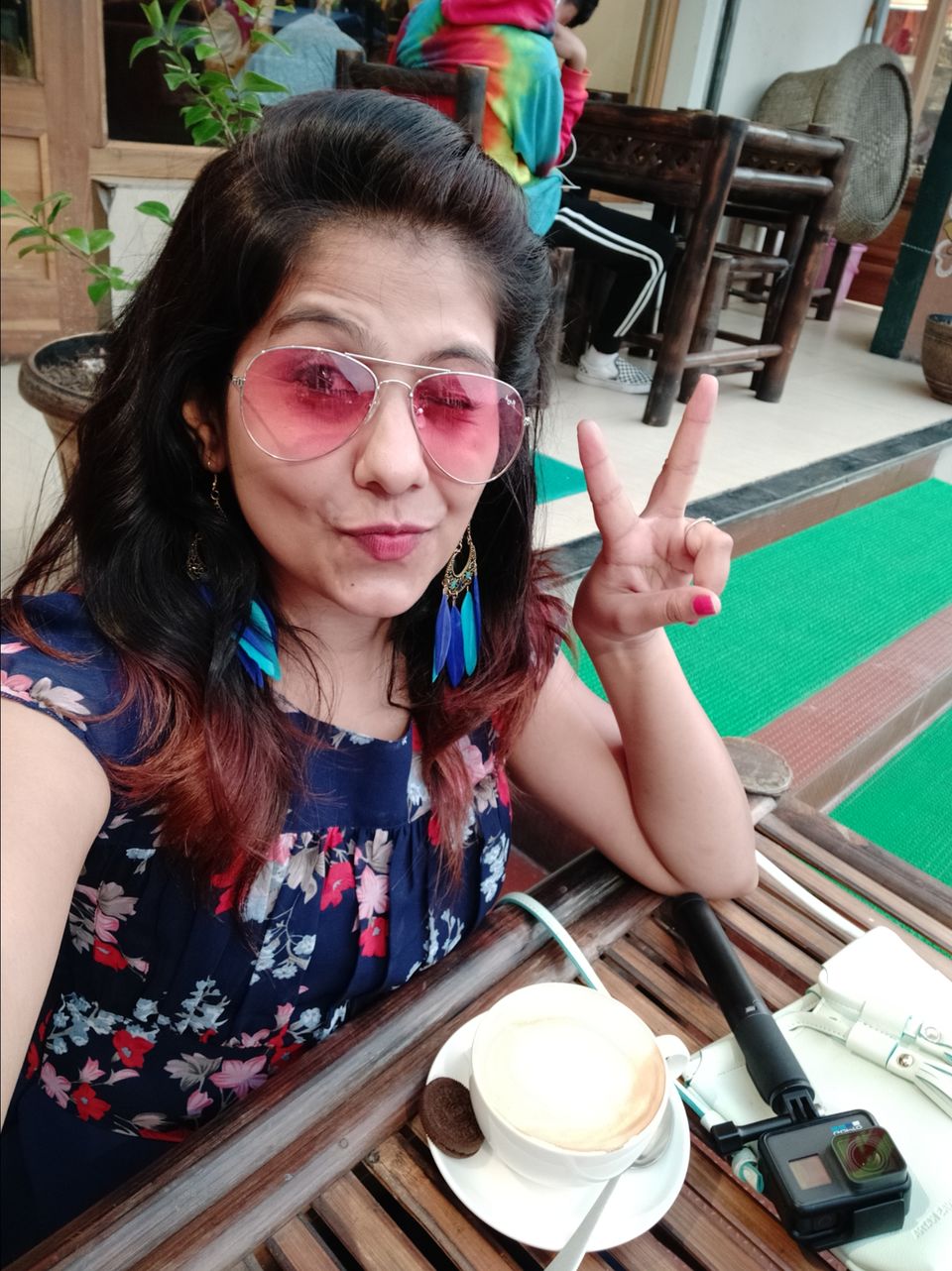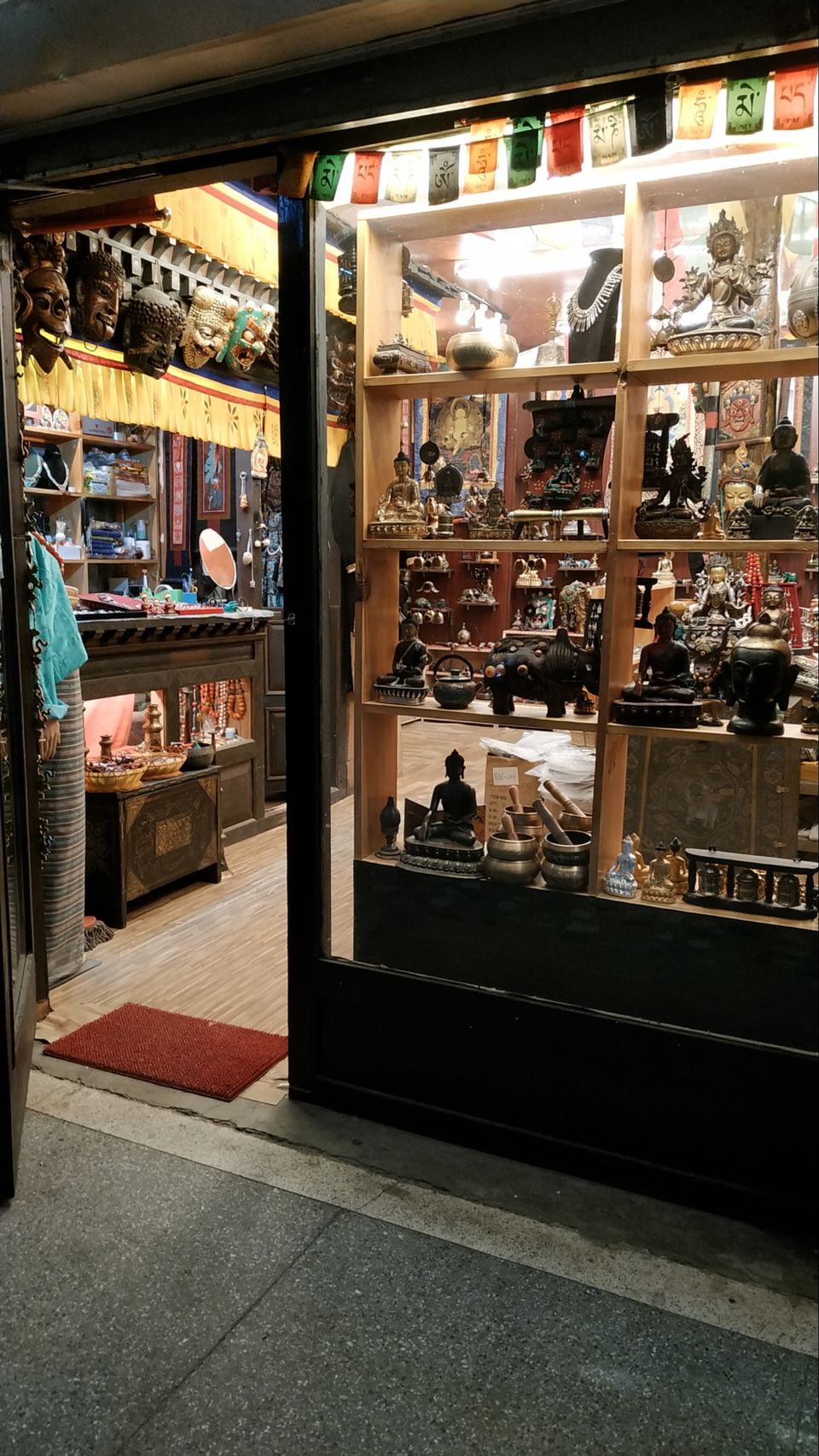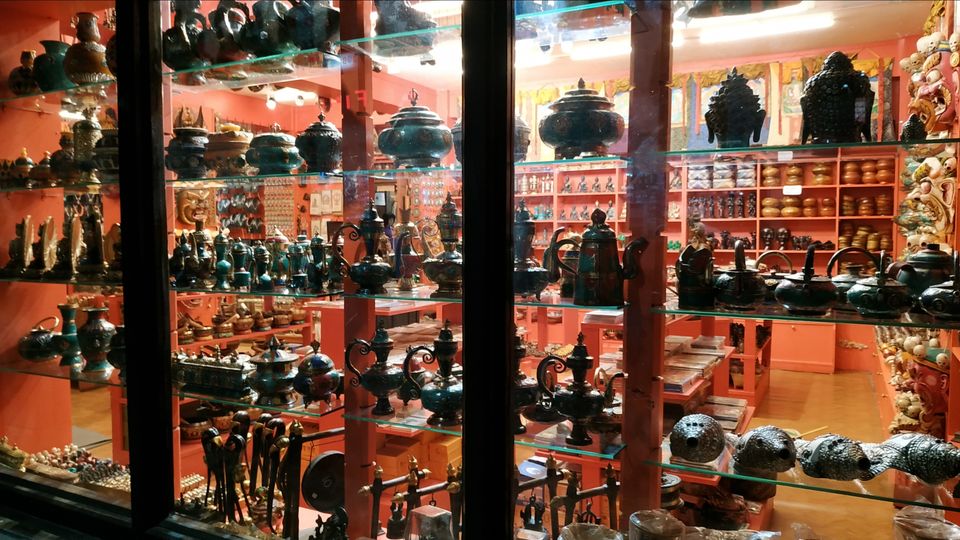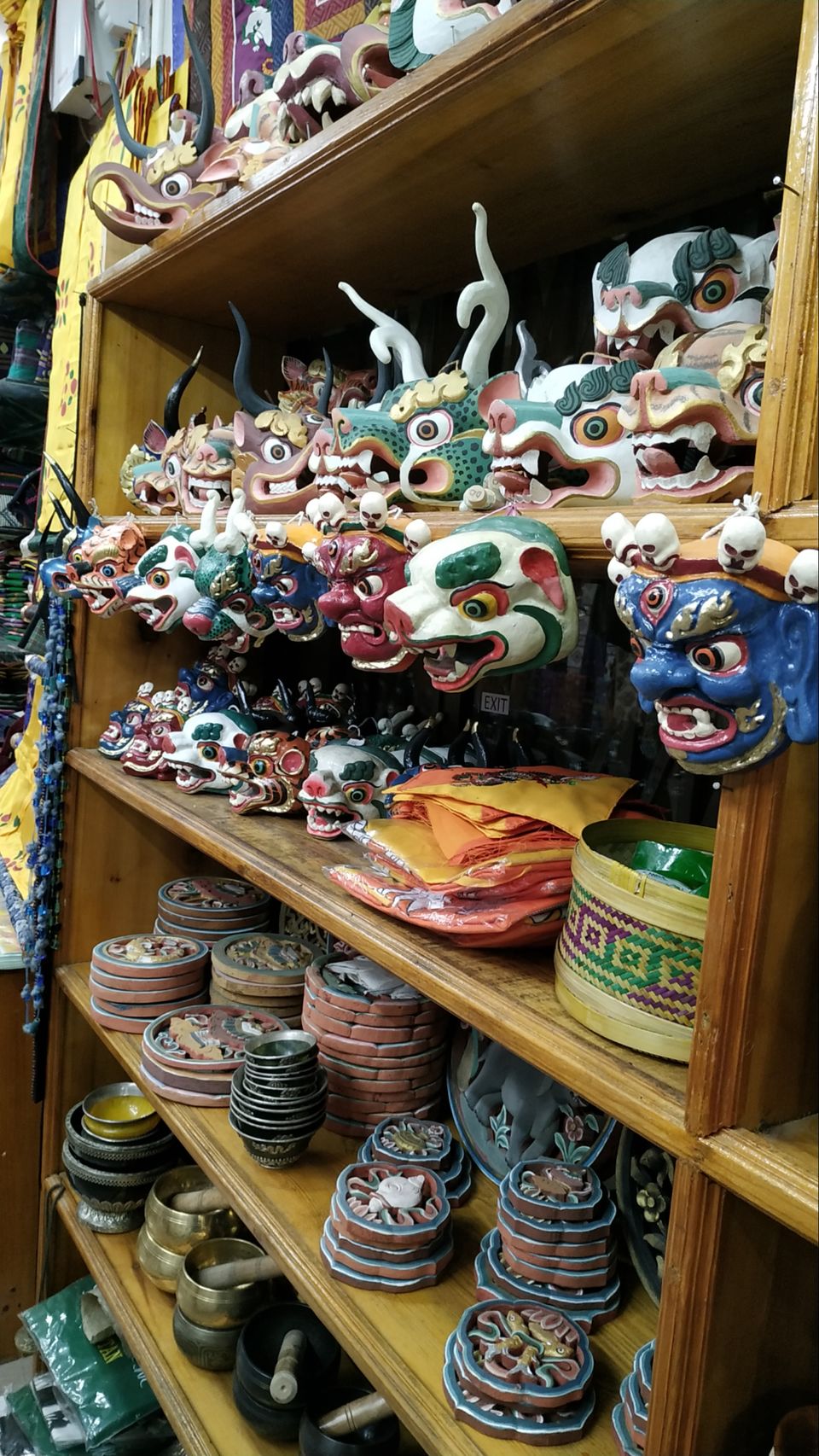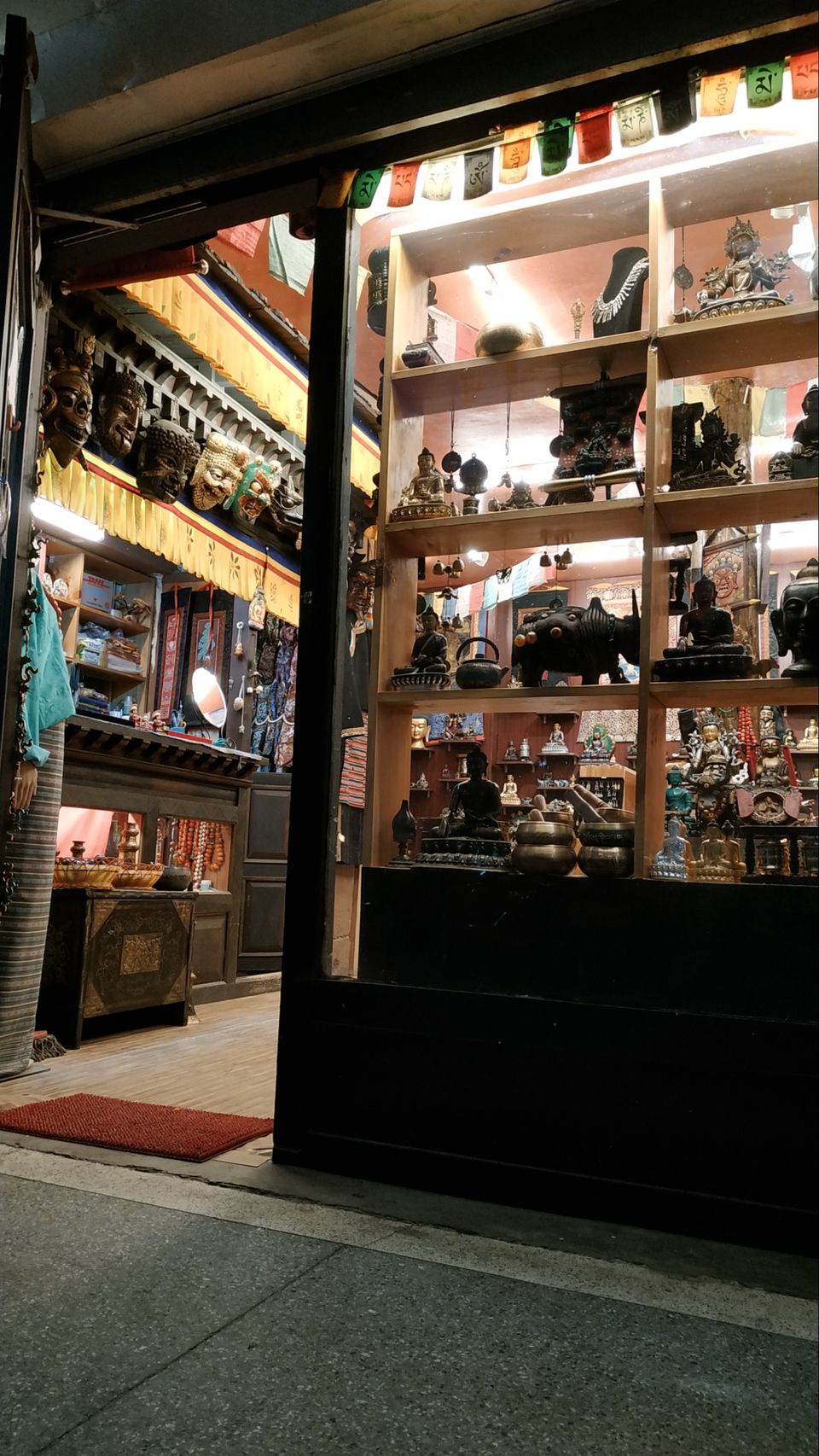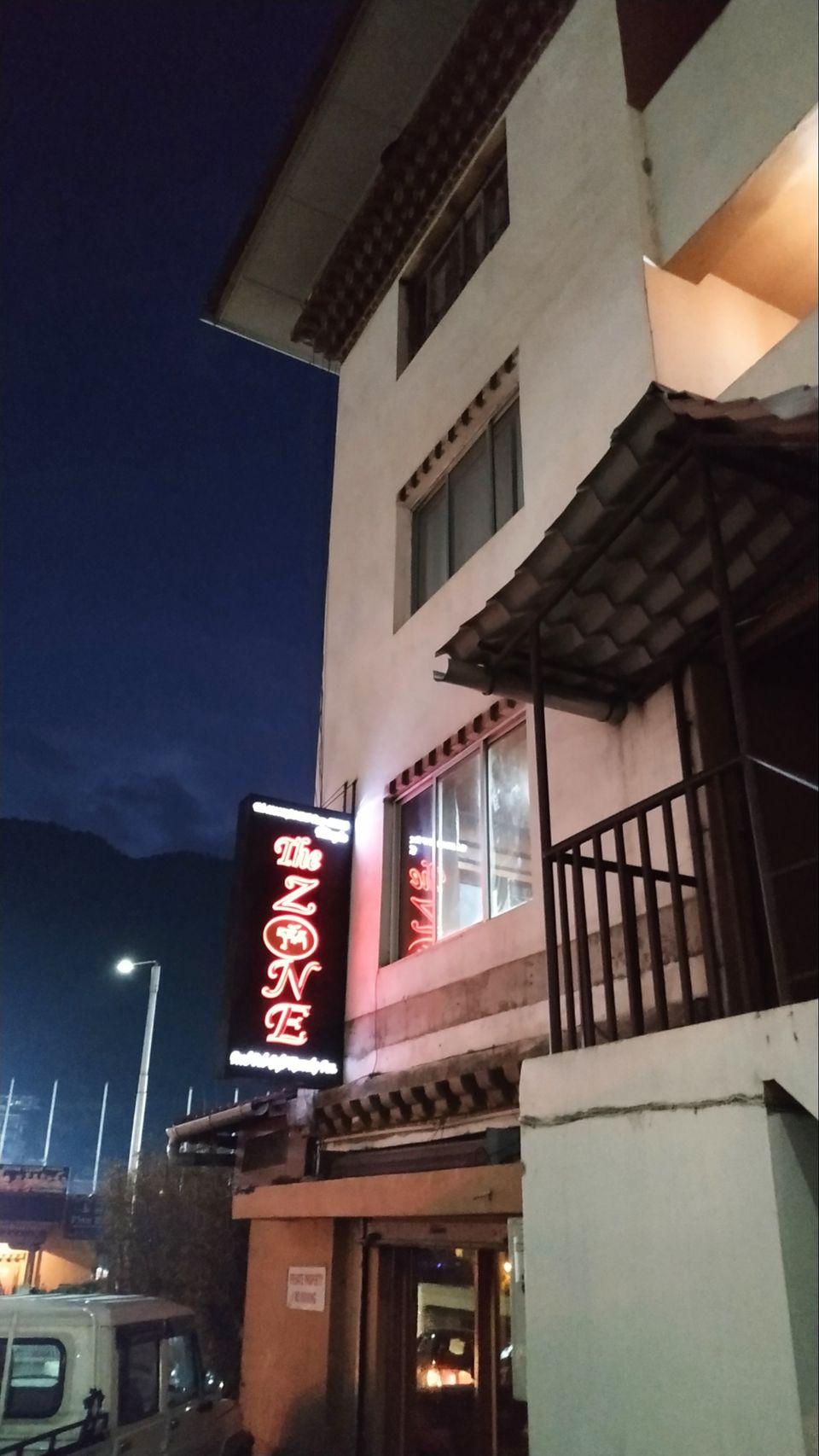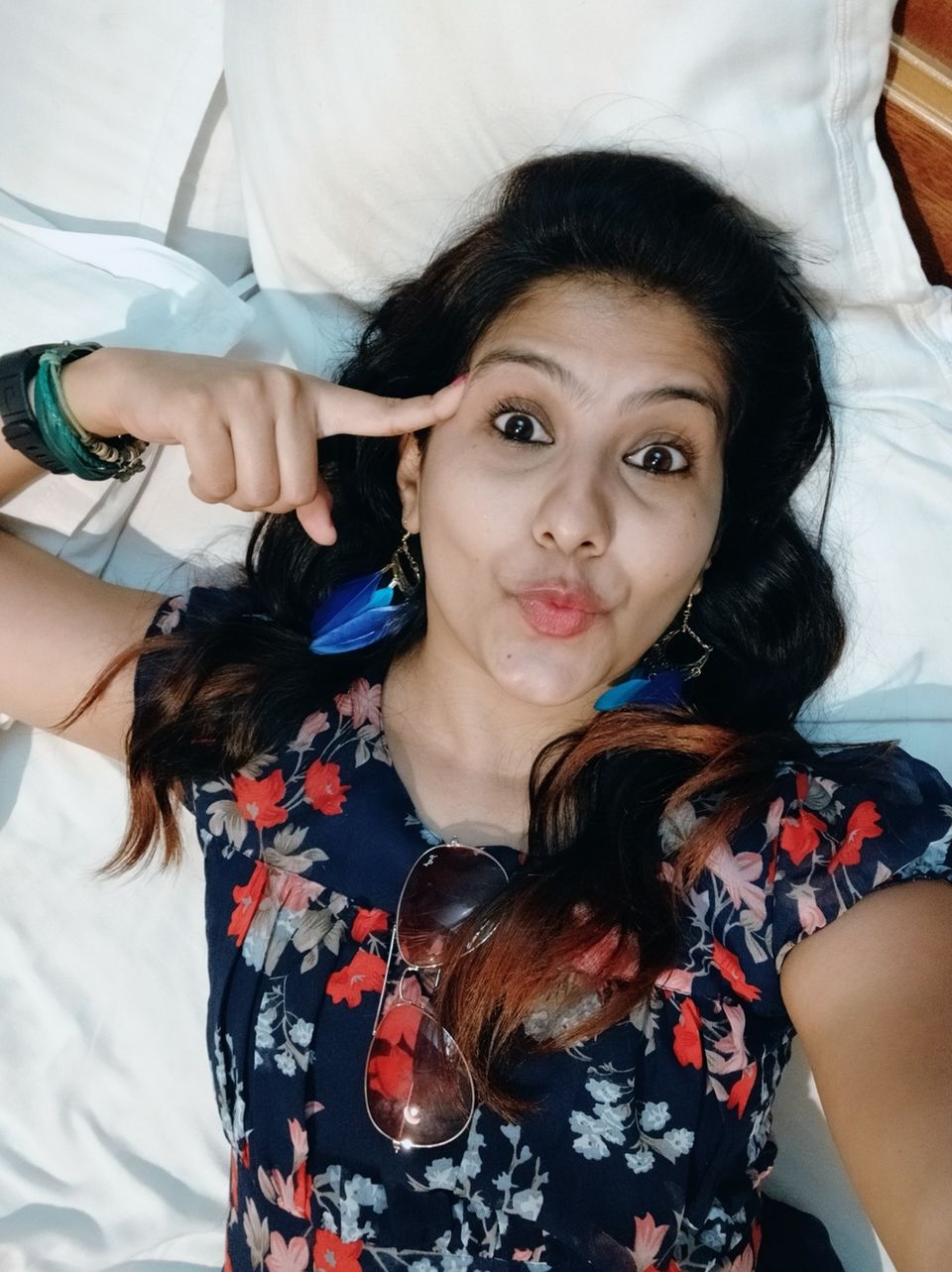 Full day Sightseeing
I was all-ready by 8:30am and the cab driver picked me up from the hotel. The first point I visited was Simthokha which apparently is the first Dzong in Thimphu. There was some ritual taking place inside the Dzong, the buddist monks chanting mantras, several rows of ghee lamps shining infront of Shaakyamuni, the devotional enviroment took to an another world for sometime. Mobiles and cameras are totally prohibited there!! However a police man explained me the meaning of rituals in brief and he was happy to know that I was on a solo trip.He wished me good luck for rest of my journey.
Then the my car stopped at Takin preserve or Takin Zoo. Takin is the natinal animal of Bhutan.There is an entry fee which is Rs.300 and is a total waste I must say. There are literally 4-5 takins and few birds, that's all! I was confused whether it was actually a Zoo or what?! But then I met a cute little Bhutanese girl who was playful and responsive to my actions. I enjoyed talking to her than searching for takins.I taught her my signature pose as well, The victory symbol!!
The third thing was the Natinal Memorial Chortans. The entry fee for non Bhutanese is Rs.500 !! Since I felt it's not so worthy (as previous destination was not so exciting) I saw it from outside and preferred to move to the next point soon.
The driver now understood little of my priority .., that I prefer 'nature' over building stuffs. So he took me to the top hill view of Thimphu from where you can see the whole Thimpu in one glance!! There are too many Buddist flags tied up and they have created such an eye soothing view!! I felt staying there comparatively for longer time and it was worth of ! I believe and practice that it's not necessary to hurry up in every place, eager to see the next place and so on. The life span is not at all sufficient to see ALL places! Hence it's good to spend time in a place where you feel PEACEFUL and satisfied! The motto of my travel is the same by the way!
Having a good time there, then I was taken to an another mindblowing point! The view of Tashichcho Dzong!! This is the political centre of Bhutan where The Kind with his four beautiful Queens dwell royally! All four Queens enjoy seperate Dzongs and the first Queen enjoys priority! The other section of this huge fortress is meant for admistration purpose where the assembly is held, cabinet is called for law making and the Supreme Court of Bhutan as well. Bhutan is a Democratic country where people have a right to vote but The King will monitor the Govt. He is solemn and the decision maker! The elected cabinet along with the PM assists the King for the smooth running of law and order. The present King is Jigme Khesar Namgyel Wangchuk.
After that, my driver asked me if I was interested to visit DoChula pass. Dochula pass is one of the most beautifull moutain passes in the world you cross when you are travelling from Thimphu to Punakha. Since I had plans only in Thimphu and Paro, I told him to complete remaining points in Thimphu first. He told me that he would charge another 1K, it's worth watching DoChula since in cloud clear days ,the Himalayan range is clearly visible from there.I was thrilled and said 'Yes'! We were on our way to Do chula pass which is 30km away from city and apparently took 35min to reach there. Since I had my immigration permission only for Thimphu and Paro, the driver requested the police man and was able to convince him. The police was kind but gave a time frame to return within! It was amazing to witness DoChula pass where you could see 108 memorial stupas. The weather was quite chill and cloudy, Unfortunately I did not get to see that scenic beauty of Himalayan range! Never mind, I still have another plan to Punakha,Haa and Bumthung in future!!
While coming back I purchased few kilos of organic apples and delicious plums. They were just amazing to taste. There are local vegetable markets on roadsides where the farmers from nearby villages sell their crops directly. And all the sellers are Ladies!!
DoChula was covered within an hour and a half. Returned to Thimphu and visited Folk heritage museum. The entry fee is just Rs.50. It basically introduces the village culture of Bhutan,primitive house hold thing and archery session for an extra amout of money. I liked it pretty much.
From there, I went to Bhutan textile museum and then to Simply Bhutan. The driver showed me River Thimphu which is crystal clear and pure enough to drink directly. There was a Garden with a big statue of Budhdha opposite to the Thimphu stadium. I spent a few minutes there.I told my driver to drop me to local bus stand since I wanted to buy a ticket to Paro next morning. He did what I said but told me that since that day was a Saturday there were no chances of getting reservation tickets to Paro. But I wanted to give a try and it went in vain! The counters were shut down which apparently meant that the bus was full. The driver then told me that he would drop me to Paro which is hardly 2hrs journey from Thimphu at Rs.1K and would charge again Rs.1800 for Paro sight seeing. I told him that I would call him if it was ok to me and asked him to drop to my hotel.
After reaching hotel, I enquired the reception guy and he told me that they have an app for cab bookings! I checked the app and the amount was almost the same! Since I already knew my cab driver was not cunning and not dangerous I thought of preferring him only! I called Mr.Purpa to pick me up at sharp 9am... He was happy for the consideration!
It was night, I was going out to taste the momos and Bhutan tea and at my hotel door I met two aged yet travel freaks. One 72yrs old Bussiness man and his 68 yrs cousin who is a builder by profession had come on a customized trip.I must say these two self made rich Gujaratis have travelled almost entire world !! Their love for life and enthusiam inspired me a lot. Even they were moving to Paro the next day and we decided to share the cab till Paro.
I have heard that the night life in Thimphu is quite colourfull and energetic. These two travellers suggested me a five star hotel where there was a rock show that night. That was the first time that I witnessed a party environment!! I could see Thimphu in an another dimension as well. The live music band was so so so amazing!!! I really really enjoyed the show and guess what?! I payed Rs.zero for that!! Yes, it was a free entry for ladies that day!!! Crazy and so much fun!!
It was 11:45pm when I decided to get back to my hotel, and the cab driver took Rs.100 for 5min of drive! There is no fear of being a girl even in mid nights! Nobody even stares at you even when you are walking alone. The police patrolling is efficient and the best part is people don't give a thought to break the rules!! The mind set of people is what makes the difference I believe!
The day was really exciting, contenting and interesting too! I would like to say, Dear Thimphu Ka din chey la!
The journey to Paro is worth to be written as an another blog. Wait for the story of Tiger's Nest!!!
See you soon!