Bhutan was in my travel bucket from a long time. Finally I decided and put the Bhutan on my 2016 travel list. Being a biker, road trip was the first choice with out any doubt. I talked to other friends of mine about it and I was able to sell the idea.
Here is my naive attempt to make a travel video for Bhutan.
Travel Highlights :
Days spent : 10 days (Bangalore to Bangalore)
Number of people : 10
Major Places Covered : Phuentsholing, Paro, Thimpu, Punakha, Phobjika
Distance covered : 1600 km
Dates : 6 th May 2016 to 15 th May 2016
Itinerary : Day 1: Bangalore to Gangtok
Day 2 : Explore Gangtok
Day 3: Gangtok to Jaigaon
Day 4 : Jaigaon to Thimpu
Day 5 : Thimpu to Punakha
Day 6 : Punakha to Phobjika and back
Day 7 : Punakha to Paro
Day 8 : Trek to Tigers nest
Day 9 : Paro to Jaigaon
Day 10 : Jaigaon to Bangalore
Why Gangtok in Bhutan Trip ??
I understand, the first question that comes to anyone's mind is what Gangtok is doing in the itinerary. It wasn't the part of the original plan. Initially we planned 10 days trip to Bhutan covering eastern beauty Bumthang starting from Friday and booked the flight tickets in advance. Later we came to know that Bhutan immigration is closed on Saturday and Sunday. Timings are Mon-Fri (9 AM to 5 PM). This information was not available over the internet easily and later we actually called embassy and confirmed this.
Tip : If you are planning for a 10 days trip like us, you should start your trip from Thursday. This way you can clear immigration on Friday and utilize the weekend.
Bangalore to Gangtok : 3 Modes of Transportation in a day An early morning flight from Bangalore to Kolkata and another flight to Bagdogra after a gap of 4 hours followed by a taxi ride took us to the bike rental place around 4 pm(additional details on bike rental here). There were few issues in the bike and other things took considerable time and we finally started for Gangtok by 7 pm from Siliguri. On Day 1, we broke the most important rule, "never ride in the dark" and then later in the trip we had to break this rule multiple times.
Distance Covered : 116 km
Ride time : 4 hrs
Road Condition : From sevoke to Sikkim border, road was bad in patches (Quality : 3/5)but the road after that to gangtok compensated for that (Quality : 4.5/5)
Accomodation : OYO Rooms near MG Road at a tariff of Rs 2500/night for triple sharing.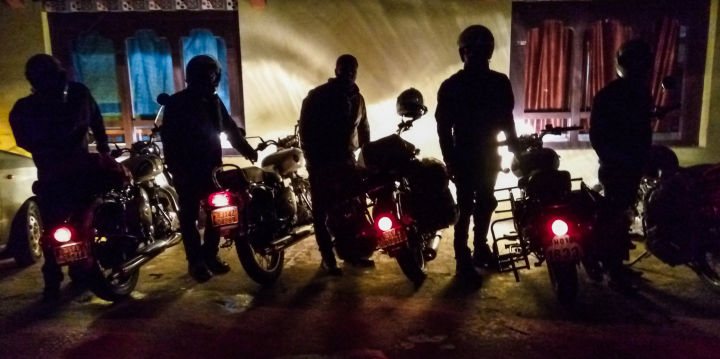 Explore Gangtok This was a warmup day before the actual journey begins. We explored Gangtok and had a beer in a local pub. We also used this time to solve minor issues with bikes.
Places visited : Tashi view point for sunset and roam around in MG road.
Food : Momos at roll house (must try), tea at a sweet shop, some shitty ice cream cone at random shop and finally dinner at popular restaurant named Dragons.
Gangtok to Jaigaon : Finally starting the actual journey We started from Gangtok after having breakfast at hotel around 8:30 am. We visited the Rumtek monastery in Gangtok on the way back to Sevoke. Road to monastery is narrow and in a bad condition which is a diversion from main highway. You need to show your id proof to enter into the monastery. After few trials of environmental portaits, we started from monastery around 12:30 pm.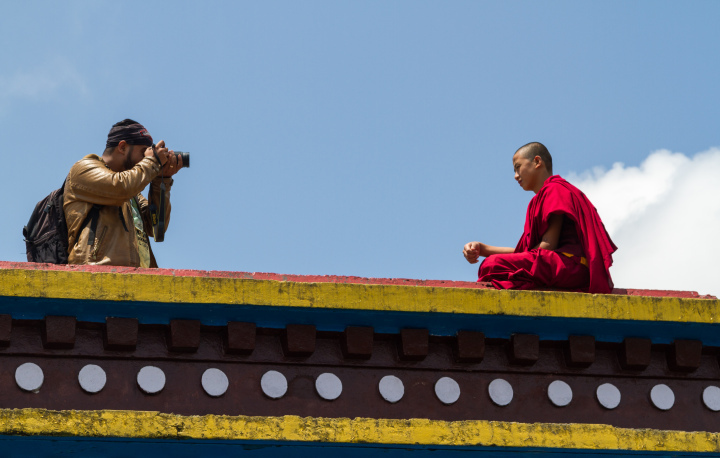 While riding back, I realized that it was a great ride from Siliguri to Gangtok last night along the Teesta river. If time permits, you can try rafting in Teesta river. The rapids are not as great as Rishikesh but descent for first timers (i have done the rafting there on my Sikkim trip long time back). Road from Sevoke to Jaigaon is a straight stretch to test the speed of enfield, except last 50 km where the road the quality tests your ability to ride on first gear. Visiting a Bhutan border is a great experience in itself. There is a gate which defines the international border between indian and Bhutan. You can go inside, roam around till 5 km and come back with out any check. Interesting point is that there is no petrol pump in Jaigaon, as petrol price in Bhutan is cheaper by Rs 10/ltr. So, people cross international border everyday to buy fuel.
Distance covered : 220km
Ride time : 7 hrs (excluding breaks for lunch and monastery).
Road Condition : Road from Gangtok to monastery (Quality : 2/5), Sevoke to Jaigaon (Quality : 3.5/5) except the last 50 km.
Accomodation : Satyam hotel (this hotel is right in front of the Bhutan gate, rooms are descent at a tariff of Rs 900/night for a Non-Ac room)
Food : Random stops for tea and way way (NE alternate of maggi).
Places visited : Rumtek Monastry , Coronation Bridge in sevoke
Immigration overhead followed by a great ride to Thimpu
Getting immigration done is a mess. Immigration office of Bhutan is a small hall accommodated by people with 4 times its capacity. You need to get two different permits, one for you and other for the vehicle.
Tip : Hire an agent for the immigration. More details later on immigration process and other permits.
Finally we tied the bags, shift gears and started the journey to explore one of the most beautiful country of the world. Jaigaon was really hot and just after 20 min of ride, Bhutan welcomed us with cold weather and fog. We had to put brakes and everyone took out the heavy jackets. The views of valleys with addition of great roads made us completely forgot the immigration hassle in the morning.
Distance covered : 175 km
Ride Time : 8 hrs (this was because of numerous breaks for photography, no discipline for the first day).
Road Condition : Major section was great (Quality : 4/5) except a patch of 35-40 km where road quality was descent but road was very narrow (Quality : 2.5/5).
Food : There is a nice military canteen for lunch, 70 km after Jaigaon.
Places visited : Whole ride was blessed with amazing landscapes, you randomly put brakes and there will be a landscape waiting for you.
Accomodation : It was a very bad place, so not worth mentioning.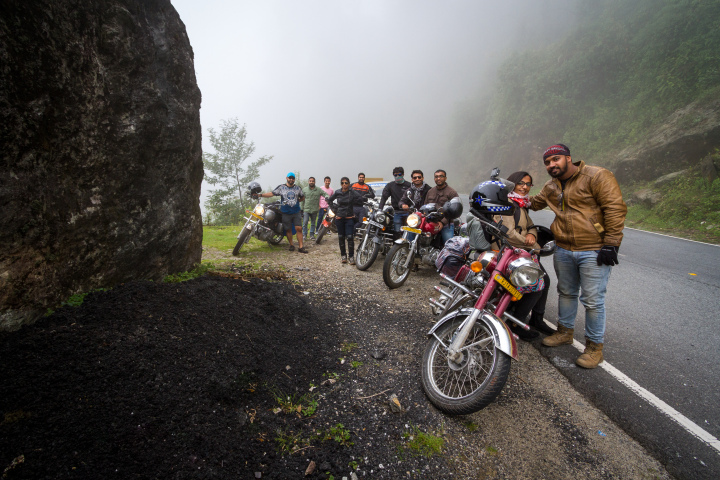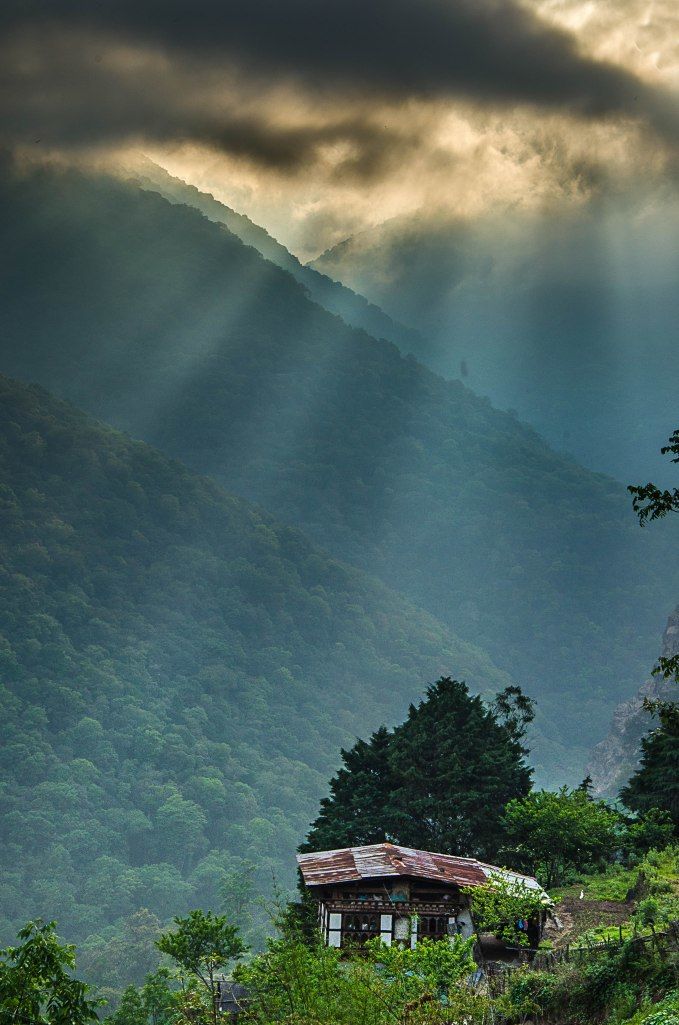 Explore Thimpu and then left for Punakha
The permit we get at the border is only valid to visit Thimpu and Paro. We need to extent the permit to visit eastern Bhutan. One person can go to extend the permit for the whole group and bikes, this take maximum 1 hour. We roamed around in local market, City square is a great place to visit. We visited the buddha in Thimpu, it was a short 20 min ride uphill. You get a nice aerial view of the city.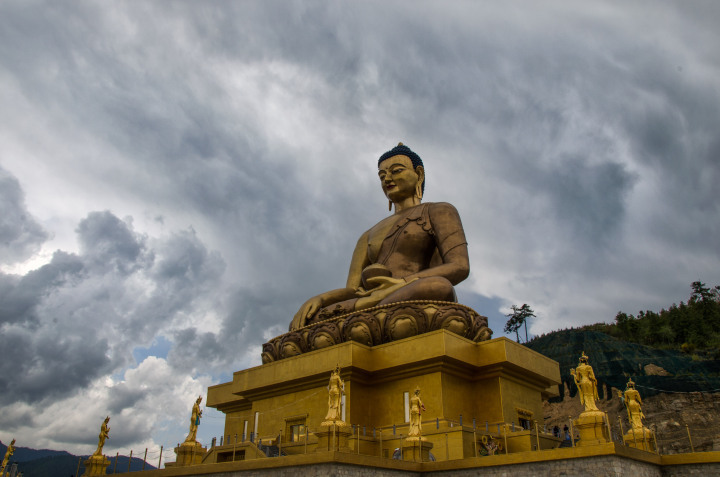 We left Thimpu late afternoon and started towards Punakha. The roads from Jaigaon to Thimpu were so great that we almost forgot that roads can be bad too. Then Punakha route gave us all the flavor of the bad roads. We visited the virginity temple first. Great sunset and small football game with monks made the evening awesome.
Distance covered : 130 km
Ride Time : 4 hrs
Road Condition : Road from thimpu to punakha was complete mud road (Quality : 1.5/5).
Accomodation : We stayed at Kingaling hotel, recommended by a local tourist operator, which turned out to be a great riverside place after a hectic ride. Rooms were huge with addition of an amazing view from balcony at a tariff of Rs 1800/night.
Food : This was the first time we ordered Bhutanese food and everyone went crazy for a dish called Datshi (cheese gravy). There are several variations called Ema Datshi, Mushroom Datshi.
Places visited : Thimpu (City Square, Buddha), Dochula pass and Punakha (Virginity temple).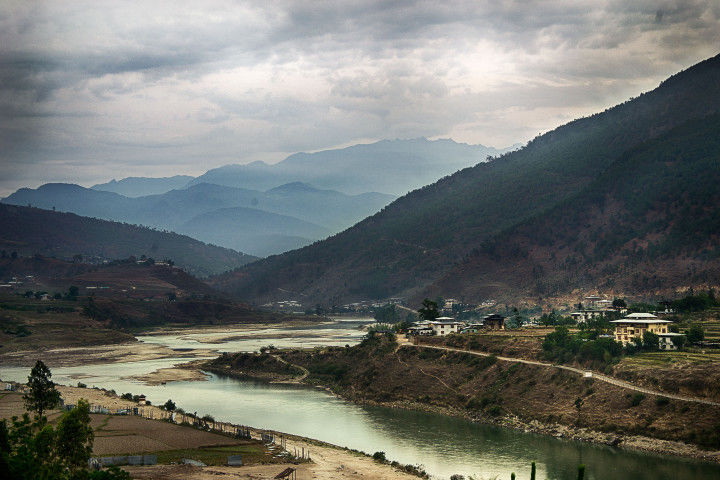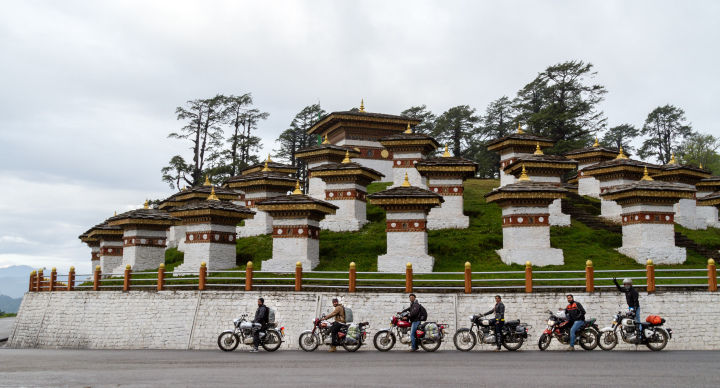 Punakha to Phobjikha and back
We started the day early as we planned to ride to Phobjikha and return back to Punakha in the evening. Phobjikha is around 80 km from Punakha with roads worse than thimpu to Punakha. After riding for 3 hours, first glimpse of Phobjika valley which was mesmerizing proved the point that "Great roads take you to cities but worst roads take you to heaven". The valley was so beautiful, that we even considered the idea of not going back to Punakha but later on dropped it for practical reasons and returned back to Punakha. Heavy rain made the return journey like a roadies task, mud roads became very slippery. Phobjikha valley was one place for which I can repeat the bhutan trip anytime
Distance covered : 150 km (to and fro)
Ride Time : 7 hrs
Road Condition : Roads were worse than thimpu to punakha route (Quality : 1/5). Heavy rain while returning did the work of catalyst.
Food : There are very limited number of restaurants in Phobjikha, mainly there is a culture of homestays there. We somehow managed to get noodles and tea for 10 people which costs us 3000 rupees.
Places visited : Valley, Gangtey Monastery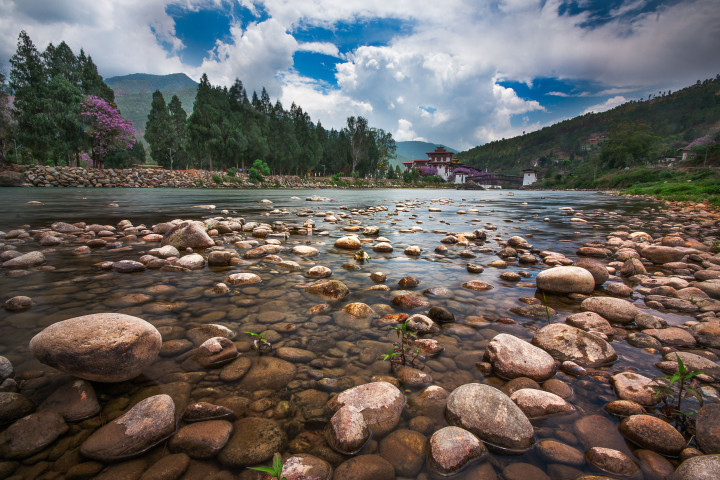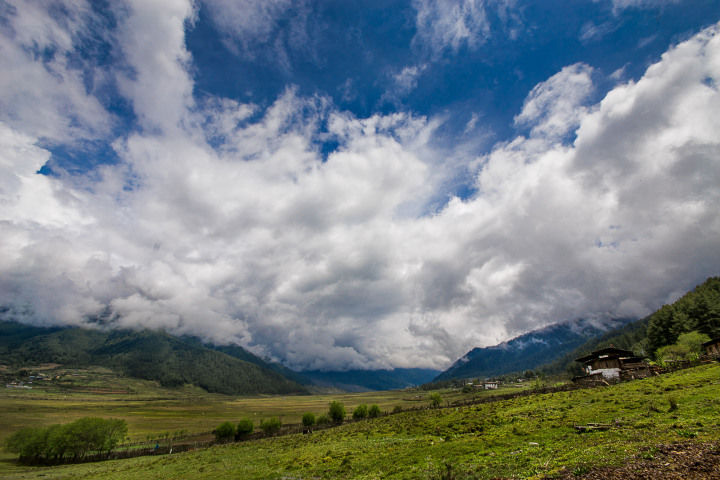 Explore Punakha and then to Paro
We spent first half of the day to visit the iron bridge and the Punakha Dzong. Both places were really great. Dzong was a photographer's paradise, so it was time to set the tripods and keep the shutter open. We started from punakha around 2 pm. Visibility was very less due to thick fog and it was so cold that even my thermal gloves were also of no help. We covered the last 50 km from thimpu to paro in the dark but great roads compensate that. 5 bikes were the speed of 80 km/hr and all were in sync on the awesome highway.
Distance covered : 150 km
Ride Time : 6 hrs
Road Condition : Road from punakha to thimpu (Quality : 1.5/5), thimpu to paro was the best route in the complete bhutan trip (Quality : 5/5).
Places visited : Iron Bridge, Dzong and again halt at Dochula pass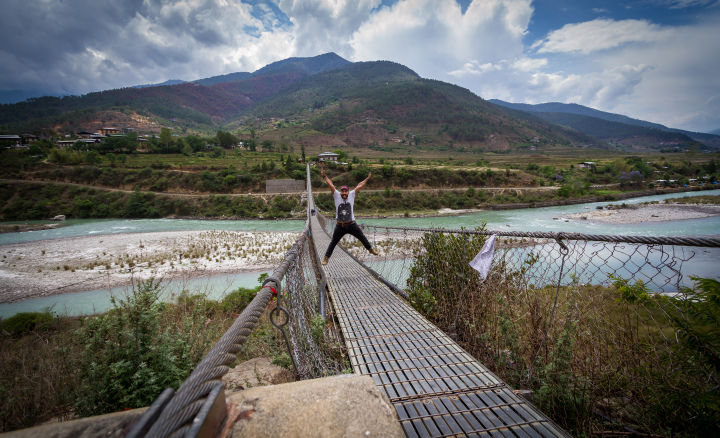 Trek to tigers nest
Most awaited day for few of the fellas in the group finally came. I am usually less interested in the trek but the motivation to get some great shots of the monastery pushed me to the top. I took me 2.5 hours to reach at the top and I was the last one.
Shopping : If you want to buy souvenirs, there are several shops at the starting point of the trek where the products are much cheaper than thimpu and paro city. You need to be little good in bargaining.
Food : There is a canteen half way up in the trek which provides several options for lunch along with basic refreshments.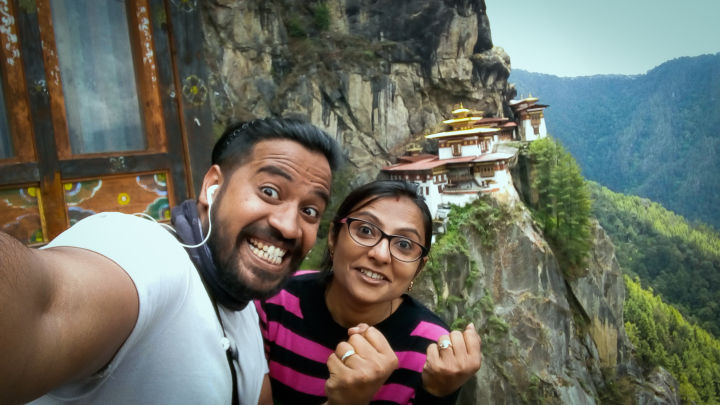 Paro to Jaigaon : Last day in bhutan
We started early from Paro to Chalela pass, the highest peak. It was really cold and the leading road was narrow and in a bad condition. Valley view from Challela pass and hundreds of flags put this place in a must to visit bucket. We didn't have time to visit Haa valley which was another 70-80 km from Chalela pass, we started the return journey back to Jaigaon around 3 pm after visiting an iron bridge on the way.
Last Day in Bhutan ends with adventure
Last day in Bhutan ended up with an adrenaline rush. It is usually very tough to ride in fog but things become worse when fog combined with dark. We parked our bikes some 35 km before border to witness an amazing sunset. While we were enjoying our last evening in Bhutan, we didn't realize that the next 35 next km will gonna be the toughest ride of our life. Suddenly the visibility dropped to zero, bike head light was of no use in fog. I almost panicked and stopped the bike in the middle of the road. Then we started following a truck at a speed of 10 km/hr and somehow managed to reach the destination.
Distance covered : 240 km
Ride Time : 7 hrs (2 hr round journey from Paro to Chalela and 5 hrs from Paro to Jaigaon).
Road Condition : From Paro to Chalela pass, it was narrow road with mud patches (Quality : 1.5/5). Road from Paro to a place named Chozum was super with scenic view (Quality : 5/5).
Accomodation : Hotel Satyam, Jaigaon.
Places visited : Chalela pass, Iron bridge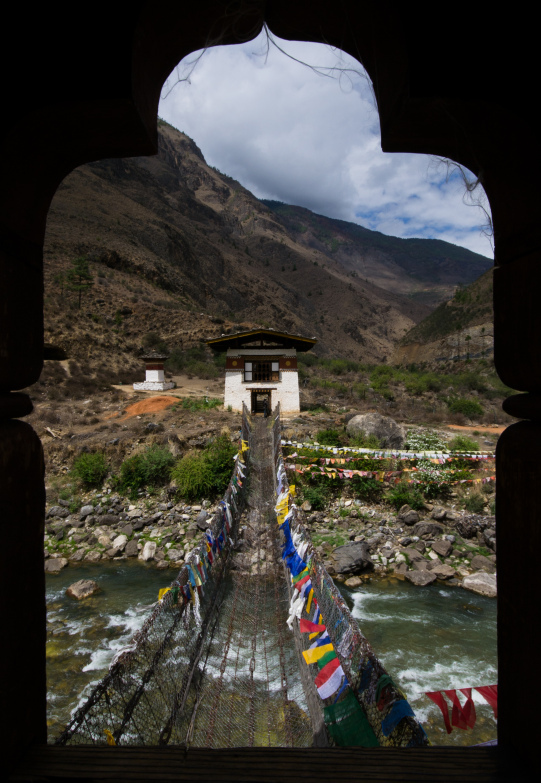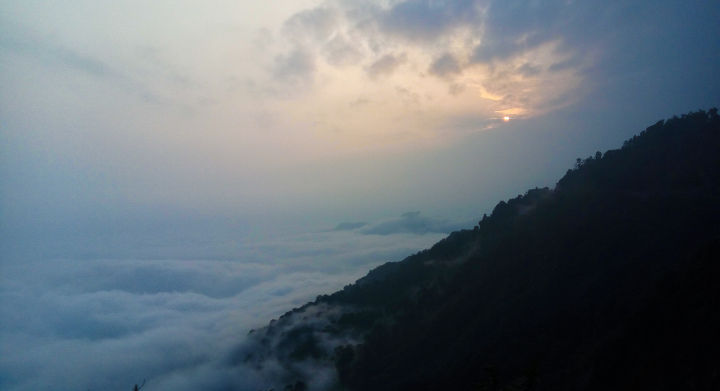 Time to go back home We started from Jaigaon to Siliguri. We returned the bike to the rental company and finally board the flight back to Bangalore
Information Zone
Bike Rental
As it was my idea, so i took the tedious task to find bike rentals. Suprisingly, unlike Ladakh, bike tours are not very famous in North East zone. There are very limited options available that too in Siliguri, there are no bike rentals available in Jaigaon.
Option 1 : I talked to one Bike Rental company named DarjeelingBikes, they offered 350 cc enfield @1400/day. They didn't have 500 cc and even all 350 cc bikes were not classic which we wanted. The only issue was that they asked me to pay Rs 5000/bike in advance over NEFT and I was not very comfortable about it.
Option 2 : Last year, we rented bikes from a Bangalore based startup named Wickedride. The overall experience with them was really great and they accept payment through PayUMoney. I called that guy and found that they don't have a base in Siliguri. He gave me an offer that they can ship the bikes from Rajasthan to Siliguri with some additional charges for shipping. After several rounds of discussion, final offer was
350cc : 1000/day + 8000 shipping charges (both ways)+VAT : 19000
500cc : 1200/day + 8000 shipping charges (both ways) + VAT : 21000
On the basis of our last great experience, safe mode of payment and a trust on their bike qualities, we decided to go with Wickedride.
Bad experience with Wickedride
We found their representative at the decided location. And within an hour, he brought all the bikes from a nearby parking. He catechized about our plan. We were baffled by his response "You cannot enter Sikkim with these bike documents. The check post at Sikkim border will ask you to return back. He continued in his confident tone "You need originals… No photostates…And I am not sure if these documents will even suffice in Bhutan".This guy ran a travel agency in Siliguri and soon we realized that he is trying to befool us and so with a little exchange of words, we ended saying "we will deal with the situation if it comes" and as expected, there was no issue in crossing Sikkim border.
But it became much worse when we found that rear view mirrors and leg guards missing. We were totally disappointed with rentals. When we complained, he bought the rear view from the market. But our bikes were still without leg guards. After two days of ride, my bike's brakes got loose which was horrible.
Immigration
Getting immigration done is a mess or I would say it was one of the most difficult part of our journey. Immigration office of Bhutan is a small hall accommodated by people with 4 times its capacity. For bikers, you need to get two different permits, one for you and other for the vehicle. Getting the vehicle permit is comparatively easy. You can do the whole process by yourself, but I suggest to hire an agent as we did. We found a travel agency on the ground floor of our hotel in jaigaon (Satyam hotel) and they helped use with the immigration. Contact Person : John Lama
This permit will enable you to travel only Thimpu and Paro, if you want to visit Eastern Bhutan, you need to extend your permit in Thimpu which is a very easy job.
Currency
No need to worry about the currency at all. Indian currency is accepted everywhere even 500 rupee note (I read somewhere that only 100 Rs or below denominations are accepted which is not true).
How much the trip cost
This is a little variable amount as everyone has their own standards of stay and food. Below is the list of my major expenses :
Flight Tickets from Bangalore : Rs 14,000 (to and fro)
Bike Rental : Rs 20,000
Accommodation : Rs 6,000 (room on sharing basis)
Food : Rs 4,000
Drinks : Rs 1,500 (They have very cheap and very good scotch : K5 and Misty Peak).
Trip first published on CAMERAONWHEEL
Frequent searches leading to this page:-
Bhutan vacation, Bhutan vacation packages, Bhutan trip plan, Bhutan tourism cost, best Bhutan packages, holiday in Bhutan tours & travels