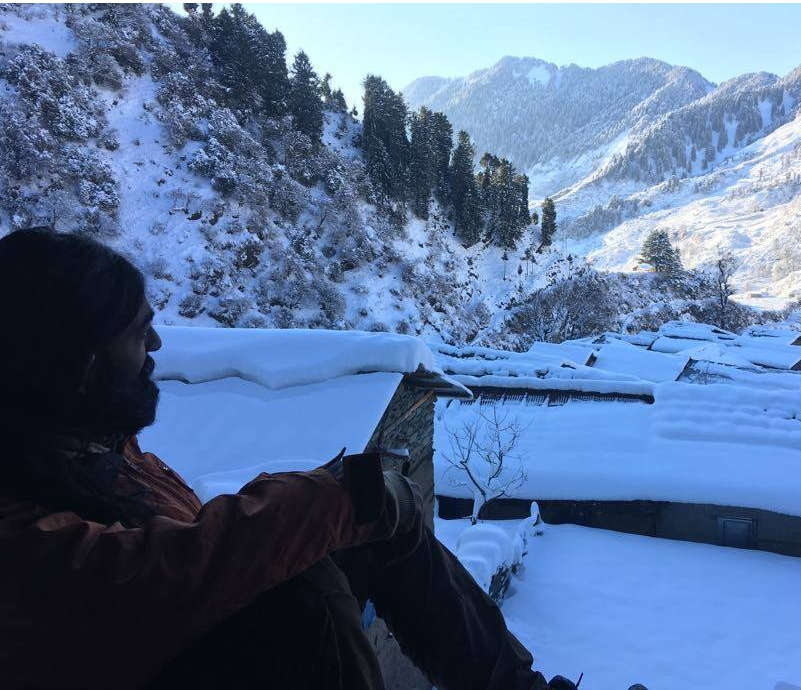 A narration of one's travel can be done in the most 'melodramatic saga' type or a funny account of a lazy, 'just go with the flow' tourist, me. Three days of trekking in Billing, Rajgundha and Barot valleys, and staying in the most incredible Himachali spaces, has engraved a lasting understanding in my being. Never take things too 'chill', they have a tendency to freeze.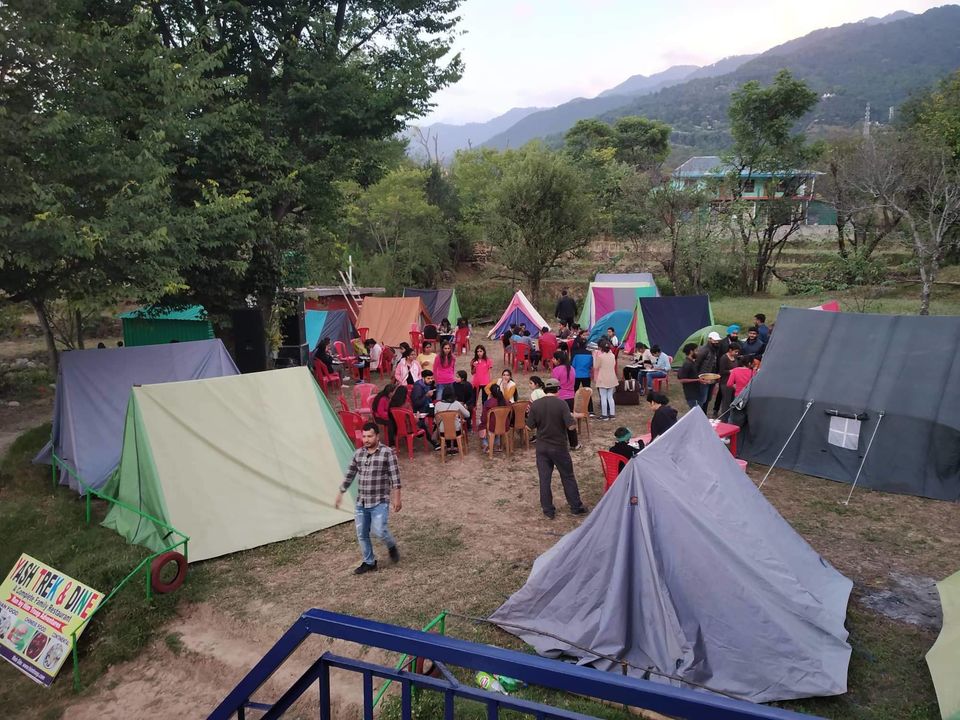 Bir-Billing is situated west of the Jogindernagar valley close to the heritage temple tehsil called Vaijnath or Baijnath in Himachal Pradesh. It is India's best and the world's 2nd best extreme sport destination for paragliding. Alongside aerosports it is also a renowned center for Eco-tourism, Buddhism and cycling.
I never had a huge interest in extreme sports or spiritual studies so I found myself partying the earlier evening, that, plus January and all its chill got me struggling to get out of my quilt, forget about unzipping my tent. The new friends met at The Hikers Nest and myself were pretty pumped about trekking through knee deep snow in the peak of winter, although the route we chose was a paradise to trek in the summers. Honestly, I wouldn't mind excluding myself from that enthusiasm. Years of urbanization and slack have softened me down and I was not ready for the trek in any capacity. Yet, the conversations that ensued between me and other team members, who were certified mountaineering instructors from Himtroop Adventures, really gave me the courage to believe that things would be taken care of, if found out of line.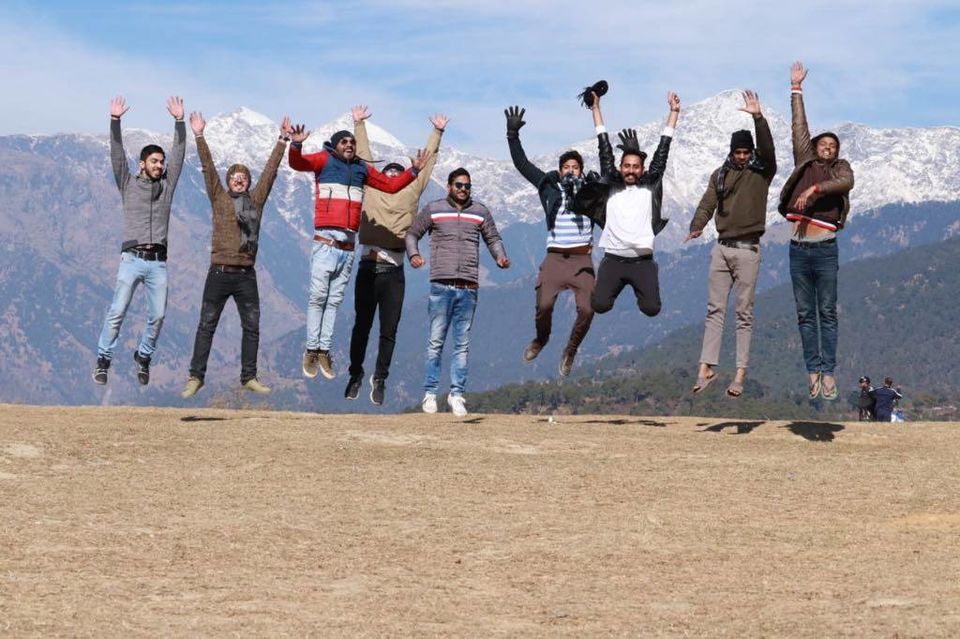 A briefing ensued after a low-oil, yet filling breakfast at The Hiker's Nest. The plan was to go by cab to Billing, the takeoff spot of Paragliders, then trek northeast, uphill from there to Chenna pass from which there is a downhill and mostly flat trek to Rajgundha, and camp for the night. The next day, we would be trekking towards the opposite valley from Rajgundha called Barot. I braced myself for some invisible impact while I gathered my stuff together and tried to do my shoelaces. I knew to my great dismay later about the importance of selecting equipment, packing your rucksack appropriately and doing your shoe laces well. Ha! 'gathered my stuff together!'.
The cab ride was with many twists and turns (literally not figuratively), offering spectacular views of the majestic Dauladhar range, lush tree cover alongside tiding magpies and tired-eyed early morning stoners chilling in the roadside cafes. And yes, slippery snow at the last part of the trip, I was so happy not to be in the driver's seat.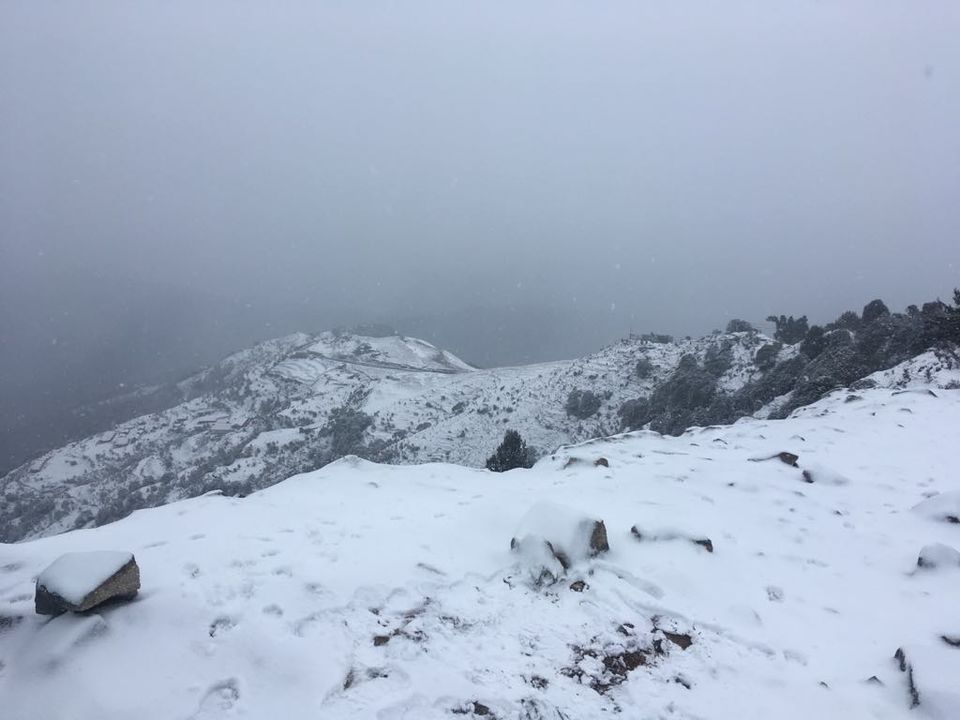 We arrived at Billing slightly chilled, drenched in anticipation of the trek to begin. We heard from Prikshit Ratan, an advanced mountaineering expert from Himtroop Adventures that there was a lot of opportunity to spot avifauna (birds) especially the Monal, or Ghoral ( a certain deer with goat or antelope-like morphology) and the black bear. You read it right, forget about the birds and goats!
Quick Fact: Himalayan Monal (Lophophorus impejanus) is the current state bird of Himachal Pradesh.
There lay before us, slow at first glance but surely an iconic sight, a bunch of waving prayer flags in the snow. There was also the task of climbing up the mountain slopes or steps to that point and then beyond. I found myself searching for my breath every little step I took and experienced an uneasy weight on my shoulders I could not explain at that point of time. Everybody else was doing fine, thoroughly enjoying the snow and all the rules you had to follow about not trampling on the footprints left behind another, in the snow. The ascent beyond the Flags was very tough on me and I was losing my balance while walking and weighing my rucksack. I was also pretty slow thanks to the precise care you need to take while stepping on the snow. I overdid it.
It was a setting of spectacular white snow carpets. It was interesting how snow just ornamented itself on the Deodar cedars, Rhododendron and Oak trees that ushered us into the valley. As is the usual case while trekking in these parts, human's best friends accompanied us all through!
The snowfall thickened and we stole a swift glance of a few Monals running in the woods. Otherwise it was a short trek to Chenna Pass. We warned not to touch the metal without gloves, as we came across a few shops for a quick halt. I heard from one of the instructor that a few locals who knew each other would open the closed wooden doors of these shops with an axe, take goods they need and leave money. But the doors of the shops were shut cold and bore stony silence with graffiti at us as we smoked in (self-imposed privacy) secrecy.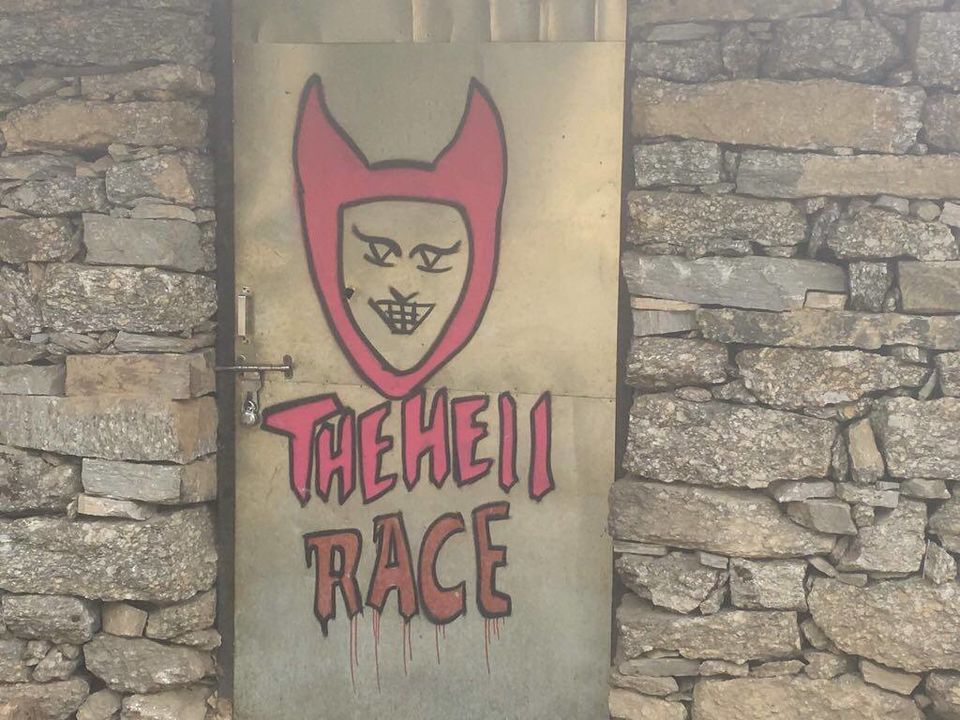 I was hard put to imagine the toil people living in these regions went through traveling, transporting stuff and all that jazz. I did not have much of a thirst for water in the cold but decided to drink some anyways just to keep hydrated before starting to trek down towards Rajgundha village. The panoramic views are of The Rajgundha and Barot valleys alongside views of the Thamsar pass.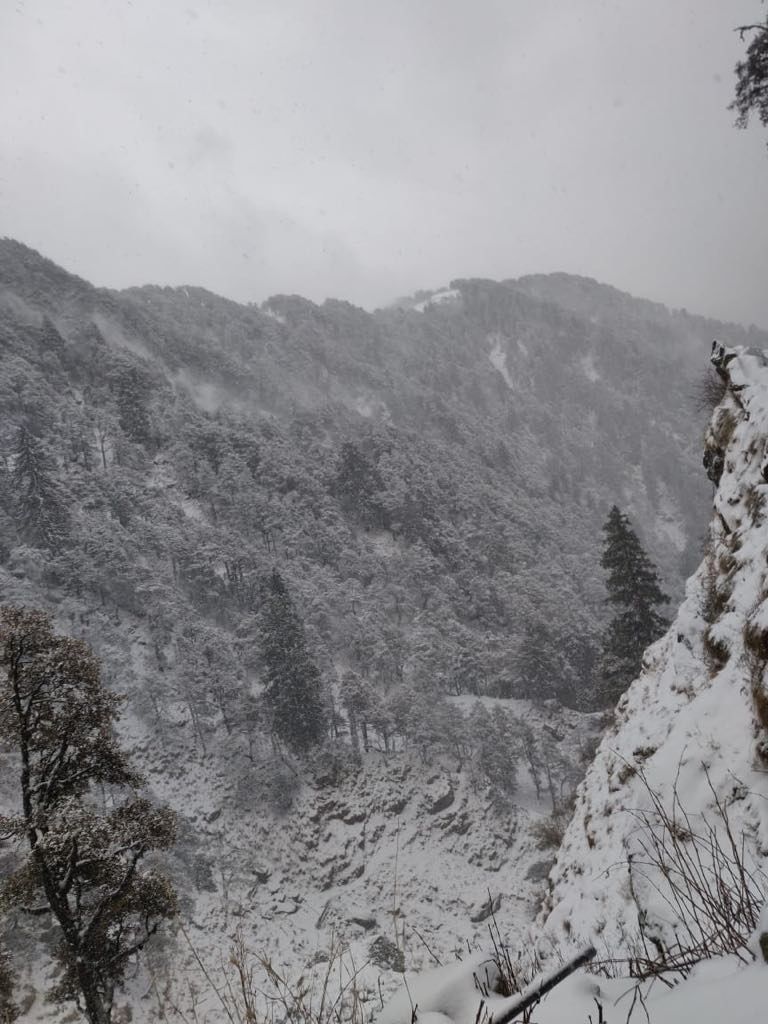 The hardest job is of the first trooper/person clearing the snow and making a path for the entire troop. A few careless steps placed in the snow can take one to really nasty places and situations sometimes. Divyang Sihag and Prikshit Ratan, our mountaineering personnel were doing the path making endeavor through thick snow without a whiff of strain. Or maybe they did not want to show the strain. Two other guides trailed us locking the troop from behind. It is a general practice in trekking and mountaineering that the slowest people are to be placed foremost in order of walking behind the lead scouts, but ahead of fast trekkers. This formation is to ensure that nobody is left behind.
Constant shouts of motivation and keeping it positive alongside detailed explanations of various herbs, wind oriented weather forecasting and other amazing things happened thanks to our well informed guides and instructors.
We saw farmlands hidden beneath the persistent layers of snow while nearing the outskirts of Rajgundha after trekking for about two hours. That's how we arrived at Rajgundha, a sleepy hamlet made with mud, slate and wood. The time was 6pm, overtly cold and a roaring snowfall ensued as we tried to find the point of contact in the village. My hands had frozen and swollen by this time, I was not taking good care of them. I had one thing to do to protect my hands, just keep the gloves on. A very trivial mistake of mine wearing gloves while smoking ruined the cigarette and so I decided to not wear them at all. And to top it all up quite nicely we never got to smoke after that thanks to the time punctuality of the instructors! After all things change in the scattering of a few minutes in these cold, unforgiving mountains.
The village was empty, silent and eerily beautiful, but beautiful nevertheless. We came across a shop and then figured out which place and whom to talk to. A slight fuss was caused by an overly drunk local in his long overcoat, who was dealt with politely by me. I remained behind trying to heave my rucksack onto myself while the drunk gent caught me and started his waffle. "Everyone from a common man to the PM will suffer a dog's death in the cold if they come to Rajgundha without my permission", he kept repeating it like some mantra he was holding onto as a ray of hope in his drunken stupor. I began to walk away half sad, half angry at him and then he stopped me gently with both hands and apologized.
We were unsuccessful in procuring alcohol as the night was growing colder and nobody wanted to walk a kilometer to get the Desi Tarda. This was to the liking of our instructors who (tried) strictly forbade us from consuming alcohol as it would impede our physical and mental abilities for the hard path we had chosen to trek to Barot.
We snuggled into our sleeping bags after a humble meal of the very best Rajma Chawal (kidney beans and rice) around an Angheti (traditional himachali fireplace with a diverse utility) inside the warm confines of a camping lodge. And Rajgundha happened in all its mysticism.
Part 2 covering Trek to Baragram will be posted soon. Thanks for lending your eyes and hope you get inspired to go to Rajgundha (minus getting in funny situations like me).