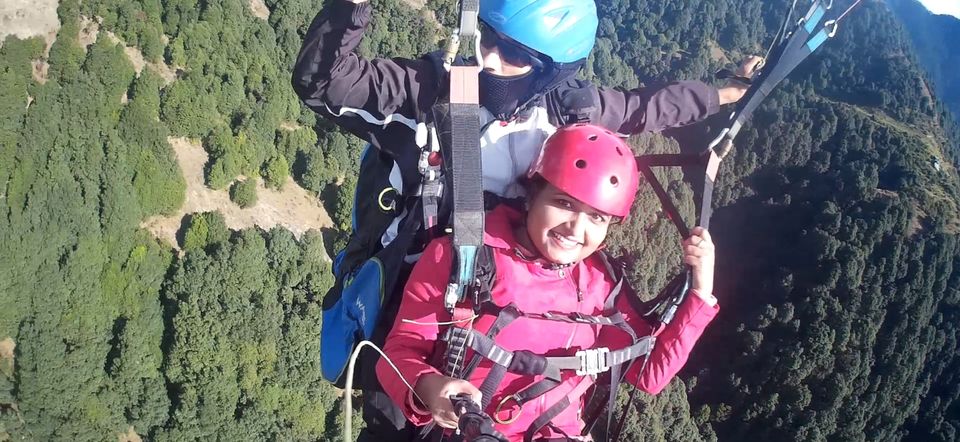 Yes..Birthday in air!!!!!..most adventurous birthday I have ever had.
This time we chose to do Paragliding..and yes we did it in Birbilling..best spot in India for paragliding.
After a road journey of around 14 hours from Delhi,we reached Bir ,a small village in Himachal Pradesh,around 3 PM. We had our hotel prebooked , we just landed on our bed and slept  to unwind ourselves from the long and tiring journey.

Next day(24th nov)..my birth day...started with cake cutting (still wondering why it did not happen last night!!!!o yeah...we were tired)and surprises from my husband. After all the celebrations, we took off to Billing, point from where paragliding starts. I was not scared at all till now but when my pilot approached me with my paragliding harness...suddenly I started feeling like why I am doing this..what will happen if I fell...what will happen if my harness breaks loose.....I had no courage to do it..(yeah it does feel very scary as you are about to be suspended in air in a while).Finally after all the motivation from the co pilots and my husband, they managed to pull me through the rough terrain(since i was not stepping my foot forward, they literally had to pull me :-p)..I closed my eyes and the next moment , I was flying
.I was floating in air...I had goosebumps..it took me around 10 mins to get accustomed to the wind..to the sky...nothing can beat the view from up there.My pilot was moving the glider smoothly...I was actually enjoying the flight..everything was going great until my pilot started performing stunts (god knows why).He started whirring, whooshing through the wind, rotating crazily in circles.It was all breath taking.Finally after all the adrenaline rush, we approached the landing site.I was overwhelmed after this amazing 20 minutes flight.Best 20 minutes of my life when I was flying..nothing going on in my mind...enjoying my heart out..overall an amazing experience!!!!!
I recommend paragliding to all those who have fanatsy of flying, this is the best and thrilling way to fulfill this desire.
Paragliding costs 2000rs per person including the video.Additional 200rs needs to be paid if you want to take soft copies of your photos which a photographer clicks when you come towards landing site.