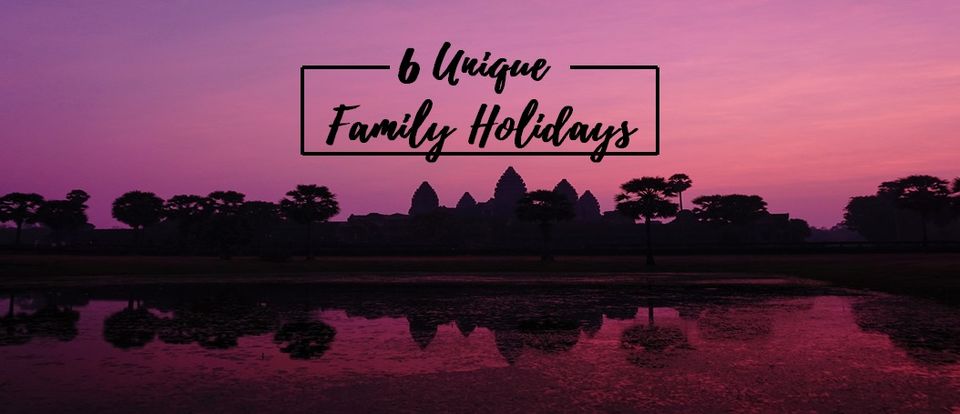 Family Holidays to unique destinations, are like diamonds in the rough. Not obvious, and often overlooked. However, if one chooses to take a closer look, it may be the 'find of a lifetime'! Any time spent, anywhere with the ones your love is special enough already. And thankfully our blue planet is full of magical places that have their own unique character. Places, that will allow you to see & feel something new. A sight, a sound, a taste that you can experience together with your family.
To think of it, aren't some of our happiest childhood memories & stories about 'that road trip' or that 'hill station getaway'? Also, weren't the most treasured stories about what happened at the place, rather than the place itself? Memories that lend special meaning to these places, making them your own.
Hence, we picked 6 family holiday destinations - one from each continent (almost!), that are unique in every way. So, pack your bags and get ready to fire those young minds with new stories of traditions, history, culture, wildlife and much more. Stories that will soon hold a uniquely personal meaning just for your family!
Our Top 6 Picks for Unique Holidays with Kids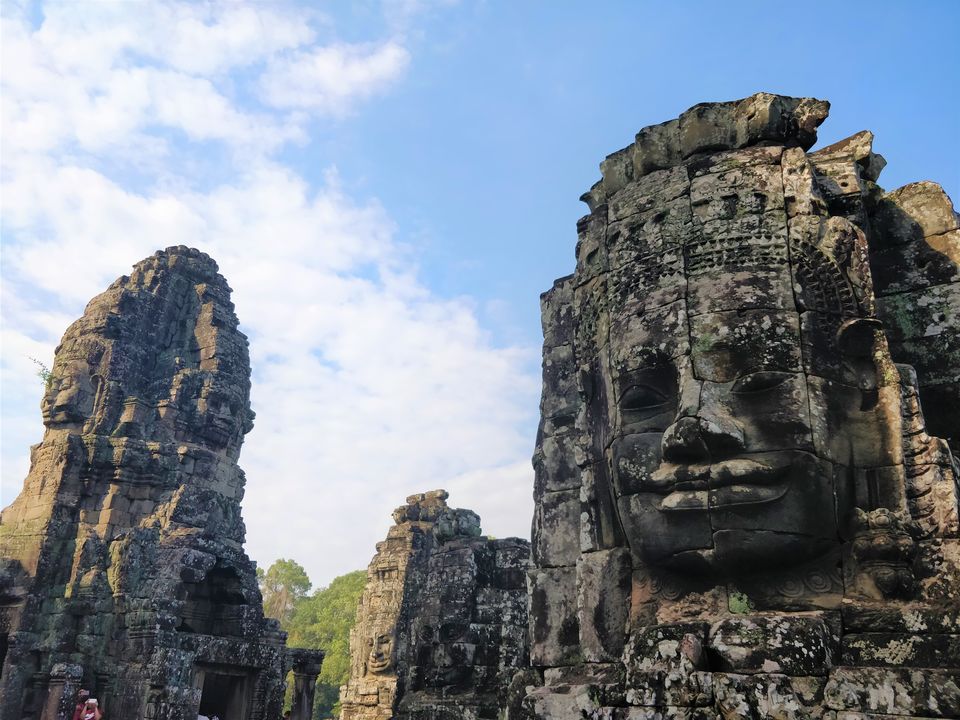 1. Cambodia
Overview: Overgrowing trees clambering over ancient monuments. As if nature was reclaiming what's hers. This Asian kingdom is a mind-trip. Fascinating 'Temple-runs' by day and thriving 'Party-hub' by dark. Adventure, spirituality, architecture, tradition & fun - rolled into one delectable dish.
What Will the Kids Remember? If you have a budding tomb raider or 'Dora the explorer' in the family, this'll be their wildest dream come true. A living canvas of how the Old & the New co-exist in perfect harmony. Finally, they can experience first-hand, the triumph of human resilience over even the most heinous tragedies.
Things To-Do: Catch the sunrise at the world's largest Temple Complex, relax by the unspoilt 'Sunset Beach', visit the gentle giants of Mondulkiri, nature trek in places frozen in time - Kulen Mountain, take incredible day-trips from the Capital city & let the kids join the non-stop celebration of life that is 'Pub Street' (dont' let the name sugest otherwise!)

Affordability: Cheap. This is hands-down one of best value for money destinations in the world. From delicious food to clean accommodations, everything is cheaper!
Logistics: Easy. Both Phnom Penh & Siem Reap are very well connected to neighboring Asian International airports like BKK, SIN, MNL, HAN, KUL, HKG, etc. Since, it shares land borders with Thailand, Laos & Vietnam - one may enter through arduous overland journeys as well. But with frequent cheap flights, that is an inconvenience best avoided with kids.
2. Vanuatu
Overview: Oceania is rife with island nations which can rightfully feature in any traveller's bucket list. And Vanuatu is no different. Imagine the calming blue of the South Pacific, with idyllic palms swaying in tandem with the breeze. And there you have it - paradise!
What Will the Kids Remember? Eerie as it may sound, they will be visiting a land where cannibalism was practiced until recently. Yet the locals couldn't be friendlier! Though what will really stick, is the unique national language 'Bislama', kayaking in an endless lagoon & just unabated beach fun.
Things To-Do: Experience the laid-back way of life even in the capital, float about in tubes in a running natural stream, taste the delicious Local Fruits & Chocolate, visit the world's first Underwater Post Office, snorkel with exotic marine life & go on an exhilarating Off-road Buggy Ride! Check out our Trip Photos.

Affordability: Cheap. Everything except sightseeing (especially entry fees) was remarkably affordable. In addition to having tastefully apponted accommodations & generous meal portions.
Logistics: Hard. Getting here is the real challenge. And therefore, it is advisable to couple a trip to Vanuatu , during a visit to Fiji, Australia, New Zealand or even the Solomon Islands. The capital - Port Vila is reasonably connected to international airports like NAN & SYD. In addition to extended connections from AKL, HIR, etc. Once there, private & shared transfers can take you all around the capital. While domestic flights connect you to the further reaches. But don't let that dissuade you. It's all easy once you land there!
3. Kenya
Overview: While this East African jewel is no stranger to tourism, Kenya makes this list because Africa is often overlooked while planning a holiday with Kids. The other half of the 'Great Migration' has staggering landscapes that teleport you to the sets of "Out of Africa" & "Born Free".
What Will the Kids Remember? Watch their jaws drop (and yours) with sheer disbelief as they see their wildlife books & movies come to life in the proximity of their backyards! Add to this, the genuine warmth of the locals, who are especially good with children.
Things To-Do: Go on endless Game Drives in pursuit of the Big 5, cross over the Equator, interact with the Colorful Tribes of Kenya, bring home a Masai Souvenir & cycle thru Hell's Gate National Park! Read More for details on how to plan your trip.
Affordability: Expensive. Experiences involving animal interactions tend to be pricey across the world. That said, Kenya is one of the more affordable Safari destinations in Africa. In addition, Kenya has ample Game Reserves providing excellent all-year animal viewing.
Logistics: Moderate. Nairobi is well connected to major international airports in proximity (KGL, DAR, DXB, ADD, JNB, IST, BOM, etc.). Once you are there, be prepared for long (sometimes dusty) road trips, as you connect from one paradise to another. It's a small inconvenience for a once in a lifetime experience!
4. Malta
Overview: Europe's fortified island city surrounded by the eternal blue of the Mediterranean Sea. And is equally blessed by both other-worldly natural beauty & heart-racing history. Malta sure packs a wallop for her size.
What Will the Kids Remember? Stories of the Great Siege and the legacy of the Knights of St John will ring loud even after you return. In addition, other stories of Malta's colorful Corsairs will fill their little heads.
Things To-Do: Go on an open-top Jeep adventure all over the main island, take a fun ferry ride for a day of splashing fun in Gozo, from the grand harbor take a boat ride around the Capital & visit the 3 Cities & discover the world's Oldest Standing Structures. Read More to plan your perfect trip!

Affordability: Moderate. Malta is not nearly as expensive as typical Western European destinations. However, with a rapid rise in tourist influx implies sightseeing isn't cheap. In contrast, accommodation & food are affordably priced and usually of high quality.
Logistics: Malta conveniently connects to major international airports in Southern Europe (ATH, MAD, BCN, FCO, LCA, etc.) & some in the Middle East / North Africa (CAI, DOH). Being a popular choice for Mediterranean cruise itineraries, its easy to do multi-day stopovers via Sea as well. Once in Malta, the best way to see the island is to hire a Jeep for the day to take you around!
5. Costa Rica
Overview: This Central/North American gem is as unique as they come as far as family holidays go! No standing army, but free education for all. This is a small nation with a big heart and is blessed by nature's bounty - Gorgeous National Parks, Cloud & Rain forests, a well-deserved reputation for fine Chocolate & Coffee & 5 Active Volcanoes.
What Will the Kids Remember? Seeing an active Volcano, making a Chocolate drink directly from the beans in the middle of a forest, Zip-lining over dense Rainforest canopies & discovering the amazing, colorful local fauna during a nature hike.
Things To-Do: Check out the colorful & elaborate local Handicrafts, chose from Zip-lining thru Canopies or Rafting for an Adrenalize fix, commune with Nature in a bio-reserve, visit stunning caves & waterfalls, and finally get behind the scenes of a coffee or chocolate plantation.

Affordability: Moderate. Costa Rica is relatively more expensive than other Central American nations. However, we found everyday costs for a traveller, including sightseeing to be reasonably priced.
Logistics: Easy. The capital San Jose, is well connected by flights to International Airports in Central America (PTY, GUA, MGA & TGU), the rest of North America (MEX, LAX, MIA, EWR, etc.) & even intercontinentally to BOG, LIM, MAD, etc. It is also common to work one's way up from Panama on a road-trip across central America or even down from Guatemala or Mexico. However, this is a fairly strenuous route and its best to avoid while travelling with kids. Costa Rica has an excellent network of roads and, San Jose is the perfect base for easy day trips in the region.
6. Colombia
Overview: Now this South American may be more famous for 'other' reasons. But if you are looking for a fast-paced, larger than life, colorful family adventure, you are in luck. Expect to be blown away by her extensive cultural heritage, military history, divine coffee & brilliant art!
What Will the Kids Remember? The quirky omnipresent Graffiti, the eerie tales of Occult & Ghosts of Bogota Old Town, the magic of 'Boterismo', the Mud-house straight of our the Flintstones, the remains of a real Dinosaur & the world's biggest Mud-house!
Top Things To-Do: Visit underground Salt Cathedrals, see the expansive square of the Villa de Leyva, discover the ancient ways of the Musicas, check-out the colorful handiwork of Raquira, experience the spell binding Cano Cristales river & live the charm of Cali, Medellin & Cartagena! Read More to plan your trip!

Affordability: Moderate. On an average Colombia is not an expensive destination, with ample options in accommodation & dining to suit any pocket. Sightseeing though is perhaps a tad bit more expensive in comparison.
Logistics: Moderate. Most itineraries to Colombia tend to spiral out of Bogota which connects well to neighboring international airports like UIO, LIM, CCS etc. & intercontinental ones like SJU, PTY, SAL, MEX, MIA, LAX, JFK, MAD, CDG, LHR, etc. Many domestic airports allow for extended visits to other famous towns & cities.
Points to Consider while choosing Unique Family Holidays
During our first Euro Trip back in May'15, we enjoyed the popular sights of Paris, Amsterdam & Brussels. However, what really stands out was our time in the Alsace region and in Luxembourg. Even though these were by no means obscure places, yet they seemed the path less trodden. So, when we plan to visit a new destination, we consider how amenable it is to the points below:
1. Ample opportunity to have the place entirely to ourselves.
2. Spend less time in lines & more time experiencing the place.
3. Better suited to accommodate any travel style - Fast, Slow or FLOW!
4. Gain a more intimate, unfiltered experience to build a personal connection to the place.
5. Greater chances of meaningful interactions with locals.
6. Gain another perspective, possibly a very different one from the popular narrative.
7. Be positive ambassadors of our country in places less visited by our fellow countrymen.
8. Greater flexibility of making up our own itinerary.
9. Newer stories to inspire our family & friends, to travel on the path less taken!
10. The likelihood of a higher Return on Experience for the money spent.
Are these Unique Family Holidays Affordable?
Even in cases where the overall spend is higher, it is usually a safe assumption that the return on investment (& experience) is palpably more. As we travel more often, we all come up with tips & tricks to make family holidays affordable. We have ours as well and will be sharing it soon!
Are these Unique Family Holidays Harder to Do?
These unique family holidays are often fraught with longer flight connections & layovers. They may even require adjusting to a new normal in terms of creature comforts. But are they decisively harder to do?
In our experience NOT! Of the many lessons travel has taught us, one is to overcome the fear of the unknown. Our travel mantra is "Be Informed. Not Influenced". We enjoy taking in the sights and sounds of the more popular destinations same as the next person. However, our most memorable family holidays are made of those exotic side trips & detours.
We lay great emphasis in preparing the kids before every trip, so that they enjoy both the journey & the destination. Most importantly, we rely on our trusty & comprehensive Travel Checklist, to iron out every travel wrinkle.
If you invest time in planning well, have your Family Travel Essentials sorted & focus on the joy of discovering the unknown - any destination, no matter how off the mainstream tourism radar - will not pose any extra challenges!
How Do We Pick a Unique Holiday Destination?
There are just so many places to discover. And we want to see as much as we can in this lifetime! Any time spent with our kids is a privilege we are grateful for. But to make each trip even more special, we use a simple 5-Step process to pick our next family holiday. Travel teaches us to embrace uncertainty, so this is not a blueprint of any sort. However, these steps help us consider the underlying factors like destination, theme, time of visit, activities & of course the budget. Most importantly, this process is a practical easy to follow approach that considers these factors in the right sequence.
We apply this process during our forays into the lesser known as well. We simply lay more emphasis on Steps 3 & 4. This helps us understand the ground realities during our planned visit & zero in on the right experiences to make the most of these unique destinations.
In Conclusion
Investing the time to choose Unique Family Holidays allow us to form deep personal connections with a place. A room in our travel memory palace which will always hold a special meaning, unique to our family. In addition, these holidays are not harder to plan or do and are usually more affordable than mainstream options. But most importantly, they help us experience the joy of discovering something together. To take back stories that become part of the family heirloom, to pass on. So, cast off from the tethers of the safe harbor & take your kids on an adventure they will never forget!
Read our latest blogs on www.travelindians.com & Follow us on Instagram: www.instagram.com/travelindians/