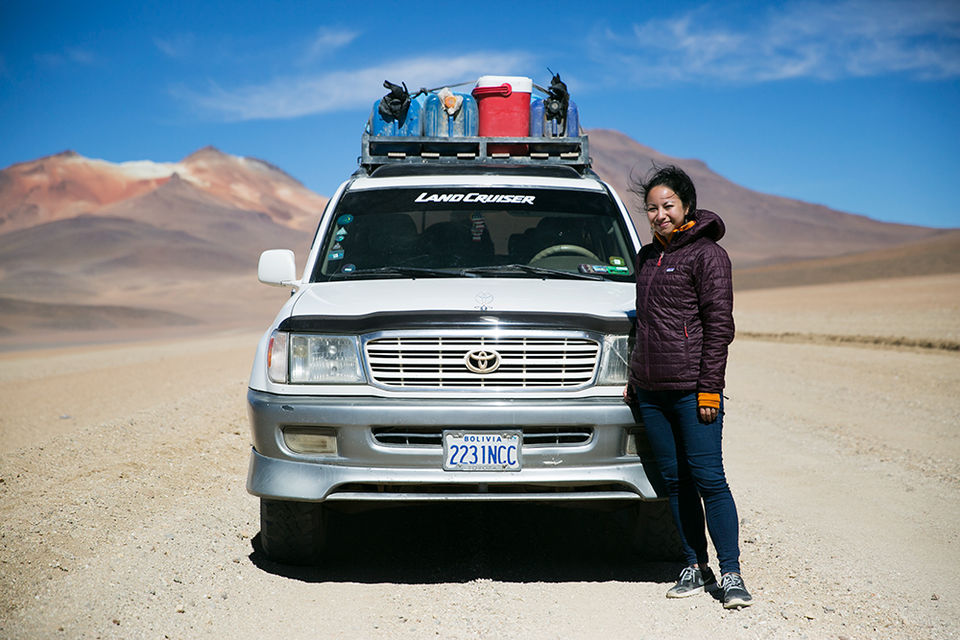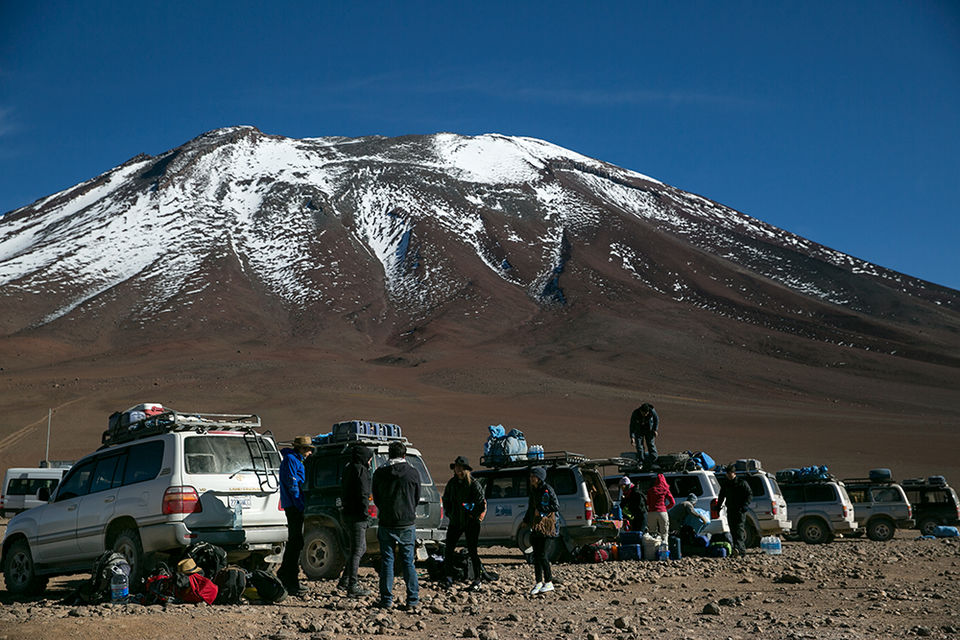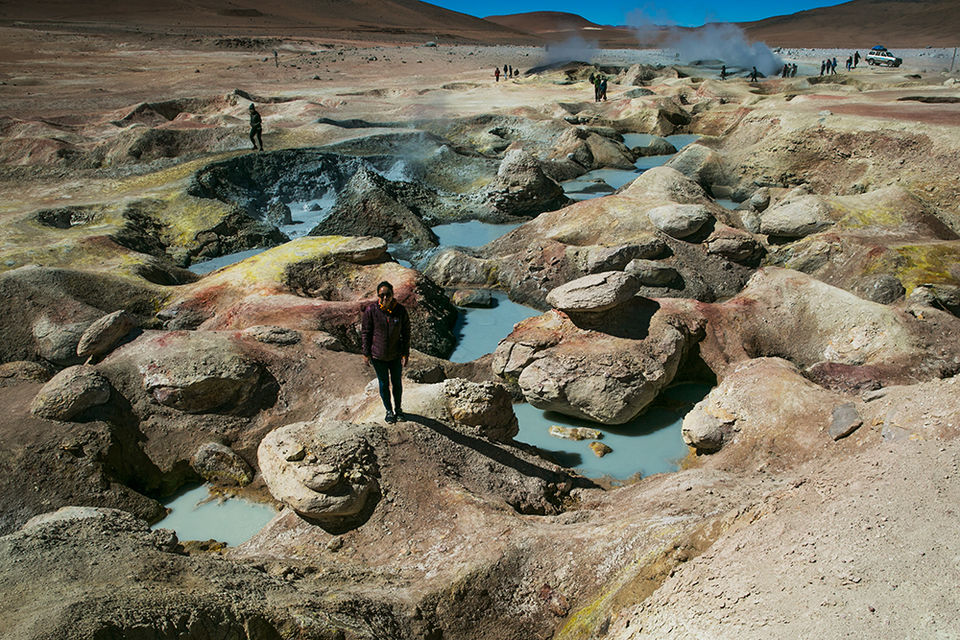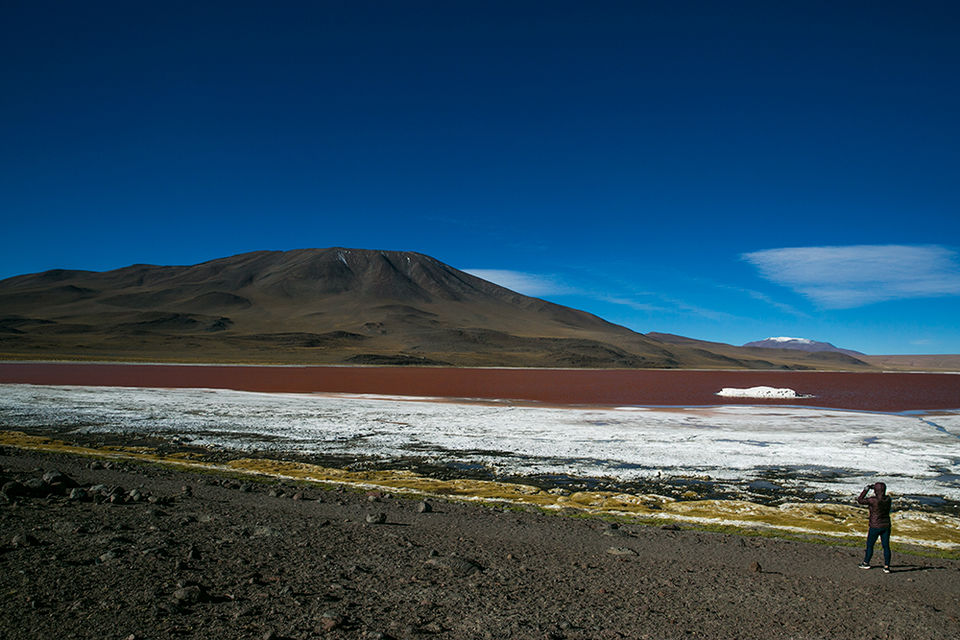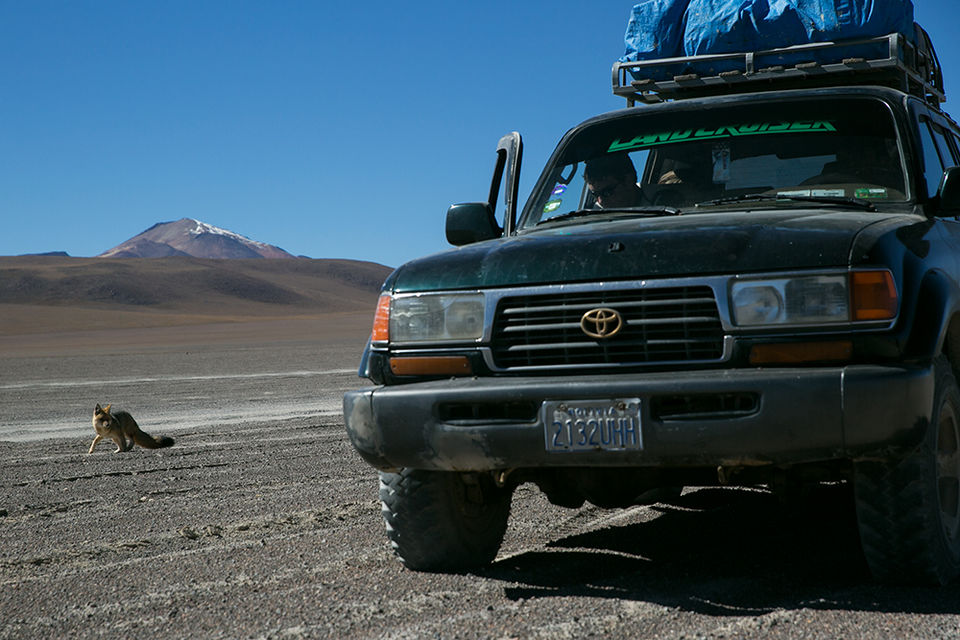 A 4:30 a.m. alarm after little sleep made our drive onto the Salar de Uyuni, (Uyuni Salt Flats), feel like a dream. Off to our right, color crept into the clear sky, first grey then a muted yellow. To our left, stars still dotted the dark, but far fewer than the millions that filled the night sky several hours prior. Ahead stretched an open expanse of flat white, 10,582 square kilometers in all, lit only in the remaining moonlight as we drove without headlights.
Racing to catch the sunrise at Isla Incahuasi-an island of rock and cacti in the middle of the Bolivian salt flats-our Toyota Land Cruiser glided over several meters of salt crust, feeling unnaturally smooth after two days of rocky, washboard roads starting at the Chilean border.
Following several days in San Pedro de Atacama, Chile, Britnee and I were eager to move on and happily boarded the bus that shuttled us to the Bolivian border station. It was a small, stone building in the middle of nowhere, sitting at the base of a large volcano and surrounded by the driest desert in the world. While we went inside to pay for our visas-Britnee and I seemed to be the only ones paying for visas as all other nationalities got in for free-a long line of 4x4s started loading up with tourists and luggage before starting a three day journey to Salar de Uyuni.
Teamed up with our Bolivian driver and a family from France, we started through the impressive landscape, immediately feeling like we had left planet Earth. Lagoons of different colors, towering volcanoes, bubbling geysers and welcoming hot springs were separated by miles upon miles of stone and sand. The sky overhead turned a deep blue that contrasted greatly with the wide-ranging pastel colors of the landscape below. Pictures were plentiful.
Our first night was spent over 4,200 meters next to Laguna Colorada, a lake of unnatural red color caused by sediments and the pigmentation of some algae. At sunset we were admiring hundreds of pink and white flamingos in the lake and by sunrise the following morning we were packing to leave. All the while we popped Ibuprofen and sipped coca tea to ease our altitude-induced headaches.
Onward through the martian landscape we spotted Bolivian chinchilla rats, solitary foxes, more flamingos, herds of llamas and their smaller cousins vicuñas. No matter how long we drove, the landscape never grew less outlandish.
That night we relaxed in more comfort in a hotel made of salt, perched on a hill with Salar de Uyuni below us and a sky full of stars above. Early the next morning we moved quickly, looking forward to the highlight of our journey-sunrise at Isla Incahuasi.
Arriving at the outcrop of rock, Britnee and I nearly ran the whole way to the top, stopping breathless for an occasional photo as the surrounding cacti glowed like ghosts before dawn. We reached the rocky summit as the flat horizon turned a deep orange, but once there we couldn't sit still, running in circles as we tried to take in all 360 degrees of the alien landscape.
The salt that stretched out all around us brightened and when the sun crested the horizon it bathed everything in warm light. Hundreds of cacti glowed gloriously as millions of their needles were backlit with the welcomed morning sun. We lost track of time, filling the memory cards of our cameras, then rushed down to catch our group for breakfast at our 4×4.
A few bites of cake and a swallow of coffee and we were off again, exploring the flat expanse of salt, a beautiful heaven or a desolate hell. Once again we lost track of time and almost reality, the landscape playing tricks on the mind as it disappeared into eternity. How we wish we'd packed a toy dinosaur for silly photos, but we did our best without, jumping and running into the distance until we nearly collapsed, burning lungs a reminder of the altitude.
Back to the jeep, we cruised on across smooth highways of tire tracks that disappeared in every direction. Somehow our driver stayed on course without any assistance and we found the original salt hostel-now a museum-some salt mounds drying in the sun, and a village on the edge of it all, selling souvenirs of... salt.
To the outskirts of Uyuni and a train graveyard, a playground of rust and a tetanus shot waiting to happen. It's only then we realize that we haven't seen the third jeep in our convoy all day. As it turns out their driver didn't even show up at the salt hostel that morning until two hours after the rest of us left. When they finally showed up and got their first glimpses of rusting trains, the rest of us were already turning back to Uyuni to part ways after a wonderful welcome to Bolivia.