Where is it?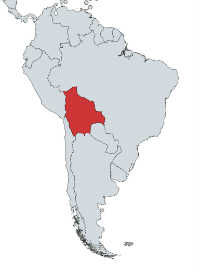 General Information
Tourist Visa Requirements
Bolivia gives Visa on Arrival ONLY at La Paz International Airport and Santa Cruz International Airport.
If you are entering by land then you need to apply in advance at a Bolivian embassy or consulate with the following requirements:
Valid Passport
A valid passport with blank page(s) for the visa stamp
Passport Size Photos
Confirm the size and the background requirements
Proof of onward travel
Confirmed ticket(s) into and out of the country
Hotel Bookings
Hotel reservations for the intended length of stay in the country
Trip Itinerary
A detailed itinerary of your trip in the country.
Proof of financial funds
Proof of significant funds to cover your expenses while in the country
Letter to the Embassy Counselor
A letter to the counselor describing the purpose of the visit
PLUS
Cost: FREE if applied in advance. $55 for Visa on Arrival at the airport
Validity: 30 Days
Visa Process Time: 5 minutes. (Ripley's Believe it or Not)
Why go there?
High altitude landscape, Andes trekking, indigenous culture, handicrafts, lakes, vicunas
Highlights
Salar de Uyuni: Three days full of high-altitude salt desert, landscape reminiscent to moon and mars, lakes of different colors, majestic flamingos, shy vicunas and geysers pumping sulfur out of the bowels of the earth. A devil's version of beauty
Lago Titicaca: The world's highest navigable lake is shared by Peru and Bolivia. On the Bolivian side lie two significant island Isla del Sol (Island of the Sun) and Isla de la Luna (Island of the Moon). Both have Inca ruins. But, it is the local island culture that is fascinating
Off The Beaten Path
Isla de la Luna: Majority of the travelers head to the more popular and touristic Isla del Sol. Which leaves Isla de la Luna for the weathered traveler. The ferry connection to this island is infrequent, there are only two places to stay and no restaurants. If that has gotten you interested then salud mi amigo. How to visit and experience Isla de la Luna (Coming Soon)
Challa: The village of Challa sits right in the middle of Isla del Sol. Visitors flock to the northern and southern villages of Cha'llapampa and Yumani, respectively. But, the authentic culture lies on full display in Challa. Neat corn and quinoa fields, abuela (grandmother) shepherding the llamas, blue-eyed girls staring at your with a smile, las mujeres (women) tending their households and young boys playing football right on the edge of the lake. The simplicity and purity of this village will make you fall in love with it
Food and Beverage
Of all the countries in South America, I find Bolivia the toughest for vegetarians. Most restaurants/waiters will politely shake their head when you ask for vegetarian food. But, you will have to give them options and they will prepare you a dish. So, this is a good time to introduce you to some basic Spanish food vocabulary
Your biblical chant is - "S oy vegetariano. No como carne, pescado o pollo". It means "I am vegetarian. I don't eat meat, fish or chicken. Wait till they give you the Why-Are-You-Living look.
Common Food Items in Spanish
Q. How to ask for food?
(Refer to the table below for common vegetarian food dishes in South America)
[*Tienes = Do you have]
Common Vegetarian Food Dishes in South America
Empanadas: Samosas or turnovers stuffed with queso (cheese), papas (potatoes) or verduras (vegetables)
Humitas: Mashed corn and cheese served in a corn husk
Sonso: Mashed yucca and cheese cooked over coal and served on a stick
Arroz con Ensalada: Rice with salad
Arroz con Menestra o Lenteja: Rice with beans of lentils
Jugo de Quinoa: Quinoa juice sold on the streets in La Paz. Very delicious and healthy
Singhani: World's highest distilled brandy from grapes growing at the highest altitude. Has floral aroma and bold but sweet taste. I highly recommend trying it. Singhani itself is an off the beaten path experience
Destinations in Detail
La Paz
The highest capital city in the world. Bolivia has more indigenous tribes than any other South American country. And, La Paz is the potpourri of these tribes. The streets and the mercados are a slideshow of the colors of the Bolivian diversity. Roam the breathtaking streets, sip cafe or eat at one of the local markets and observe the differences in clothes, hairstyle and Indian jewelry. Besides people watching, there are a few attractions to check out in La Paz.
Witches Market (Mercado de las Brujas) contains some oddities to even out your ailments. Llama fetuses, medicinal plants, herbal potions etc. Rather than the traditional South American markets, this one is actually a set of shops spread over a few blocks.
Sagarnaga Street (Calle Sagarnaga) has souvenir shops, cozy cafes, quaint restaurants and bars. But, if you are an avid traveler you will do your best to avoid them. Take a walk down Illampu Avenue (Avenida Illampu) and you will be treated to the Bolivia for Bolivians. Come here early in the morning and you will see women selling a prism of potatoes, multicolored corns, local fruits, vegetables, herbs and the best mangoes I tasted in South America. (And, I come from the land of mangoes). You can also try local delicacies that are prepared fresh right on the roadside.
Cholita Wrestling is WWE wrestling in Andean style. Ironically, the participants are only women. Don't expect high-flying moves. It is more hair-pulling and biting, comic nevertheless. Takes place on Sunday afternoons around 2 pm. Tours can be arranged through different agencies present in the Sagarnaga area.
Hostel: Muzungu Hostel ($5 dorm bed). Conveniently located on Illampu Avenue close to Sagarnaga, Witch's market and San Fransisco square. Wifi, tidy rooms, roof-top bar with ping-pong and billiards table. No Kitchen though.
Titicaca Lake (Lago Titicaca)
Geography, history, legend, archaeology, and romantic myths all surround Lago Titicaca. Viracocha, the creator deity, rose out of the paradisiacal waters of Lake Titicaca. He created two islands Isla del Sol (Island of the Sun) and Isla de la Luna (Island of the Moon) in honor of the sun and the moon. Lake Titicaca sits at an altitude of 3,812 meters and spreads over 8.372 km. It spans between Peru and Bolivia. On the Bolivian side are the two aforementioned islands of the sun and the moon which house Inca ruins, indigenous tribes and a pre-colonial way of life.
Isla del Sol and Isla de la Luna guide (Coming Soon)
Salar de Uyuni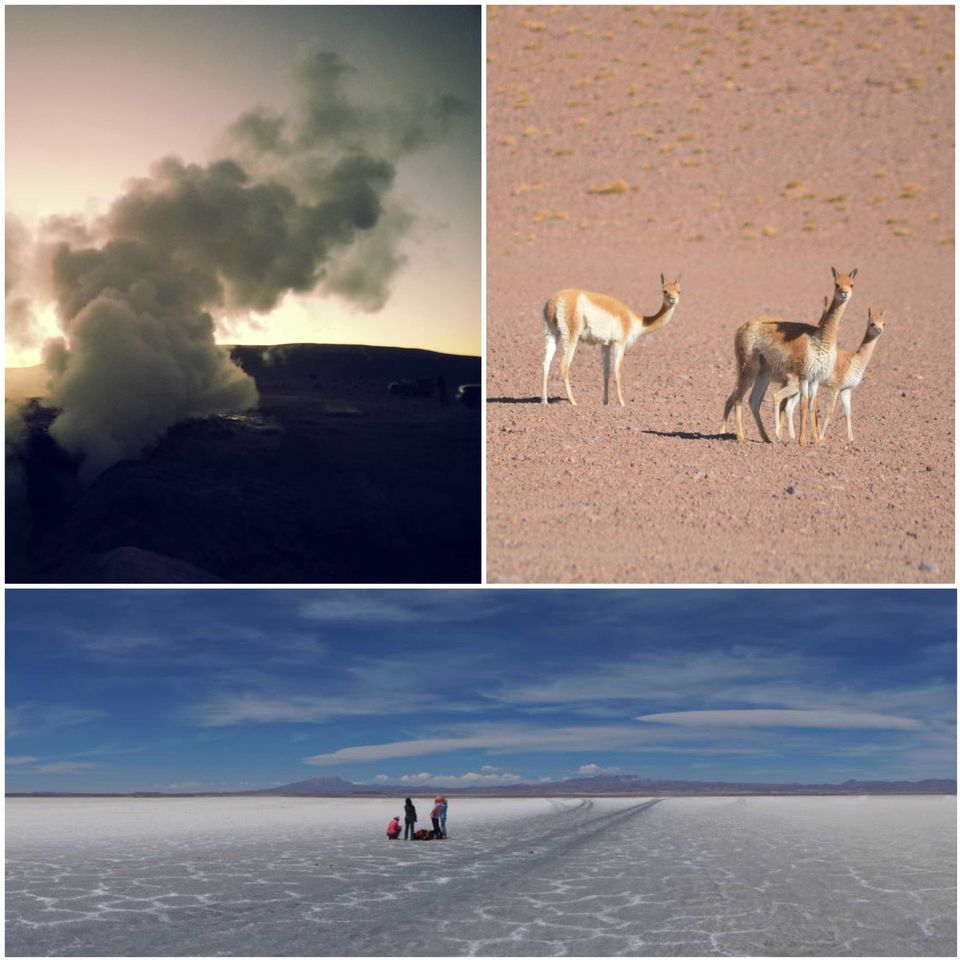 Salt desert, geysers and vicunas in Salar de Uyuni, Bolivia
Salar de Uyuni is a land possessed by the Devil. Ignorant of the divine definition of beauty, the Devil created a sub-human terrain where even the Gods would refuse to step. Dante's Divine Comedy. A desert of salt where no plant roots. Lakes of poisoned colors. Lunatic landscape. Mythical Vicunas and their fur of gold. Evil spirited geysers rising from the bowels of the earth. Salar de Uyuni is a romance that went horribly wrong, yet feels very right. The Seduction of the Devil.
Salar de Uyuni can be seen on 1, 2 or 3 day tour leaving from Uyuni. The tour is done in a 4WD vehicle with about 7 people in each car. I highly recommend doing the 3 day tour to see all the Salar has to show.
Day 1 you see the train cemetery, salt desert, Isla de Pascua (fish island) and stay at a salt hotel.
Day 2 - Flamingos, Multicolored Lakes, Martian landscape, Stone Tree and Vicunas
Day 3 - Geysers, Lava rocks and multicolored mountain and return to Uyuni
The price of the 3 day tour including accommodation and food is 700 to 800 Bolivianos (~US$ 100) per personfor Spanish guide/driver and 1200 to 1400 Bolivianos (~US$ 175) per person for English guide/driver. It is mostly natural beauty, hence an English guide/driver is not the utmost necessity and with enough luck you'd probably have someone in your group of 7 in the car who knows English and Spanish. The above mentioned price doesn't include the mandatory 150 Boliviano (US$ 21) entrance fee of Eduardo Avaroa National Park
I went with Expediciones Lipez twice and both times had a great time. The drivers drove safely, didn't drink and provided excellent vegetarian meals (make sure you tell them if you eat eggs or not). They are located right opposite Donna Isabella restaurant on Avenida Ferroviara (Ferroviara avenue). Donna Isabella restaurant, opens quiet early,is the perfect place to grab breakfast, use restroom and WiFi if you arrived in Uyuni early morning.
Potosi
Cerro Rico (the Rich Mountain) and it's silver fueled the Spanish empire for half a century. The greed for silver made them send countless men into the Mountain that eats Men, the other name by which Cerro Rico is known. Today, little silver remains but with great hope the miners keep searching for it.
Many different agencies in Potosi take you on a tour of the silver mines. You suit up in miner outfits, buy some presents for the miners (choose the presents wisely), pay a tribute of tobacco and pure alcohol to the god that looks after the miners and enter the underworld. You go about 500 meters below sea level and experience first-hand the inhumane conditions that the miners work in. Occasional dynamite blasts in the mines wakes up the Mountain that eats Men. Chat with the miners to get an idea of their work and lifestyle. The entire tour lasts about 4 to 5 hours and cost 100 to 150 Bolivianos (~US$ 15-22)
Santa Cruz de La Sierra
Not much to see here, but if you are heading to Brazil by bus, then you will be passing through here. Also, it has an international airport and sometimes flights are cheaper at the Santa Cruz airport.
This post was originally published on Winds Of Travel.