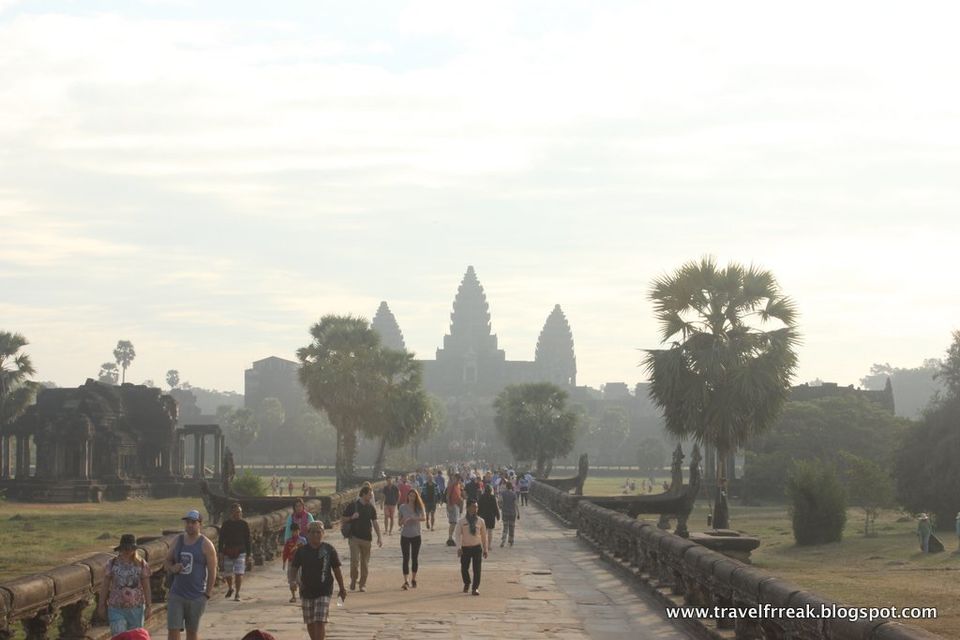 Details and photos at - http://travelfrreak.blogspot.com/2017/07/a-week-in-cambodian-kingdom-of-wonder.html
I celebrated Christmas 2016 and New Year 2017 in the kingdom of wonder - Cambodia. We were there for a week during which we visited three places - Angkor Wat near Siem Reap, Coconut Beach near Sihanoukville and Phnom Penh.
Our itinerary for the week was as follows:
Day 0: Fly out from Delhi to Siem Reap Day 1: Land at Siem Reap in morning, visit Pub street and around; stay in Le Meridien Angkor hotel Day 2: Siem Reap, visit Inner Circle in Angkor Wat; stay in Le Meridien Angkor hotel Day 3: Siem Reap, visit Outer Circle in Angkor Wat and Tonle Sap lake; stay in Le Meridien Angkor hotel Day 4: Flight from Siem Reap to Sihanoukville, boat to Coconut Beach on Koh Rong island; stay at Koh Rong Coconut Beach Bungalows Day 5: Stay at Koh Rong Coconut Beach Bungalows Day 6: Coconut Beach, boat and taxi to Phnom Penh; stay at Skyline Boutique hotel in Phnom Penh Day 7: Explore Phnom Penh; stay at Skyline Boutique hotel in Phnom Penh Day 8: Flight back to Delhi
We spent a very relaxing and enjoyable week there, with warm weather, smiling people, exotic temples, a vibrant culture and stay at a great beach to boot. The first two places we stayed at were amazing and we loved it. But Phnom Penh felt a bit disappointing and I would rate it as a miss. Overall, I found Cambodia a great and different country to visit, but I would still put Cambodia as one of the optional places to visit, not really a must see.
To start with, there are no direct flights to Cambodia from Delhi. So we took China Southern connecting flights to Siem Reap and back from Phnom Penh, both with stopovers at Guangzhou. The flight timings were quite convenient - take off from Delhi late night, reach Guangzhou after a 6 hour flight in the morning, and then reach Siem Reap about 11 am after a 2 hour flight.
Here I must mention that I was shocked with the lack of English speaking capabilities in the China Southern flight air hostesses. I would have expected the air hostesses in an international flight to speak reasonable English. But it was a struggle to make them understand me or even for me understand the announcements they were making on the PA system! We had forgotten to order Indian vegetarian food on the flight, and it took forever to make the air hostesses understand what we were looking for. But once they got it, they were very helpful and managed to mix and match stuff they had, to make sure we were all fed ????. Guess it was a sign of things to come - of limited English, even in Cambodia.
While taking off from Guangzhou, I got my first ever glimpse of China - of a green region dotted with lot of old multi-storied buildings. From the air, it felt almost like India. But I think that's the only glimpse of China I would have for some time. We had a 1.5 hour stop in Guangzhou and our first flight had got delayed! So we ran once we landed and made it to the connecting flight to Siem Reap. Our luggage sadly did not.
Day 1: Siem Reap
The Siem Reap airport felt like a very small and compact one, but with lots of international flights coming in. Indians are eligible for getting visa on arrival in Cambodia. And unlike what is generally written on websites, the whole procedure took us barely 20 minutes. It did help that we were the first ones in the line, as after us a lot of people came in. But even then, the setup seemed to be focussed on efficiency. There seemed to be an assembly line of officials sitting ready to give the visas ????. As expected though, we hadn't got our luggage on the flight but surprisingly, the airport officials told us to come and pick up the luggage in the evening, rather than deliver at the hotel! I found this quite surprising as this is not generally the case with most airlines.
At the Siem Reap airport, I already felt a very relaxed vibe plus a feeling of Buddhism in the air (similar to a lot of the mountainous areas of India in the north) which continued throughout our 3 days there. I loved our stay there and I think we could have easily stayed longer to experience the places around more.
Once outside the airport, we took a taxi to our hotel - the Le Meridien Angkor (in hindsight, we should have taken a tuktuk). As we had only half the day left, we decided not to go to the temples yet. And since we had landed early, our hotel rooms weren't ready either. So we spent the next couple of hours just walking around the area around the hotel. The Meridien is located midway between the city and the temples, hence it was not a very commercial area. We walked into a huge handicrafts shop and realised that there is a lot that Cambodia sells, including silk and precious stones. Then we had local coconut water which was our staple hot weather drink for the whole week.
Then we had lunch at a restaurant just outside the hotel - the Angkor Palm and were surprised by how expensive even the terrible food they served was. It was the tourist effect, but a basic meal also cost about $20-30 per person. Clearly, Angkor was a major tourist destination. Very soon, we also realised that everyone in Cambodia takes US dollars! And that ATMs also dispense dollars! Its the first time I ever saw that an ATM dispenses notes from a different country! After lunch, we checked into our hotel and spent most of the afternoon sleeping inside as it was too hot to be outside. The weather was 35+ degree and so afternoons were best spent inside.
Once we got over our siesta, we visited the world famous Pub Street - the tourist hub in Siem Reap. The city of Siem Reap was also quite an active town, full of hotels and touristy stuff everywhere. It felt like a fast paced place, with the roads being full of mopeds and tuktuks. We took a tuktuk to town and thereafter, that was our favourite mode of transport for the next one week. The tuktuks in Cambodia have a bike fitted with a seating coach which can seat about 5-6 adults comfortably. They are the perfect way to explore the country, with the open make always providing a cool breeze to deal with the hot weather. I loved them totally - they were so cute, comfortable and fresh.
I had heard about the Pub Street of Siem Reap for quite some time, about it being the perfect tourist haven. But still I had not been prepared for what I saw - an entire area comprising multiple streets, with small shops everywhere and tourists milling around them. There were handicraft shops and restaurants and clubs wherever you could see. And stalls on the streets selling local stuff. We wandered through some of the streets taking in the sights. I ate coconut rice cakes from one of the local stalls which I have had in London also. And then we walked towards the night market. There were a few streets of shops, right next to the river. There wasn't much quality stuff there to buy. But since the market was located next to the local river, it provided a cool walking area with a gentle breeze blowing and the twinkling lights on the bridges providing a nice background.
We got a foot massage done on the main Pub street (we got one almost every day of our trip!), and then found a couple of Indian restaurants in a line. So we were sorted for food for the next few days ????. We had dinner at a restaurant called - 'Indian' (how innovative is that?! ). The food was tasty but had a bit of South Indian taste to it.
While coming back from the restaurant, we took a tuktuk with a driver called Hai. He was quite a chatty guy and we decided to hire him as our driver for the next two days. We decided with him that he would pick us up at the hotel the next day at 4:30 am when we could get the tickets from the office and reach Angkor to see the sunrise.
By that time, our luggage had also arrived and we had to go to the airport to pick it up. Hai took us to the airport and back in his tuktuk and it was one of freshest drives have had for a long time. We drove at night through green fields and forests, with the cool air dashing against our faces. Its when driving in the tuktuk that we realised that the airport was quite far from our hotel and located right in the middle of forests!
Day 2: Angkor Wat, Siem Reap
Our second day in Siem Reap was spent in the Angkor Archeological Park, with the daily mandatory trip to Pub street at night. The Khmer Empire was a Hindu kingdom which existed from 8th to the 15th century AD in Cambodia which later converted to Buddhism. Angkor was built as their capital in the 8th century by king Jayavarman. It was a huge city with many temples and palaces built in stone around the area. And it was surrounded by moats all around.
Angkor is now a big tourist attraction for Cambodia, so much so that the national flag of Cambodia has the image of Angkor on it. It is almost a symbol of national pride and history now. At one time in history, according to Wiki, the single city housed 0.1% of the world's population, and 'at its peak, the city occupied an area greater than modern Paris, and its buildings used far more stone than all of the Egyptian structures combined'. The kingdom slowly converted to Buddhism and continued building more temples based on a mix of Hinduism and Buddhism.
And then slowly, the kingdom disintegrated and was forgotten. It was almost 're-discovered' many centuries later by when a lot of its structures were in ruin and a state of decay. Even now, a lot of these majestic structure are being re-built to what they could have been. The Angkor complex now is what remains of those times, at different stages of re-construction. And its history is being re-told. Most of the remains are of temples and royal structures, all of which were made of stone, as the buildings where the common people lived in were built of less sustainable materials and did not survive the centuries...
Angkor is now divided into an Inner Circle of a smaller area of 17 kms - comprising the famous Angkor Wat, Angkor Thom, Bayon, Baphuon, Phimeanakas, The Terrace of the Leper King, The Terrace of the Elephants, Ta Keo, Ta Phrohm and many other splendid remains - and the Outer Circle of 26 kms - comprising of temples like Preah Khan, Neak Poan, East Mebon, Ta Som and Pre Rup - which is spread out over a much wider area. Combined, they cover an area of 24 * 8 kms, though most people prefer to only see the Inner Circle temples which are more famous.
There are a thousand of these old structures now spread out in the area and a lot of them are still not uncovered yet. So it all depends on you how much or how less you want to explore the area. You will never be short of new palaces and temples to explore, all of which were built in a different architectural style.
We started our tour early in the morning, as we wanted to see sunrise at Angkor Wat - the biggest and most famous of the Angkor temples. Hai was our guide and driver for the day, and he picked us up at 4:30 am in the morning. We bought tickets from the ticket office and were at the temple complex by 5 am. Its quite an experience to go there in the morning. There is a huge rush of people trying to reach the temple as early as possible. In pitch dark you walk towards the temple, crossing a water body and then you see all these structures looming next to you which you don't yet know how they look like in the light ????. You pass through a big entrance gate, and then cross two small temples on both sides of the path towards the temple. And then you come to a huge open ground, where you find a place to sit next to a pond and wait for the sun to rise.
I was amazed by the number of people who were already there, sitting patiently in the grounds and in front of the pond. We found a good spot next to the water and waited there for an hour or so. We got a bit of entertainment too while waiting as a huge pig strayed into the area and scared a lot of the tourists away. It kept coming back which was a bit of a pain. And by then, we realised that it was going to be a cloudy day, so the sunrise isn't going to give us any spectacular views. It was a bit of a bummer as we had waited so long but so it was. Apparently, you can see a very clear image of the temple in the water when there is a clear day, but that view wasn't in our luck.
Once we realised that, we went into the main temple and it was two hours of pure wonder as we gaped at the scale and beauty of the temple, of all the hardwork and intricacy that had gone into building it. What remains is a multi-layered and multi-level stone structure with detailed carvings and sculptures all around. You can easily see that what remains is just a part of what it would have been a century ago, the carvings would have been painted, and there would have been gold and colour everywhere. But what is visible now is enough to be able to imagine what a grand site this would have been in its heyday, with its painted interiors and imposing exteriors. I wish some records from that time would have survived so that not all would be left to the imagination ????.
As you walk up the stairs, you come towards an inner sanctum which runs all around the temple. And then you come to the Bakan which has three steeply rising temples on top of platforms. These are the main temples which are visible in all the images of Angkor, as standing tall on top of the rest of the temple. And getting there is no mean feat, you need to walk up very steep, almost vertical stairs. (I don't know why, but all the structures in Angkor have very steep stairs?).
There is not much I can write about to describe our experience there except that it was a mindblowing one. Walking through the cool corridors, vividly decorated in stone felt like walking through a different era all together; when there were Hindu kingdoms even outside India; when there were images of Hindu goddesses and stories from religious epics engraved in walls, even outside of India; when temples were dedicated to Vishnu... In the Bakan, there were many Sheshnag carvings adorning the walls, carvings detailing the stories of the kings of Khmer, and of those times, and there was this one spot on top from where you could get a panoramic view of the temple, with the sun lighting up some of the areas, as well as of the balloon taking off with tourists, all of which were enjoyable. We spent about 2 hours admiring the place and then had to bid it adieu.
In hindsight, it might have been good to have a guide tell you all its history but since we hadn't booked one earlier, it was too late to get one. So we had to make do with Hai, our driver. He drove us around the whole day and kept us entertained. He was always smiling and telling us stories of the country and its people. He was a bit of a guide to us too, telling us some stories about the complex. His English was a bit broken but you could see how much effort he was making to explain all he could to us.
Our next stop was Angkor Thom - the capital city of the empire. The capital area is enclosed within a walled area, with a moat all around. And the gates to Angkor Them all have a Sheshnag being held by multiple devas and asuras on both sides of the road.
We started our tour of Angkor Thom with the Bayon temple which is located in the middle of a road junction. It is the temple whose images are very well identified across Cambodia and elsewhere - the stone temple is a huge structure, again created in multiple levels and with hundreds of faces of gods (or the king) sculpted on all its big towers.
The faces have a very serene quality about them, as if they have been smiling for centuries and will continue to do so till time immemorial. As they sit in stone, they smile and continue watching the world pass by, busy with its daily life, while they sit atop the temples, away from all the trivialities of daily life...
The temple is again in a dilapidated state but if you can just imagine what it would have looked like 1000s of years ago, it would have been majestic with all its glory intact. It was a pleasure to walk in its corridors, and stare at the faces, which are similar yet different from each other. And the blue sky dotted with white clouds provided the perfect opportunity for photography.
There were many structures within the capital city, so we walked around to a few of them. First, we walked towards the Baphuon, which looked like it was the palace of the king but was actually another temple. It was surrounded by a water tank and apparently the only way to reach the temple used to be by boat. It is built on three main levels and again, we had to climb very steep stairs to get to the top from where we got a panoramic view of the places around. Then we walked behind the temple, to one of the other palaces nearby - Phimeanakas and then towards the Terrace of the Elephant - which was a grand and decorated terrace used by the royals for sitting on top of elephants.
The next temple we visited was the Ta Keo. It was built of orange coloured rocks and the temple was on the top of a steep stairs. We did not climb it though (a lot of the places had steep steps to go up which was a bit of a deterrent, especially in the heat). It had got so hot by then that all the coconut water wasn't helping, so we took a break and had lunch at a typical Khmer restaurant within the complex - the Rohal restaurant. It was a restaurant built on stilts with place to sit on top and surrounded by gardens on all sides. They served typical Thai and Khmer food which was quite spicy and hence tasty to eat. It felt cool given how hot the weather was; the cool breeze on the first floor from the green areas around helped us freshen a lot. And we were ready for our second half of the day tour of Angkor.
Ta Phrom was our next stop and one of my favourite temples of Angkor. It was in quite a derelict situation, with so many of old trees and their roots growing amidst and on top of the ruins. In fact, a major part of the temple was being re-built, stone by stone towards its earlier image. But as you move around the complex, you start to see what it would have been. Its a huge complex, with multiple circular structures around the temple. There were amazing carving and sculptures all around, and a feeling of old relaxation missing in some of the other temples. It was a pleasure to explore the Ta Phrom and somehow, I did not want to leave it...
Anyways, we did have to. It was getting hot and we were getting tired, so we decided to finish the day after Ta Phrom and head back to our hotel. It had been a surreal day for me. I had wanted to visit Angkor for ages and I had not been disappointed. Visiting these temples from old gave me a view of how South East Asia may have been years ago. When Hinduism existed in its glory even outside India. It was a pretty sight...
The city in its heyday was huge, holding a sizeable population. They had a system of moats and rivers and canals to deal with water storage and distribution. And this system can be found 100s of kms away from Angkor too. It was a huge city and now the whole area is green and full of forests, filling up all the area between the different temples which are spread far and wide. Its a surprise that such a large city was lost for centuries and had to be discovered again later.
What remained now was mostly the stone buildings which included the royal palaces and the temples. The houses of the common folks were not made of such material and hence they did not survive. The stones had all lost a lot of their sheen beaten by centuries of rain and water. A lot of them had fallen off their places, scattering far and wide from their original places; they all were slowly being gathered and brought to their original and rightful places. The stones also needed cleaning as they had all developed a dark covering everywhere, but that would take time. Clearly the government was spending a lot to maintain it but a lot more remains to be done. But overall, it had been quite comfortable to explore the Angkor Park.
After our afternoon siesta, we again went to Pub street for the evening. We first went to the Koulen restaurant to watch a live performance of the apsara dance. The famous apsara dance show in the area is the 'smile of Angkor' but a friend had told me it was a bit underwhelming, so we chose the Koulen option.
It was a nice show of about 1.5 hours with multiple dance performances, some local Khmer group dances, some of Hanuman and the Golden Fish, and some group apsara dances. I have seen similar dances in Bali and Thailand, and they all have similarities - slow and graceful dancing based on religious and traditional themes. Koulen also offers dinner with the dance show but we opted to go back to Pub street for dinner at the Indian restaurant - Dakshin. Again, the food was tasty but had a South Indian tinge to it.
Day 3: Angkor Wat and Tonle Sap, Siem Reap
We spent the first half of the day again in Angkor, exploring the temples of the Outer Circle and then visited a floating village on the Tonle Sap lake. As much as the temples were similar in their architecture, they were also different from the ones we had visited earlier. They were more open, had more space around them and a lot of them were made of orangish rock unlike the grey ones of the previous day.
The entrance to a lot of these temples again had gates outside, surrounded by moats. And the gate entrances were surrounded on both sides by huge Sheshnags supported by multiple devas or asuras. We encountered multiple water bodies today - small ponds, lakes, streams and moats - to store and utilise water better. And there were loads of monkeys around the complex too but thankfully not creating too much of chaos.
Our first temple in the morning was the Preah Khan - another of my favourite ones. As you enter the temple. there was a group of musicians sitting outside and playing local instruments. And they had a board next to them saying they were all handicapped during the Khmer Rouge civil war. I had seen similar groups of musicians at other places in Angkor too. The Khmer Rouge still has a large presence lingering on in the country, so destructive was its impact.
Back to the temple, it was created at a single level, as a cross roads with corridors after corridors surrounding the centre. There was a stillness and a spirituality around this temple which wasn't there at the other places. Most of the roofs had fallen down and this one also had trees growing on the temple remains (do I see a pattern here? ???? ). There was a shivling and a stupa right in the middle of the temple, again something I hadn't seen elsewhere.
There were loads of pretty carvings, some geometrical patterned carvings, some of the Tara goddess, some lions, some scenes from the Ramayans, many sculptures of the sheshnags and sagar manthan, some pattern carvings and so on. It was quite a grand temple and so cool from the inside while the outside was hot. I could have sat there for hours, exploring all its different corridors and carvings, but as with all good things, we had to leave soon from here too.
We had a quick stop at the Neak Poan which was a temple to the snake god, right in the middle of a lake. There was a moat all around, and lot of dead trees in it. It was supposed to have medicinal properties and qualities and served as a place to recover. But there wasn't much to see there.
Our next two stops were to the temples of East Mebon and Pre Rup - both of which were quite similar temples, made of orange stones and small bricks, and located out in the open countryside. All around them was more green and wild - a very pretty sight - and they were built much after some of the other temples. There were elephants sculpted on each of the four symmetrical corners. They both had a high central platform and 5-6 smaller temples perched on the top of the platform. Somehow they felt a lot more like the temples in South India and closer to home than the ones seen before.
We spent half of our day in the temples and by afternoon felt that we had seen enough. It was very very hot during the day and we got tired too after walking up and down very steep temple stairs. The whole time within the Angkor Archeological Park was quite relaxing and tiring at the same time. The temples were all very far from each other and travelling between them was through green forests and farmlands, with a cool breeze blowing through our tuktuk.
Also, a lot of people stay within the park, and so between temples, you would cross people's huts and farms with cows and buffaloes too. But surprisingly, there was no data and phone signal inside the park! So it was very tough to read about the places you were visiting or use google maps to figure out where you were currently. You had to depend on your driver to guide you throughout. We had coconut water everywhere:). And small snacks to eat. And of course, there was a lot of bargaining everywhere, whether in the park or the market! I was also impressed by the number of people who were maintaining the roads and temples in the park. It was so clean and green everywhere.
After spending half the day in the Outer Circle, Hai suggested that we should go to see the floating villages of Kampong Phluk. It was about 35 kms away and took an hour or so in the tuktuk. To get there, we drove through villages and farms in the countryside. The overall ambience everywhere was very very relaxed, the typical feeling of a tropical country. We drove through many small and large villages. They all had two floor houses built on stilts, mostly of wood. And some of the houses had a room or so built on the ground floor around the stilt. The locals were all carrying on their daily jobs, of cooking, cleaning and farming, there was lot of farming everywhere too.
We drove a part of the journey on the highway and then took a detour towards the village. On the highway, the tuktuk drove on one side in a very disciplined way, which i have not seen anywhere else. When you turn off the highway, you have to drive through a kuchcha road through paddy fields on both sides. The villages got a lot more rural and backward by then, with similar houses but a lot less modern and rich.
When you reach the end of the road, you need to pay about $20 as entrance fee and to hire a boat to take you through the village. Then you drive a bit more inside, and come to the parking bay where hundreds of wooden boats are parked. We got onto one of the first ones which turned out to be the wrong decision! The boat was very very basic, made of wood and with not much of manevouring skills. It took forever (about 30 mins or so) for the boat driver to even get through the hundreds of boats that were parked there. He had to get down from the boat into the river, go in front, pull the boat, come back, try to move it and repeat the same many times. I surely learnt that it was totally not worth starting from the back of the line!
Then, as you start gliding on the river, you slowly start seeing the village on stilts appear. They are huge houses of wood or steel, built on huge stilts and water all around - its like a village on the lake:). People stay in those houses, fish around, keep animals on the platforms and stay on water the entire time. There were even dogs in the houses!
After passing through the villages, you come across the mangroves, trees and forests growing in the water all year round. At this point, the boat driver stopped at a restaurant for a break where you can take another smaller boat to take you through the mangrove areas.
And then you float a bit more to come out of the river into the Tonle Sap lake - a huge sea-like lake of about 100 by 250 kms. It was so expansive that it felt like it extended forever. You can even take ferries on the lake to go almost all the way up to Phnom Penh, on an 8 hour journey. We had earlier planned to take the boat when we were to go to Phnom Penh but had later changed the plans. The lake as I said was huge, and the boat driver came there and stopped for some time. We floated around and came to its floating markets. There was a woman selling her wares - snacks, coke, juice and so on - from a boat which she got near our boat. After spending some time there, we turned back, again going through the floating village, all the way back to the boats parking and back to Siem Reap. On the whole even though the experience was different, it almost felt like it was a slum tour and I wasn't impressed. I would say its a definite miss.
The drive back to the highway was again through green paddy fields surrounded by red sand which was quite picturesque. By this time, the weather was also a bit cooler and we were noticing the beauty around a lot more too ????. We had a long drive back to the highway and then took a break to have lunch at a garden restaurant called Stoeng Trorcheak Restaurant. It was a Khmer restaurant in the middle of nowhere, surrounded by a green garden and small stream around. It felt so cool and relaxed there, with a tasty menu, I loved the food there.
We also passed by a few furniture shops when coming back to Siem Reap which had beautiful stuff carved out of wood. It would have been great if we could get a few of those pieces home. And just before reaching our hotel, we ran into a huge street market near the Angkor ticket office. It went on for 100s of metres on both sides and they sold everything from clothes to household goods to food there. I think this must be quite a hit with tourists.
Once back we rested for a few hours again to get off the tiredness from the day and then went back again to pub street, our daily haunt ????. This time our tuktuk took us through a different route next to the river which felt quite different and more impressive than our usual one. The road was lined with huge French colonial buildings which looked quite majestic and fascinating at night. And the hotels and the buildings all along the river were all lighted up making the whole area look so alluring. Whichever area this was may also be a good place to stay.
Once at Pub street, we ran into a huge New Years show happening right on the street, with loud music and lot of people around. So it was even more abuzz with activity than usual. We ate at our favourite restaurant Dakshin again and then called it a day as we had an early morning flight to catch at 7am.
Overall, Siem Reap felt like a very relaxed place, almost like India at many levels. Except that it was a lot calmer and people were happier and more relaxed. People woke up very very early everyday, at 5 or 6 am. By the time we were off to Angkor, the whole city was be abuzz with activity.
There were loads of shops all around, full of so much stuff. But the good thing was no one pesters you to buy anything, which was a big boon. There were unlimited hotels in the city, we were surprised by how many! We were also getting daily massages there and realised that even though most of them were good, some could easily be very average too! In terms of activities, I heard another good thing to do is quad biking tours through the villages and rice fields. Its takes about 2 hours and was a nice way to see the area and real life in Cambodia.
Traffic was a lot more disciplined too, and even though it was crowded, the traffic was always moving and people followed the rules everywhere. Everyone used mopeds for everything. For food stalls, as a means of transport and of course the tuktuks. Women were driving mopeds too. There were loads of tuktuks everywhere, more than what they needed. So you could easily bargain with them on the fare. (I wonder if those tuktuks were being modified locally or they come manufactured from somewhere else?)
We stayed at the Le Meridien hotel which was among the best in the area. But we did not get enough time to enjoy it as we had such a busy schedule all the time ????. The Meridien had a beautiful lush garden around and nice landscaped pools, which were very prettily lighted at night, but as I said, we were barely there to enjoy it much.
Food
We went for dinner to Pub street everyday. Dakshin and Indian offered Indian food on Pub street and both were worth eating at for their tasty and authentic Indian offering. Angkor Palm in front of Le Meridien was quite an average option and a definite miss.
The Rohal garden restaurant in Angkor offers very cheap and tasty Cambodian food amidst a very natural and fresh ambience. And the Stoeng Trorcheak restaurant near the Sonle Tap restaurant is also quite similar. Very tasty local food amidst a natural environment of gardens and a small river. Overall, the Khmer cuisine is very tasty and has enough options for Indian vegetarian and spicy food loving tourists, so it wasn't a tough place at all.
Tips 1) Its better to take a one day pass to Angkor unless you really love old culture, temples and the like 2) Dont go to the floating villages, the Kampong Phluk. They are a bit of a rip off and not really that worthwhile either 3) Tuktuks are the way to go, the best and most fresh way to explore the area 4) Food is yum in Cambodia especially if you like spicy food, so definitely try the Khmer cuisine 5) The English of the local people is quite average, it causes a bit of a problem. Its fine but not too good. Even the English used on signboards in Angkor was quite terrible, sample this - ' possibility of visit, way of visit' when it should be saying, 'walk this way to continue the visit'