Cambodia houses magnificent Angkor temples showing off the beautiful Khmer architecture. From sunrises to sunsets each temple has a great view and history to offer!
After a tormenting time with the Ho Chi Minh to Cambodia land border crossing, I reached Phnom Penh in the evening. Phnom Penh was not as exciting as I imagined. I had thought that all of Cambodia would be filled with only serene temples and beautiful views. Well every place has cities and crowd. So I ignored Phnom Penh and just chilled near the hostel area for 1 day and then moved on to Siem Reap.
Siem Reap (for me) is synonymous to Cambodia. One can spend a few hours, to days and even weeks to soak into the beauty of numerous temples of the Khmer Empire. If you have a time crunch, you can visit all the temples in one day. Although a minimum of 2 days is preferable. And many more days, if you like to relax and ponder over every single carving and corner! ????
Phnom Penh : 1 day and 1 nightStayed at : One stop hostel
Siem Reap 3 days and 3 nightsStayed at : Happy Guest house, Wat Bo village, Siem Reap
Travelers: Two female backpackers
Important Points
Phnom Penh: One stop hostel is a good backpacker place to stay at. They have day trip options too, the most popular one is to the Killing fields. Short review: Typical city, crowded place. There is a night market and day trip option to Killing fields. You can skip Phnom Penh if you have a tight itinerary.
Travel to Siem Reap
2 Best option is to take the night sleeper bus from Phnom Penh to Siem Reap, you will save a day more to see around Siem Reap. I went by Giant ibis (16$ for sleeper) which has very good reviews in many of the traveler blogs. I would say it was average, the seats were torn and the in-house toilet that they advertise about was in the worst condition. It was rather a thrill ride, being thrown off inches above, from the torn sleeper seat. I spent the night tossing from side to side failing to get even a wink of sleep. I think it was partly due to the condition of the bus and partly due to the road or should I rather say, a lack of a road! ???? But I do not have any alternate suggestion, not sure how the other bus companies are/were relative to Giant ibis. It would be best to check at your hotel for the newest and best bus service.
Accommodation in Siem Reap:
Happy Guest house, Wat Bo village, Siem Reap, CambodiaShort review: Living area is great to hangout and has Wi-Fi. Lot of choices in food from western to local, its tasty and cheap! There were a lot of travelers who stayed elsewhere but came to this hotel for its good food. Rooms are average looking but clean. Toilets are manageable. All rooms do not have wi-fi as the router is in the common area alone. So ask for rooms which catch Wi-Fi. (if you are particular).
Transport and Visa options:
You can rent an electric bike which cannot ride beyond a 30 to 40 kmph or go for geared bikes. The other option is tuk tuks. Electric bikes were at 10 dollars per day, geared bikes and tuk tuks were at $ 15 a day.
Happy guest house had a tie up with a vendor for the bikes, who asked to leave our passports and sign a long agreement which said that even if the bike breaks down its our responsibility and that we may be charged for a puncture too. We were not comfortable leaving our passport due to our experiences in Vietnam. So we rented the tuk-tuk on all 3 days.
It shielded us (just a little bit) from the summer heat and dust and let us relax and nap in between the temple hops ????
How to enter Cambodia? - You can enter through land borders from Vietnam or Thailand. Ensure to check that the land borders provide visa on arrival / accepts e-visa before you make your travel bookings. You can directly fly into Phnom Penh or Siem Reap. I entered Cambodia via land border (Bavet) from Vietnam (as it a was more economical). Check the latest on the border checkpoints on the official Cambodian Embassy page
E-visa option is also available. I got my e-visa in less than 3 days of application. You can directly apply on their official site.
Temple pass and guide:
In Siem Reap you need a permit/ticket for the temples. It's a single day or 3 day pass. If you are staying for more than a day take the 3 day pass. They also have a week-long pass (7 days) if you are staying longer. Cost is 20, 40 and 60 $ for 1, 3 and 7 days respectively.
You can buy the passes at the Ticket booth at Angkor conservation area from 5 am to 5 30 pm. If you reserve a tuk-tuk, they normally take you to the ticket booth first. Ensure to carry this around to all temples as they check this at the entrance. If you lose it, am not sure of the options. I guess you did have to buy it again ????
You don't have to pay admission ticket for guide or tuk tuk drivers as its free entry for Cambodian citizens.
A tour guide will cost you about 40$, and that's for the whole group. So the bigger your group is the lesser it ends up costing you.
If you are an Indian and have read some mythology and if you have already taken temple tours with parents acting as your guide, then I would recommend to opt out of a guide. They might in fact not know as much as you do. As for the names of the places, you will have that in the map. And anyways the local tuk-tuk guy would also know the names and that will suffice.
Temple tips: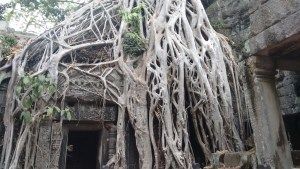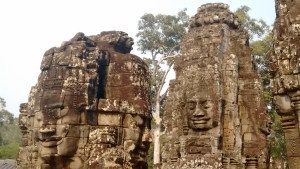 The temples on the map are grouped into a Big circuit and a small circuit. You can cover one circuit each day.
There are people who cover both the circuits in a day. That's also a possibility, if you rent your own bike. The tuk-tuks may not agree to cover all in a single day.
If you have the time you can visit even the smallest of the temples in Angkor Thom (Angkor area as its locally called) and you did probably lose count.

Few Places that are must see:
-Angkor Wat (of course): Sunrise and sunset visits to the temple provide great views.

-Ta Phrom : Original name was Raja Vihara which changed to Ta Phrom. This is the Tomb raider temple with roots entangled and growing into and out of the structures.

The roots of the silk-cotton trees appear like a weird new reptile all over and into the temples with the branches reaching high up in the sky! It's a miracle, it's a mystery and its a marvelously beautiful sight. We ended up visiting here twice, to sync in this natures wonder of co-existence or should I say a war of nature and man.

- Bayon Temple- Also known as a temple of thousand faces. It's amazing how each face is carved out with a similar smile, you will be nothing but happy here. And you cant help but smile back at all the thousand (as many as you can see) faces. Each column has 4 faces depicting compassion, sincerity, pity and joy! It's also called the temple of a thousand faces.
-Bantea Srei (pronounced Bentay sarai): Temple is dedicated to Shiva

- Preah Khan : temple built by Jayavarman VII for his dad. It has numerous doors leading to a Shiva Linga and then a Stupa. Its surrounded by multiple doors on all 4 sides, I felt like I was in a maze ????

- Neak Pean : Again built by Jayavarman VII, this is small round Buddhist temple at the center of a water body. It has a huge Nagasarpa (Serpent) surrounding the temples base.

Visit Angkor at both sunset and sunrise, sunrise is surely not to be missed. We repeated Angkor thrice, once was not enough, saw both sunset and sunrise view of Angkor. Our third visit was to take the balloon ride to get an aerial view at sunset. But the balloon ride was static. As in, it would move up and down at the same place, 1 km away from Angkor. It does not traverse and fly right above the temple area. So please skip the balloon ride unless you have too much money on you.

For sunrise view, if you are not taking a guide, set out early (by 5 am) and occupy a seat on the right side of the temple. That is after you enter one level inside.
Soon after sunrise, you should run ahead to the moat (water place). The magnificent Angkor Wat with the orange rising sun in the background and their reflection is a view to be framed!
Dress code for temples:
Cover your shoulders and knees (wear full length pants preferably). If you end up wearing shorts, you will find folks selling clothes at a price of their choice. I would recommend not to forget ;). The dress code applies to the inner sanctum (which is on the first floor) at Angkor Wat and few other temples in Angkor Thom area.
Currency and cost tips:
Everyone including a tender coconut or fruit vendor will take dollars. So you could carry dollars and use it without converting to Cambodian Riel.
All vendors will start with a dollar or quote more for even water (which is otherwise fixed in most other countries).
So bargain for EVERYTHING. Don't be ashamed of asking for less, because invariably looking at you they would have already quoted a higher price.
Water will vary by brand, it costs 1500 to 2000 Riel for 1.5 liter bottle.
Do not eat near the temples. You may not be able to avoid having lunch in the Angkor area as you will be in between your temple hopping. We had breakfast outside Angkor and the rates were much higher than Happy guest house (Wat bo Village) and they did not have variety either. Later I figured that Happy guest house has in fact the best and the cheapest food and water even compared to its neighbors. So its best suited for budget backpackers.
You can finish your meal well within $5 if you eat at Happy guest house or street food at pub street. Plan for 20$ a day for food and water.
Other things to do: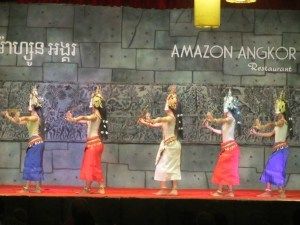 Experience the local Apsara dance show. Apsara dance is usually clubbed with a dinner at a good restaurant.
We booked through the Happy guest house for $10, it was at the Amazon Angkor restaurant.
It included dinner and the dance performance from 7 pm to 10 pm. Pick up and drop was inclusive. I enjoyed and savored the food as much as I loved the Apsara dance.
The filler dances though (folk dances), reminded me of school days where we performed because the teacher asked us to :P. Well, am happy I got those breaks to go and attack (and re attack) the huge buffet spread and live food counters.
Tip: Try to go early and chose a center (to stage) table and the one closest to the stage because everywhere else, people will keep standing up to click photographs and blocking your view.
Local market and street food near pub street is a good change from the day visit to temples
Itinerary: Cambodia (5 days) If you have less than a week, then the plan listed in this post fits you well. Phnom Penh (1 day), Siem Reap (3 days) PS: You can skip Phnom Penh and add a beach option down south if you have the time. People spend from 2 days to a month in Cambodia. It will depend on your travel taste and duration.
This post was originally published on Trails and Frames.
Frequent Searches Leading To This Page:-
khmer empire of ancient cambodia, khmer empire uncovered in cambodia, ancient capital of the khmer empire, khmer lost empire of cambodia, cambodia temple tour package