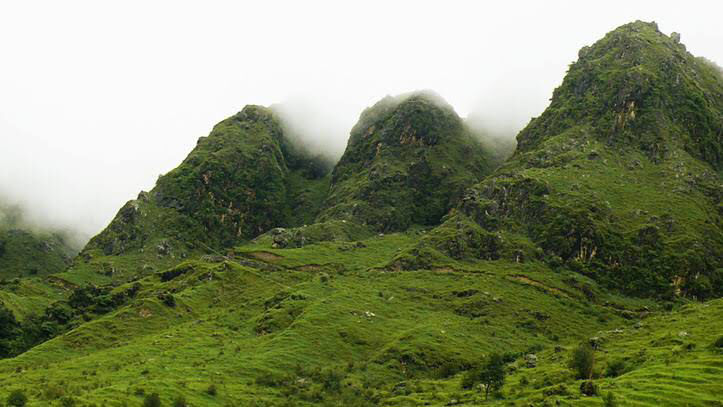 Chakrata... a small hill station near Dehradun.
Me and my friends were sitting and thinking which place should be our next trip, so after long discussion and scrolling through net and travel books, seriously we were reading travel books to search for a peaceful secluded hill station and there I saw Chakrata.
So planned and started the trip the very same night around 2am.
It was September month and route was very easy till Dehradun.
Chakrata is a cantonment town in Dehradun district and is 98 km from Dehradun.
It was originally a cantonment of the British Indian Army.
I personally travel a lot but this place was something different.. untouched secluded hill station and clean. Panoramic views, beautiful valleys and really nice roads.
It took us total 12 hours from Delhi to Chakrata.
So before I start I want you to all know I went approximately 8 years back and trust me it was amazing crystal clear and no tourist at all, so no garbage no dirt on the roads.
At that time there was one and only hotel and wasn't expensive at all.
Nice rooms and nice views , it was in the valley.
We were tired so had tea and slept .
Next day after breakfast we headed towards Tiger fall which the hotel owner told us to trek and go instead of taking the smaller route.
So we parked our car and started our trekking, trust me it was the most amazing and beautiful trek I have ever done in my life.. river flowing, padded fields, beautiful flowers around and the best company,there were small huts of the villagers in the jungle who had small tiny shops selling Maggie and chips and awesome ginger tea... loved it...then after 3 hours we finally reached tiger fall and it was simply superb... chilling water and amazing waterfall..
Water was so clear and was so relaxing to sit and enjoy the surroundings , hear water flowing and birds chirping and no distraction of horns or anything.
We spent lot of time there, some of my Friends were reading book, some were in water enjoying and I was at peace sitting and enjoying calmness and quite beautiful nature.
I guess after 4-5 hours we headed trekking back to our car , enjoyed bonfire with dinner at hotel.
Overall very relaxing day it was!
Next day we headed towards Deoban , it around 13 km from Chakrata – one of the highest view-points located at an elevation of 2200 m.
It is surrounded by dense deodar forests and has captivating views of snow clad peaks.
It's not an easy ride to Deoban, so pls hve heavy cars only to drive to this place, roads are rough and very narrow but worth visiting this place, it is having a very old forest guest house, no eating joint there but amazing clear view with greenery all around.
It took us around 2-3 hours to reach there as we were stopping and enjoying the views and on the way there is army camp as well which has some displays of military exercise where one can hve fun...
We had an amazing time visiting Chakrata, went to couple of temples and enjoyed there local food and enjoyed our time to the fullest.
We enjoyed our trip 7 years back so much, that again we all friends planned to revive those memories , so a year back we again visited this place , We all were surprised with the amount of commercialisation that has happened, lot of hotels have opened , tiger fall is full of polybags and shit and people are eating and throwing garbage here and there...
We returned from there in a days time from as couldn't see this , we even tried stopping some groups but no one really listens ... we even picked garbage from tiger fall & complaint locals and who were taking care of that place but couldn't see any action ..
So this is the condition of all hill stations now..