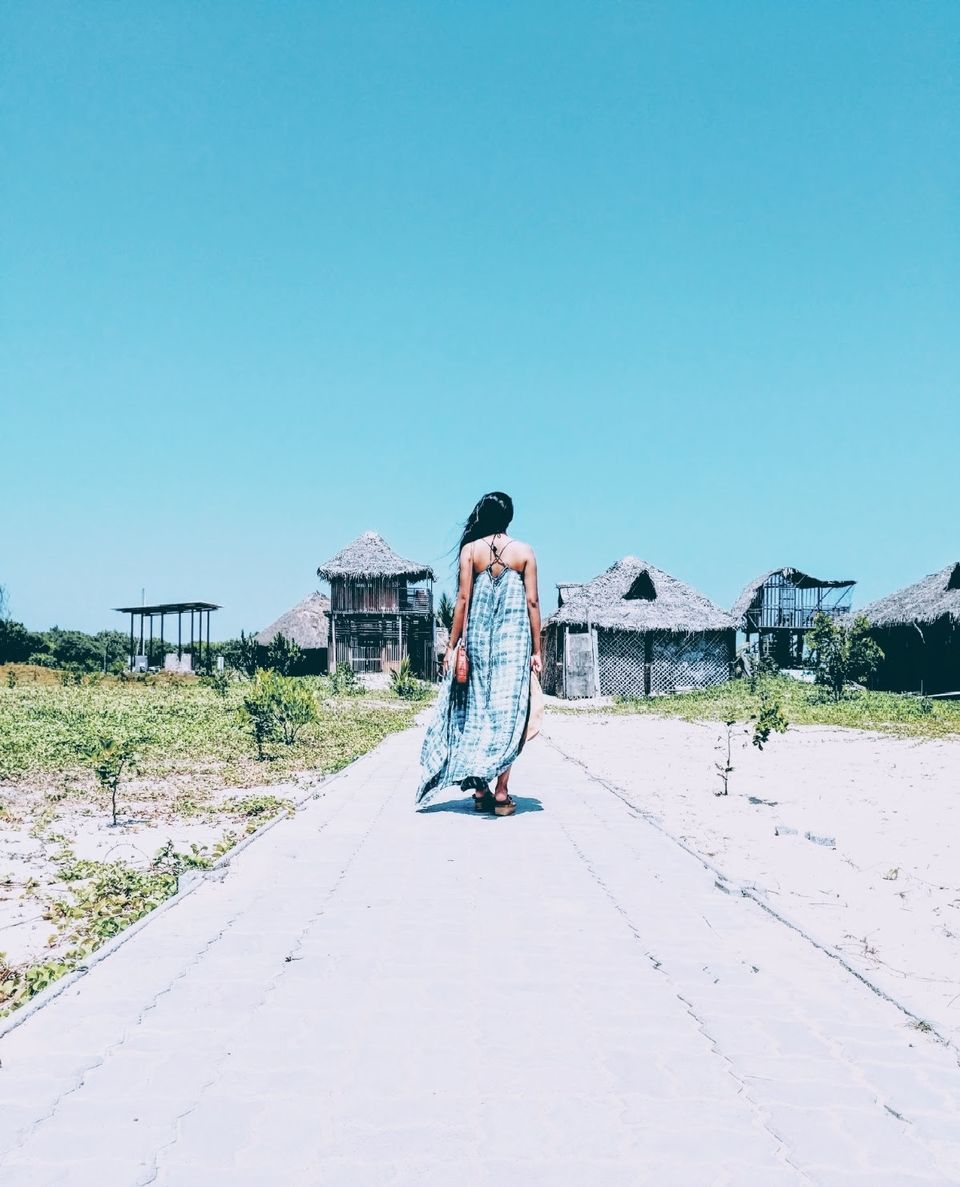 Hey, I am back with my second post, after a long delay. Most of you already know what it is about. Yayy right, trip to Pondicherry, which is one of the most impromptu trips that happened in my life. It was February 2018; the year had just begun. While I was contemplating life sitting in my office (aka corporate life), out of nowhere I decided to pack my bags and travel somewhere as I was super tired of the monotonous life. Since Pondicherry was on my bucket list for a long time, I decided to book a ticket right then and Yes, I made it there the very immediate weekend.
I have been to Pondicherry just once now but without a doubt, I can tell you, It is the go-to place if you are looking for a blissful getaway or a place with rich history, magnificent beaches, and some authentic seafood.
GET IN:
There are all possible modes of transport to Pondicherry. Since I was on a budget trip, I opted for Bus which was for Rs 1000 both ways. I traveled from Bangalore to Pondicherry which was a one-night journey (8 hours). One can travel to Pondicherry by Plane, Train, Car which again depends on the place you are traveling from. I have also heard that there is a Cruise ship between Chennai and Pondicherry for 3 hr and that sounds cool!!!
GET AROUND, HOTEL AND ITINERARY FOR THE TRIP TO PONDICHERRY:
Places Visited: Rock/Promenade Beach, French Colony, M G Road, White town.
Food: Le Café, GMT, Le TERRASSE, Cream Affair
Get around: Walk, Bicycle Rs 100/day
Stay: Hotel Le Mirage, M G Road (3 days)
I did not really have an agenda on places to cover in Pondicherry. All I was looking for was to have 3 blissful days for self to do whatever my mind and heart asked for. I just wanted to make the most of it.
I had booked Hotel 'Le Mirage' which is in the heart of Pondicherry. Took an auto to reach my hotel from the bus stop and had to do an early check-in as I had reached Pondicherry super early (6 am). I quickly dumped all my stuff in my room, got ready, headed to the Rock beach for French breakfast by the beach which I was very excited about. After a good 15 mins (1 Km) walk, I found Le Café which is one of the popular Cafes on the Rock beach front. I ordered some French breakfast on their menu (Cannot really recall what the name of the breakfast was) and some authentic coffee. For me, Rock beach was love at first sight in a true sense. After spending some quality time sipping on hot coffee, enjoying the breezy morning with a magnificent view of the beach at the Café, I decided to take a stroll in the city within a walking distance from my hotel.
I used Google map on my phone and started walking towards the French Colony. The charming town and its French legacy are preserved with mustard-colored colonial villas, tree-lined streets, old French Cafes, and chic boutiques making it remarkably close to giving you a feel of the French culture. A good 2 hours of a stroll in the French colony, White town, and M G Road, the sun had already started beating down like bullets on my body clobbered with sunscreen making me run back to the hotel for some rest. By the time I got back to the hotel, my stomach started growling as it was already 1.30 pm and I could not help myself from ordering scrumptious seafood platter meal which was overfilling and something cold to sip on to beat the heat. After a heavy lunch, I fell asleep in no time.
My alarm woke me up at 5 pm reminding me to witness sunset at the beach. I got freshened up and rented a bicycle for Rs 100 /day at the hotel and this time, it was a whole new experience riding to the beach in the streets of French colony when the sun was almost down. The moment I reached the Rock beach, I could not believe but bear the fact that it was totally crowded giving the place an entirely different vibe compared to what I had seen in the morning. It looked like a fair. Although it was crowded, I was fascinated by the vibe.
The vehicle riding on the beach front is banned before 10 am and after 6 pm making it available for the city to enjoy the place. But I couldn't stop myself from sneaking in to ride my bicycle on that beautiful road I had seen lined by the palm trees. I was warned twice to stop riding there but my heart didn't stop me. I continued doing rounds on that road until they stopped me for the third time with a serious note. Huhuhehheh. I had the best time.
Now it was time for me to park my bicycle and barge into the souvenir store on the beach front. There were varieties of items which caught my eyes. I finally came out with 2 colorful sand timers in hand. And, Oh how can I miss mentioning the other most favorite part of the day! It was the Jack-fruit ice cream that I had from GMT, the famous ice cream shop on the beach front. Guess I down 3 of them. Soo delicious that I feel I need one right now!!!!
After chilling some time at the beach near the port area, I rode to have dinner at LA TERRASSE followed by dessert at this beautiful place called 'Cream affair'. By now I had realized my love for Rock beach, where I had kind of found my peace, I decided to visit it every day till the time of my stay at Pondicherry. By the time I got back to the hotel, it was around 10.30 pm. I hit the bed in no time dreaming about the next morning bicycle ride to sunrise at the beach.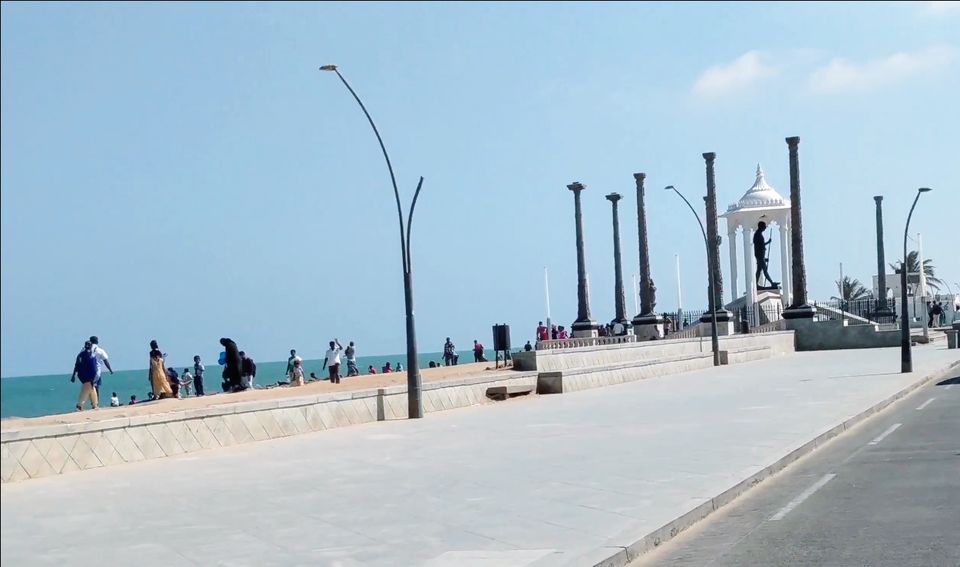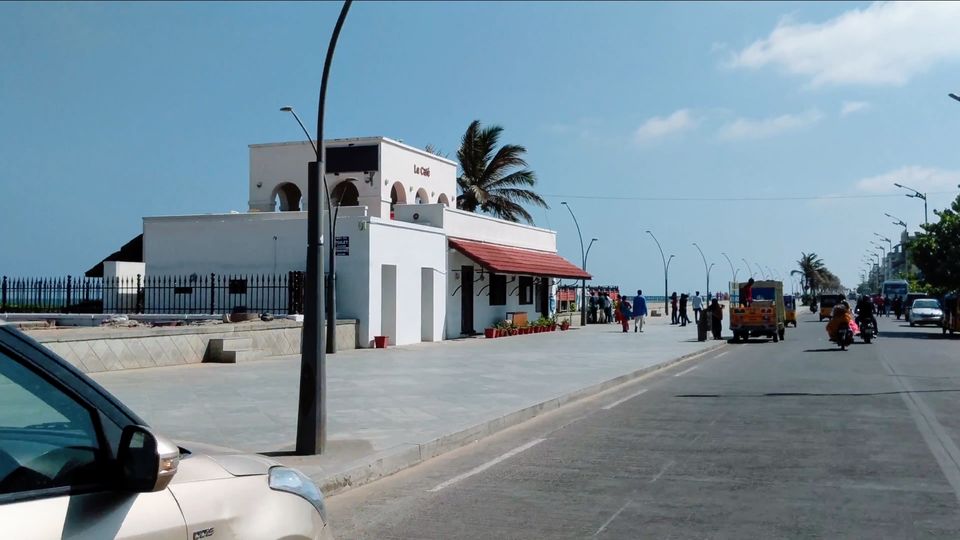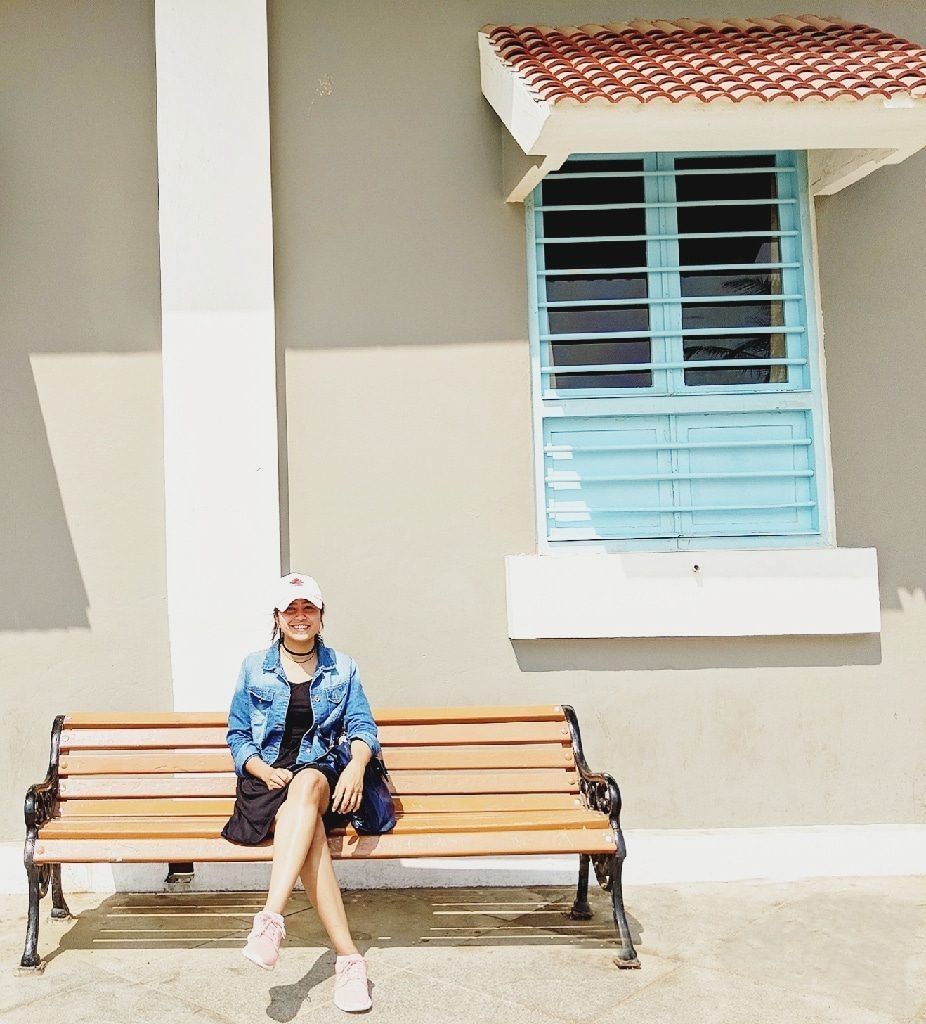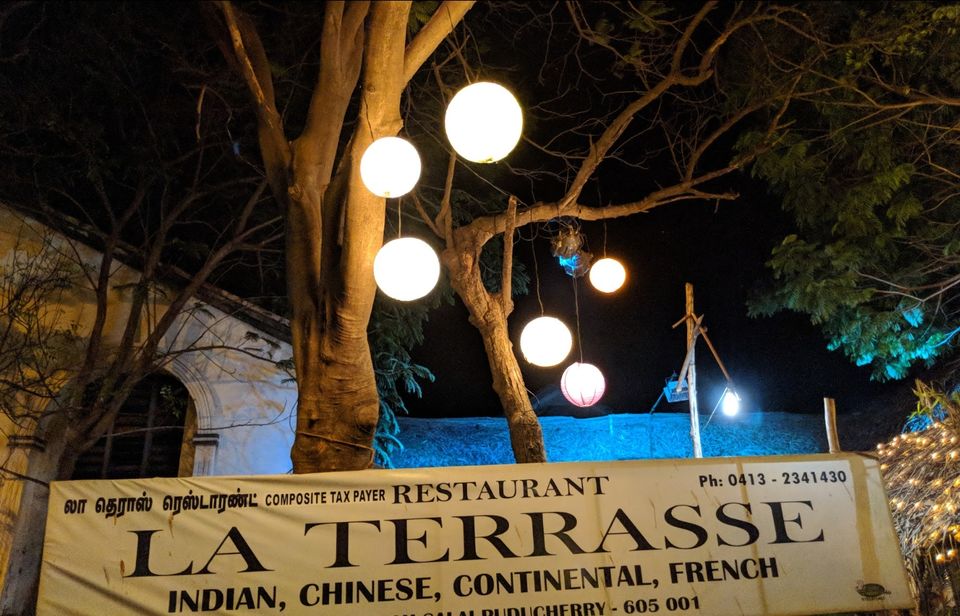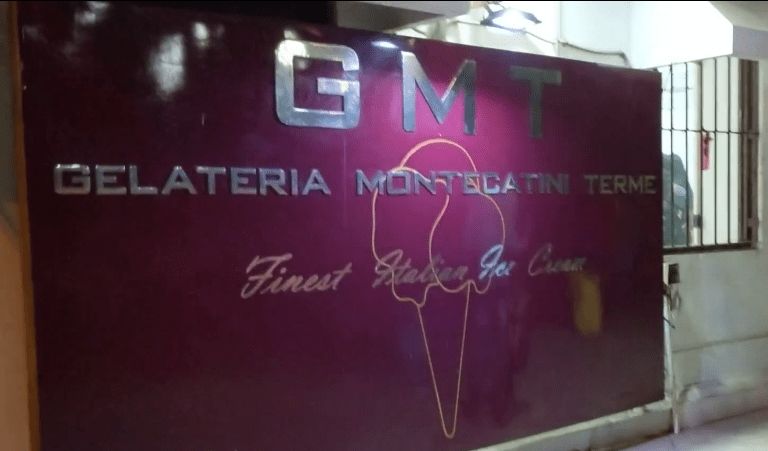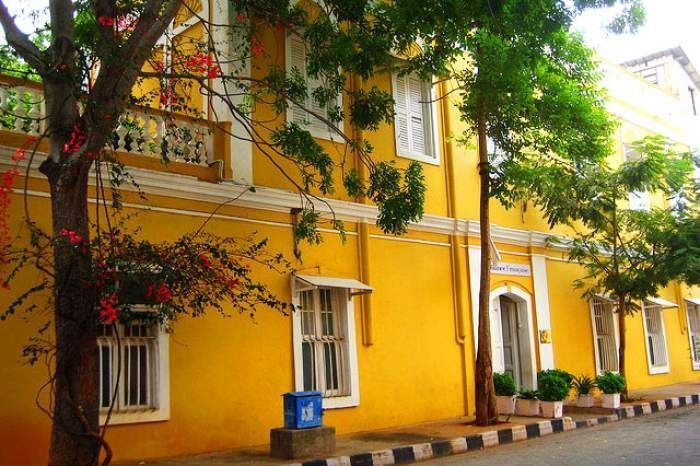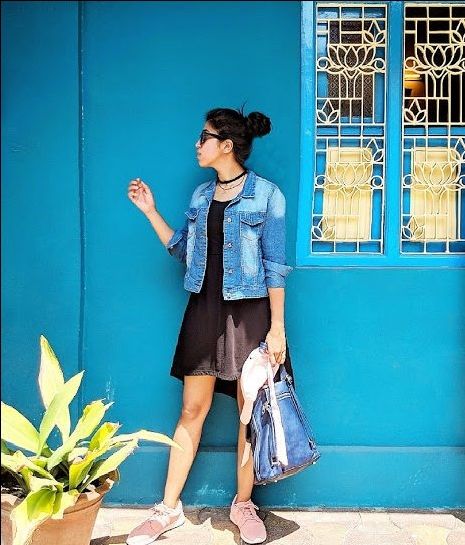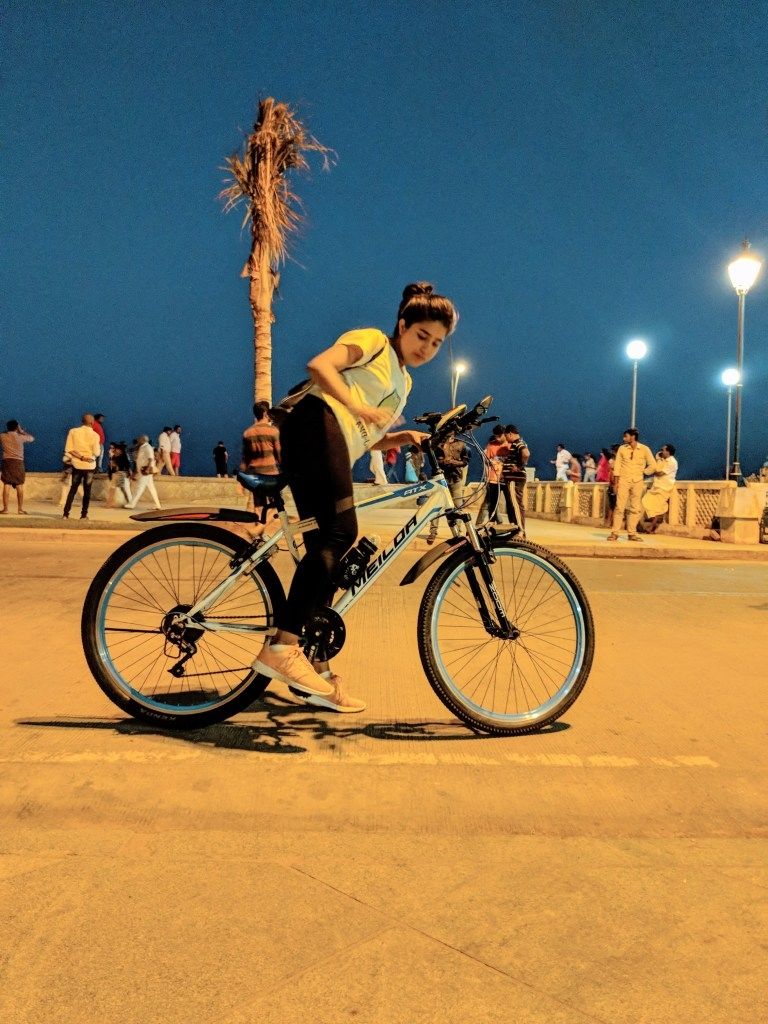 Places Visited: Rock/Promenade Beach, Serenity Beach, Sunday Flea Market, Basilica of the Sacred Heart of Jesus Church
Food: THEEVU PLAGE, GMT, Disdis & co
Get around: Scooter Rs 300/day
I was up before even my alarm rang. It was around 4.10 am. Got ready to head towards the beach by my bicycle and made it to the beach by 5.15 am. The sky was still dim. I sat on the rocks there looking up into the sky filled with clouds swirling above me waiting for the sun to rise. All I could see there were few people at a distance jogging, walking out dogs adding vitality to the place. In no time the whole landscape was bathed in the warm glow of the rising sun. Palm trees swayed gently in the breeze in the warm tropical sunshine. The entire place looked gorgeous and rejuvenating. Sometimes, to indulge in the beauty of the place in the early morning hours is the best therapy of all out there.
After the sun was finally out, I headed to the beach area near Jetty (a bridge like structure) where I could see many fishermen bring their boats to the seashore who had gone for fishing early in the morning, which was a beautiful sight to behold. I also managed to collect a few shells and dry starfishes from the shore.
An incident to remember: While I was filming the fisherman sorting out their catch for the day, I noticed a fish that was still alive. Seemed like it was taking its last few breaths. I bought that fish from the owner for Rs 20 and ran to the beach to leave it back to the sea. I badly wanted to watch my fish swim back into the ocean. But, my wish didn't come true as the fish was dead by the time it was taken to the water. Honestly, I have got so much more to tell from what I experienced at this place, but for now, I will let the photos speak for themselves!!
An incident to remember: When I was almost near my hotel at night, a kid on road suddenly fell down and started acting like he got fids attack. There was literally none on road. All I could do was give him my key and make him lay on the iron grating nearby. After some time, he looked better, sat down, and started asking for money. I had already freaked out and was feeling all nervous, seeing him. I went ahead to help him with some money and there comes my Hotel manager saying it's their usual acts to pull money from people (Tourists). Yet, I felt there must be some reason that is making him do all this and decided to buy him food instead. I got into the room with a bunch of thoughts hit my brain and of course goosebumps.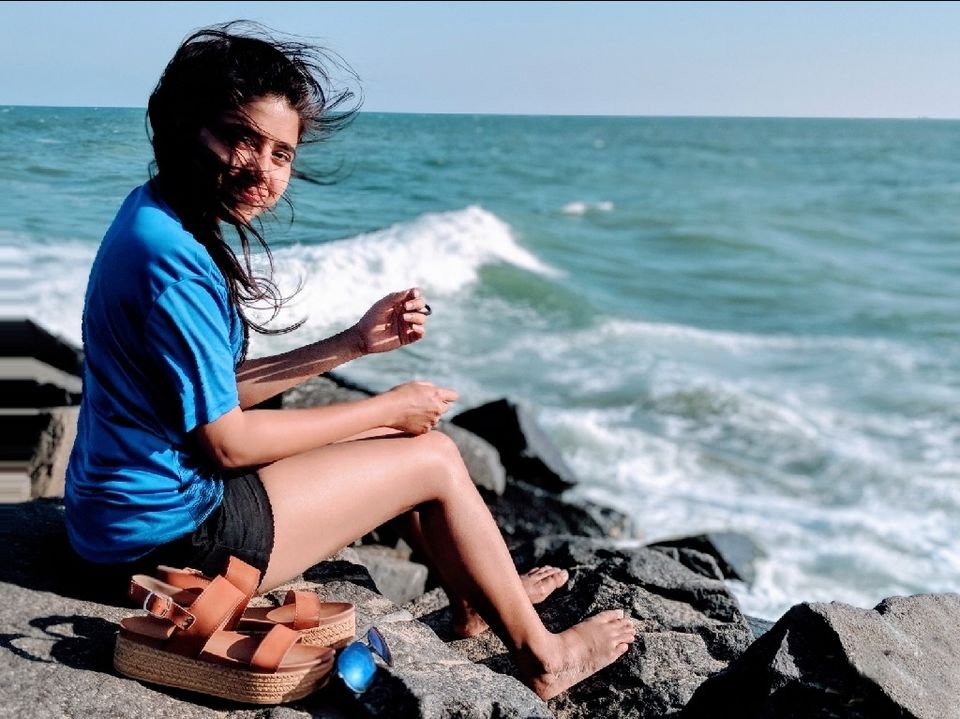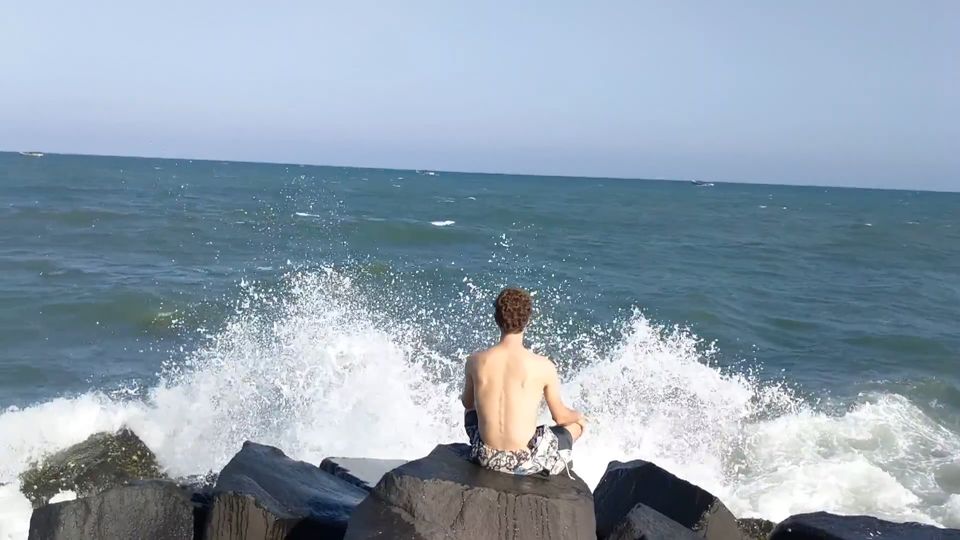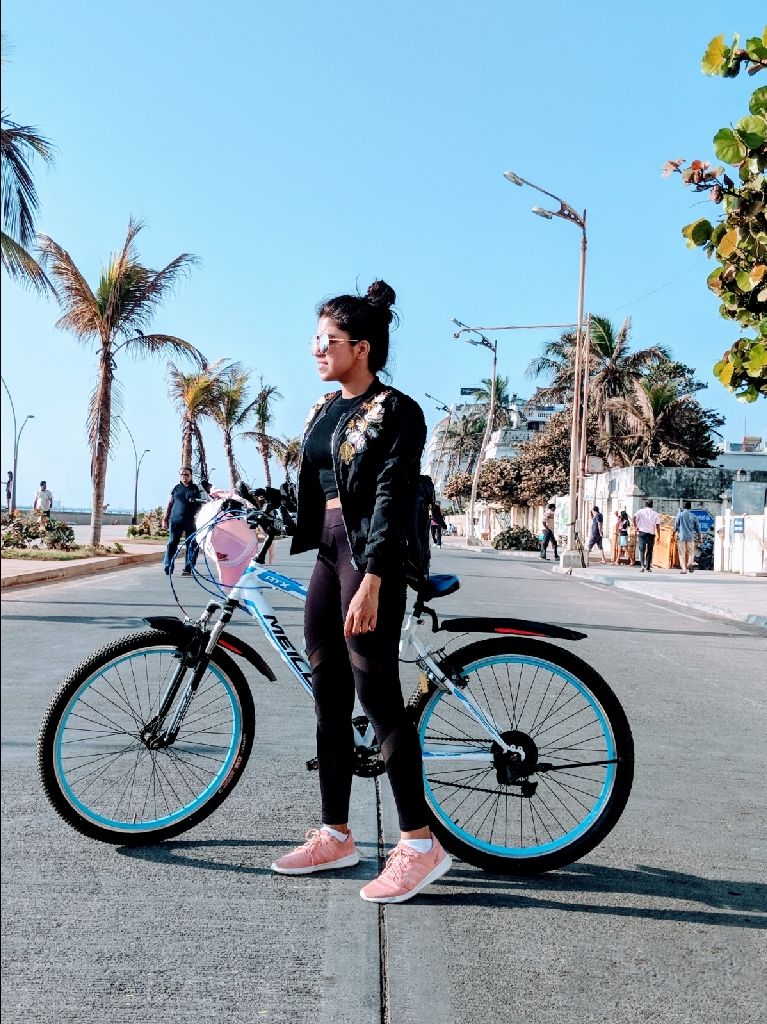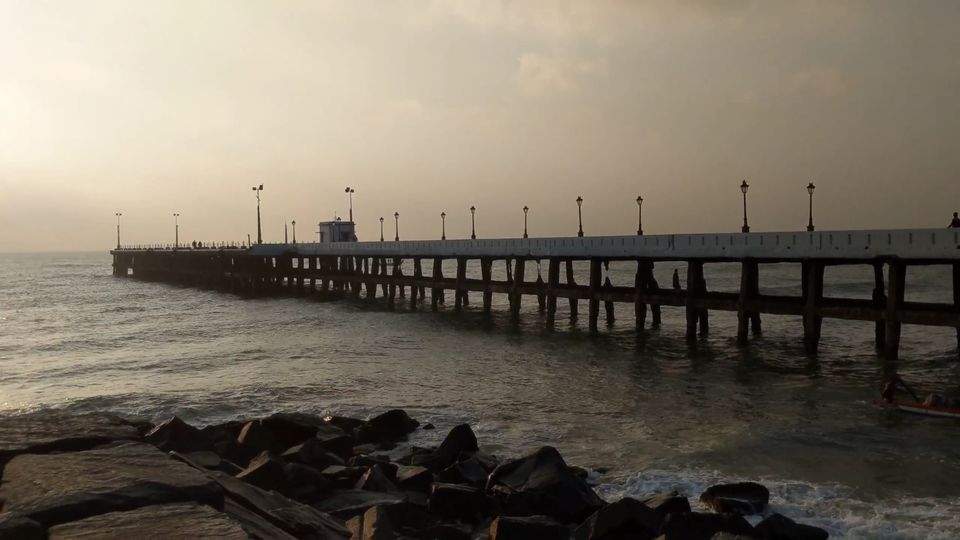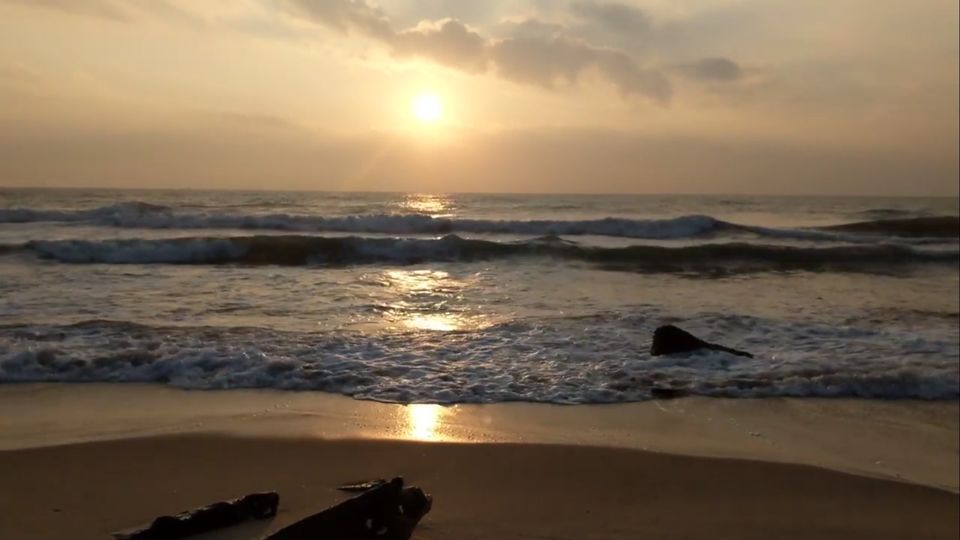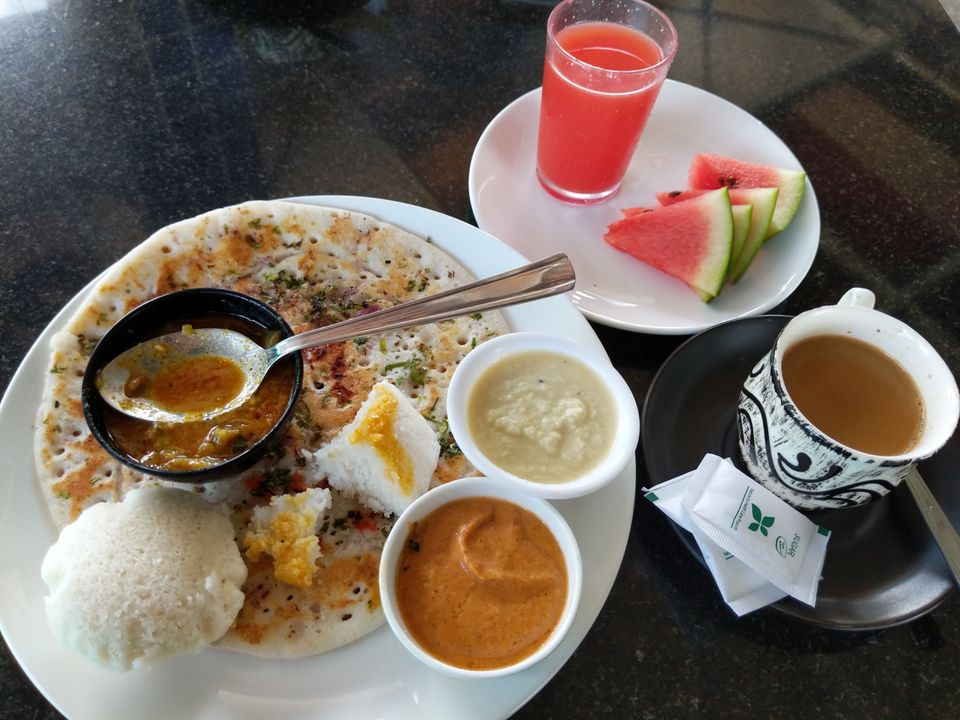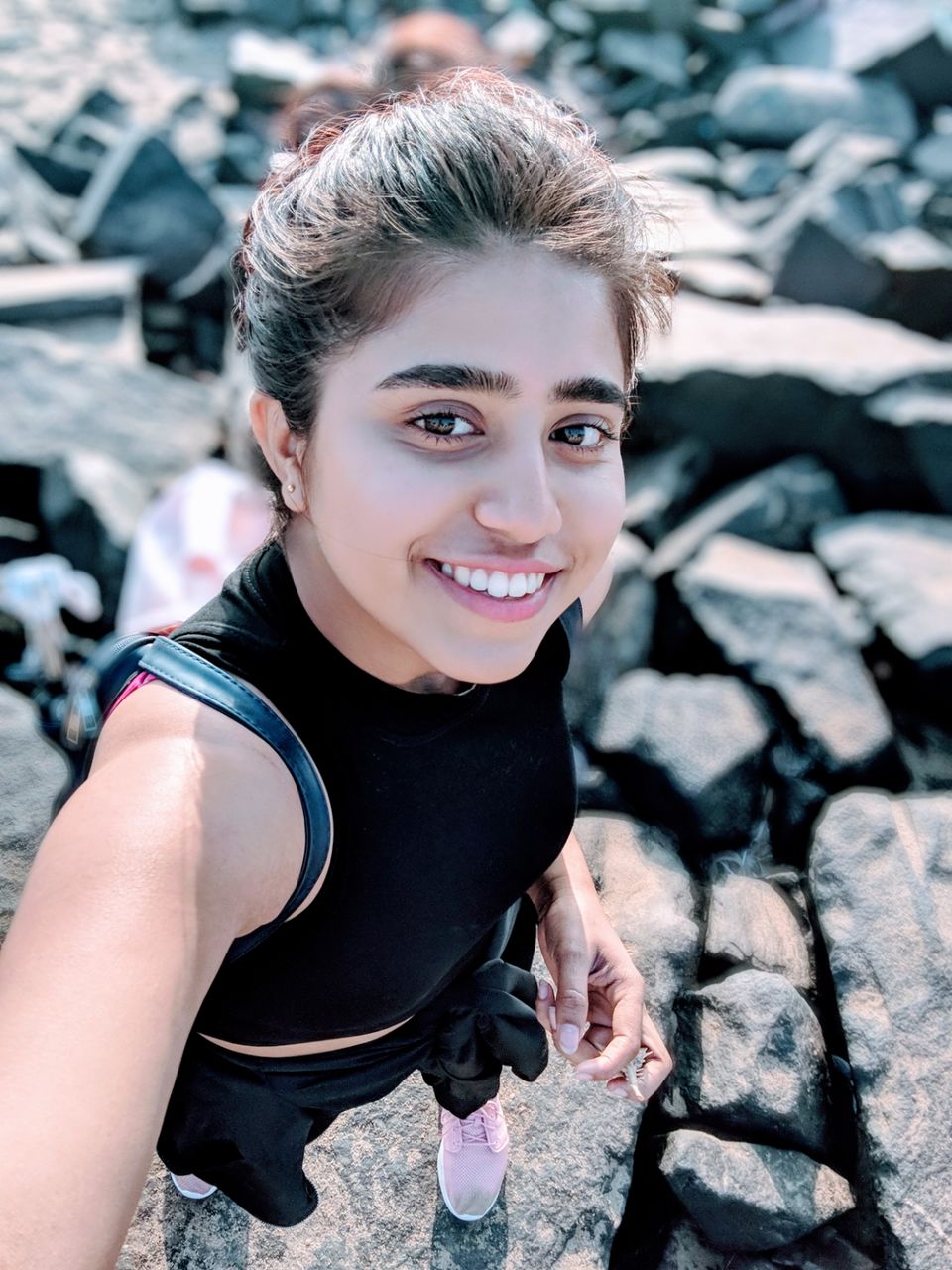 Places Visited: Rock/Promenade Beach, Chunnambar, Paradise Beach
Food: Food stall at Paradise beach, GMT
Get around: Scooter Rs 300/day, Chunnambar boat ride to Paradise beach for Rs. 150/head
As usual, my morning was started by visiting the Rock beach. After a breakfast at the hotel, I headed to the beach to spend the last morning in Pondicherry. Yet another beautiful morning in the beautiful city!!!
I had planned to visit Paradise beach on a weekday to avoid the crowd and to make the best use of the time there. And it was Monday. I rode to Chunnambar and bought myself a ticket for Rs.150 to get to the paradise beach. It was a 20 to 25 mins ferry ride to the beautiful island. The backwaters on the way to the beach are green giving you some amazing view of the place. I also spotted a lot of birds while on the ride to the beach.
For me, the beach was more than expected. Adorned with the white sand, palm trees swaying in a cold sea breeze, little shacks; Elegant and subtle. There were few shops on the beach selling hot instant Maggi, some local food and coconut water. I bought a cup of Maggi, a local dish, coconut water and perched myself at a good spot on the sand to munch on the food I bought while gazing out at the sea to enjoy the beauty of the place. I spent time exploring this little island until it was time for the last ferry to leave to Chunnambar. What a Beautiful day; Totally relaxing. Do nothing but gaze at the sea. I suggest you visit on weekdays to make the most of it.
Got back to the hotel in the evening, got fresh and headed to Rock beach to grab the last Jack-fruit ice cream of my trip. Spent some time at the rock beach recalling my 3 days in Pondicherry. What a trip!!! I was more than happy. It felt so hard to say goodbye.
Pondicherry is someplace that has my heart and I am sure going back someday to create more memories. Until then keep exploring this space. Much Love!