Meghalaya, known as the abode of clouds, is actually quite famous for its gorgeous waterfalls and valleys. I am not kidding when I saw that if you visit this place after monsoon, you will literally find a waterfall in every 10 km.
But that's not all. Apart from being the home to numerous waterfalls, this place is also known to have some of the most beautiful waterfalls in entire India. Be it Krang Shuri in Jowai or Nohkalikai in Cherrapunjee, Meghalaya is a paradise for waterfall lovers.
However, out of all these waterfalls, the one which remains close to my heart is the one which was difficult to reach. Now, a lot of you might have heard about the Rainbow waterfall but I am sure most of you would be unaware of this beauty.
In this article, I have explained in detail about this gorgeous hidden waterfall, how to reach here, and other important information. Make sure that you definitely pay a visit to this waterfall when you plan for Meghalaya.
Situated around 18 km from Cherrapunjee, Rainbow Waterfalls is a popular yet serene waterfall located near the Nongriat Village. It is located around 3 km from the Double Decker Root Bridge in Nongriat and can only be reached by trekking.
This is why it is still so clean and beautiful as it is only for people who can work for it. But honestly, it is one of the most gorgeous waterfalls in Meghalaya.
Secluded in the forest, this waterfall got its name from the fact that one can see a small rainbow here whenever the sun's rays fall on the waterfall. But only the lucky ones can witness this phenomena as sunshine is not frequent in this part of India.
Best Time to Visit Rainbow Waterfall
Well, depending on what you are interested in doing, there are different times to visit Rainbow waterfall.
Monsoon Season (May - August)
If you wish to see this waterfall in all its glory and don't care about the rainbow then monsoon is a good time to visit. However, trekking during the monsoon months is really difficult and risky.
Also, you won't be able to go near the waterfall as the water flow is too strong at this time.
Winter Season (September - January)
A lot of people visit Meghalaya in the winter season, just after the monsoon. This is definitely a good time to visit the Rainbow falls as it is easier to trek around the Nongriat Village.
However, you still won't be able to get in the water as the flow remains high at this time.
Summer Season (February - April)
The best time to visit Rainbow waterfalls if you are interested in watching the rainbow and swimming in the fall is the summer season. During this time, the flow of the waterfall is slightly less but the waterfall looks blue as ever.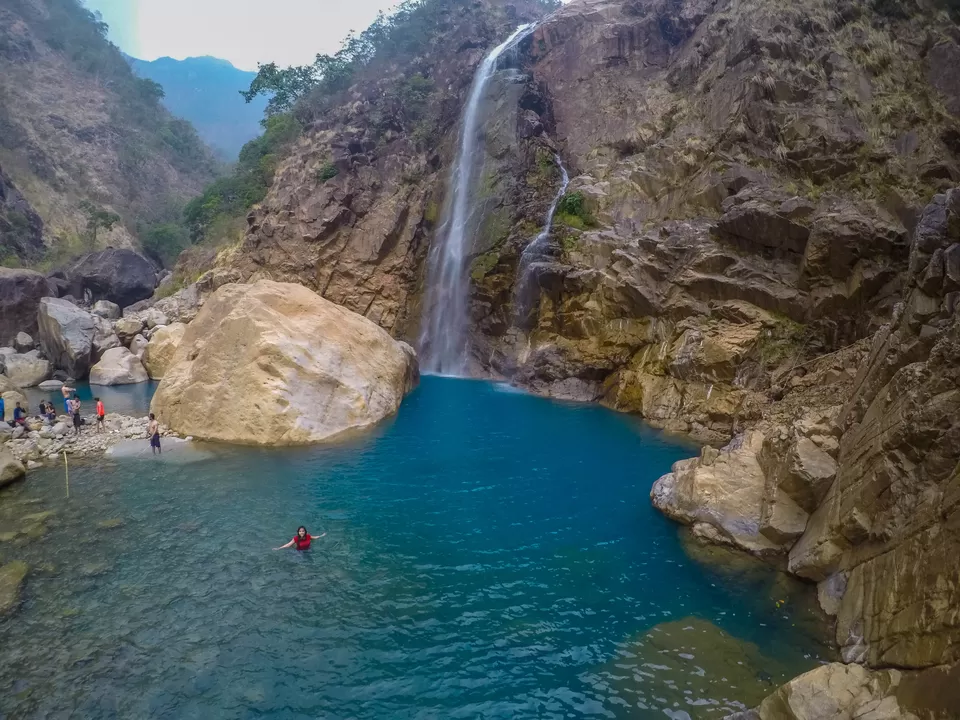 Plus, it is extremely easy to reach during this time and you can spend a couple of hours wading in the pool and just enjoying a sunny afternoon here.
How to Reach Rainbow Waterfall
As I mentioned before, the only way to reach Rainbow Waterfall is by trekking from the Double Decker Root Bridge in Nongriat Village. So, you will need to reach the Tyrna Village first and then climb down 3,000 steps to the Nongriat Village.
How to Reach Tyrna Village
If you know how to drive a scooty, then you can easily rent a scooty for 600 - 700 INR per day and reach Tyrna Village in 3-4 hours.
For people who don't know how to ride a scooty, cabs and buses are the best option. You can take a bus to Cherrapunjee and then get a shared taxi/cab to Tyrna Village from here.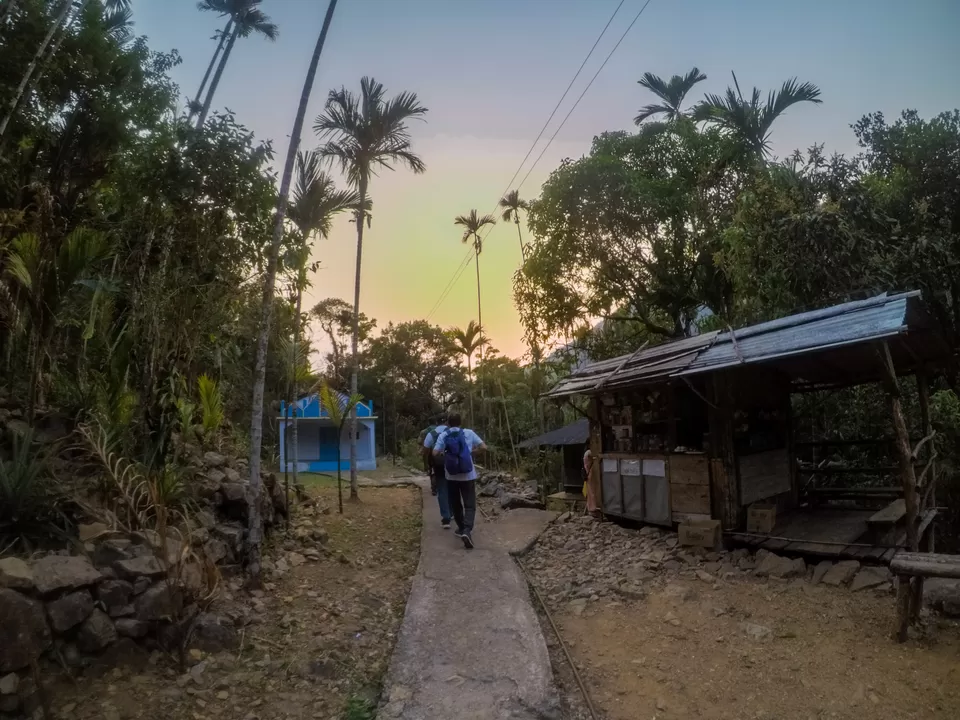 Another option is to take a private cab from Shillong to Tyrna Village but it will be expensive if you are traveling alone.
Tyrna to Nongriat Village
Once you reach the Tyrna village, it will take you around 1.15 - 1.3 hours to reach the Nongriat Village. There are 3000 steps and the route can be pretty tiring so make sure you stay the night here and go for the Rainbow falls the next day.
Rainbow Waterfall Trek Details
Time Taken: 3 hours for going and coming back to Double Decker Root Bridge
Distance from Double Decker Root Bridge: 3 km (one side)
Make sure that you start the trek for the Rainbow waterfalls around 6-7 a.m. in the morning if you are planning to return to Tyrna the same day.
If not, then you can easily leave after having a filling breakfast around 8 - 9 a.m.
There are many ascents and descents on the route so it can get a little tiring. Make sure that you get a good pair of hiking shoes for the trek and do carry the First Aid kit with you in case of emergencies.
If you are trekking in a group, then there is no need of the guide as the route to Rainbow waterfalls is pretty easy. And there is also a board midway pointing you to the right direction and showing how much time is left.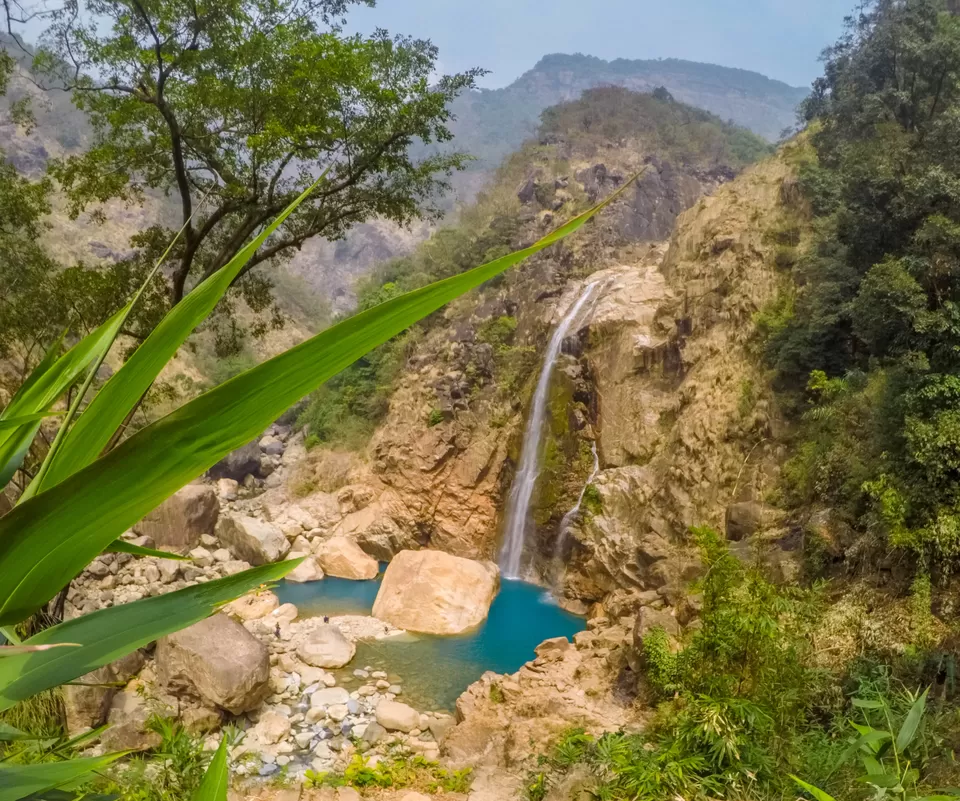 But if you are trekking alone, then I would recommend you taking a guide for 200-300 INR. This is because, although the path is simple, you might get hurt on the trek. And usually, there aren't many people on this route and there is barely any network signal as well. So, it would be better to either trek with other travelers or get a local guide for yourself.
Rainbow Waterfall Trek Route
For the Rainbow waterfall, you will need to reach the Double Decker Root Bridge first. From here, it is the straight path leading away from the Nongriat village.
After 5-10 minutes of walking, you will come across an open ground which would resemble a cricket or football ground to you. From here, it is another 10 minutes walk to the second suspension bridge which is connected to another root living bridge.
Once you cross this, your trek actually starts because it is an uphill climb for a while. Thankfully, there are a few steps here so you don't have to worry about slipping down to the bottom. For another 30 minutes, you will be walking on this trail and there will be only 1 food joint on the way.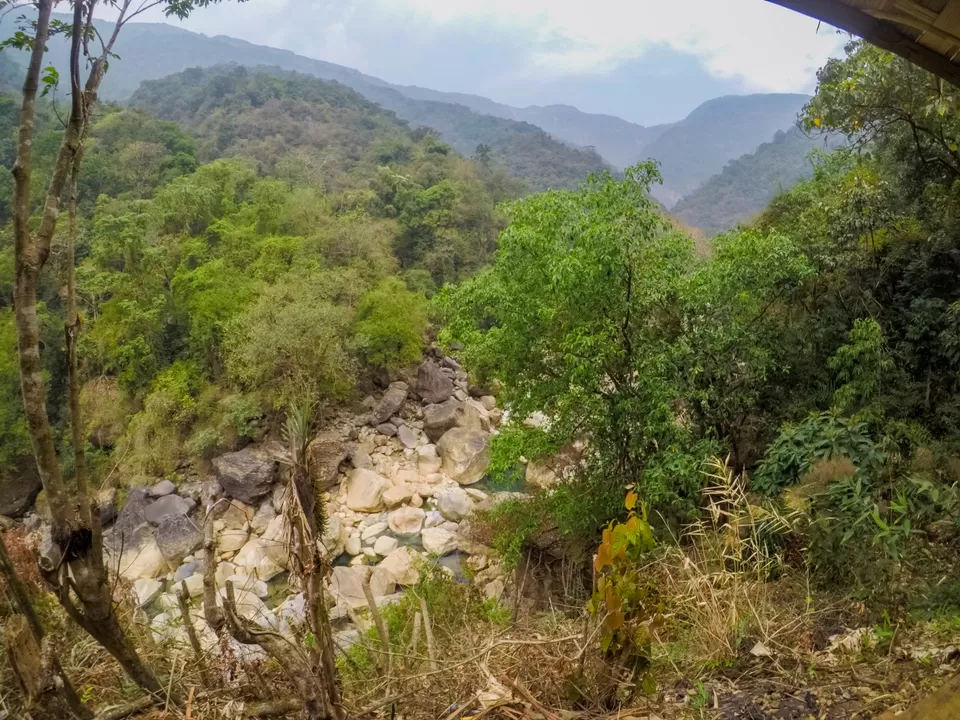 You can also see the valley view on your left hand side which is extremely gorgeous. Make sure that you stop to catch your breath at this shop and have a cup of tea or refreshments to get your energy back because it is another 40-45 minutes to the falls.
After 5-10 minutes from the shop, you will see a small patch of turquoise blue water. No, this is not your stop, it is a random river pool where you can get down to chill. You will see a board here which will show that Rainbow Waterfall is another 30 minutes from this point.
The route after this point is even more steep and slippery. After another 20-25 minutes, you will start descending on the steep stairs which will take you to the waterfall.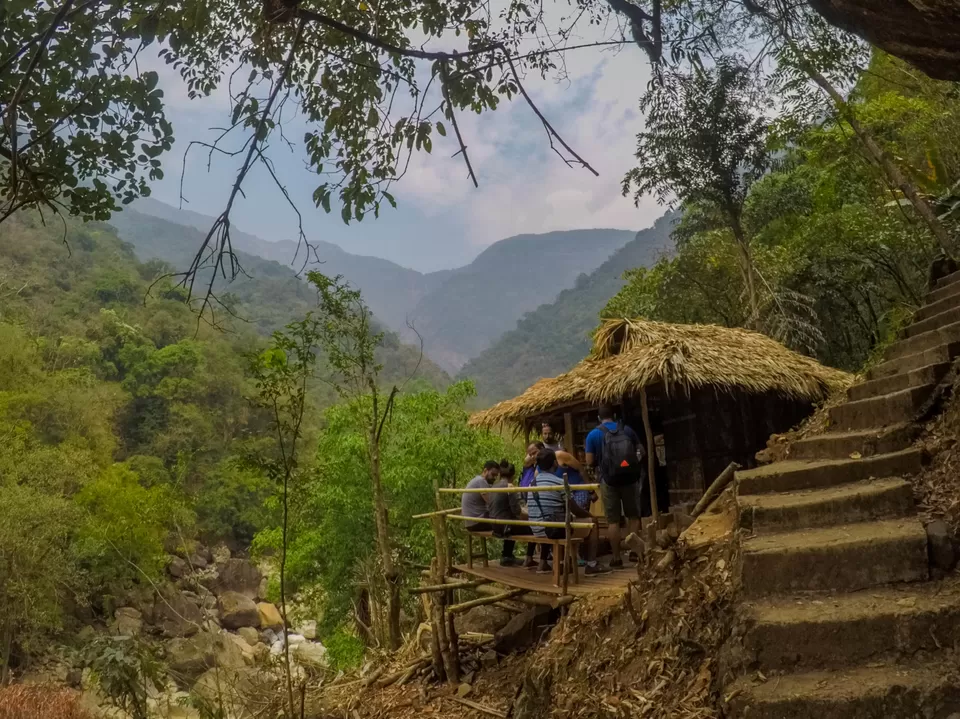 Congratulations! You have finally reached the Rainbow Waterfall.
Here, you can change into your swimsuit in the changing room or simply climb down the rocks to swim in the waterfall pool (This can only be done during summers).
Summary
Honestly, the trek to Rainbow waterfalls was quite tiring in the Summer season too. But it was completely worth all that effort. Sure, getting down the rocks to the fall pool is difficult and climbing back even more so, but that feeling of dipping your feet in the cool, fresh water is just amazing.
And if you are natural rock climber or swimmer, then you would love spending atleast 2-3 hours here, enjoying this secluded and beautiful area which is away from the crowds.
Frequent Searches Leading To This Page:-
meghalaya trekking packages, 3 day meghalaya trekking tour, meghalaya trekking tours, best trekking in meghalaya, rafting in meghalaya