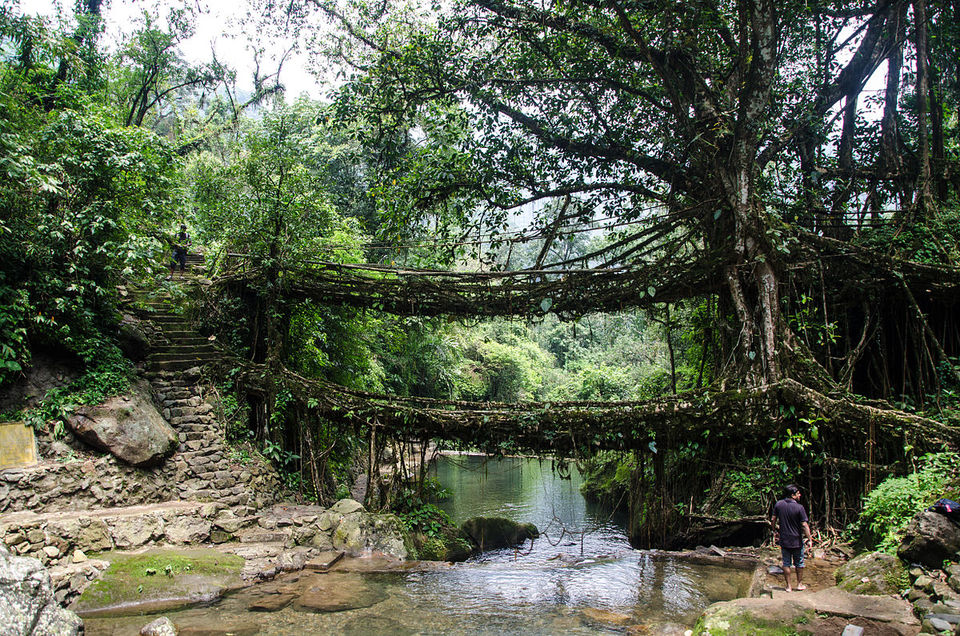 Hellozz,
This post is about my trek to Living root bridge, Single and Double. First of all I would like to mention few key points:
Definitely visit this place if you are a nature lover and need some peaceful time out of your conventional activities. Time to Visit: Plan your travel post monsoons when it is neither rainy nor dry. If possible then plan to stay in the village in between to enjoy the beauty of nature and relax. Pack your bag as per you stay plan. Do carry clothes along with you as there are very refreshing water falls and natural pools which are like totally awesome. If you are planning to stay in the resort, then make sure you book it well in advance as it gets full very quickly. Make sure you carry enough water and energy supplements with you (we took snickers with us along with water) I will not be posting images of the bridge itself as those pictures are readily available over the net. Difficulty level: Moderate to difficult (Gets difficult if you wanna go and come back the same day) NOTE: PLEASE DO NOT LITTER SUCH NATURAL BEAUTIFUL PLACES.
Now, the story begins...
We started from Shillong to Cherrapunji at around 7:30 AM. Had breakfast and reached Cherrapunji by 10:30. Below is the board that you have to spot to get to the right direction.
This board is placed in the left hand side of the road at around 2 km from the resort. Follow the board and reach the starting point. There is a board welcoming you to Living Root Bridge.
For the reference, here is the MAP to be followed for the trek :
As you start you have to climb down few steps and take the first left down. Now you have good around 2000 steps to walk down amidst lush green trees. Once you reach down you will find a small board pointing towards Root bridge.
Follow it and volla!! you have reached the bridge. Just absorb the beauty but do not stop for long as you have a long way to cover. There is a small shop from where you can buy some eatables to munch on.
Now, start back to the board point and start moving to the other direction for Double Decker Root Bridge. The next thing to stop by is a natural pool where the water is clear green.
In order to reach down you have to climb down the rocks as there are no steps constructed to get down. Once done, you climb up, go over the steel bridge and continue to walk.
Now the happy journey of climbing down has ended and you have to walk up the steps so the train gets tiring now. Just follow the steps and you will reach a village 'Nongriat'. In case you are planning to stay, this is the place where you have to look for options. Serene Homestay is one of the place to stay here. I am not sure about the pricing as we (Me and My husband) didn't plan to stay. If you have not got clothes for the water bodies ahead you might want to check here for clothes. Just after the village what you visualize is Double Decker Living root bridge.
After spending sometime there, start walking towards the 'Rainbow Waterfall'. I guess this was the main attraction for us because on our way down many people who were coming back praised it so much that it became an absolute must to visit.
There was no constructed way to reach the waterfall. After the double decker bridge, there was a ground. On one side there were few steps and the other side was leading to a graveyard. Follow the steps and keep on moving forward. You would find steel bridge and many natural pools on the way. Stop there and enjoy if time permits. We were in a rush as we had to come back to the starting point after visiting Rainbow waterfall before it gets dark.
You would find a small blue board directing you to Rainbow waterfall.
The journey from Double Decker to Rainbow fall was very tiring and it might get a bit risky if it's wet as the path is very narrow and with deep dense valleys on the side. This is where that extra water and snickers would come to rescue. It took around 1 hour to reach without stopping.
On the way you find a fallen tree, just cross that tree, keep walking and you would see an amazing waterfall. But how to reach down? Well, you have to literally crawl down the hillocks/boulders to reach the water. And there you go.
This place was a real heaven with so refreshing wind and water. We literally got re-energized after the dip in the water. It was crystal clear blue water :):).
If you have time you can spend like full day there and get back to your home stay in the evening before it gets dark.
As this place was surrounded by dense forest, so we had to start back to reach the starting point before it gets dark. So we started back around 3:30 and reached our car by 6 PM.
We were dead tired and super hungry so we directly headed to Shillong for dinner.
This Map was provided by the Resort but Rainbow waterfall is not mentioned in the map provided. That is something unexplored. You must definitely go there.