4 PM, 17 November 2018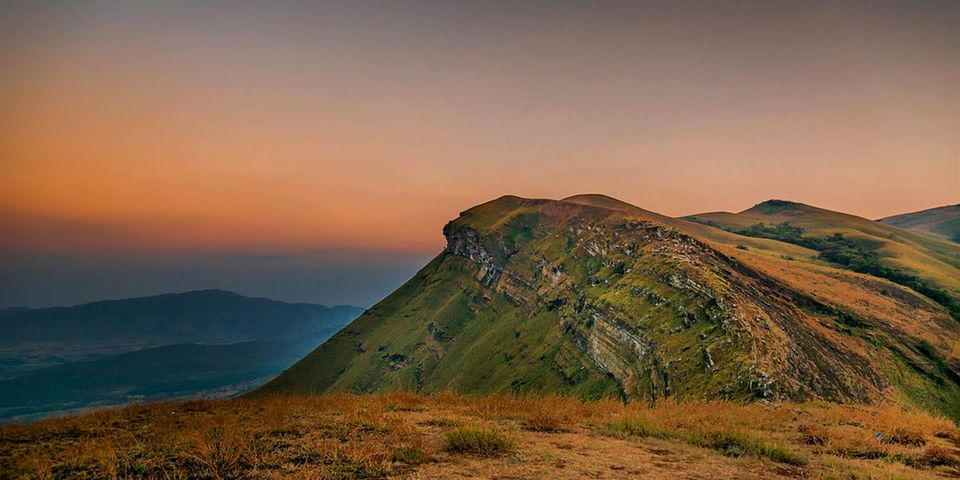 In Chikmagalur, we got a chance to have luscious chicken curry, poha, and freshly brewed coffee as a gift from the locals; we played like children outside the home, had fun with pets, smelled flowers, and enjoyed a very slow but meaningful lifestyle during mornings and evenings - in between, it was all about exploring the place and inner selves.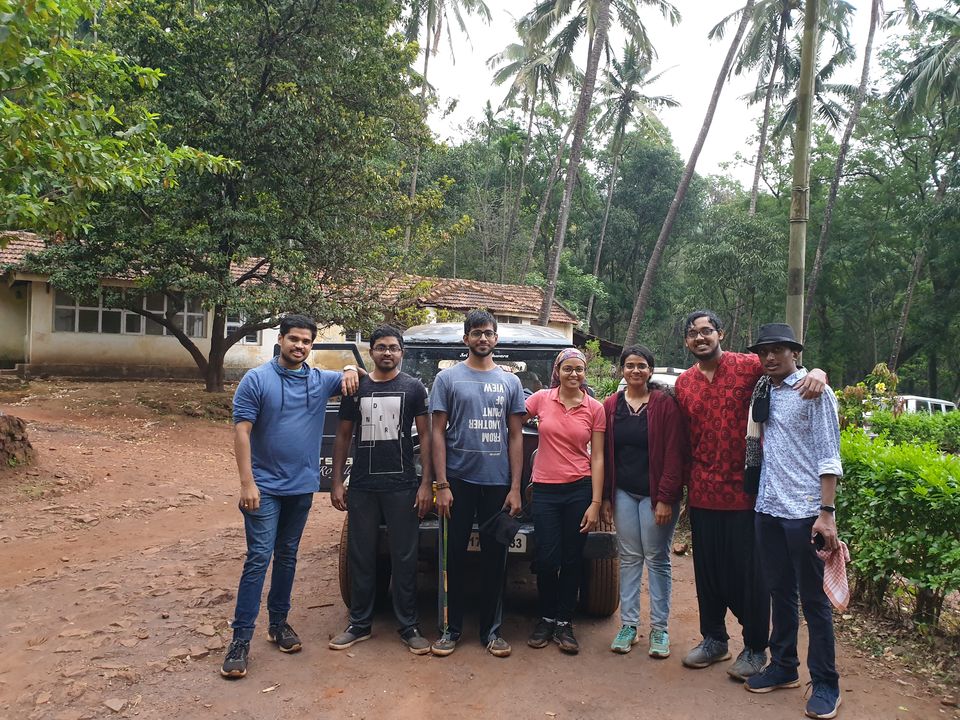 It was a four day trip to Chikmagalur. In the initial three days, We had already taken a dip in Hebbe Falls, felt the drips and drops of water jumping from the rocks; had seen the cotton-like soft sheet covering the hills from the Mullayanagiri Peak; watched and analysed coffee history and making process; witnessed the heavenly views of reserved forests, meadows, wildlife, and the enormous landscapes alternating one after another on Kudremukh Trek. Everything turned out to be more than our expectations. The beauty was endlessly peaceful and relieving.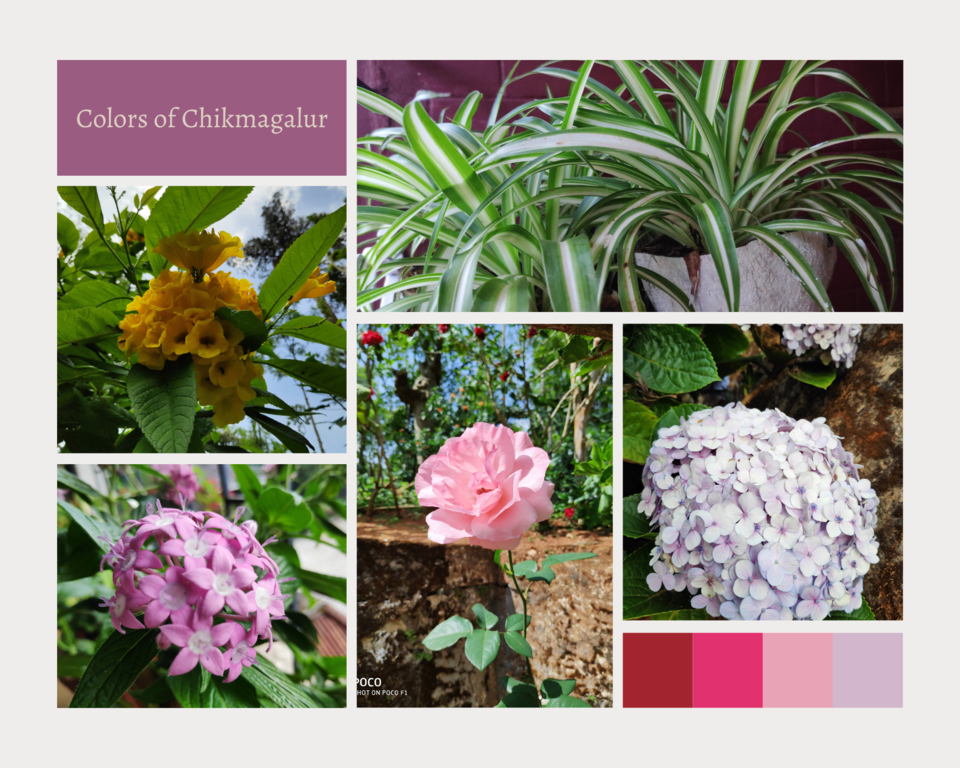 Everything was almost covered, but as we were returning on the last day, we saw this board directing us to the Z-point. It was yet 6 hours for our return bus, and the thought of covering this point tickled somewhere in our stomachs - ALL OF OURS. Finally, when one restless fellow demanded it, we all JOYFULLY agreed.
Z-point is in Kemmangundi, which is 65 KM from Chikmagalur. To brace the sweeping views of Western Ghats, you must keep this on your list. It is a must-do for anyone who is looking for some peaceful, serene place undisturbed by humans. This trek will not only show you the beautiful views but will also challenge your bravery and endurance.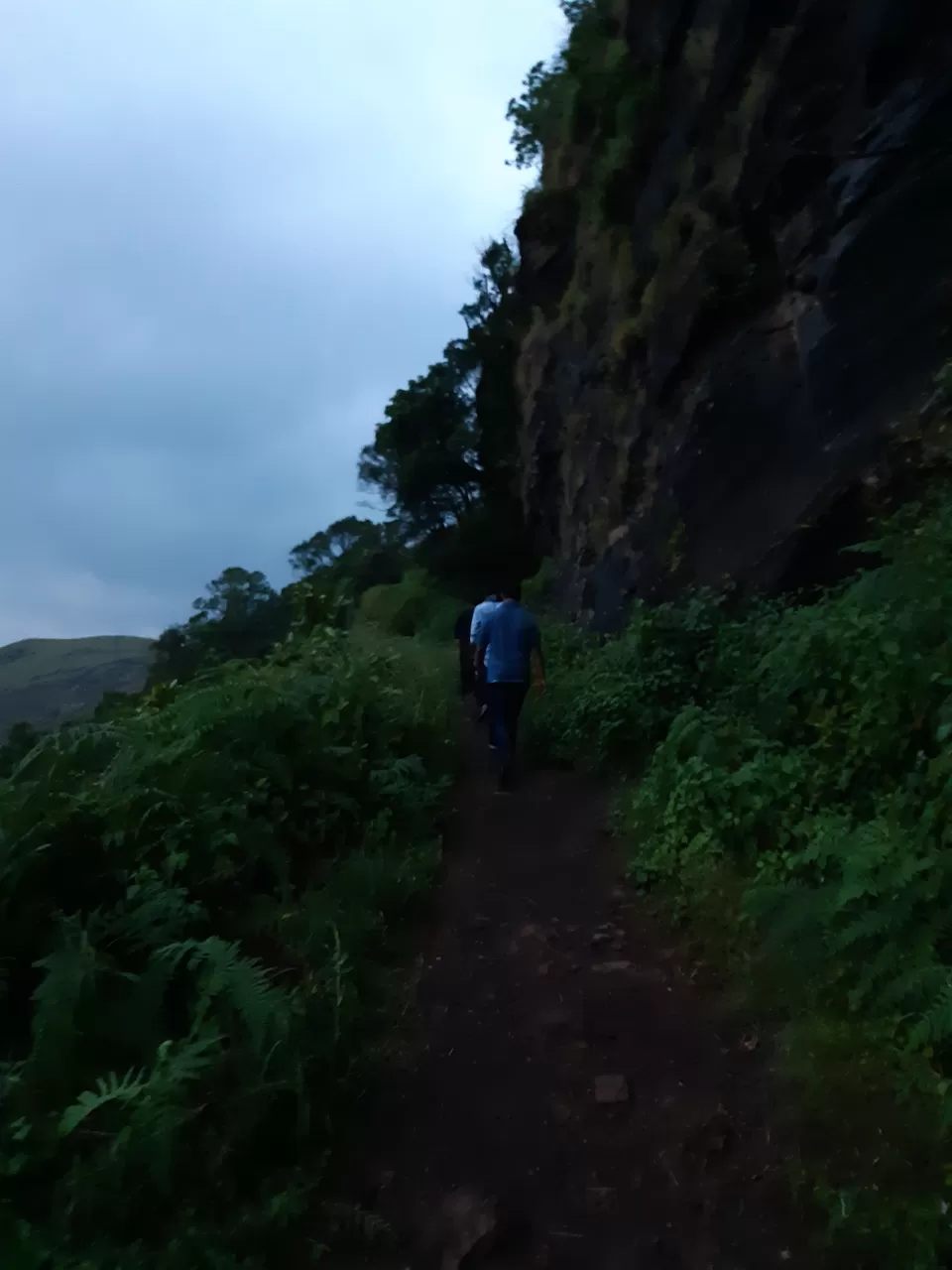 It's a rather good hike on a sunny day for adrenaline junkies, for there is a narrow route to the top on which only a single person can trail (forget about crossing each other at some points). To make the journey even more difficult, there are no railings or fences on the whole trip.
We met a driver cum guide who would help us in going uphill. We began. There was a safari at the beginning, followed by an easy way to the medium difficulty trek. As we strolled further, we realised that there was no human in sight. Nevertheless, there were appearances of other forms of life: Mosses and algae covered the land in patches; there were sounds of birds and small insects; Squirrels jumping and trekking to their own homes(god those lucky trained guys), ants busy feasting and walking in colonies; snake's ecdysis hinted us about our arrival into a foreign land - it was nature's symphony. But we had to be careful each bit. Sun was slowly leaving us alone, but then too there were rays guiding us to the top, and we held on to them tightly.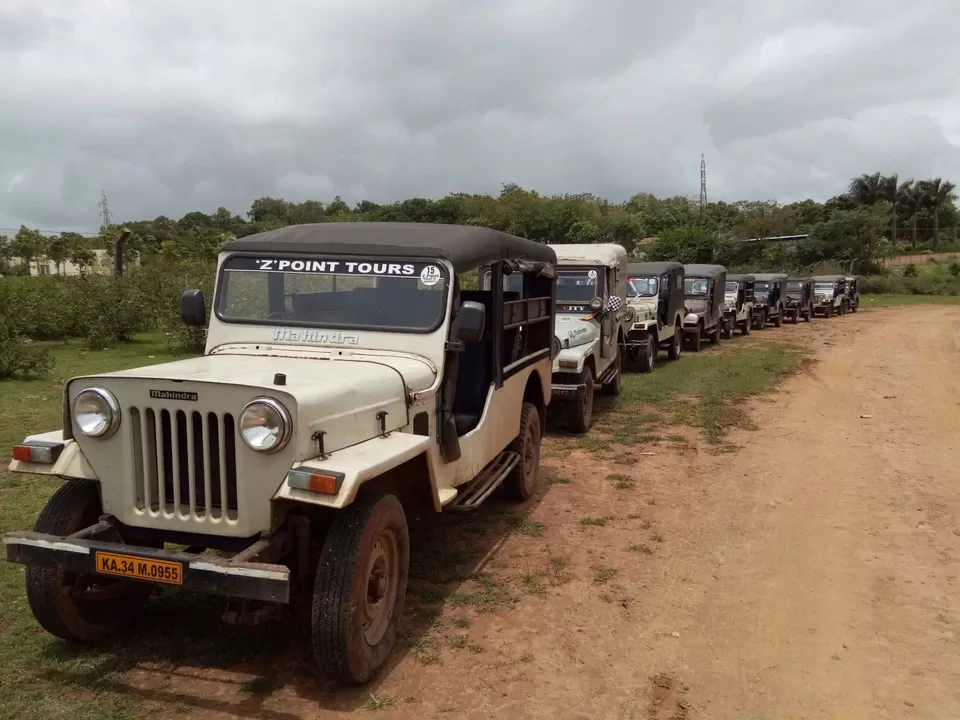 I am not exaggerating; it was beautifully ecstatic. It was drizzling, and the soil was soaked in water, making it a bit slippery to walk. The forest opened doors to the vast mountain - clear, plain, giant, and covered entirely with grass with some trees' spots. From the base, the hill rose till eternity, and we wanted to reach there. In calculated thoughts, it looked easy - There was a well-marked thin terrain; the guide was with us; friends could hold each other better. It was as if we were walking on the plain green grassland with a sleek finish, shiny surface.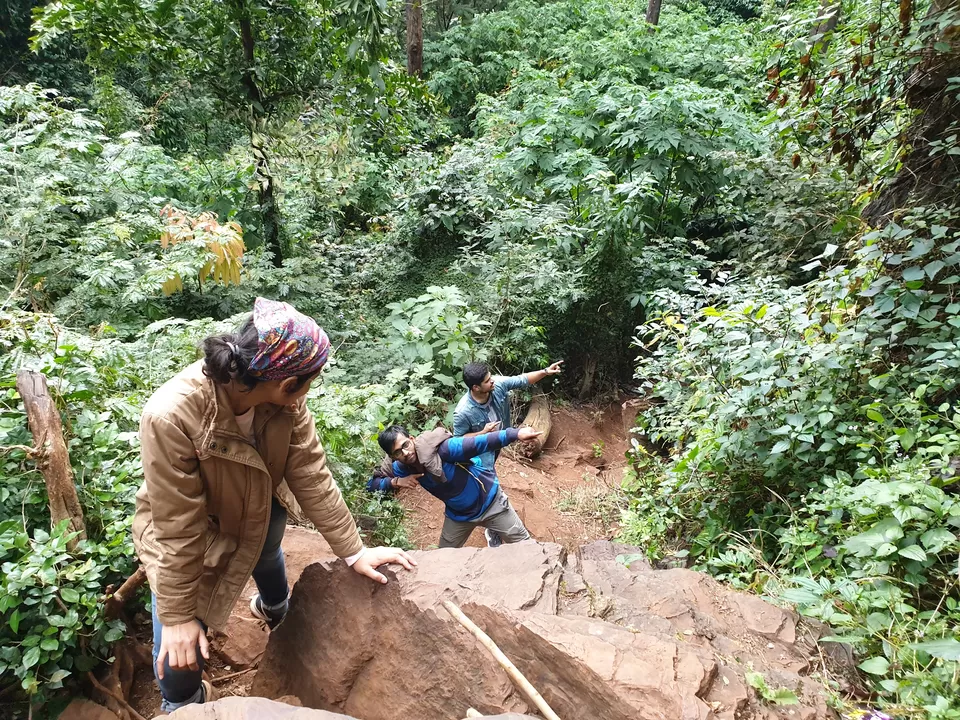 We started to climb, one step at a time. Scary, but as we sang "Me Zindagi ka sath nibhata chla gya" by Mohammed Rafi, it seemed possible, lighter, and closer to life.
The weather in the mountains changes in just a flick. And just like that, it started to rain heavily. Amidst rainfall, slant, and slippery terrain, we found ourselves struggling to go further or even come down. The mountain stood carelessly and watched us silently as if it were testing our mistakes, our togetherness, and human nature.
As we looked and became more careful, we noticed the slope and it looked like the end. This was nature deceiving us, and I had never felt that I could be trapped by it. But there we were, determined to conquer our fears. 5 boys, 2 girls, 1 guide, and one point for which we went till there. It was only just 100 m distance remaining to the top when we intelligently and collectively decided to retract before it got wilder.
I know, this may sound dramatic, and you might be thinking that it is not even a Himalayan trek. But believe me, it turned out to be horrendous towards the end. For some minutes, I was having difficulty breathing by the force of air and water. I did not see a lot after that, but I can recollect each second of that beautiful tricky trek. Only one thought kept on coming back to me, "I want to go home."
We held hands, as tight as we could - to maintain the grip to come down. If one slipped, it was the end, not just for one - for all. We formed a chain. I was wearing shoes; some wore casual sandals or slippers. It was also a signal of something wrong, but everyone behaved responsibly and was best in his/her behaviour. Panic in such a situation could have killed all of us, and so, we constantly talked about random things to maintain a positive persona, smiled, held and helped each other. Holding each other's hands, slowly, steadily, we came back to a safe point in 45 minutes and caught our breaths.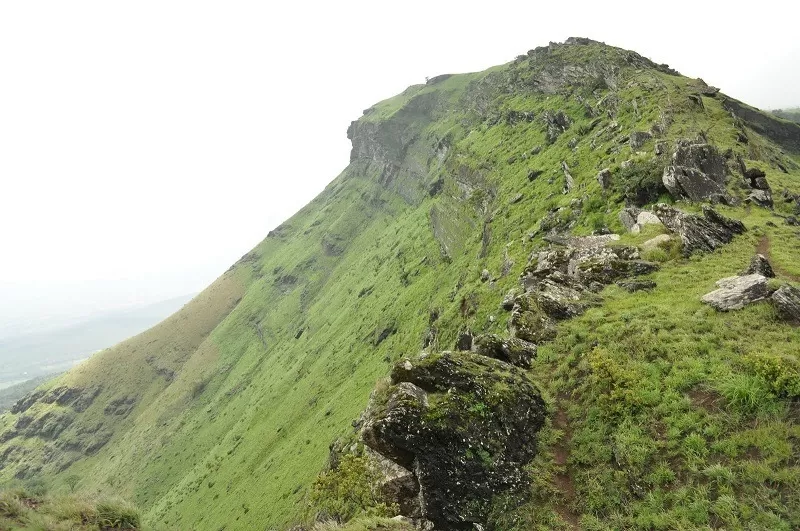 Tips from someone who learnt from the mistakes -
1. Refrain from trekking after 4 pm, or have a sure-shot forecast handy.
2. Don't put all your eggs in your guide's basket. Try to be mindful about your safety right from the point you begin till you end.
3. Wear good shoes, light clothes - the terrain may be slippery, and it might rain on the way.
4. Last but not least (this may vary from person to person), do not bring your ego forward and fight against nature. Observe the conditions closely and take calculated steps.
I now feel grateful about the whole trek and writing about it feels like living that entire experience again. We do not know what lay on the other side, and we could not even witness the top of the Z-point, but what we indeed realised is that we cannot fight against nature and its ferociousness. If we try fighting it, we lose, but the thing is, we know about it, and now we thrive.
We were lucky, unlucky, and special victims of nature. I cannot say that this situation would not come back, nor am I sitting back to avoid it. But open eyes, healthy heart and powerful physique can feel everything and nothing at the same time. So now I should rest, hibernate and get ready for next. Till then, let me write, let me reminisce. ❤️
How to reach Z-Point?
You can cover this while being in Chikmagalur. As I mentioned above, it is at a distance of 65 KM from there. Cover Hebbe Falls, return and take a right while coming back, or vice-versa.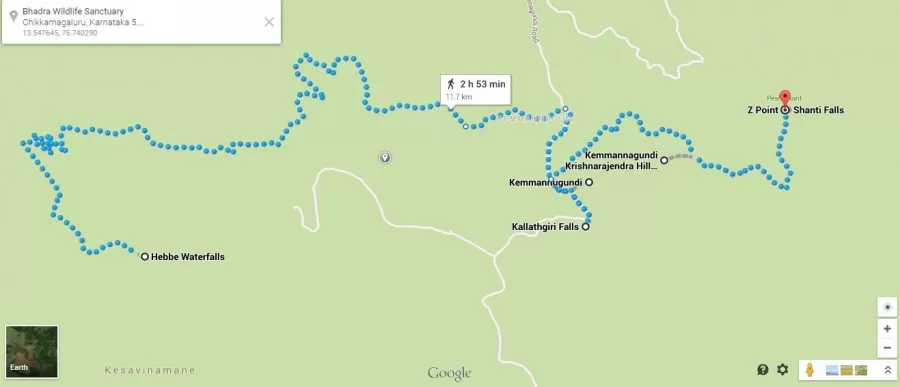 If you are low on time, you can reach Kemmangundi directly. While on your way to Hebbe Falls, you will see a board on the left. Keep an eye. From there, go straight on the way to the trek. Brace yourself for an awesomely memorable experience.
Thank you for going through my whole experience. It is a pleasure finding you on this page. Do let me know in case you have experienced something like this?
Drop your handle in the comments and I would love to read your stories as well. Also, if you are into stories or poetry, I am your girl. Connect with me on my blog and Instagram. I would be the happiest to see you on the other side.