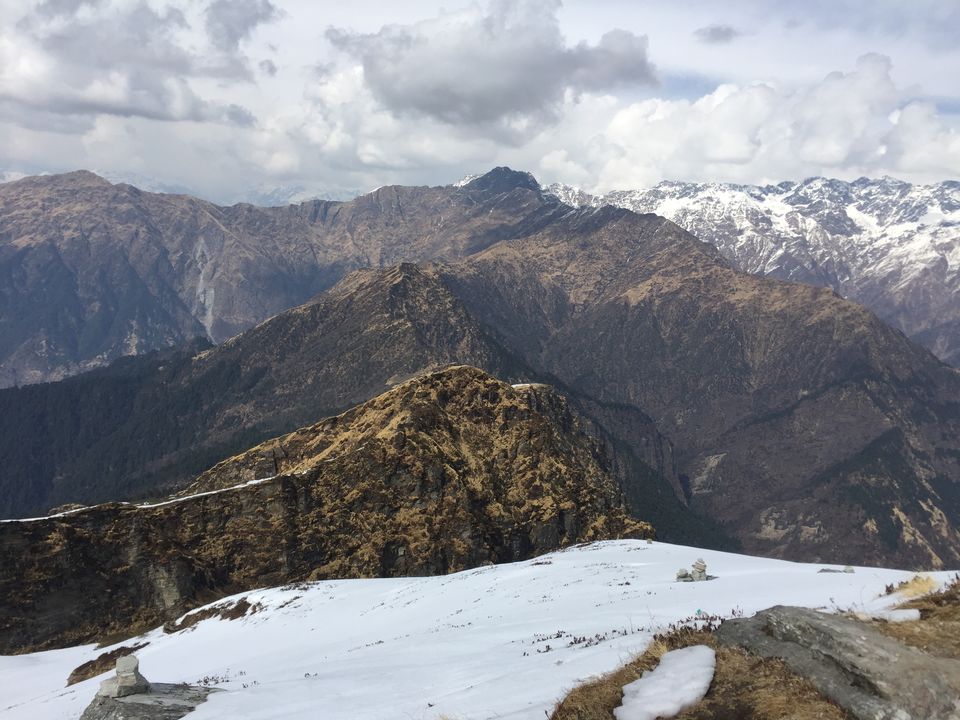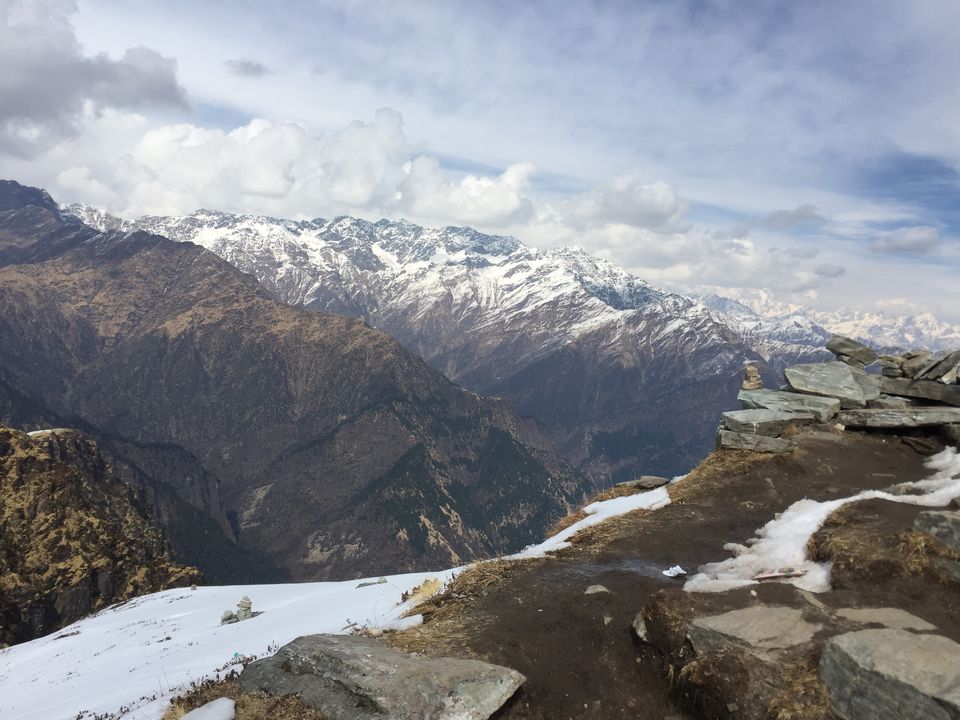 Chopta is a hamlet located in a Uttarakashi, Uttarakhand. It is called Switzerland of India, because of its beatific views of snow capped Himalayas. Chopta is a destination specially for those who love to walk in lap of nature, want to witness most colourful sunsets, and views of Gharwal mountains from Rishikesh - Badrinath highway. Chopta is a cold region, so do carry your woollens with you. Chopta is a base camp for Tungnath mahadev temple which is 4.5 kms from Chopta. Also, Tungnath is world's highest located Shiva Temple. So don't forget to bow down and show gratitude towards this thousands years old temple built by Pandavas. About a kilometre from Tungnath, trek your way to Chandrasheila, which is a steep climb. Hydrate yourself, breathe easy and reach to the top of mountain, and enjoy the 360 view of mighty himalayas peaks like Bandarpuch, Deoriatal, Nanda ghunti, Trisul and Chaukhamba.
Chandrasheila is famous because of a myth going as Lord Rama came here to meditate after killing Ravana. So don't forget to capture the vibe standing at top of this summit at 13,000 fts.
If you get lucky you may also get a chance to see famous as well as rare himalayan mongals. They are known as Juju Rana, king of all birds.
Entire route from Delhi to Chopta is very well connected, so don't worry about transport, food and accommodations. You will get all of it on cheap prices and up to the mark quality.
Itinerary:
Day 1: Delhi to Rishikesh
From ISBT Kashmere Gate, you will find ample of buses running from Delhi to Rishikesh, ticket costs around 250₹ per person. Leave late in night to reach early in morning, bus frequency is commendable, from ISBT Kashmere Gate for Rishikesh. It takes 5 hrs from Delhi to reach Rishikesh.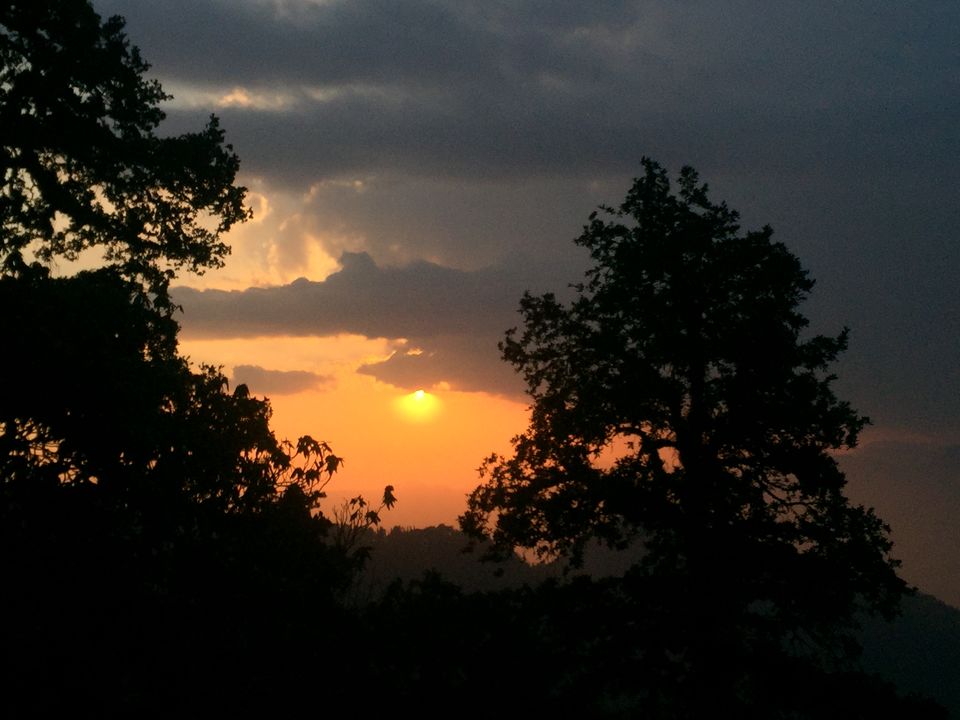 Day 2: Rishikesh to Ukhimath
Early in morning you will reach rishikesh around 5-6 AM. It is advisable to reach Rishikesh before sunrise, as there are one or two buses running between Rishikesh to Ukhimath, ask locals they will update you if the buses are running that day or not. You can also hop on shared taxi directly to Ukhimath from ISBT Rishikesh. Direct bus or taxi will cost you around 350₹ per person.
If you do not find direct bus or shared taxi, get a bus to Rudraprayag, 200₹ per person is fare. There are ample of buses to Rudraprayag so don't worry. You will reach Rudraprayag in 4-5 hours depends on road conditions. Grab lunch at Rudraprayag and quickly hop on bus or shared taxi going to Ukhimath. It is easy to find one. It will cost you about 100-150₹ per person. Ukhimath is a small town having a good market. Shop if you need something as there are no shops in Chopta. In Ukhimath you should pay your visit to Kedarnath shrine which is shifted to Ukhimath in winters.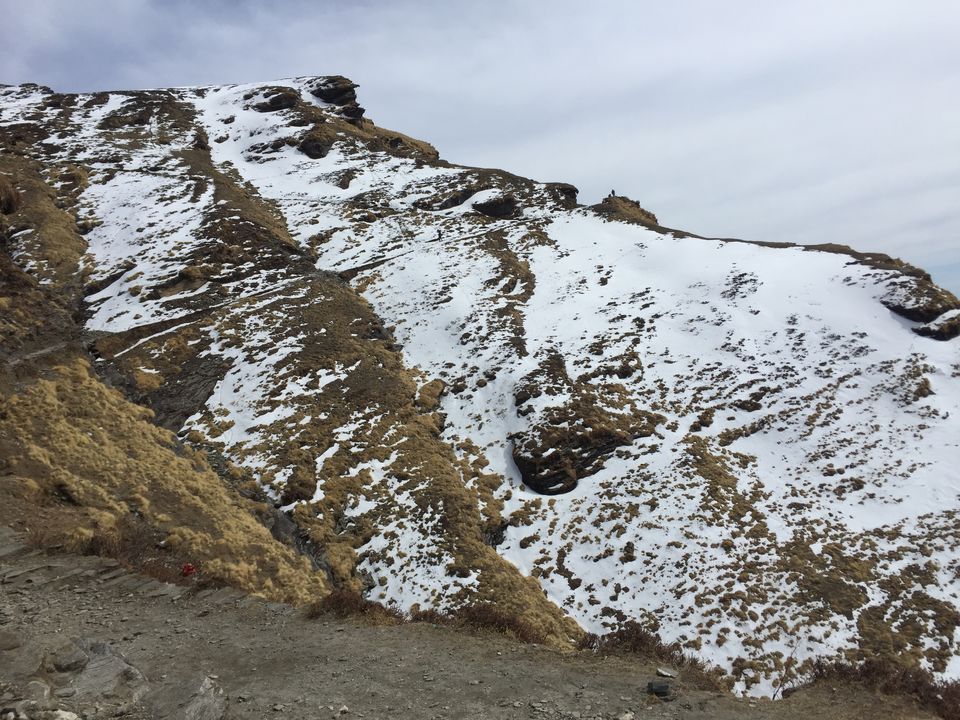 From Ukhimath, you have grab a shared taxi, if you are lucky you will get one. Else if you are in group you better book a taxi for round trip it will cost around 1500-2000₹ . Reach Chopta before sunset. So that you can enjoy sunset at Chopta. Once you reach Chopta you have few options to stay at night like camps which cost 1500₹ per night including meals. And guest houses which are cheaper 500-1000 ₹ per person. Start early in morning around 7:00 AM trek to Tungnath. Which is a 4.5 kms trek. Hydrate yourself and keep food with you. As you will burn lots of calories while trekking. From Tungnath, 1km trek to Chandrasheila summit. Come down before sunset, get on your taxis and reach Ukhimath. In Ukhimath you can find decent hotels to stay. Hotels in Ukhimath cost around 700₹ per person. Hotels are very good in condition. Have dinner and sleep early as you have to wake up at 5:00 AM.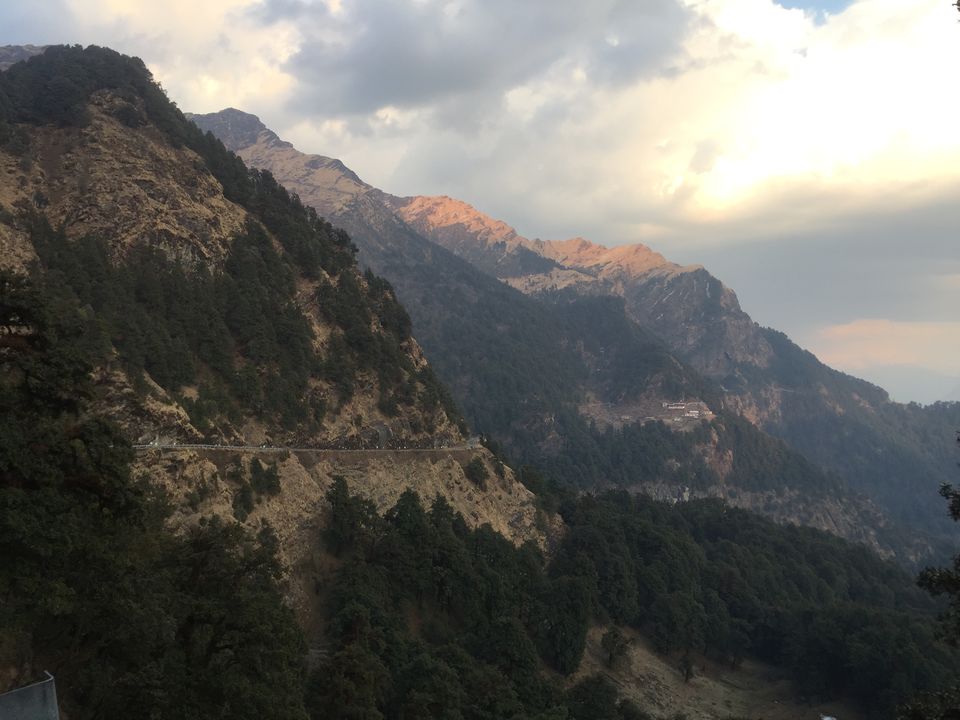 Day 3: Ukhimath to Rishikesh
From Ukhimath get on the shared taxi, leaving for Rishikesh daily at exact 5:00 AM. It will drop you at around 9:00 AM to 10:00 AM.
If you have time and energy left, go for river Rafting in Shivpuri, it costs exact 500₹ per person. It will be a exotic experience. From ISBT Rishikesh there are many buses leaving for Shivpuri, it cost 30₹ per person.
Come back to Rishikesh, enjoy Ram Jhula and Laxman Jhula, ganga arti is must to visit. Then leave for Delhi. It will take you around 5 hrs to reach Delhi, and 275₹ bus tickets.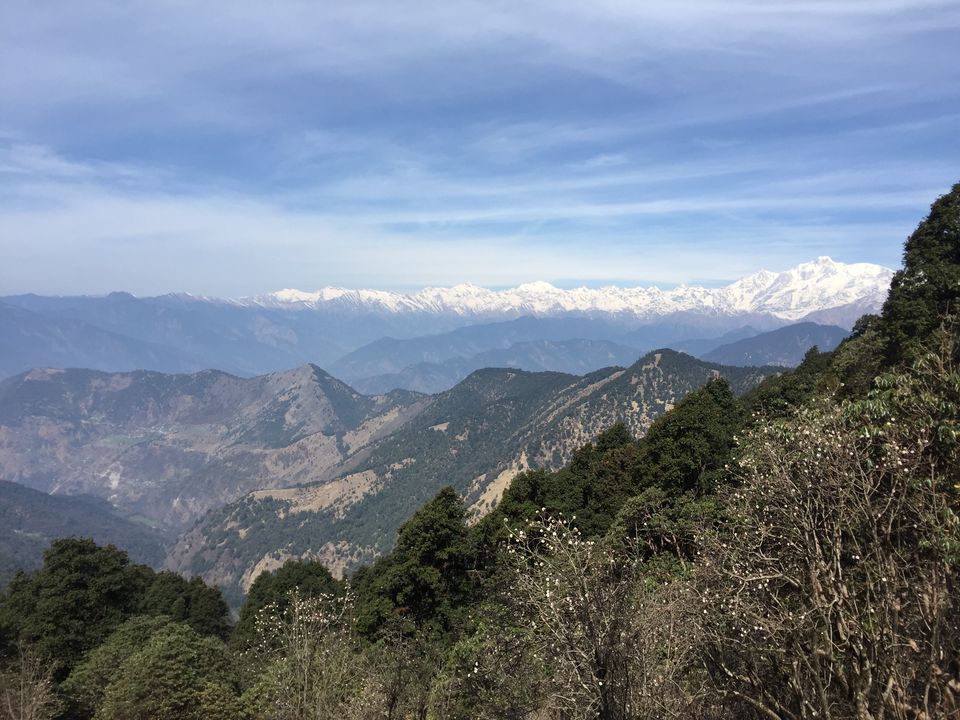 Hope you have enjoyed your journey!!
Do share your experience in comments!!
And how much you liked my itinerary!!!
All the best guys and keep travelling...if you need any assistance in planning your travel, budget setting or anything, you can always contact me on my instagram account : @thehimalayanhusky
Thank You!