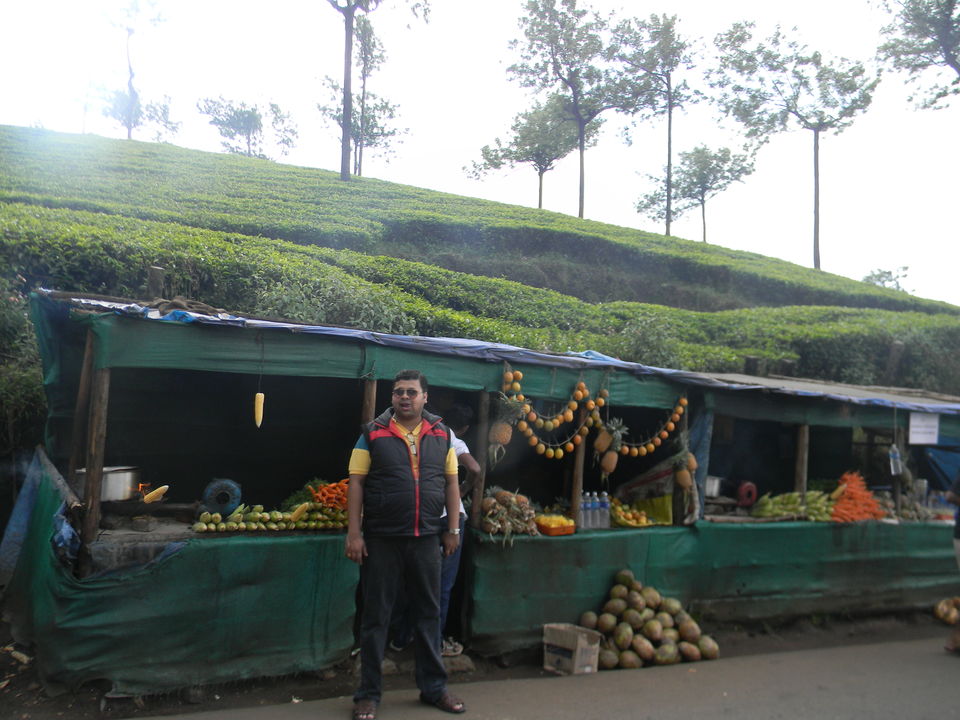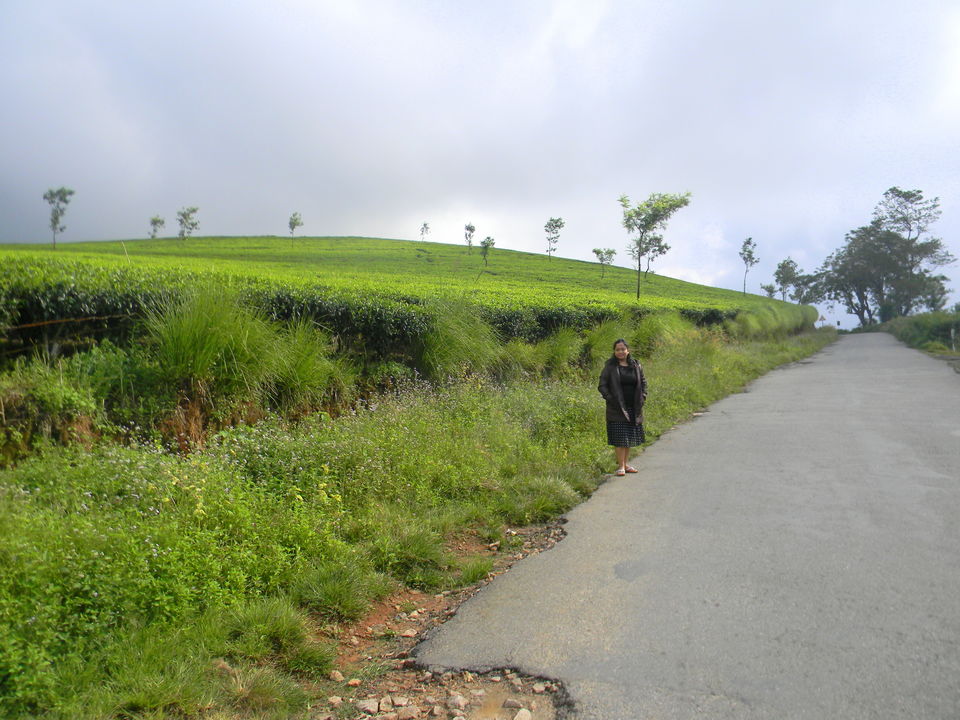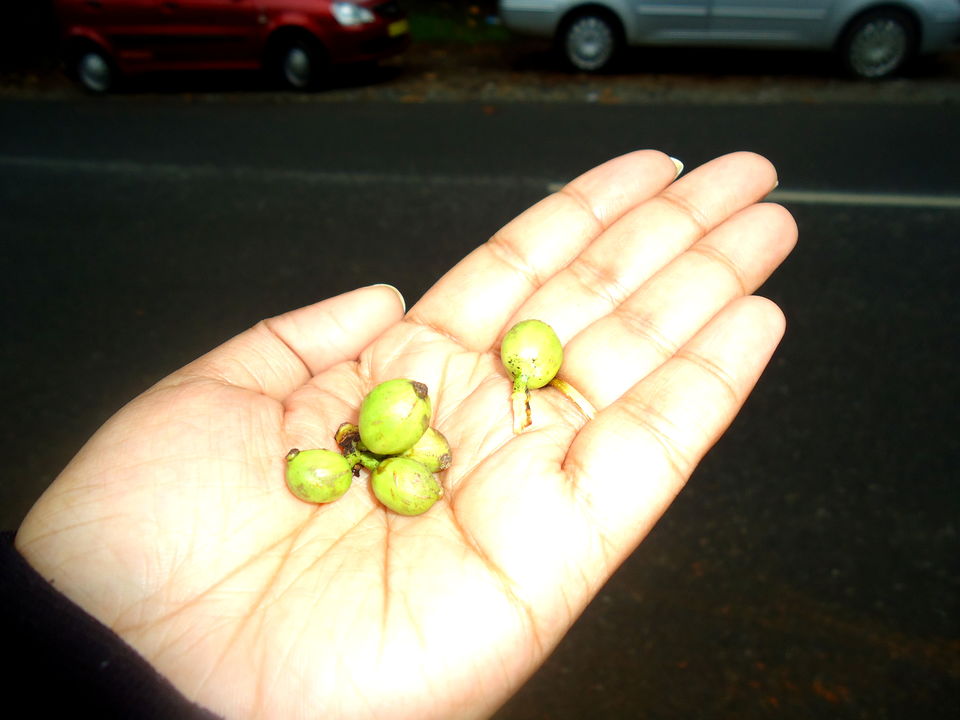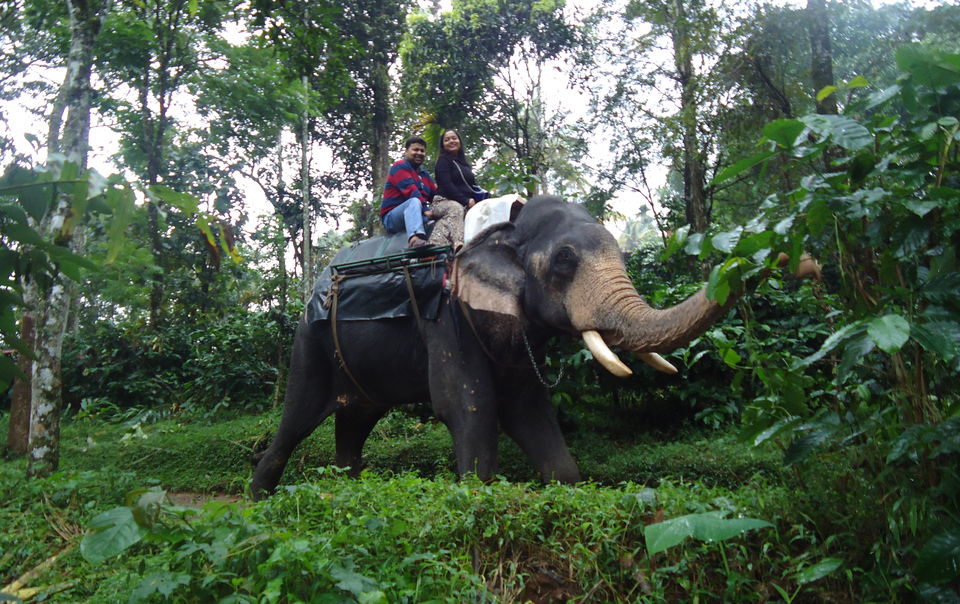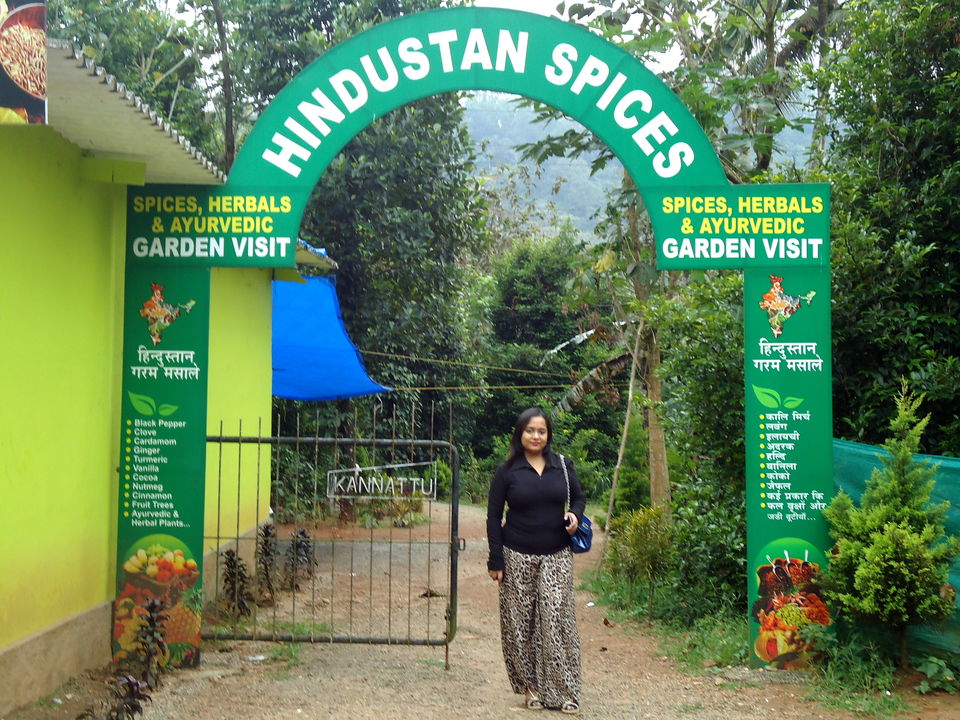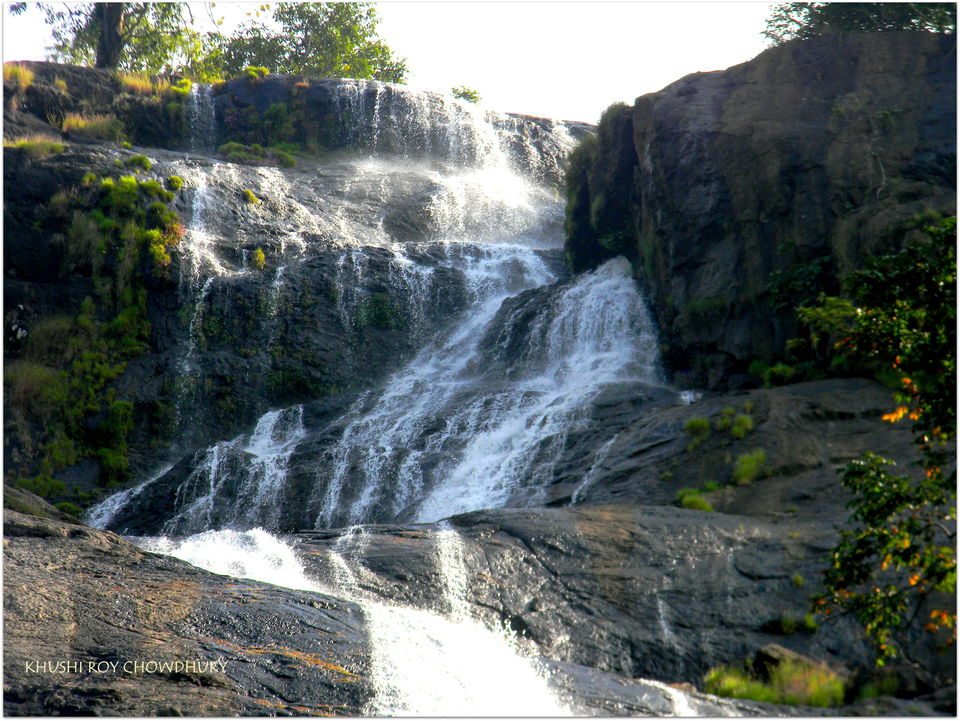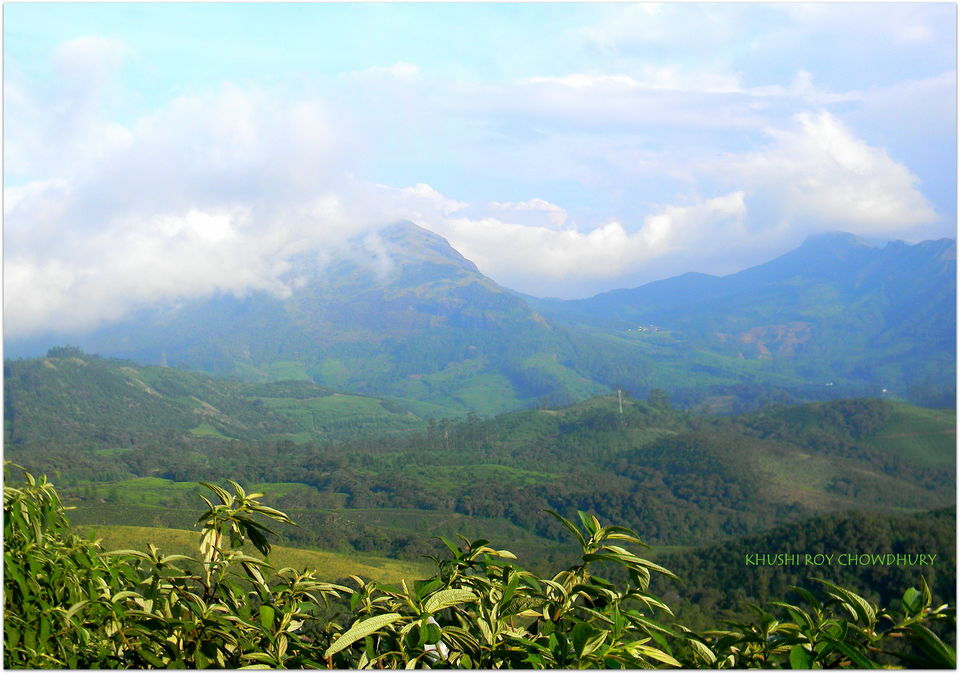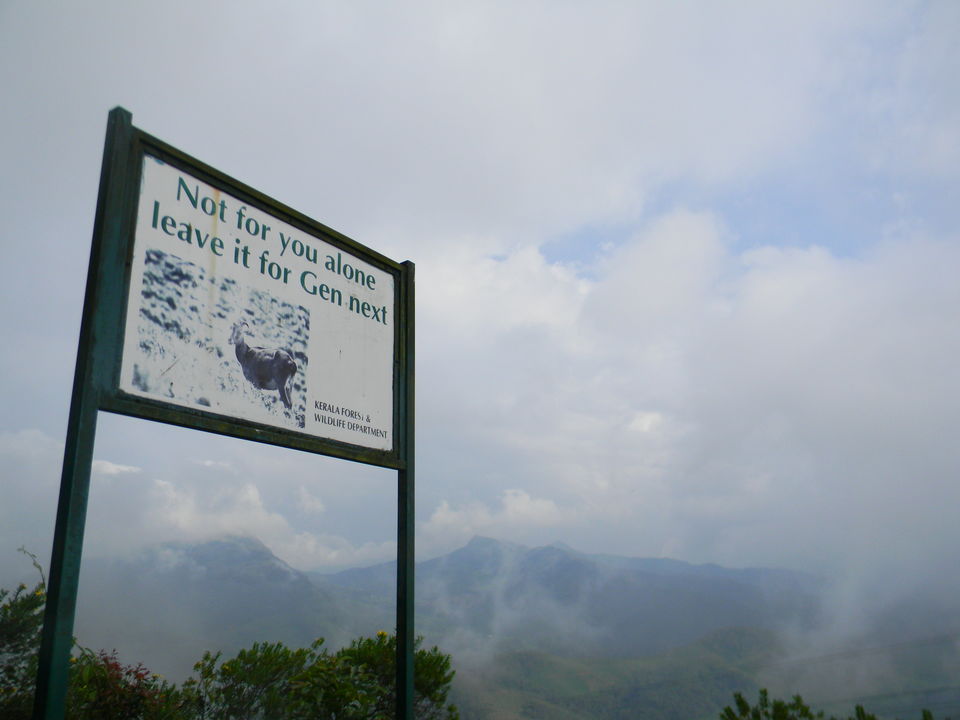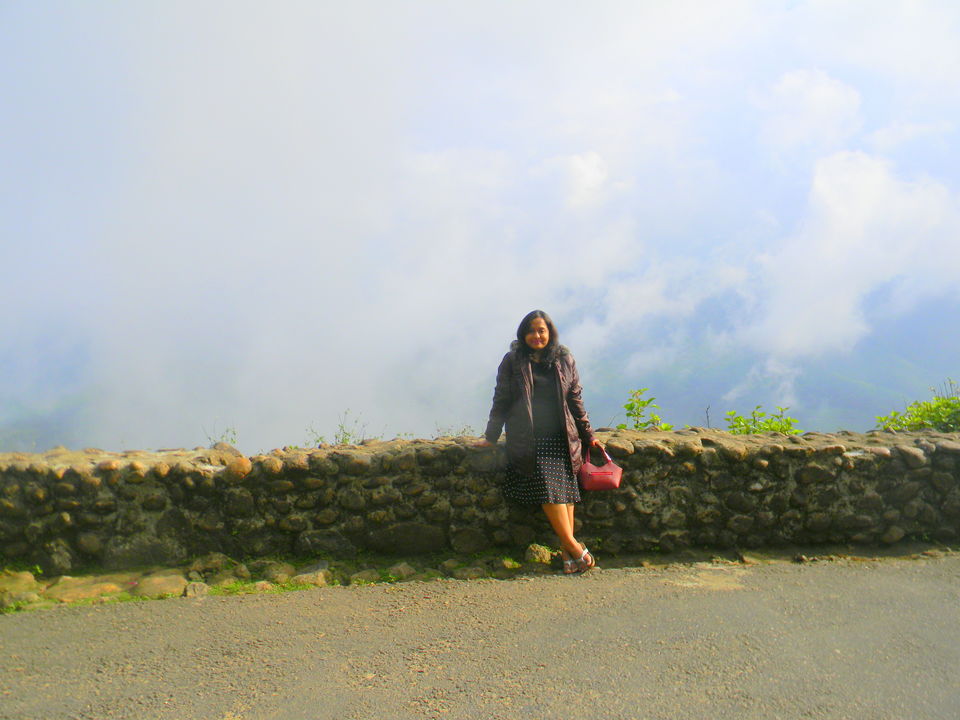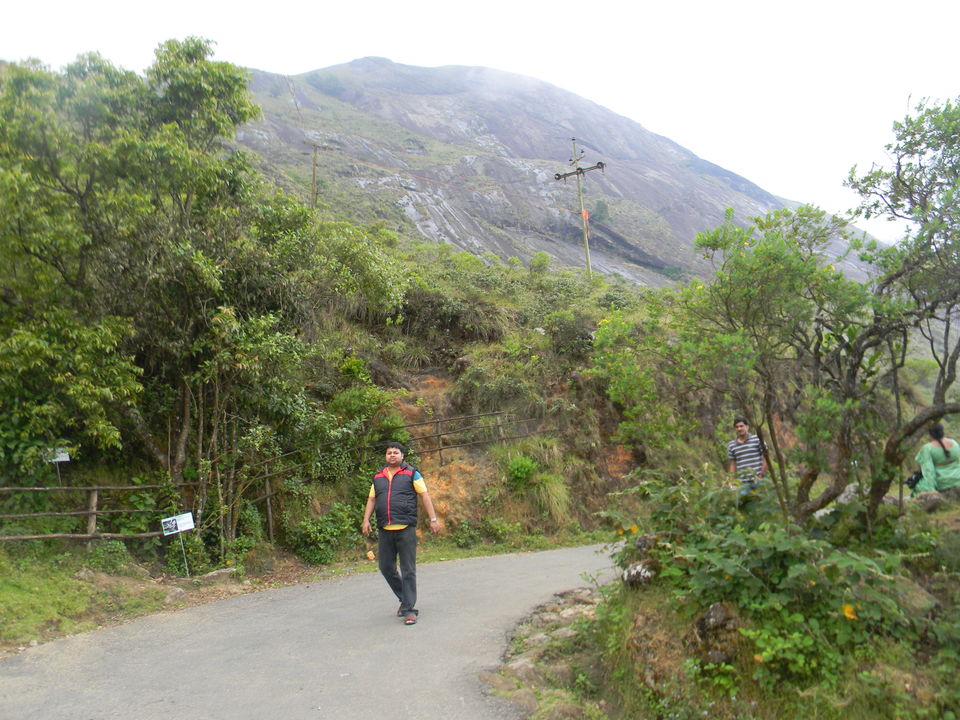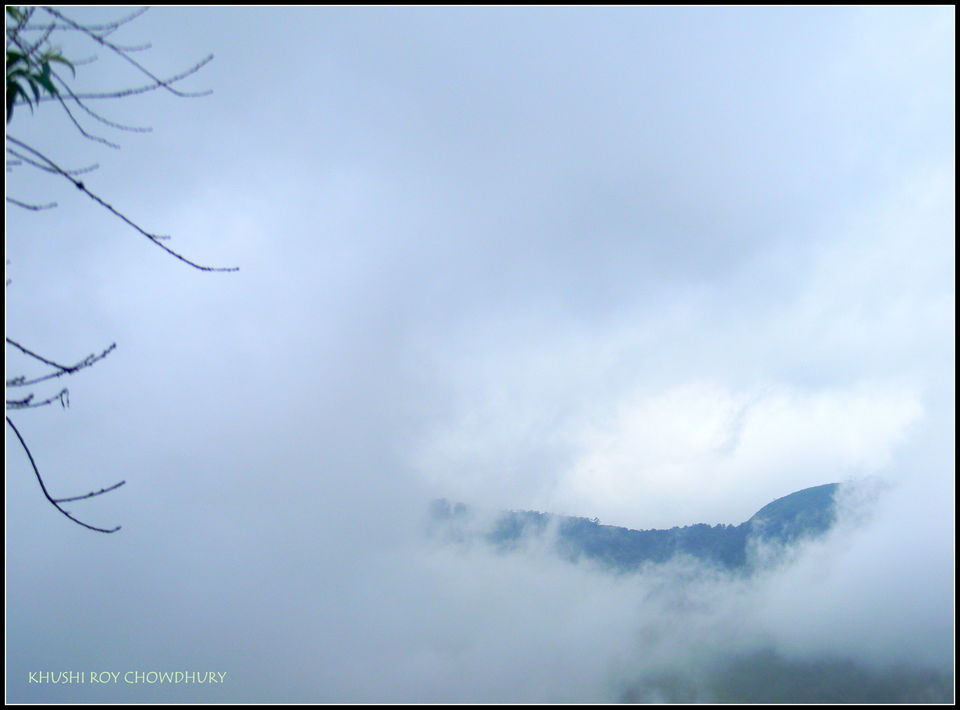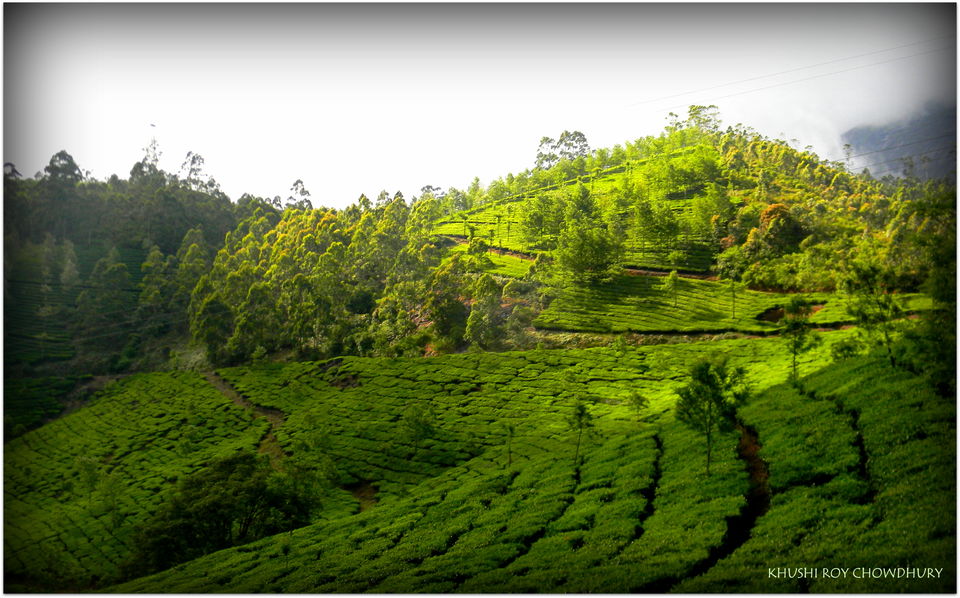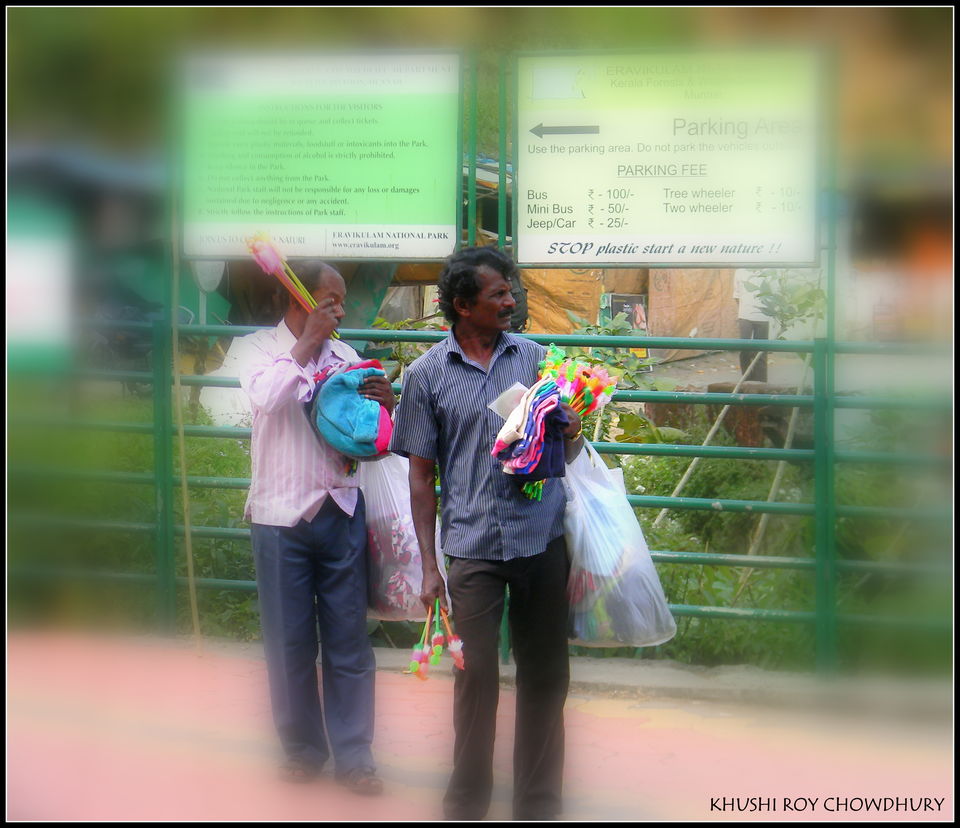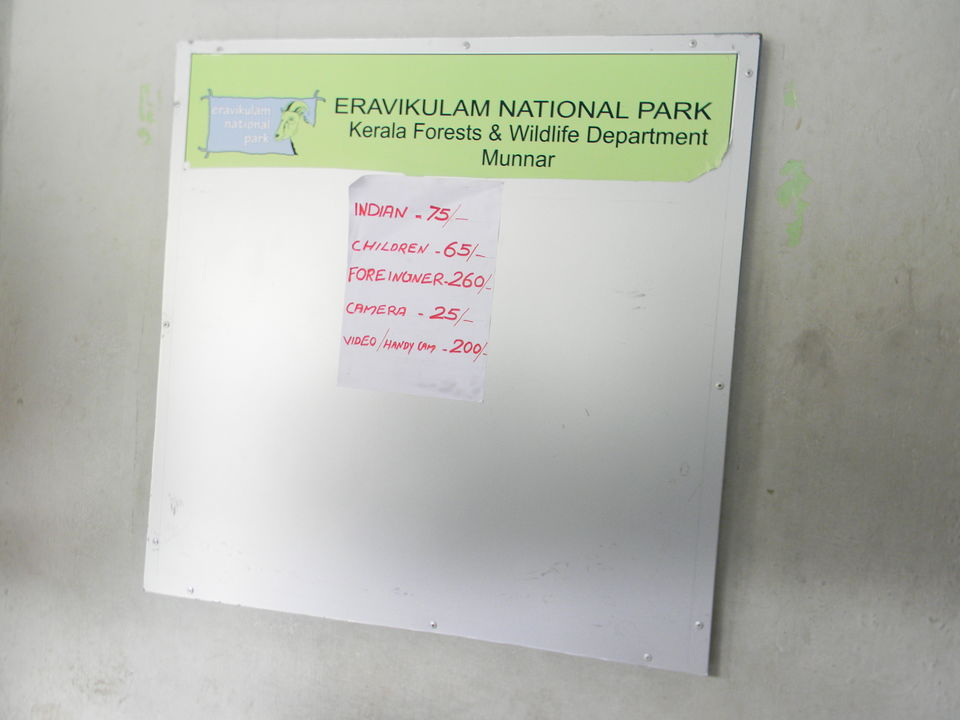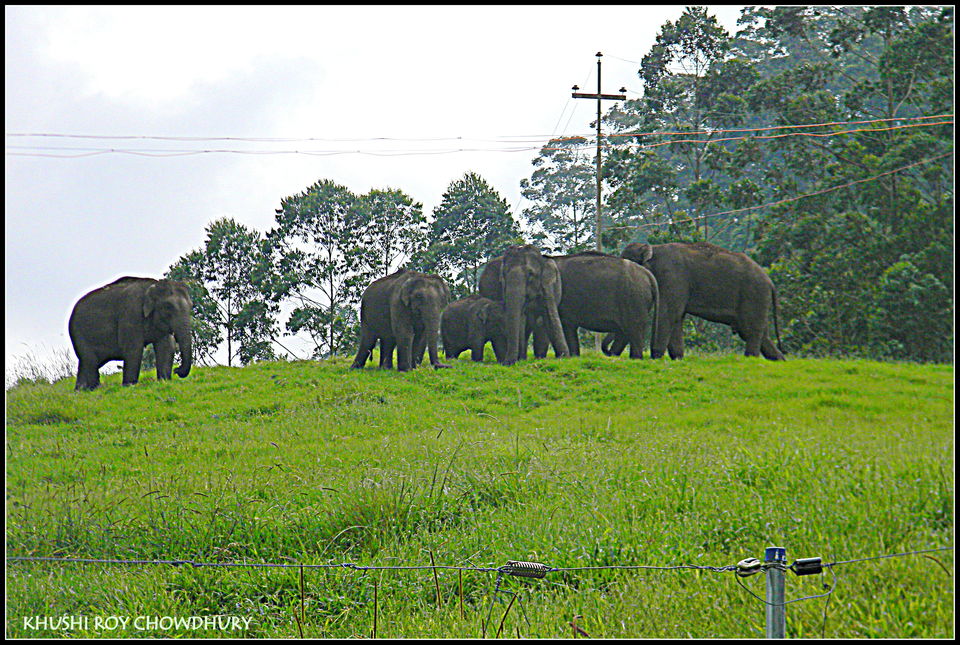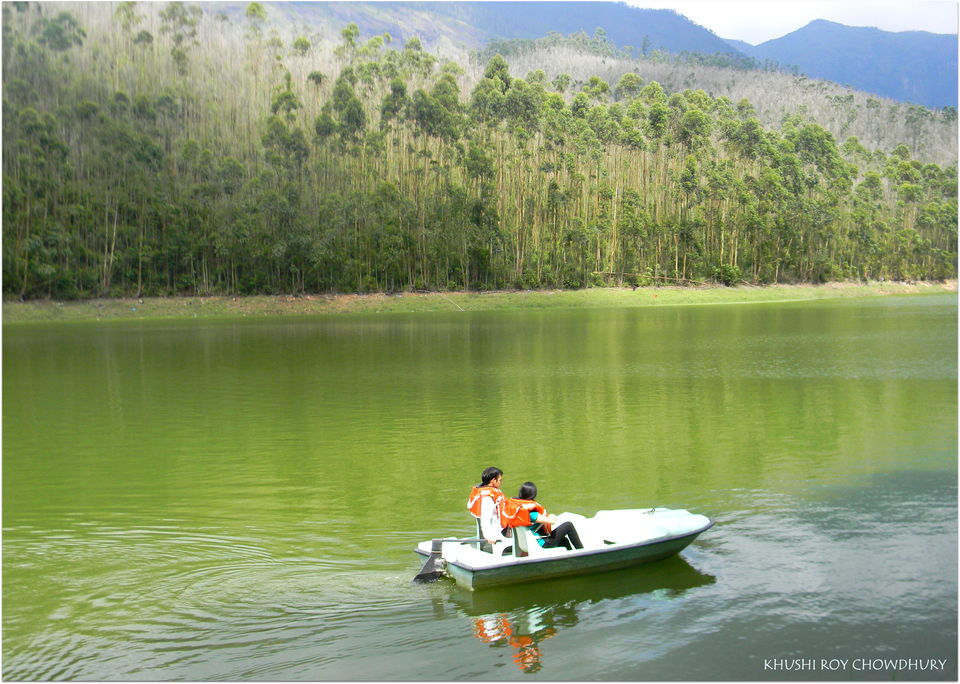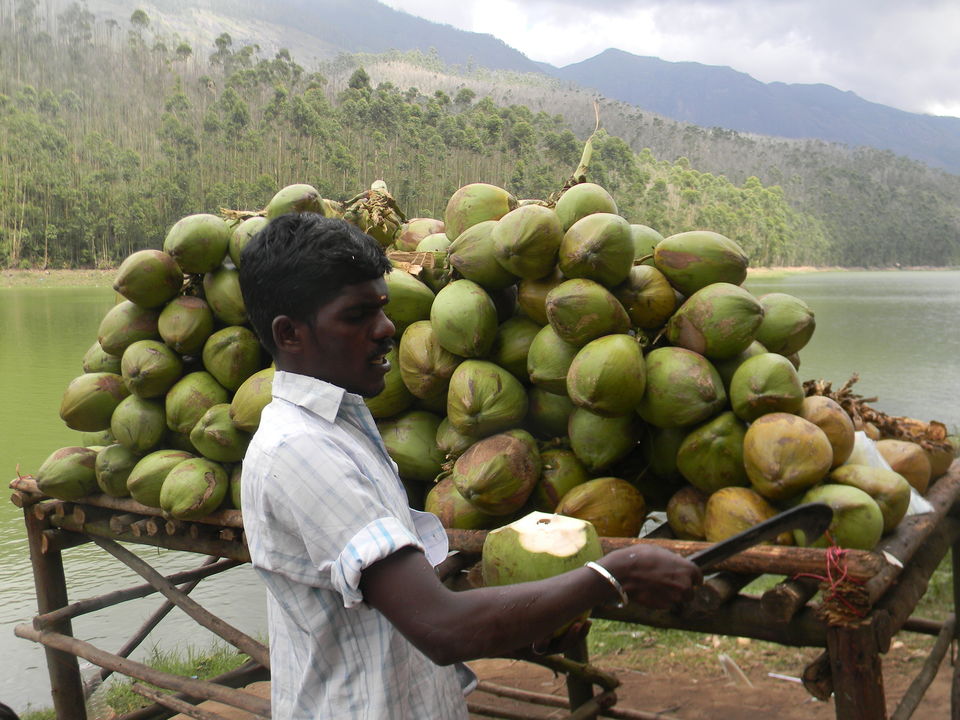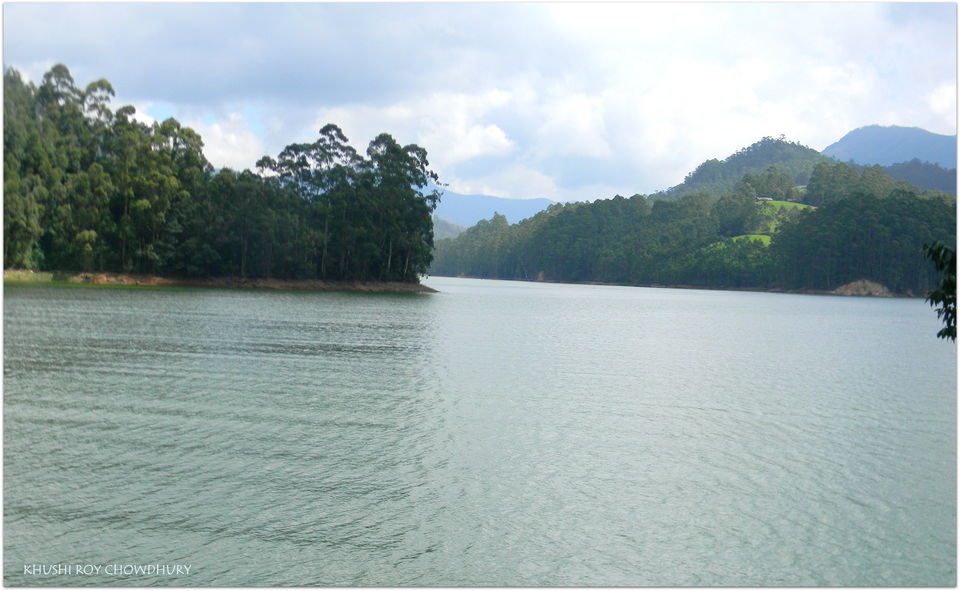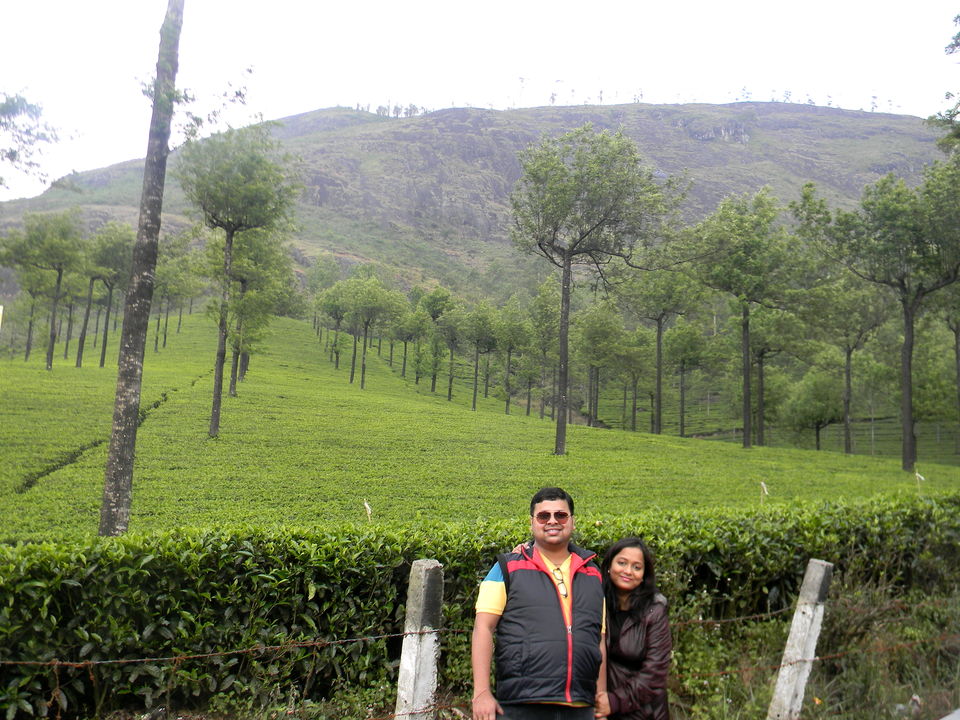 As we exit the Airport terminal in Cochin, the road on the left goes to Cochin city and the Road on the right heads towards Munnar. Raju told us that Munnar roads are not safe at night. The clouds cover the road and the wild animals trespasses to the main roads. The words 'wild animals' were enough to shock Rupam and we immediately left for Munnar striking off Cochin from our must visit list.
Cochin airport to Munnar was around 5 hours journey including a lunch break and a nariyal pani break. We also covered a few places of attraction that we crossed on our way to Munnar. Cheeyapara falls were first among these attractions. It was not a colossal waterfall. In fact, it was a very serene one. Cheeyapara cascades down in seven steps and makes a great subject for an ardent photographer.
Next, we halted at a Kerala spice store. This was recommended by all our friends as we were deciding on the itineraries before proceeding for the trip. Banana chips, coffee, masala tea were on my shopping list. What gripped me further was the various tea- coffee add on flavors the store had to offer. The flavored dust in tiny bottles can be added to give your cup a chocolaty/ vanilla/ strawberry etc. etc. twist. A cup of Strawberry coffee at home?? Quite a twist this winter. Just adjacent to the store was the store's spice garden. They offered a stroll around the garden for Rs. 300/-. It did not sound like an exciting idea to us and we decided to skip it.
I was really looking forward to visiting the next place of attraction. An elephant training center and finally, an elephant ride. My childhood dream was about to come true and the kid still alive in me was super excited. The center had four elephants all busy giving joy rides to the tourists. There were 40 minutes for our turn to arrive. We got some time to brood over and dug out some deep conversation. Both of us were amused to see how four elephants were earning livelihood for10-12 people. For every activity these elephants did, they were earning money for their Mahouts. Be it giving elephant a shower, watching them take bath along the riverside, clicking pictures with them, feeding them or riding them, there was a fee for everything.
Anyways, the serious talks were over soon and the fun time began. I jumped on to the Jumbo's back. My dear husband, in low waist tight jeans had pretty tough time settling on the elephant. So, the trip advice is to dress comfortably if you are planning to go for an elephant safari. The twenty minutes elephant ride was amazing. I loved it and my poor husband couldn't help asking if I have any more painful childhood dream left??
The tiredness of the journey took over and we were now eager to head to our Resort. After having masala tea at a tea stall, we headed straight for Bella Vista. We were in our Resort before 6 pm and it was already stark dark by then. South India is infamous for its not so happening night life. We got to experience it ourselves. By 6:30 pm everyone got packed in their respective rooms. We strolled towards the resort's restaurant hoping to see some souls there but were turned back disappointed. Even TV did not come to our rescue in Munnar. It just showcased south Indian channels. So the chess app on my phone was our only savior and for once in life Rupam got the pleasure of defeating me in the game.
The real action started on day 2 of our trip. We had a long list of must visit places in Munnar and everything was to be covered before 6 pm before the scheduled time for our Kerala Ayurvedic Spa.To start with we went to TATA Tea Gardens. Majority tourists visit Tata Tea Museum as well. But both myself and Rupu were least interested in visiting a museum and read through long descriptive boards or see some historic audio visuals. So we skipped the museum and alternatively chose to visit the actual tea gardens. It was a delightful scene. We were between the lush green tea gardens and the greens stretched endlessly in all the directions. I saw this on TV earlier, and I was pretty thrilled to be there.
Our next halt was at photo point. Our driver over exaggerated while describing this place as a tourist spot. This wasn't actually any tourist spot. It was a road side spot where people were halting due to extraordinary beauty of the place. The tata tea gardens extended majestically on both sides of the road and due to the picturesque views it was an ideal place for taking photos. And hence, came the name, PHOTO POINT.
While most of the onlookers were couples taking pictures in mushy poses, there were other macho kinds as well, showcasing their muscular bikes and bodies while posing for clicks. Even though, not prominent tourists spot, I can't deny Photo point to be an extremely beautiful and lively place. On one side of the road one can witness tourist posing in a row for a great click with tea valleys at the back drop, while on the other side of the road stands tiny tin stalls offering fresh salads, pineapple, green coconut water and few hand crafted goods; with mountains draped in green at the backdrop.
All together, I liked the place. Firstly because I could get some great pictures of me and Rupu together and secondly for the sweet and sour pineapples I could get there. I have a soft corner for pineapples and my mouth waters just by hearing the name.
After Photo point, we treaded towards shooting point and skipped halting there. Shooting point is nothing but a clean green patch along the road side where couple of Tollywood film songs is shot. Next on the list was the Echo point.
If my camera could steal all the colors of nature and shoot all its beauty, I would have just posted the pictures of Echo point. I am sure my words would fail to describe how amazing beautiful echo point is.
I remember, the echo point in Simla, where nothing echoed back. Echo point in Munnar did send our words back. We also got our pictures shot by professional photographer in funny mushy poses suggested by the photographers and laughed our hearts out at every pose.
Our driver insisted that we must have Nariyal Pani at echo point. It was a Monday afternoon, and I was sipping Nariyal paani standing peacefully by the river side at one of the most beautiful place in Kerala. Had it been in Delhi, I would have been running across the office corridors, going insane attending calls due to the mad Monday rush. I was so loving it', I wanted to be here every Monday.
As we climbed up to our car, we saw a crowd getting excited about something. We got closer and figured out that there is a group of wild elephants somewhere on the valley. Raju told us that there is a fair chance that we come across the herd of wild elephants on our way to Mattupetty Dam. We were lucky that we came across one very very close.
The forests trailing on both the road side kept the wild animals away by the means of three electric strings. According to Raju it was a common occurrence that the animals trespassed to the main roads. Once a friend who had visited Corbett national Park told me that it is not the tigers that makes the Corbett trip interesting, it is the story revolving around that builds all the excitement and fear. Tiger?? You may or may not see one. Similarly, more than the sight wild elephants, it was Raju's stories about the wilderness that made the entire experience adventurous and exciting. His stories caught every bit of our eagerness till we reached Mattupetti.
Mattupetti Dam is a storage concrete gravity dam built to conserve water for hydroelectricity. Honestly, this is not a place you can devote much time to. Few pictures by the lake side or speed boat ride in the lake is all that one can do. The lake side is not clean or well kept, but gives a great backdrop for perfect shots. I was ready with my camera again.
After Mattupetti, we were hungry and totally spent. Raju took us to a very nice resort on the way for lunch. I consider it nice not just because of its elaborate buffet, or how amazing the squid salad tasted; but also because the amazing nature's view it offers to the diner. We were refueled and ready to hit the next destination The Top Station.
Top Station is tourist destination in the Kannan Devan hills of Kerala which is 35 Kms up ride from the Munnar city. Our car took us to a booking centre cum bus stop to board a bus to the Top station. Small vehicles are not allowed to go beyond this point. Cannot say if the curvy- bumpy road is the reason for this, or the reason is wild animals as rumored.
The journey up to the top station was full of views changing at every twist of the road. At one twist we witnessed green fields of tea plants basking in the sunshine; and at another twist we saw mountain majestic mountains embellish with misty clouds. My camera did not get to rest at all during the journey.
We were spellbound by the first sight from Top Station. It was an awfully beautiful sight. Nothing less than how I would imagine the heaven to be. We took masala tea and carrot – almond cake from a nearby pantry and sat over the cemented walls enjoying nature's best view we had ever seen. We were still away from the top most point of the top station. I guess it was about two kms walk to the top most point. We walked a little distance, clicked lots of pictures and then returned dropping the idea of reaching the top most point.
We were exhausted by the time we started our travel back to Munnar city. But, anticipation of a relaxing Kerala spa gave us the spirit to go on. We were visiting Punarjani Traditional Village next for Kerala Ayurverdic Spa.
Punarjani is a nice place that restores and showcases two integral elements of Kerala's art and culture. Kathakali- the classical dance form of Kerala and Kalaripayattu- Traditional martial arts of Kerala.
I regret missing both of them. We had booked Ayurvedic spa at Punarjani and the show timing clashed with our appointment time. We had to forego the former : ( . The sad part of the story is that we couldn't even get the spa done that day. My overprotective husband wasn't convinced with the look and feel of the place and he cancelled the booking just at the last moment. The day's trip ended with a fight over the failed plan and like always, ended soon with Rupam promising a Spa in Alleppey; our next Kerala destination.