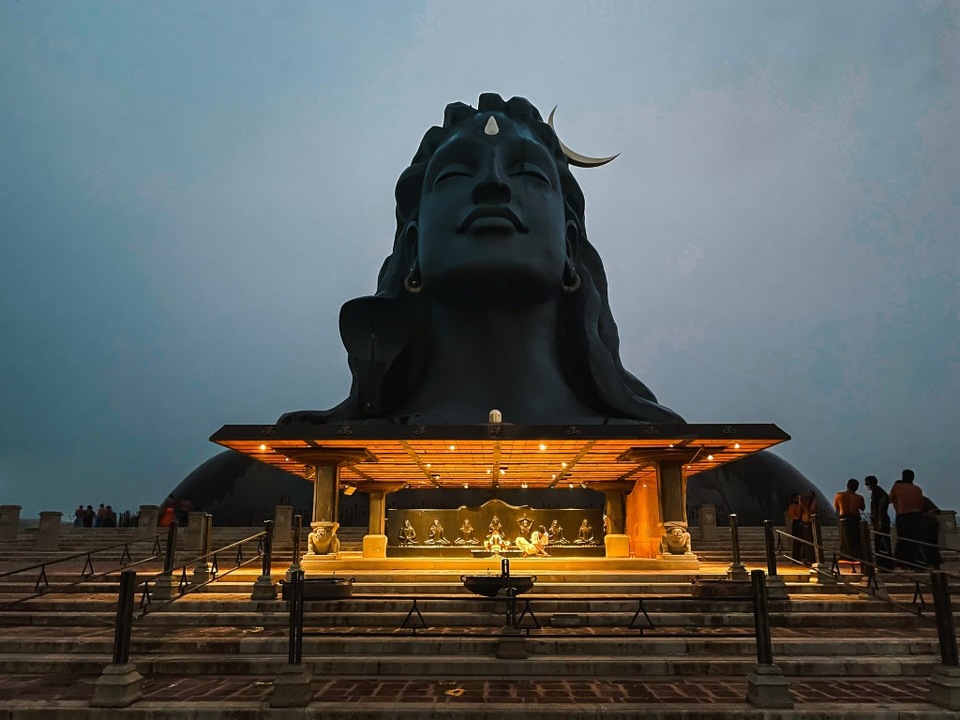 We had only discussed of Coimbatore as the nearest airport to Ooty or the entry point for a road trip to Kerala, before we fell in love with the image of Adiyogi Shiva Statue and added it to our endless travel wishlist.
So finally in December of 2021, we drove from Chennai to Coimbatore to make it to the home of Adiyogi Shiva statue - Isha Yoga Center. If being face to face with the World's most beautiful, serene, composed and of course, the largest bust sculpture is there on your travel bucket list as well, read ahead 🙂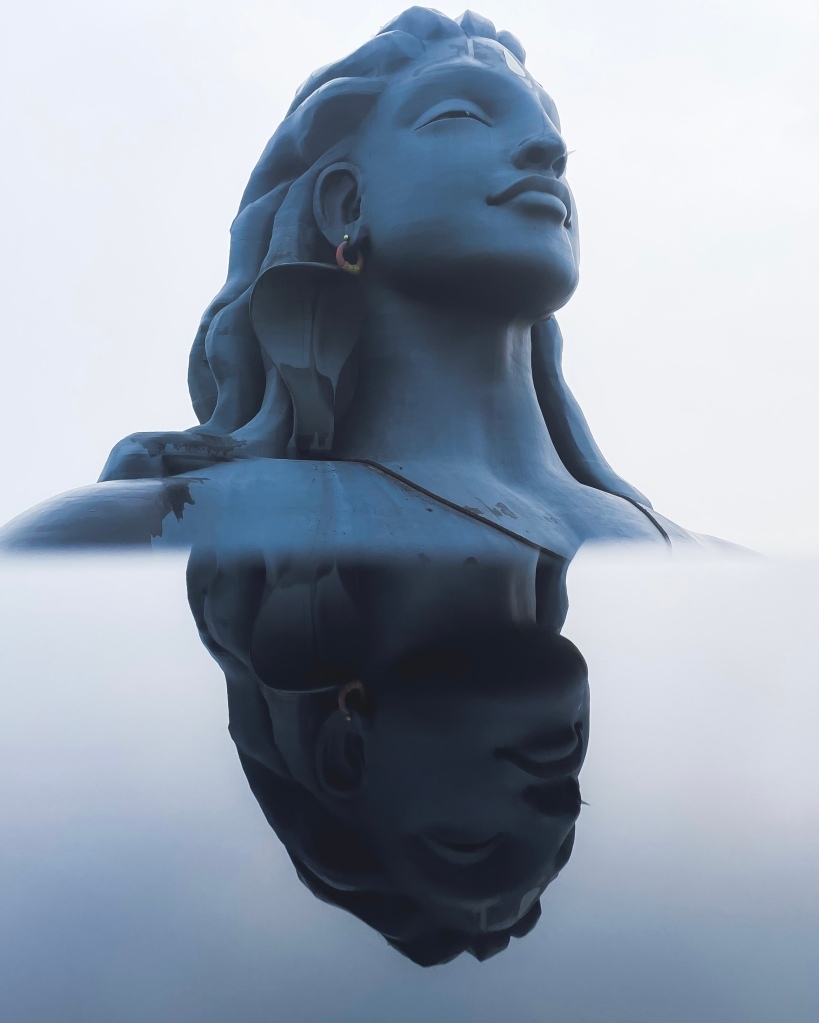 Adiyogi Statue is carved out of 500 stones of steel. Surrounded by the lush green farms at the foothills of Velliangiri hills in the Western Ghats, this place offers a relaxing environment to practice Yoga and meditation.
Adiyogi Shiva Statue, standing 112 feet tall, is recognised by the Guinness Book of World Records as the largest bust sculpture of Lord Shiva in the world.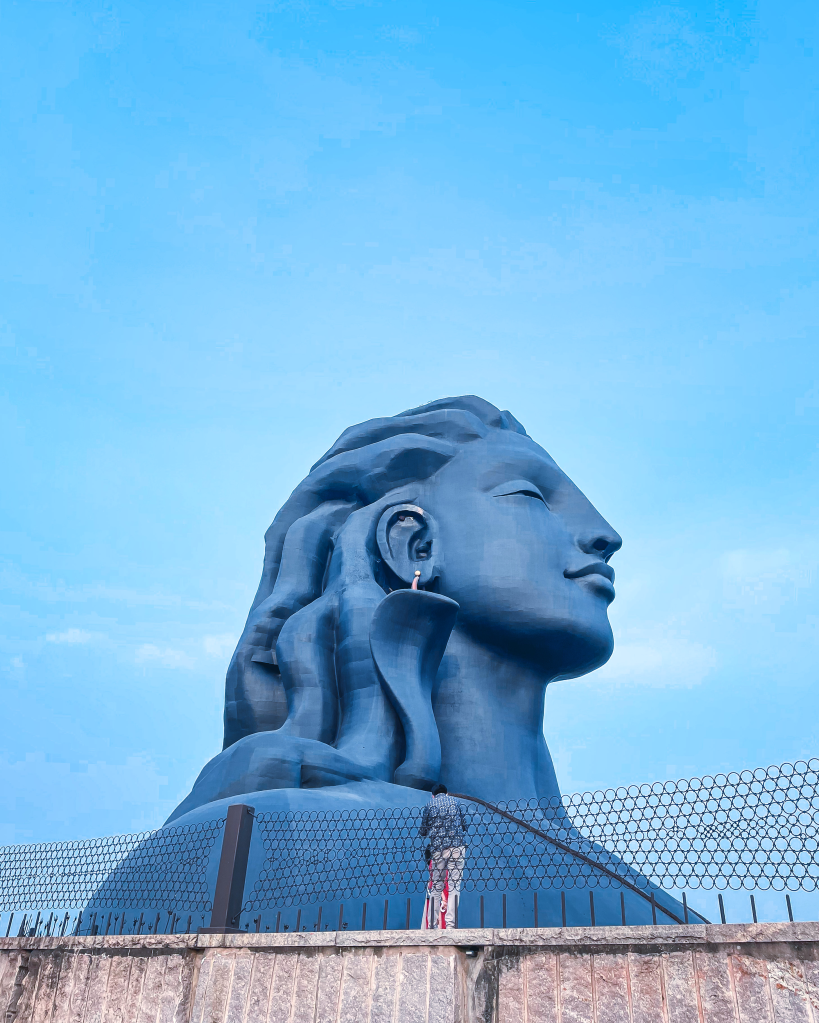 How to Reach?
We drove from Chennai to Coimbatore which was about 500 km, 6.5 hours, 65 songs and a couple of coconut waters. It is best to start a road trip in the wee hours to avoid the city traffic and maximize the time to explore.
You can fly to Coimbatore. The nearest airport is Coimbatore International Airport which is about 40 km (about 40 min) from Isha Yoga Center. Unless you are staying in the premises, Isha Center is about a half an hour drive from the city center as it is situated in the outskirts of Coimbatore (30km west). While you can book a taxi easily, there are also direct buses between Coimbatore and the Isha Center.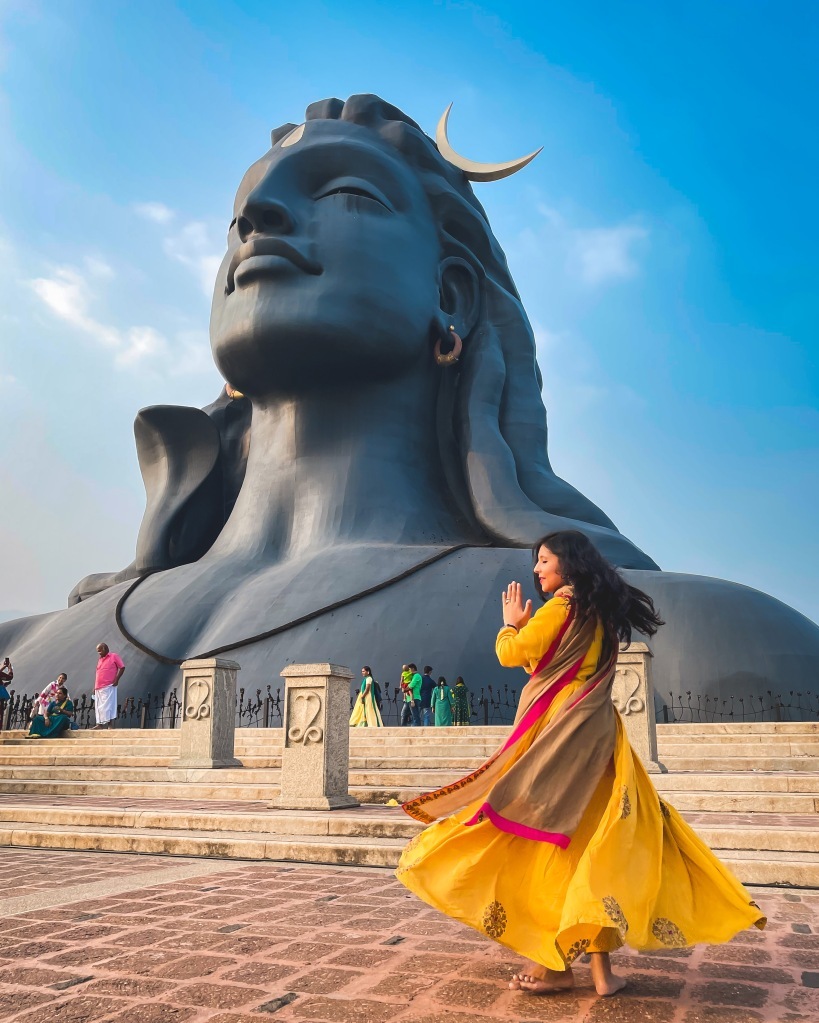 Where to Stay?
There would be no better option than staying at the accommodations available at the Isha Center itself beautifully surrounded by the Velliangiri hills. But this is not really a feasible option for impromptu travelers like us since the stay at Isha Center needs to be booked way in advance.
There is a plethora of stay options available in Coimbatore. We stayed at the Hotel Park Elanza and had a lovely stay.
Timings:
While the Isha center is opened between 8 am to 8 pm, Adiyogi Shiva Statue and the Yogeshwar linga is open to visitors from 6 AM in the morning.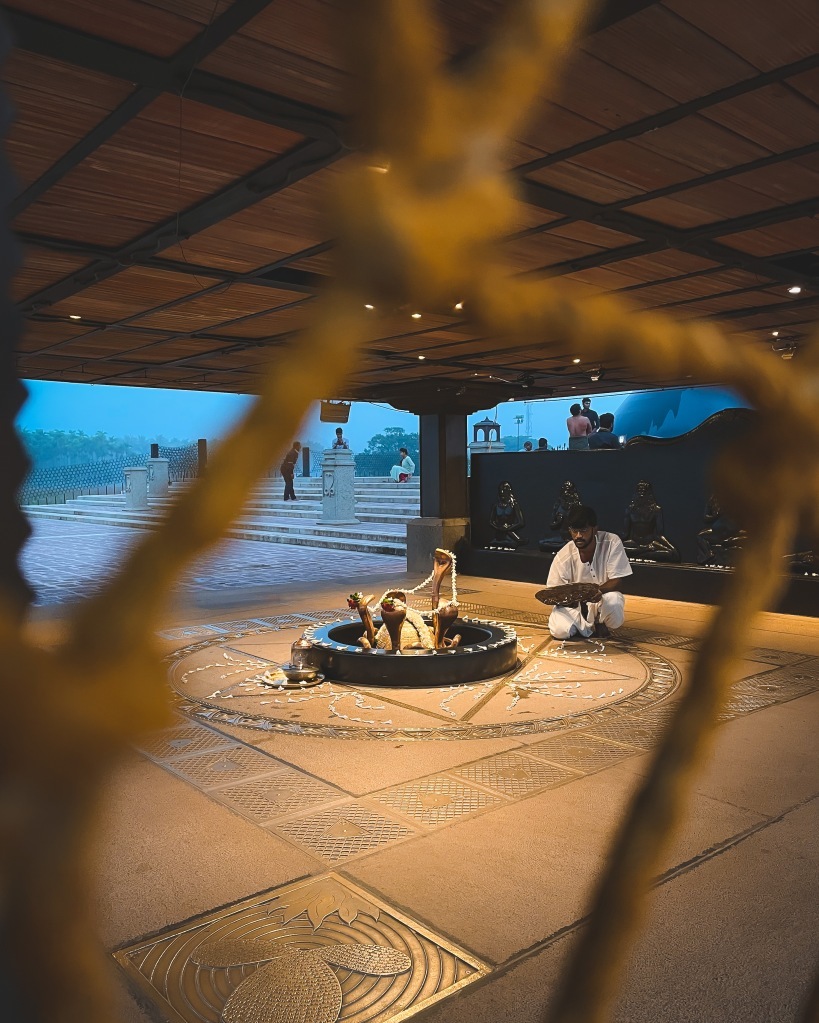 Don't miss the Adiyogi Divya Darshanam on weekends, full moon night, new moon day and other auspicious days 8 PM onwards. Adiyogi lights up the sky in a spectacular 3D light show, depicting how Adiyogi offered the yogic sciences to humanity.
Every full moon night, Adiyogi is opened till midnight and a musical performance by Sounds of Isha is offered to Adiyogi from 10.30 pm to 11.30 pm.
The best time to visit is early morning till 10-11AM and evening 6PM onwards. Tamil Nadu is unforgiving and it can get quite hot in the afternoons.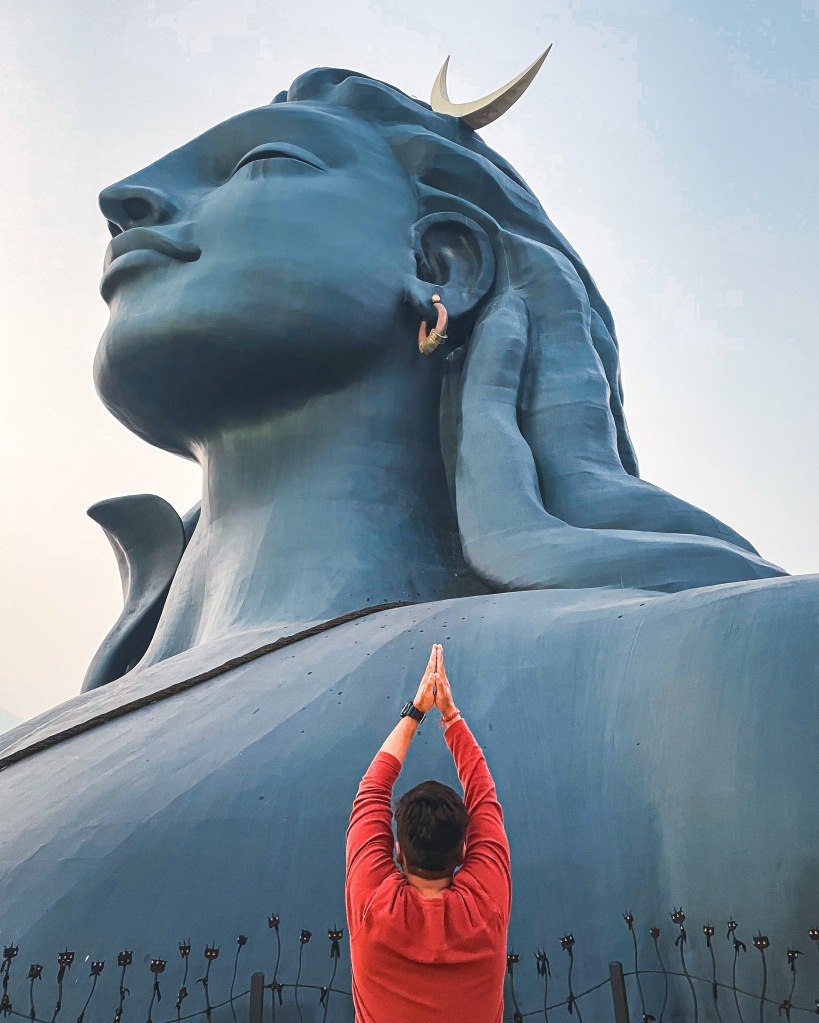 You are finally at The Isha Yoga Center !
On Day 1, we reached the Isha center around 5pm. The first look of this insanely huge and magnificent statue against the Velliangiri hills blew our mind away. It was truly even more beautiful than we had expected and in our opinion, no picture on the web really does full justice to this place.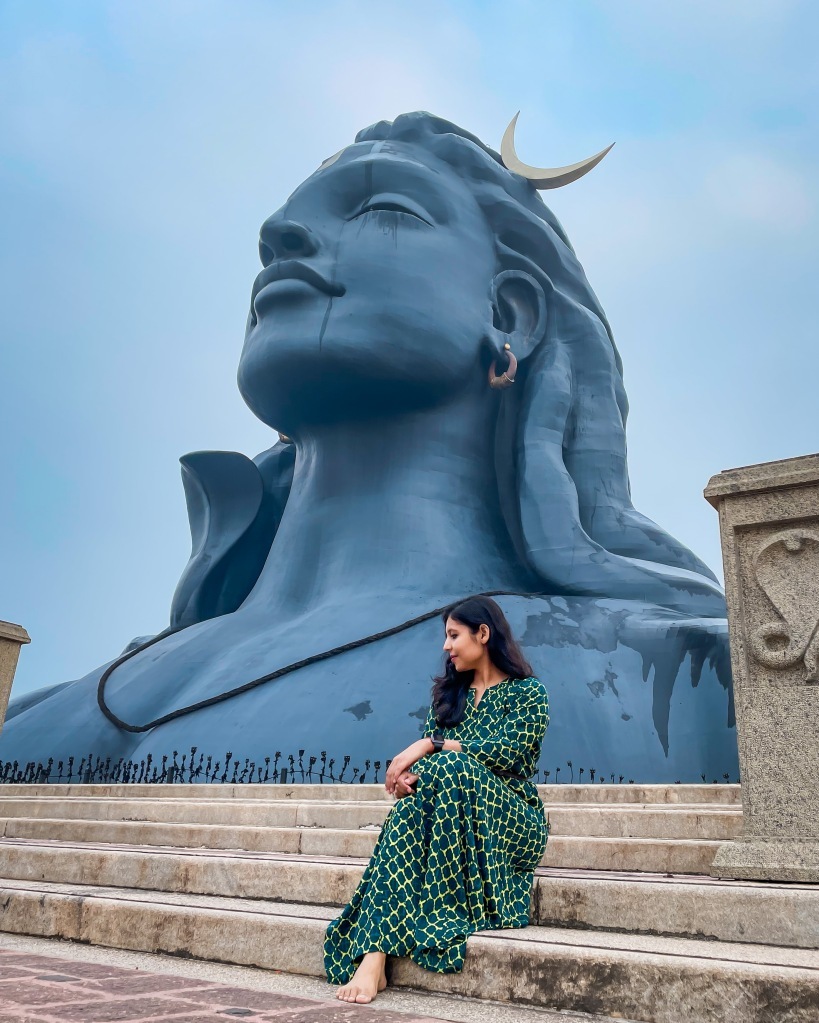 We stayed for the Light and Sound show and spent a good amount of time admiring this larger-than-life Shiva statue and exploring the rest of the Isha center . There are beautiful temples of Dhyanalinga and Linga Bhairavi in the Yoga Center. You are not allowed to take your gadgets like cell phones and cameras inside. Free cloakroom service is available to keep your stuff safe.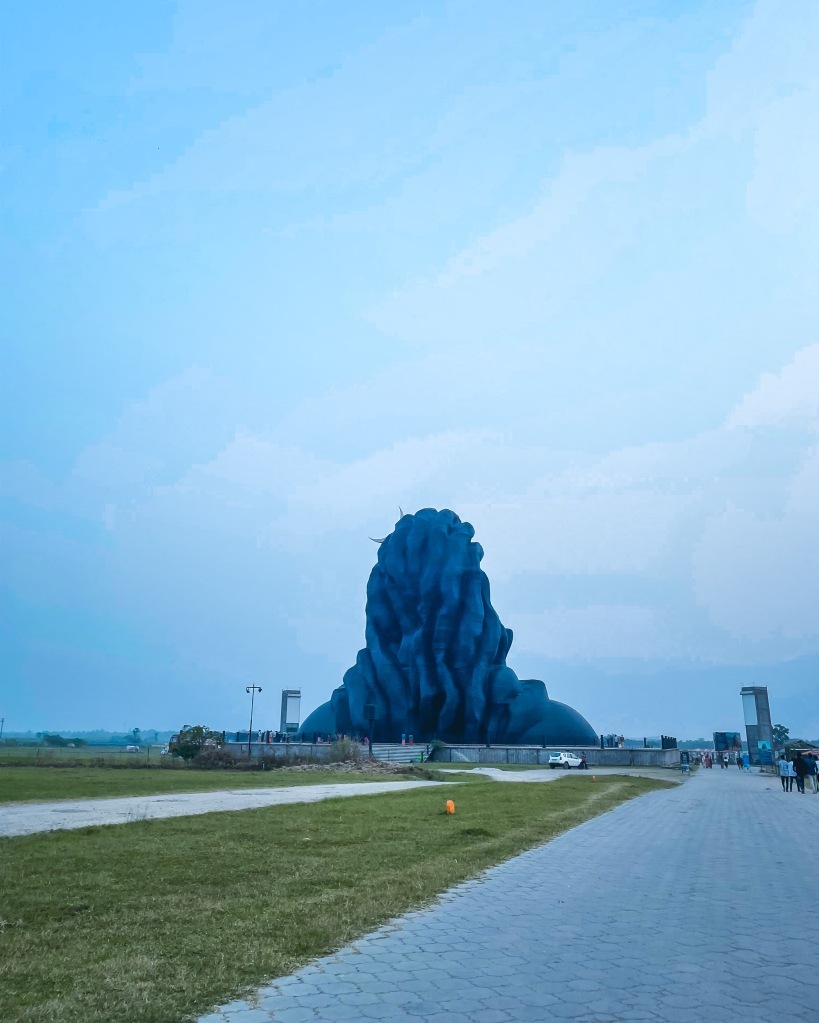 Dhyanalinga is a 33ft high dome with a 13 ft high Lingam inside. Dhyanalinga is a space for meditation and not linked to any kind of ritual or worship. You can spend a few minutes to hours here with just your thoughts if the energy of this place speaks with you. We have been to other meditation spaces in the country where visitors won't stop talking. We loved how the volunteers here ensured that the decorum of the place is maintained to enhance the beauty of Dhyanalinga.
Though, we didn't take a dip in the kunds but it is believed that a dip in one of the Theerthakunds increase the receptivity of the energies in Dhyanlinga. The Chandrakund, for women, is embedded 30 feet below the ground and approached by a descent of about thirty massive steps.
The Suryakund, for men, is 20 feet below ground level and lies underneath a stunning brass and copper sculpture of the sun.
We walked around the lotus ponds, paths lined with palm trees and refueled at the canteen inside the Isha center, while we waited for the light and sound show. The show started at 8PM and in those 15 minutes thereafter, we witnessed one of the best light shows in the world.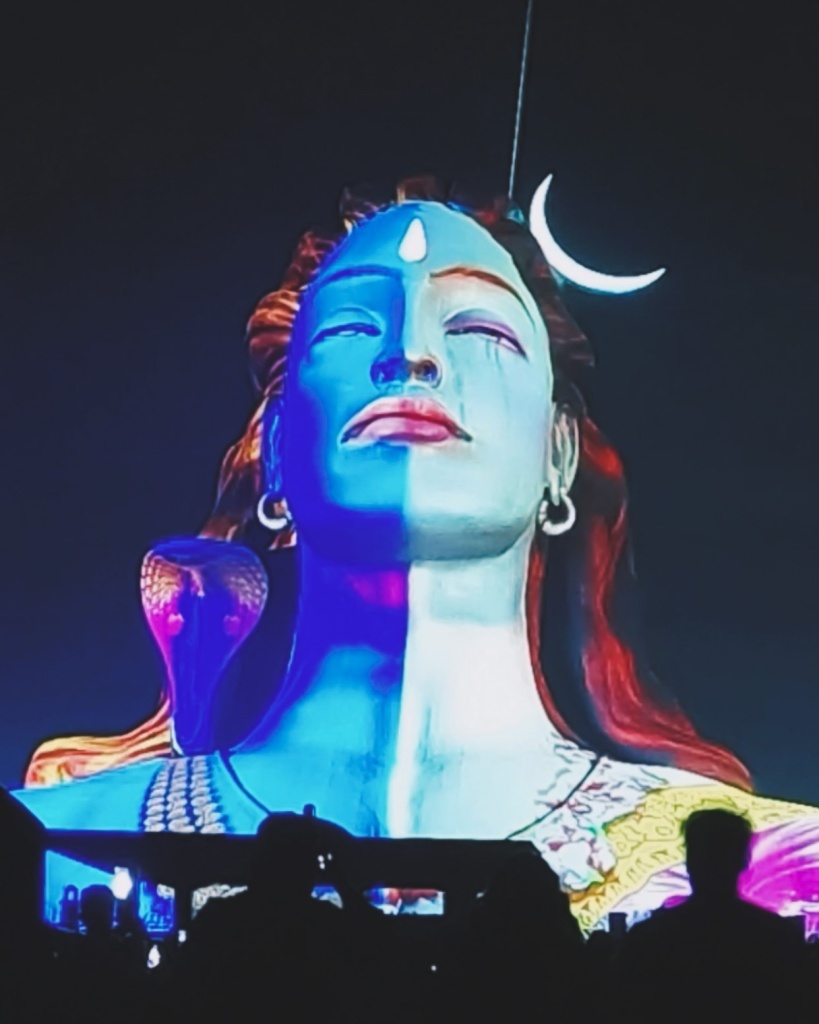 It was a fulfilling day at the Isha Center but our hearts wanted a little more. We had to visit again and couldn't wait for the next time. Hence, the next morning at 6 AM , two exhilarated souls were at the Adiyogi Shiva statue at 6 AM to witness a beautiful sunrise.
We offered our prayers at the Yogeshwar linga and waited for the sun only to be greeted by a cloud cover. No amount of clouds could kill our enthusiasm. The grandeur and serenity of Adiyogi statue remained the same as we felt the first time when we saw a glimpse of it from our car window from a mile away at the entrance gate.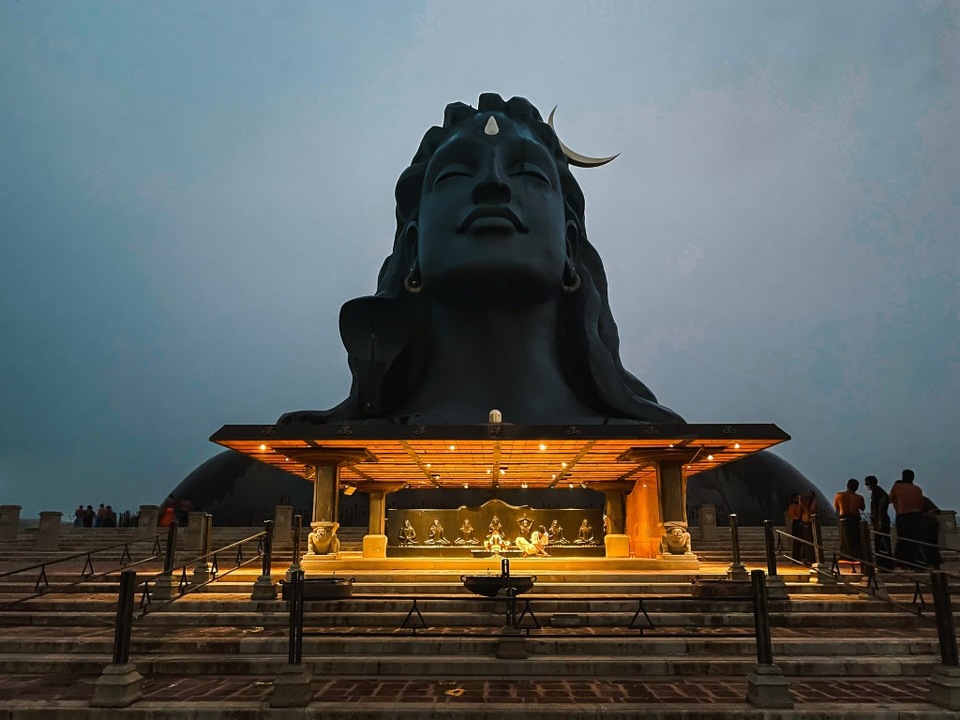 We would love to experience a Mahashivratri celebration here but the crowd keeps us away. But maybe one day! Irrespective, we will surely go back again some day soon. If you are here at the end of this blog, thanks for reading and we hope it helps you plan your travel better 🙂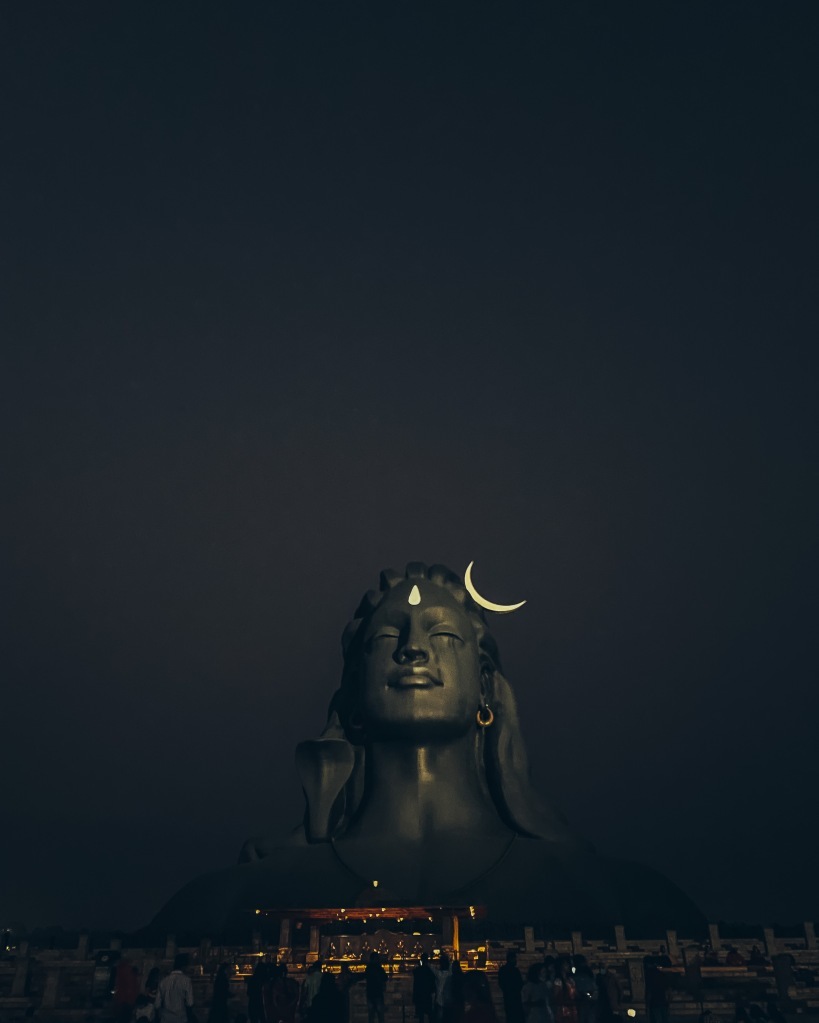 Follow us on Instagram @ZoomingPlaces
Ready to travel for free? Earn credits and redeem them on Tripoto's weekend getaways, hotel stays and vacation packages!