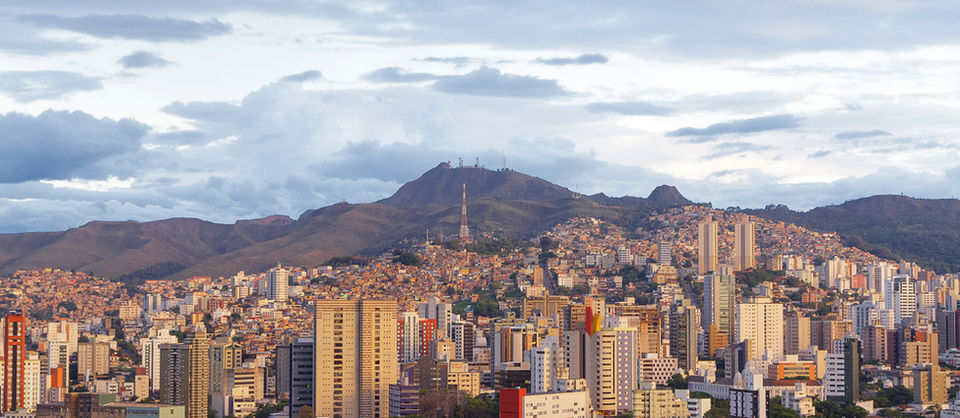 We wrapped up our road trip at one of the country's friendliest cities. Set against the mountains of Minas Gerais, this metro city holds up to 5 million people, but still retains a local charm to it. A steady chant of "Silva, Silva" filled the air, as locals paraded through the roads carrying colorful banners. Celebration was in the air. The stream of people all seemed to be heading in the same direction, towards the Praia da Estanço, otherwise known as the FIFA Fan Fest. Fests like this are abundant in this city filled with football fanatics, who are treated to the screening of football matches on giant screens. A gush of water streamed in from locals carrying hoses, atop giant buses and trucks, as fans cheered on, dancing and chanting for their favorite teams. Football never gets old, when you come to Brazil.
Dropping in at a local café, the Rei do Pastel treated us to a great dinner with a relaxing and friendly atmosphere. Titu was the delicious dish we tried, which is essentially a mixture of black beans, pork sausage, onions, garlic, tomatoes, and manioc flour.
"Welcome to the "capital of neighborhood bars!" the waiter greeted us, explaining the Comida di Buteco festival. This festival celebrates the popular 'pub foods' all over the city. Pizza houses, barbecue houses, and many multi-national restaurants fill the city. I listened intently as I sipped my cachaça, the internationally known drink of Belo.
Built on hills and surrounded by mountains, the parks of Belo Horizante provide some spectacular, panoramic views of the city. The Mangabeiras Park lies a bit further south from the city. For a more natural experience, the Jambeiro Woods is home to over a hundred species of birds, and many species of mammals.
We then went to see one of the architectural wonders of the city, the Church of San Francisco de Assis. Facing the riverside, this church has has a controversial history. But its stunning architecture and ambience make it a major tourist attraction.
Belo is also home to multiple museums. The Natural History Museum and UFMG Botanical Gardens must be visited. Telling the story of Jesus through over 500 figures, this museum captures the beauty of folk art. The Pamhuiha Art Museum, one of the first projects of Oscar Niemeyer, is also worth checking out.
Abundant with friendly people, good food, a football frenzy, and beautiful architecture, Brazil captured my heart. The amount of adventure and history all packed in one is what Brazil is all about. Driving back, I closed my eyes, smiling at the memories made, the steady chant of 'Silva, Silva' now a faint buzz in my head…