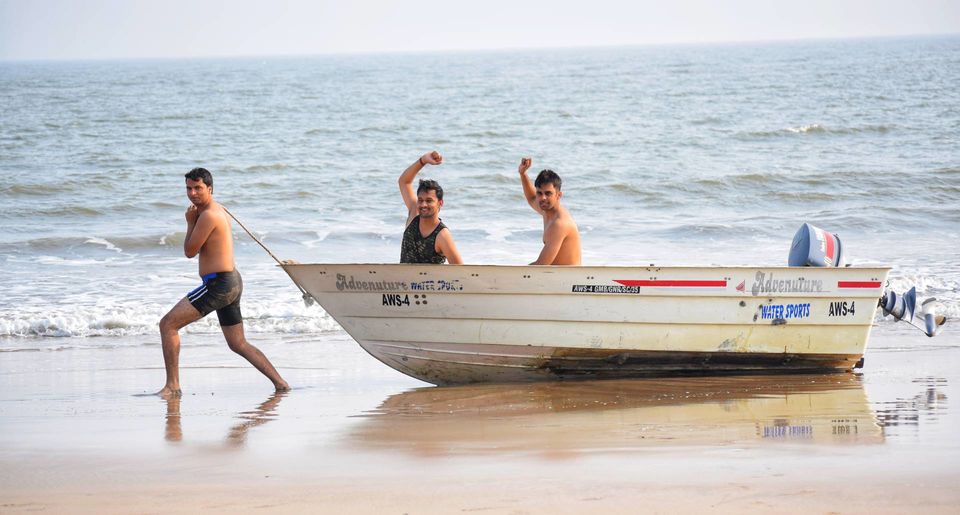 Diu, the popular coastal town of Daman and Diu union territory is particularly famous for its serene beaches and beautiful Portuguese architecture. Fairly connected to Indian state Gujrat, this island is perfect getaway for those looking to spend pleasant holidays on pristine beaches basking in sun and enjoying water-sports.
My Journey to Diu started with an amazing Lion safari at Gir National Park and strolling in devotional town of Somnath.
Our Day at Diu began with Morning Check-In at hotel near Fort road facing Arabian sea. Considering it's walking proximity with Diu Bus stand, this area is full of ample hotels suiting all budgets and amenities. This area is probably the most densely populated area in entire Diu town.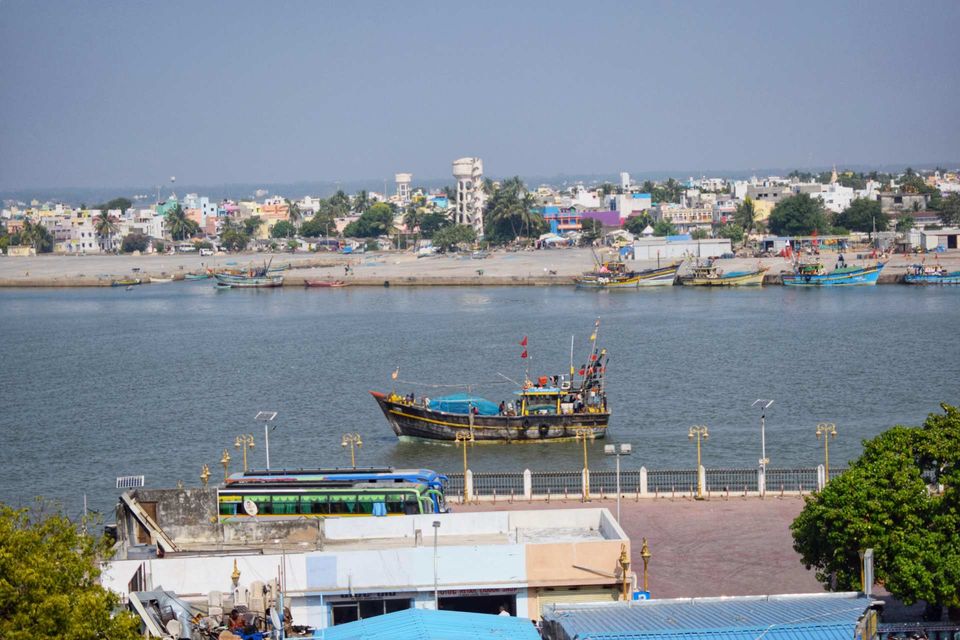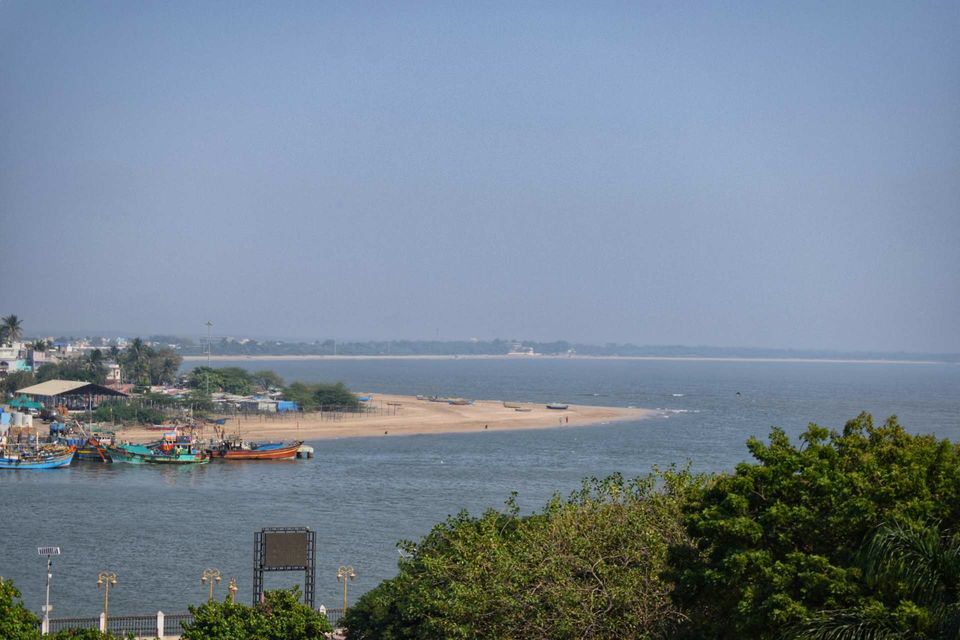 Best way to explore the town is on rented wheels, be it two or four; depends on choice. But make sure to book it in advance as you might land into problem of unavailability, like us! And then you have to rely on other shared transports such as auto-rickshaws.
The first major stop in our trail of exploring after a sumptuous authentic Gujrati Meal was Naida Caves. These underground caves are an offbeat destination for explorers. The eroded walls form a unique symmetry in itself and lit up with sun-light. We also got to see remains of Old Diu Fort located near Diu Cricket Stadium, while walking towards Naida Caves. Though it was more of a historical gate erected on the quiet streets of old town.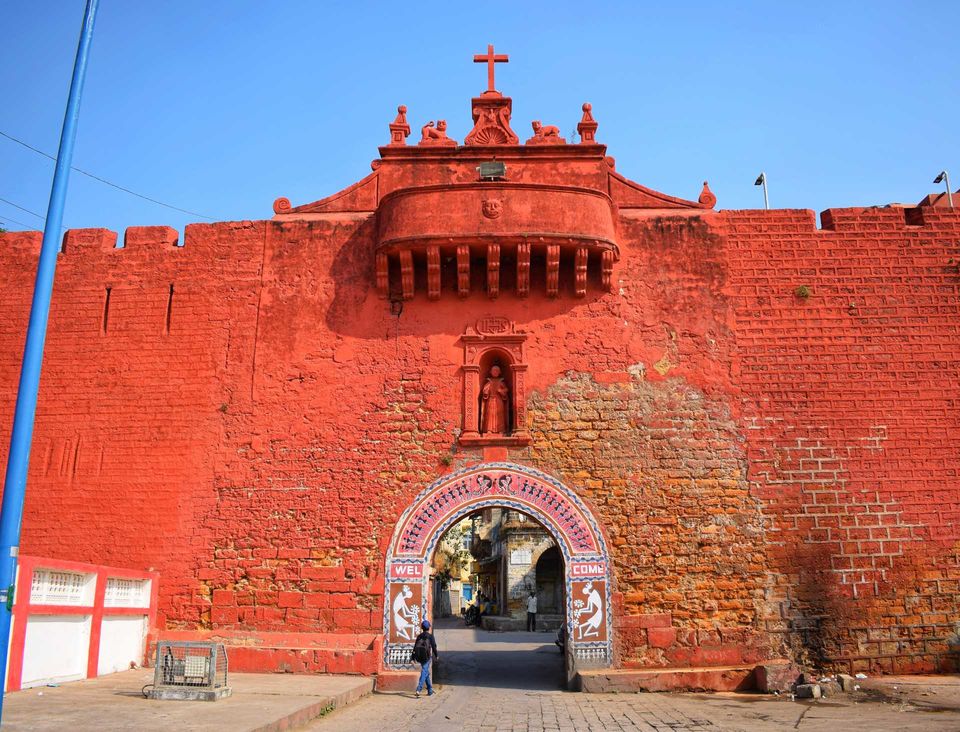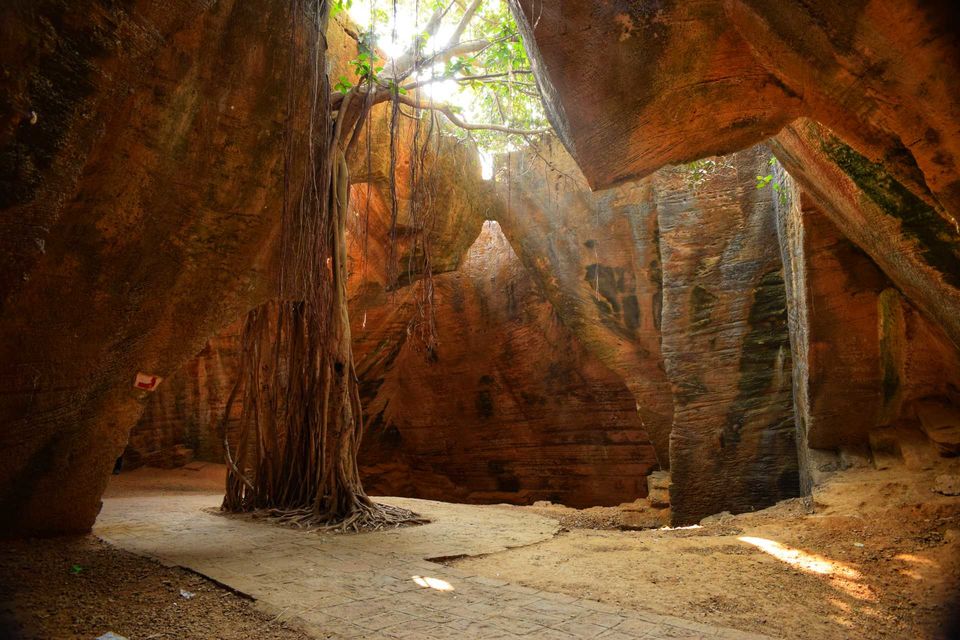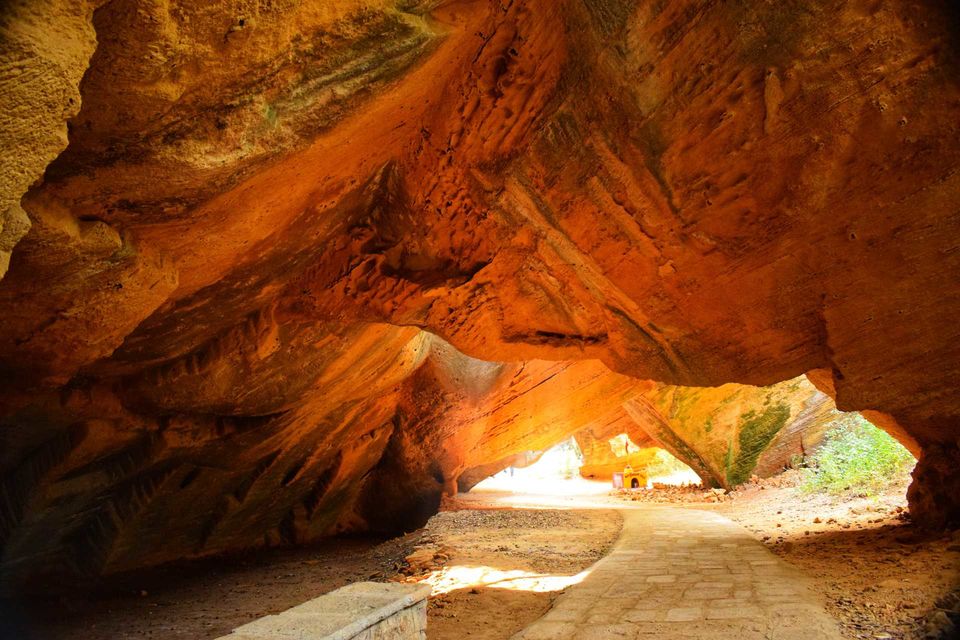 INS Khukri Memorial was our next stop which is just 2 kms from Naida Caves. The coastal trail surrounding Jalandhar Beach leads to INS Khukri Memorial. We thought of rambling through this promenade to enjoy the pleasant weather. On the way, there was a vantage point for sunset view known as South Pole Point. We hiked few stairs spread across neatly maintained gardens to reach INS Khukri Memorial, situated atop a hillock.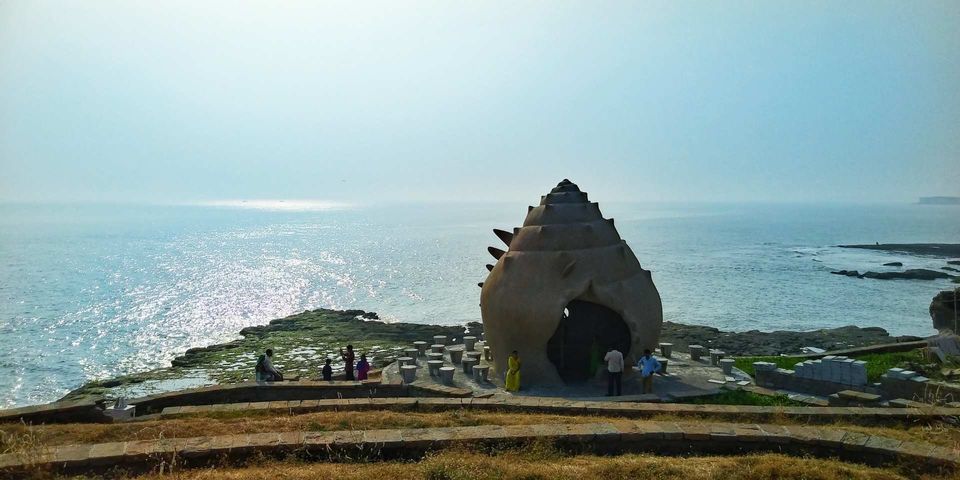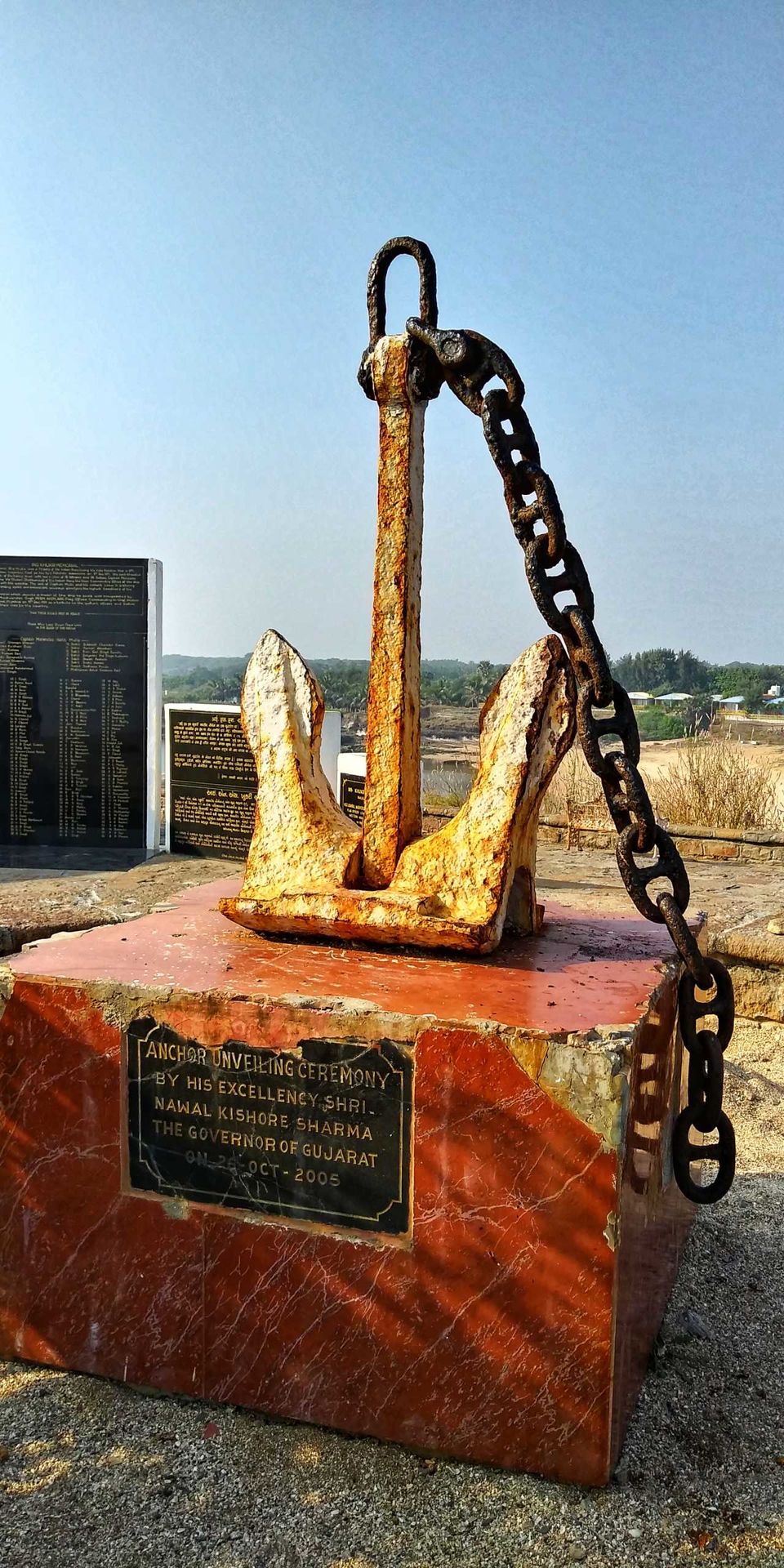 This Indo-Pakistani War memorial commemorates an Indian Warship frigate, which was lost in the war and sunk off the coast of Diu during war of 1971.
This Memorial overlooks adjoining Chakratirth Beach, and we enjoyed its serenity by spending some moments gazing at sea-waves and reading valiant tales of INS Khukri engraved on various war artefacts and mini-replica of INS Khukri.
Now it was time to visit ancient Gangeshwar Mahadev Temple located midst of the rocks on seashore. We had to stroll this stretch of 3 kms as there was barely any shared transport available throughout that route.
Built during Mahabharata times by Pandava Brothers, here the Five Shivalingas of Lord Shiva are often washed by the high tidal waves of clear sea-water.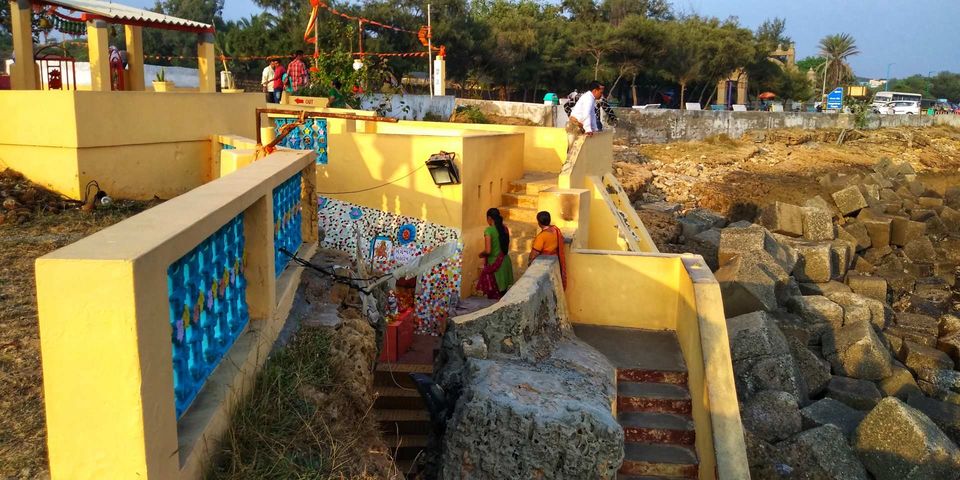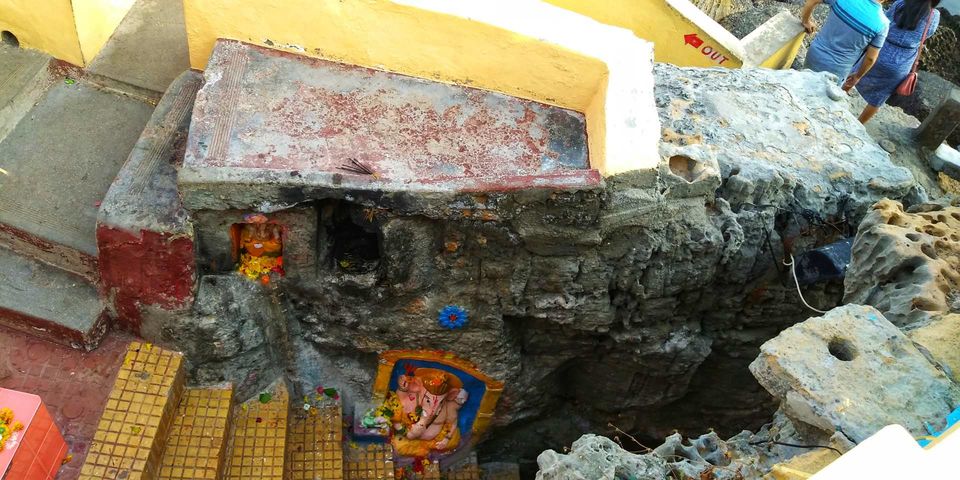 Though we're quite exhausted when reached there, but upon seeing tranquility of this place soaked in utter peace, we felt delighted. A fresh coconut water and slice of fresh fruits relished the moment.
We had to skip Sea Shell Museum as dusk was spreading across the sky. This museum is popular for it's rare collection of diverse sea-shells found around the world. We directly headed to our last stop of the day, that is, Nagoa Beach, which was still 4 kms away. We somehow managed to arrange an autorickshaw to take us there before sunset.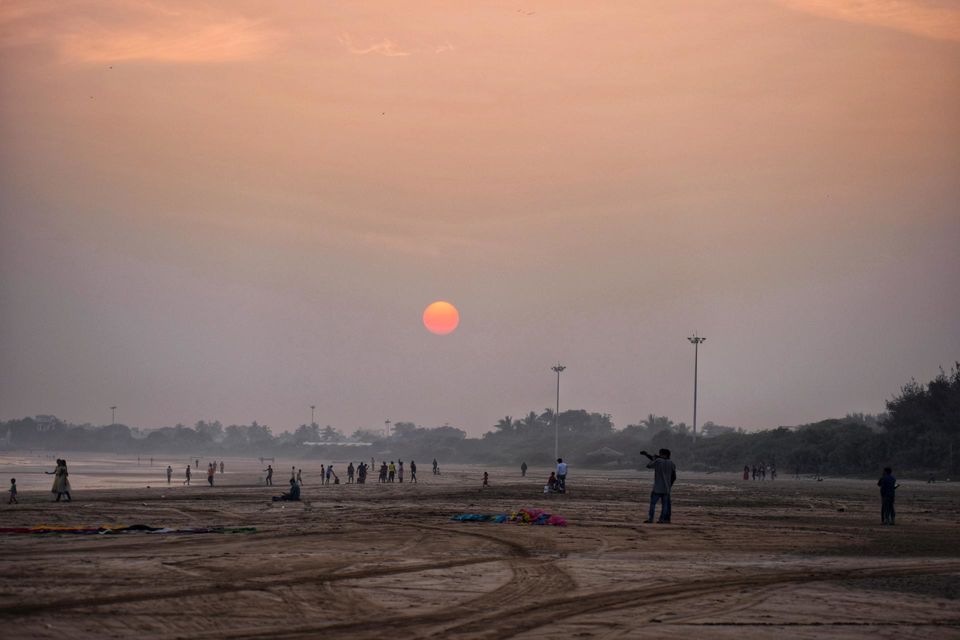 Nagoa Beach is the most popular sand beach of Diu with ample of activities to do including water sports, parasailing and paramotoring etc.
As soon as we saw the waves touching our feet, we couldn't resist ourselves from jumping into the sea. That plunge in waves and unlimited fun at beach-side shacks till dark was best way to conclude our first day at Diu. We headed back to our hotel just to prepare ourselves for an even more exciting day at Diu on next morning.
Day 2 at Diu started with a feast of tasty local breakfast at nearby Food Street. And then a ride to St. Paul Church which is near Diu Museum. This Baroque architectural style church, built by Portuguese is main functional church in Diu. The beauty of this place was indeed a sight for the eyes.
Now we headed to the Most popular destination of Diu, The Diu Fort. Located at sea-coast, Diu Fort was built by Portuguese in 1535. Fort is spread over a vast area, with brass canons on walls and Church/temples inside. A huge Light house is situated across gardens inside the fort and is a good place for a panoramic view of entire Fortification.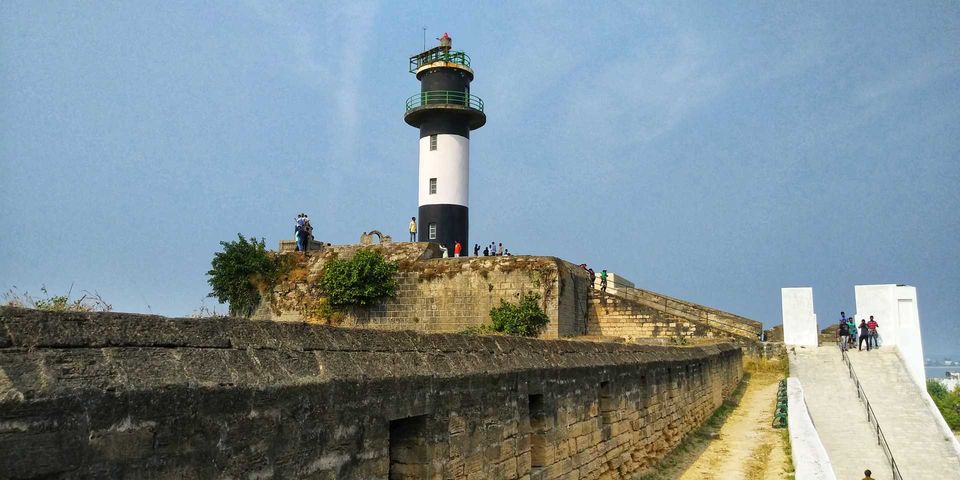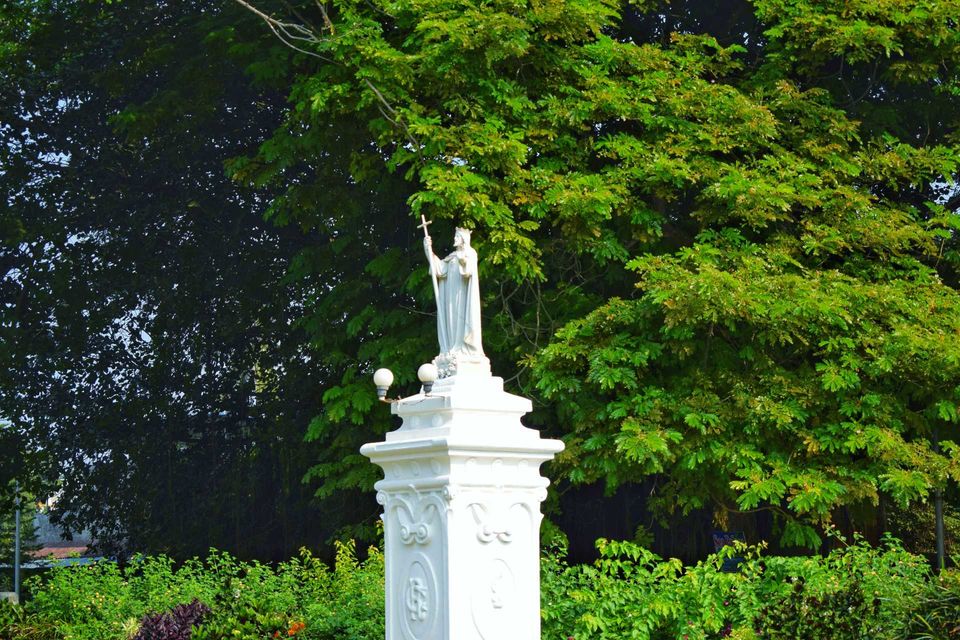 Fort Diu was listed as New Seven Wonders of Portugal built during their colonial rule by Portuguese government in 2009
Fort Diu is perfect vantage point for Pani Kotha, which is a former prison and fortress. The uniqueness of this prison, also called as Alfiston jail is that it's located amid sea in the shape of ship. During night colourful lighting of Pani Kotha adds to the beauty of Diu island.
Diu Fort is bustling area with lot of shopping kiosks and eateries, after having refreshments we headed to our Ghoghla Beach, which is the most serene and beautiful beach in entire island. We spent our entire day enjoying rides on the sea and booze on the beach.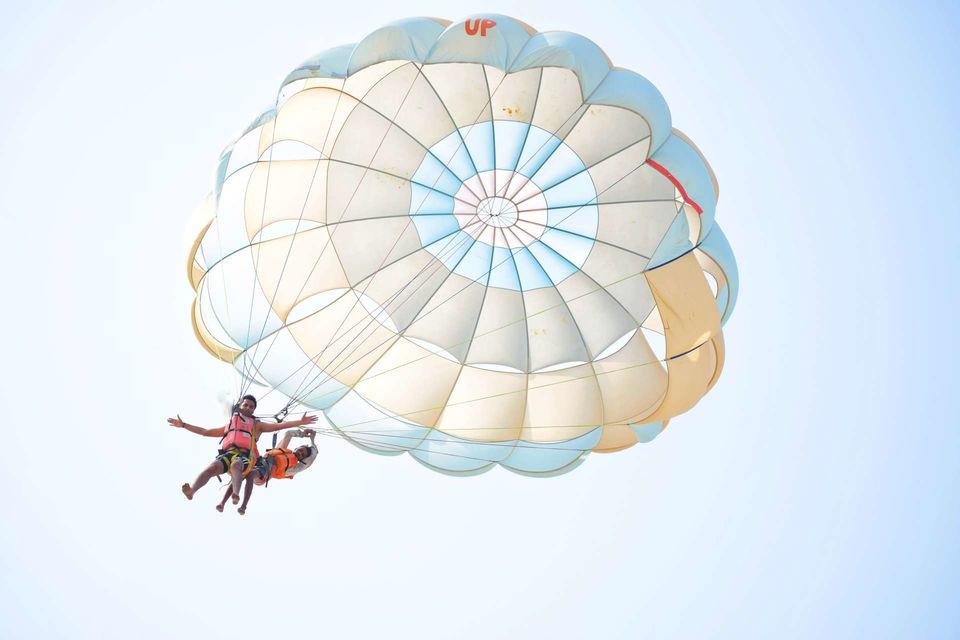 Ghoghla beach much more peaceful and is very less crowded compared to Nagoa Beach. And hence very less options of Beach shacks and other activities. But, it is a must go place if you're looking to spend some time in serenity, sprawling in sun, enjoying your potion of drink and sea-rides such as Banana-ride, Bumper-ride and Parasailing.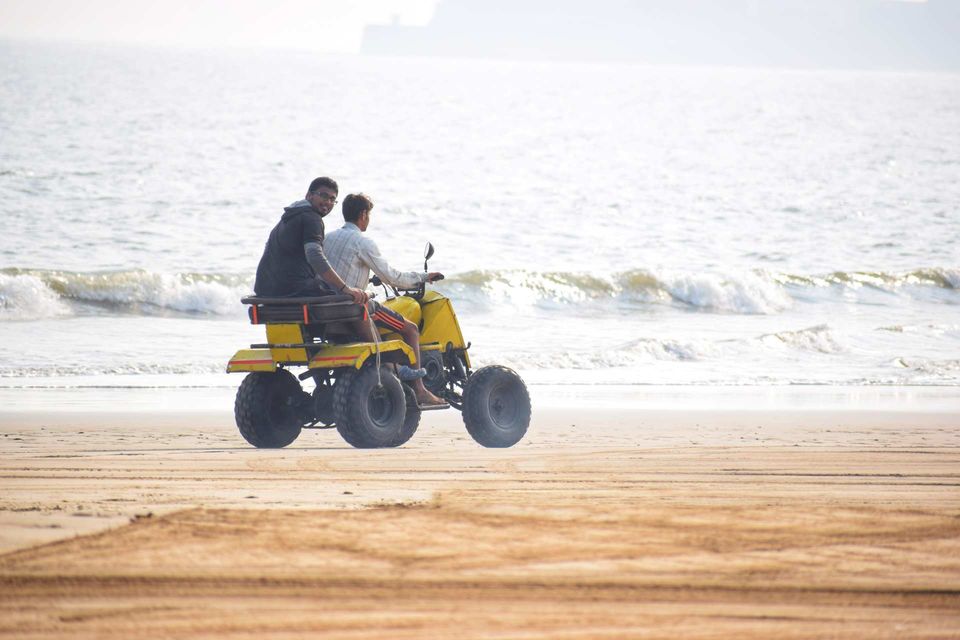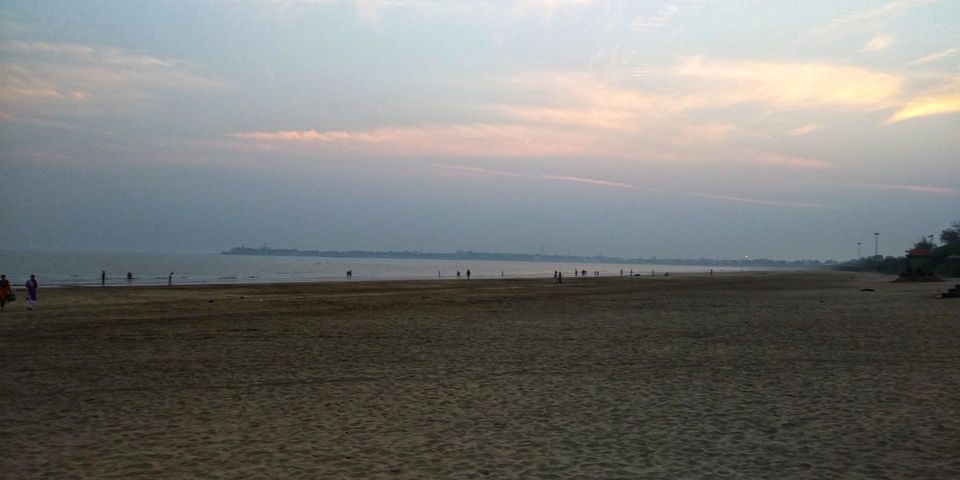 After a day-long fiesta and mesmerizing sunset at Ghoghla beach, it was time to conclude this Trail of Diu. Hence, we packed, checked-out and left Diu with memories to be cherished always #bestof2018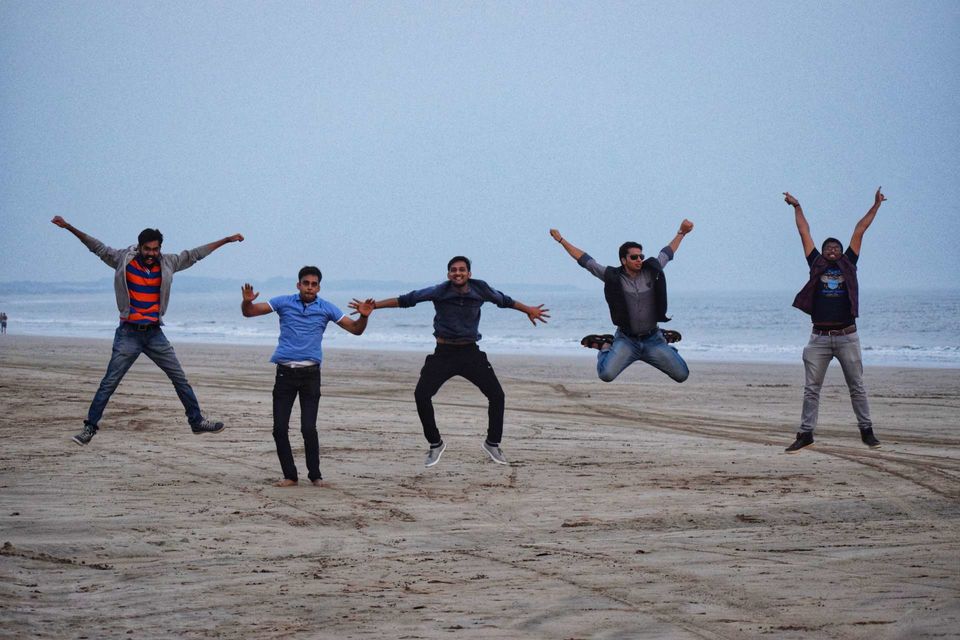 Some Useful Additional Information –
How to Reach Diu Island-
• Diu hosts an airport which is well connected with few major Indian cities.
• Ahmedabad which is nearly 360 kms is another option from where you can get direct buses to Diu. You can also hire Taxi from here.
• Junagadh (140 kms from Diu) receives trains from different cities and can be a good option to reach Diu by Train.
Places to Visit Nearby-
Diu is splendid for spending a beach-side vacation over a weekend. In case you've ample of time, then club few amazing nearby places in your itinerary to make the trip more memorable. The two best nearby places are-
1. Somnath (coastal town nearly 50 kms) is a significant pilgrimage and tourist spot of Gujarat. It is home to first among the twelve Jyotirlinga shrines of Shiva. It's also the holy place where Lord Krishna and his elder brother Baldev left the earth for the heavenly abode.
2. Sasan Gir (National Park nearly 65 kms) spread over 1882.6 sq km is the only place in India to see Asiatic Lions in their natural habitat from an Open Jeep Wild Safari. Gir not just hosts 523 Lions but also 606 different plant species, 39 species of mammals, 37 species of reptiles and over 300 species of birds and more than 2,000 species of insects.
So what are you waiting for ? Pack your bags and rush to Diu ! Tell me your experience in comments or Share with our worldwide community