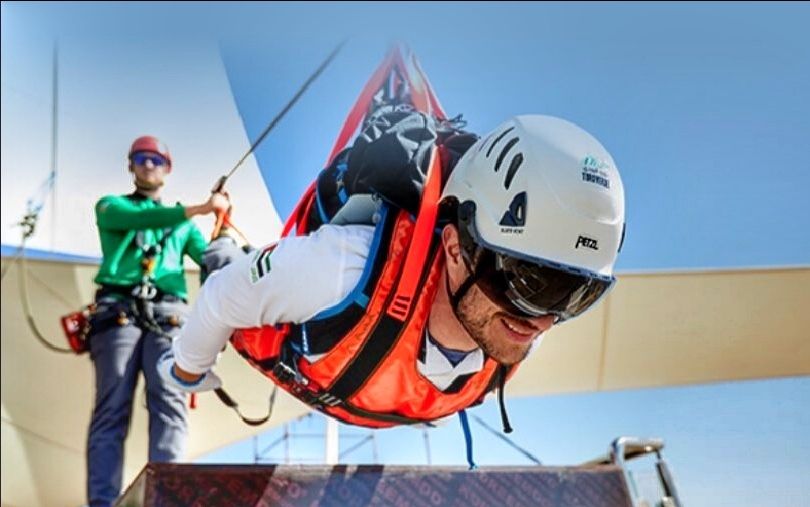 Worlds longest zipline certified by guiness world records.
- Total Distance: 2.8 KM, flying at the speed of 160 km/h.
- Eligible weight between 40 to 130 Kilo.
- Season rate AED 680 (November to April), Off-Season rates are 50% discounted.
- Go Pro cam is not included in the rate. You may use your own or one can rent it from the desk for AED 135.
- Tourists should carry their passport and UAE Resident can use their Emiretes ID for the entry.
- Dress code: Anything sporty or casual (a jacket recommended in the winters).
- Free Shuttle buses are available from dubai and ras al khaima with free wifi access. Below are the details.
* Ras Al Khaimah Shuttle Bus:
From Dubai International Airport to Ras Al Khaimah every day at 10.PM (time may vary depending on season). Check and Book from the below link.
http://rakshuttle.com/index.html 
Or one can travel to Ras al Khaima from union bus station in Dubai by paying aed 25 per head. Buses available every 1 hour.
*Jebel Jais Shuttle Bus:
From Ras Al Khaimah City to Zipline every day at 7.15 PM and 2.PM. Book your seats below.
https://jebeljais.ae/jebel-jais-tours/
Process:
Zipline is located at the top of jebel jais mountain. Driving up through the hairpin roads, you will come across the checkpoint after viewpoint 8. Your zipline tickets will be checked there and they will guide you to the office. Car parking spaces are available there.
When you enter the office, you will be given a form to fill out, after entering the details, you will move to the desk where you will submit your Passport or Emirates ID with the form and ticket. After checking the documents, you will be given a participation wrist band. You can rent GoPro cam from here.
Next, you will move to the dressing area where the staff will dress you with the safety equipments, helmet, bag etc. Mobile phones, documents and other things can be safe in your backpack they provide.
A 10 seater van waiting outside will take you to the zipline start point. Once reaching there, you will be given a small briefing about safety, what should and not to do when you fly. 2 ziplines are available and 2 persons can fly togather at a time.
Staffs will make you lay pushup position and buckle you up. Now all set to fly. 3,2,1 and boom!
On reaching the end point, you will have another short hanging zipline ride of 35 meter. By crossing this, you have conquered the worlds longest zipline. A van will be waiting you at the end point, in which you will be took back to the office. On reaching there, you will be awarded with a zipline cerificate. Thus, Another adventure is complete.
#rasalkhaima #zipline #jebeljais #jebeljaisflight #jebeljaiszipline #toroverde #uae