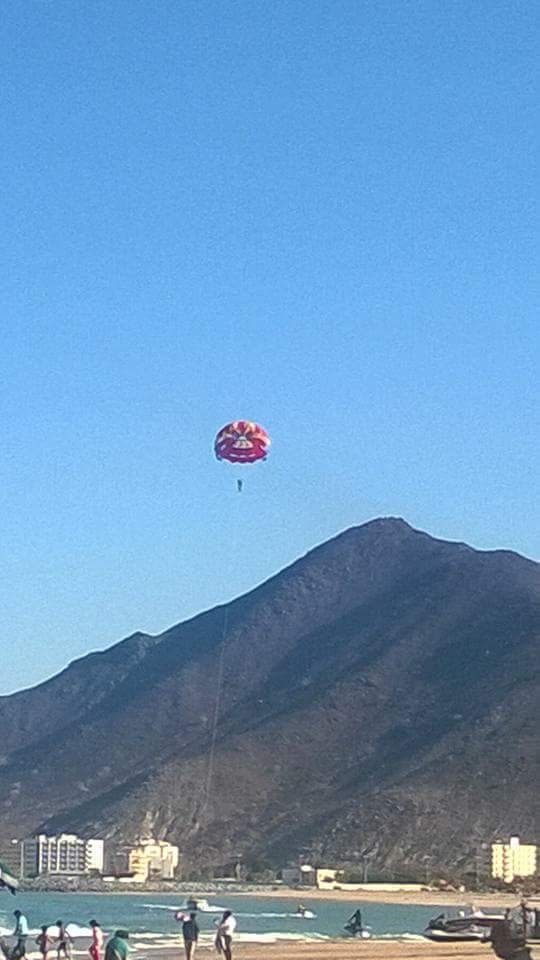 Parasailing!!!!! "Ahhhhhh…"
That was actually my reaction when I flew up in the air!!
Coming to the very beginning. I always felt that UAE is highlighted for its grandeur,luxury and the rich royalty but the natural beauty of the country is rarely discussed. And a lot of people think its only dessert around and nothing more in terms of nature. Infact, not a lot of people are aware of the names of all seven Emirates other than Dubai and Abu Dhabi(the capital city) – Sharjah, Ajman, Ras Al.Khaimah, Fujairah and Umm al Qwain are the other five.
So after the Jumerirah beach blog, I thought to write down my experience at the Jebel Jais Mountains and Khorfakkan Beach.
We decided to go on a road trip from Muhaisinah(where we stayed) to Jebel Jais first which is on the northern side of UAE, at the Ras al Khaimah emirate.
Anyone who had been to the Middle East would know that they have amazing roads and great connectivity which is perfect for roadtrips. The total distance to Jebel Jais from Muhaisinah was 140 kms or so.
With 1934 ft in altitude its the highest point in UAE. A ride through the mountains was a pleasant change. We could actually feel the temperature drop as we kept driving higher.
Once we reached on top, it was so breezy! A gush of cold wind was a lovely surprise to the otherwise warm UAE. Totally unexpected temperature and such a relief! There were a lot of people cycling their way up too. So if you are into mountains and cycling, this is your place to be.
After the mountain trip, we decided to head to the Khorfakhan Beach, which though is part of Sharjah, is surrounded by the Fujairah Emirate. It is just a 113km journey from Jebel Jais to here.
It was a very pleasent beach with jet skis and boat rides and also has a park close by. The beach onlooked a mountain and the view was just beautiful.We decided to take a boat to the waters just to see how it felt more towards the inside. The turquoise blue waters were such a treat.
Heading back to the shore is when I noticed parasailing. I thought why not give it a try.
I met my instructor who would be joining me for it. He gave me a couple of instructions which summed up pretty much like "While taking off or landing, when your legs hit the land, RUN! ". Ahem! That sounds pretty easy!?
All geared up! Parachute attached!! Then the boat speeds up!! And guess what! Before I could think a lot I'm up in the air! (Yes .. I did run I guess, involutarily, when a boat pulls you into water.. ofcourse! )
Oh boy!! The view of the sea from up there!!! I so wish I could click a picture from there. It was picturesque! Waves hitting the shore , the mountain, the wind!!! I only wished to stay up there as long as possible.
After a while, we were set to land the beach and I must admit that this was the scarier part, when you feel you would crash the ground :D. The momentum made me run again and had a perfect landing.
Parasailing – check
With a lot of sense of accomplishment to have spent a wonderful day of my life, had a long drive back home.