Every Indian is familiar with Dubai. Most of us have visited this desert land at least once in our life so far and some of us have families and friends living here. Even now, cuisine wise most of us are not familiar with Middle eastern food. Thanks to the array of Indian eateries available in this city, out of habit we have always been reaching out to these Indian food joints for comfort. Now, not just Indians but with over hundred nationalities living here, no wonder the city is a culinary paradise and a melting pot of amazing cuisine. This is the city where you can indulge in finest French cuisine, sample molecular gastronomy or cuddle in the comfort of TGIF, shake shack and cheesecake factory. With that many options it is easy to let the real Emirati cuisine culture slip out of habit and moreover convenience.
So, I have put together bite sized look of some Arabic culinary offerings of the city that you can explore and through which, familiarise yourself with the food and culture of the Middle east. This will also help get a glimpse of the tantalising diversity of Middle Eastern food available to you when you are in this city and take back true memories of Dubai which goes deeper than just desert safaris and camel rides.
Arabic Food to try when in Dubai
1. Hummus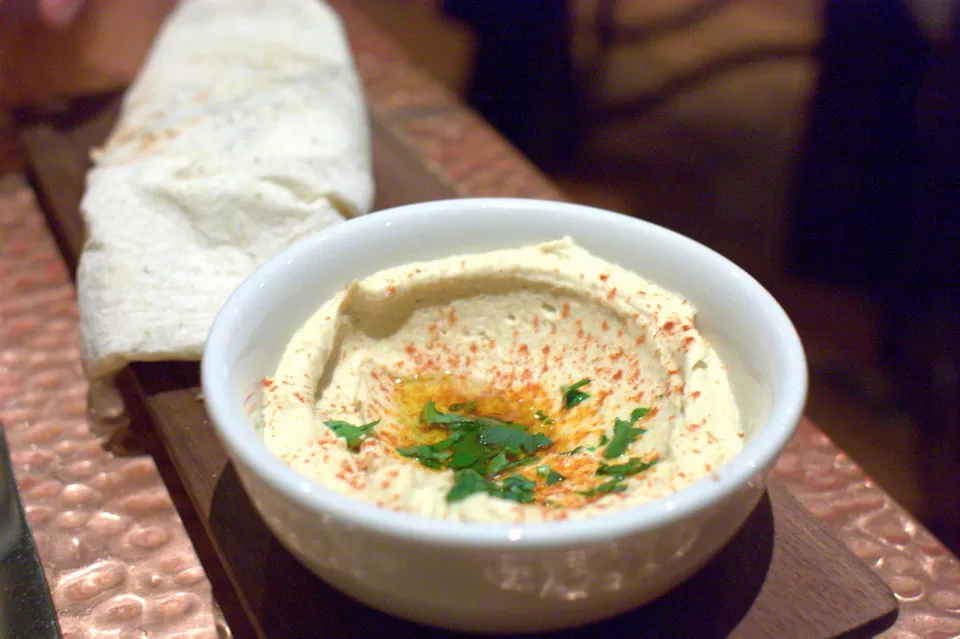 Almost everyone is familiar with this epic food spread/dip made with cooked and mashed chickpeas and/or other beans, is a staple in this region. Here you can get the classic hummus topped with just olive oil, pickled veggies or meat on it, along side freshly made pita breads and salad. This healthy dish is filling at the same time a great alternative to unhealthy dips like mayo and ranch for salads.
2. Falafel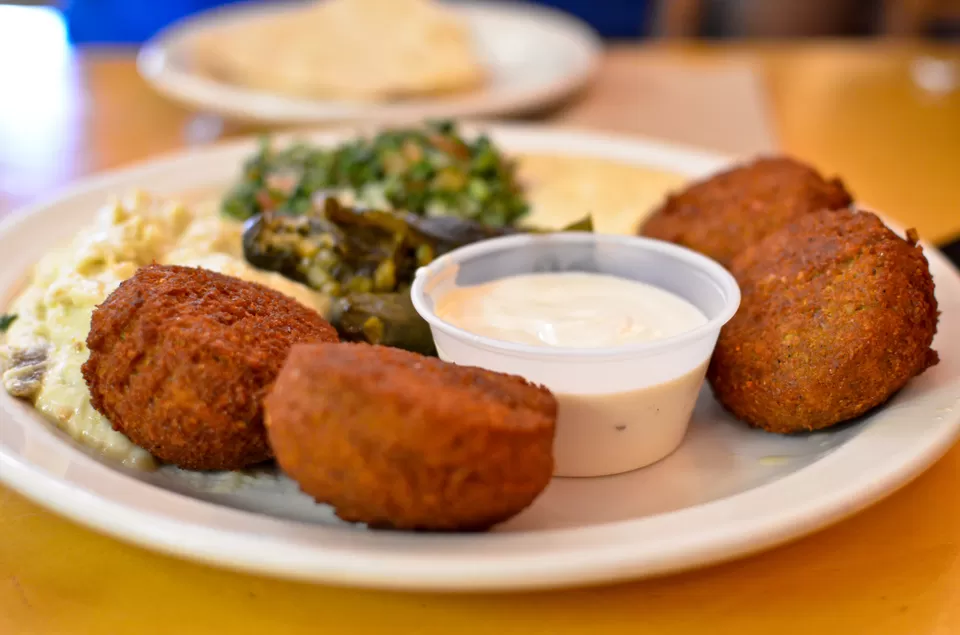 A great pita filler, this deep fried croquette like patty made from chickpeas or/and other beans with herbs makes for a great snack with some karak chai. Or, can be had just by itself by dipping it in hummus which, you will have to order separately here. A great snack for vegetarians in this meat dominated side of the globe.
3. Manakeesh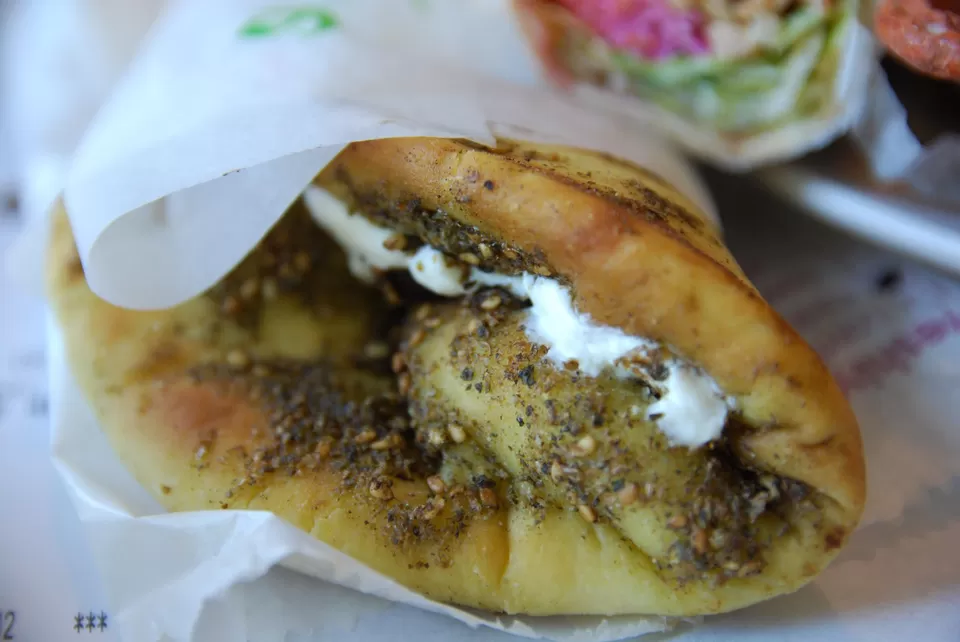 A pizza like dough topped with a number of toppings ranging from just parsley and thyme to cheese and minced meat. This bread is traditionally topped with Za'atar; a mixture of olive oil, herbs and spices and baked in a coal oven that makes for a great take away breakfast. This can be easily found at both fancy restaurants or street vendors.
4. Tabbouleh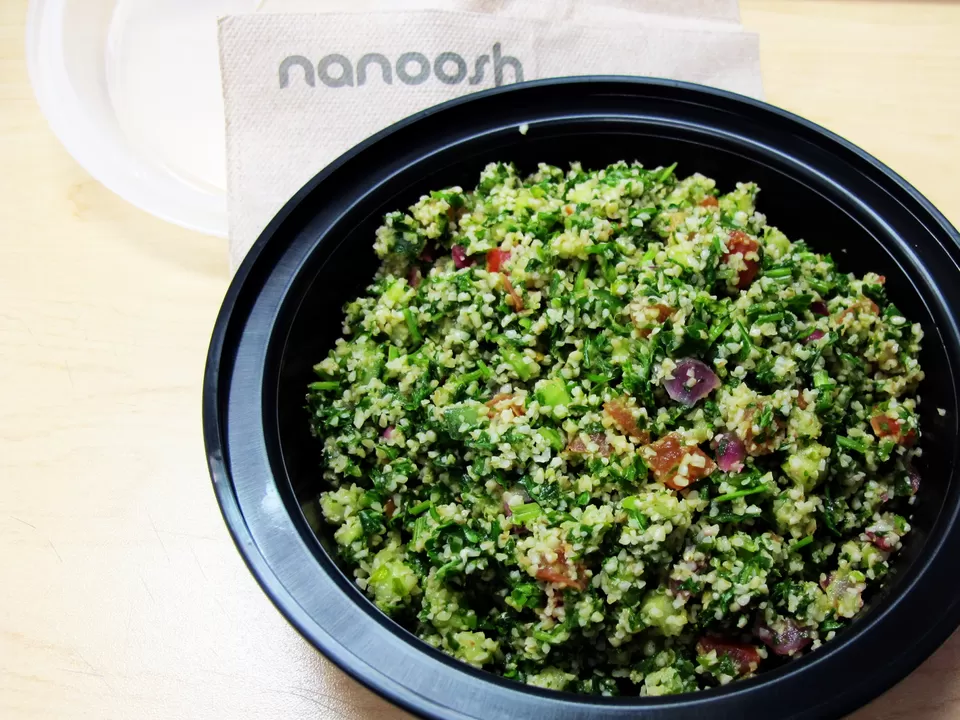 This very traditional middle eastern salad is served along side a number of Arabic dishes or on mezze. Easily a vegetarian favourite is enjoyed even by it self. Prepared using bulgur wheat, fresh veggies like onions and tomatoes, olive oil, mint, lemon juice, parsley and spices. This salad can be eaten in a pita bread with hummus and falafels or by just a fork.
5. Regag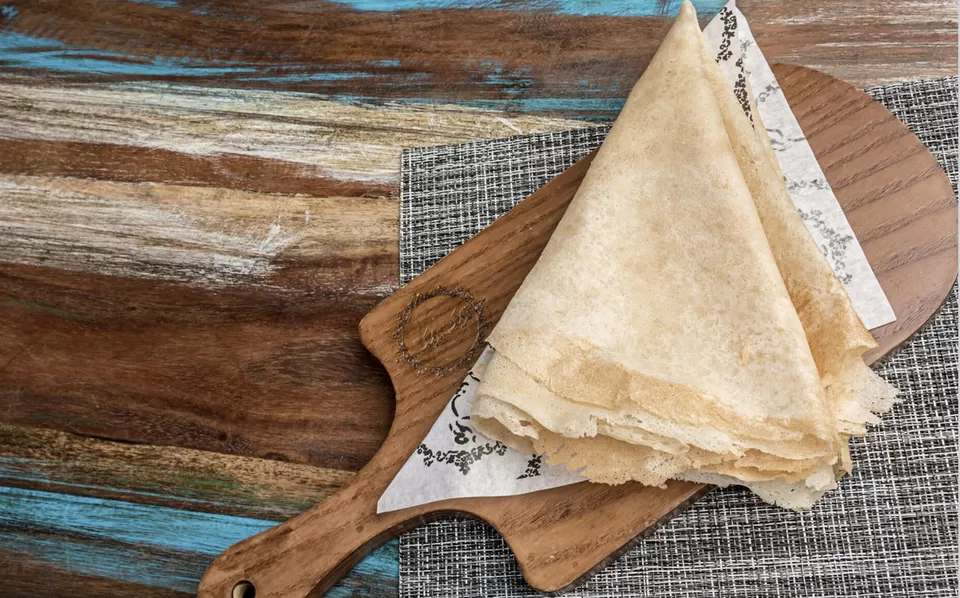 This crispy crepe like emirate bread is a popular breakfast in the UAE. Strategically slathered dough on a hot griddle is made to crisp up and is enjoyed with cheese, eggs, honey or traditionally with anchovy sauce (mahyahwah). This very bread is also crumbled up and added to chicken or meat stew dish called thareed. Regag is popularly made in hole in the wall kind of stores or hawkers. There are stalls serving regag at popular tourist attractions like the Global Village.
6. Shawarma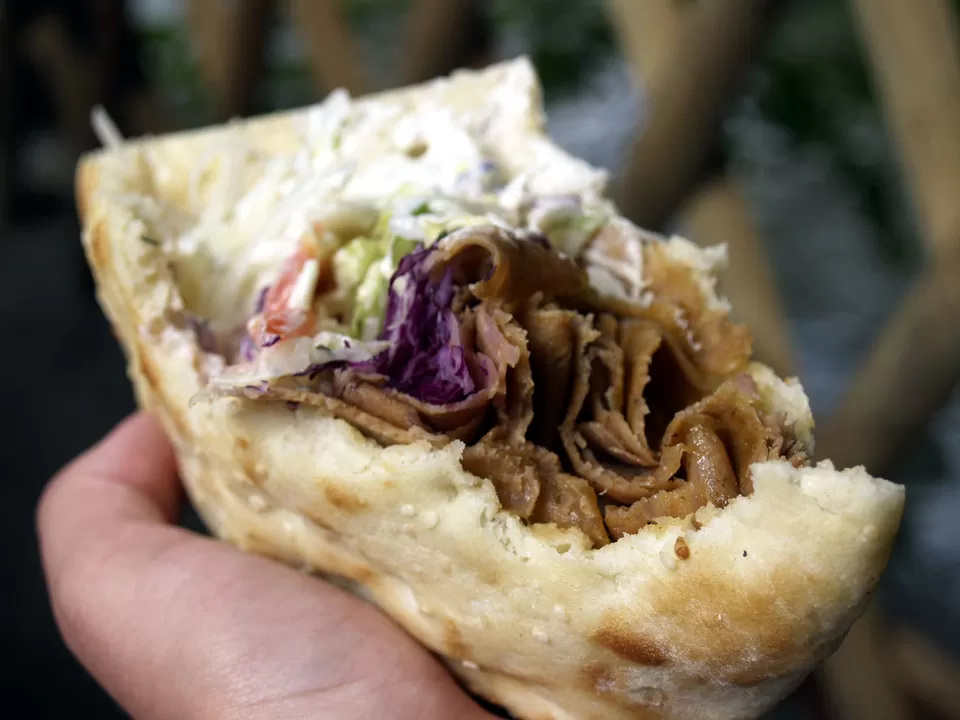 Known better as a hangover cure to people, this delicious street side snack is a beloved middle eastern favourite from all over the world. Strictly a non-vegetarian dish, is made using many kinds of meat like chicken, lamb, beef, turkey or a combination of two. Grilled for as long as twenty-four hours, shavings of these meat are served on a pita along side some fresh salad or pickles and topped off with garlic sauce or hummus.
7. Baba Ghanoush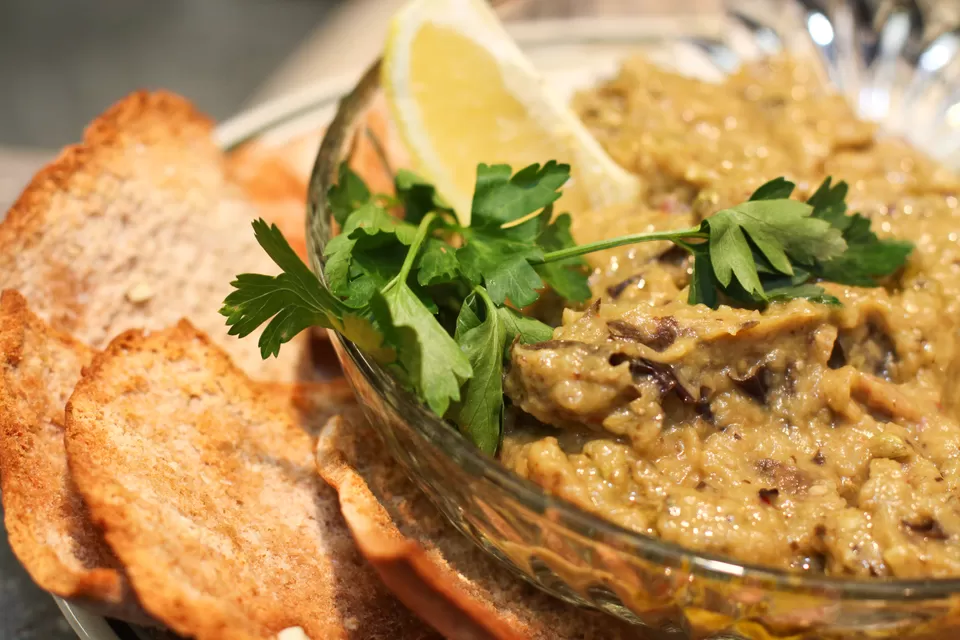 With an eggplant kick to it this dip/spread can be slightly relatable as baingan ka bharta to us Indians. A vegetarian dip made using eggplant, tahini (sesame seed paste) and olive oil. A typical mezze dip can be enjoyed with pita or any Arabic bread.
8. Shish Tawook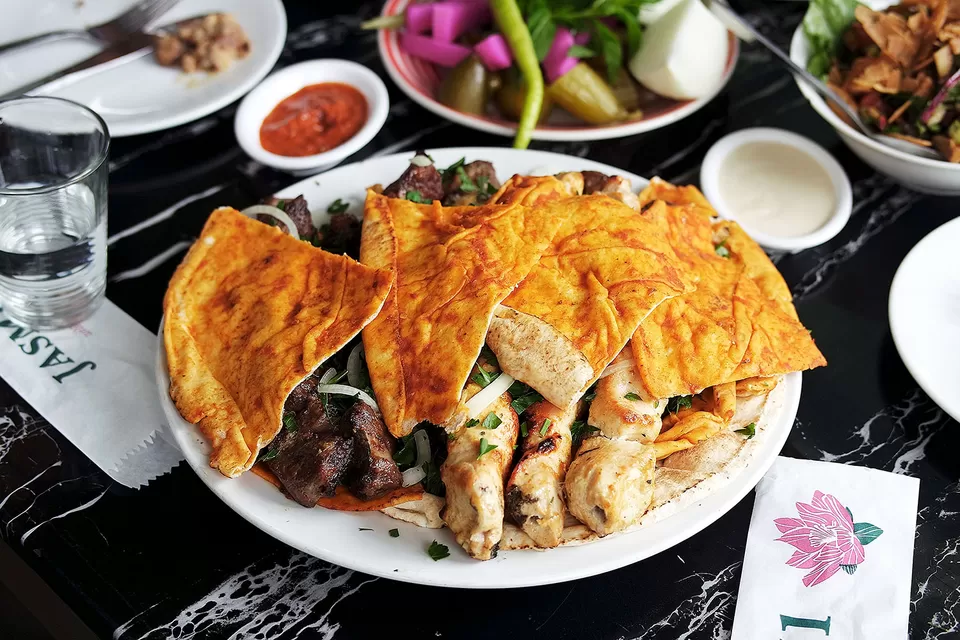 An Arabic version of our favourite seekh kebabs, is another experience enjoying it in Dubai. Chicken chunks are marinated in lemon juice, yogurt and several other middle eastern spices and skewered with onions and bell peppers before they are grilled to perfection in a clay oven. Many kebab houses in the city serve this delectable dish along with, Arabic bread, garlic sauce and tabbouleh.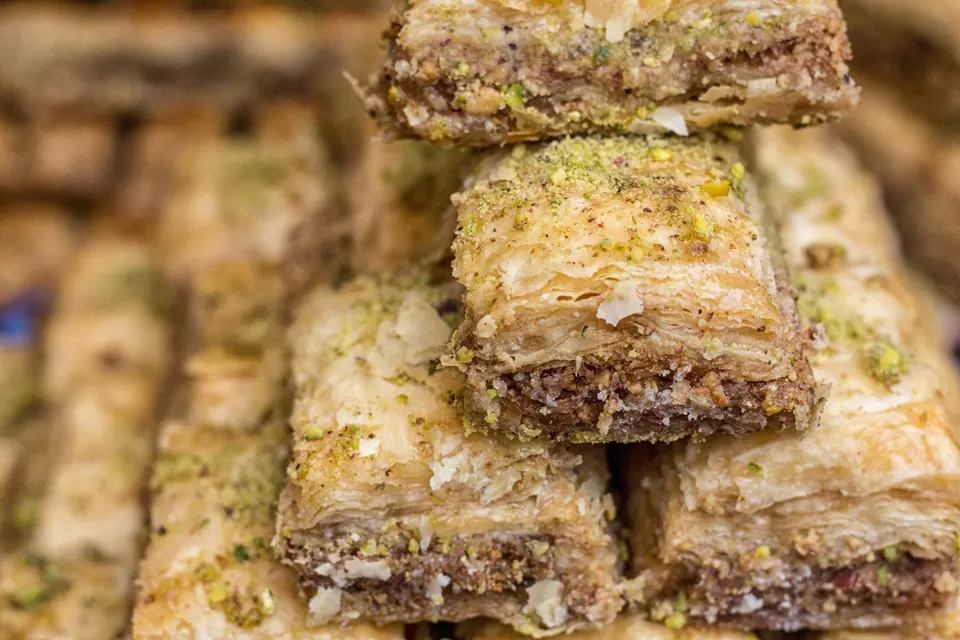 When in middle east one can not leave without enjoying this traditionally Turkish sweetmeat filled with nuts. This rich flaky pastry being made in bakeries in one of the most beloved and long lasting dishes in the world. They remain perfectly fine for up-to months, thus, making them a great souvenir to take back home for family and friends.
10. Knafeh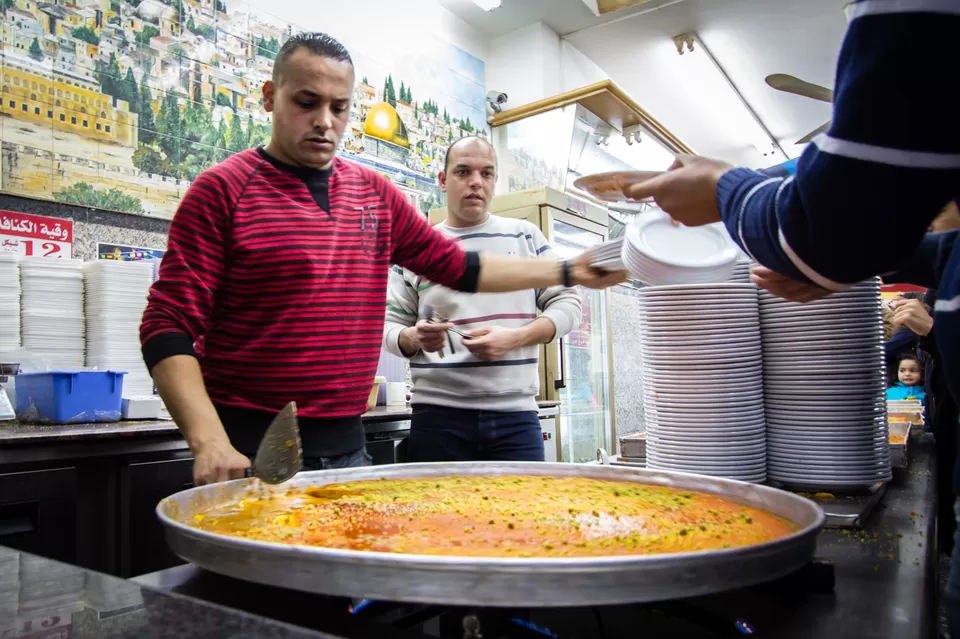 This delicious cheesy and sweet treat has been my favorite middle eastern sweet since the time I have tried it at a super market. Further flavoured with orange and rose water and soaked in sugar syrup, this cheesecake using Nabusi cheese is a must try. A number of bakeries including the ones in supermarkets serve some of these delectable sweets to indulge in.
Middle Eastern Restaurants
There are a number of fancy to basic restaurants in Dubai serving an array of Middle eastern cuisine over the years.
Here is a list of tried and tested ones that we enjoy frequenting at:
• Al Fannah Restaurant: Serving an array of Emirati food, the restaurant is indicative of how an emirate house in the past looked like.
• Dunya Al Sham: For some Karak chai and Menakeesh.
• Arabian Tea House: Not only is the place extremely Instagram-able but they serve amazing blends of tea from hot to iced and deliciously Arabic cuisine.
• Al Nafoorah: Serving authentic Lebanese food for the past fifteen years.
• QD's: A Creekside restaurant overlooking the stunning Dubai skyline. Serving middle eastern as well as continental cuisine.
• Al Hallab Restaurant and sweets: A must for baklavas and Knafeh and Arabic breakfast.
For more stories and updates on my travel exploits follow @BohemianOnTheRun on Instagram.
Frequent searches leading to this page:-
places to see in Dubai, Dubai honeymoon packages from India price, Dubai holidays deals December 2020, Dubai trip from Delhi for couples, Dubai travel packages