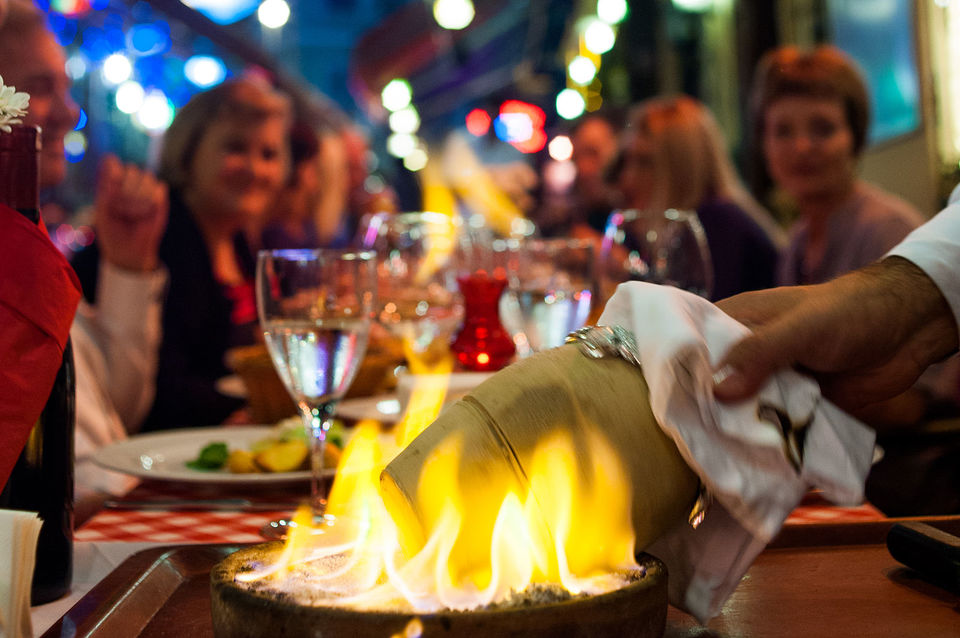 Travelling as a vegetarian is not an easy task. Concerns about food go far beyond those of regular meat eaters. In addition to worrying about finding budget-friendly eateries with food that will also taste good, they also have to think about whether their next destination will have eateries catering to vegetarian needs.
If you're travelling to the Turkish capital of Istanbul, however, you need not worry too much about finding delicious food to fit your plant-based lifestyle.
While Istanbul is better known for its kebabs than for its kale, Turkish cuisine in itself is quite vegetarian friendly, with a number of vegetables and legumes being used as key ingredients in several dishes. And in recent times, a number of restaurants have popped up in the city to cater to the growing demand of vegans and vegetarians. Here are our top seven choices, and all of them are worth a visit for reasons of their own.
Galata Kitchen
Located in the city's Beyoglu district, Galata Kitchen is a small, unassuming cafe run by two moms who prepare delicious, healthy and soulful meals to satisfy all your food cravings. Following their motto of promoting healthy eating, the menu at Galata Kitchen changes daily. They offer a number of homemade soups, antipasti, starters, salads and main courses, and are considered to be one of the best places in the area for vegetarian and vegan dishes.
The food is prepared fresh with seasonal ingredients and high-quality oils, and the cafe prides itself on recreating traditional Turkish dishes.
Cost: ₹1,000 for two
Cuisine: Turkish, European
Standout dishes: Chickpeas with vinaigrette sauce, spinach cake, and black-eyed peas, falafel and hummus
Timings and location: 9am to 10.15pm; near Galata Tower in Beyoglu
Contact: +90 212 252 20 22
Bi'Nevi Deli
This one's a completely animal product-free restaurant. Located in Beşiktaş, Bi'Nevi is focused on creating dishes using whole foods, plant-based and minimally-processed ingredients. They have a minimalistic cafe setup with an outdoor seating area as well. Starting this year, they have also started delivering their delicious food. Even if you're not a vegan, this one is a must-try for the experience. They use seasonal vegetables, fruits, grains, beans, nuts, and seeds as core ingredients and even focus on using anti-inflammatory oils to make sure you get the healthiest of food. If you're on a particular diet such as gluten-free or paleo, they have options to cater to that too. Oh, and they also have some super awesome vegan desserts.
Cost: ₹2,000 for two
Cuisine: Vegan and vegetarian
Standout Dishes: Blue majik cheesecake, citrus-infused beluga lentil soup, edamame bowl, sweet potato bolognese
Timings and location: 9.30am to 9.30pm; Etiler, Beşiktaş
Contact: +90 (212) 358 6032
Zencefil Cafe
Zencefil is one of Istanbul's most established and highest rated vegetarian eateries. It opened long before organic diets were a thing in Turkey. Although in recent years, the menu has expanded to include a few fish and chicken options, the focus is on creating hearty vegetarian meals. Everything is prepared from scratch, using the freshest local produce and seasonal ingredients. They are housed in an airy venue, with a rustic ambience. The exposed brick walls, green courtyard and simple wooden furniture give the place an easy-breezy feel. The menu and daily specials here are accurately translated into English, making this place a favourite with expats and tourists.
Cost: ₹1,100 for two
Cuisine: Health food, vegetarian
Standout Dishes: Cold soup with corn chickpeas and yogurt, beans with tarragon, eggplant with goat cheese, green lasagna
Timings and Location: 9.30am to 11pm; Beyoglu, Taksim
Contact: +90 (212) 243 82 34
Falafel House
A great budget-friendly option for enjoying middle-eastern classics such as hummus, tabbouleh, ful and of course falafel. Falafel House is located in the heart of Beyoğlu district, just at an arm's length from Taksim Square. The restaurant has become quite a favourite among vegetarian tourists and locals and is the perfect spot if you're looking for an on-the-go lunch option that is different from your usual meal of kebabs. The restaurant was started by a Palestinian father and son duo, Azzam and Yousef Al-Herbawi, in 2006. Although Istanbul has a strong street food and takeaway culture, the number of food vendors producing clean and healthy vegetarian alternatives are still very few. In such times, Falafel House comes as a breath of fresh air, thereby attracting visitors from across the world.
Cost: ₹900 for two
Cuisine: Middle eastern, fast food
Standout dishes: Ful (mashed fava beans) falafel-hummus salad, falafel wrap
Timings and location: 9am to 2pm; near Taksim Square, Beyoğlu
Contact: +90 (212) 2537730
Kikero Falafel
Tucked in a side street at the intersection of two of Galata's busiest roads, this small eatery is a great option for vegetarians looking for food on the go. The stylish decor boasts of a vintage feel with colourful barstools and long tables. The menu is quite small, with just a handful of dishes on offer – falafel wraps, salads, toasts, sandwiches, and a hazelnut dessert.
All ingredients for the falafel and salads are vegan while the toasts and desserts do contain dairy, but that is ethically-sourced and absolutely fresh.
Cost: ₹900 for two
Cuisine: Lebanese
Standout dishes: Falafel wrap with hummus, breaded vegetables, pesto pita
Timings and location: 11am to 12 midnight; near Galata, Beyoğlu
Contact: +90 (212) 2435070
Mahatma Cafe
Run by chef Sait Biliz, Mahatma Cafe is one of the few fully-vegan restaurants in Istanbul. The cafe was started by Biliz after he turned vegan and struggled to find good eating out options to suit his lifestyle. Now, two years later, he claims that the maximum number of people who drop in for a bite are non-vegan. The restaurant serves only seasonal fruits and vegetables, tossed and cooked in olive oil. It has a bright and cheerful ambience with coloured furniture and an open seating space. Another interesting thing about the place is that it offers the entire menu in Braille. This started after Biliz partnered with a fellow vegan who is blind.
Cost: ₹800 for two
Cuisine: Vegan
Standout dishes: Hummus, Mahatma soup, vegetable burger, special Mahatma cookies and stuffed patty
Timings and location: 10am to 1am; Kadıköy district
Contact: +90 (530) 642 53 96
Community Kitchen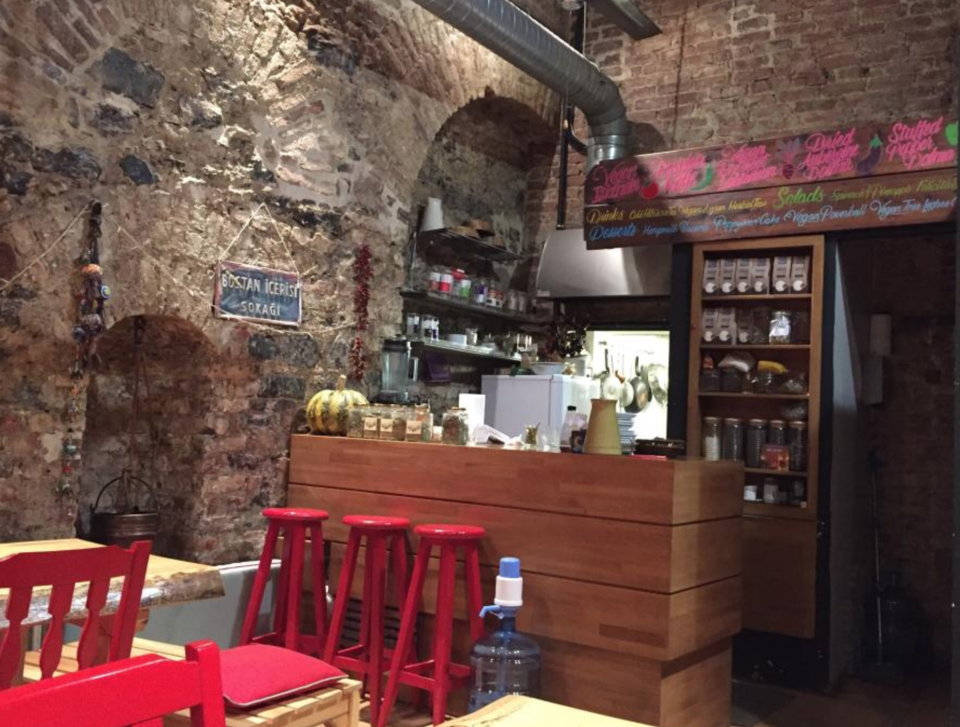 If you're looking for authentic Turkish food that is also vegan, then the Community Kitchen is the place for you. The restaurant serves a variety of savoury dishes and desserts that are inspired by traditional Turkish methods of cooking. They have a simple, no-fuss setup and are a favourite among tourists and health-conscious locals for a good vegan meal on a budget.
Cost: ₹800 for two
Cuisine: Vegan, health food
Standout dishes: Vegan iskender kebab with pita bread and tomato sauce, vegan ayran (traditional Turkish drink made with yogurt),
Timings and location: 12 noon to 11pm (Monday-Saturday, closed on Sundays); Beyoğlu district
Contact: +90 (538) 503 27 36
Have you been to Istanbul? What were some of your favourite restaurants? Write your own listicle and help the Tripoto travellers eat well on their travels.
Frequent Searches Leading To This Page:-
cheapest turkey tour packages, cheapest turkey tour packages from India, turkey packages with flights, turkey packages, turkey Greece tour packages from India, turkey holiday packages cheap