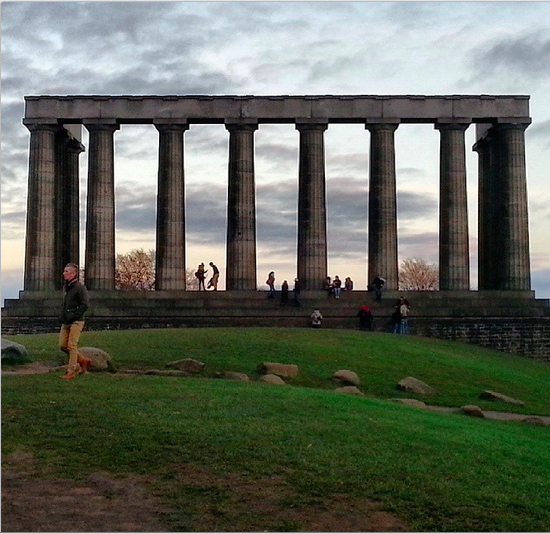 With just a few months left in United Kingdom as a student, I decided to take a day trip to Edinburgh with a school friend. I was extremely curious to validate all the stories that I heard about the beauty of Edinburgh. I was studying at Lancaster University and the train to Edinburgh took 2.5 hours.The journey is not just cheap and convenient but also shows you snippets of the beautiful Northern land of United Kingdom. According to me, the best part way to travel around and discover Edinburgh is walking. The roads are clean and you have nature and history as your company. Weather depends on your luck because even the Gods above can't do a perfect job at predicting the U.K. weather but such is the beauty of Edinburgh that even rain or wind can't tarnish your trip.
The first stop in the day trip was Edinburgh Castle. Now I will personally suggest caution in visiting Edinburgh because the place is such that it will make you fall in love. The walls of this castle have seen more romance than others because of the location. Castles are traditionally placed on a higher altitude to provide a strategic advantage and safety. This also gives them an breathtaking view of the entire city, from the lands to the water. An interesting tourist attraction that you should not miss is the 'One O'Clock Gun'. It is a time signal and is fired every day at 13:00 hours. The gun is fired from the Mill's Mount Battery, located on the north face of the castle. The Castle is home to a variety of historical stories waiting to be discovered and views to be witnessed and captured.
The next stop in my day trip was Calton Hill. It is a long but pleasant walk from the Edinburgh Castle. You can climb the Capitol Hill and get a better view of Edinburgh. However, you should take the care while doing so due to the strong wind. However, the panoramic views when you climb on top will definitely be worth the effort.
I spent about 12 hours in Edinburgh but the place stays with me long after that.