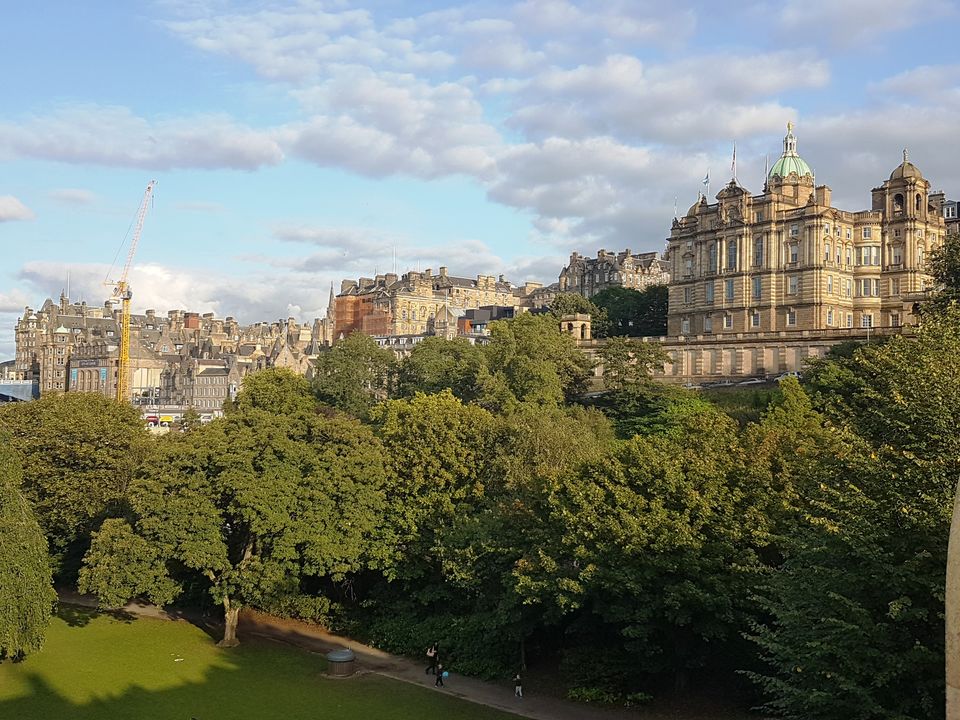 From 'Crushing on Edinburgh #Chapter1' posted on From The Corner Table

I confess. I have a crush on Edinburgh. I have been in love with Amsterdam from when I first set foot on that gorgeous slice of heaven on earth. But now Edinburgh, with its cobbled streets, mix of old-new structures and a skyline that gives off a broody Gothic vibe on a cloudy day, has found its way into my heart.
Having experienced the colourful energy that takes over the city towards the end of the Edinburgh Festival, I want to return to Scotland's capital - once to devote time (and money!) to the cluster of festivals that light up the 'Festival City' and again to walk through the city when it is not overflowing with tourists. As the owner of a coffee shop said while handing over my cuppa, "There are two Edinburgh. One is the crowded city during the festival and the other is the one that belongs to the locals. If you truly want to experience the land of the poets, then you must return once the fest is over," pointing to a sign that displayed Scottish author Ian Rankin's rather apt statement:
"Edinburgh isn't so much a city, more a way of life... I doubt I'll ever tire of exploring Edinburgh, on foot or in print."
Well said Mr Rankin, well said.
A quick fact: Edinburgh is divided into two areas - the Old Town and the New Town, both of which are Unesco World Heritage Sites. For more details, I suggest heading to the official website of the Unesco and locate 'The List'.
Writing about the time I spent in Edinburgh, I find, has been a job easier said than done. How does one put into words every second of a unique experience? Do I write about the awe I felt when I first saw the majestic Edinburgh Castle atop the Castle Hill or my reluctance to visit the Scott Monument? And then when I walked through a crowd of people only to step into the midst of a performance by a fire eater; so much done, it could be a never-ending story.