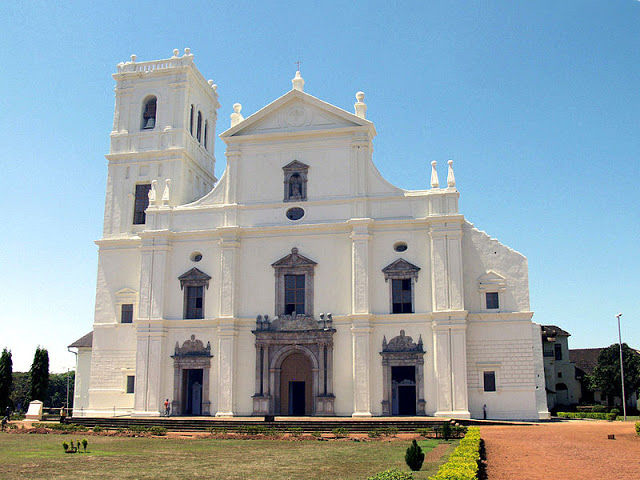 Church of Se Cathedral
Church of Se Cathedral - the largest in AsiaThe true glory of Old Goa can be witnessed in the church dedicated to St Catherine. At over 76 meters long and 55 meters wide, this is the largest church in Asia.
The construction of Se Cathedral began in 1562 on the orders of the King of Portugal to replace the older church of St Catherine which had served as a cathedral till then. Work on the building was completed 1619 and the altars took much more time and were finished in 1652.
The cathedral stood on the main square of the old city and looking east from the main entrance one can visualise the city's former layout. The grassy area in front of the doors was a large market square, to the left was the Senate House and to the right was the Palace of the Inquisition.
The exterior of the cathedral is notable for the simplicity of the style built in the Tuscan tradition. The loss of one bell tower, which collapsed in 1776 has also given it a unique look. The remaining tower holds the famous 'Golden Bell' which is the largest bell in Asia, renowned for its rich tone.
The interior of the cathedral is also plain and huge in proportion. To the right is a small, locked area which contains a font made in 1532 and said to have been used by Francis Xavier. The two small statuettes inset into the main pillars are that of St Francis Xavier and St Ignatius Loyola.
There are four chapels on either side of the nave, two of which have screens across the entrance. Of these, the Chapel of the Blessed Sacrament is quite outstanding, with every inch of the wall and ceiling gilded and beautifully decorated, in contrast to the sober look of the cathedral's interior.
Opposite, on the right of the nave, is the other screened chapel, the Chapel of the Cross of Miracles. The huge, plain, cross here is reputed to have been the subject of the miracle in question. The tower above the main altar is of the huge guild.
Its six main panels are carved with scenes of the life of St. Catherine, to which the cathedral is dedicated. She was beheaded in Alexandria and among the images here are those showing her awaiting execution and being carried to Mount Sinai by angels.