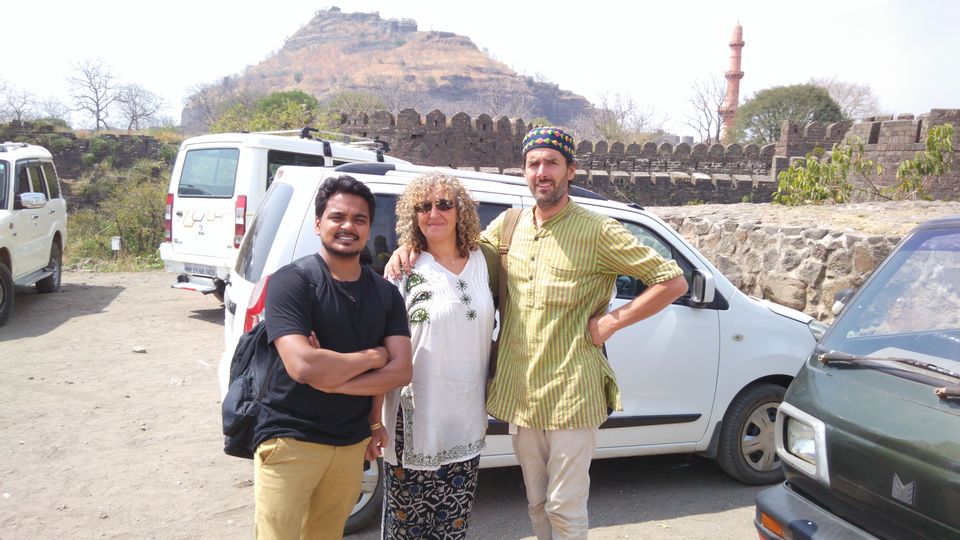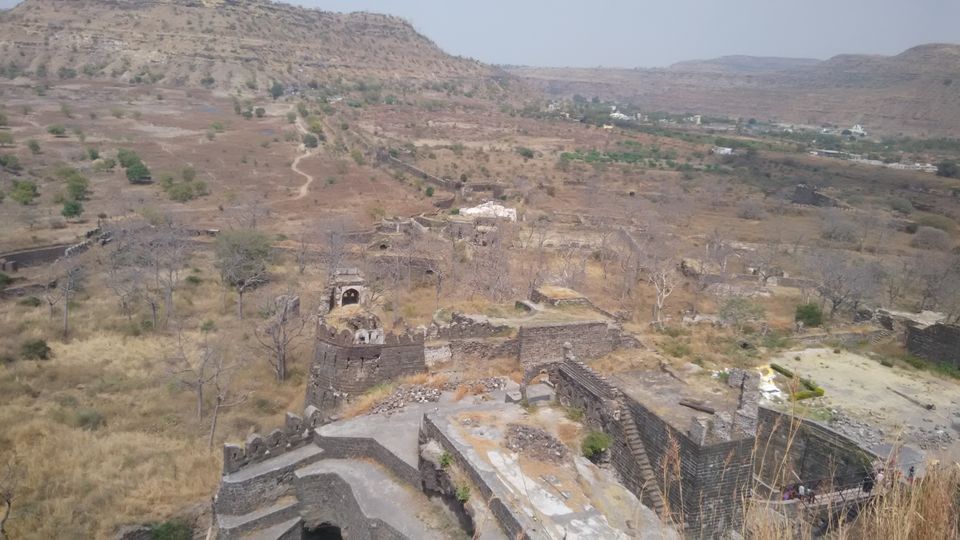 That was a first solo trip of mine to Aurangabad which was full of happiness, peace and free from all the chaos of my life. Even though it lasted only for 3 nights and 2 days I would rate it as one of the best travel I did for myself as without any trouble from beginning to end of the trip. Visiting the world famous UNESCO heritage sites of Ajanta and Ellora left with few hours of my trip and that is when I met this lovely duo driving an Omni car in Khuldabad asking for the route to Daulatabad fort. As I was also waiting in a taxi stand for last half an hour in vain to go to fort and had to board the train booked in advance for my return. With a hesitated mind approached these fellas and said that I would like to show the way to the fort and in return asked for a drop as even I was heading the same way. Luckily, both Amanda in the driver seat and Kevin in the backside of the car with all the backpacks and sleeping beds agreed to give me a lift. Then three of us started a conversation on our way and I visited fort along with them and spent next couple of hours exchanging talks.
With knowing each other names and how they felt visiting majestic Ellora caves it was my turn to ask some questions on their journey to India which they were on for 2 weeks.
Me:- What made you to buy a car and travel?
Amanda and Kevin: - Well, we don't want to depend on public transport every time and feel it's difficult to enquire about all facilities. Moreover, we can be on our own speed and pace and enjoy most of our journey hassle free.
Me:- Tell me about your experience driving in India?
Amanda: - It's very difficult to drive in India as drivers have very less sense of driving and lane discipline and they keep on honking than driving which irritates more. But apart from that we love this country and its culture.
Me:- How are you feeling in India?
Amanda: - India is a lovely country and I have been visiting for past 20 years and would love to come here again and again.
Me:- How do you plan your travel so long like 2 months?
Amanda and Kevin: - We have our own firms and work as Natural medicine specialist and restoring historical structures back in England. So we work hard throughout the year and take sabbatical for travelling around the world. Amanda also works when she is travelling by gaining knowledge on the homeopathic medicines.
Me:- How do you plan your stay and food?
Amanda: - I have been visiting India from the time I paid 80/- rupees for one night stay and now Iam paying 1200/-. We stay within the minimum budget so we can travel more by saving on these expenses. In this previous week we managed to sleep in the car for two nights parking next to petrol stations. We eat all the available fruits and vegetable stuff on the way and like parathas to eat.
Amanda: - Why is that we foreigners should pay 250/- to visit a monument or a fort while you Indians pay 5 or 10/- for the same?
Me:- As you people come from developed nations with a more value of currency compared to ours they charge more and we Indians have subsidy on the same. (Still not sure whether this answer was acceptable).
Amanda: - But I have seen many Indians who earn more than me in England and they come here and pay mere 5/- for the entrance. Do you think they should check passports before issuing tickets..?
Me:- No answer!!!
Then discussing about their zeal towards travelling for more than 50 countries and experiences they had thru their travelling Israel and Jordan we reached the top of the fort only to be stopped by people who wanted their kids to get a photo sitting next to Amanda and Kevin. They were really irritated due to this gesture and asked me how to ask them to stop from doing this? I did teach them a small sentence "Mujhe achcha nahin lagta" which they immediately started using in front of me to stop getting embarrassed with all the kids and their parents willing to take photos.
Then we shared our mail Id's for future contact and I left them behind to enjoy their time as even I was late to board my train wishing them a happy journey for the rest of their stay in India.
P.S:- Please stop taking photos of any foreign visitor in India without their consent as it would leave bad impact on them and they even feel embarrassed of all these gestures. As said by Jochem Alexander, "Hospitality is the way we treat guests at our home and Hostility is the way we treat guests in our country". Let them feel at home and get back to visit our country with all smiles.
HAPPY TRAVELLING!!!!..
Daulatabad or 'the abode of wealth' was the name given by Muhammad-bin-Tughluq. This was also called as Devagiri fort meaning the 'hill of gods' from yadavas. The Daulatabad fort was one of the strongest forts during the medieval period.