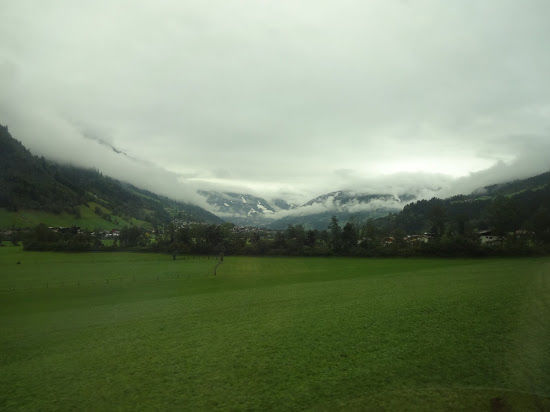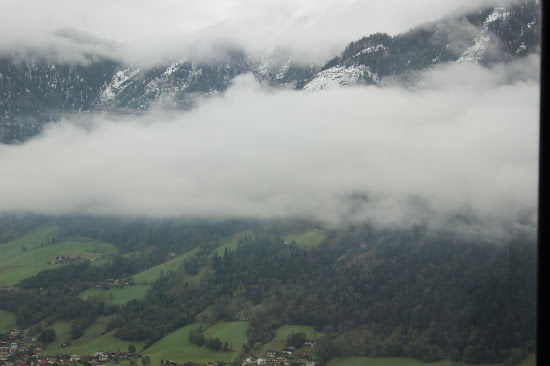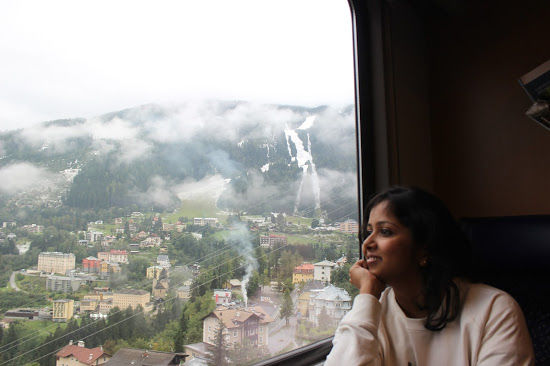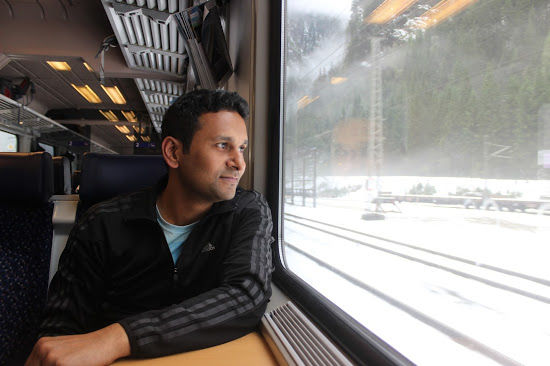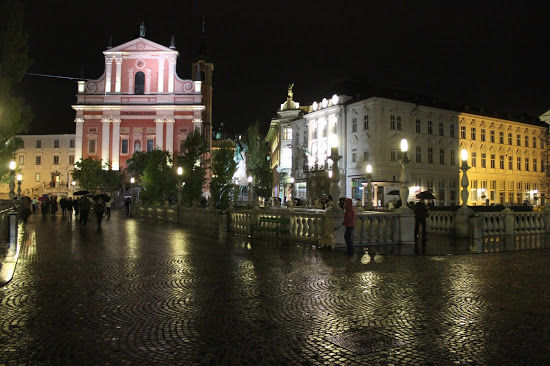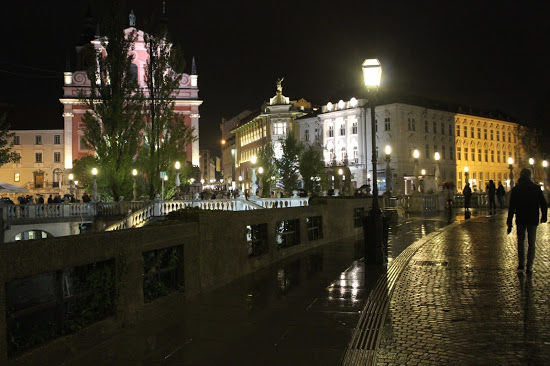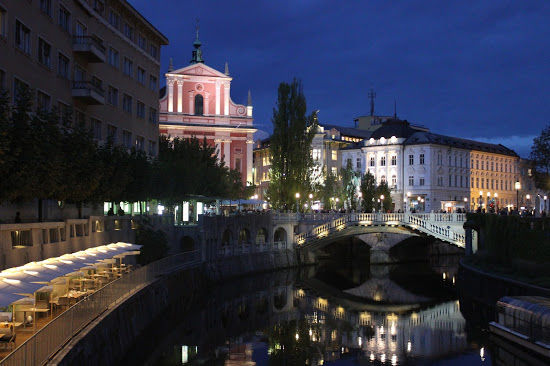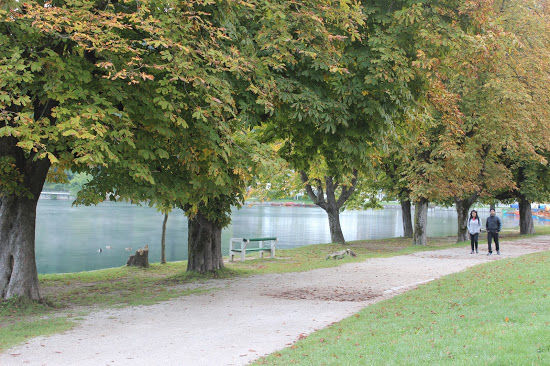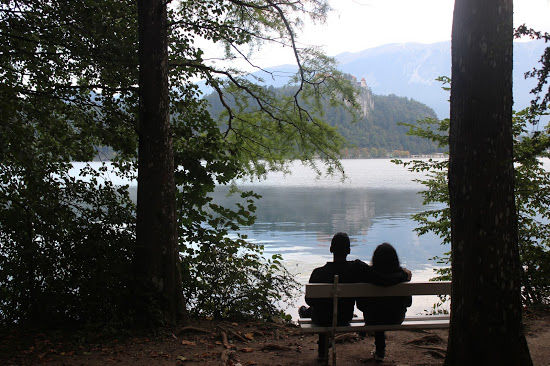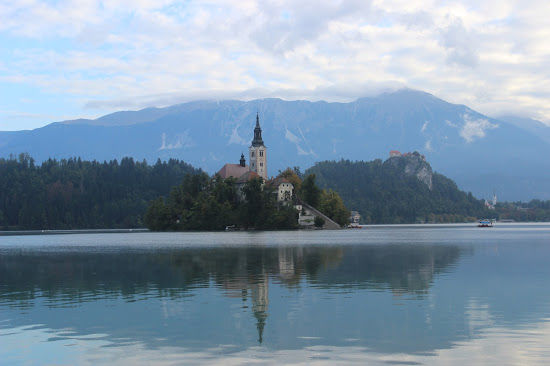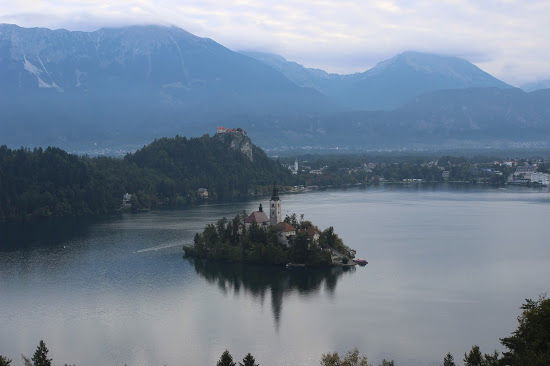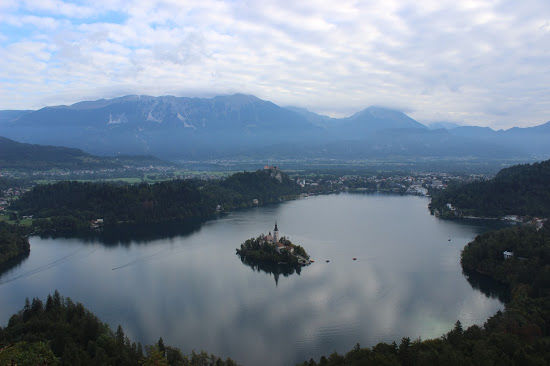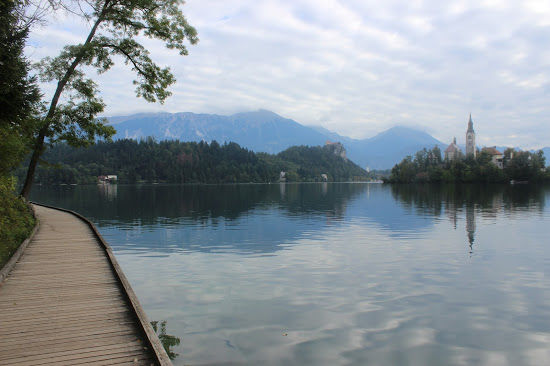 We were to travel to Ljubljana (Slovenia) from Salzburg (Austria) in the afternoon. We reached the train station an hour in advance; it took us sometime to figure out the coaches we had to get into – not our fault, the display board showed the destination station as one located in Austria; it was after we enquired that we got to know that only the last three coaches of the train would go on to Ljubljana!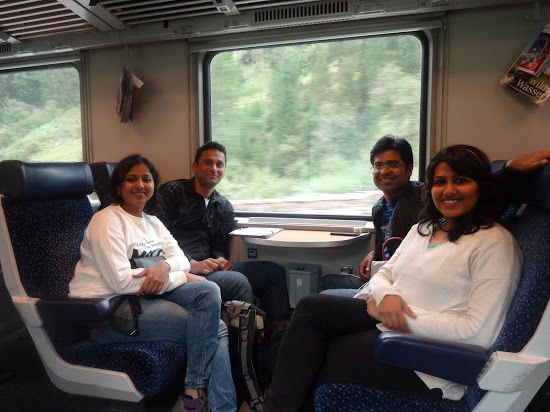 And then began our spectacular journey – passing through the snow-clad mountains, lush green valleys and picturesque small towns tucked into the hillside – as our train made its way through the mighty Alps. We sat in the train, looking through the window – soaking in the surreal beauty and wishing for this journey to never end...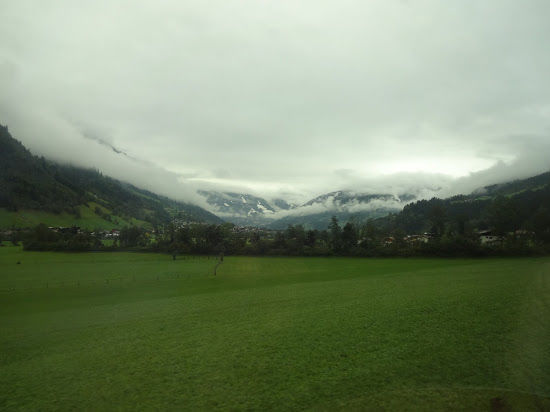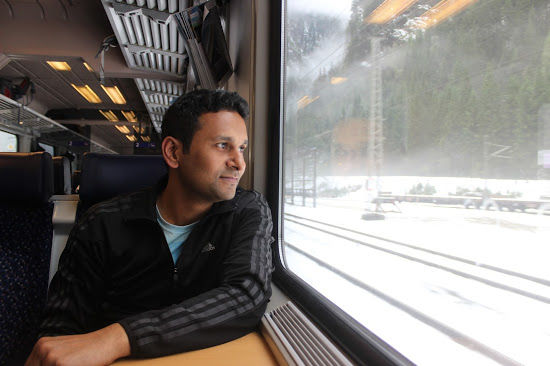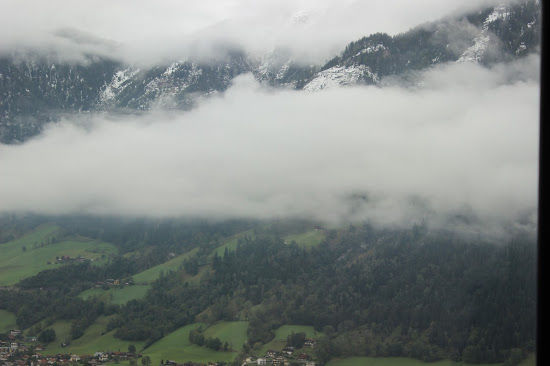 But then all good things do come to an end...to make way for even better things!
We reached Ljubljana early in the evening; as we were trying to navigate our way to our Apartment, we realized that there were not enough people on the street for this time of the day – the streets that led to our apartment were almost deserted – had we met the right decision by choosing to explore this city? After all, this was not a place frequented by tourists! Only time could answer this question.
After dropping off our luggage at the Apartment, we decided to visit the city centre. We reached the place in 10 mins – and the first sights of it left us dumbstruck! Ljubljanica river ran through this part of the city, dividing it into two parts - bank of this river was adorned by umpteen open air restaurants, with some fabulous lightings – it was vibrant and lively. As I sat by the bank of the river, on a moonlit night, gazing at the beautiful city, a feeling of complete tranquillity washed over me..it was like a dream that I never wanted to end – how I wish I never had  to leave that place..! Sooner than we realized, it was time for us to return to the apartment and get ready for the next day. But this was not before we tried the icecream at one of the various ice cream parlours – it tasted simply amazing..!!! And thus, this fabulous day came to an end..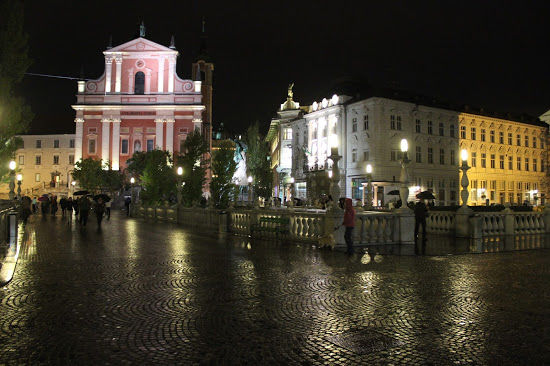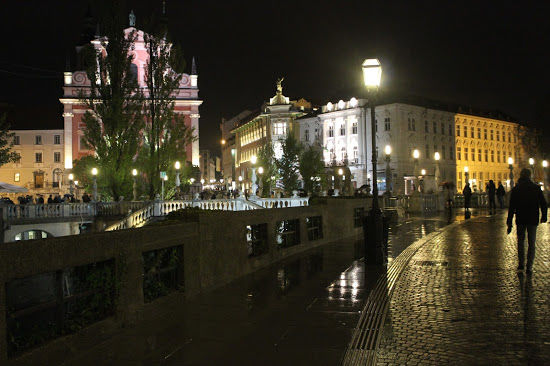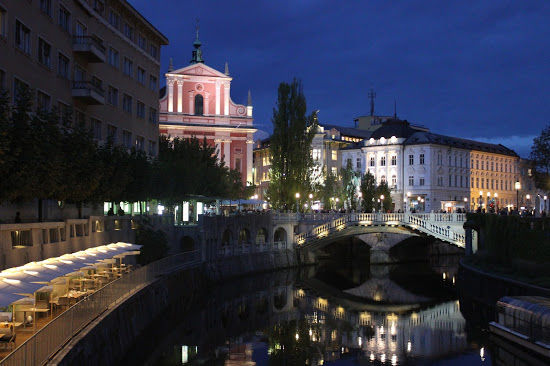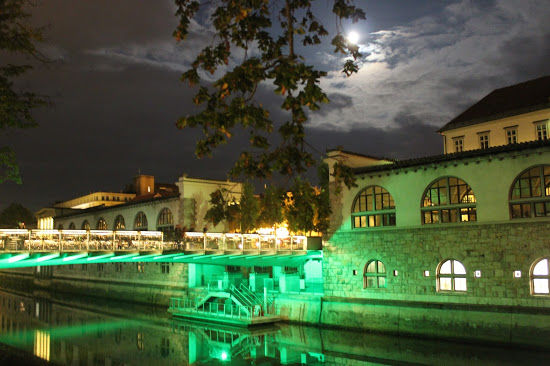 Next day we planned to visit the Skocjan caves – located around a couple of hours away from the city of Ljubljana, It is a massive underground canyon – almost 150 meters high with some breathtaking views and sights. There are two parts to the cave – first one known as the silent part have numerous wonderful stalagmites and stalactite formation. We were simply awestruck by the massive and varied formations that appeared before us! As we approached second part of the cave, we started hearing the river gushing through – no sooner we could see the river flowing 90 metres below us...what we saw and experienced left us speechless – it seemed straight out of the Lord of the Rings! What a fantastic experience it was! Unfortunately, photography is prohibited in this cave and as such all we have are the wonderful memories of this place that will remain etched on our brains forever..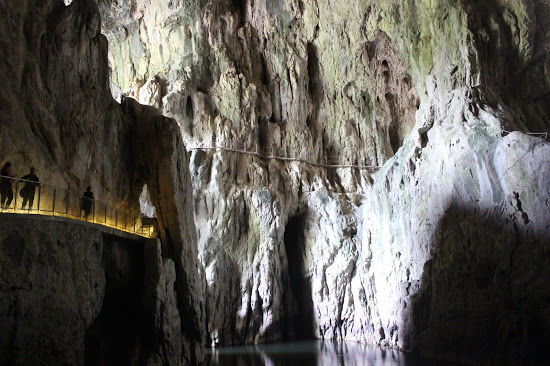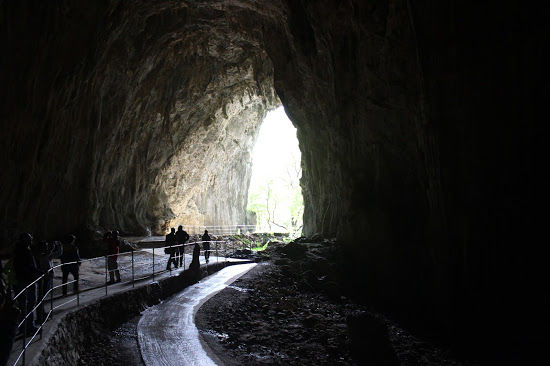 By the time we reached Ljubljana, it was already late evening. We spent the rest of the evening by the Ljubljanica river, enjoying the beautiful sights the city had to offer...
Next day, we decided to visit Lake Bled. I had heard a lot about this place, while researching about Slovenia. However, as we had already spent three days in the lake region in Austria, we were a little sceptic about visiting "another" lake. But, then we decided to go ahead and explore it...and thank god we did! The first sight of the lake made my heart jump with joy...it was simply breathtaking –perfect like a postcard – surrounded by lush green mountains with a castle in the middle of it, pretty white swans swimming swiftly through the lake – how I wish I could go back!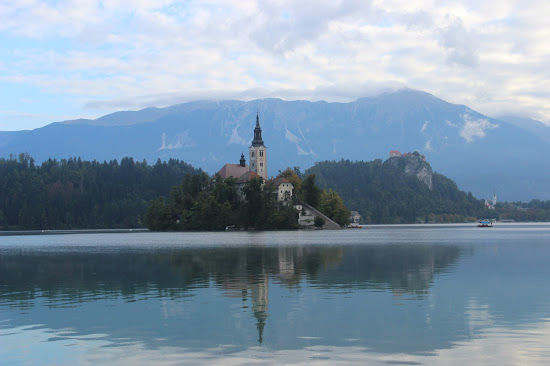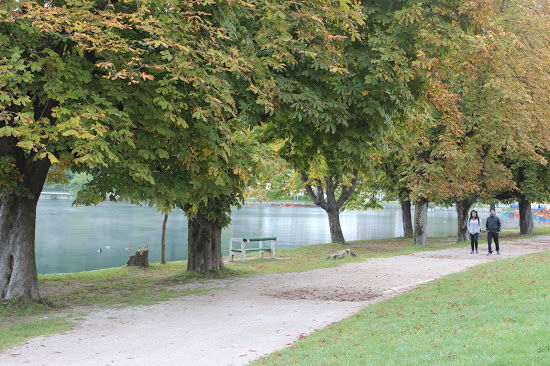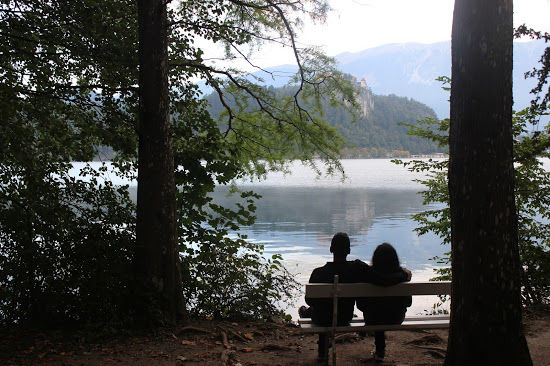 We took a walk around the lake with Prateek breaking in between, going ahead with the Mala Osojnica trek known for amazing views of the lake – Not that we did not want to accompany him, but its not an easy trek and we weren't fit enough for this (as we had to move fast for we were to leave for Zagreb that afternoon!) – and he was rewarded with some stunning views of the lake from the top. After completing our little walk around the lake – which took us about 2 and a half hours – we sat on a lakeside restaurant to quickly savour on the famous cream bled cake...it was simply yum!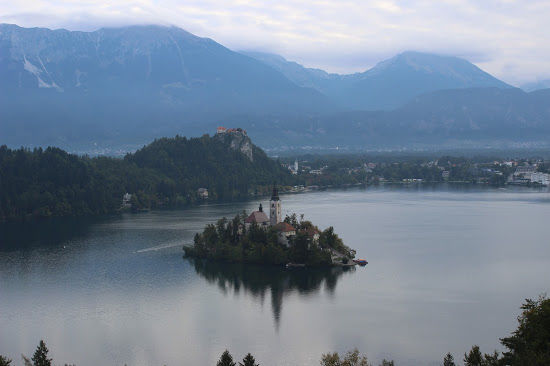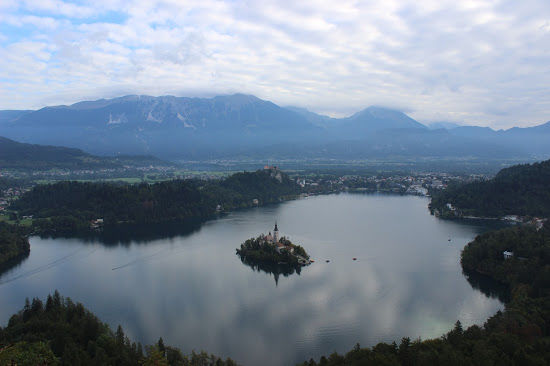 Post this, we returned to Ljubljana as we were to leave for Croatia that afternoon. And thus ended our two-day tryst with the beautiful country of Slovenia..at the end, we only wished we had some more days to spend in this place..!
We then headed to Dubrovnik..a magical town in Croatia. For our experience of Dubrovnik, visit -