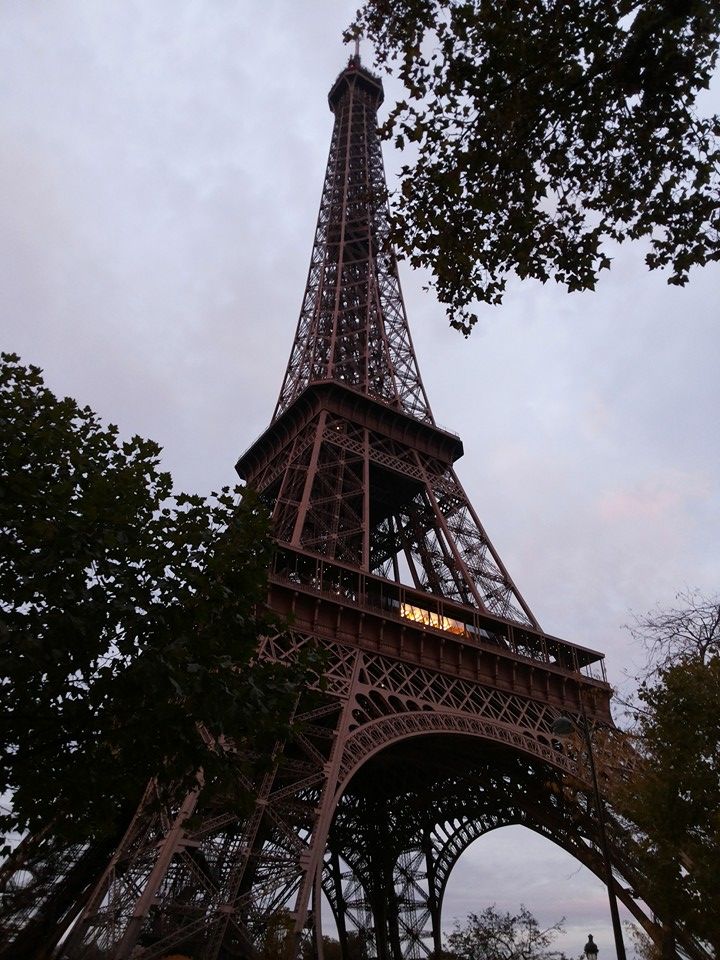 On my way to Barcelona, I had a 18 hour layover in Paris. This was my first time to Paris, so I was pretty excited. This was also my first solo trip abroad, so I was a bit nervous too. I didn't know anyone in Paris. I talked to a lot of people who have been there and perused all the blog posts ever written about Paris. But this only increased my anxiety. Everyone had so many warnings for me. 'Beware of pickpockets.' 'Beware of scammers.' 'Beware of French men.' 'Dress and act like a Parisian to blend in and avoid undue attention.' This was all pretty overwhelming. So I decided to do some research before going. I planned my trip roughly, booked a convenient hotel accordingly, checked all the bus and metro lines I might need to use, and downloaded an offline map of Paris and its metro. With all this done, I felt ready (still a bit nervous but ready).
I landed at Paris CDG airport at about 6 p.m. Passport control and visa were a walk through. They stamped my visa without asking a single question. I was out of the airport by 6.45 p.m. Next, I had to take the RoissyBus to Opéra. So, I located the stop. Here, I met a French woman who was coming from attending a friend's wedding at Lucknow. "I love your country (India)" she said. "Especially Banaras." We got the RoissyBus by 7 p.m. It is a long journey from the airport to the city. It was 8.30 p.m. by the time we reached Opera. But my hotel was just 200 m away from the RoissyBus stop near Opéra, so all good. I checked into the hotel, freshened up and was out again by 9 p.m. I stopped by Opéra Garnier. It looked magnificient with the lighting.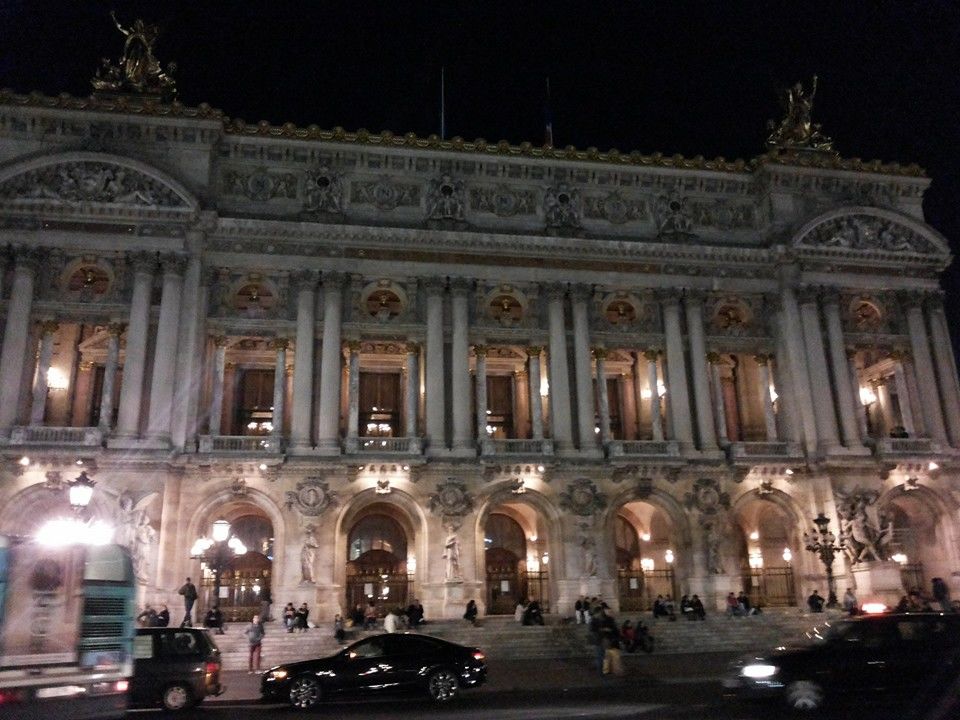 I walked on to Avenue de l'Opéra. This is a broad and beautiful avenue. The interior of Café de la Paix looked royal. I walked on admiring the buildings on my way. But soon I was tired. The long journey was starting to take its toll. So, I consulted my notes. I could take bus no. 27 or bus no. 95. I boarded bus no. 27. As soon as the bus turned to enter the Louvre campus, the Eiffel tower appeared to the right – all lit up.The sight was so unexpected that my heart stopped for a second. It looked unreal as if someone had left a beautiful toy in the middle of the city. The bus moved on. I had to get down at Pont des Arts but I missed the stop. I ran ahead to the front of the bus and requested the driver to stop. He willingly did. I got down the bus and as I looked back the driver waved me goodbye. Au revoir!
From Pont des Arts bridge, I had another clear view of Eiffel. The Seine river with an occasional cruise boat passing by, the Eiffel tower, Notre Dame and all the lights playing on the water made a mesmerizing view. Spent half an hour here, still didn't feel like moving. But then I reminded myself of the breathtaking view of Eiffel from Louvre. So, off I went to Louvre. Here, there were quite a few tourists. I clicked some photographs of the Louvre pyramid, bought some souvenirs, roamed around the gardens and then I went to see the Eiffel again. Wow. So stunningly beautiful! It was 10.30 p.m. already. I caught bus no. 95 back to Opéra. Many of the restaurants near Opéra were now closing. I had dinner at a burger joint and went back to the hotel to get some sleep.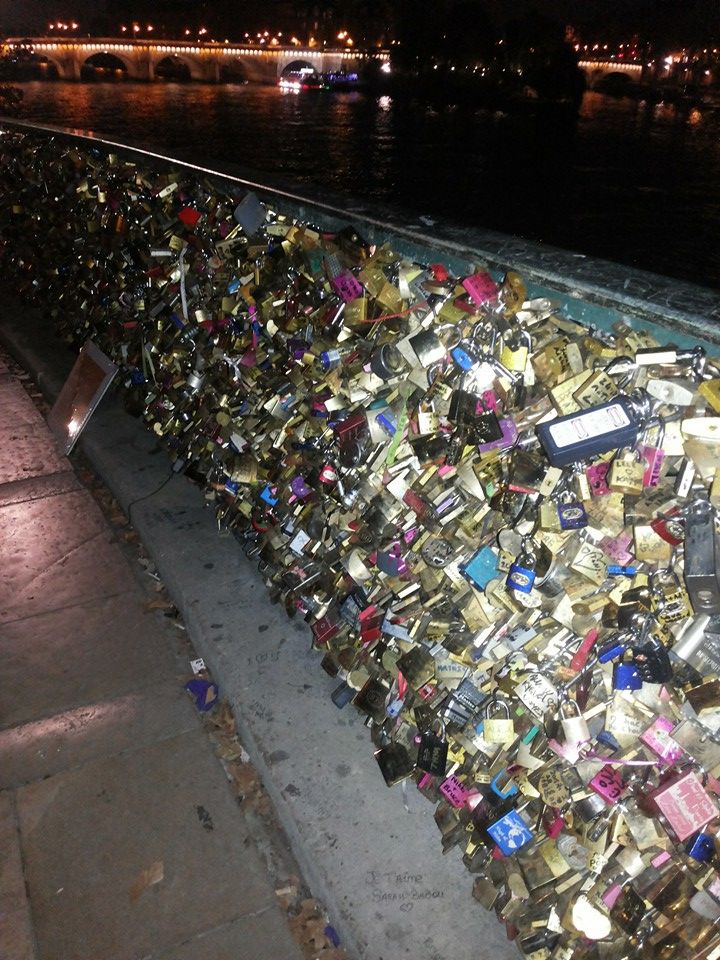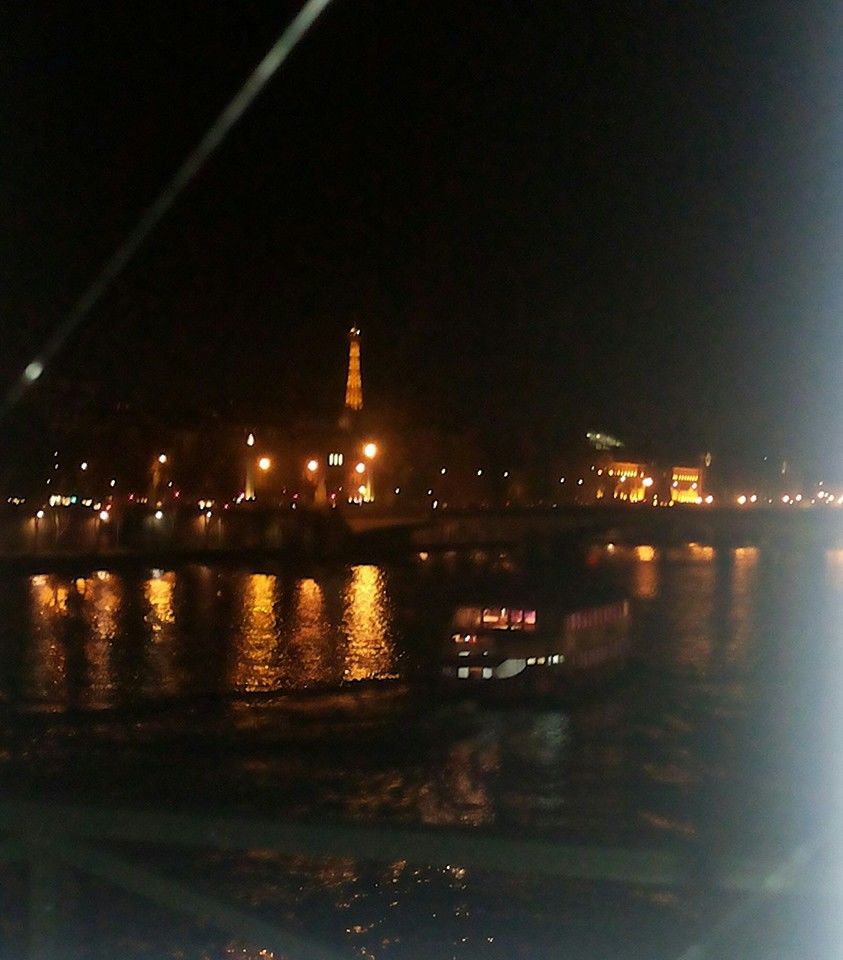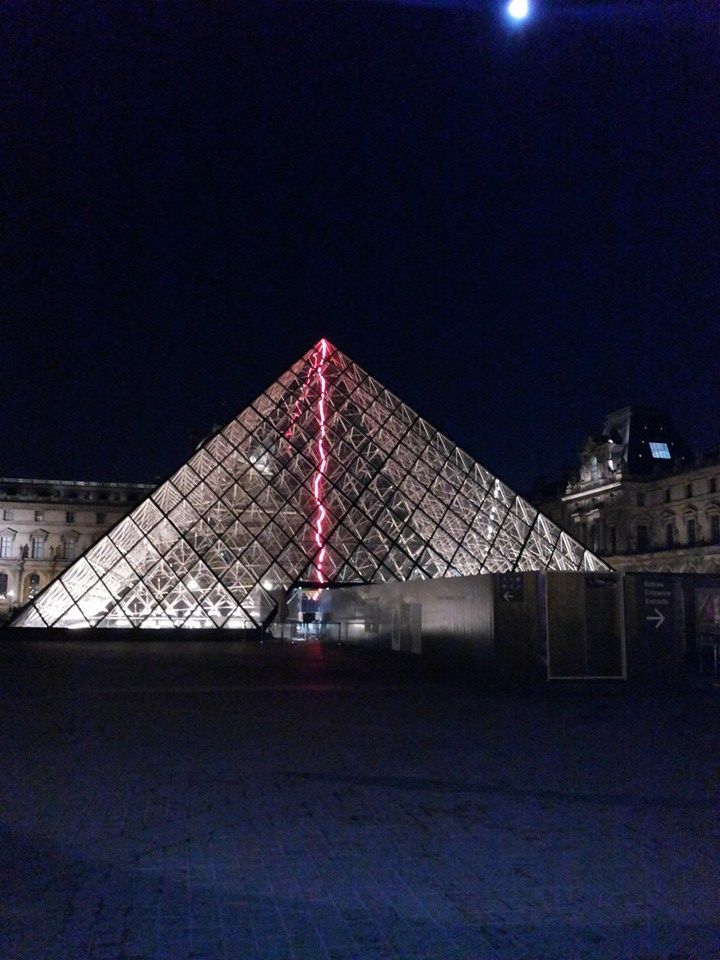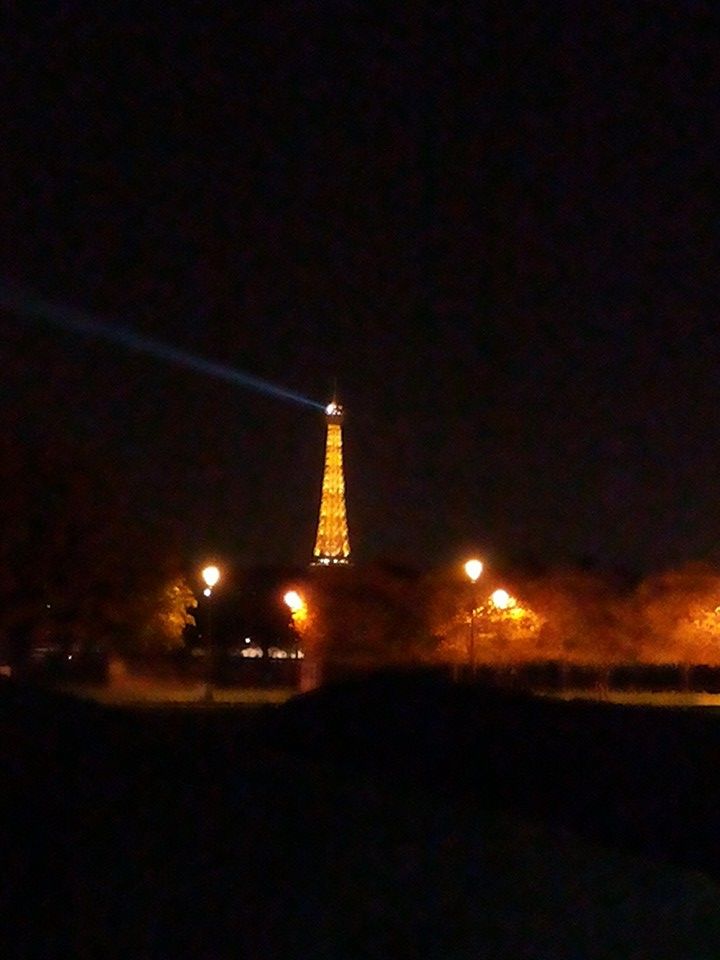 Next day, I got up at 6 a.m.  (Well, I had very little time in Paris. I was not going to waste it sleeping). I took a shower, got ready and caught bus no. 42 to Eiffel. This was the most beautiful bus ride ever. The bus travelled from Opéra to the church of Madeleine to Concorde to Champs-Elysees, then crossed Pont de l'Alma to get to Eiffel. Paris looks so fresh and pristine at dawn.
Eiffel was a treat too. There wasn't a single tourist or vendor under the tower. I was the only one. Some locals were out for jogging or walking their dogs. But otherwise I had the whole Eiffel to myself. So I roamed around, clicking photographs and selfies from each and every angle. A guy sitting on a bench whistled and waved. I waved back and walked on. This alone time felt great. I spent about 45 minutes here. But then it was getting late, so I again took bus no. 42 back to Opéra. Wow, the city still looked fresh.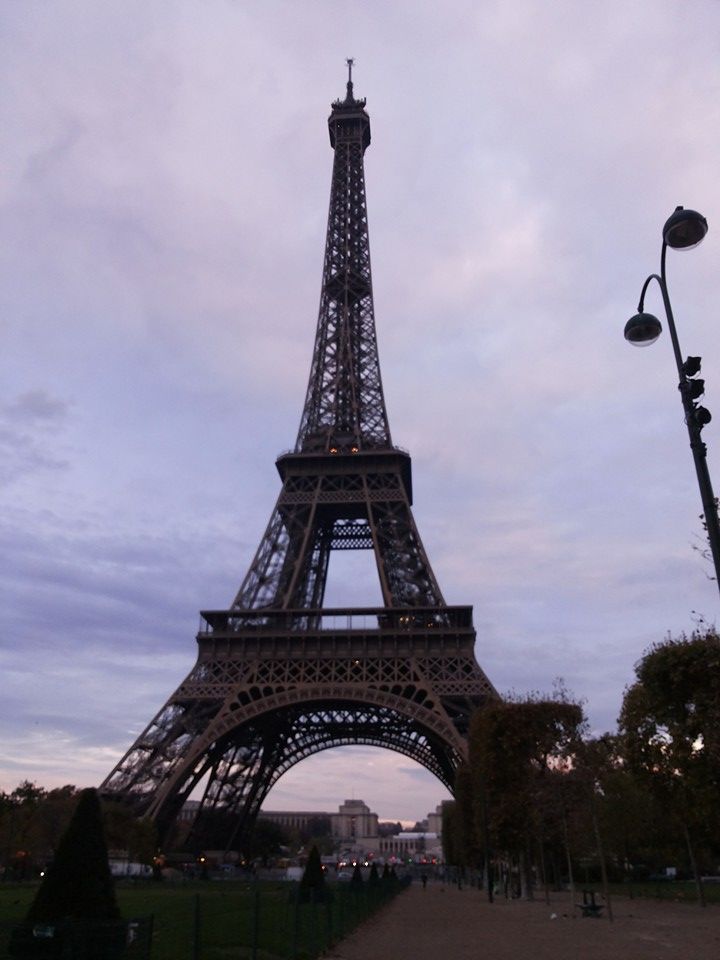 I spent some time at Opéra. Had some macaroons. Then headed to the hotel. At hotel, I had the complimentary breakfast – croissants, baguettes, breads, orange juice and a variety of jams and spreads (including Nutella :) ). It was 9.30 a.m. already. I hurriedly packed my bags, checked out of my hotel and caught the RoissyBus back to the airport. I reached well in time to catch my 1 p.m. flight to Barcelona.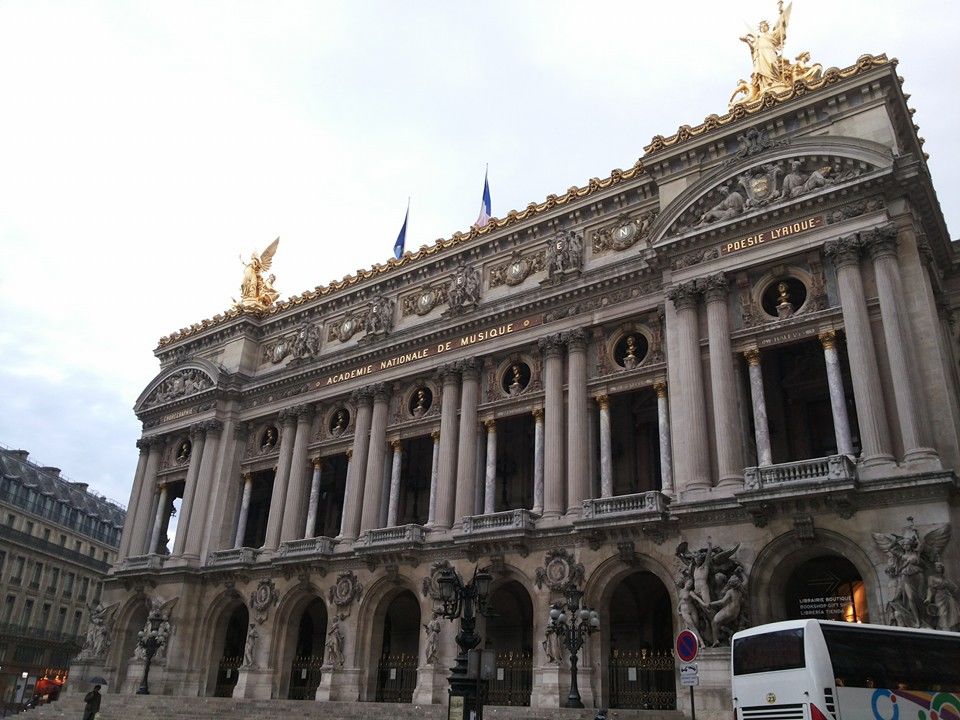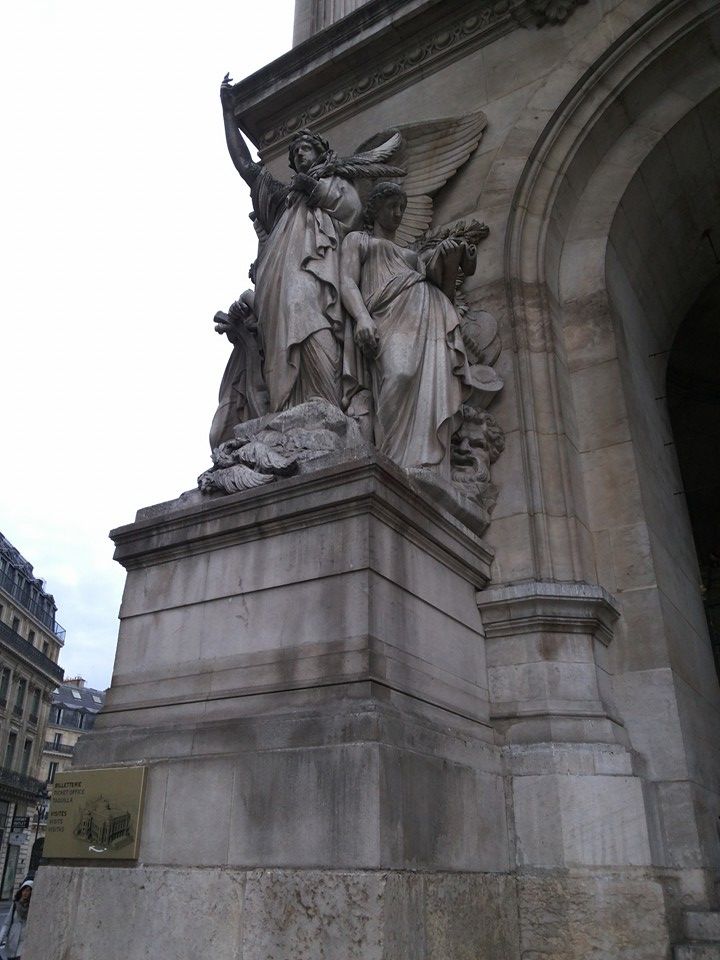 So all in all, a great trip – albeit short. I would visit Paris again, next time at leisure. I have only one suggestion for those planning to visit Paris. When in Paris, chuck the metro. I know it is fast and convenient but Paris is not a city to stay underground. Instead take a bus or walk or peddle. And look around, you are in Paris! <3