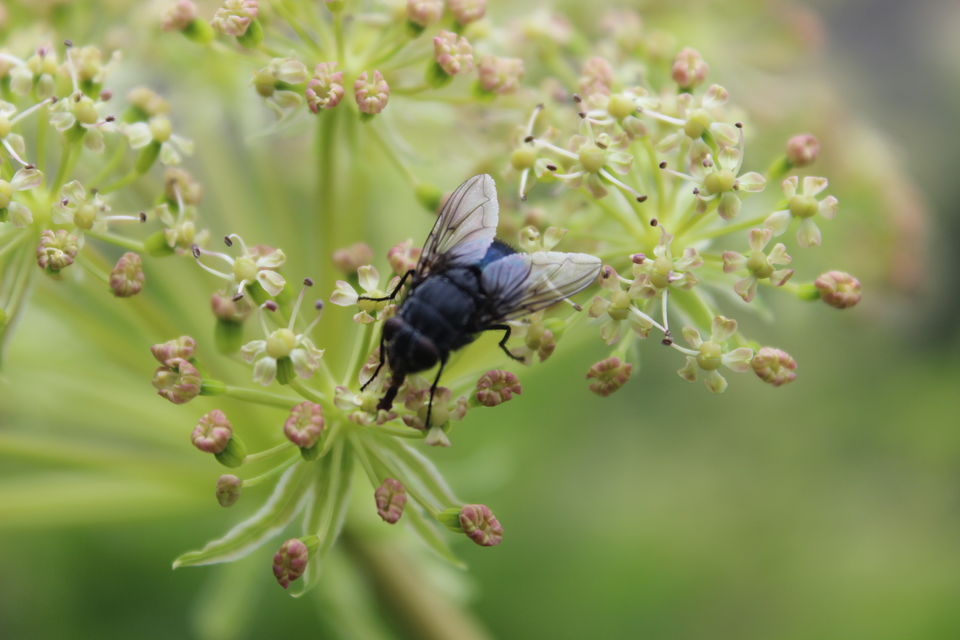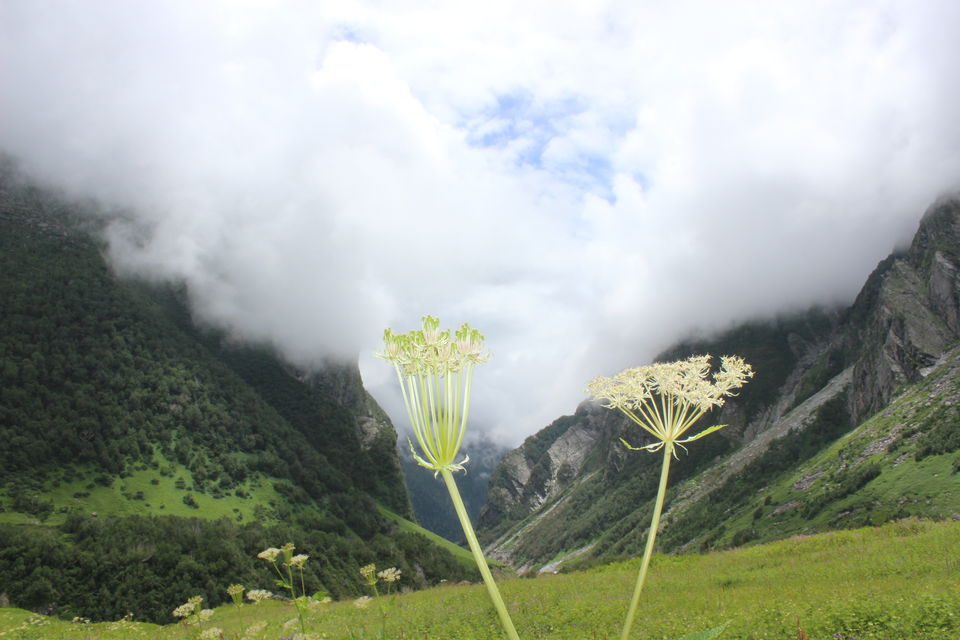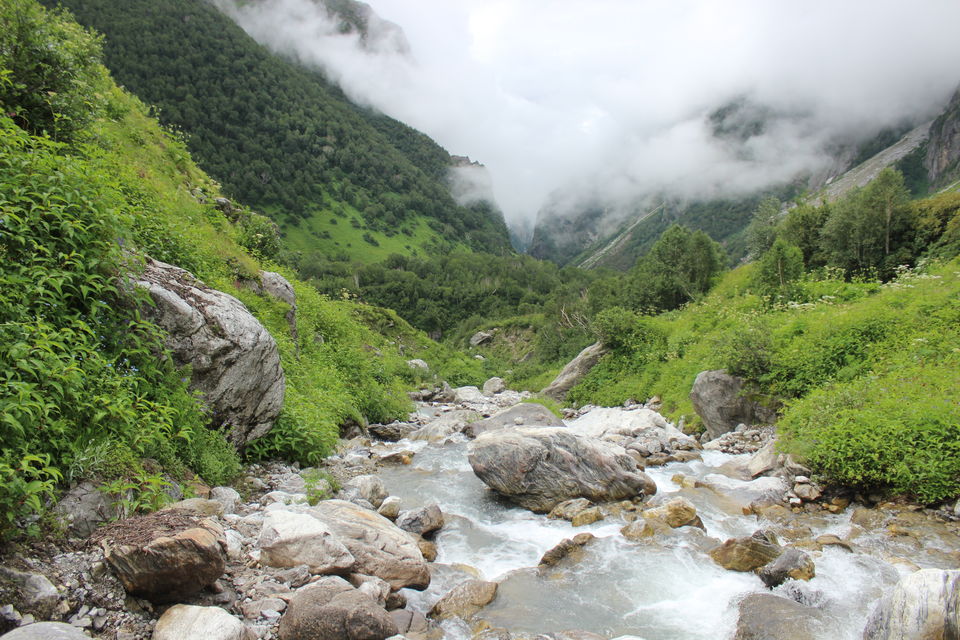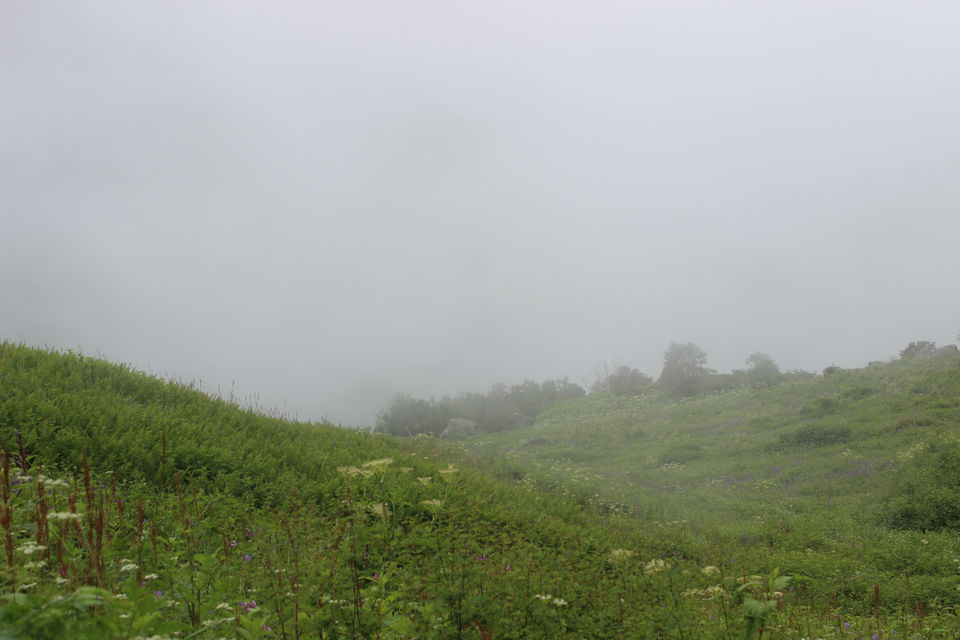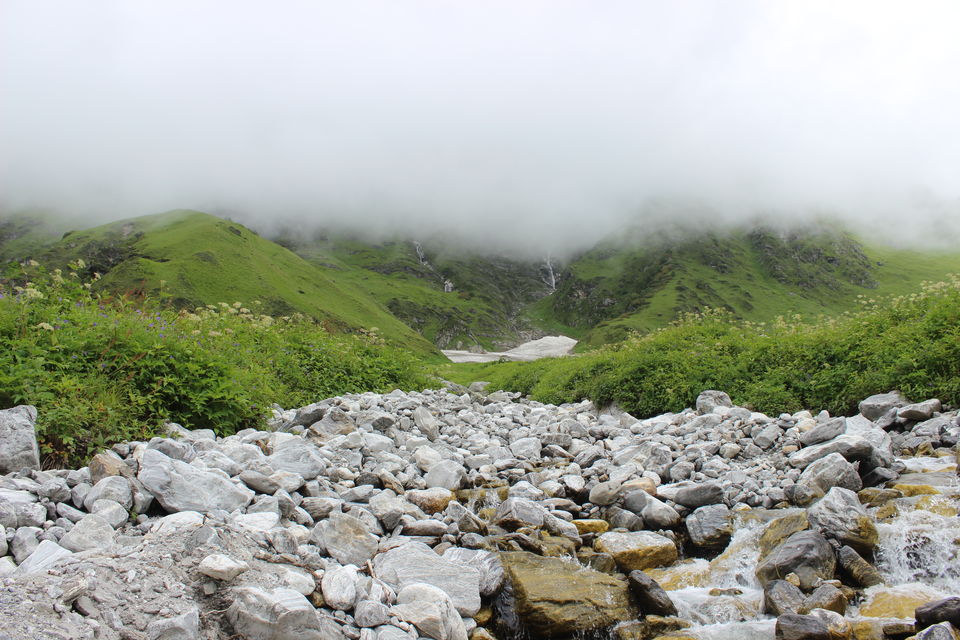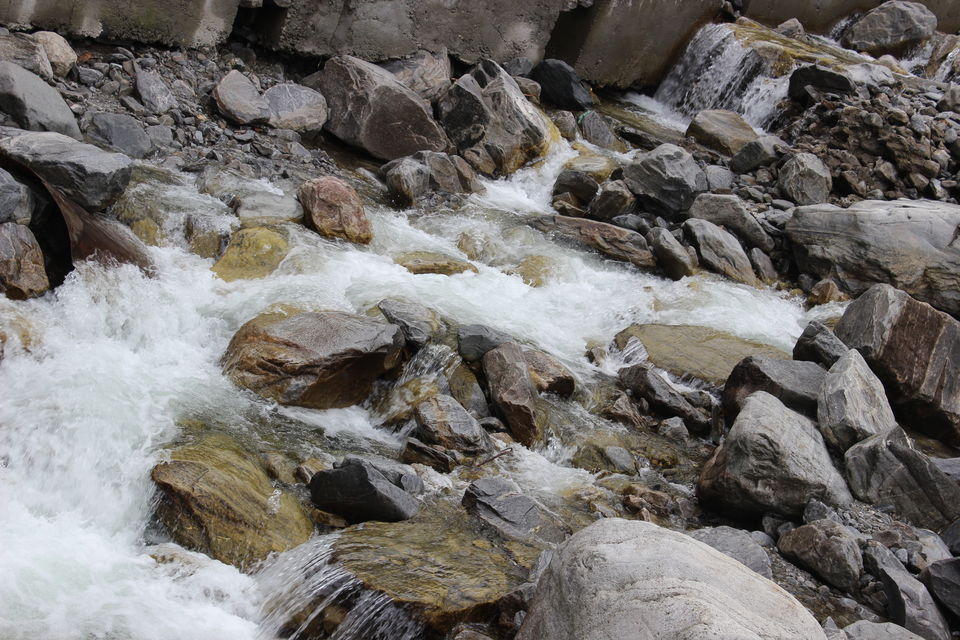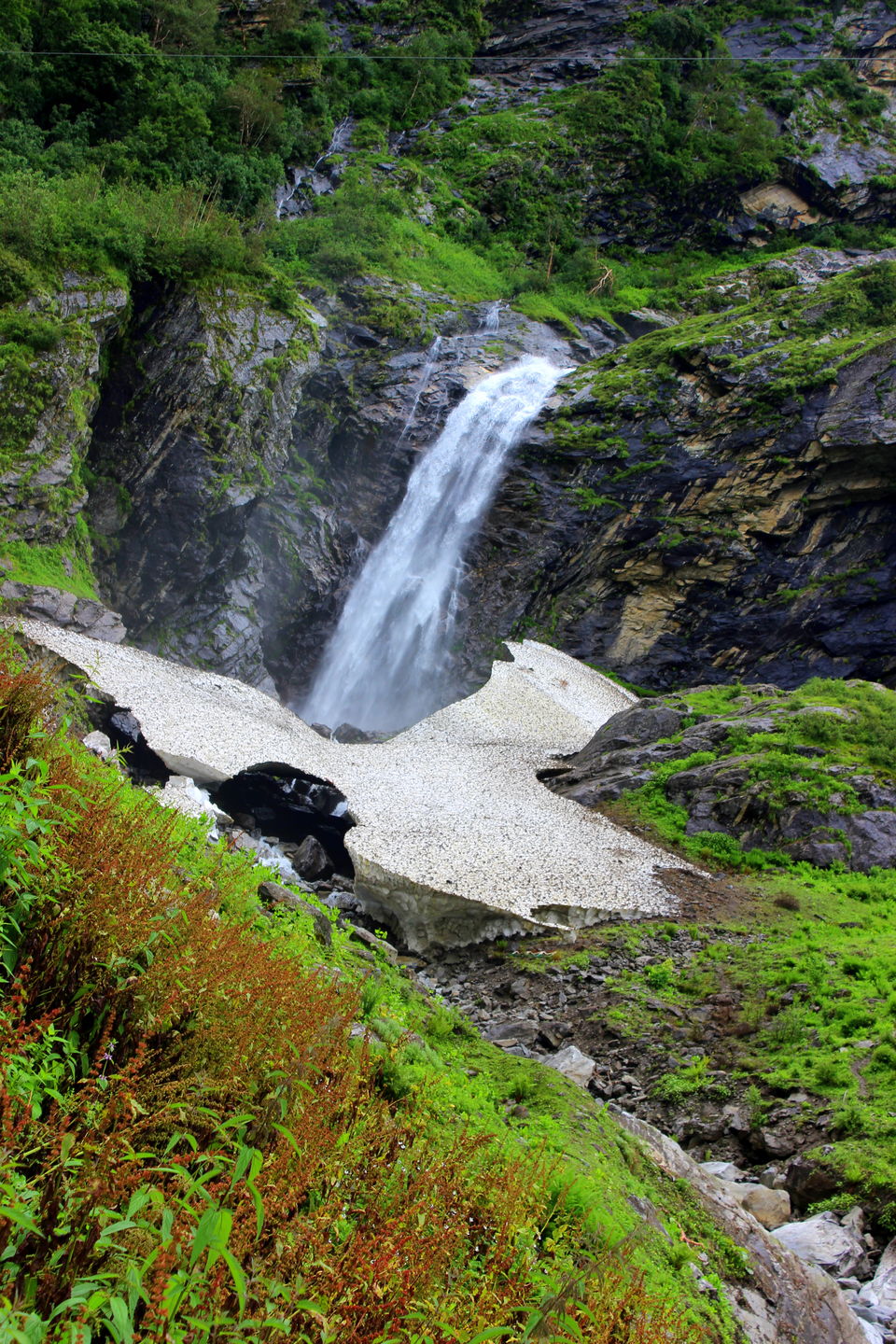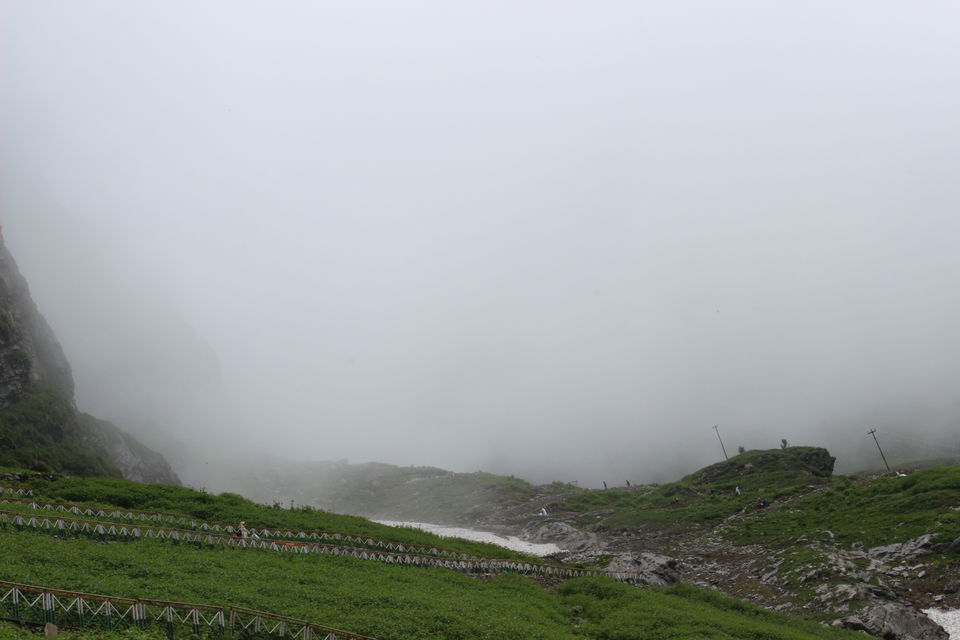 If Alice was dreaming about her wonderland, it was a dream come true for me. I was imagining about this wonderland from the time I heard about it , waiting to savor it , to feel it , to know how it is. And then it finally came true , I really wandered , walked without care even when my thighs pained , lost breath at times and finally I conquered the mysterious valley of flowers. A real wonderland and I allowed myself to plunge into the hands of mother nature feeling its variations , surrounded all around by the great Himalayas.
This picturesque land in Uttarakhand is not so known to people, I was not knowing 2 years before as well. When I came to know about this from another wanderer friend of mine, I did a virtual tour and yes it stole my heart. I had that urge to go there at least once in my life. In 1930's Frank Smythe , a British mountaineer lifted the veil of this hidden beauty to outside world. Valley is accessible only from June till September .November to May valley remains in thick layer of snow.
Our trip started from Haridwar. Valley of flowers can be reached from Rishikesh as well. Tourists can either fly to Delhi and take a train from Delhi to Haridwar or can fly to Dehradun and then reach Haridwar or Rishikesh by road which will be less than 60km by Road. From Haridwar to Govindghat approximately 250km, and it will take almost 10-11hours of travel and will gain an altitude of 6,000 feet . It is the roadhead for Badrinath, Hemkund and Valley of flowers. Journey was uphill, circling river Alakananda. So one side is the gorgeous river and other side mighty Himalayas. Enroute there is always board reading Welcome to 'Dev Bhoomi' ,sometimes the nature will really make you feel it is dev bhoomi when the clouds come down as if touching the river, it will look like the devlok in old mythology serials. We were travelling past Krishnaprayag, Devarprayag passing the confluence of Alakananda and Bhagirathi. All these beautiful scenes will start to turn wild as the sun descends. Roads won't have street lights(can't expect someone to do it when making and maintaining road itself is difficult in that terrain) , narrow roads and at times there are no roads( roads have gone because of landslides).
Ghangaria starts, giving you the feel of what you will discover at the end. Ghangaria is the base camp for trek and it was supposed to be 14km uphill. For 2 more kilometers cars/bike will go but the rest of 12-13 kms walking is the only option other than hiring mule. There is helicopter facility as well which will need only 2km walk to Ghangaria, We send our luggage on mules, most of them charge based on number of bags, you can manage to send one bag for 100-150/-. We started walking with necessary stuffs like umbrella, rain coat, chocolate, water ,packed lunch etc. We had to register before starting trek, because of accident prone areas they are mandating all tourists to register there with photo and we will be given a tracking card which they will use to rescue in case of emergency. We started walking around 11am. Sun was at its peak and was making us feel more tired and dehydrated. Heat didn't show any mercy to us ,we were walking and then sitting to catch breath. We exchanged conversation with many travelers on the way, sometimes giving side to mules was giving us break. One should be careful also to avoid the dung:-P.
I was trying to capture the nature in my camera eyes too. Every 2-3 kilometers we will get some shops which sell water, cool drinks, milk etc. Price of stuffs keeps increasing from each stop as the height goes up:-D When we reached almost 8km or so we stopped and had our lunch. There was confluence of Bhyundar ganga and Pushpavati to form lakshman ganga and that later meet Alakananda at Govindghat. Walking through the river side was a pleasant experience. Now the climate was going to change and was feeling small drops of water on face, yes its gona rain. We stopped to get into our raincoats and we had only the last and very tedious 4km left. This 4km was continuous uphill and supposed to be very difficult. On experiencing it proved to be very much correct, it was purely uphill. Rain made the roads little more worse , mule dung and mud was forcing travelers walk with caution. 4km nearly took 4hours to climb and by 6 we were in Ghangaria village. So now are at an altitude of 3049 meters!(nearly 10000ft).It's base camp for Valley of flowers/Hemkund trek. There are many hotels which provides accommodation, but you cannot expect much facilities. Evenings become extreme cold(obviously morning too). Hot water for bathing will be provided only on request at an additional cost of 50/- per bucket, ( they have to heat water in their backyard with wood). You don't have to bother about getting calls from office as you will be absolutely out of reach , totally isolated. There are few STD booth which offer STD at 10/- per minute and ISD 60/- . Lemon is also costly affair there as each one costs around 15-20/-:-D. So after having finished first step of trek , took dinner and slept early to gear up energy for the next two days of more difficult terrain.
Overnight there was heavy rain and hence our guide decided to take us to Hemkund as valley of flowers is good to see on a clear day. We started by nearly 8 in the morning, it's a famous sikh pilgrim place and is surrounded by a lake. There were many pilgrimers and few tourists. I have read that it is must visit to Hemkund as there were many flowers on the way which are not to be seen in valley. I was under the impression that Hemkund is an easy trek and was not expecting it to be difficult. But soon my thoughts were getting upside down, it was always uphill, but I still didn't expect it is too far, when I asked guide he pointed to an electric pole and told we have to reach there, it didn't look very far as well. I was nicely enjoying the nature too, taking photos of each and everything around I was walking in my own pace. Unlike the route from Gonvindghat to Ghangaria in this route we could hardly find shops to buy water, soon we started drinking water from streams and glaciers. First 3 kms we went admiring the nature and talking to the pilgrims and other travelers. Few of them were senior citizens and they had a glow in their eyes which obviously said how happy they are to come here again, some told how they have ran and covered this route 20-25yrs back, feeling themselves good about their achievement. It may be around 11.30 we came to know that we have to hurry now as the gurudwara is open till 2 only and there is another 4km which is very much uphill to cover, sudden realization brought some kind of tension and worry whether we will be able to make it. We started to increase our speed but it was badly uphill with no downhill to make you happy. The path was such that for a moderate trekker if you are walking fast then you are gona exhausted which will force you to sit for 2-5 minutes. Time was passing and we felt distance is not reducing, and now we can see the path as well, it looked a lot. The electric pole which guide has shown was one of its kind, following that there were few more till gurudwara and that is too far!!! Altitude was taking its toll, making you run out of oxygen at times, earlier when we were exchanging happy words to travelers returning back, now people could make out how tired I looked and they were telling 'Beta doda hi hai, ho jayega', though I was smiling at their words, in my mind I was about to cry. One family saw my bottle is going to be empty and gave me their water too, as upwards I won't find streams more. Travelers and pilgrims were now coming down only and not many people are there to go up, I felt as if like we were the only people who were not knowing that gurudwara will be closed by 2:( I could still see the gurudwara far ahead, more than 1-1.5kms and it was already 1.30. Still pilgrims coming down(sikh grandpa's) were telling me to go and I can make it, they were suggesting to walk little more fast. But I was drained of energy and how can I walk more fast. Tears were filling my eyes , I was crying in my mind. I tried to hold my strength and my life partner gave strength telling if gurudwara is closed also we will go and visit the temple and lake and offer prayers from outside and we won't drop. And with more determination continued to walk , it was slightly raining now. Ignoring the small showers we tried to reach as early as possible. And finally it was exactly 2 when we reached gurudwara. Thanks to lord for making us reach on time, they were about to close but seeing us one of the gurudwara caretaker came and tied the towel to cover head and we sat to offer prayers. We were given prasad too, we sat there for 5-10minutes, to dive into the calm and serene environment and express our gratitude. We went to lake , dipped legs allowing the ice cold water to embrace legs to take out all pain and rejuvenate.
Water was freezing cold, but the lake was extremely calm, beautiful and was a great treat to eyes. The lake is surrounded by seven ice cap peaks. But before I could enjoy the lake beauty in its full form someone suggested to take langar(is the term used in the Sikh religion for common kitchen/canteen where food is served in a Gurdwara to all the visitors) as they are about to close. So we rushed , we were given one full glass of milk and a bowl of kichdi. I think I was really hungry , I finished milk in one stretch. I felt kichdi was heavenly, not sure whether my hunger increased taste. I am not sure about others but I loved it. So now we have regained energy, and I wanted to walk around lake , visit lakshman temple etc but then guide was insisting on moving down fast as it was 2.30 and there are not many on top now. Some renovation was happening in gurudwara and many people working there , hence I couldn't go for a quick round as well . So we are going back now, I was not at all happy with that, after taking so much difficulty in reaching top without even spending time I was going back. Return we went via another route through steps, it seems there are 900+ steps, we could have used this to come up as well but as climbing up is difficult it was less suggested. Yes we had seen few rare species of flowers like Brhmakaml, blue poppey etc.It looked very strange that there were no people on the way now, may be that's why guide was insisting to start fast. Return journey was fast for us, toe was aching slightly but it was manageable. When we reached down we met few others who have completed their valley of flowers , they were planning next day Hemkund so we gave advice's each other. Down there was a glacier and then a stream were by people were sitting and enjoying the nature and relaxing. We also joined and our other group mates as well. We easily removed our shoes and dipped legs in the cool, soothing water. It helped to relax a lot and slowly we head back to our hotel.
So next day was the most awaiting day, it didn't rain much but sky was not very clear. Valley is around 4km from Ghangaria. We started early by 7-7.30 . If Hemkund was reachable in horse/mule, valley you have to walk only or if you don't mind sitting on back of a person you can take a khotta as well. This was not concreted or stone paved as opposed to other routes, it was muddy and narrow. One has to be careful not to slip. The journey was through various plants and berries. I was getting sight of few birds as well. Sometimes the path became very difficult with only stones when it was near river bridges. One needs to cross small river bridges made of asbestos supported on two small iron roads. Just watch your steps and keep walking. We crossed the pushpavati river and moved uphill. Route was muddy only but both sides full of medicinal trees , berries, mushrooms etc. Sometimes the tree trunks will be extended to path and you should watch your head though there is no printed warning. I spotted one pikacho(rat without tale ) and was lucky enough t capture it in my camera eyes.
We were not feeling the journey to be much difficult mainly because of the wonderful landscape spread around us. We could see ice capped mountains, green meadows I was seeing the one of the most beautiful scenes of my life. There were many small bridges and glaciers to cross. We were drinking water from streams only , Valley of flowers doesn't have shops and eateries as in other routes. Valley is spread for a distance of 8-9km's with wide variety of flowers, home to over 300 species of wild flowers . Valley is home for variety of bees, flies, butterflies, bear and snow leopard too.There is narrow path through which visitors have to walk, both sides flowers have grown dense and thick. It is not at all a disciplined man made garden , this garden is made by nature/ invisible energy. We saw plants and flowers which have not seen anywhere else yet , the color of flowers only shows how different and unique they are. It's really a magical land, difficult to explain the landscape or the sceneries there in words, camera eyes also would have failed to capture its beauty in its completeness. Most of the plants /flowers in the valley haand ve medicinal values, we tried to cover a good distance of valley, so approximately 6-7kms we have covered, passing by many streams and the monument of Margarate Legee.
I was happy that I finally conquered the valley and was in the lap of nature, savoring its beauty and unique creation, its an amazing world. I was proud to have seen the beautiful world as many had passed comments why you want to walk so much to see flowers, my camera eyes will give answers. Such vibrant and variety of flowers, picturesque land make your effort worth. It is really a fairy land which changes color each time of day, as we were finishing our lunch suddenly it started becoming more cloudy and rain was inevitable. Immediately we started return journey as the route will become worse with rain. We quickly slipped into our rain coats and started , the route has become more muddy and slippery because of rain. It was raining until we reached almost near to the entrance.
Next day we packed to begin our downhill journey to govindghat. Downhill was more easy and fun filled. I spend more time on photography but the 3 days walk has now started showing its effect on us, we both had enough sun burn. After reaching govindghat by noon we left to Badrinath to visit the holy temple of Nar and Narayan. Badrinath route was scary , but its worth. We didn't stay overnight, so couldn't get to see how mountains change color to golden/silver at different times of day. If you travel further there is Mana village which is the last village and as per hindu puranas the place where Pandavas left earth . There is a temple dedicated to Panjali as well. On the way to Badrinath we saw Hanuman chatti as well (supposed to be the place where Hanuman was sleeping with his tale stretched which Bhima tried to lift and later resulted in destruction of Bhima's pride).
We were hearing news about landslides on the way to Haridwar , and morning we were going to experience it very badly. We were supposed to leave to Haridwar by 7 in the morning but landslide was very bad that they have closed the route and should wait until they could clear it. It was within 2km from our Hotel in govindghat. After waiting till 10 we slowly moved to the landslide spot so that if in any case they open the gate we can move as many had train that day night or next day early morning. Sun was really hot and fierce and the rocks were still falling from mountains making the cleaning process more worse. Finally around 2 they opened gate and we quickly crossed the spot as anytime they may get closed again. The return journey because of delay and two more landslides made it more tiring and we finally reached Haridwar by 1 a m. So the two road trips were quite tiring and scary.
I saw most beautiful landscapes, experienced scary roads (no roads as well), felt the pain in legs and muscles very badly that i can't sit on my knees to take photographs, met a lot of new faces, made friends , experienced breathlessness so many times a day, after brain telling you can't walk anymore my mind forced to walk and i felt great, cold freezing water gave full body anesthesia, mornings made me hungry like anything , 4 days approximately 70km walk, 15500 ft height , courage, mind power ,uncertainty , I lived and made a lot of good memories insulated from city hazes, work pressures, questions and all other nonsense. Though it made me tired like hell, tanned and drained of energy i still love those mountains and streams for gifting me with all the different experiences of a life time.