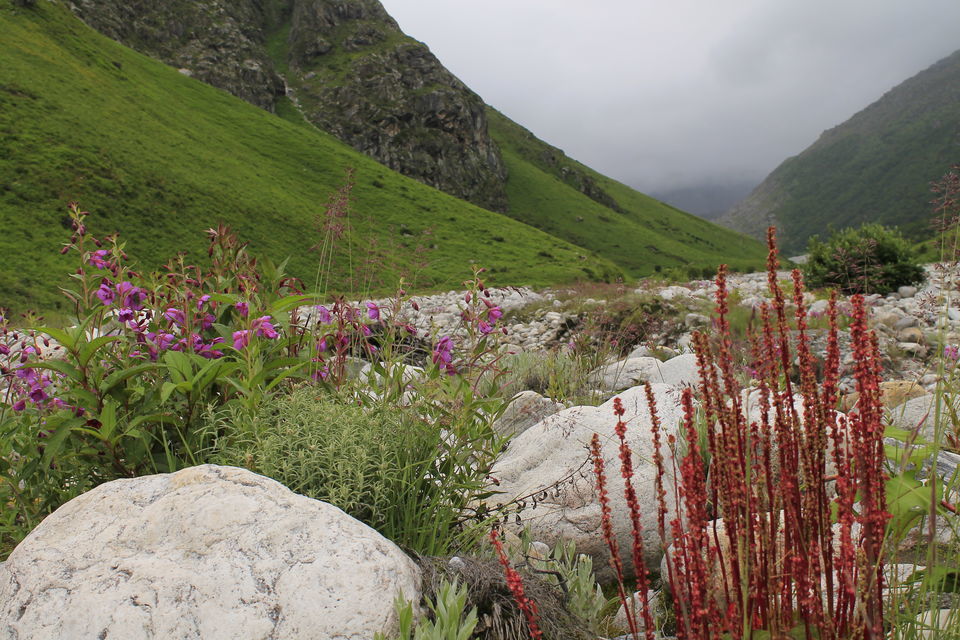 "When the wind calls, you know, that somewhere in the mountains, it has found the answers that you were looking for. The pull of the horizon overcomes the inertia of reason…And you just have to go."
This is how our journey began to this wonderful place. The plan happened randomly and all of a sudden. But ended up becoming one of our most memorable trips. We desperately wanted to go on an outing and out of the blue, the idea of a trip to the valley of flowers struck our mind and within a span of 24 hours everything was booked and we were all set for the trip.
Our journey started from Gurgaon. We took the Jan Shatabdi train to Haridwar and reached around 8 pm in the night and checked in to the hotel booked by our trip organiser "Blue Poppy Holidays".
Next day we started our journey at around 6 am to Joshimath which is around 280 km from Haridwar. It was a long journey but thanks to the rain fed views of the hills, forest, villages and rivers, it didn't seem tiring at all. Along the way, we crossed Rishikesh, Dev Prayag (confluence of River Bhagirathi and Alaknanda to form the mighty Ganges), Rudra Prayag (where Rivers Alaknanda and Mandakini meet), Srinagar, Karn Prayag (confluence of Alaknanda and Pindari River) and Nanda Prayag (Confluence of Alaknanda and Nandakini River).
We had our first stop for breakfast near Rishikesh and then stopped for lunch at Karn Prayag. Soaked in the green views, we reached Joshimath at around 5.30 pm. Our Hotel was little away from the main town and had a beautiful view of the mountains. Though we were tired, I couldn't stop myself from hopping around and checking the flowers in the garden and the views around the hotel. After check-in, we had a briefing from our guide Sanjay, and then after a few card games with our group members and dinner we retired for the night, hoping to have good weather the next day for starting our trek.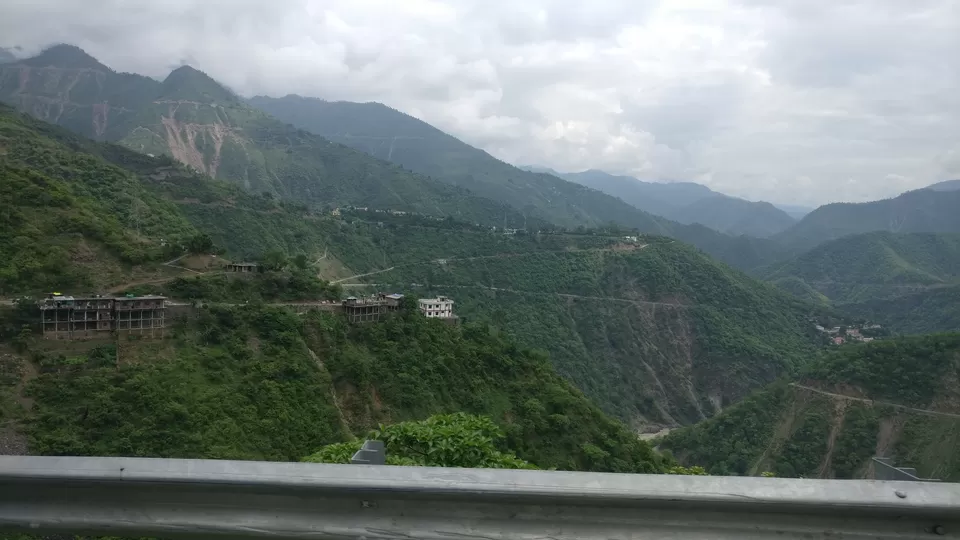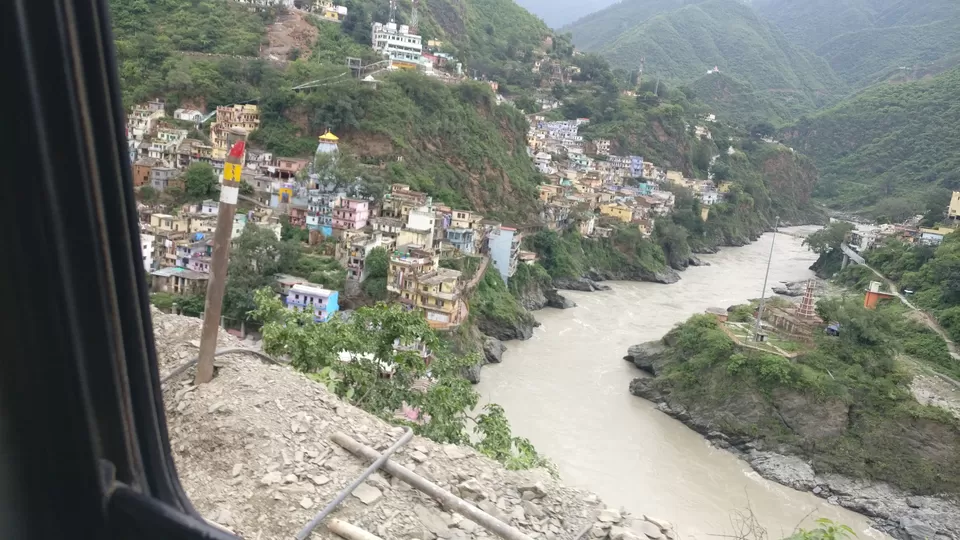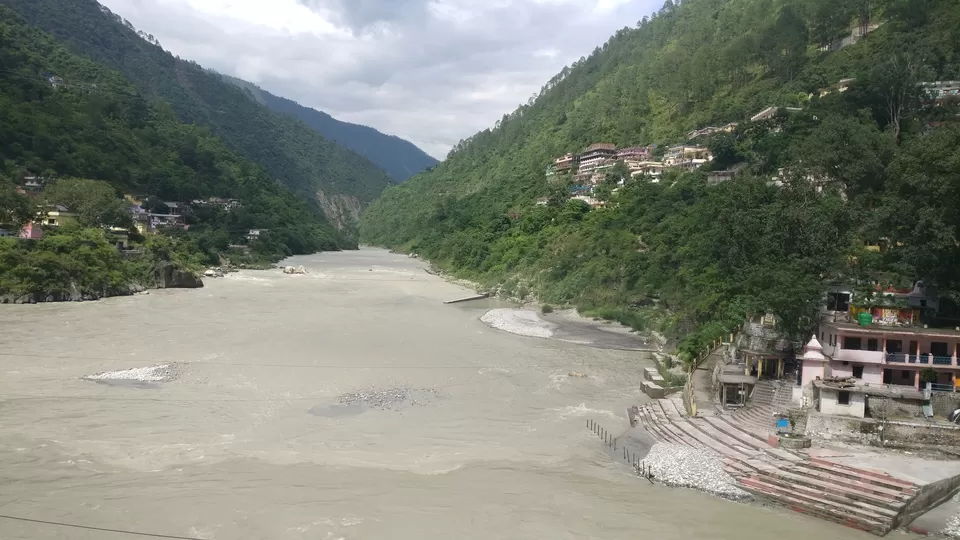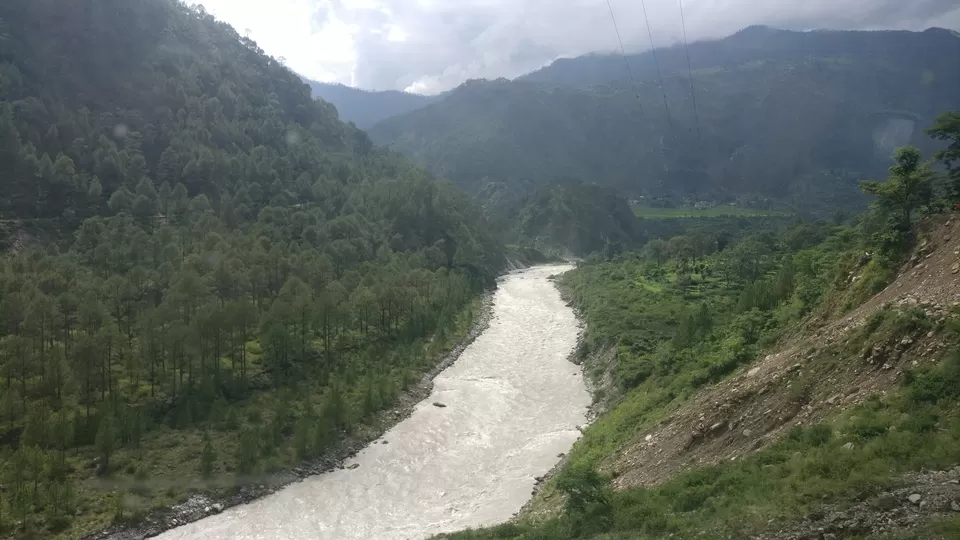 Next day we woke up to a rainy morning (it had been raining the whole night). By 7.30, we had breakfast and started for Govindghat. It's around 20 km from Joshimath and the road has beautiful views of the mountains. The clouds were adding to the character of the views and the whole scene looked to have come out from some fantasy movie. After reaching Govindghat, we took a jeep ride for about 2 km towards Ghangaria after doing our registration. After that our 11 km trek to Ghangaria started. There are 3 modes to reach Ghangaria, walk, mules or helicopter (which takes just 10 mins). We had decided to walk all the way and also carry our own luggage. It was a bit difficult initially as I was carrying my own luggage for the first time on any trek. The clouds had slowly started dispersing and breeze was blowing, it was nice weather to walk. Our first main stop was at a langer, where we were invited to have lunch, they served really yummy paranthas and noodles. After having some food and a little rest, we started off. Our next stop was near a river crossing. The Valley looked pretty and the blue skies had started to show up. We had our lunch here and then after a brief photo session, we took off again. At around 4 pm, we reached Bhyundar village and had some rest now, Ghangaria being just 2 km away.
After quite a bit of rest, we pushed off for our final round of walk that day and reached Ghangaria at around 5.30 in the evening. The view that welcomed us to the village was breathtaking. We had our first little view of the flowers and the valley. Finally we reached the cottages and had some tea. After that, went to our hotel rooms which were a further 300 m uphill climb. After getting freshened up, we went around for a walk in the village. It's a tiny business based village, which is occupied till the Valley of flowers and Hemkund sahib are open for visit and rest of the time it's deserted by its occupants as well. The village is surrounded by cliffs in all directions, and had a gorgeous view of the sunset. We had our dinner by 8 pm and retired for the day so that we could have ample rest before our trek to the valley the next day.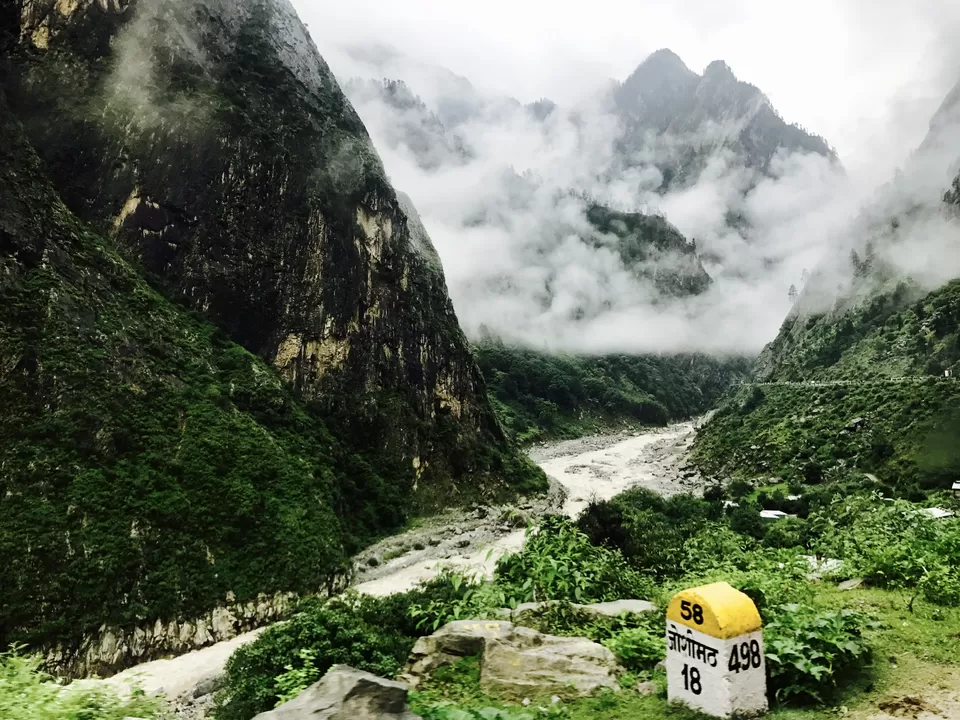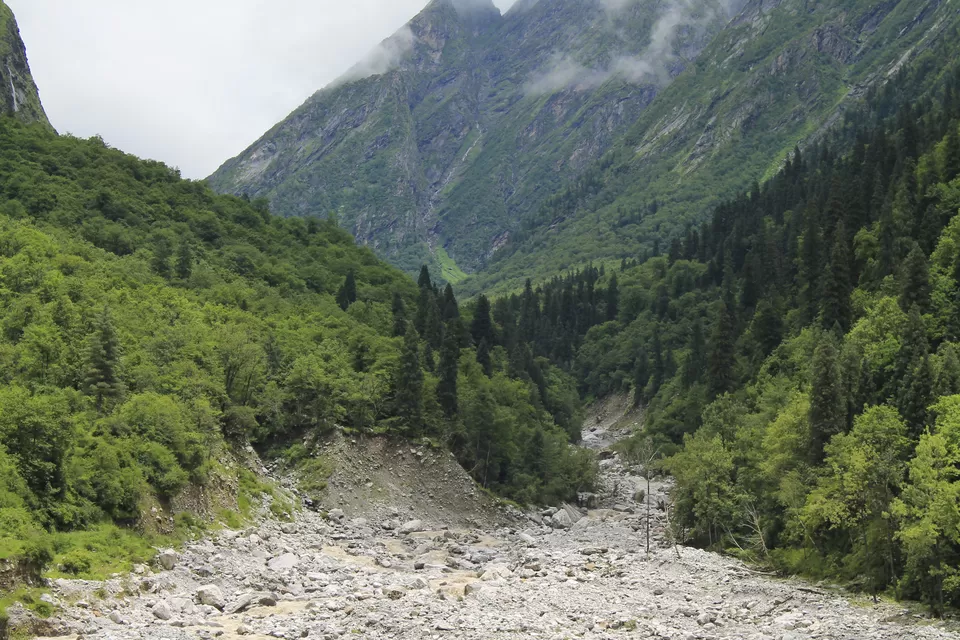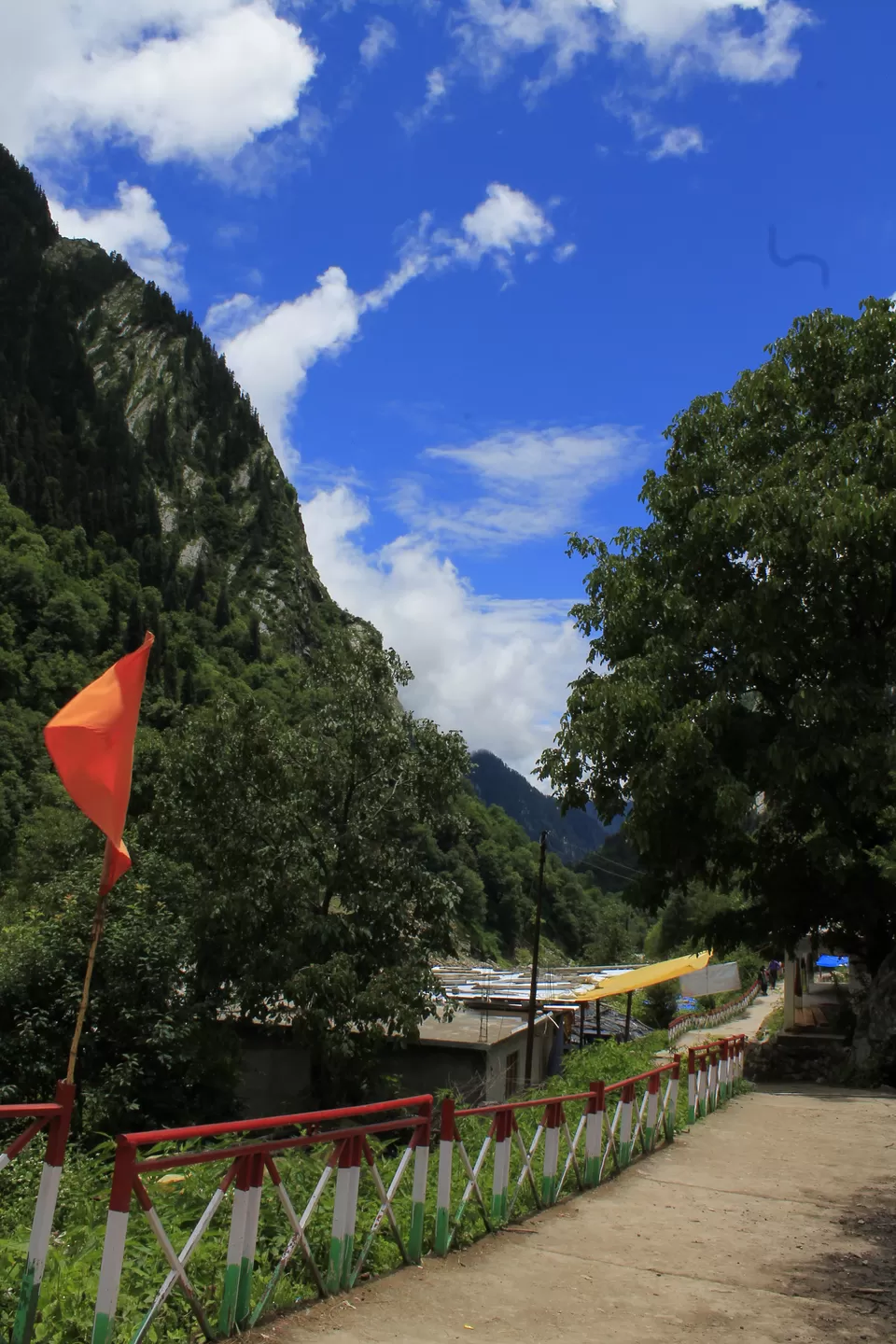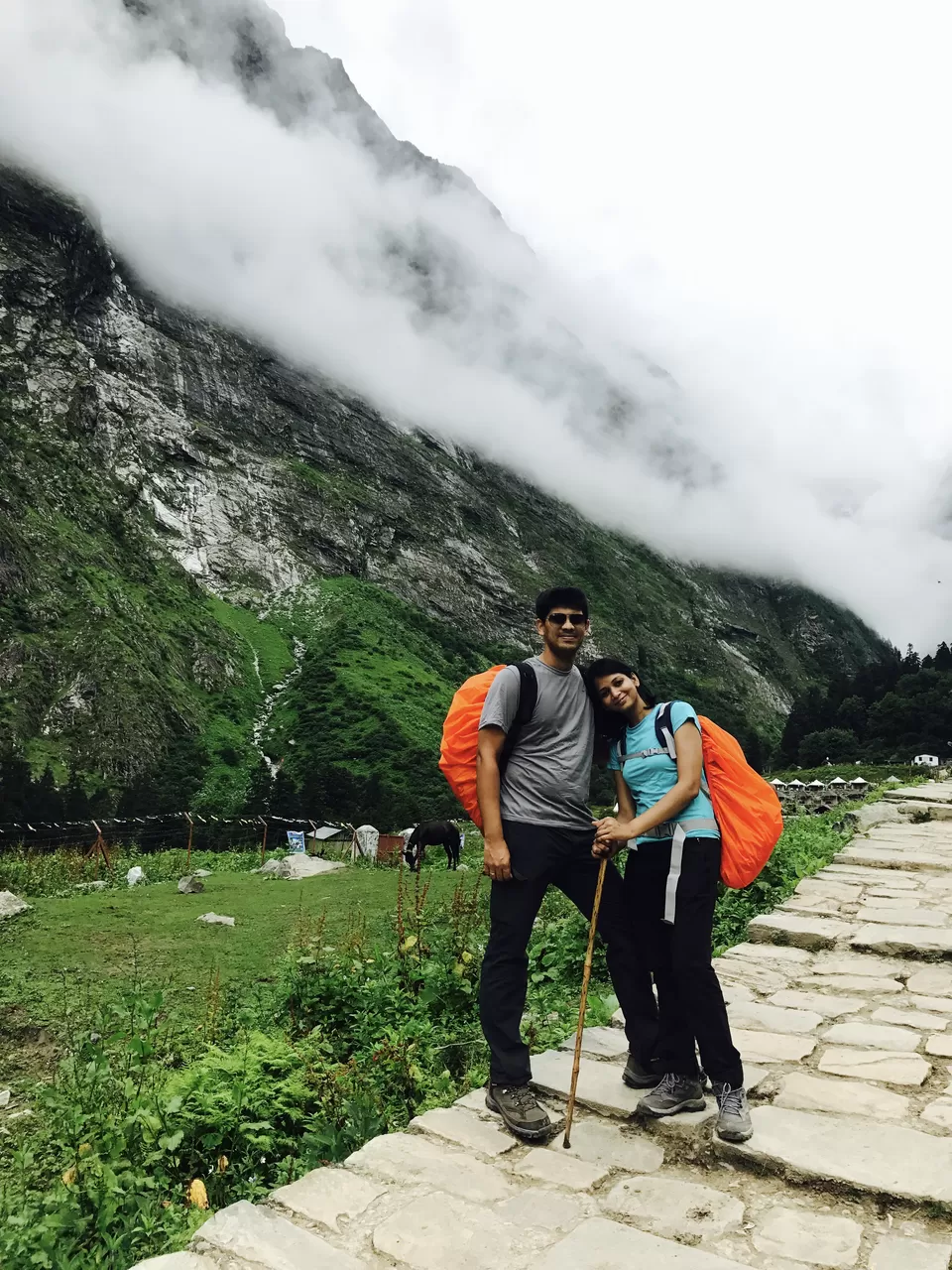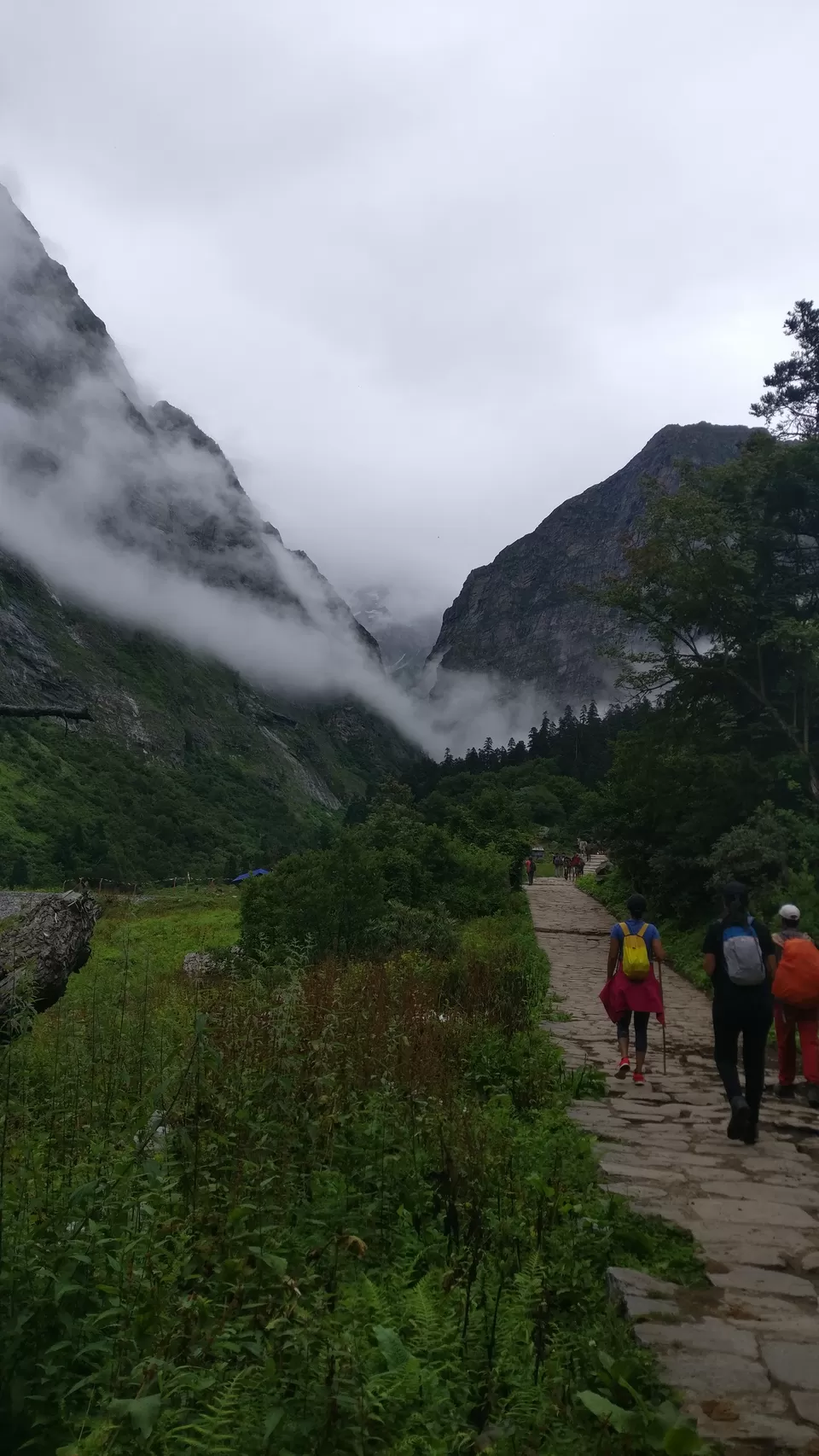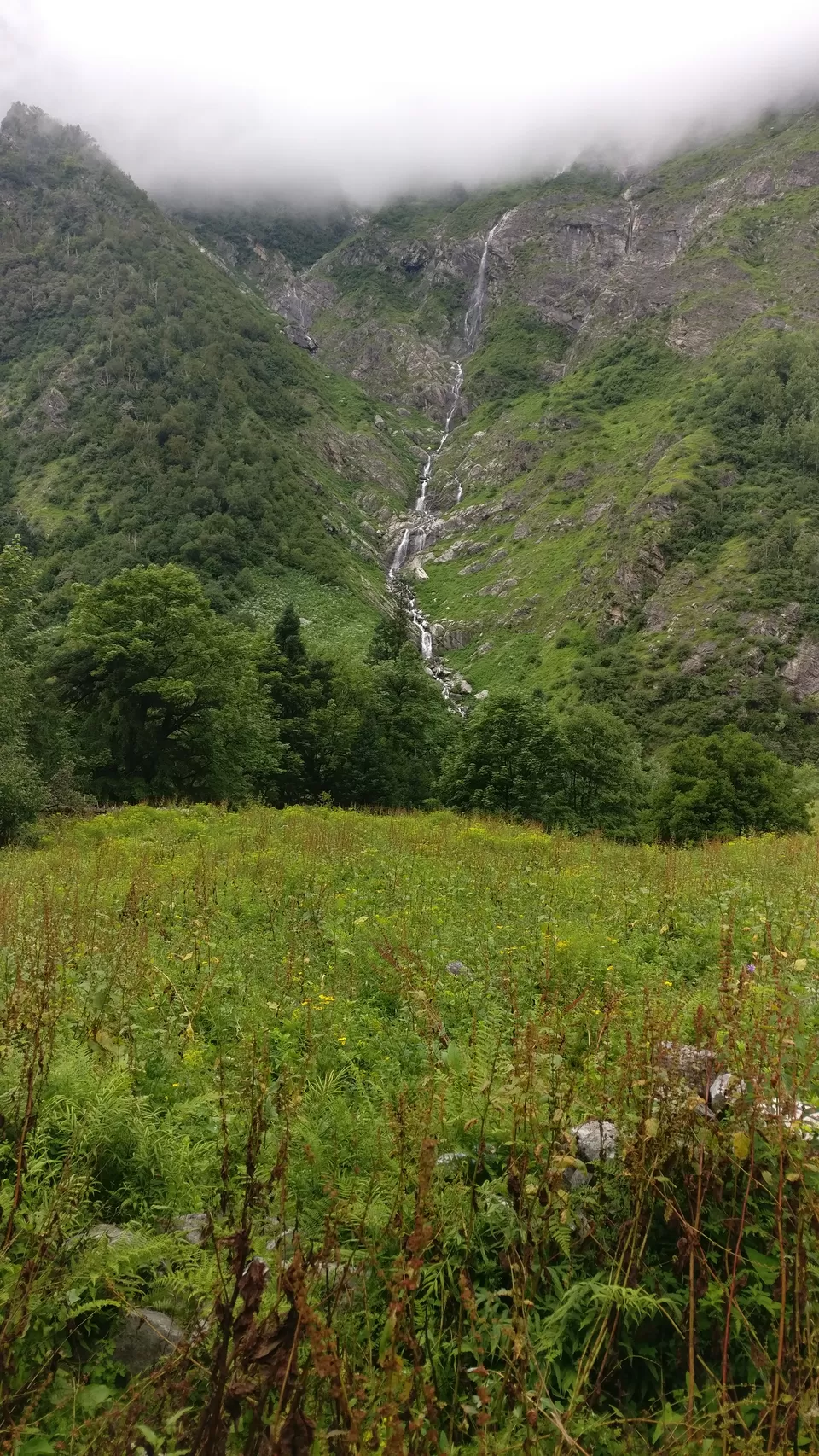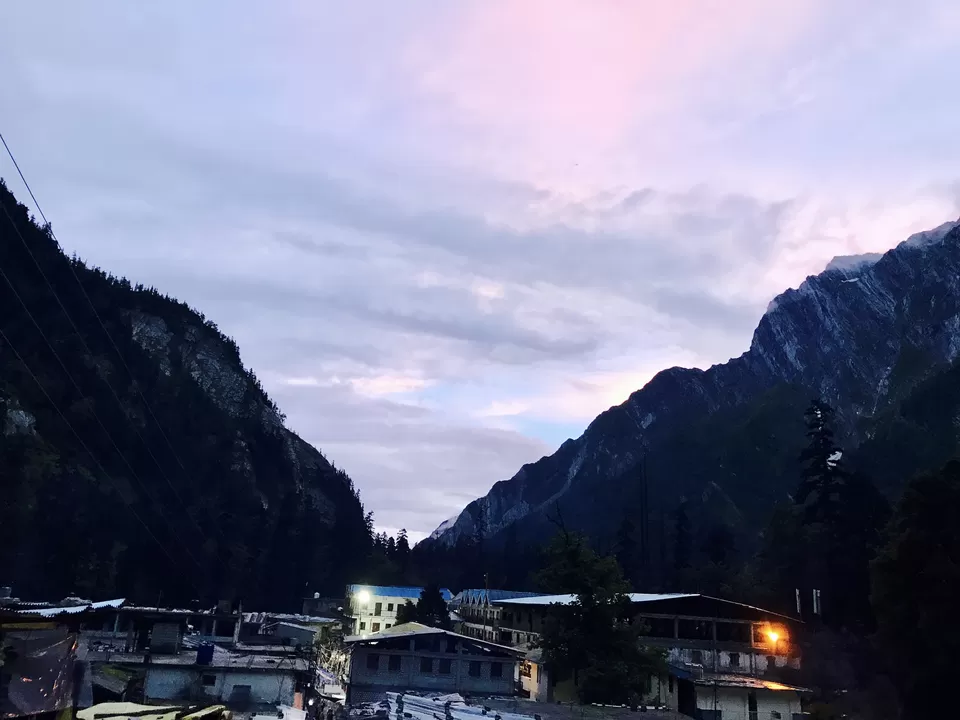 Again it had been raining all night and in the morning I was worried if we would be able to go to the valley or not. But by the time we got ready, the weather had cleared up a bit and we were all set to start for this beautiful and much anticipated walk/trek. The gates for the Valley of Flowers national park opens at 7 am in the morning and everyone needs to register at the check post with a entry fee of 150 before going inside. We are required to reach back to the check post before 5 pm.
From the beginning of the trail, our guide started showing various flowers like the cobra lily, barking dog, forget me not and wild roses. The trail began in a forest route laden with pine trees and the blue skies peeking in between them. We spotted some blue poppy, wild mushrooms as well as silver fir on the way till we reached a stream with an Iron bridge to cross it. The gushing water and the tall cliffs seemed like to be in constant conflict with each other, but all the while coexisting for each other as well. Nonetheless, it never stopped me from falling in love with them over and over again.
Upon crossing the bridge the spiral uphill climb along the mountain to reach the valley started. It was a steady uphill climb of around 3.5 km.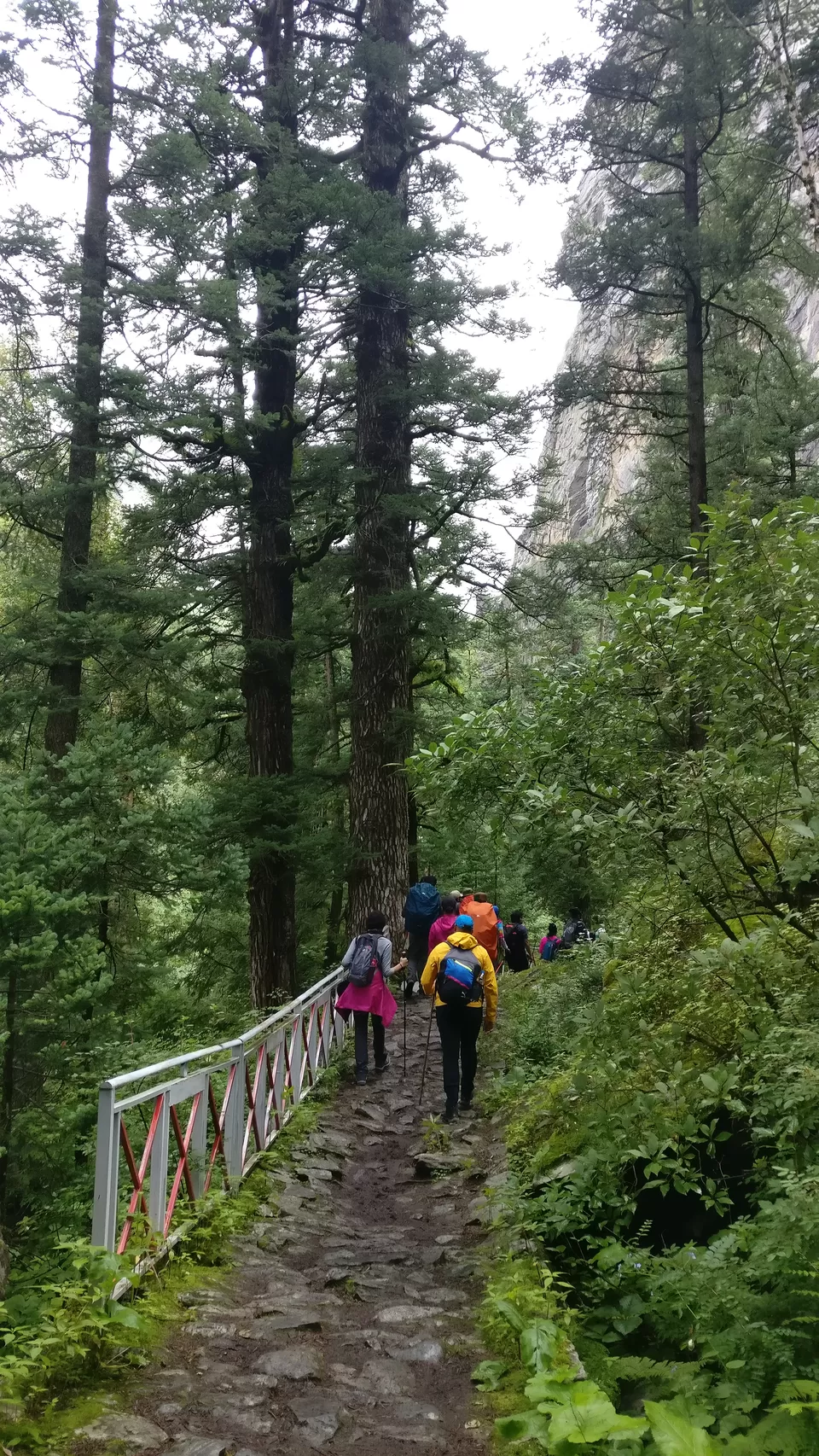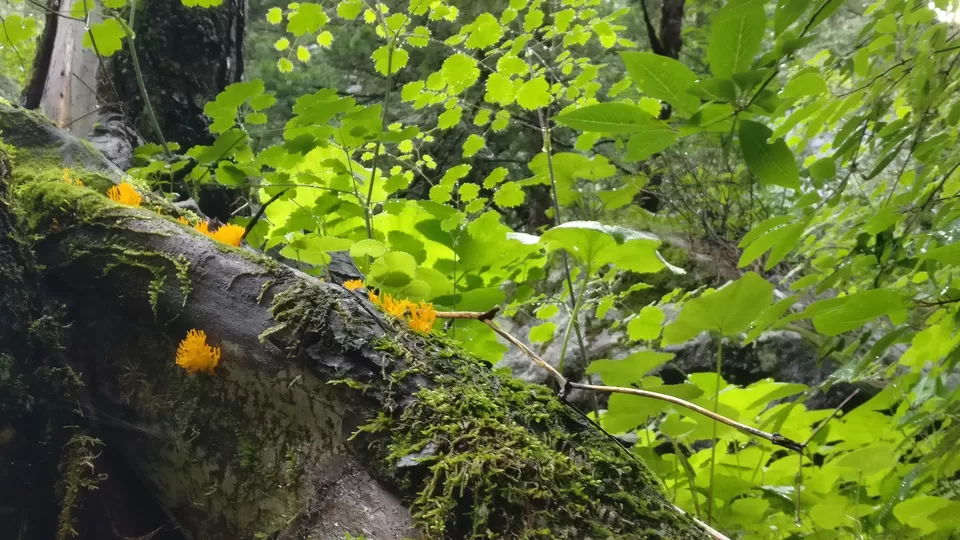 To say the truth, we had not anticipated so much of climb before reaching the valley. During the climb, we spotted a few flowers like vajradanti, forget me not, marsh marigold, inula grandiflora and also the bhoj patra trees, but we were eagerly waiting for the valley to start. Almost midway through the climb, we saw a few people returning. They were completely disappointed and said there is nothing but more climb and it's not the season yet, hence there are no flowers. With a lot of apprehension and lowered expectations, we continued our climb. Slowly, the valley came into view and I got the peek into this mysterious world which people misinterpret so often due to wrong expectations and morphed pictures circulated over the internet. By the time we started entering the valley, it was quite cloudy with slight drizzle, so the glaciers were not visible and in the absence of the sun, the valley was probably not able to show us all its colours. Even then, it had an unassuming beauty which could not be described in words.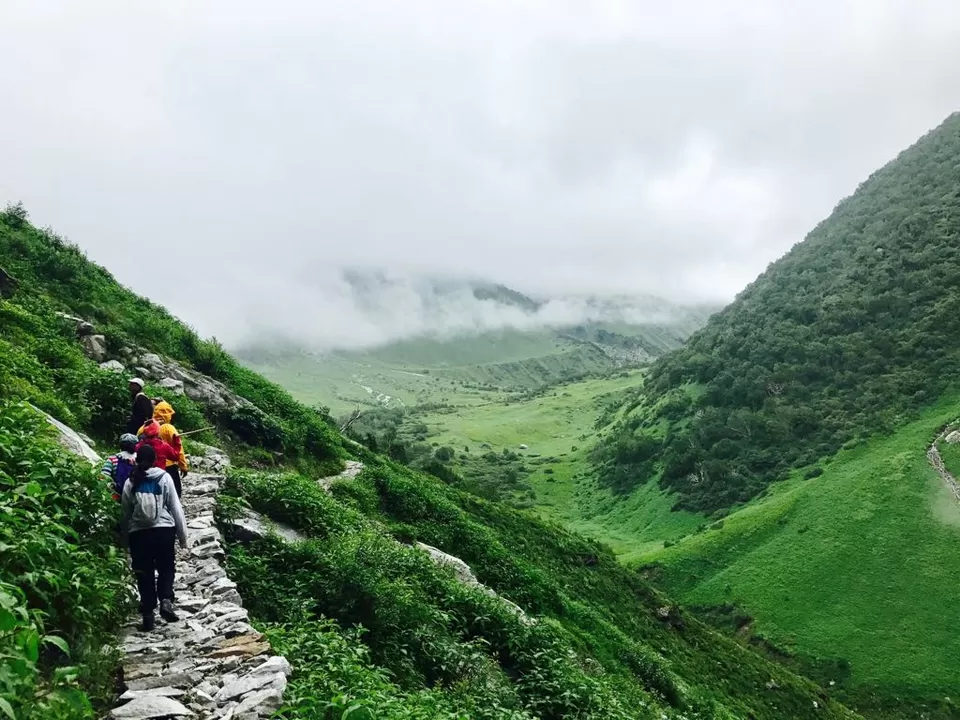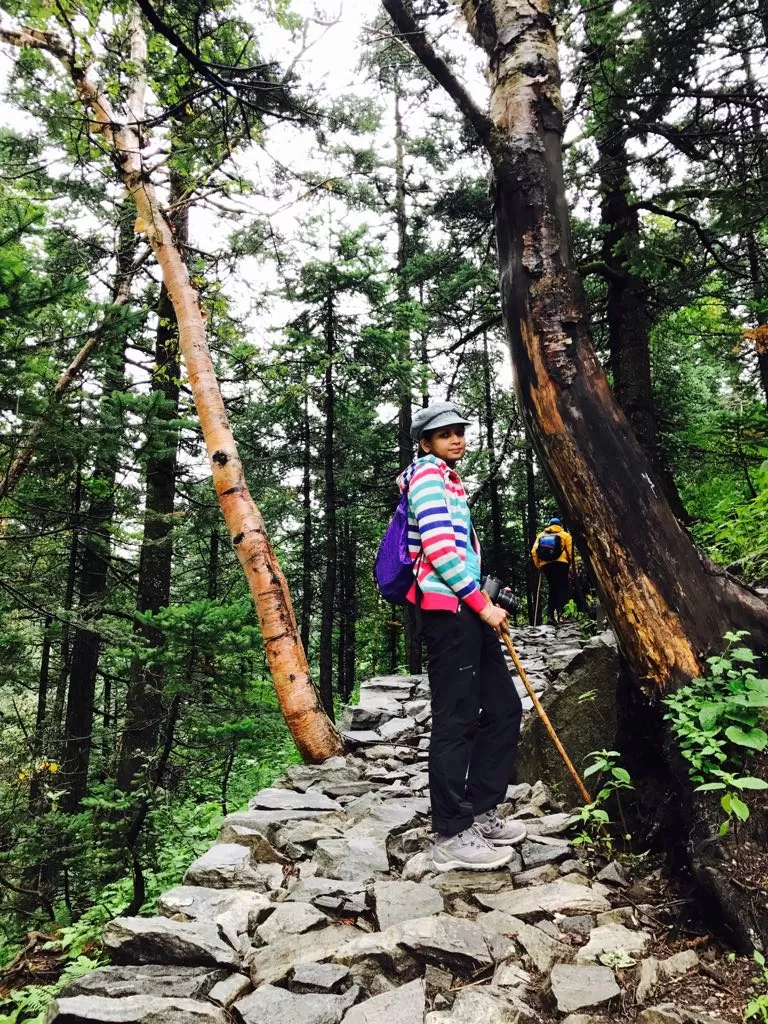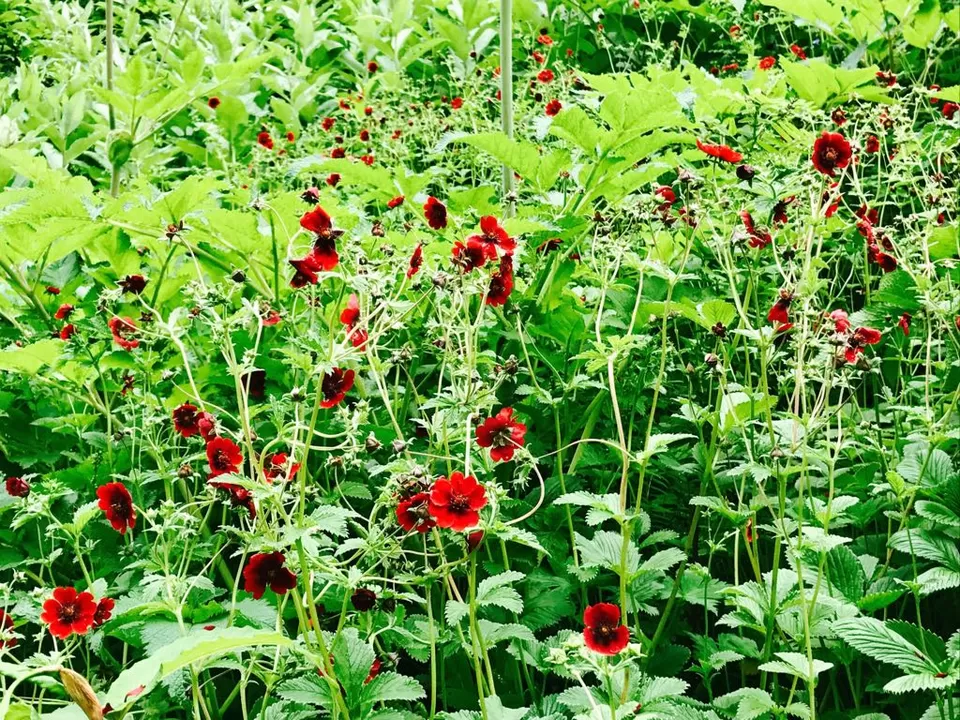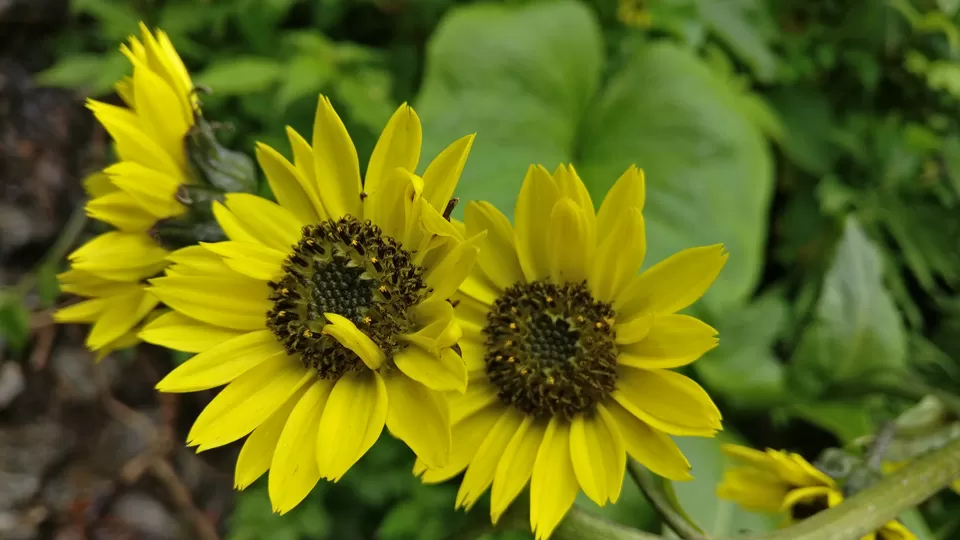 Mountains have always had an overwhelming effect on me. It's always a coming back home feeling somehow. They provide a sense of inner peace that is difficult to find anywhere else. The same effect had settled inside me by the time we entered the Valley. Green is of course the overwhelming colour of the valley but it was teeming with flowers of all kind and colours.
Our guide was explaining us about all the new kind of flowers that we were coming across. We stopped for lunch near a cave like area. After lunch, we moved forward along the flowers. There were bushes of wild roses looking pretty over the rocks, areas covered with golden ferns, which our guide said, would have shined beautifully if sun was out. The whole area seemed to be a happy place and encouraging anyone coming there to get into that state.
The clouds and the breeze playing with flowers, the insects and birds hovering around, plus the sound of the river flowing, everything combined into a sweet melody that intoxicated me to get high on the beauty of this place. As though actual fairies come down here to play. Even now, while I'm writing, I can still feel those moments playing in my head.
I close my eyes and feel the breeze on my face and can see the flowers swaying along with the breeze. As we came closer to the Pushpavati river bed, the shades of the flowers gradually turned to pink. We spent some time sitting on the river bed. There was no one around except we 7 people and it felt so calm. The only thing missing was the view of the glaciers due to the clouds. But there was no regret, because even then, the valley was extremely pretty.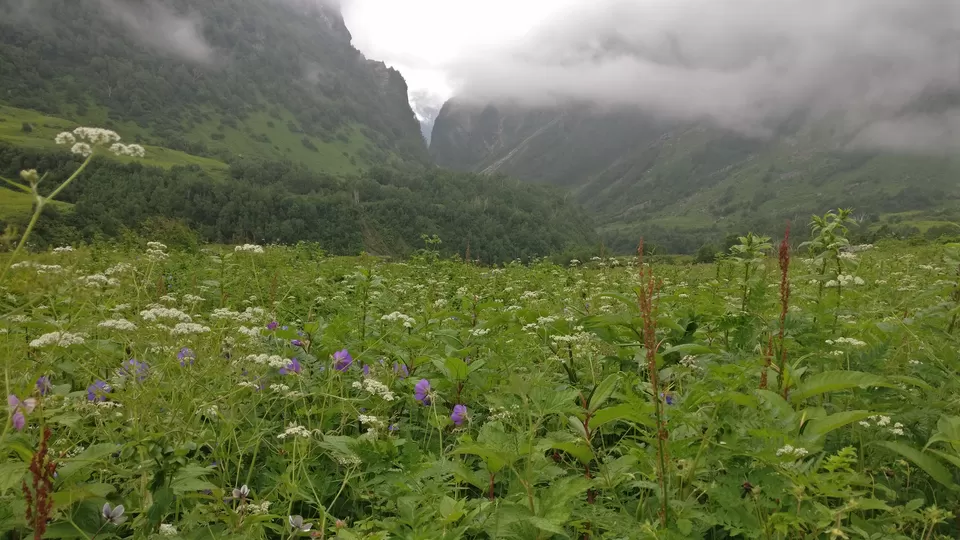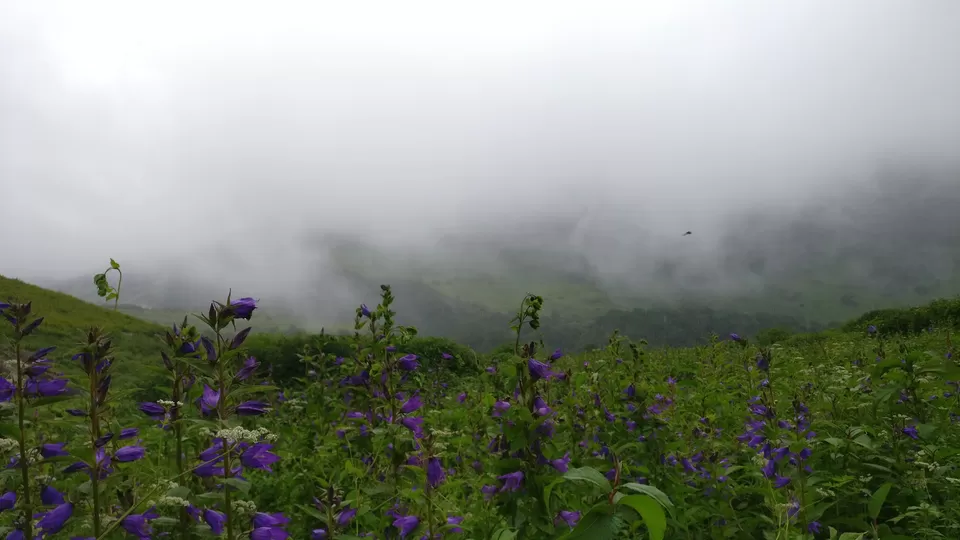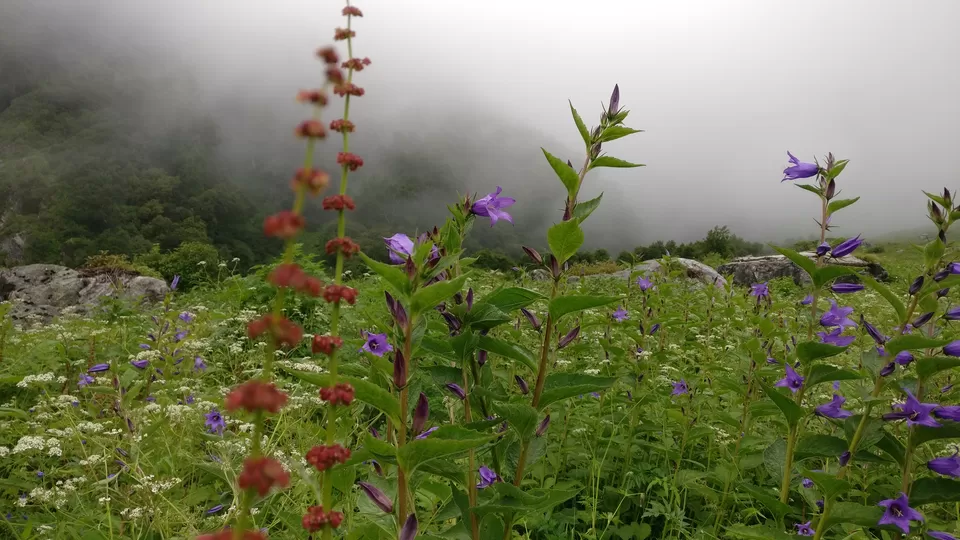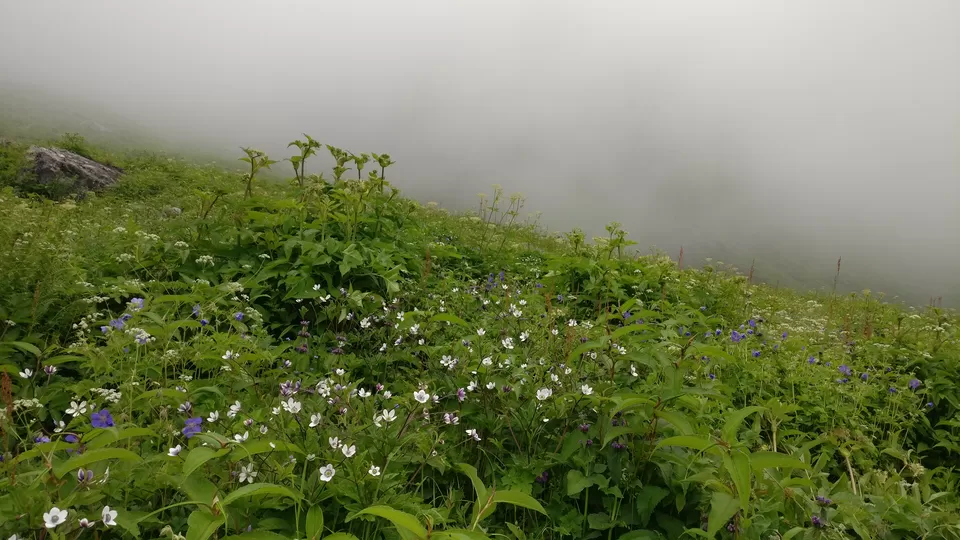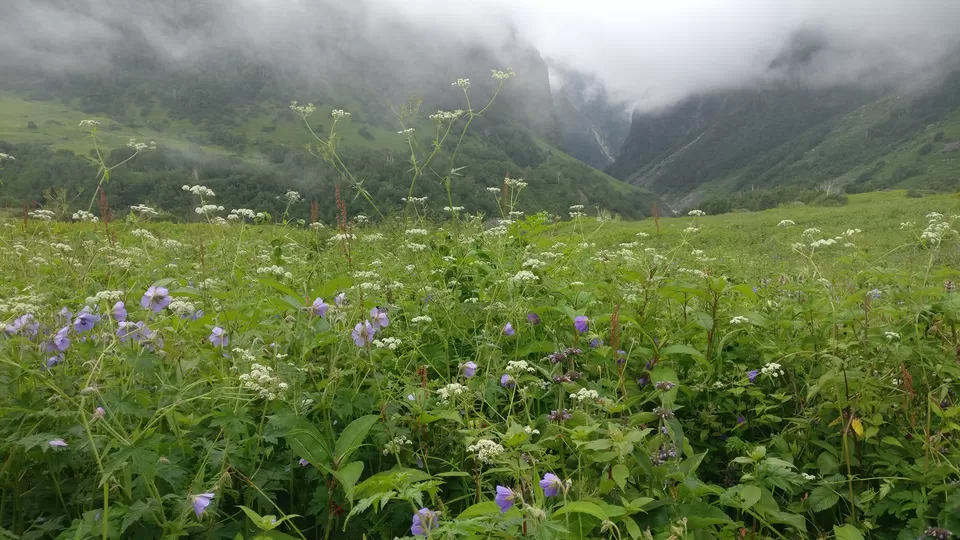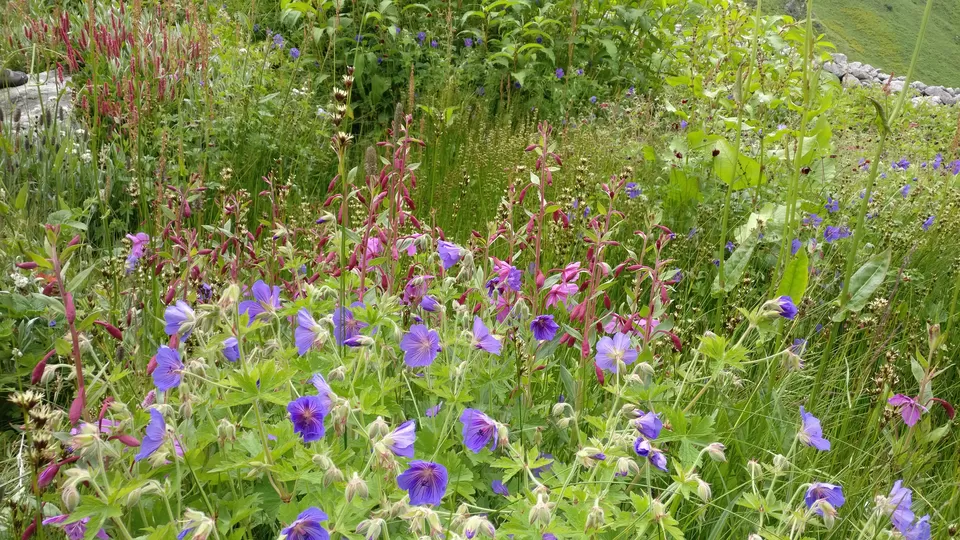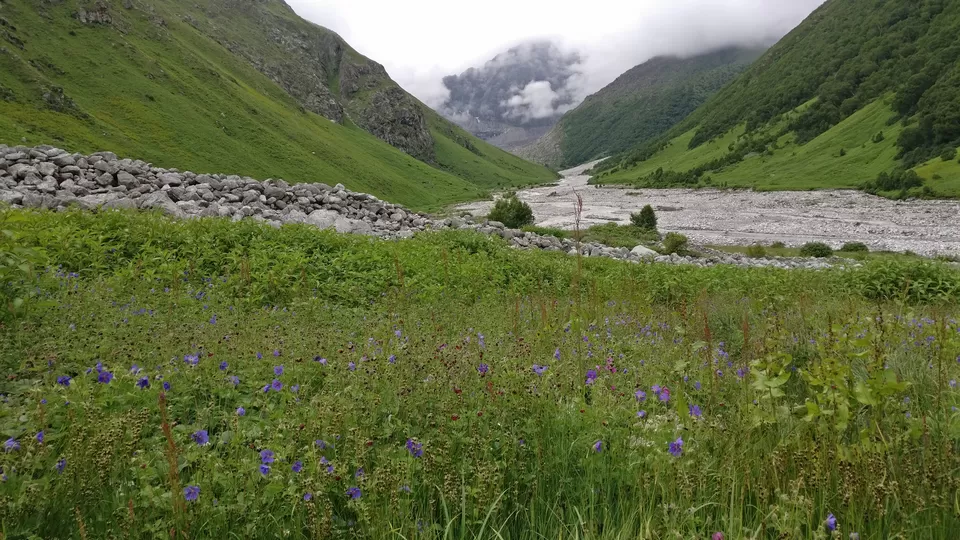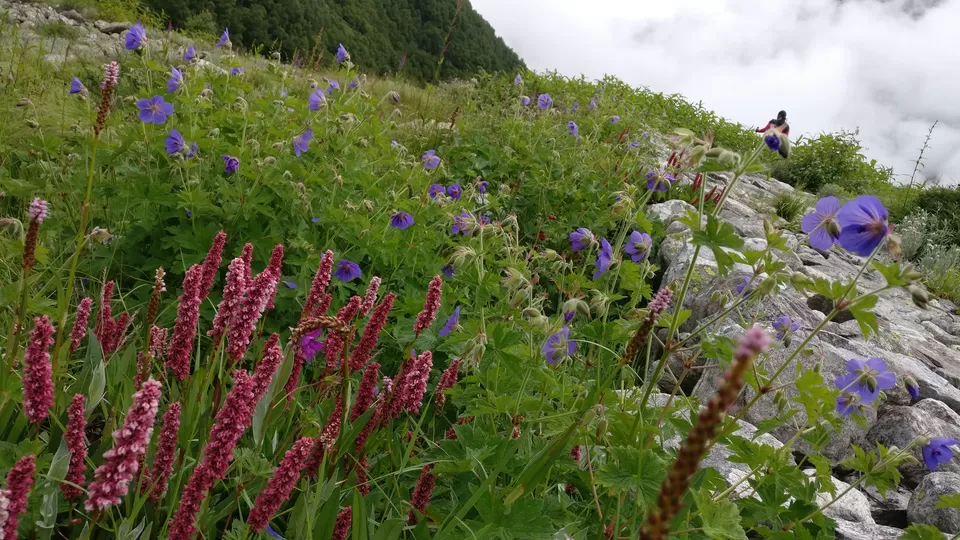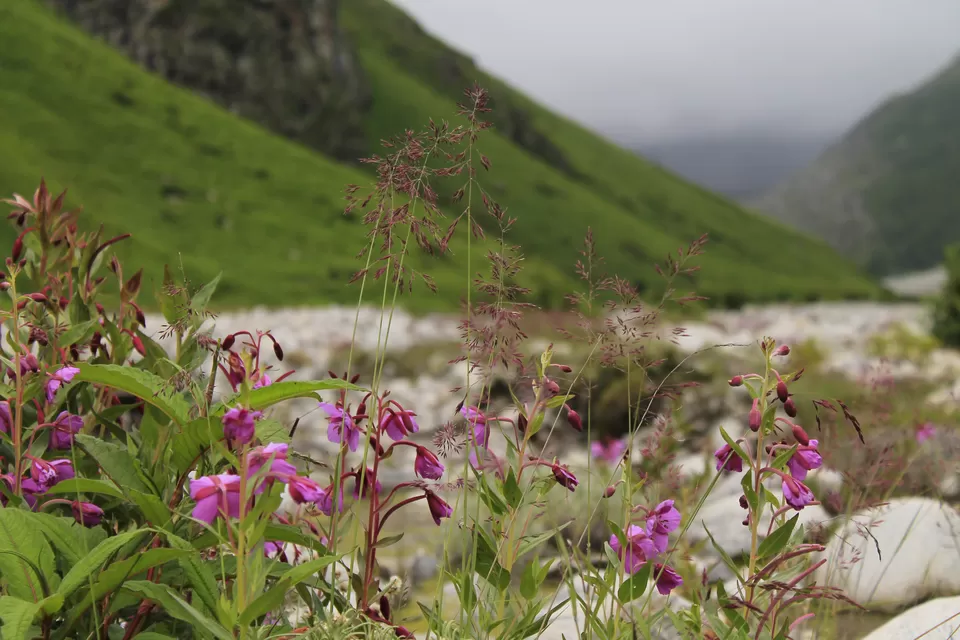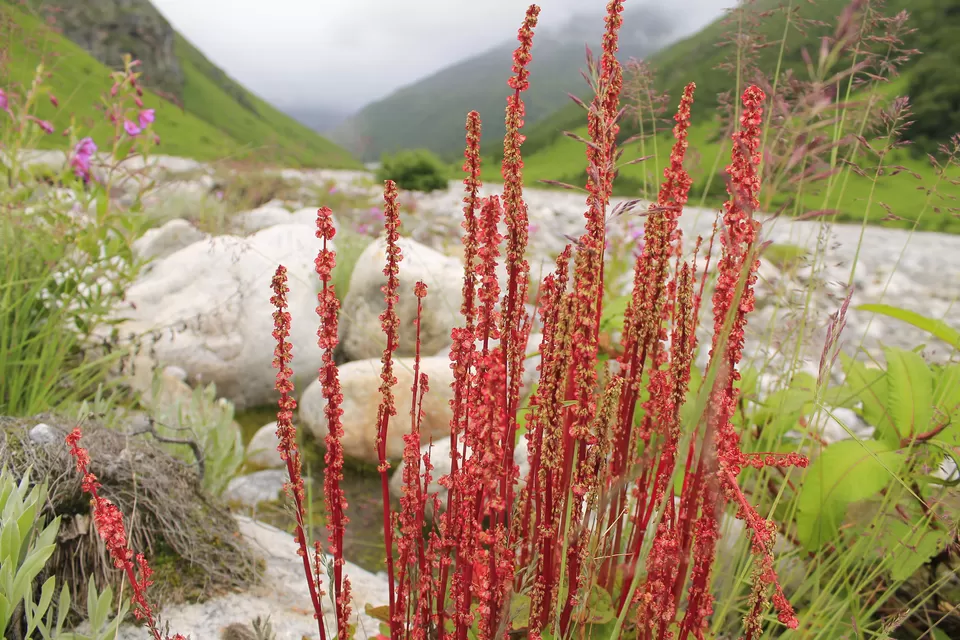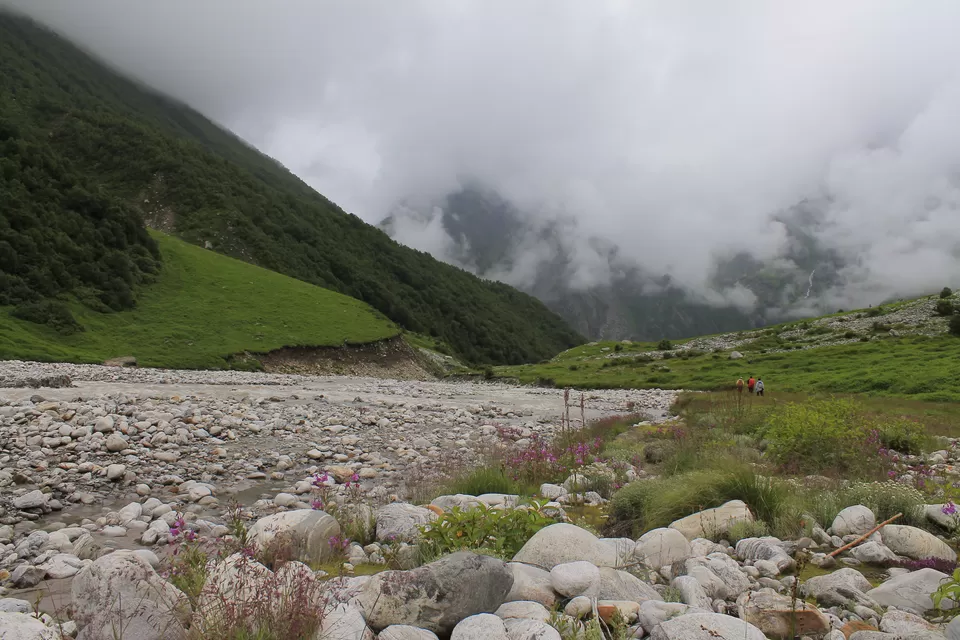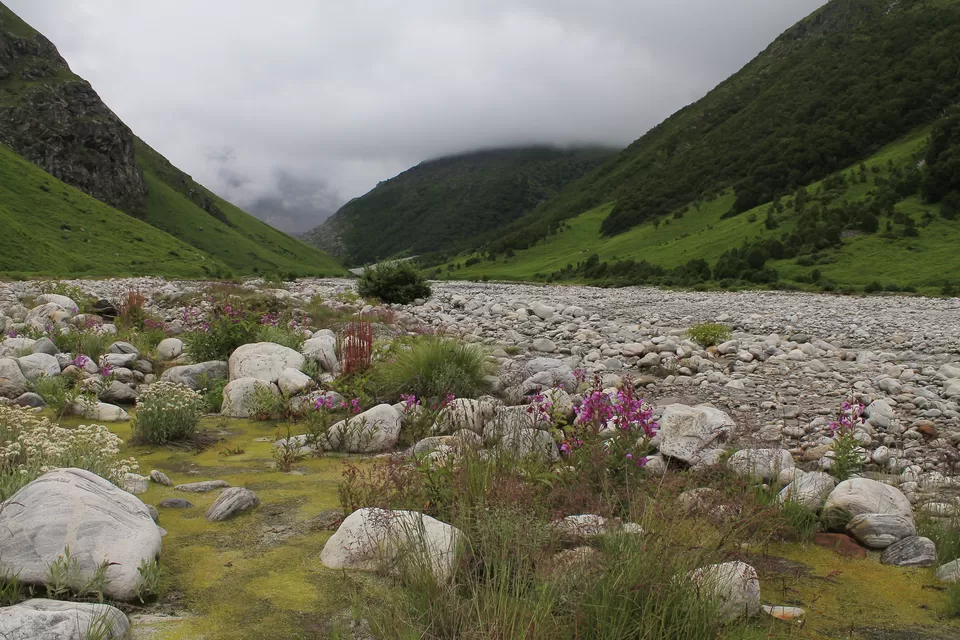 Soon, it was time to get back. With a very heavy heart, we started back. I didn't want to come back from there. There was still so much more to see. I tried to absorb as much of the views of the valley in my mind as possible. While returning, the valley gradually got covered completely with clouds. But thankfully it didn't rain much and we managed to reach back at the check post a little before 5.30 pm.
There were posters at the check post with pictures of flowers from the valley and we started revising our knowledge of the flowers that we had garnered the whole day. The hangover of the valley was still there (and it's there till now). Its was total walk of 14 km (4 km forest walk + 3 km valley walk + return). So obviously everyone was tired by the time we reached the hotel. After taking some rest, we had quick dinner and then spent some time hovering over the pictures of the valley that we had taken. Then retired for the night.
This was a rest day, we had two options, either we could go back to the valley again or explore around Ghangaria. My first impulse was to return to Valley again, but since morning it was raining and was cloudy, so we decided not to go ahead (which I regretted later because the weather cleared up later in the day). There was another reason as well, the next day we had to go to Hemkund sahib, so we didn't want to exert ourselves too much before that climb. We started off late that day, around 9.30 after breakfast. We went near the waterfall that comes before we start journey towards VoF or Hemkund.
It was a cool waterfall and there were few flowers here too. We relished some wild strawberries near the fall. The flow of the water was too great to risk going into the water, but still the sprinkles from the fall were quite refreshing. After relaxing near the fall for sometime, we returned to the main village and had lunch. By then it was around 1 pm, so we decided to regroup around 4 for exploring the Bhyundarganga river bed in Ghangaria. Behind the Helipad in Ghangaria is a small Army base and beyond it there is a passage to go to the river bed. Here also on the way we came across few flowers. After sitting for some time near the river and a few photo sessions later we returned. On the way we stopped near a shade along the road, chit chatted for some time and played few games until it started getting dark. Then we returned to the village, had a good dinner and retired for the day bracing ourselves for the climb next day. It so happened that, while returning from the waterfall, some pilgrims returning from Hemkund said that it's a very tough climb and also our guide was suggesting to take mules for most of us. I had done a few treks earlier, so was confident of doing this climb as well, but so many people saying this being had got into my head and I was a little worried. But still decided not to take a mule.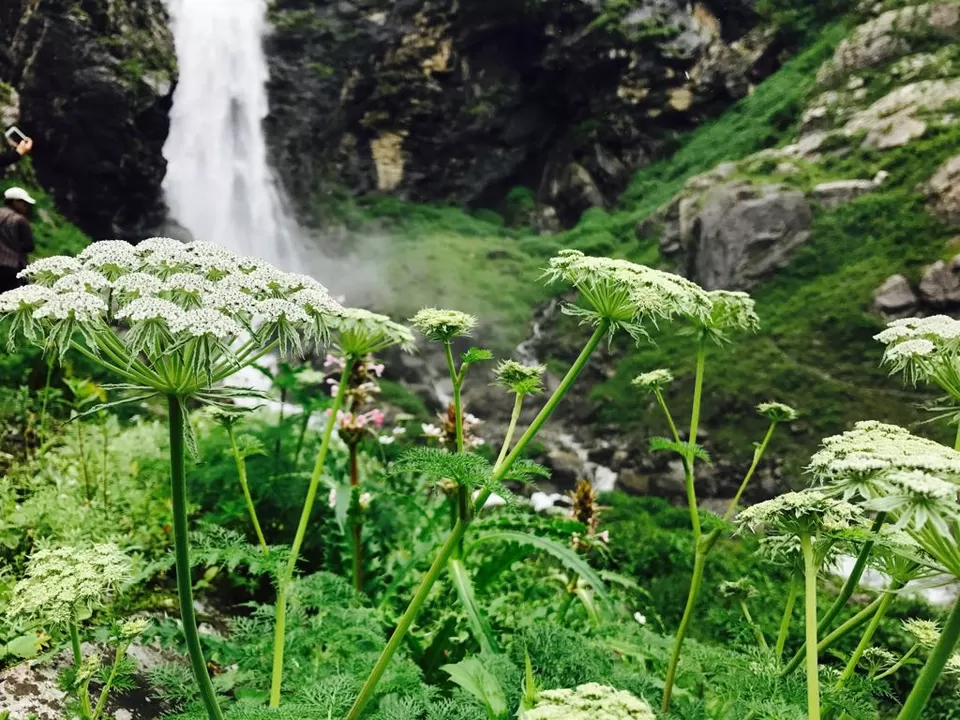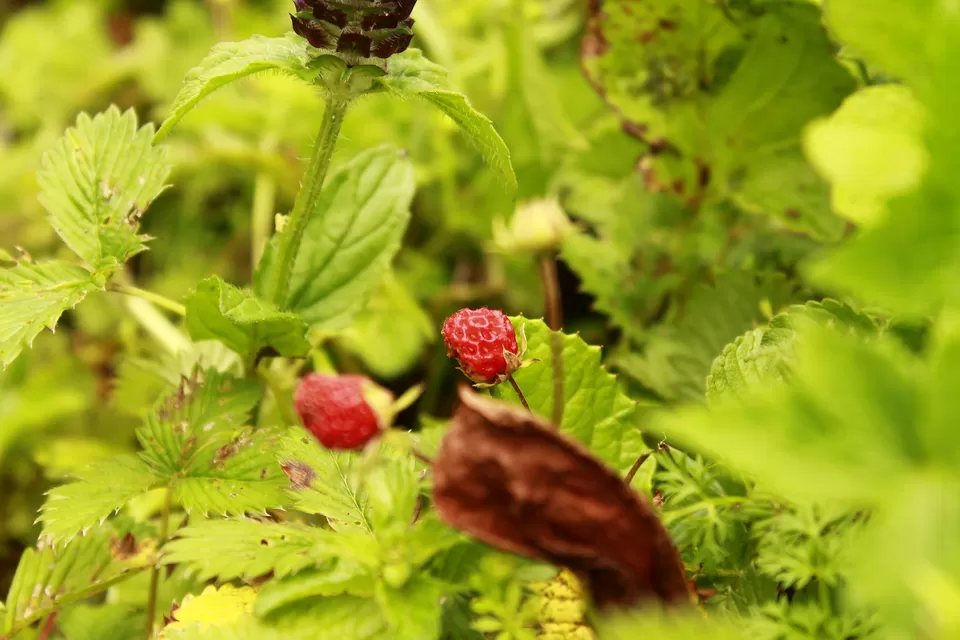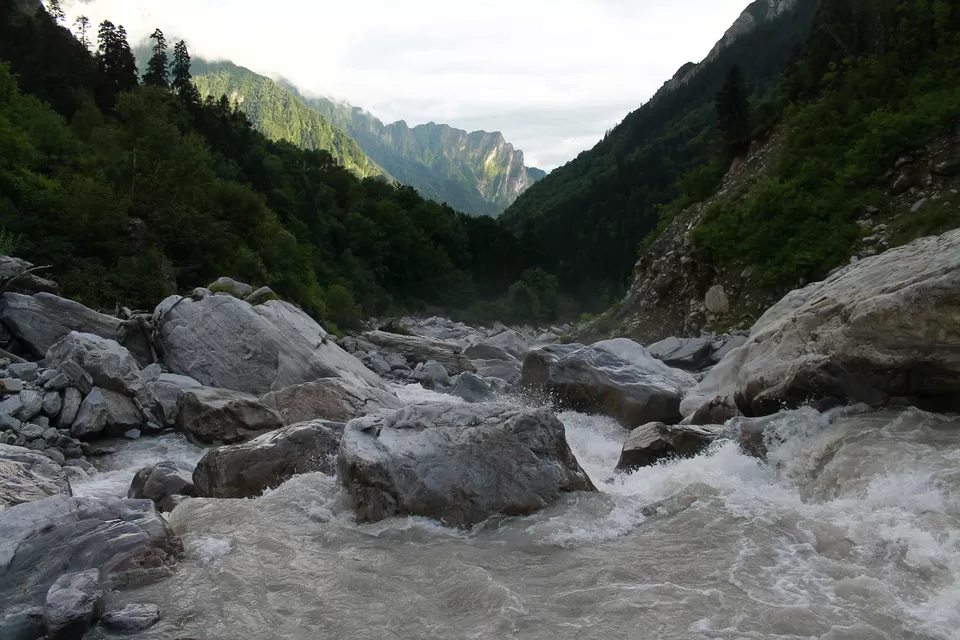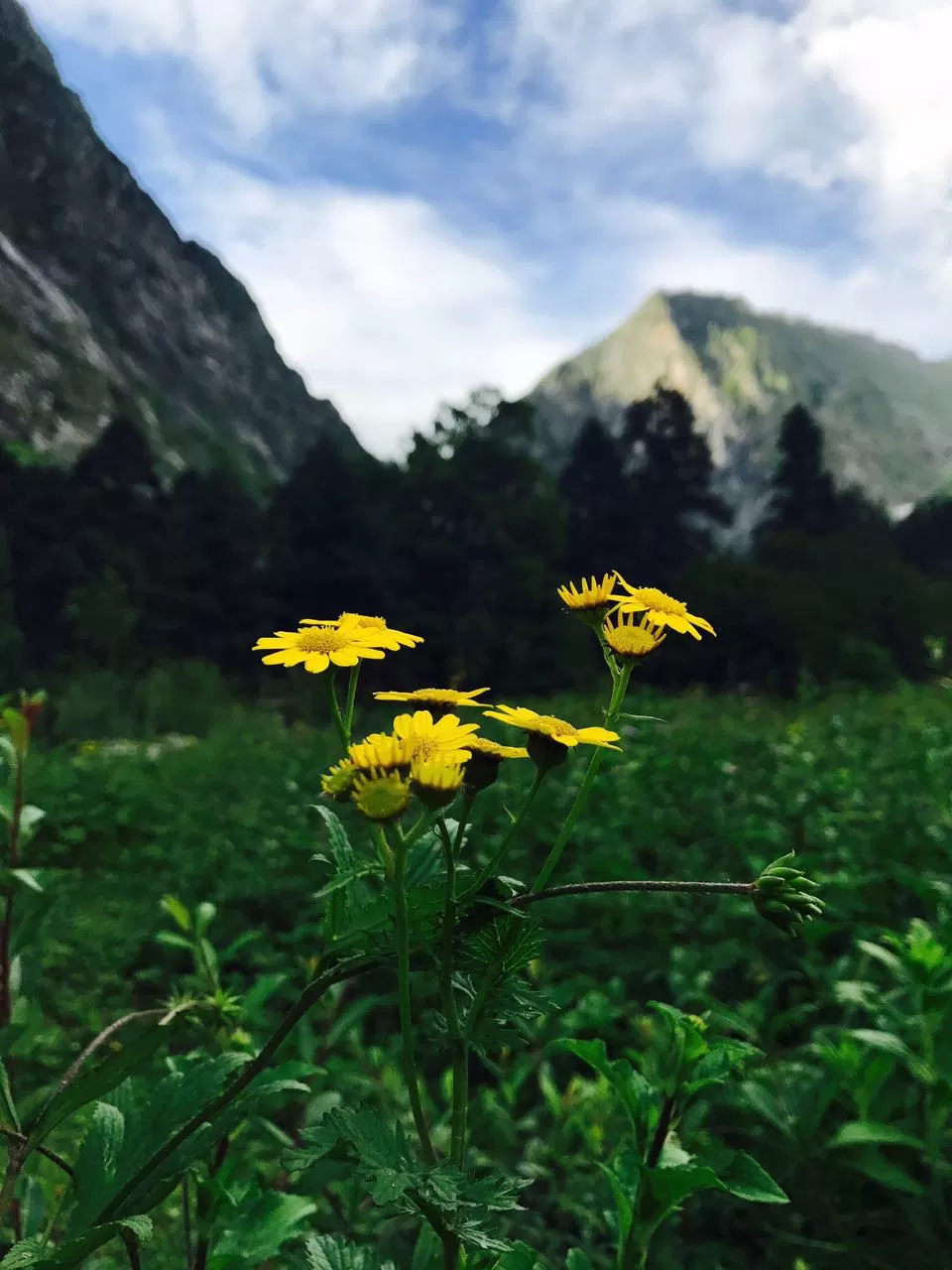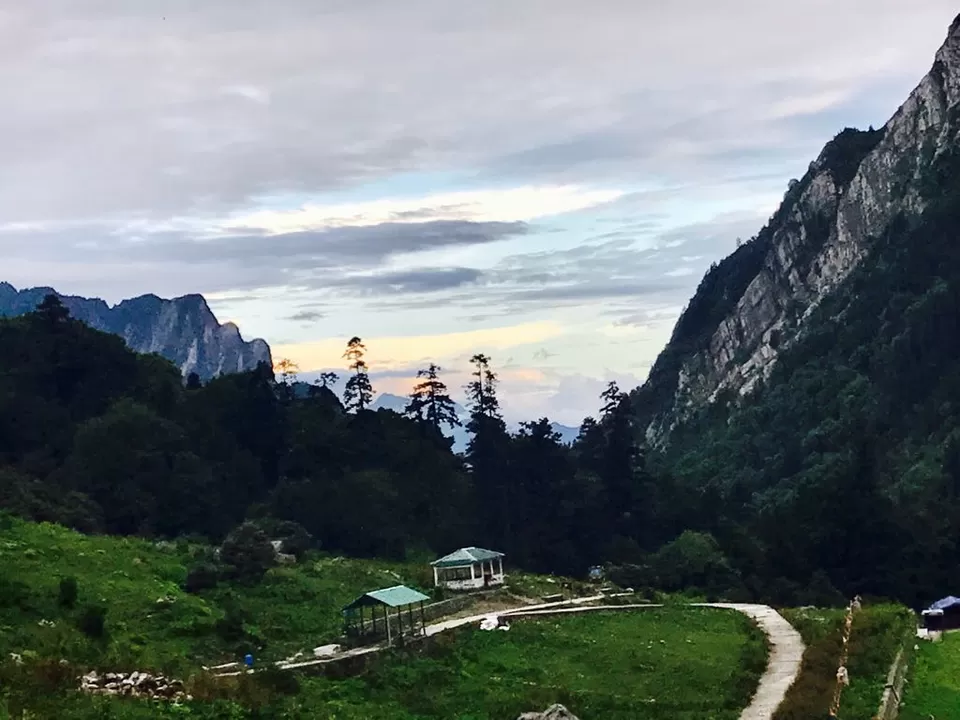 We woke up very early that day and got ready to start for Hemkund by 6.15 am. The weather was quite clear as well since morning. As we started our climb to Hemkund Sahib, we got a very clear view of the Neelkanth glacier. The climb was mostly uneventful as the whole concentration was to keep the breathing rhythm constant and keep climbing steadily. Halfway through we started hearing the gurbani from Hemkund Sahib and it encouraged us to keep going. We had a pretty good speed and reached Hemkund sahib around 10.30. Just a few meters before that we spotted the beautiful brahma kamals blooming on the way, as well as many other flowers . But the best view was yet to come. Since it was a clear weather when we reached, we were welcomed with a grand view of the Hemkund lake with all the 7 peaks. Now it was time to take a dip, Abhisek (my husband) went ahead and had a fun dip. After that we girls decided to try our luck, but found out that for girls the dip is in a closed area and when we went inside it was very dark and kind of felt like a dungeon, so decide not a take a full dip, but came outside and dipped our feet and washed out face and hands. Then went inside the Gurudwara for darshan.
It was a very cosy place, and the Gurbani was food for the soul. After spending some time inside, we came out and went for the langar. The piping hot tea and khichdi was delicious. Once done with the food, we went to the Lokpal Lakshman temple. Beside the temple, the lake side was desolated. We sat there and enjoyed the view of the lake for about hour and half. The clouds had started playing hide and seek with the peaks. The atmosphere was very calm, soothing and serene, and it reflected within us as well. It was a beautiful experience.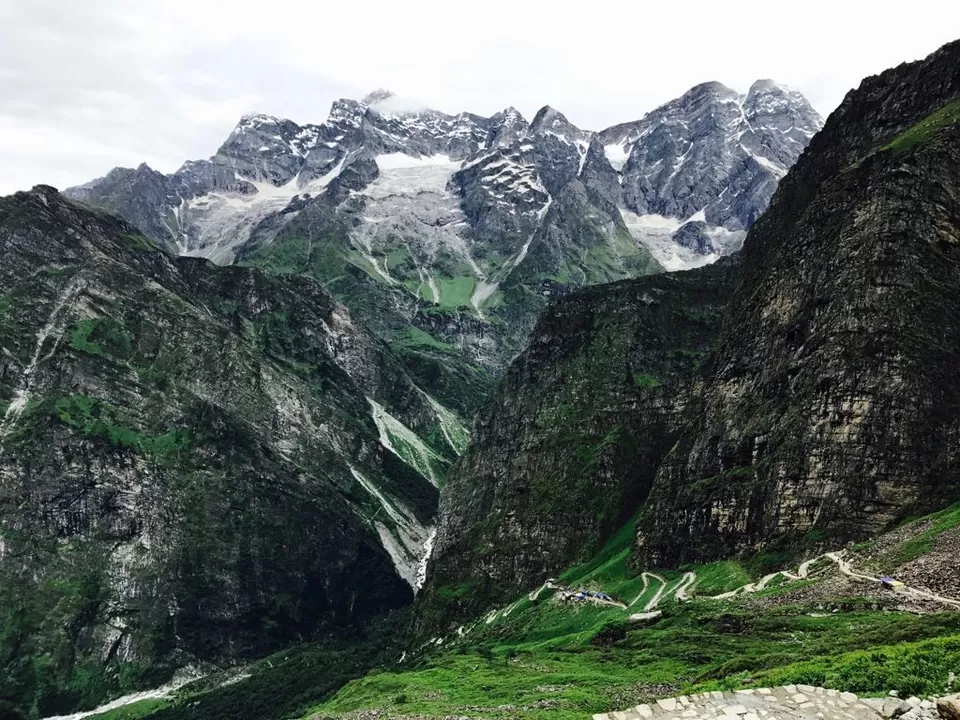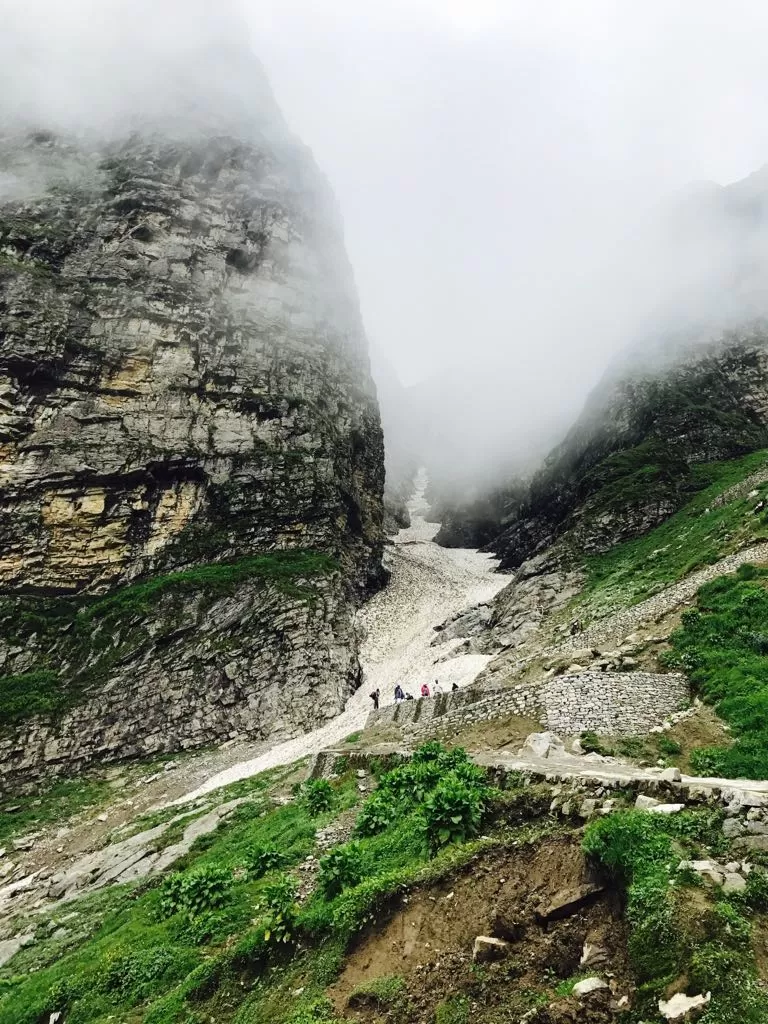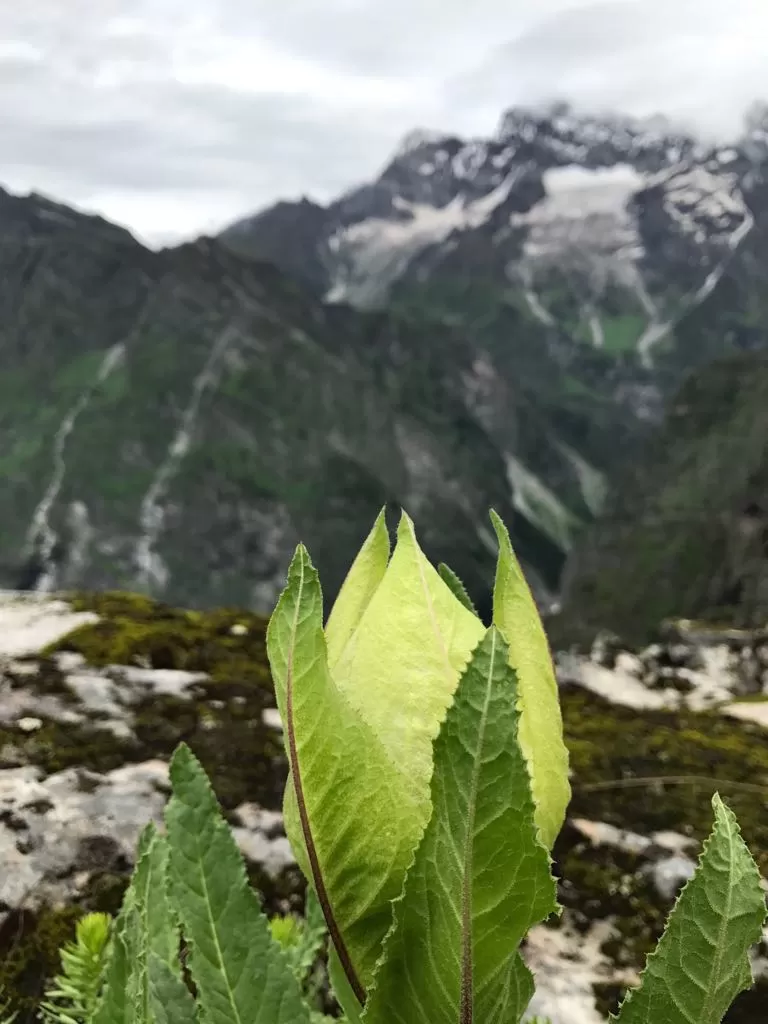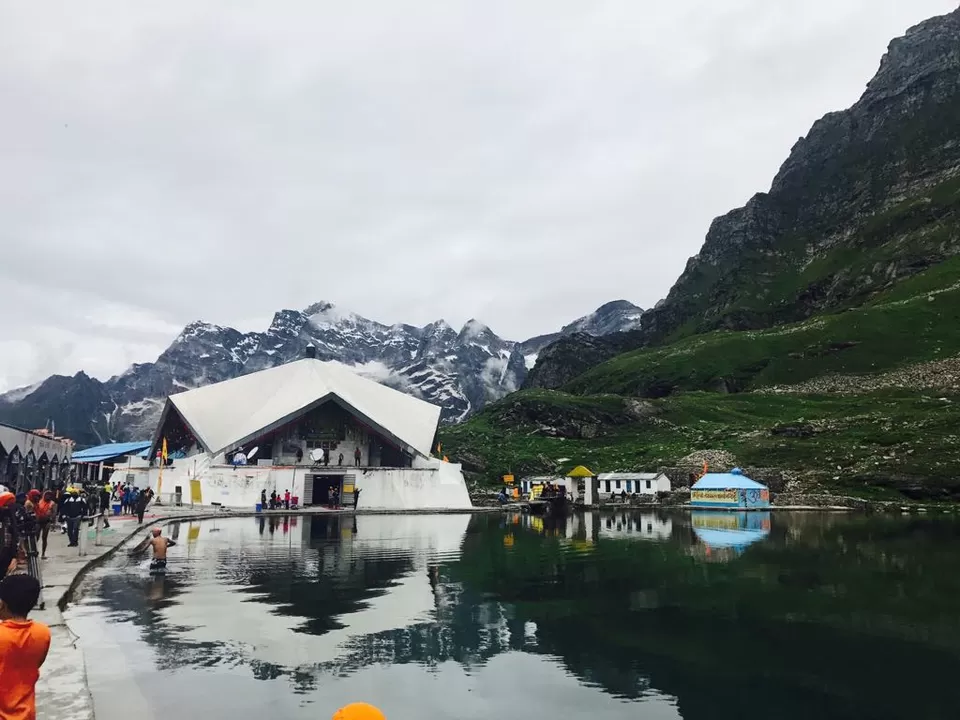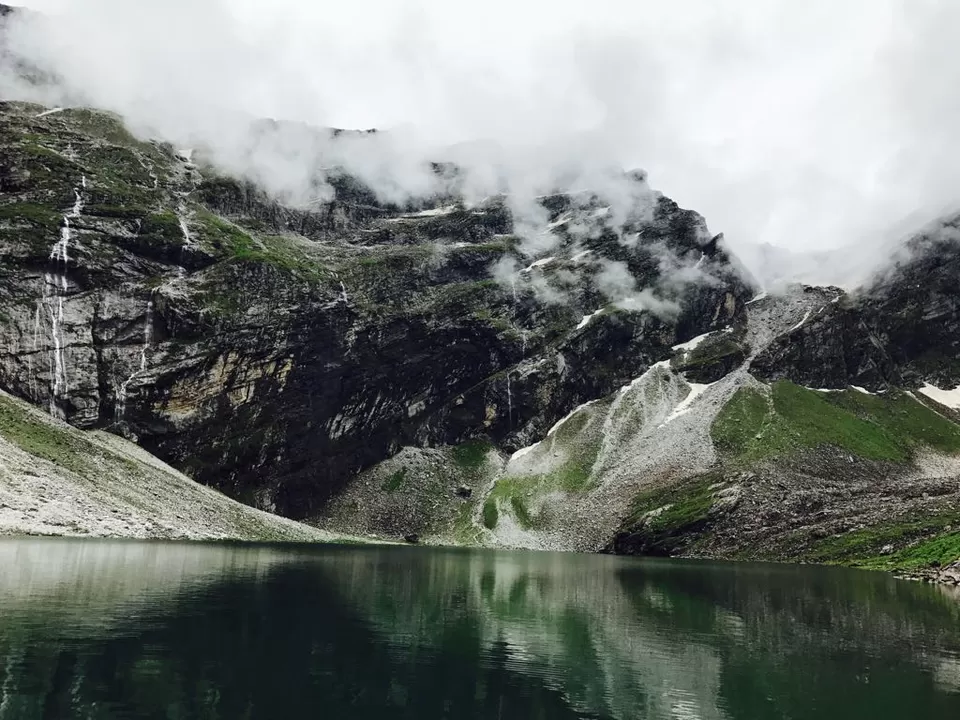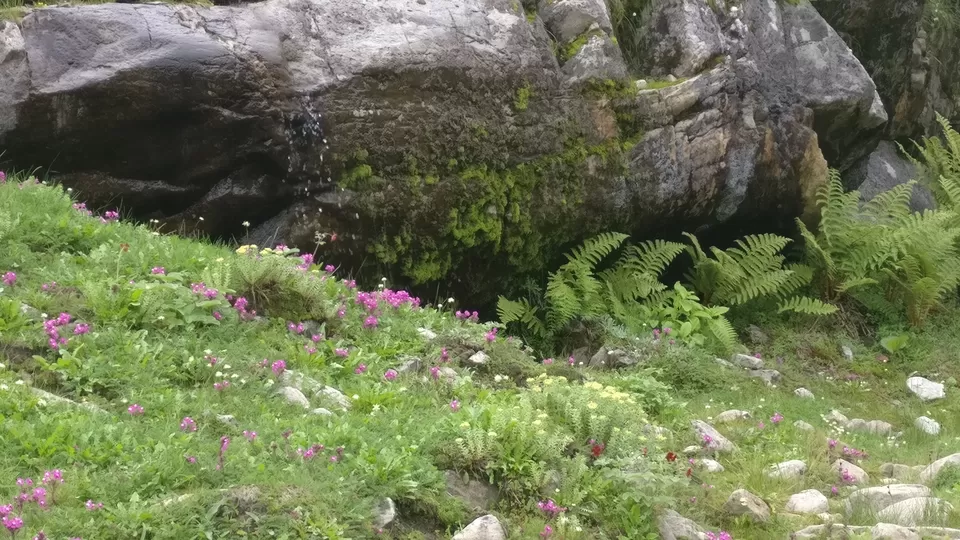 By 1.30 pm, we were heading back to Ghangaria. On our way back we spotted a lot of flowers which we had missed because of our concentration on climbing. There were many blue, violet and white poppies on the way.
The initial descent was slow as we were checking out the flowers. Then as the sun came out in full blow, we started speeding our way down.
We reached Ghangaria around 4 pm. Since we didn't have any lunch apart from the khichdi at the gurudwara, went straight to have some snacks. In the evening, we went to the media centre where they show a documentary about the valley of flowers. While waiting for the documentary to start, we waited in their office, it had some books about VoF for sale and also lot of post cards. We had heard about other peoples' experiences of the valley as well.
The documentary was a short and nice clip. All the talks about the valley and the documentary made me crave to go back to the valley again. But then now the time had come to go back. Only one more night in Ghangaria.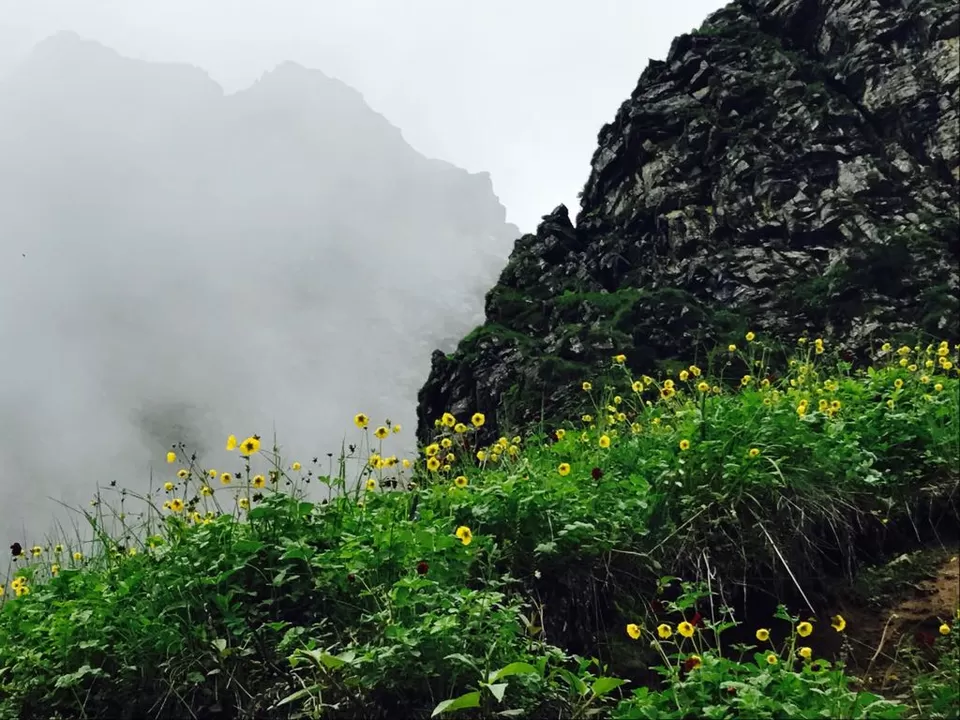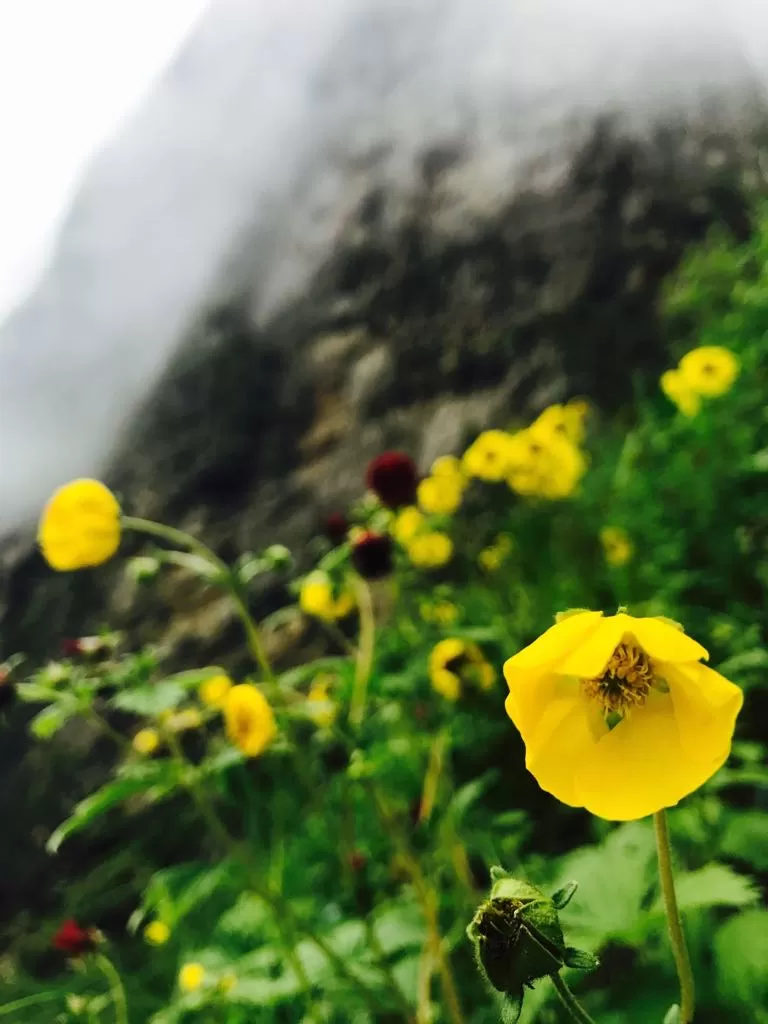 Next morning, we started our journey back from Ghangaria to Govindghat at around 7.30 am. Every time any travel or trek comes to an end, an empty feeling creeps into my heart, I get anxious and sad. During my treks or travels I make a world of my own, and the pangs of getting back to reality was a little painful for me. Half an hour into our walk, we saw a landslide from one of the cliffs into the Bhyundar Ganga. It was a scary scene and the sound was terrifying as well. We reached Govindghat at around 11 am. Every one was tired and hungry, so we went to a nearby hotel for lunch.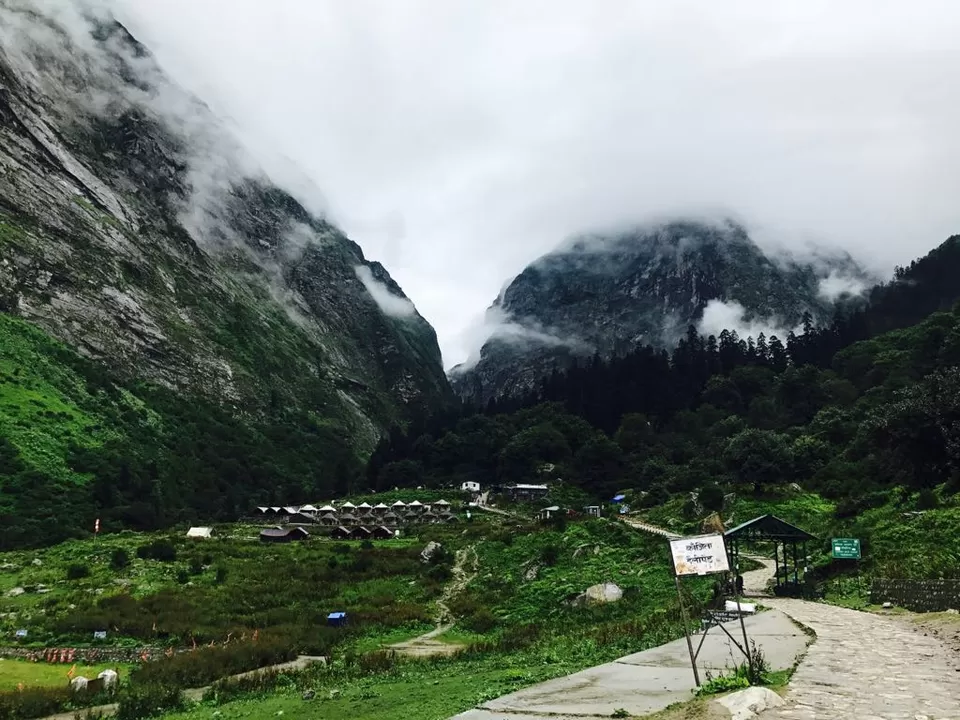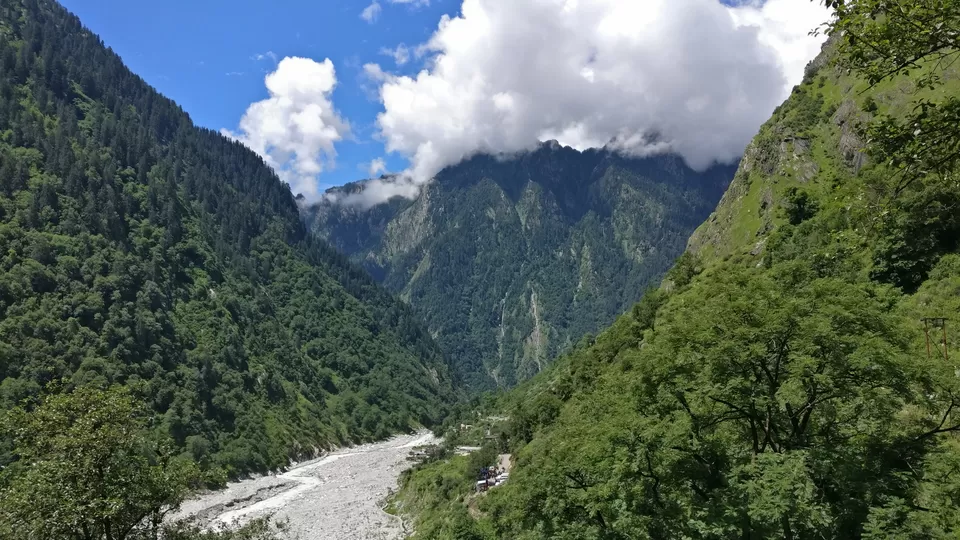 After ample rest and a filling lunch we started for Mana. Being very tired, I dozed off in the car till we reached Mana. This small village is the last inhabited village before the China border. View of the mountains from here is beautiful.
There are a few mythological places here to see. First of which is Bhim Pul. It's a bridge made from a natural rock by Bhim to aid Draupadi to cross the Saraswati river on their way to heaven. There is a foot mark of Bhim there as well. Also there are two caves Vyas Gufa and Ganesh Gufa, in Vyas gufa, Ved Vyas sat and recited the Mahabharata, which Lord Ganesh noted down sitting in Ganesh gufa. Believe it or not, but these stories are fun to hear.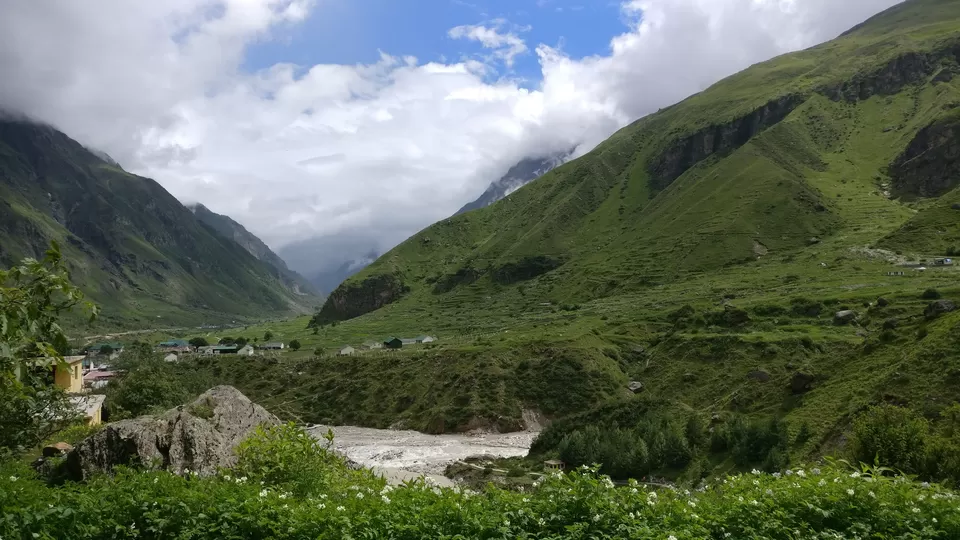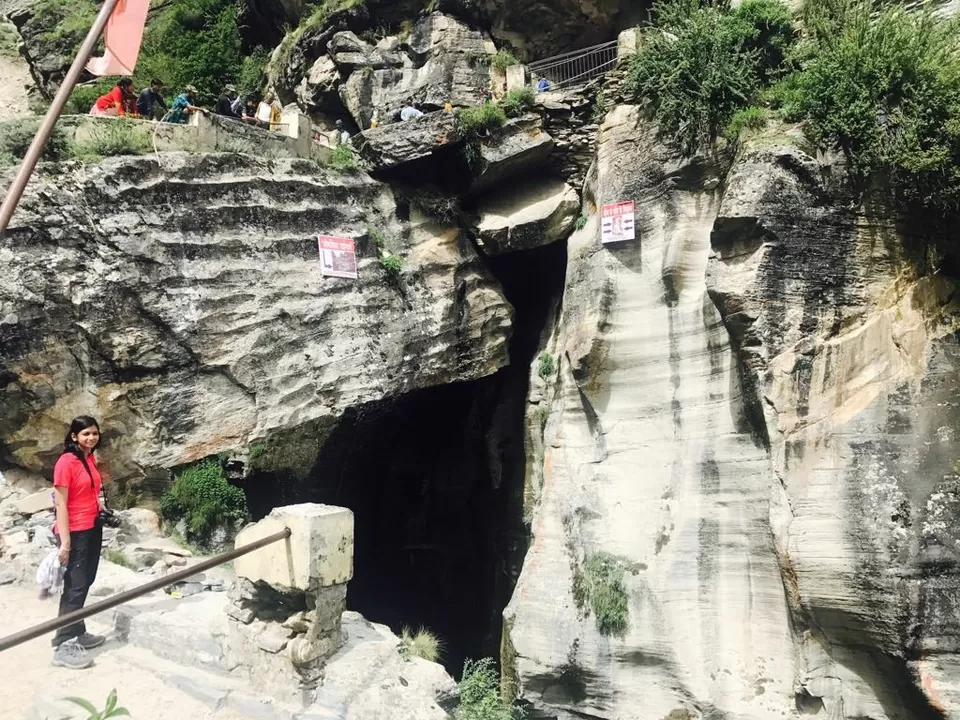 After spending some time in Mana, we started for Badrinath (Badrinath temple opens at 4 am in the morning and closes at 12 noon , then again opens at 3 pm and remains open till 6 pm). The setting of the temple was beautiful, with mountains all around and river flower beneath it. As with all famous Indian temples, it was crowded as well, but we had a good darshan and got prasad. Then shopped for some souvenirs to take back for our parents. The Journey back to Joshimath was beautiful.
The roads and the views of the mountains and valleys were awesome, I was wondering how I could have slept through this view while coming. I wished I was in a car with a sun roof, so that i could get out and enjoy the view. A word of caution, this is landslide prone route and anyone travelling to Badrinath should first check on the weather report.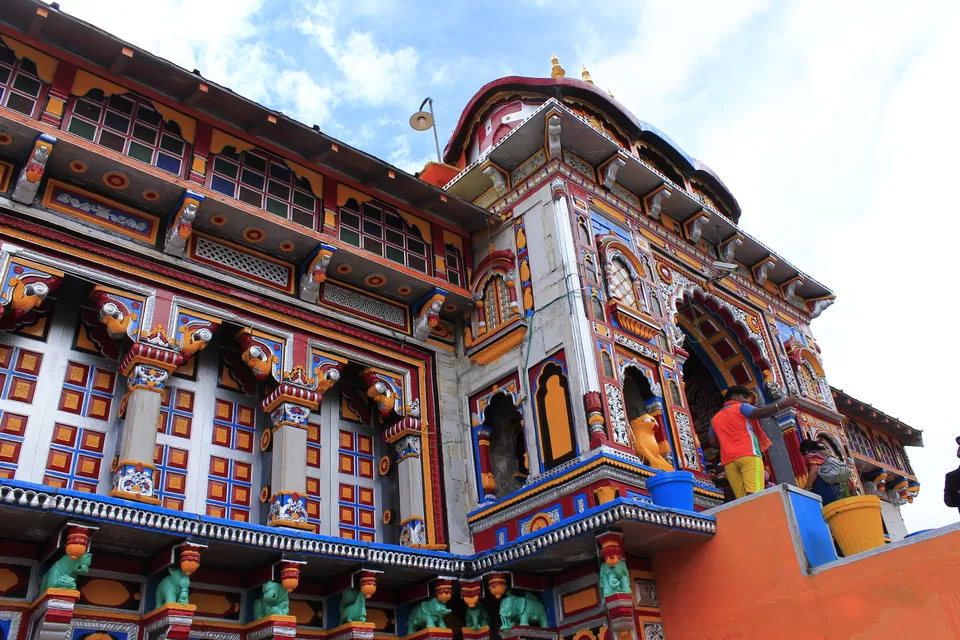 On the way to Joshimath, we made a stop at Vishnu Prayag (the confluence of Alaknanda and Dhauli Ganga) where there were a couple of temples and a hanging bridge on the river. We reached Joshimath town around 6 pm, and went to visit the Shankaracharya math. Here we visited the Laxmi Narayan temple, Rajrajeshwari temple, the cave of first disciple of Shankaracharya, the sacred cave of Shankaracharya, where he attained enlightenment, the Kalpavrikshya (mulberry tree) under which the cave is present and a Shiva temple nearby. By 7.30 pm, we checked in our hotel. After dinner, chit chatting and some star gazing, we retired for the day.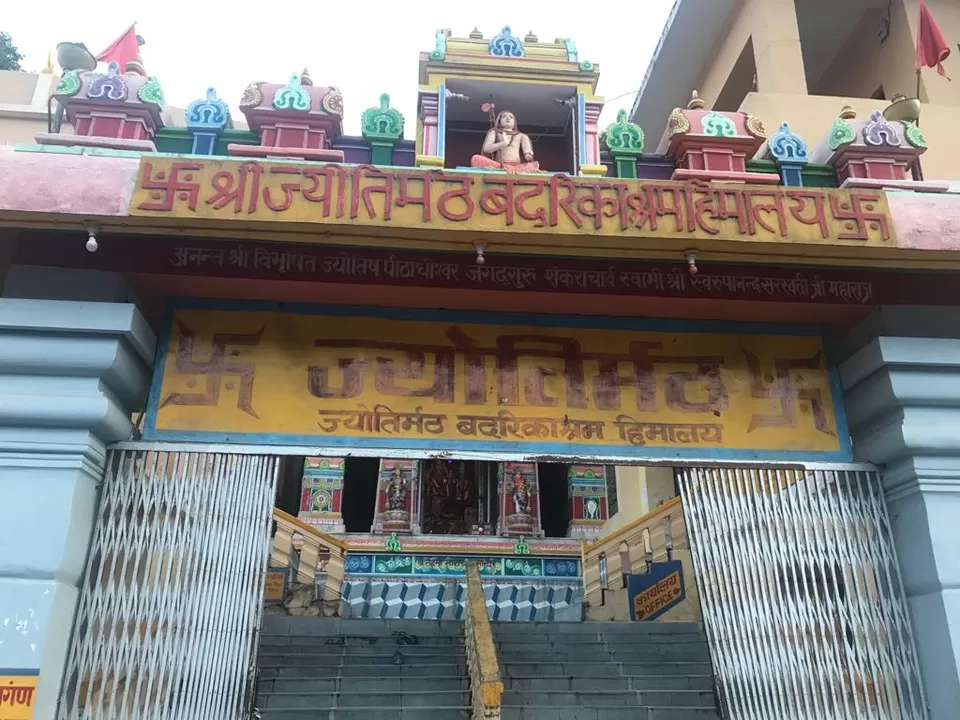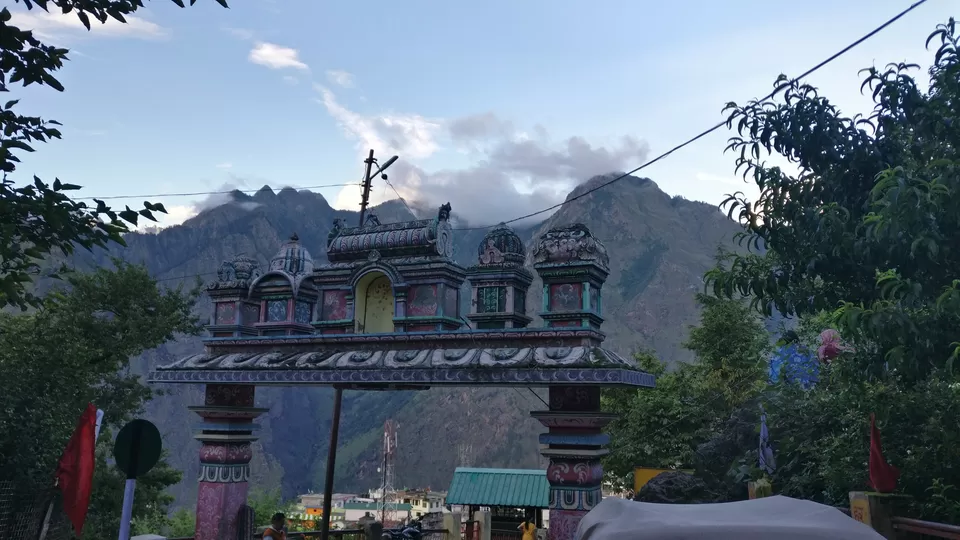 This was the last phase of our trip, returning from Joshimath to Haridwar and then back to Gurgaon. We checked out of the hotel by 8.30 am and after a fairly uneventful and comfortable journey, we reached at Haridwar around 5.30 pm. Got a hotel near railway station to rest before catching the train (Mussoorie Express) to Delhi at 11.15 pm.
Thus we came to end another enticing journey to the mountains, filled with fun, adventure, fairy tales, fantasies, mythologies and overwhelming beauty of nature. A journey that satiated my soul. The places we saw, the people we met and the stories we heard will always be a part of me as memories for life. But my memories of the Valley are not complete yet and hopefully I will come back soon to get drenched in all its colours.
Get travel inspiration from us daily! Save our number and send a Whatsapp message on 9599147110 to begin!
Be a part of the largest online community of travellers on Tripoto's Facebook page!