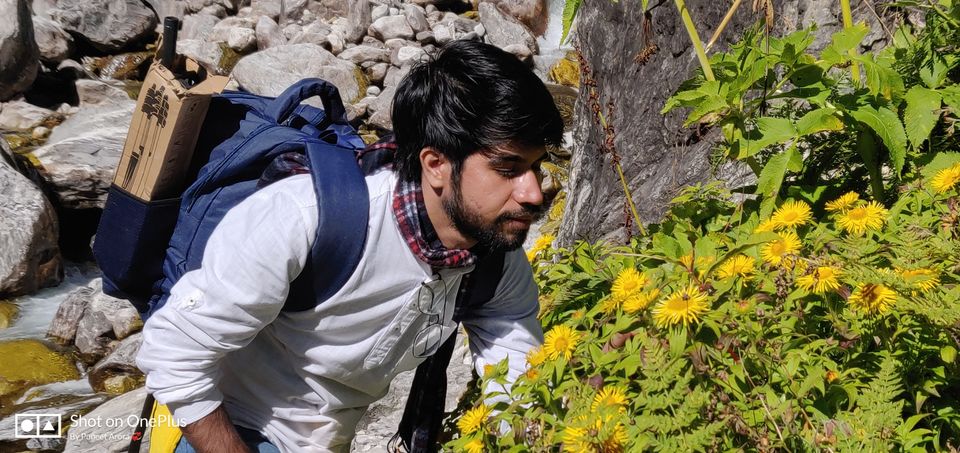 Hi All...
Hope you are doing well !! I am writing this one too late ; Yes , it's too late as I visited Hemkund & VoF last month.
Visiting Hemkund & Valley is really a blessing for me as its a year long pending wish; and throughout the year me with my friends discussed this during Lunch & Breakfast breaks in office, but when time came then they denied due to their personal reasons , and I had to go alone for mine wish.
I planned to start my journey at Friday evening after office, but instead of going to Haridwar (first milestone of the journey) I went to my Hometown (Panipat) as I don't have Power Backup, Warm Clothes and most important parents approval to go alone.
I reached my home by Friday late night; and on Saturday morning I felt down with fever. So, my plan is uncertain that I will go or not as on the one side I had fever and on another one out of 5 days got waste.
(And what I heard is that we need 6-7 days for covering both Hemkund and Valley)
By afternoon 2PM, I decided to go as its not easy to get leaves again. I packed my bag and board bus for Haridwar around 4PM from Panipat.
Journey started with shower of rain which seems like Mother Nature's blessing.
I reached Haridwar by 8PM, and spend night there as the buses for further journey is available in early morning.
Note : Buses for Char Dham yatra is available from 4Am to 12PM only so that they can reach their destination before sun set because it's not easy to drive on Char Dham roads in night.
I woke up around 3AM, and reached Bus Departure point around 04:30AM. (just outside of Haridwar State Bus Depot)
I saw a lot of buses there leaving for Kedarnath, Badrinath, Gangotri etc.
But atmost all the buses are reserved one day before.
I need to board the bus for Badrinath as my destination (Govindghat) is on the way to Badrinath.
What I am looking a co passenger for Hemkund, but everyone is going for Badrinath in the Bus.
I am looking for someone going to Hemkund as I planned to stay in Govindghat Gurudwara which is around half an KM from the point where bus depot in Govindghat; and I don't wanna take risk of trekking alone in night.
Soon I saw a Sardar Ji aged 66 years who is going to Hemkund for 38th time, I went to them and ask for joining them.
They helped me to get seat in Driver cabin as the buses are fully reserved and assured me that He is with Me.
Soon our journey started. I left seat in driver cabin as I didn't feel comfortable there and came in passenger sitting area.
I sit on one of the 17 seats lying vacant at that time as passengers entitled for these seats have to board the bus from Rishikesh.
Rishikesh welcomed us with Heavy Rain. I left the seat when the group board the bus at Rishikesh.
This group of 17 people is from Mumbai, and all are Government Teachers. Soon, I fell into talk with them as the conductor told them to sit in the way so that I can sit too in the last row of combined seats.
That group was so nice, we did chit chat throughout the way, and especially why I travel solo 😀 ; talks on Nature, Life, spritual aspects of life etc etc.
I enjoyed the 14 hours long journey in their company.
We reached (Me & that Sardar Uncle Ji) Govindghat Bus Stop at 06:30PM.
Form there we need to walk around 500 Mtr to reach Govindghat Gurudwara.
It's a dark black night, with the sound of River flowing alongside. We covered the distance in 10-15 minutes and reached Gurudwara Govindghat.
Now it's the time to use that Uncle Ji Experience.
They help me to get registered for getting room & blankets in Gurudwara.
Soon we get our room. I took bath, offered my prayers in Gurudwara , and then eat delicious langar.
Note : Gurudwara Govindghat is the start point of 21 Mtr long track to Hemkund Sahib.
Gurudwara offers great services to pilgrims like Room, Blankets, Warm Water, 24 Hours Langar & Tea without any charge.
There are also some good hotels if you want to stay there
After that we came back to our room, packed bag for next morning track and went to sleep.
I wake up around 04AM, took bath, submitted extra bag in Gurudwara Locker and reached starting point around 05:30AM after eating Breakfast langar.
First 4KM of track can be covered through Shared Cab.
So, we board a cab and reached at a village from where 17 KM long track begins.
This 17 KM long track to Hemkund sahib is divided into two parts; first 10KM till Ghangaria (Govind Dham) and then next 7KM for Hemkund.
Note :
Govind Dham Gurudwara offers you same services as in Govindghat Gurudwara.
Most of the Pilgrims prefer to stay here overnight and then begins next phase of their journey next day
We reached Hemkund Sahib Gurudwara around 12.30PM. The entire journey is so much mesmerizing with the views of Himalaya, Sound of River flowing alongside the track, touch of that cool fresh air on the face etc etc.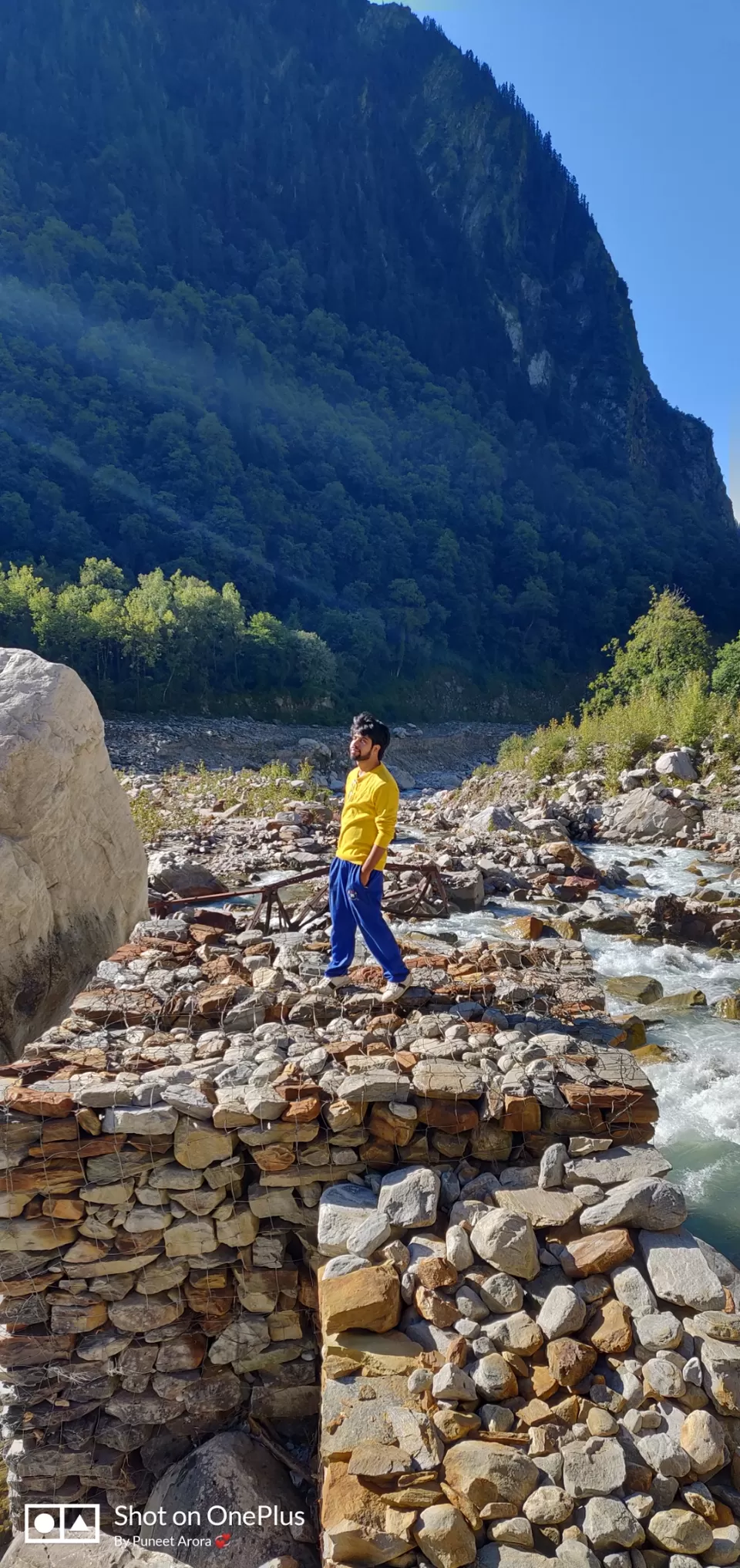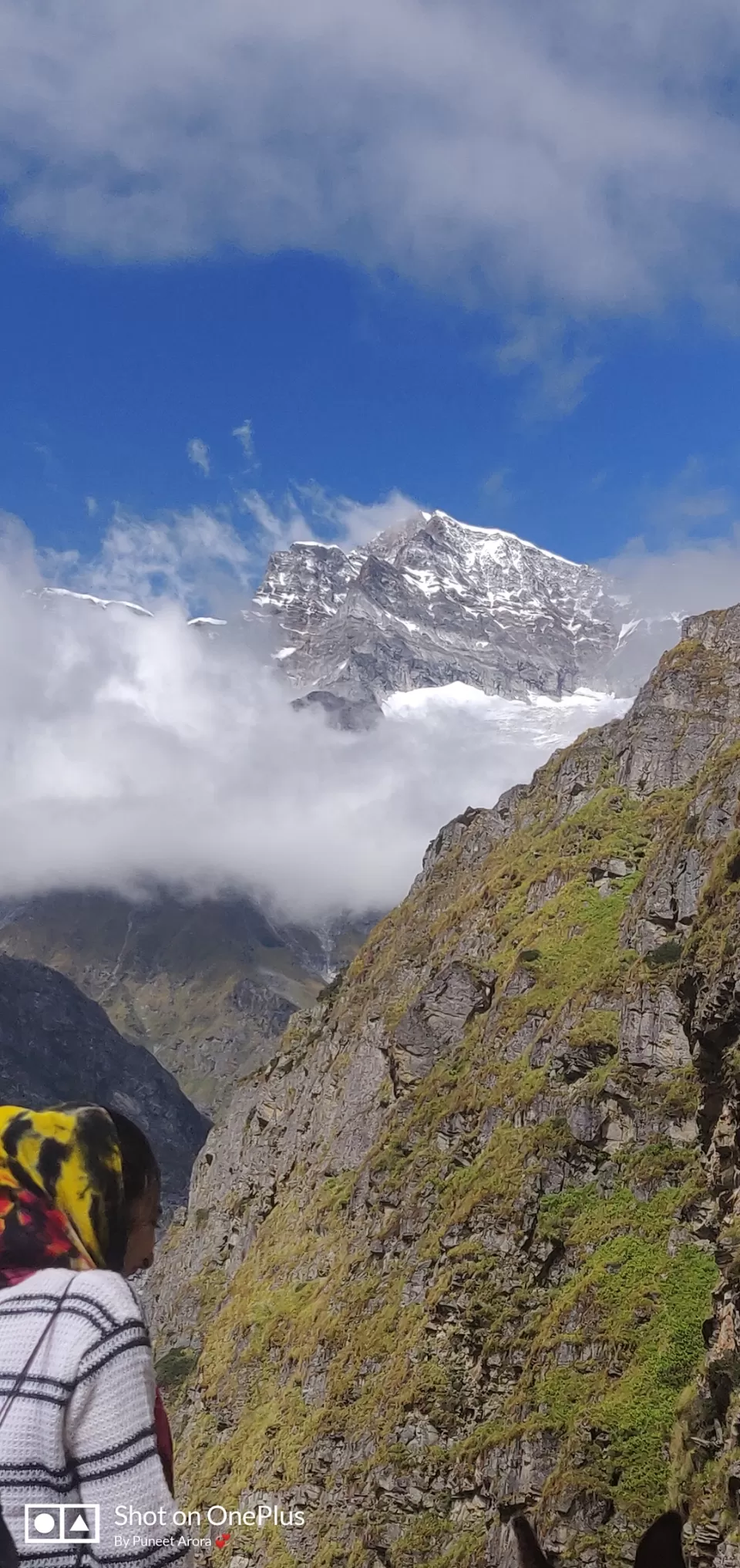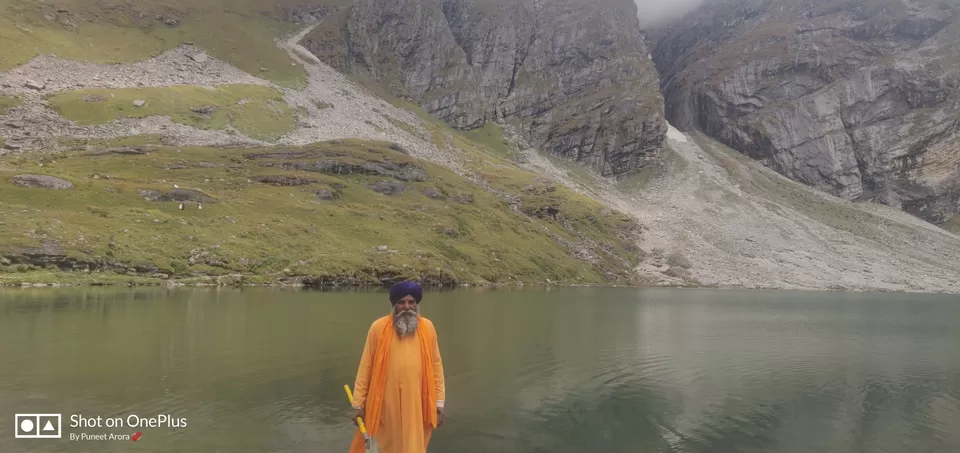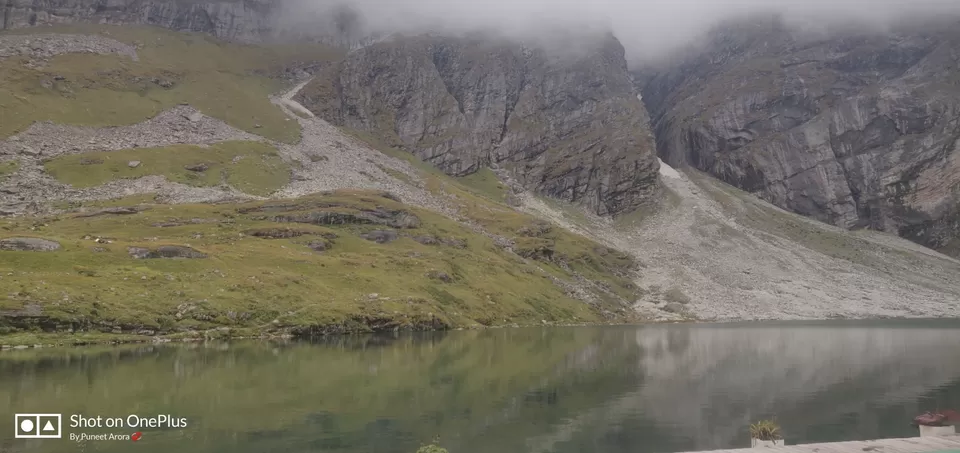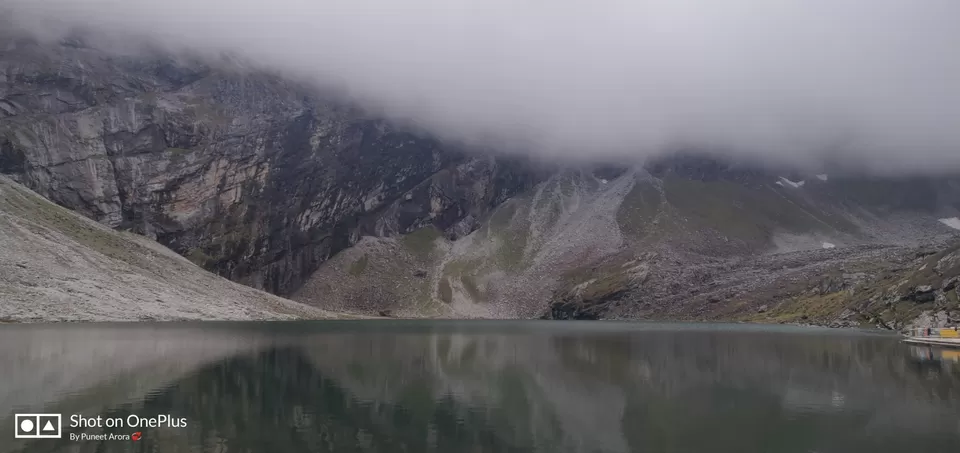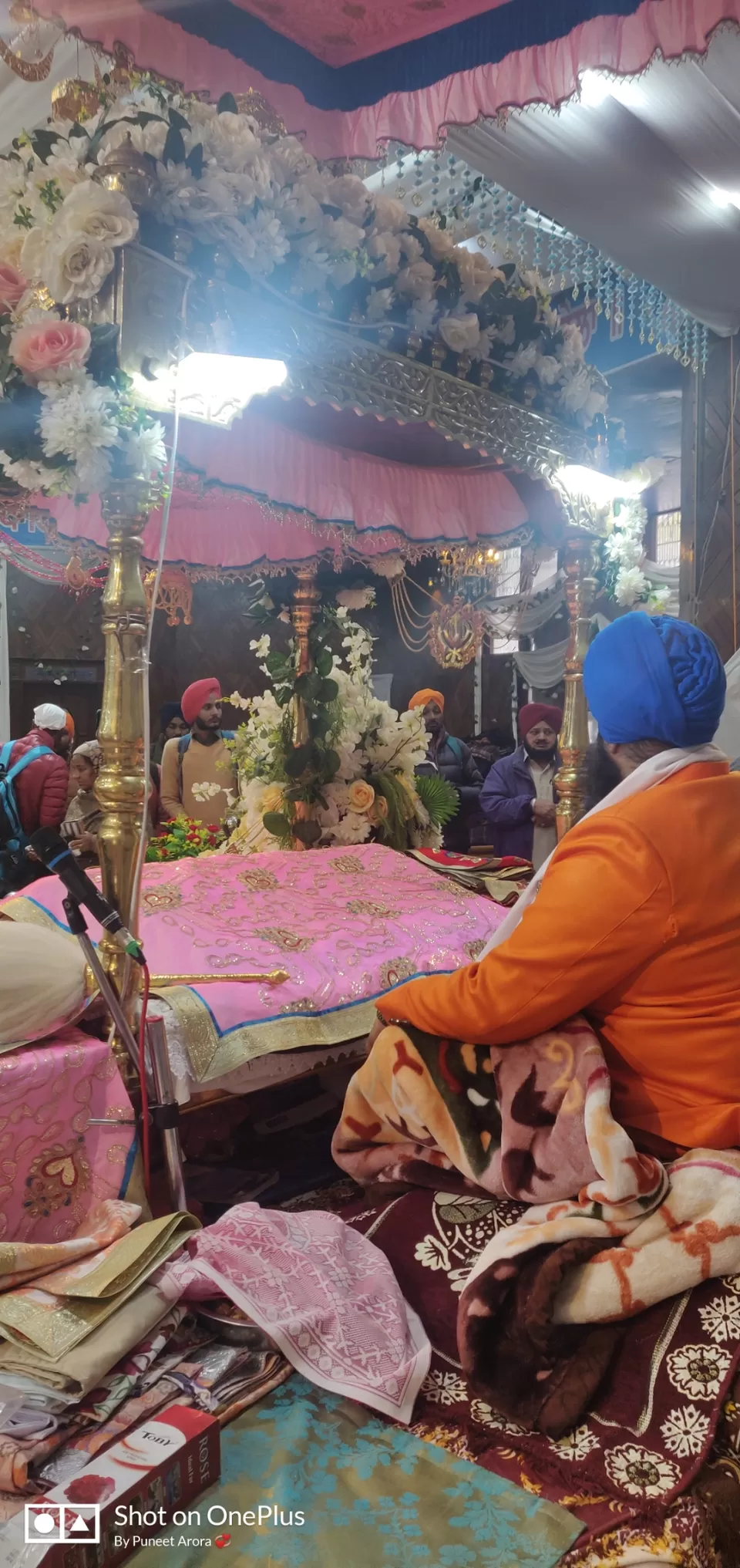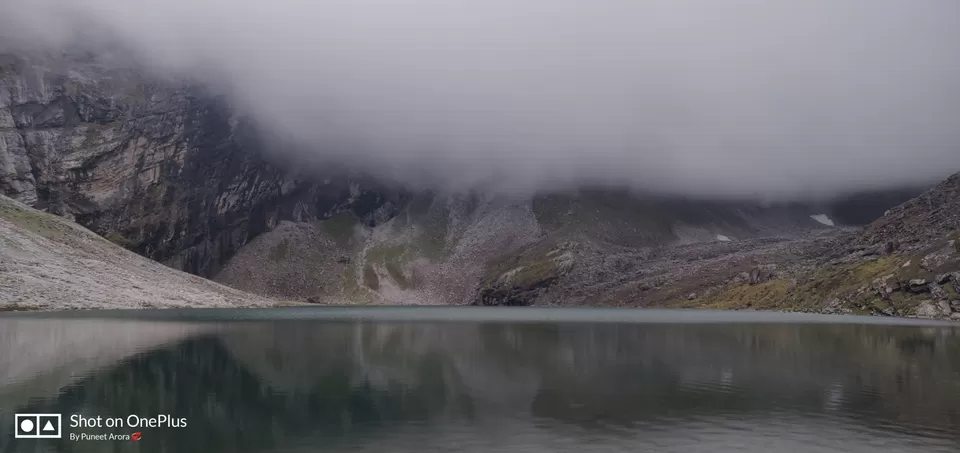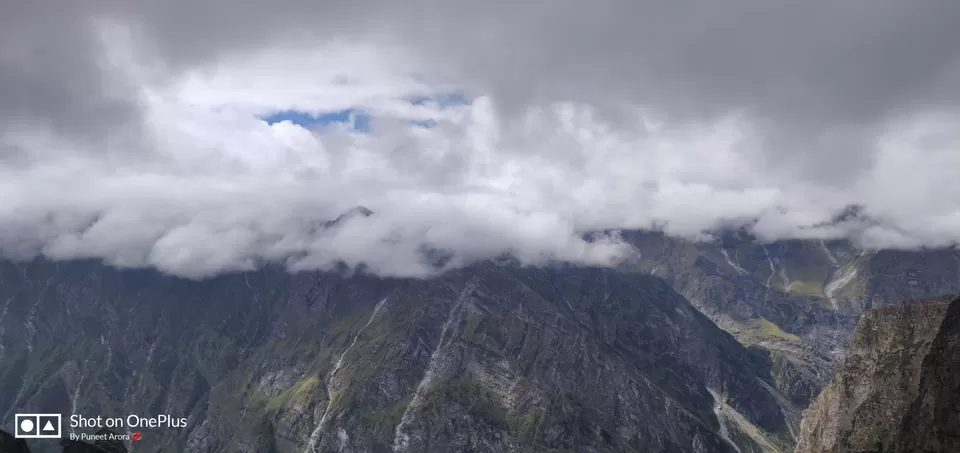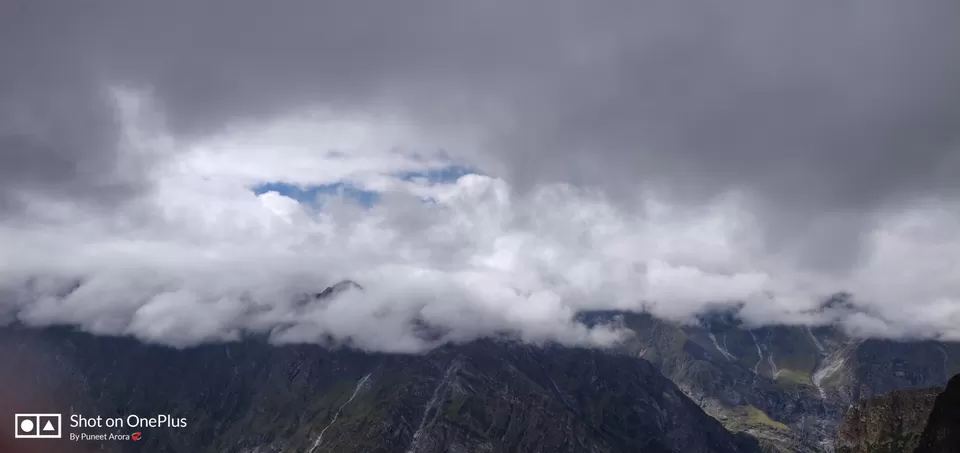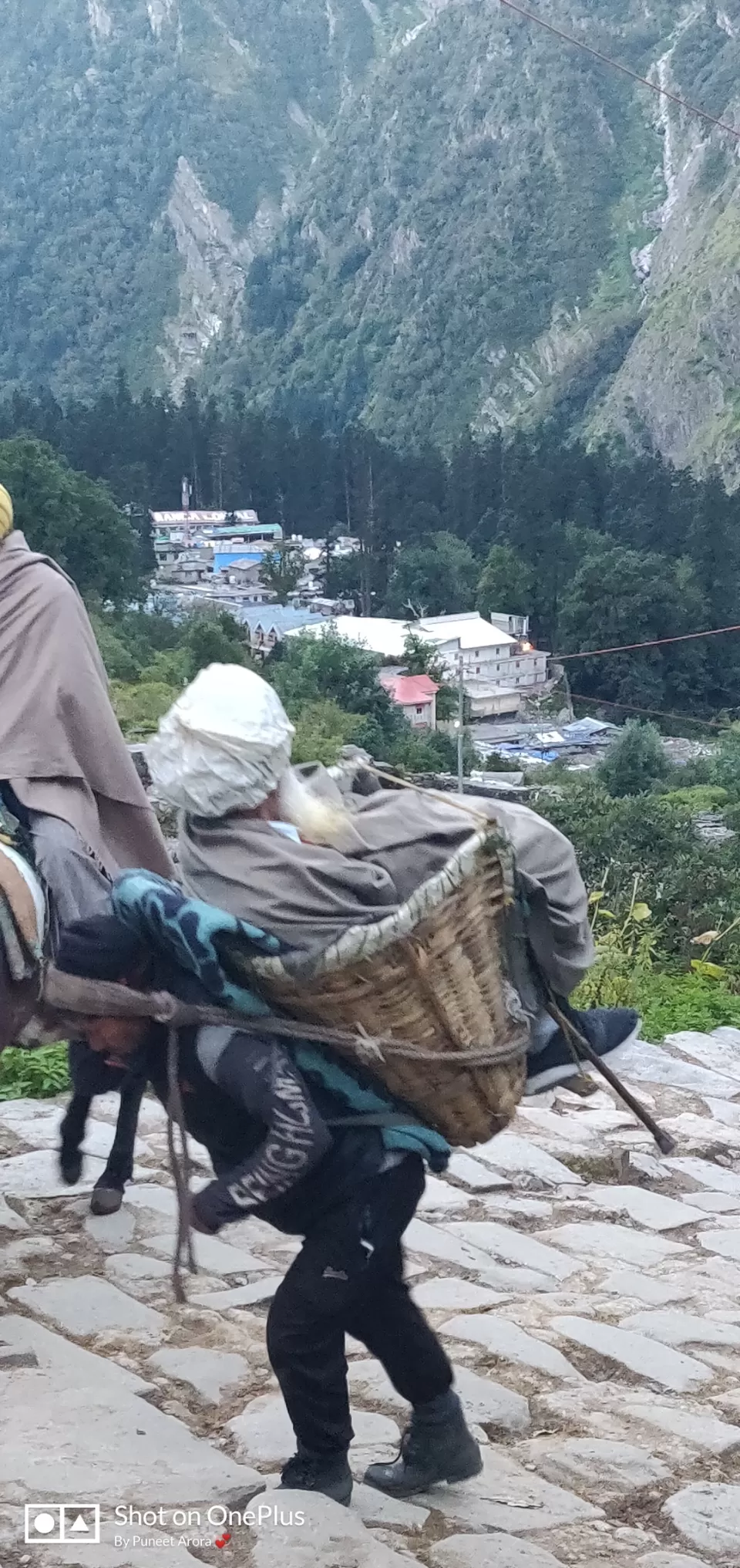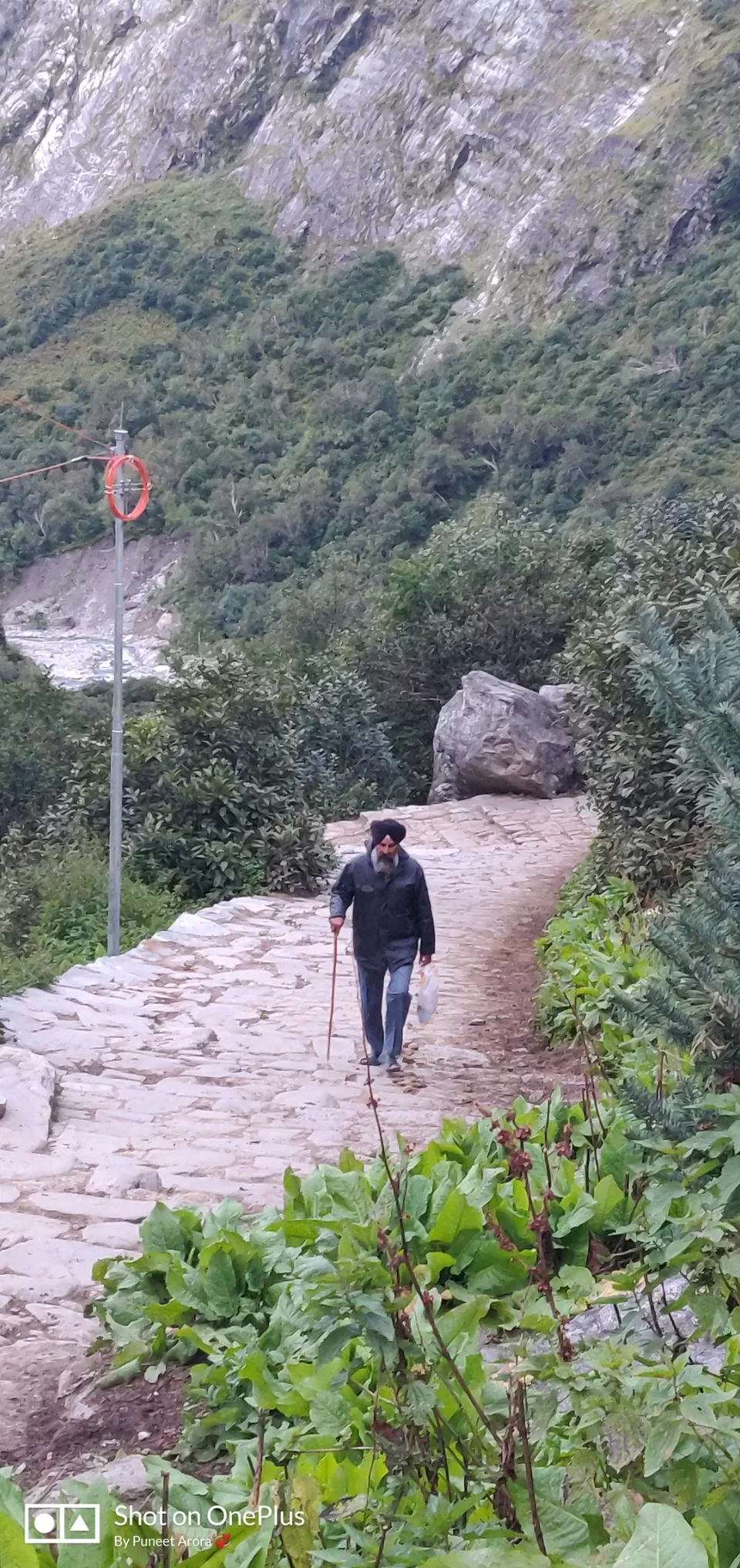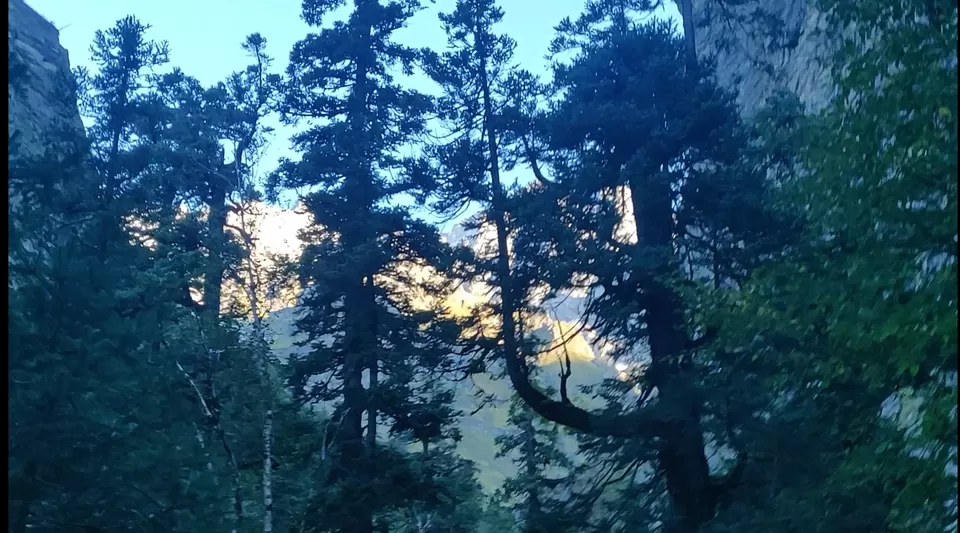 We took bath in the Holy Hemkund.
Water therein is too much chilled that I can still feel those moments.
We offer our prayers in Gurudwara Sahib and Laxman Temple. After spending some time we start our back Journey toward Ghangaria.
Moments spend there is really good and filled me with peace for being the time.
Note : You have to leave Hemkund Sahib Gurudwara before 2Pm or 2:30PM due to extreme weather conditions in evening. There is no option to stay there overnight..
We reached Ghangaria back around 04:30 PM.
Now it's time to say good bye to uncle ji as he planned to reach Govindghat by the same day. But I decided to stay at Ghangaria overnight and then visit valley of flowers next day.
I registered myself for room in the Ghangaria (Govind Dham) Gurudwara.
As I am alone now , so they provide me a bed in dormatry instead of Room.
Now my legs are paining very badly.
I took sleep nap and wake up around 07:00PM.
Then I start asking local people about valley as the peak period for visiting valley is July & August and I am visiting there in September.
Replies of the people are like now the flowers are less there, it's not the best time to visit valley, July & August is the best time to visit etc etc.
I enjoyed some local dishes, and went to bed with the confusion that should I visit valley or not.
Next Morning I wake up around 5AM, and makeup the mind to visit valley with the thought that "Mother Nature is always Beautiful irrespective of Flowers" & the "Himalaya is always Mesmerizing and Divine"
Note : From Ghangaria there is 3.5 KM track to reach valley of flowers.
Check post is around 200 Mtr from Ghangaria, where officers allowed you to enter after 7AM.
You have to pay entry fee of RS.150 per head to explore valley.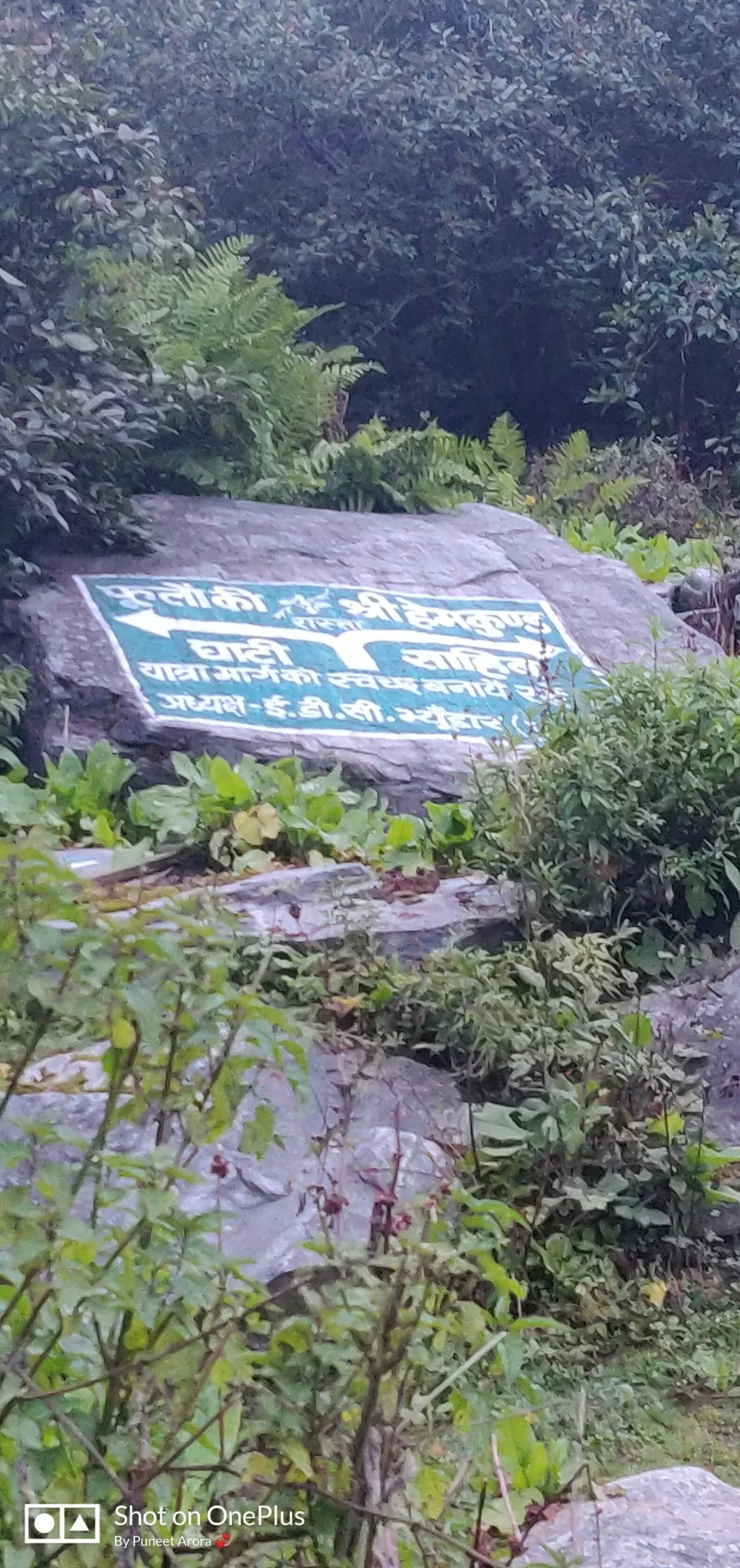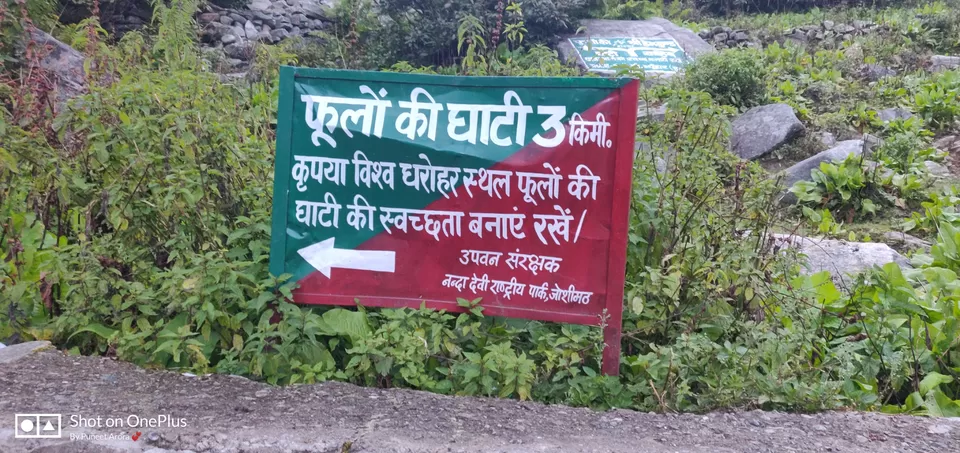 I reached at check point around 06:30 AM, and waiting for someone to join as I don't wanna track alone due to Snow Beers and Leapord; which I later comes to know that entire track is completely safe as these get active in late evening in the valley.
Soon a group of 5 reached there. I asked to join them and very warmly the accept me in their Group.
After getting register our name in entry log they allow us to begin our track for valley.
The entire trek is full of natural beauty; sky touching mountains, River flow sound, cool fresh air and greenery around makes anyone to feel their inner self.
We enjoyed a lot throughout the tracking and reached valley within an Hour.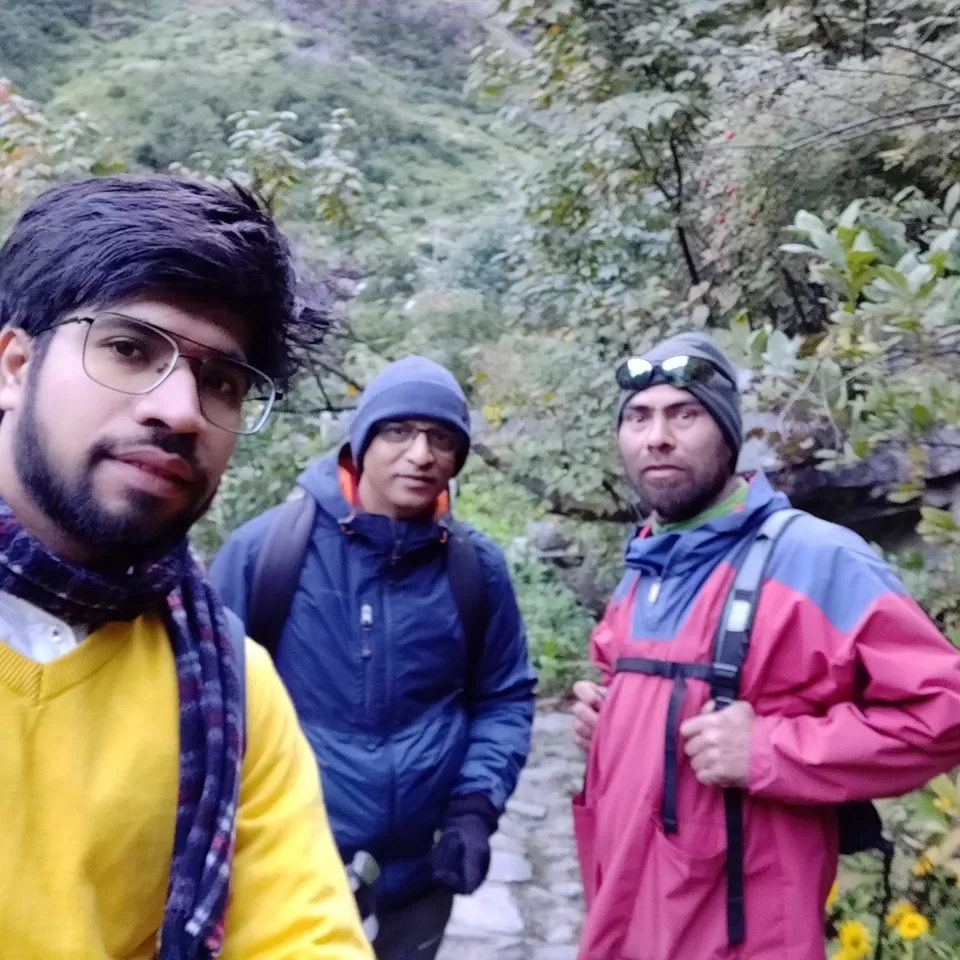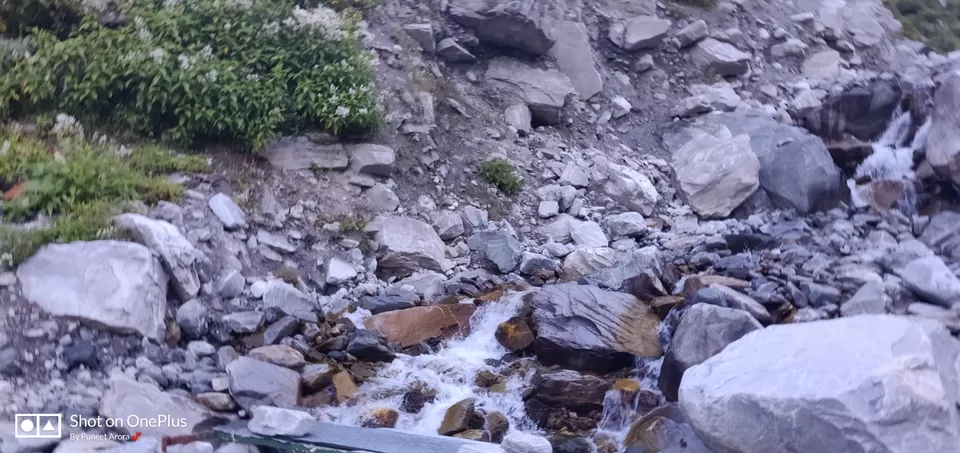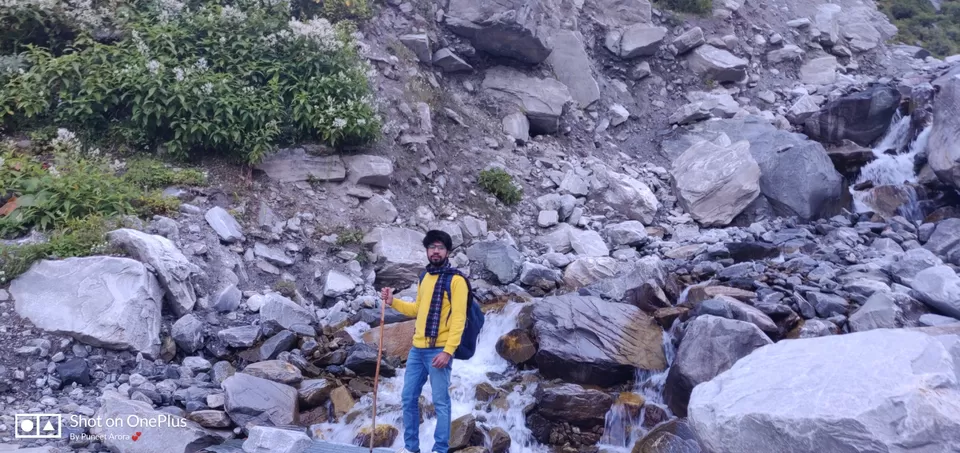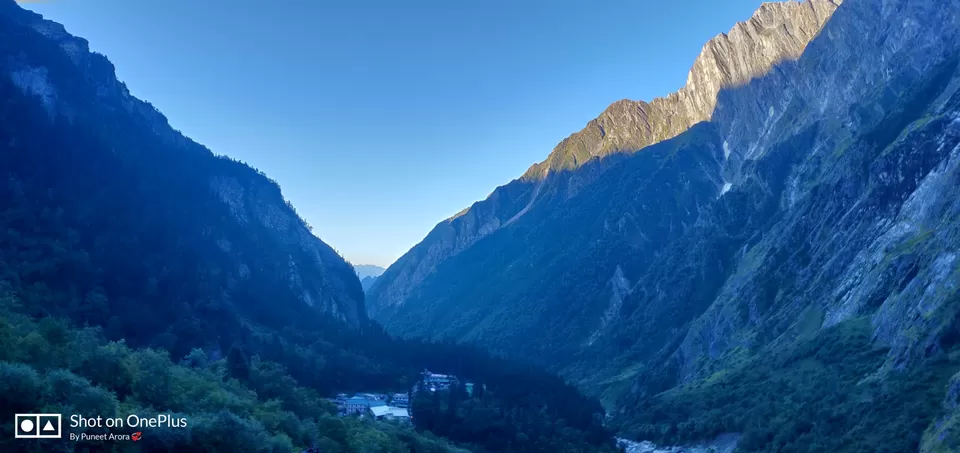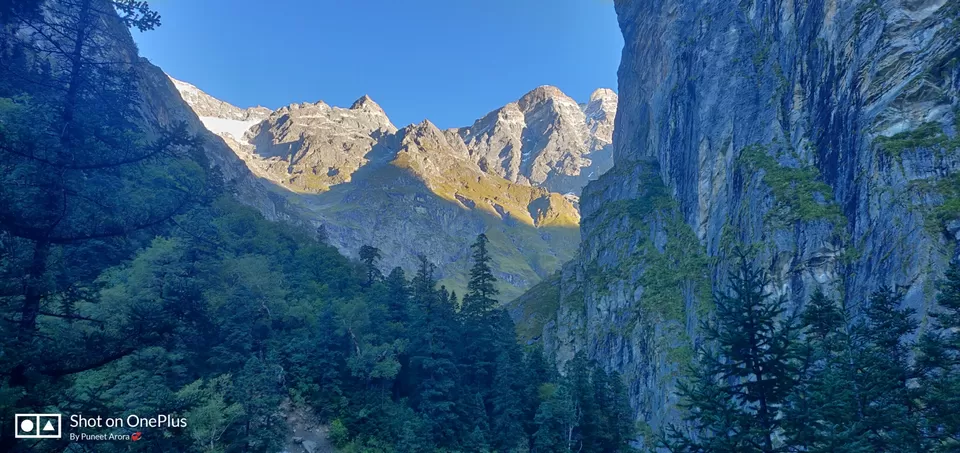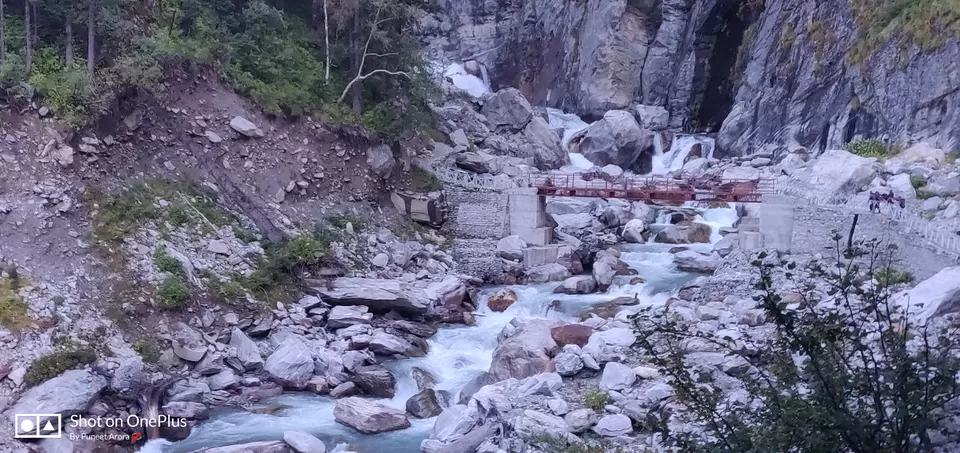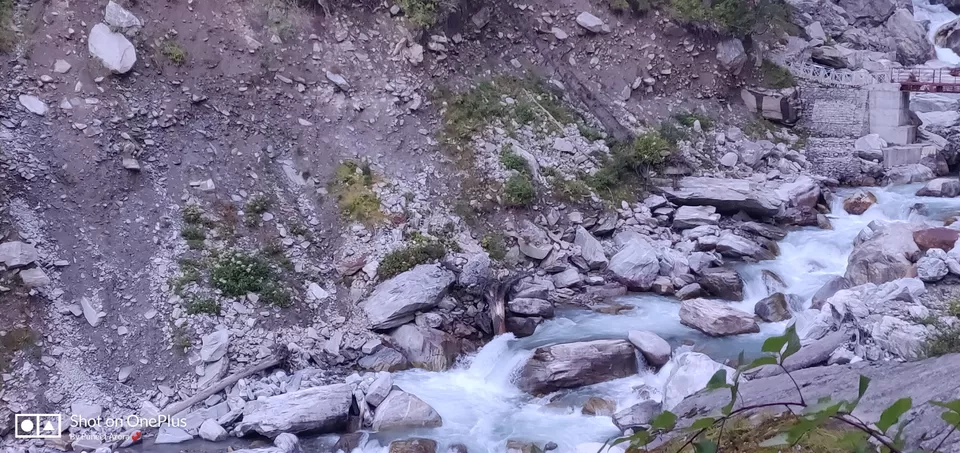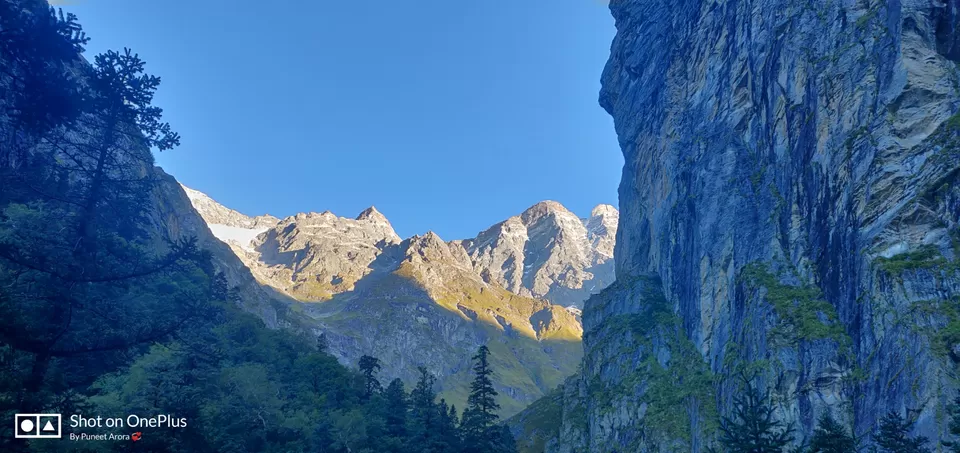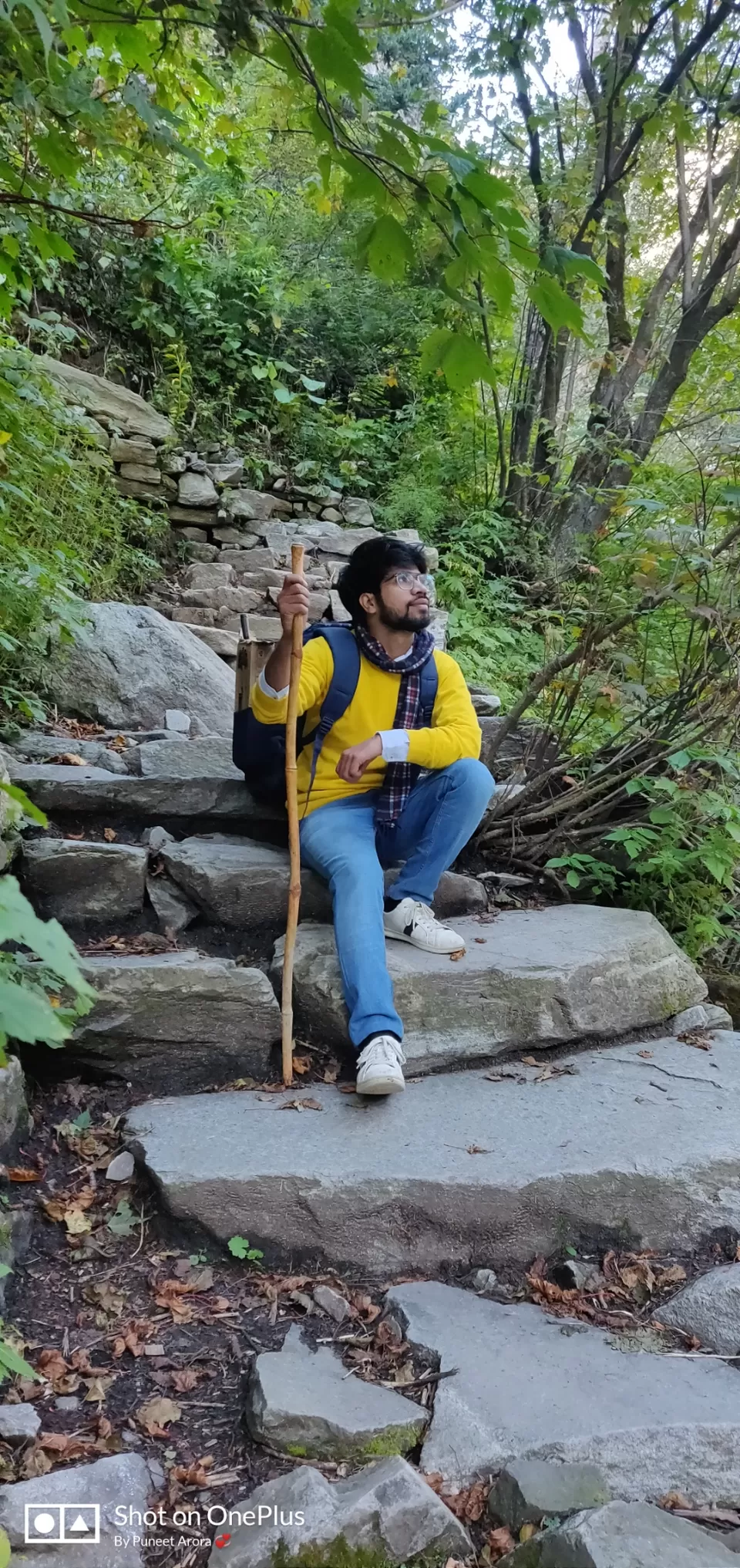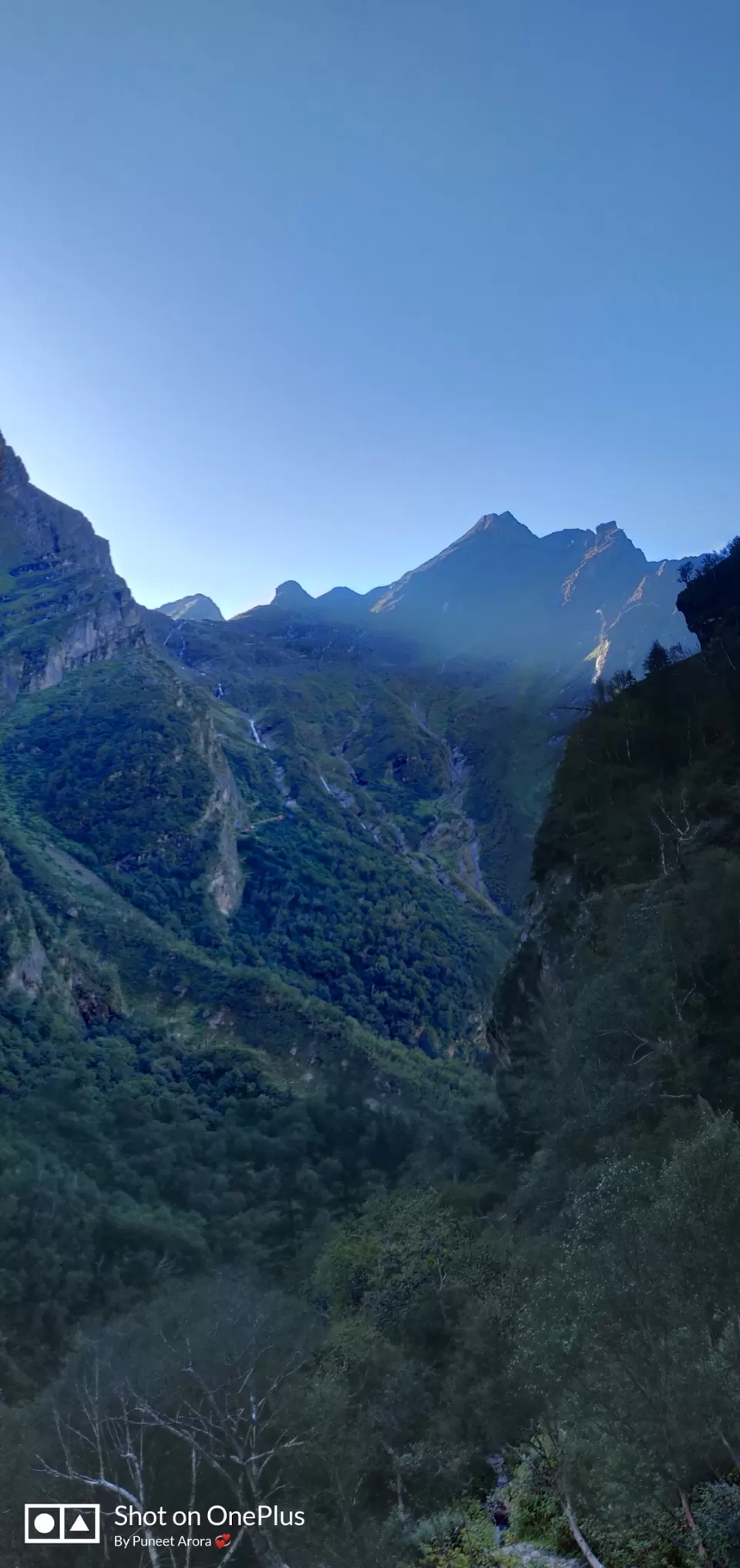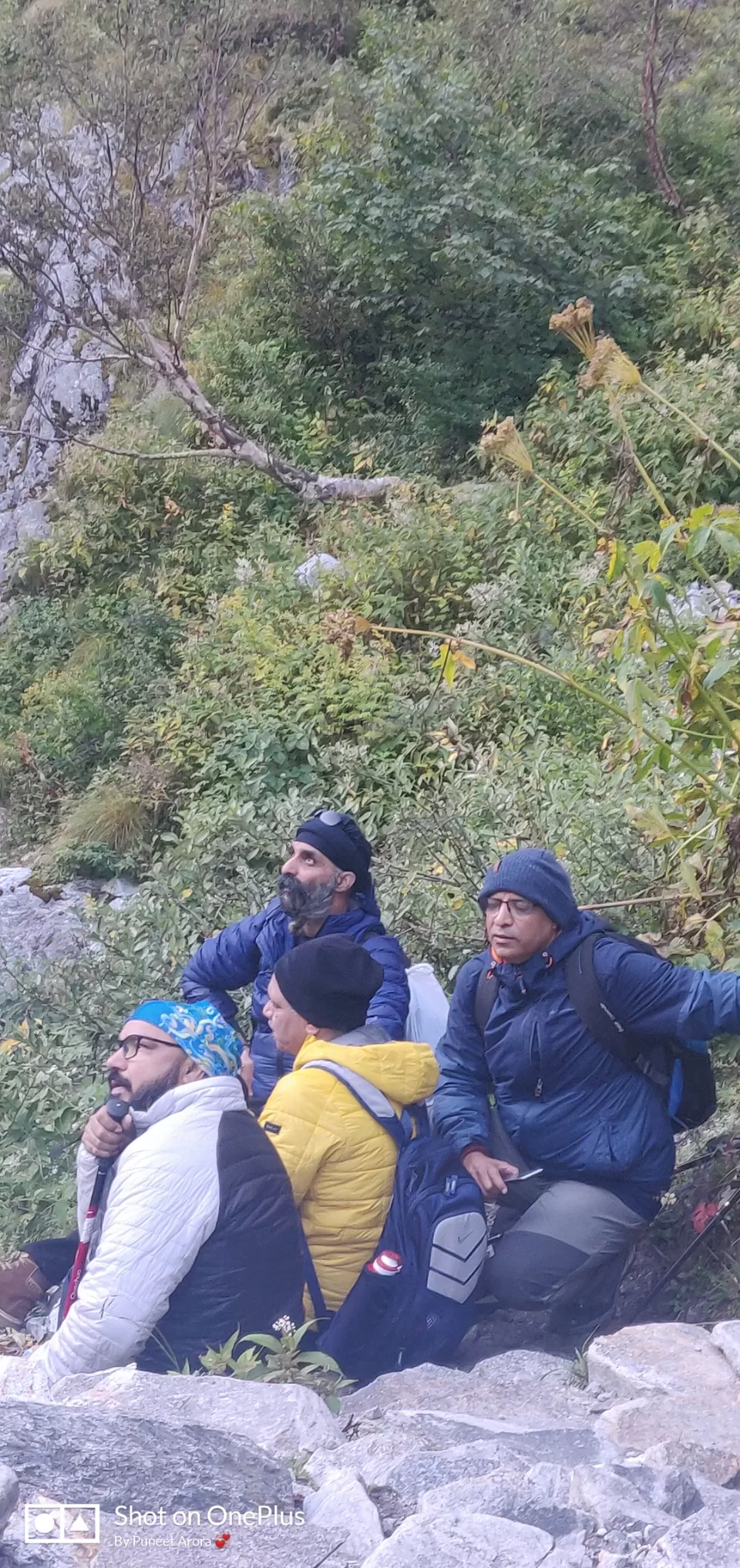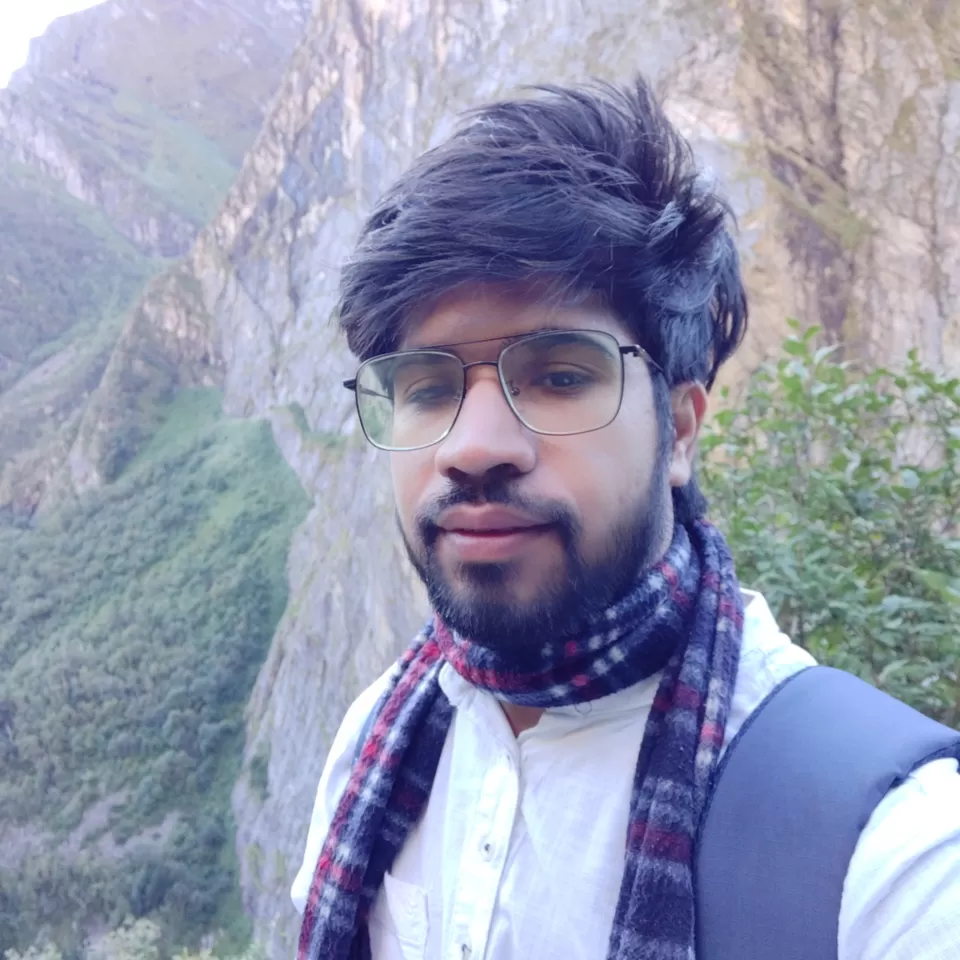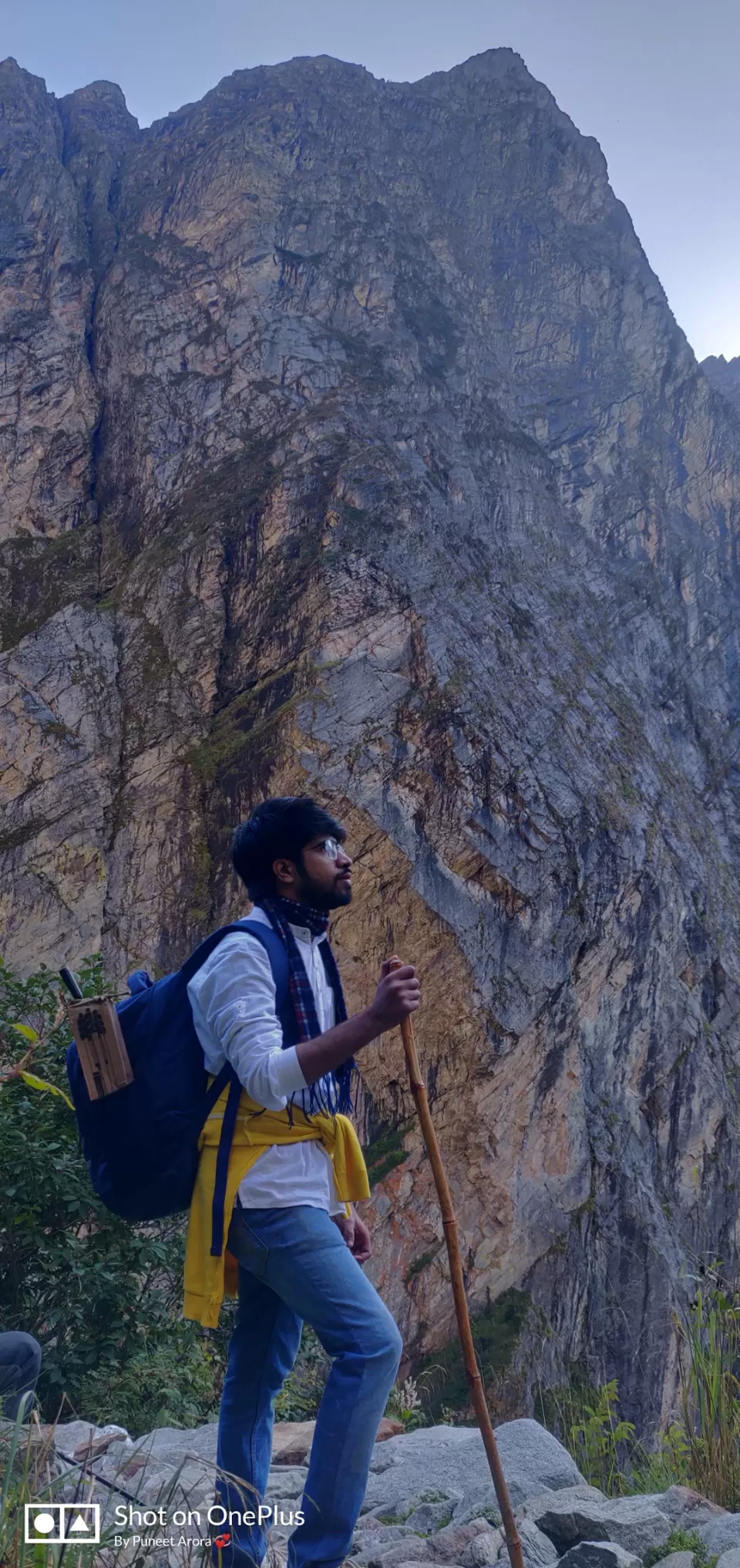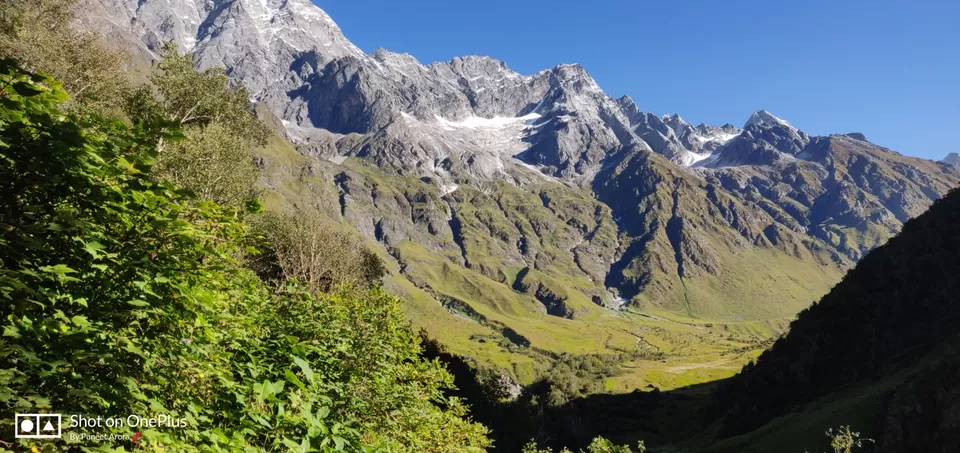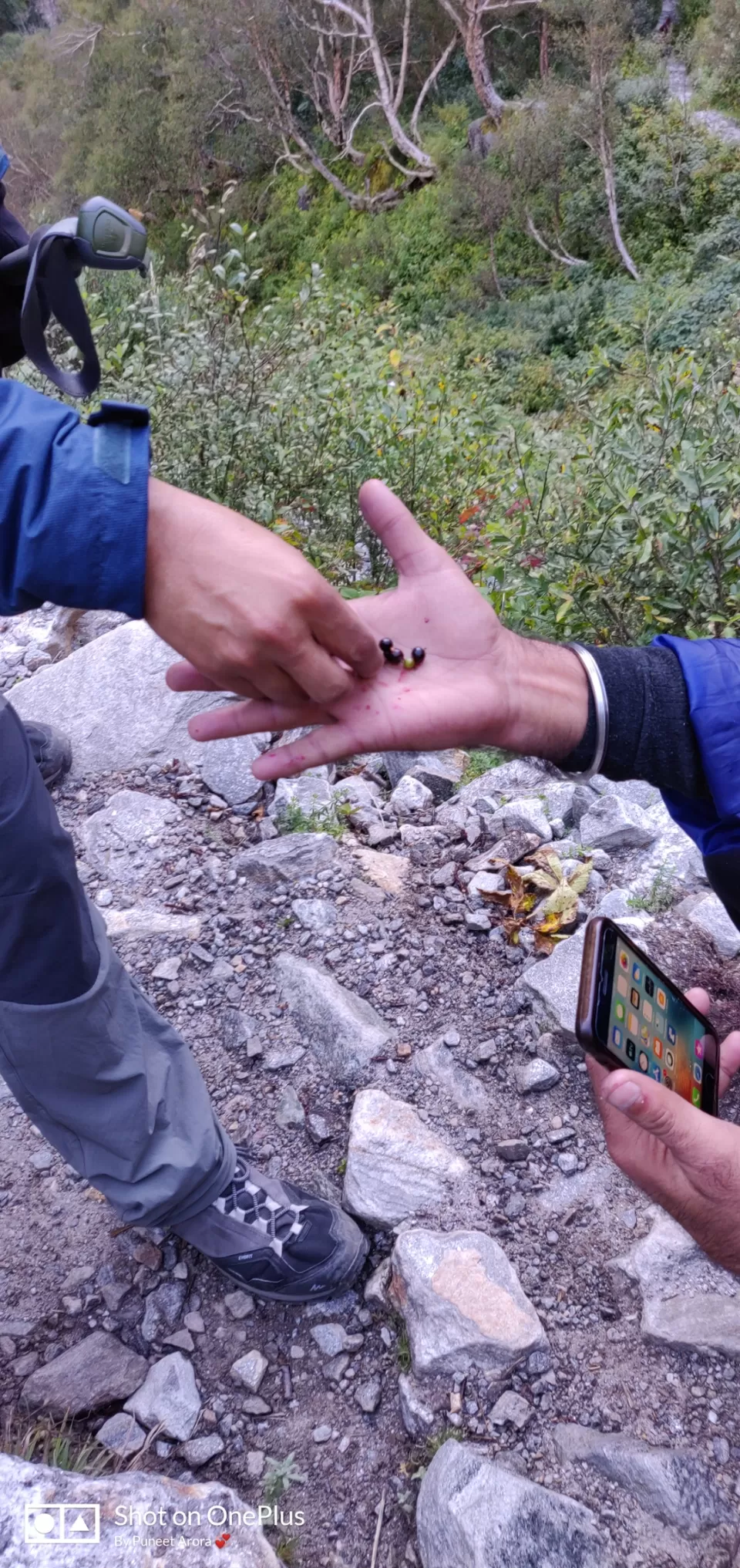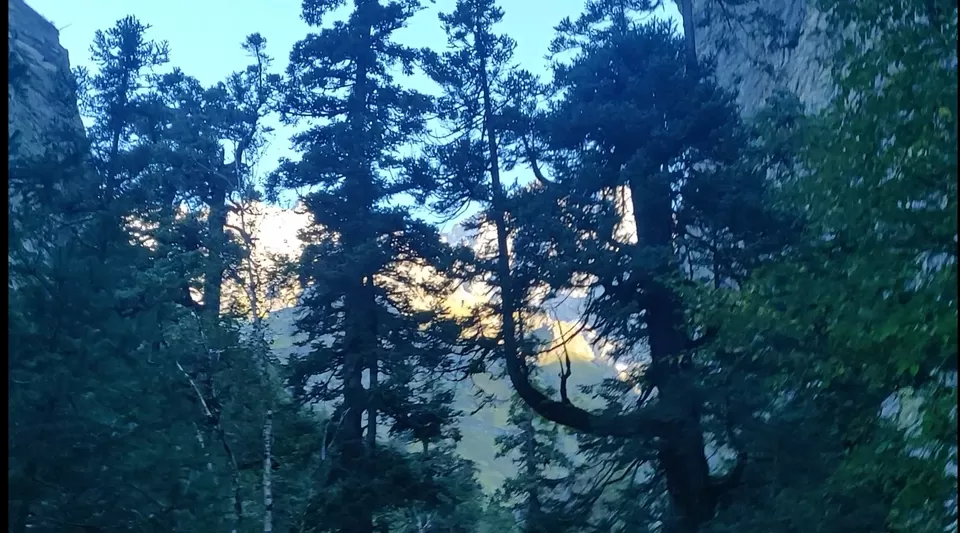 Once we reached valley, the views of glacier are awesome.
Trust me my belief makes me proud that " The Nature is always Beautiful".
Valley is Soo much beautiful irrespective of less Flowers. It's beauty, glacier views on one side, sky touching mountains, clean blue sky, greenery all around and constantly changing weather within the minutes is enough to feel inner self, connection with nature and divinity.
We spend around 3 hours there and each moments is precious in the lap of mother Nature ❤️.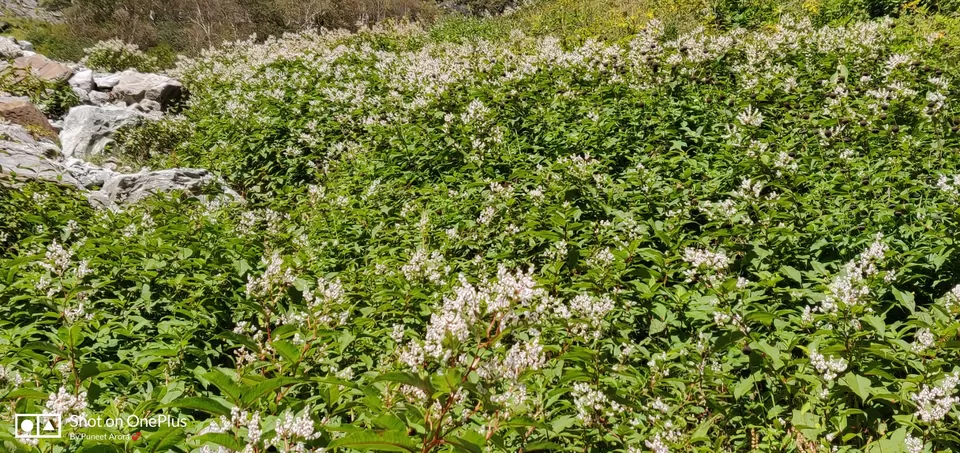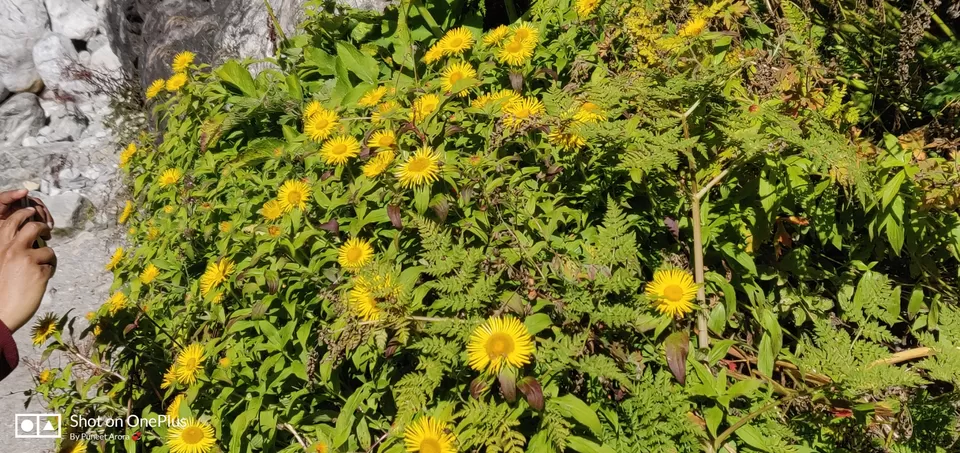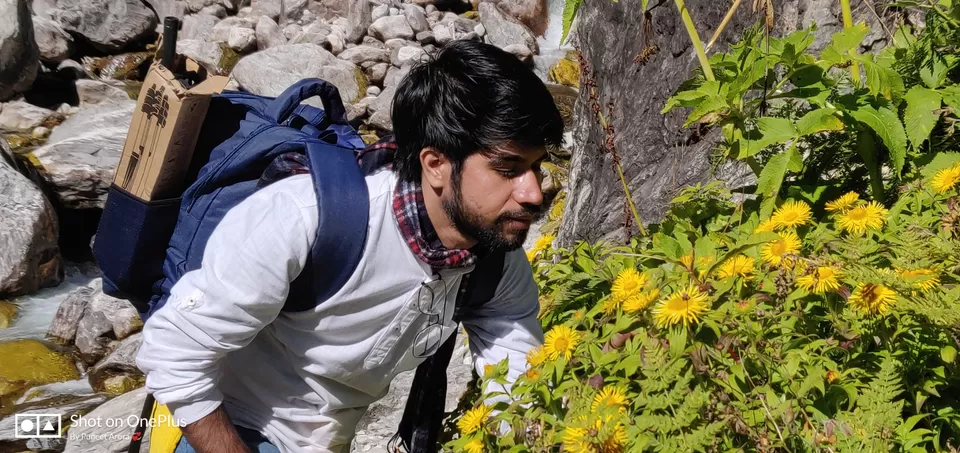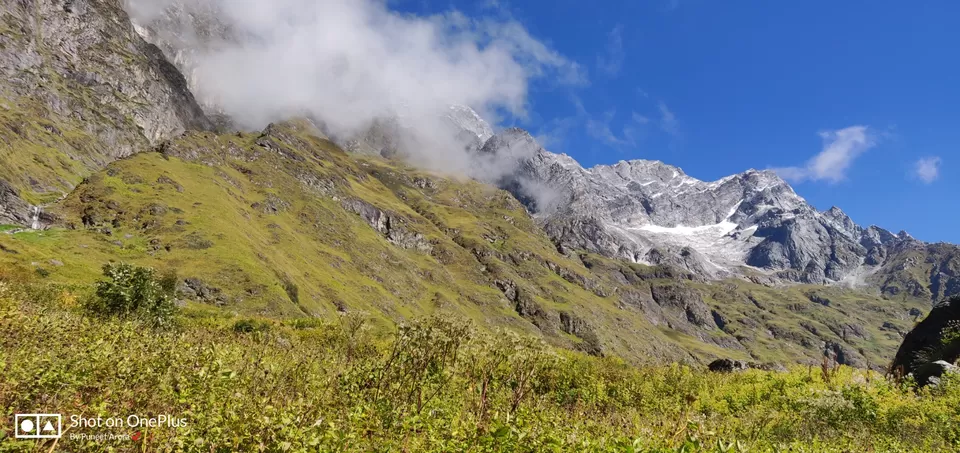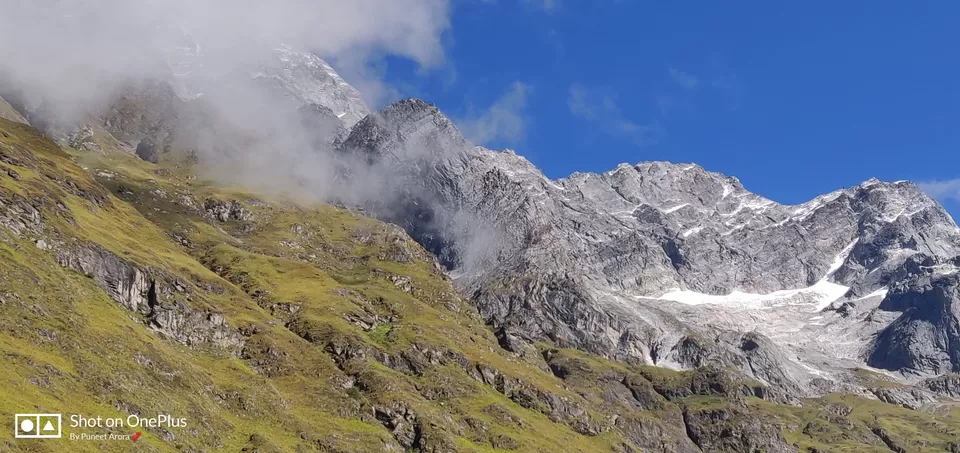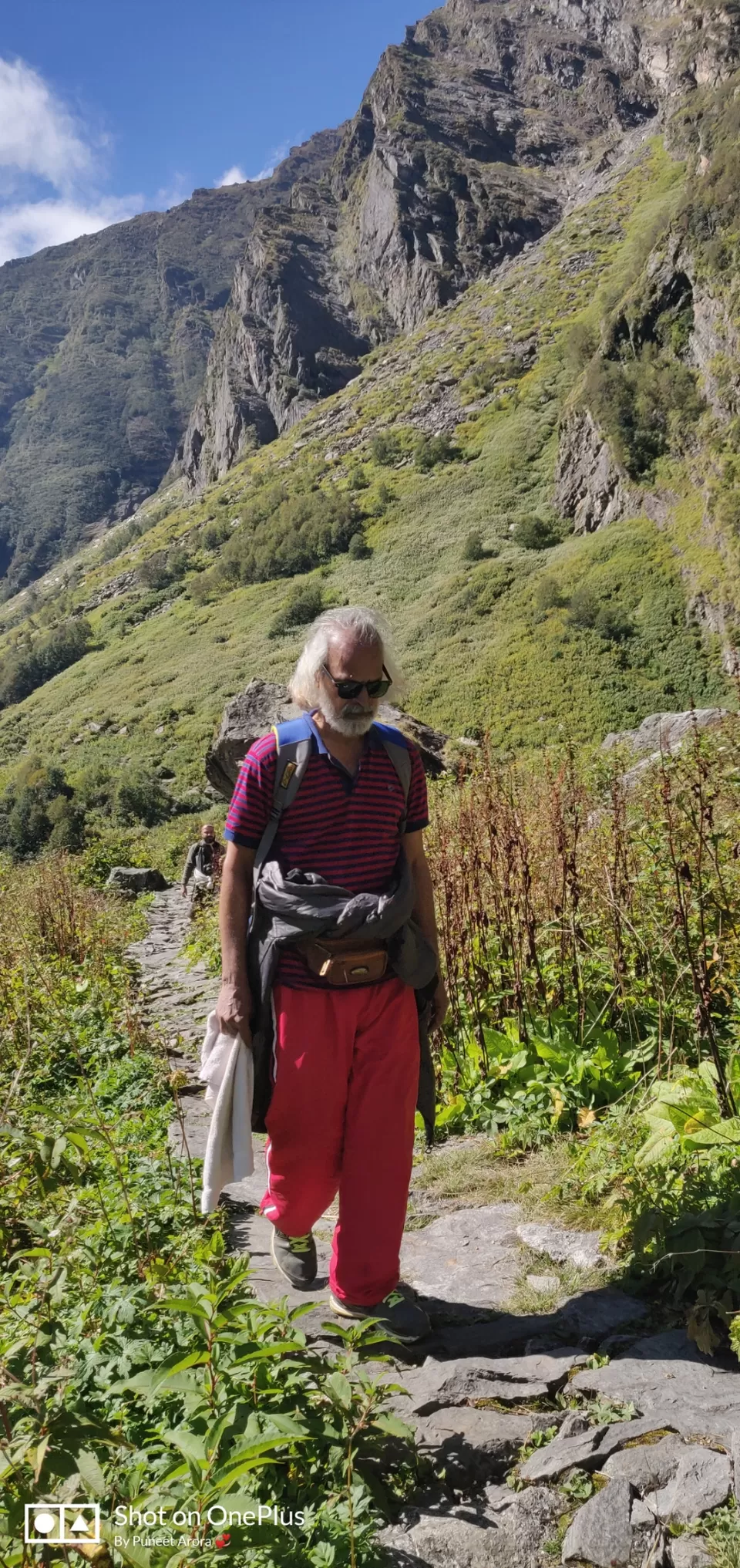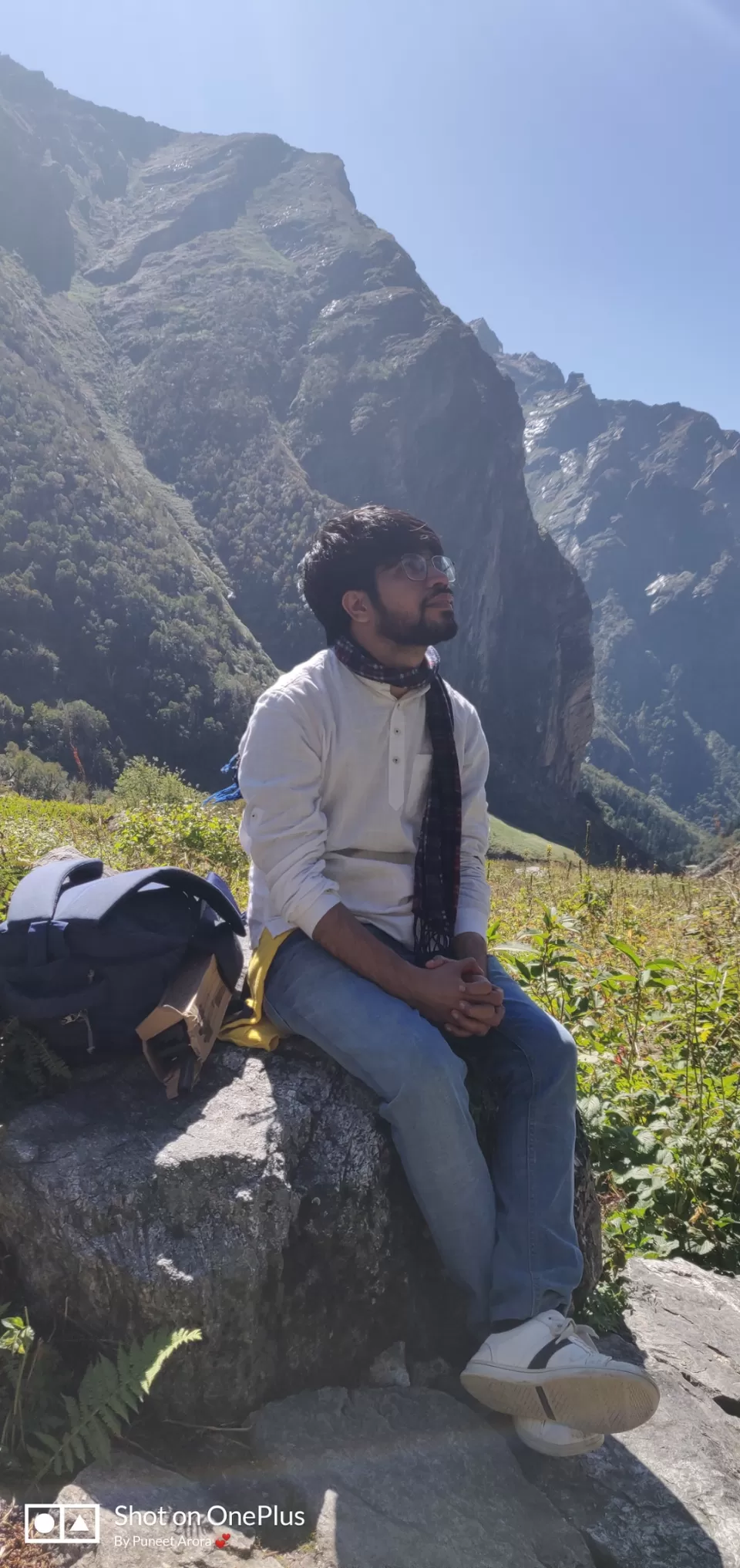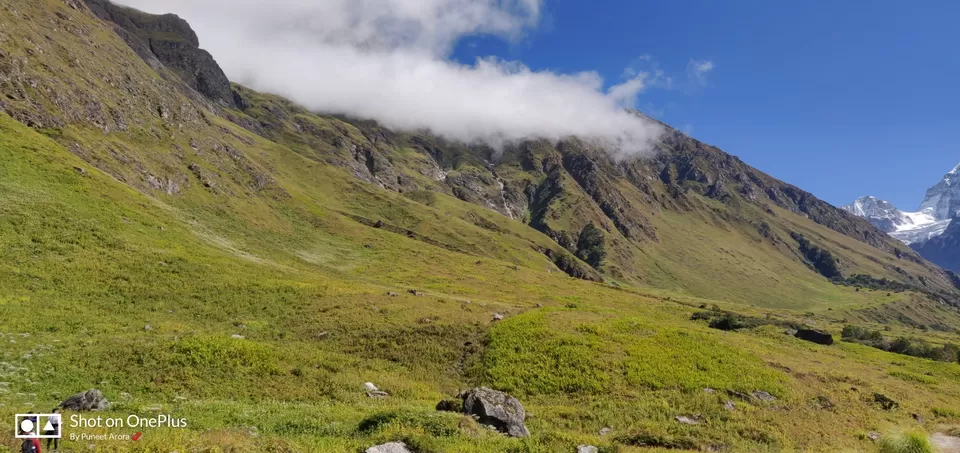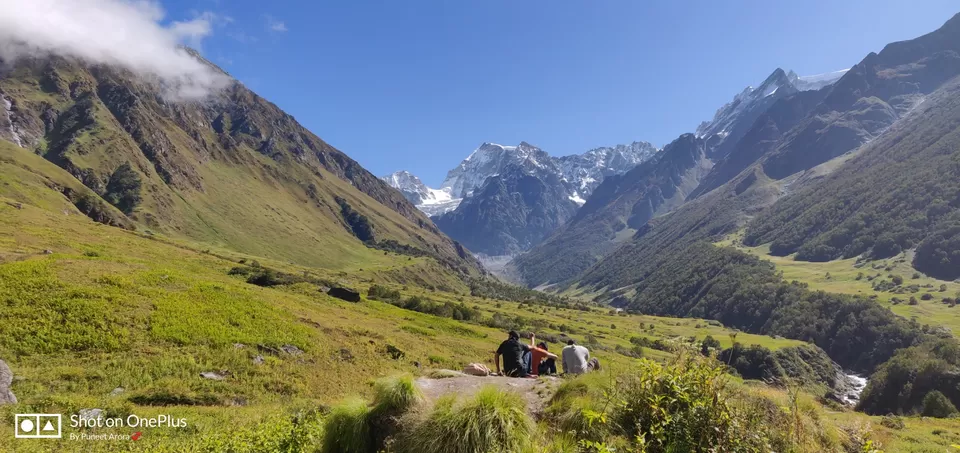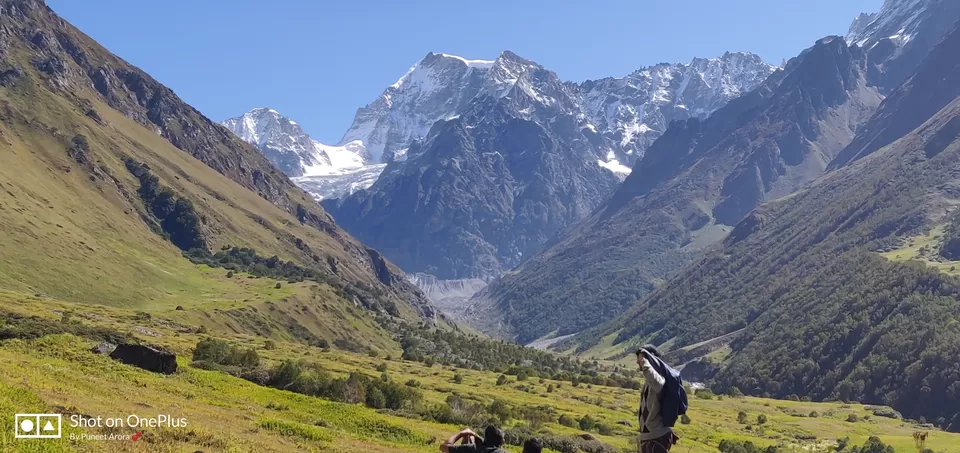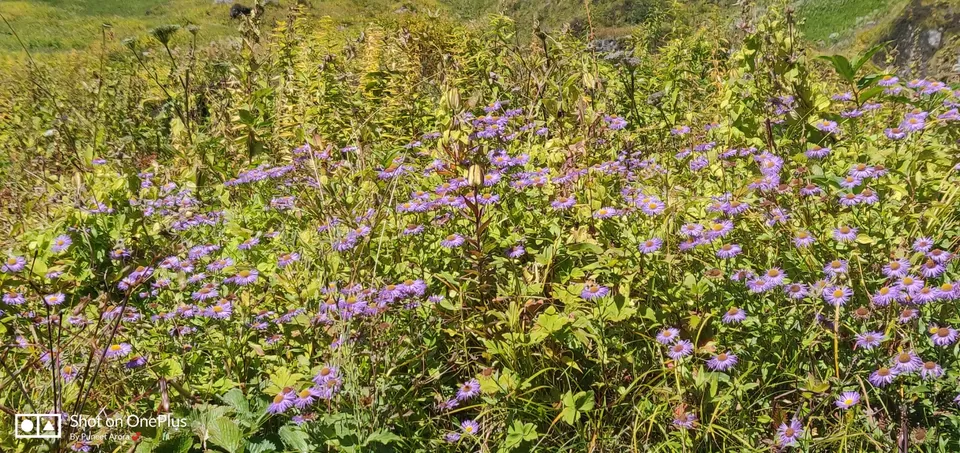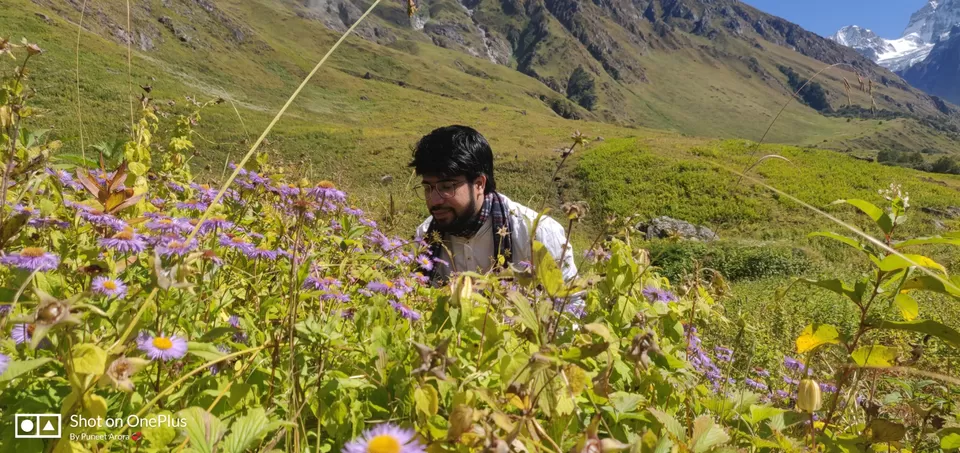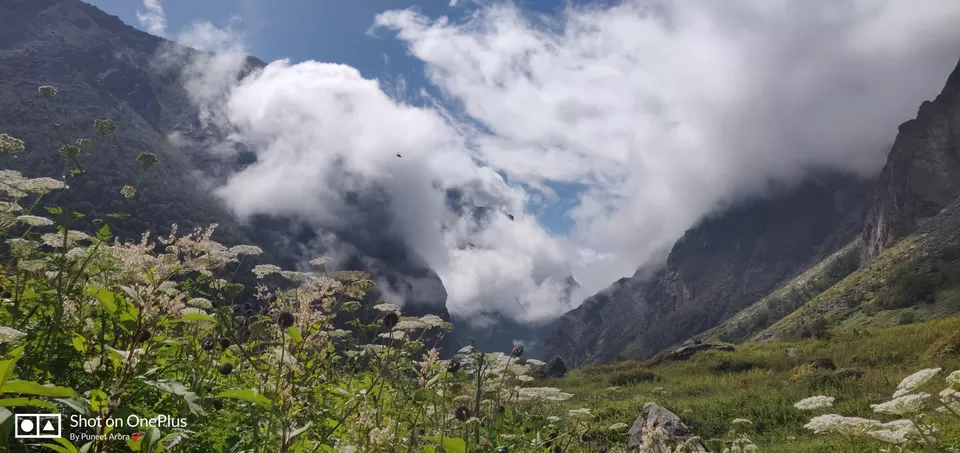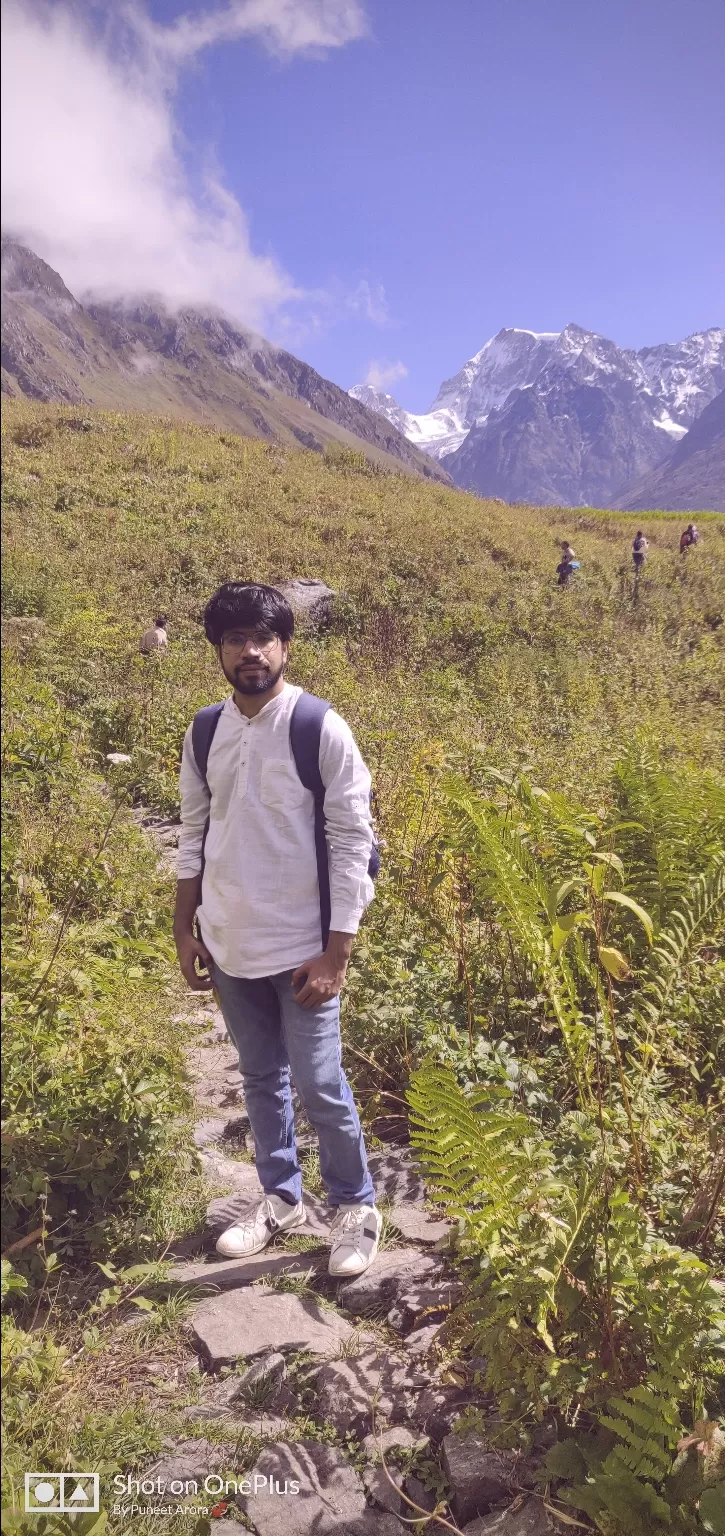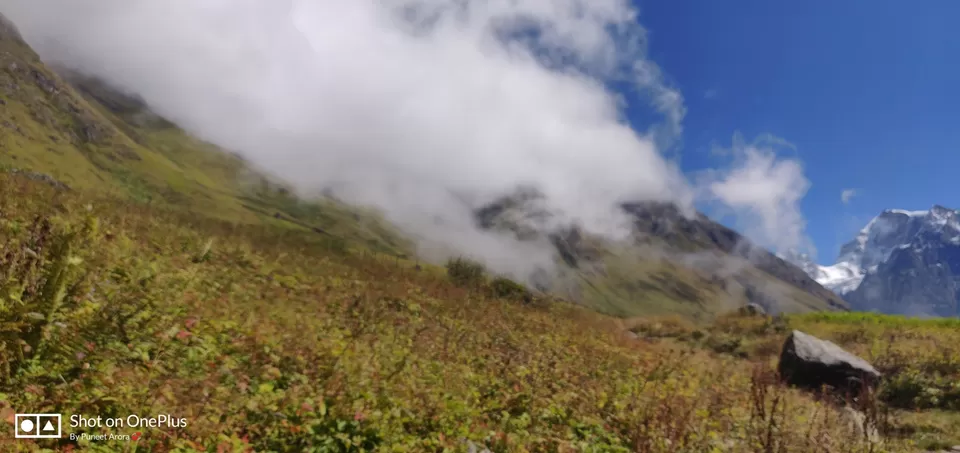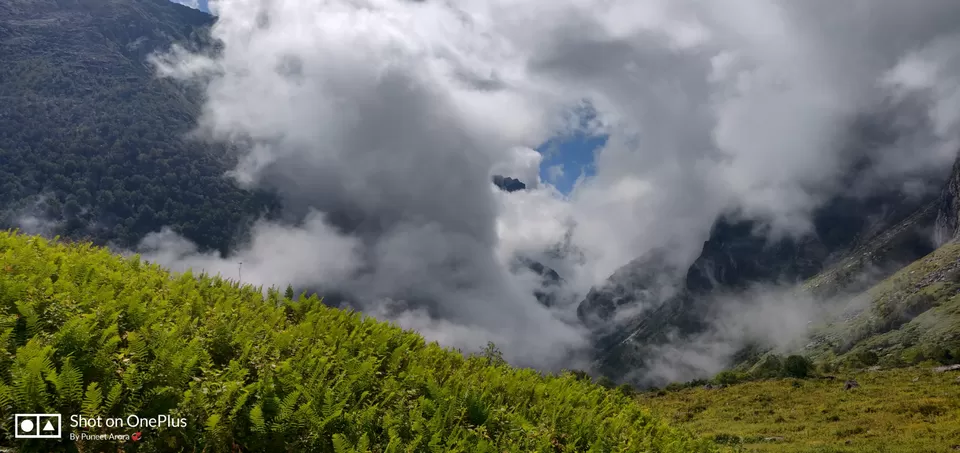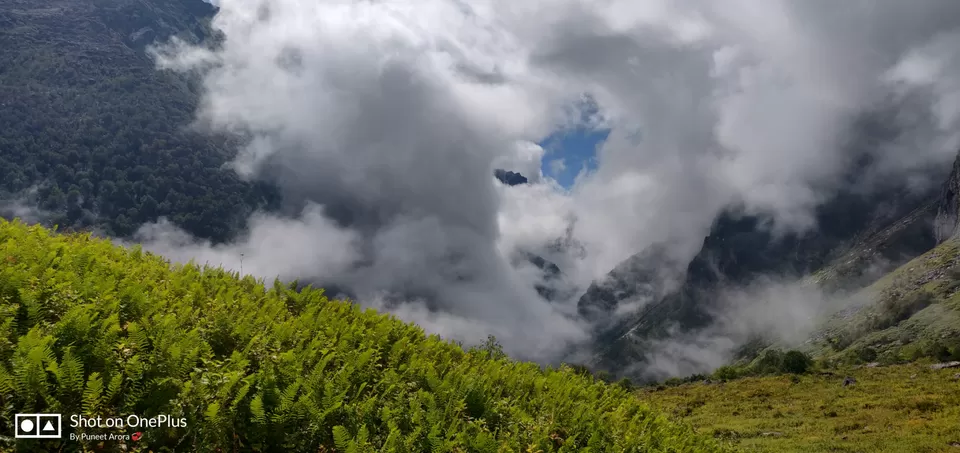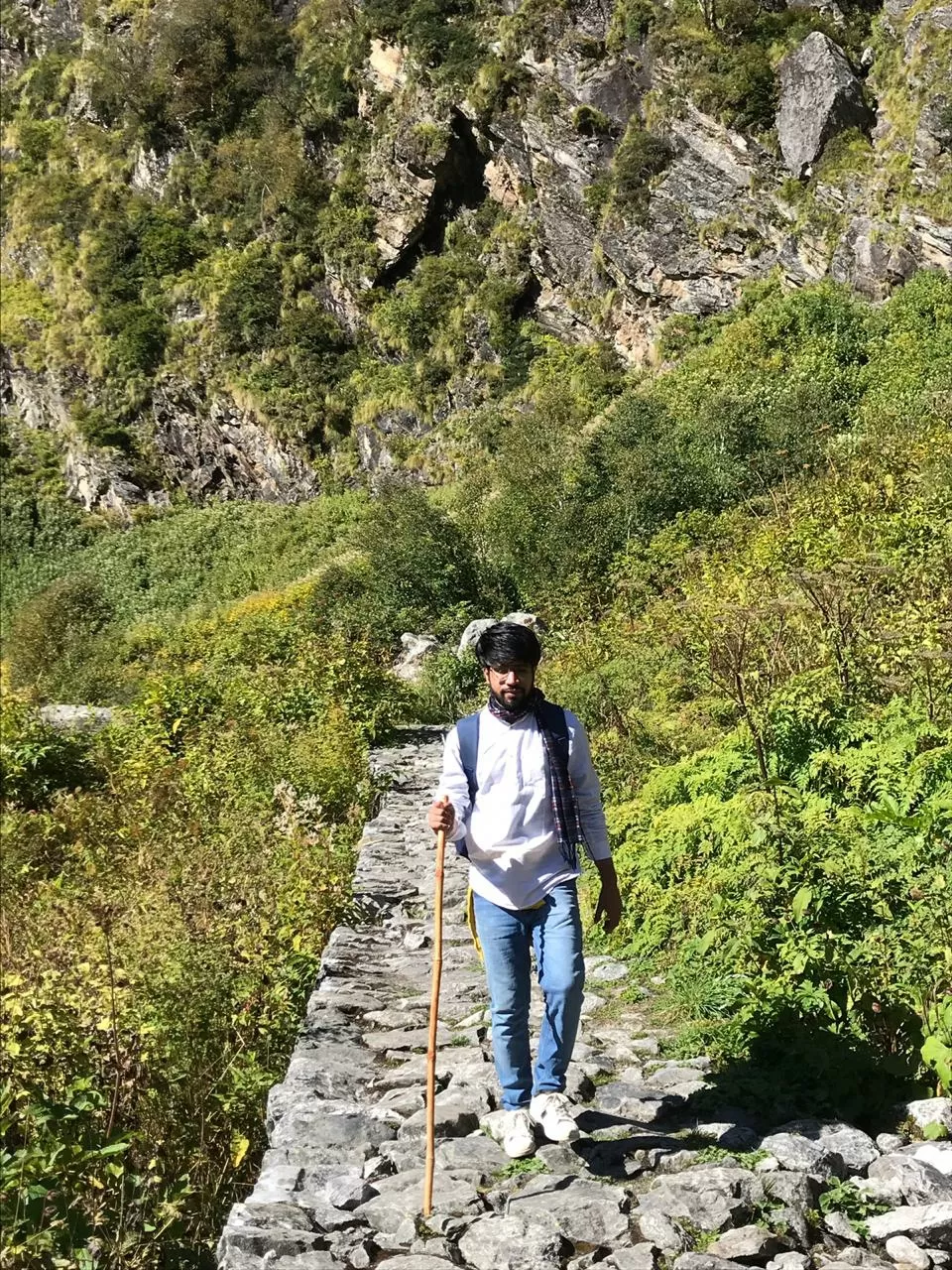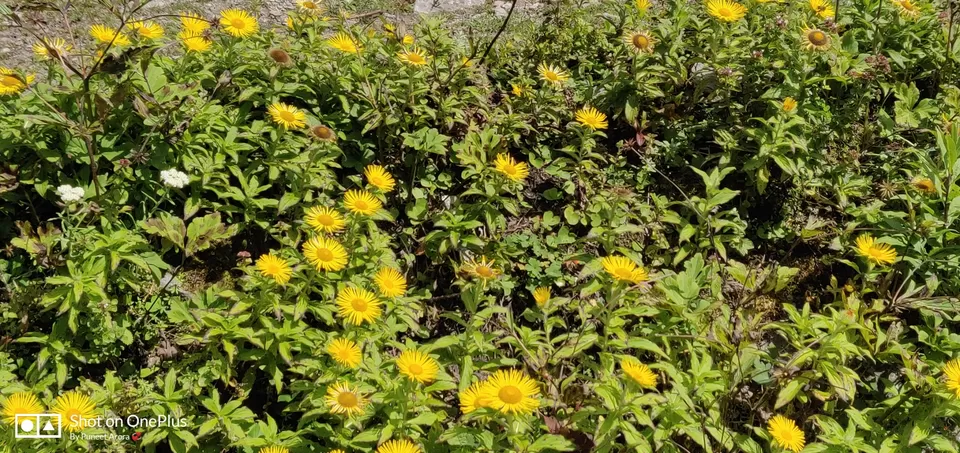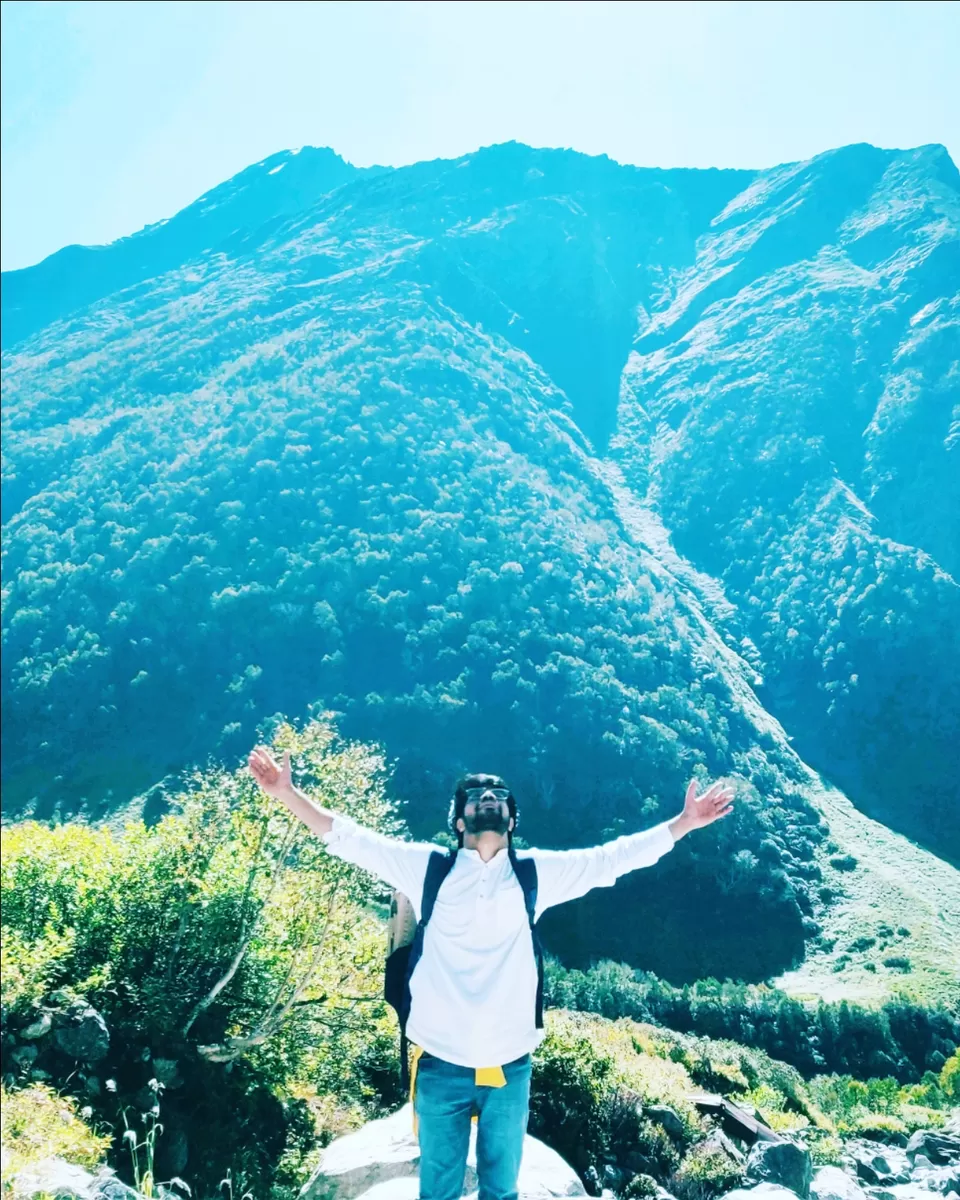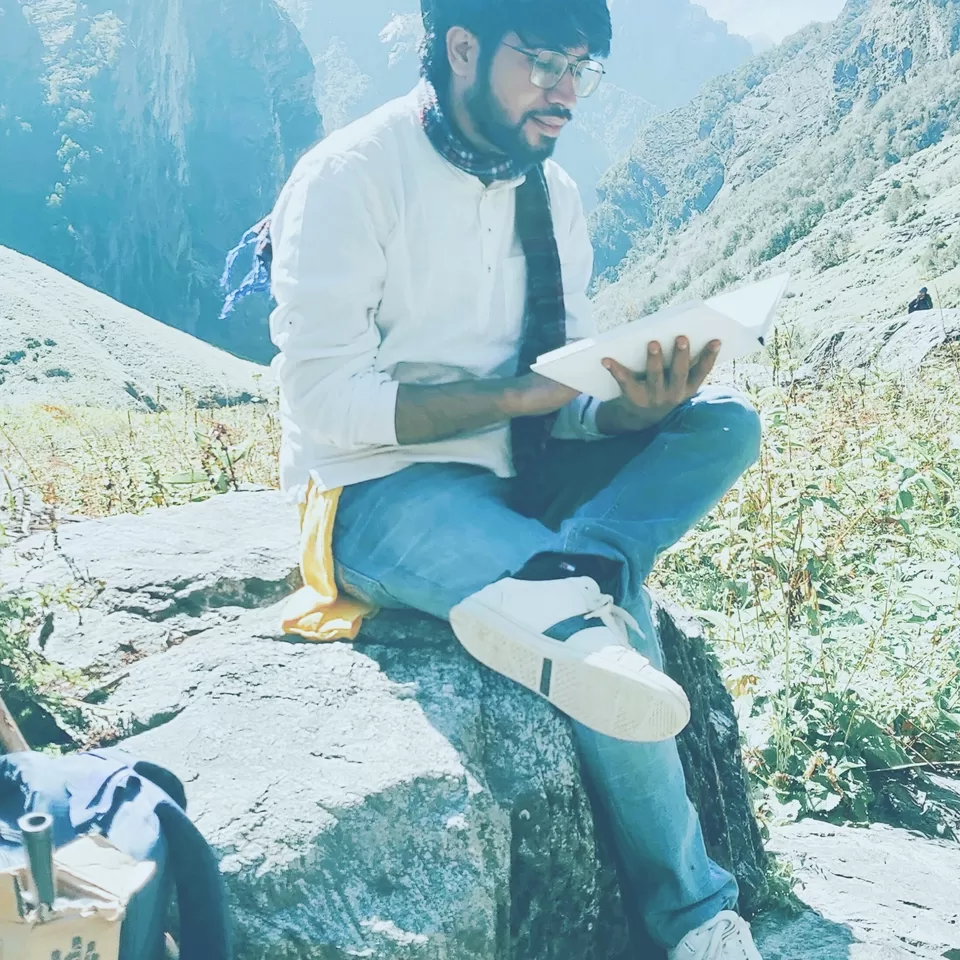 We reached back to Ghangaria around 2PM. It's time say good bye and thanks to this Group too.
I think I am fortunate that I got accompany of such beautiful people from the very beginning of trip. These are the blessings of life that we forget to count while complaining life for Materialistic things. SO, Thanks God !!!!
After 15-20 minute break at Gurudwara, I started my track to get down Govindghat.
I reached Govindghat around 7PM.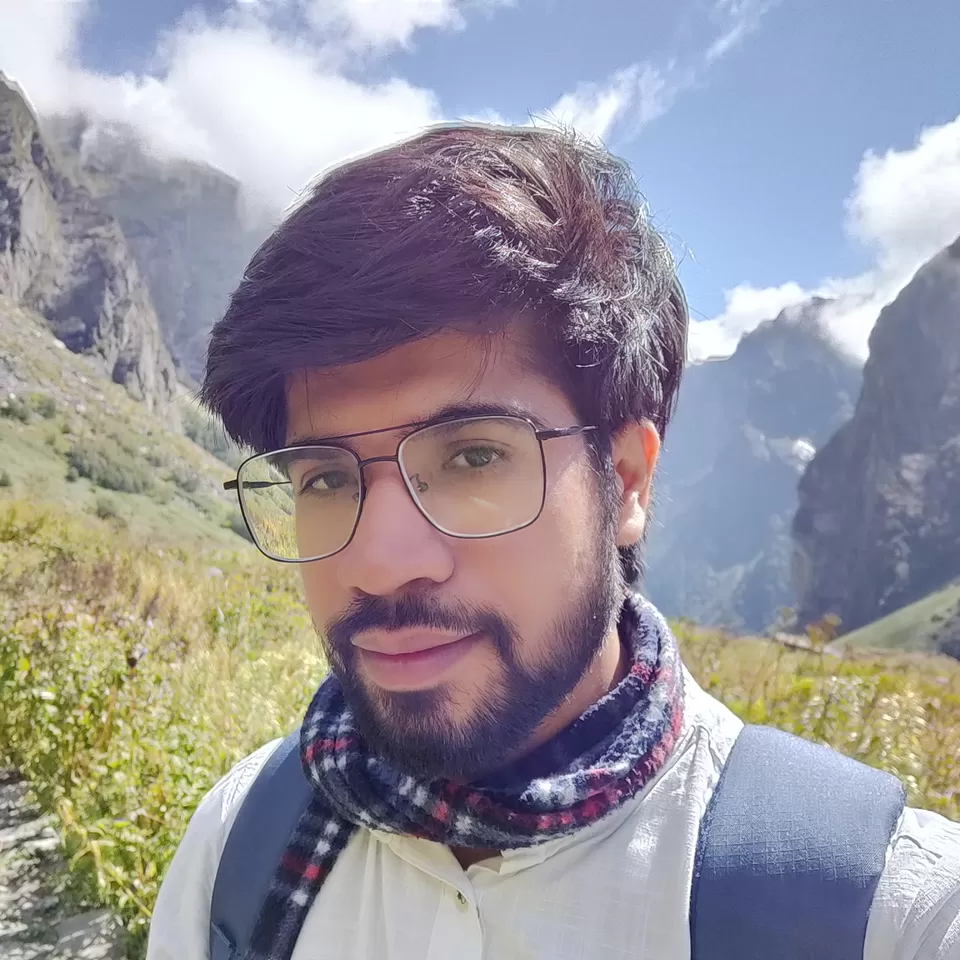 Once again I registered my self for getting a Room, blankets etc.
I decided to board next morning's 5:30AM bus for Rishikesh.
So, I packed my bags, and went to sleep.
The Next morning I took a shared taxi with other pilgrims and reached Haridwar by evening.
(As the bus is not reached there till 6AM)
This Govindghat to Haridwar journey is also full of fun , laugh and memories.
In this way a Beautiful Trip is over , with mesmerizing memories in Mountains.
"Memories made in Mountains stay in Heart Forever"
I wish I will visit this place again !!! Dear Mother Nature please call me again because I know its only your plan that works after once determination.😉.
Now, no more trips in next 3-4 months.
Till then Stay Happy, Stay Healthy and Love Nature to explore your true Nature ♥️
भ : भूमि (Land)
ग : गगन (Sky)
व : वायु (Air)
न : नीर (Water)
So, Nature is ultimate God !!!!!!
http://thetalktolife.blogspot.com/2020/06/connecting-valley-of-flowers.html